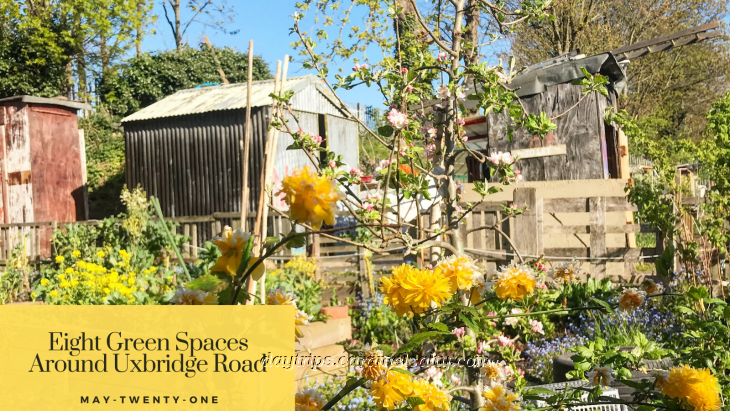 Eight Green Spaces Around Uxbridge Road, Shepherds Bush
At first glance, [1] Uxbridge Road seems no more than a busy enclave of Middle Eastern shops. It is famed for its traffic queues rather than for its aesthetic charm. But with a little bit of exploring, I find that it is surrounded by a fair number of unheralded council-managed greenery. All of which make for a green and pleasant walk.
Start of Day: Shepherds Bush Market Station, Zone 2, London
End of Day: Shepherds Bush Market Station, Zone 2, London
Cost of Day Out: Cheap
History Content: Low
Exiting from the station, I find myself staring at the beautiful library on Uxbridge Road, one of many built by the 19th century philanthropist, Passmore Edwards. Since the library moved to modern premises at Westfield, it has been home to the [2] Bush Theatre where one can enjoy a drink in the reading room.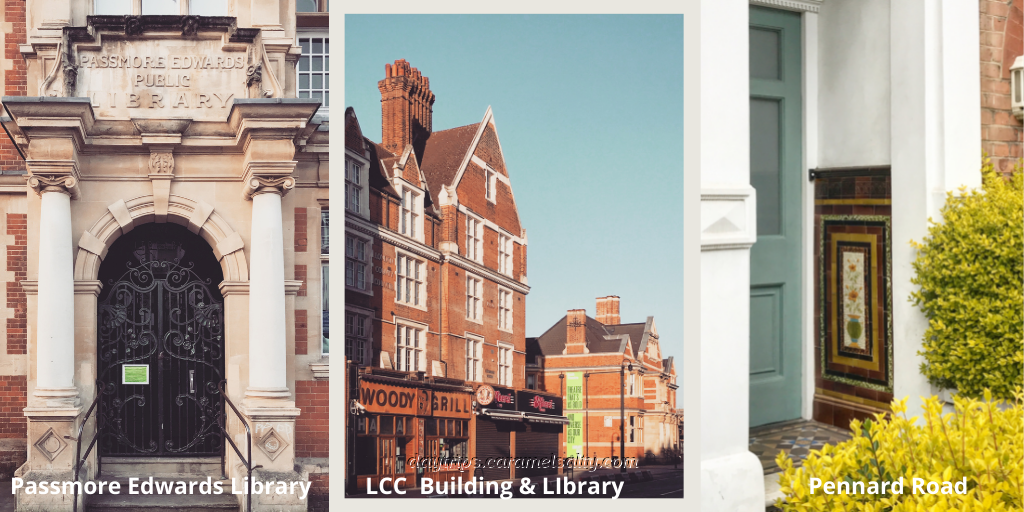 Next door, obscured by large shop signs at street level, is a building stamped with the words London County Council. Given my encounters with fire stations around London, it's likely that this was another station built by the LCC. The street in between the library and this building is [3] Pennard Road. It's worth a diversion for the best collection of decorative Victorian tiles in doorways that I've ever seen.
Past the LCC building are the trees of [4] Shepherds Bush Green. This open space marks my first green space of the day. And it is also the starting point of Uxbridge Road which heads 12 miles east out of London from here.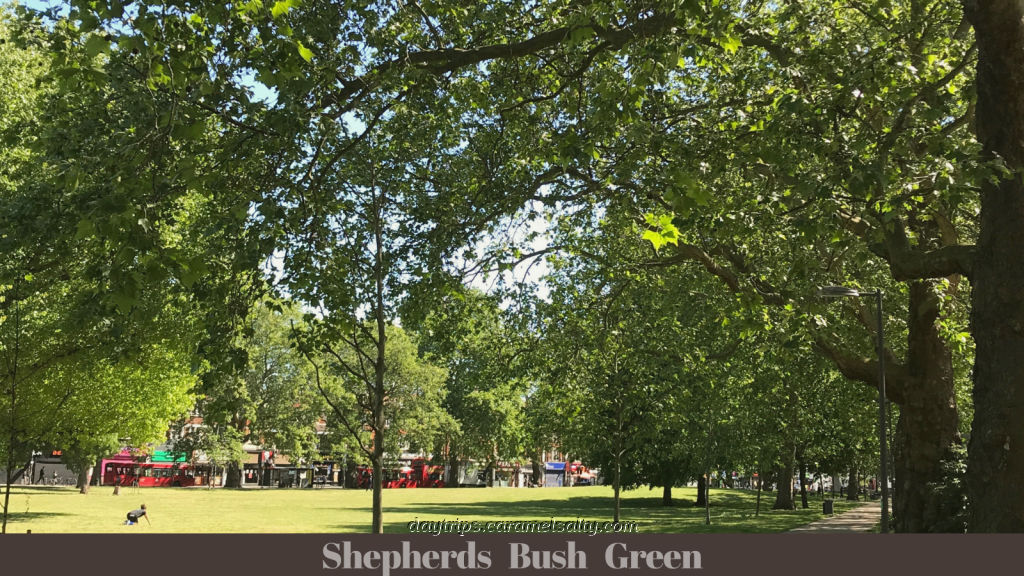 Side stepping the main throughfare for now, I dive into [5] Coverdale Road to find a Victorian school with separate entrances for boys, girls and infants. This is a typical feature of schools of that era. Further along, within view of an hexagonal Penfold post box, is the Greek Orthodox [6] St Nicholas's.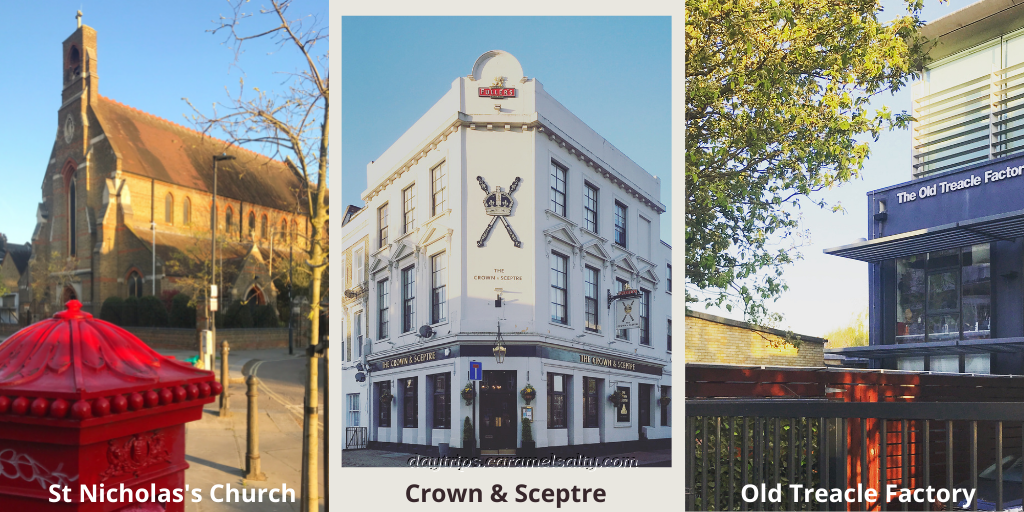 Deep in residential territory south of Uxbridge Road, just by the [7] Crown & Sceptre I discover [8] the Old Treacle Factory which are now offices. But the icing, or should I say treacle, on the cake is the school next door. The WWII bombed [9] Greenside Primary School was redesigned by the famed Erno Goldfinger and built in just 23 days. And just beyond the school, is my second green space of the day – [10] Cathnor Park.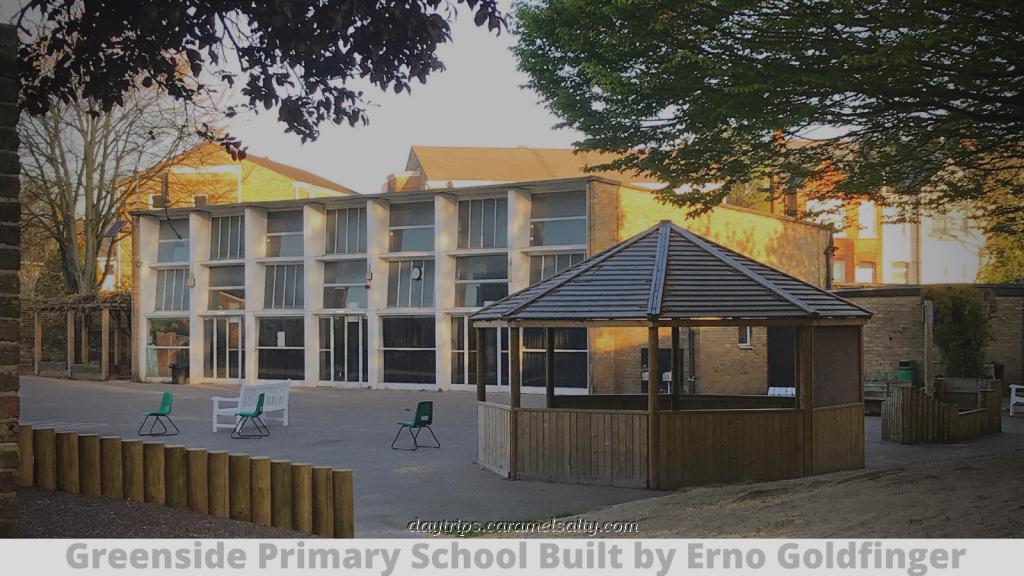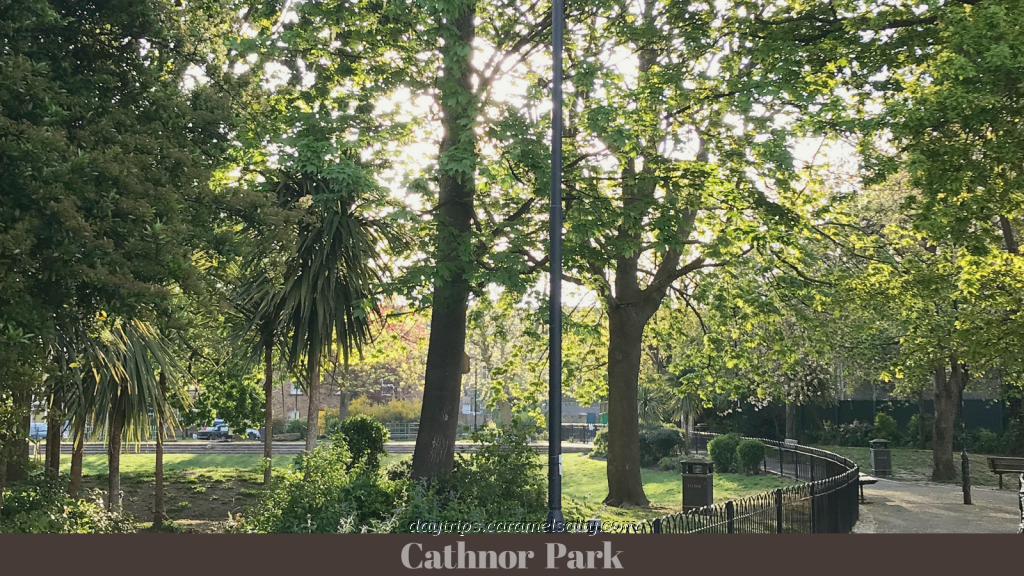 Nature's green delights also extend to the gardens and streets in the surrounding area such as the scented wisteria on [11] Westville Road, the joyful summer roses on [12] Boscombe Road and the canopy of pink spring blossoms on [13] Leysfield Road.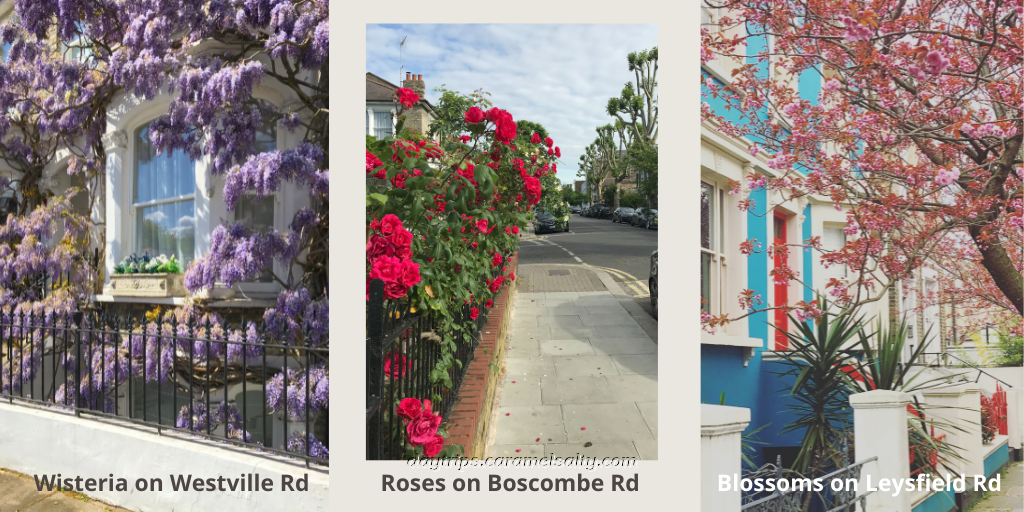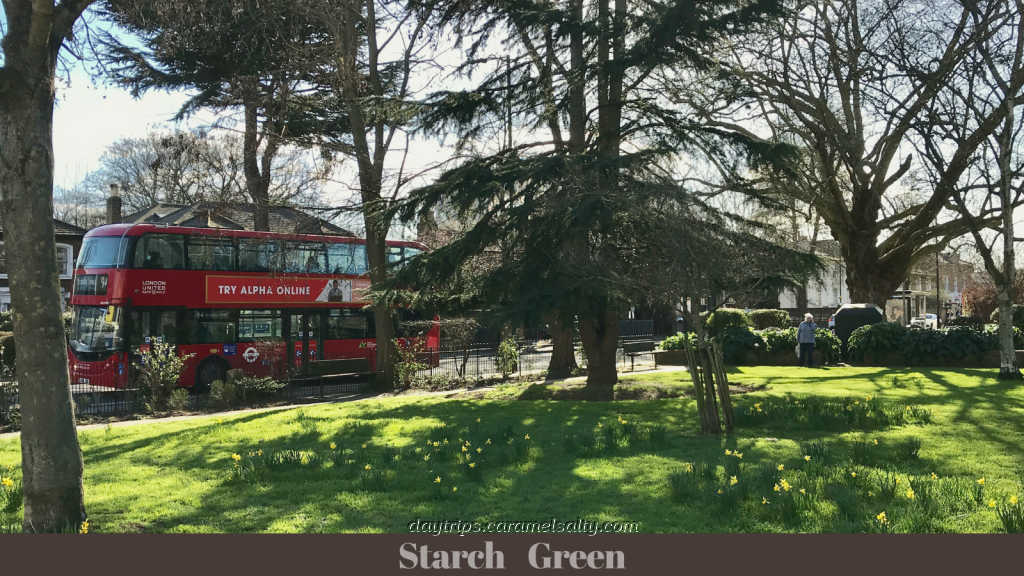 Emerging onto [14] Goldhawk Road and continuing east, I find myself at [15] Starch Green, my third green space of the day. It's at the bottom of [16] Askew Road, which about 200 years ago was rural and covered with fields. A dairy farm stood where the [17] Orchard Tavern is. The most spacious beer garden can be found at [18] The Eagle which lies at the end of the shops known as Kings Parade. In the remaining parades along Askew Road, are many quality small shops like the [19] Ginger Pig and [20] Laveli, which are ideal for stocking up on refreshments.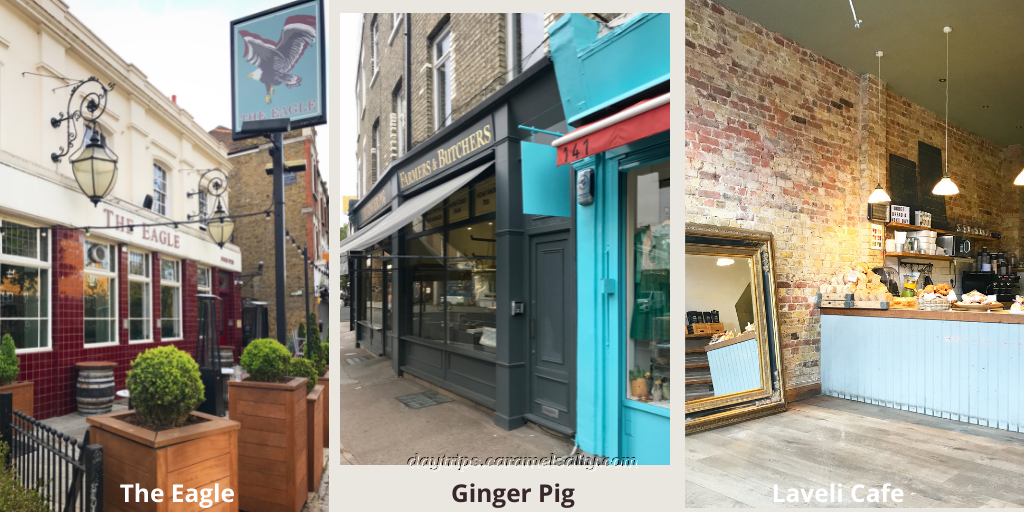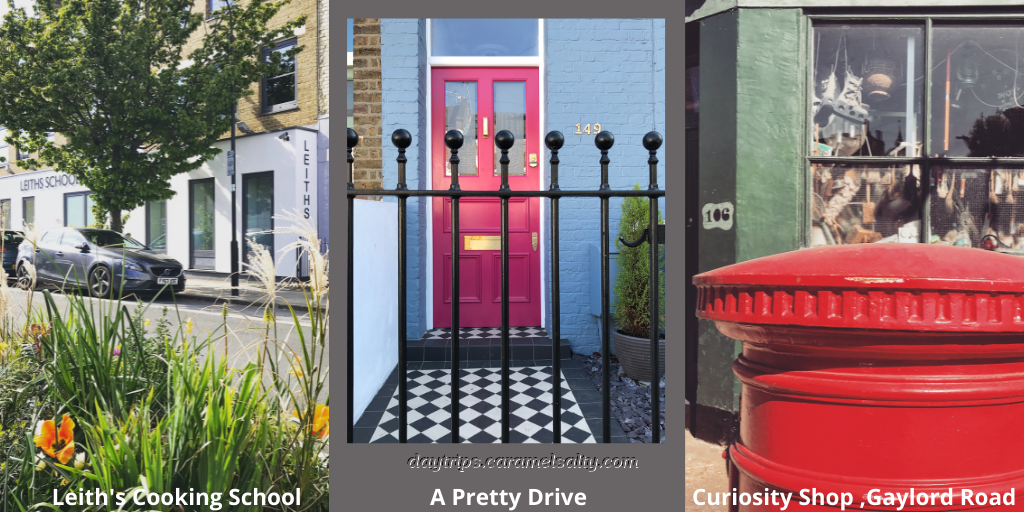 I turn into [21] Bassein Park Road which leads to yet another residential area. The road is named after an expedition up the River Bassein in the Burma War by Captain Marryat who lived around here. On [22] Wendell Road, I find [23] Leith's School of Food and Wine, though I don't think Prue (of Great British Bake Off fame) lived locally.
Inevitably, Wendell Road leads me to my next green space – [24] Wendell Park. The park stands in the vicinity of the 19th century Stamford Brook brick works, which I cover in my walk to Bedford Park. [25] St. Saviour's Church stands just behind the fenced area in the park which was the location of an underground WWII air raid shelter.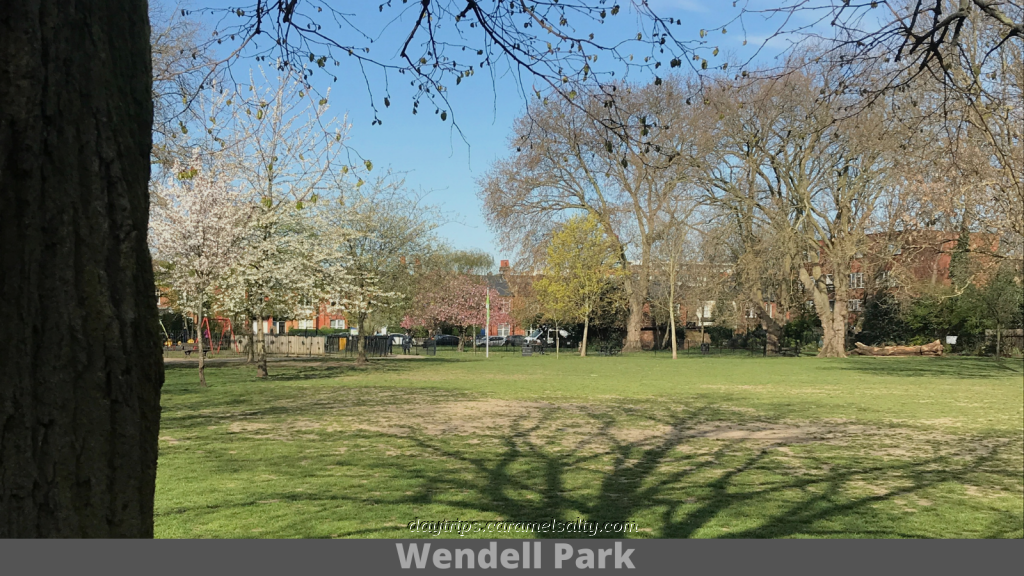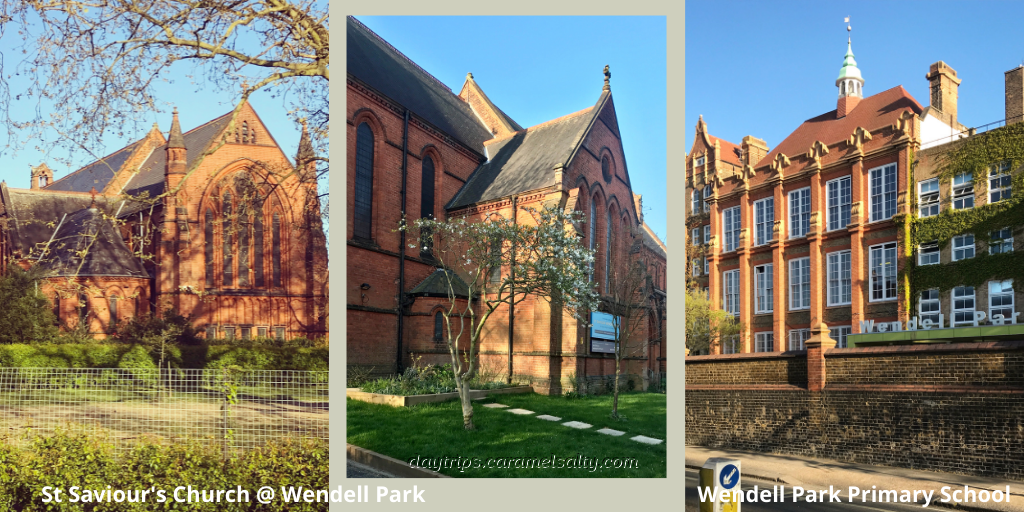 Across the road is [26] Wendell Park Primary School which was built in 1900. As expected, I can still see the distinct entrances for boys and girls. But what is really striking is its architecture as described on this website. The same website also explains that when this school first opened, kids only had to be educated until the age of 13.
Whilst archive photos show open space around the school on [27] Cobbold Road, it's all pretty much built up now. Cobbold Road ends when it meets [28] Warple Way. The fenced off construction site ahead is the Thames Water pumping station known as the Acton Storm Tanks. This is the starting point of the 25km Thames Super Sewer project that promises to leak no sewage in future. So until then, no more toe dipping in the Thames for moi!!
A tall, blackened brick chimney in the skyline is evidence of an industrial legacy in this part of the world known as [29] Acton Vale. The numerous springs in this area encouraged a 19th century home based laundry business that stretched all the way back to Starch Green. Referred to as Soapsud Town, it then became known as Motor Town as engineering companies sprung up in Acton Vale at the turn of the 20th century.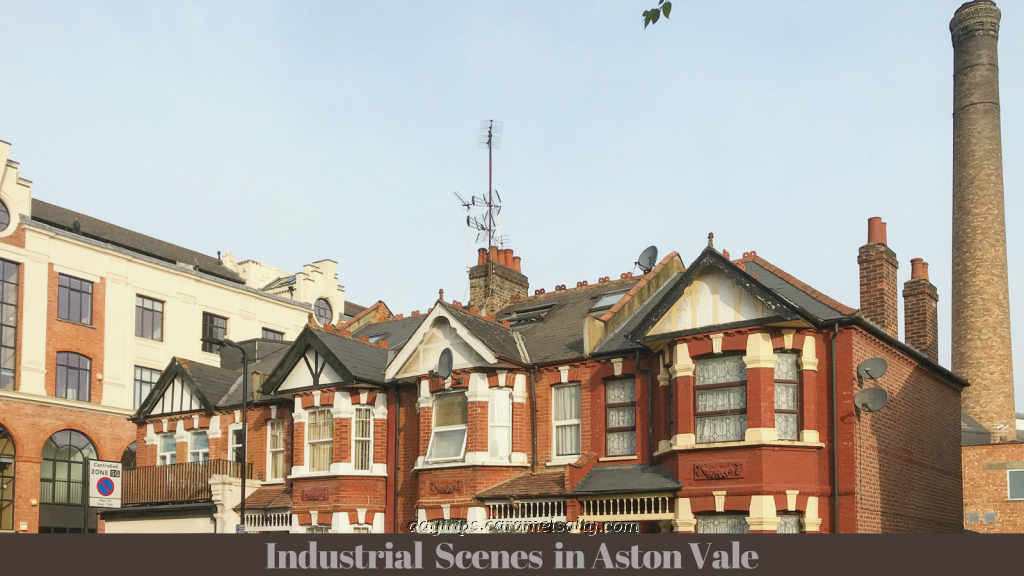 A footpath takes me to the northern fringes of [30] Bedford Park. Bedford Park, as I discover in my previous blog, is one of the most aesthetically pleasing development I have ever set foot on. But this time I ignore the beautiful homes and head to green space #5 – [31] Southfields Playing Fields.
Once ancient fields, the recreation ground was purchased from the Wilkinson Sword company by Ealing Council in 1908. During WWI, 2 million bayonets were manufactured at the Wilkinson factory sited here. The only reminder of the factory is a street named Wilkinson Way. In its place are open fields for football and dog walking, a wildflower meadow and tennis courts surrounded by a charming urban woodland.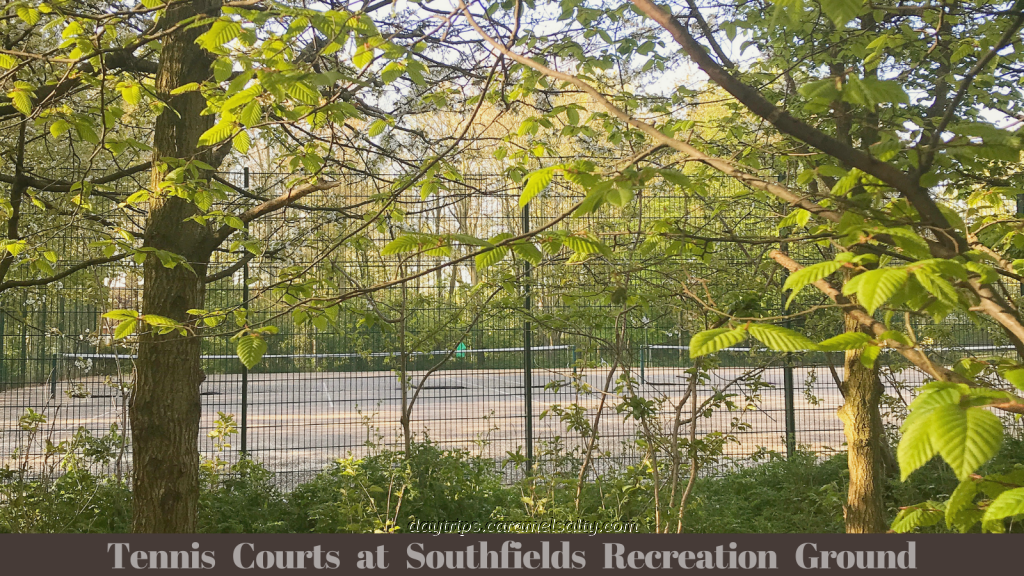 Exiting through a narrow passageway back to Uxbridge Road, lying north of this main road is [32] Acton Park which is known for its outdoor pitch and putt. But it's the stunning mature trees that take my breath away. I presume that most of them are over a century old, given that that was about when the land was purchased from the Goldsmiths.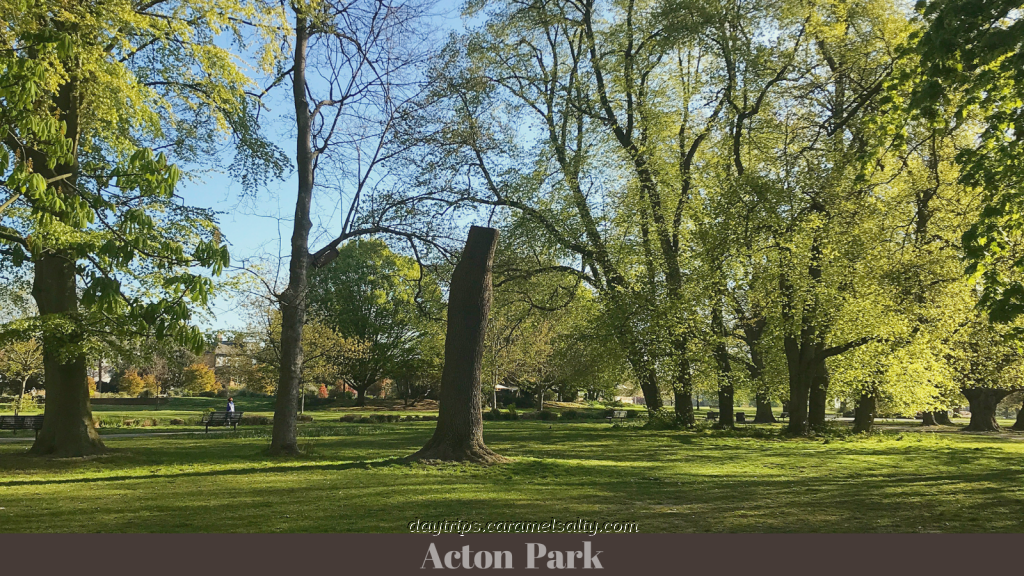 In medieval times this was common land, with a market garden to the southeast and brick extraction to the south. Today it's a wide, open space with beautiful trees. The circular flowerbed is said to be the location of an old windmill. An opulent facade in the centre of the almhouses to the north of the park is a reminder of the Goldsmiths' link to these lands.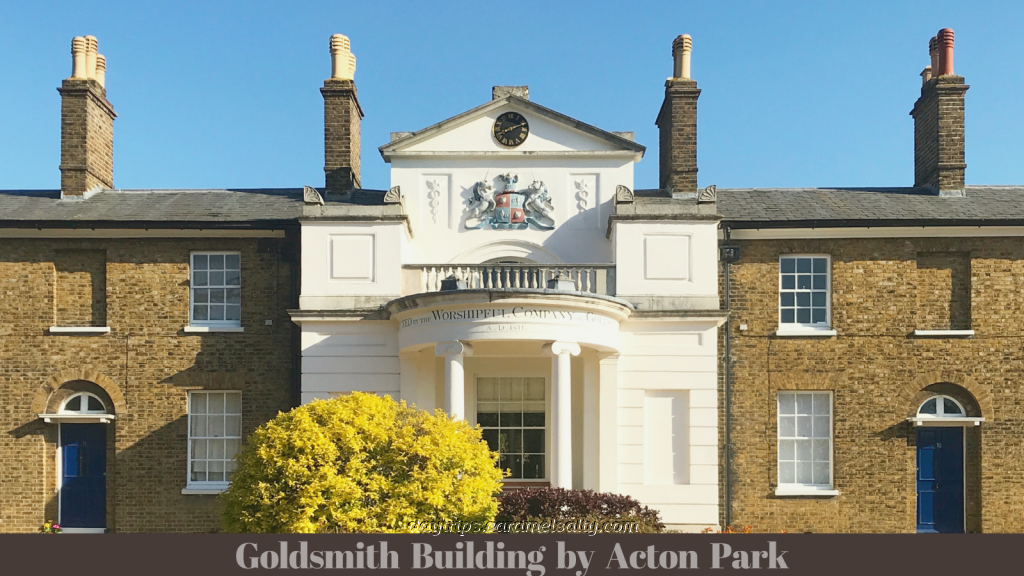 Going downhill I pass more sports fields and a [33] David Lloyds Sports Club. However, one recreation that has always been in the British psyche is gardening. And on [34] Oak Way I unexpectedly come upon these much sought after parcels of land designated for allotment gardening.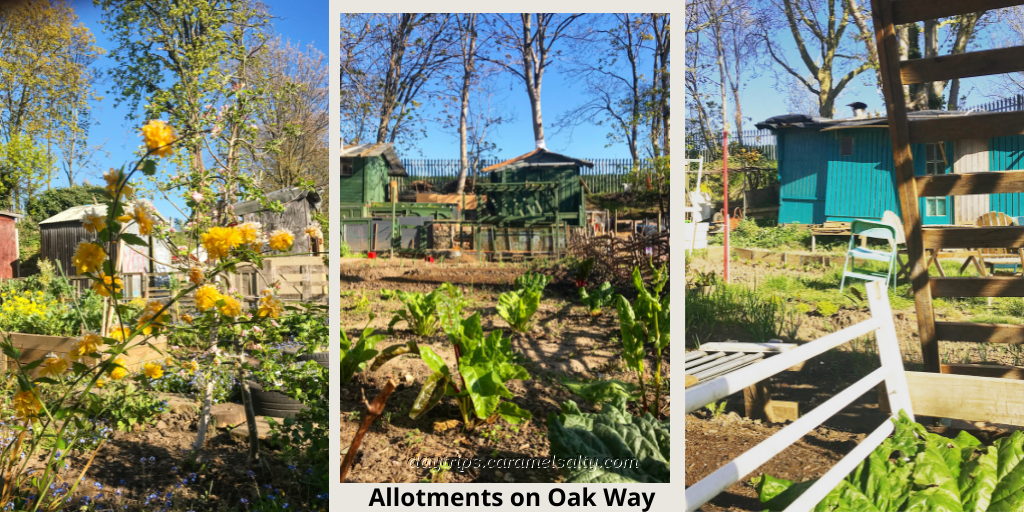 There is something very satisfying about perusing rows of shoots valiantly pushing through the earth beside rustic garden sheds. In complete contrast, at [35] Bromgrove Yard I find a complex of gated luxury living. However, nearby a more traditional pastime is conducted at the open-to-all [36] Shepherds Bush Cricket Club. From here, I head off to another park – [37] Trinity Way Open Space. Enroute, I spot the white minaret of [38] The King Fahad Academy.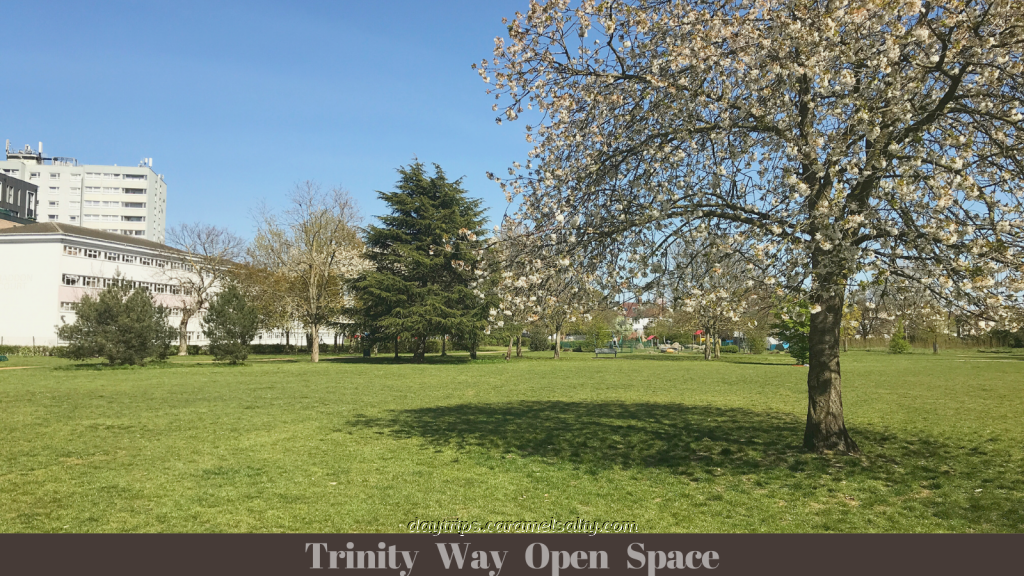 The only way back to Uxbridge Road is down the fume filled [39] Old Oak Road. Apart from the [40] Syriac Orthodox Church, there is not much to say. On Uxbridge Road, I make sure I am on the south side so as not to miss the eccentric collection of dolls on the lawns of [41] Becklow House.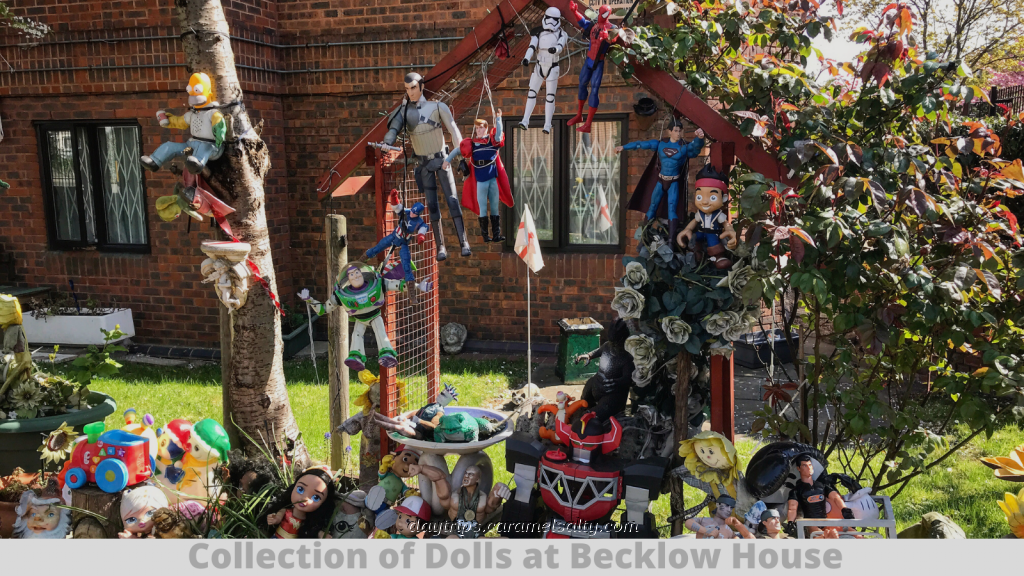 Very soon, I'm at the other end of that enclave of Middle Eastern and North African shops with names that evoke images of sun-drenched, sandy, far away lands. The street is interpersed with fresh, colourful vegetables. Fried chicken meals are sold in abundance along here, as well as kebabs, falafels and pastry filled sweets.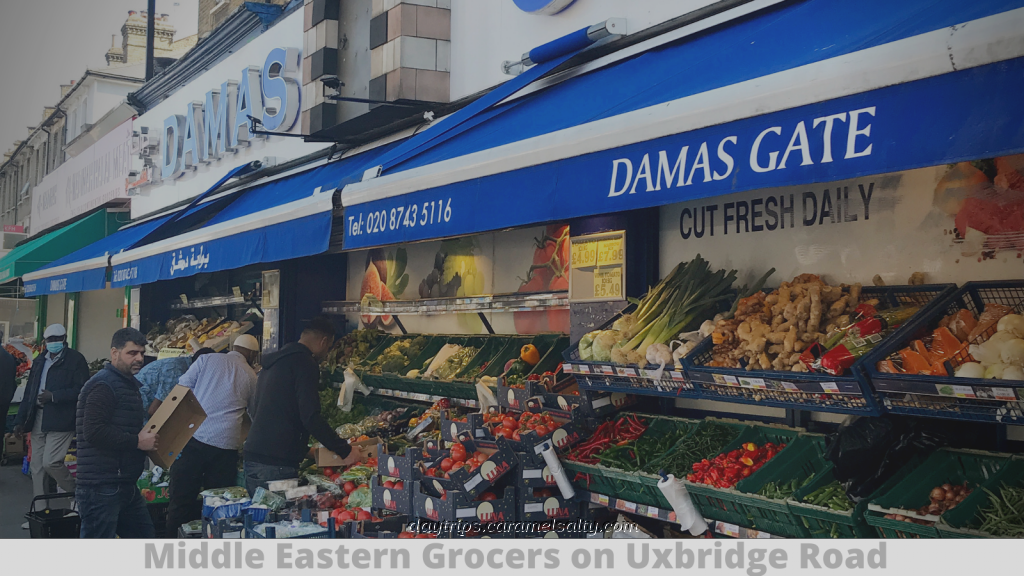 In amongst this I find [42] Bush House, now an independent music venue, often with queues of youngsters by its doors. Other places of note along the way is [43] St Stephen's Church with it's beautiful mosaic decorated garden and the little blue church on [44] Loftus Road which looks as if it would be more at home in the Caribbean.
For a final gulp of chlorophyll filled air, I return to the Japanese themed [45] Hammersmith Park at the end of [46] Frith Road. It is one I had visited previously during my tour of White City. And with that I end this walk with my last and final green sanctuary before heading back to the station.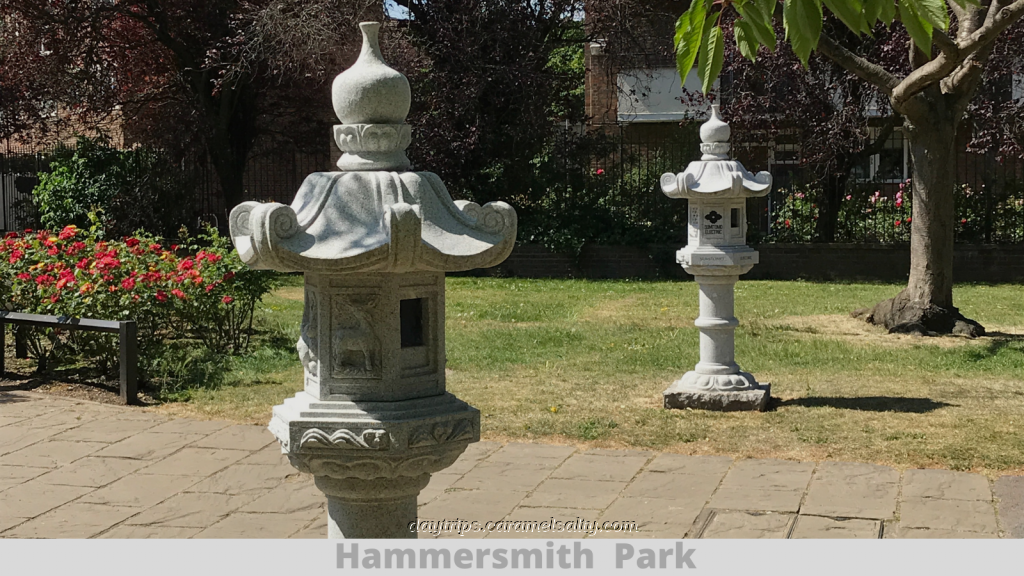 Other Related Blogs
Some Tips About Your Travel Plans
Tube Map and City Mapper are free apps that provide London maps, route planner and train/ bus times from your nearest stop.
Transport for London is cashless. Only Oyster Cards, purchased at stations, or contactless cards, are acceptable. Face masks are still mandatory.
An alternative to crowded public transport are bikes which are available for hire.