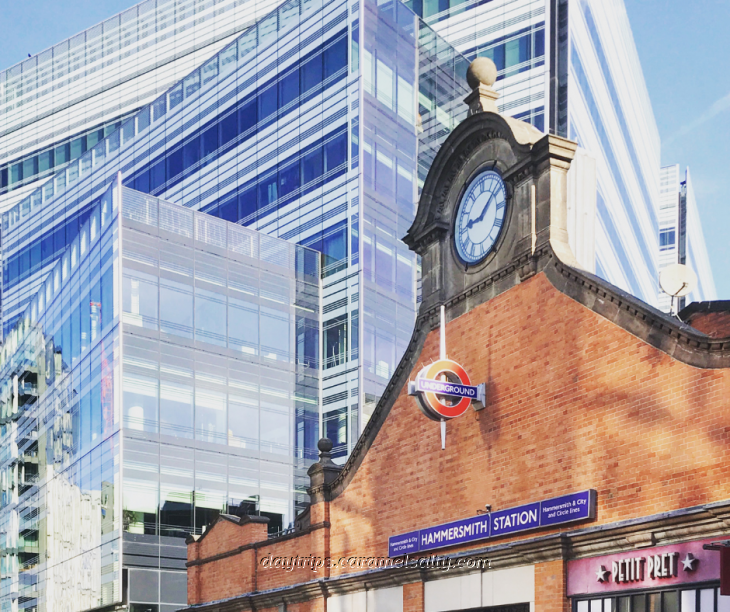 Shepherds Bush to Hammersmith
There are two roads that lead from Shepherds Bush to Hammersmith. They are [1] Hammersmith Grove and [2] Shepherds Bush Road. The Hammersmith and City line forms a physical barrier between these roads that run parallel to each other. And of the two, Hammersmith Grove is, by far, the quieter and prettier route. Shepherds Bush Road, on the other hand, is jam packed with some amazing historical buildings.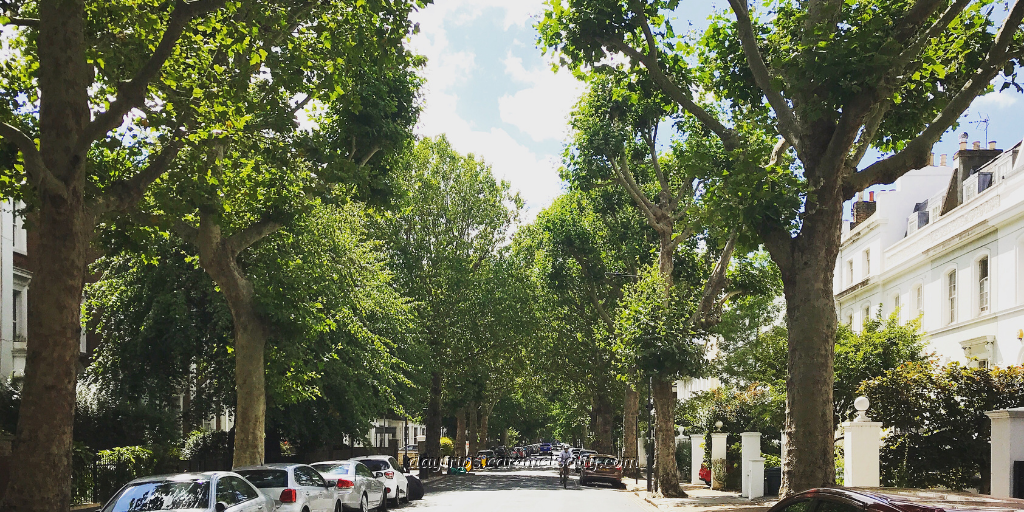 Start of Day: Goldhawk Road Station, Zone 2, London
Cost of Day Out: Cheap
History Content: Moderate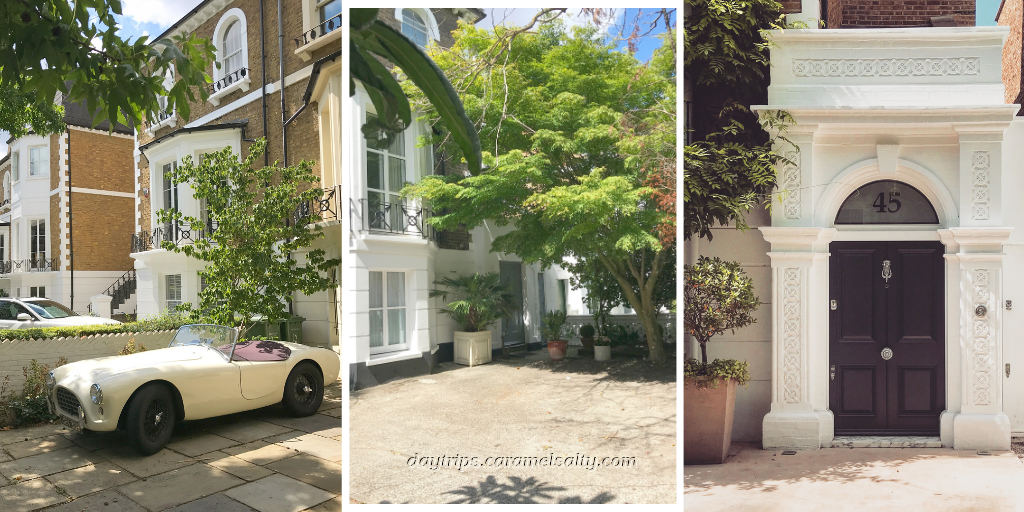 Hammersmith Grove, known locally as simply the Grove, is a beautiful tree lined road, with some very elegant properties along its western flank. These large houses built in the late 19th century to accommodate a family with ample space for their servants, carry an average price tag of £3 million today. And that's probably why I enjoy walking down it to Hammersmith's busy high street.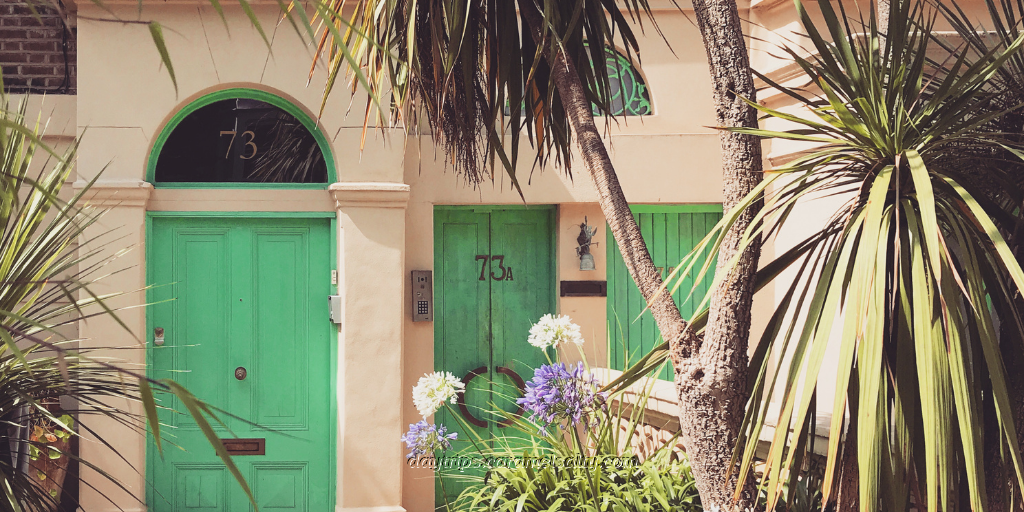 Every house on this road is a different style. My favorite along the Grove is No.73 with its many mysterious doors. In the autumn, it's an especially spectacular walk under the awning of its tall, gorgeous trees. I bet George Wimpey thought the same too as he walked from his home at No. 84 to his once offices in the white building block still standing at the bottom of the Grove. George created the largest construction company in the UK which still trades on the stock market today as Taylor Wimpey.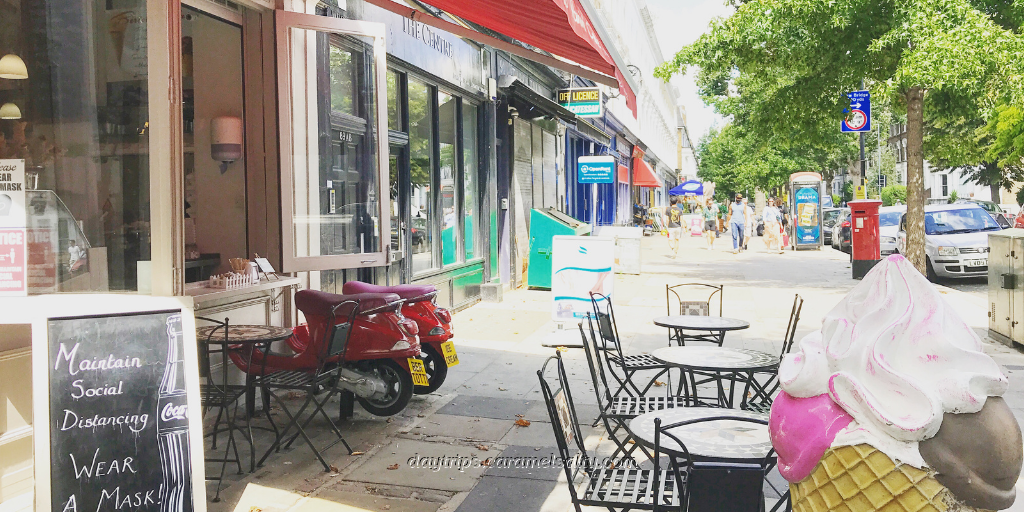 Half way down the Grove is a little nucleus of attractive local amenities, including a cafe and delicatessen, the charmingly named Tipsy Toad grocery store, restaurants, a wine room, a pub named the Grove and an ice cream parlour. And to the east, behind the 4 storey large homes, is a row of terraced cottages on the cobbled [3] Grove Mews.
A spur from the Hammersmith and City line used to run to a station at the bottom of the Grove. The plight of Hammersmith (the Grove) station is now relinquished to one of London's many forgotten stations. There's no sign of it any more, as the tracks have been lifted and the station buildings demolished, but not before it spent some years storing bananas.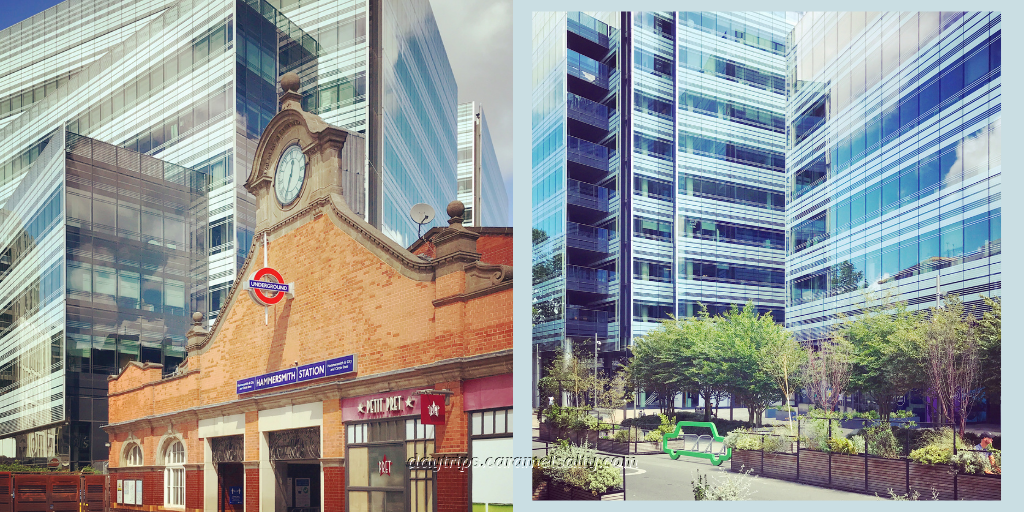 However, the attractive red brick [4] Hammersmith and City line station still stands. The end of the Hammersmith and City line meets the Piccadilly line here. On the tube map, it looks like a single station. But in reality, from the above ground Hammersmith and City line, all commuters have to cross overland across [5] Hammersmith Broadway, to access the Piccadilly line below ground.
Looking down on the masses of commuters skipping across the busy Hammersmith Broadway, is a beautiful mosaic of a white swan. Apparently, the correct term for this is a tessellated swan. But whatever it is called, it belongs to the Jacobean styled [6] the Swan. This hostelry was rebuilt in 1901 with the arrival of the trains. And the white swan is no stranger to commuters as its history reveals that it was previously a coaching house along this, the western route out of London.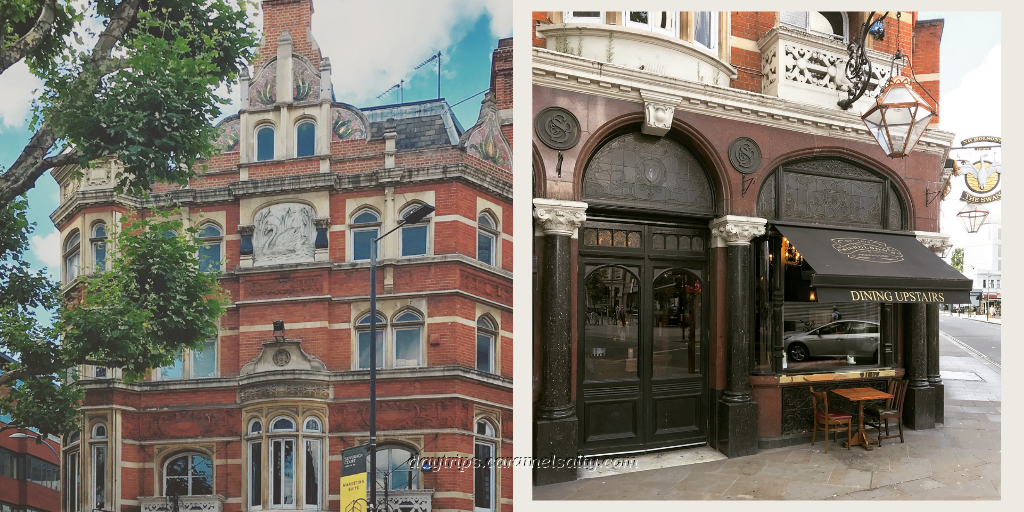 Grade II buildings follow in quick succession as I too skip around the busy Hammersmith gyratory to Shepherds Bush Road. The first is the Grade II [7] St Christopher's Inn. Following closely is a building with tall slab chimneys at No.244. This was a fire station built in 1913, decommissioned in 2000, became a pub called the Firestation, and finally got converted to [8] Wagamama's 50th London branch.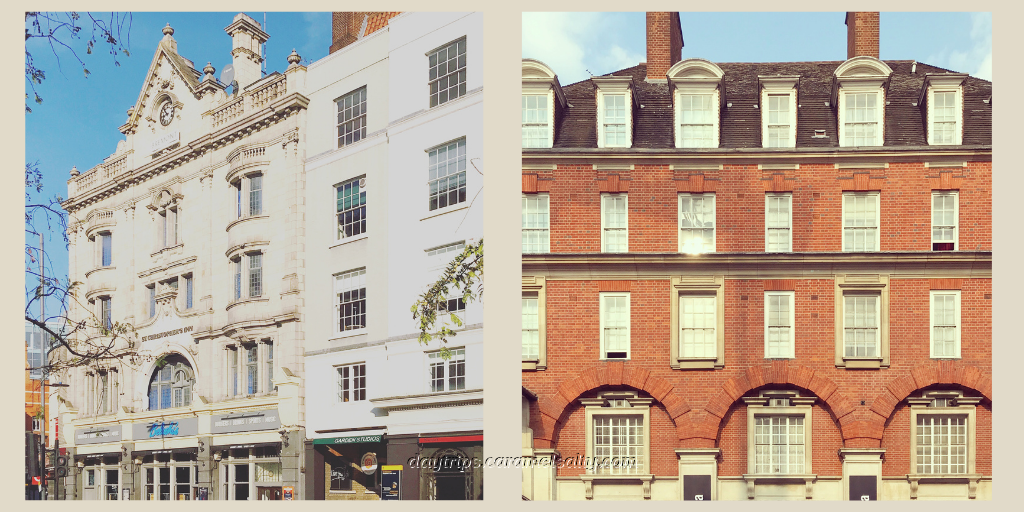 Next door used to be the Hammersmith Palais, a skating rink. It then morphed into a concert hall and night club before becoming a gym. Across the road is the magnificent [9] Hammersmith library built by Henry Hare in 1905, and funded by Andrew Carnegie, an American philanthropist who built libraries in the "English speaking" world. There are statues of Milton and Shakespeare and several other allegorical ones, all excellently listed here. But there is no sign of a Henry's trademark hare, which he is said to have etched on every one of his buildings.
Further up Shepherds Bush Road, just past the new fire station, is a large building with a diagrid glass roof which looks like a car showroom. In fact, it was a factory and car showroom for Ford in 1915, and then Citroen in 1926. Many original features were preserved when it was renovated, and these photos of [10] Citroen House, show off it's stunning contemporary office space.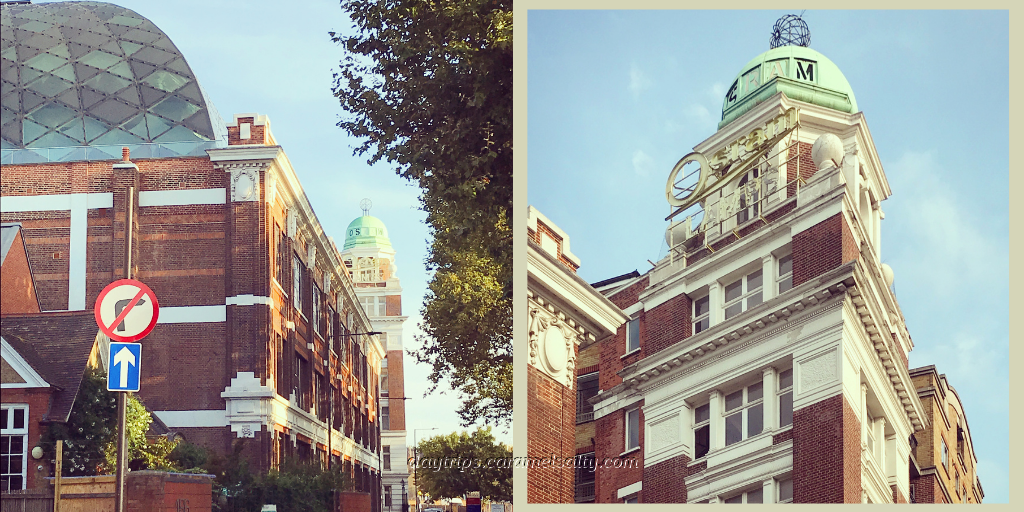 Next door, none of the shoppers at the large [11] Tesco seem to realise that this building was previously a lamp factory. The clue is in the elegant verdigris 1920 dome which still bears the golden letters that read "Osram Lamps". British lamp manufacturing appears to have started in Brook Green in 1881, and this website has a brilliant account of how this industry developed, as well as some marvelous archive photos.
The Tesco is known as the Brook Green branch, and that's because it is adjacent to the beautiful Brook Green neighbourhood which I had already explored in a previous walk (Shepherds Bush Green to Brook Green). So I head back to Hammersmith to travel further back in time. I do this by cutting through the little streets south of Brook Green, all named gardens, presumably after the orchards that once covered this area.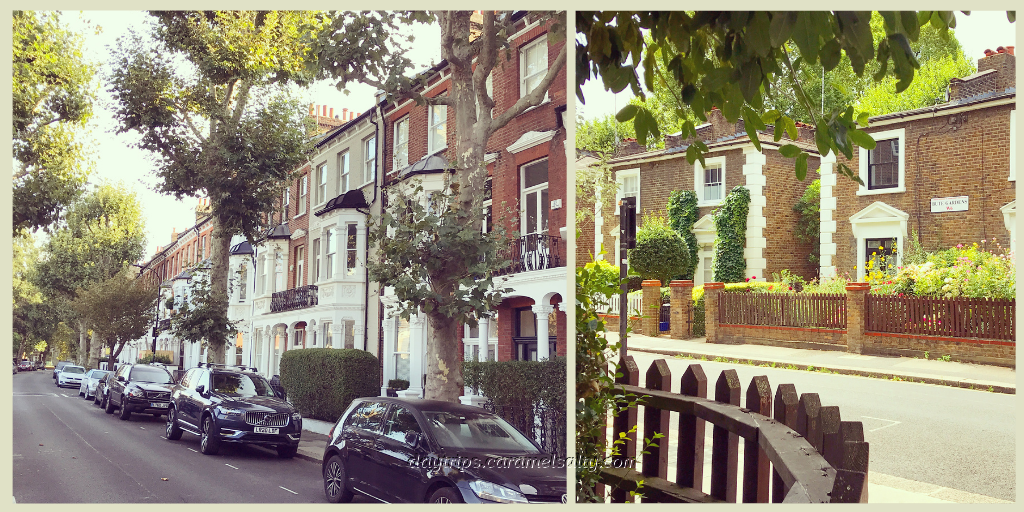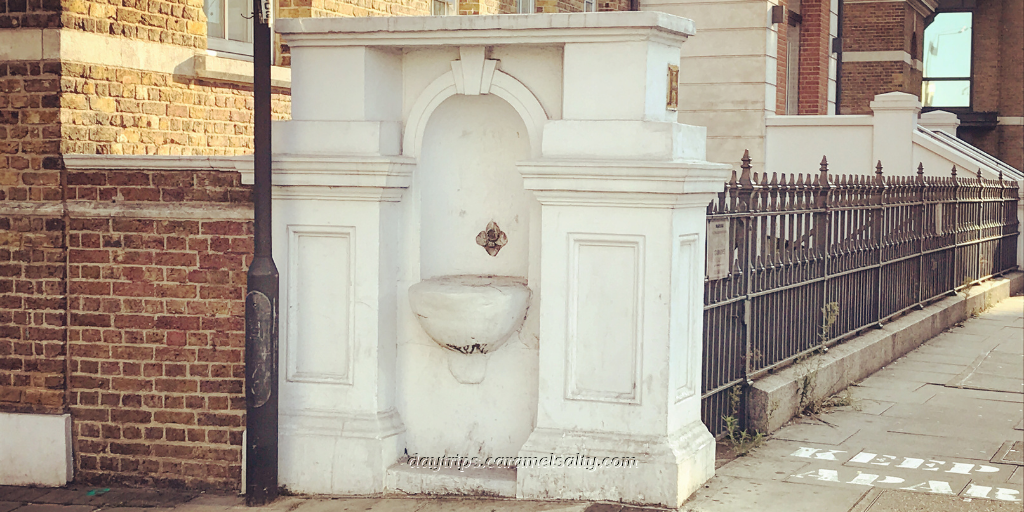 At the bottom of [12] Bute Gardens I discover the remains of a Victorian drinking fountain. And some ancient looking buildings that attest to a period far earlier than that of the drinking fountain. Indeed, according to historical chronicles, in 1668, at the invitation of Catherine of Braganza, wife of Charles the II, a group of nuns from Munich arrived and settled in Hammersmith.
They were followed by waves of nuns from other parts of Europe, who made a bee line to Hammersmith. To quote British history on line – "if there is one spot in London to which the English Roman Catholics look with great veneration than that spot is Hammersmith, which contains an unusual number of establishments belonging to the members of that faith".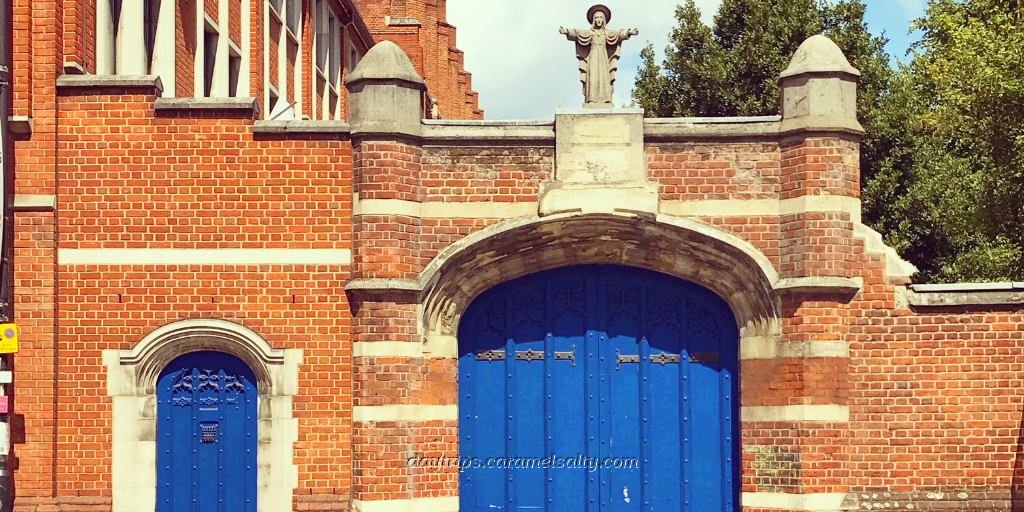 The [13] Sacred Heart High School was founded by nuns of the Society of the Sacred Heart in 1893, in place of existing Catholic institutions with a previous 200 year history of providing education. Further down the road is [14] Nazareth House, built by the Sisters of Nazareth to help the poor and destitute.
Both of them have high walls which obscure my view of the buildings within. I wonder if that's a result of historical persecution in an England that cut its ties with the Pope under Henry the VIII. In fact in 1680, the infamous Titus Oates who fabricated the Popish Plot, raided the nunneries in Hammersmith to look for alleged Catholic plotters trying to kill the King.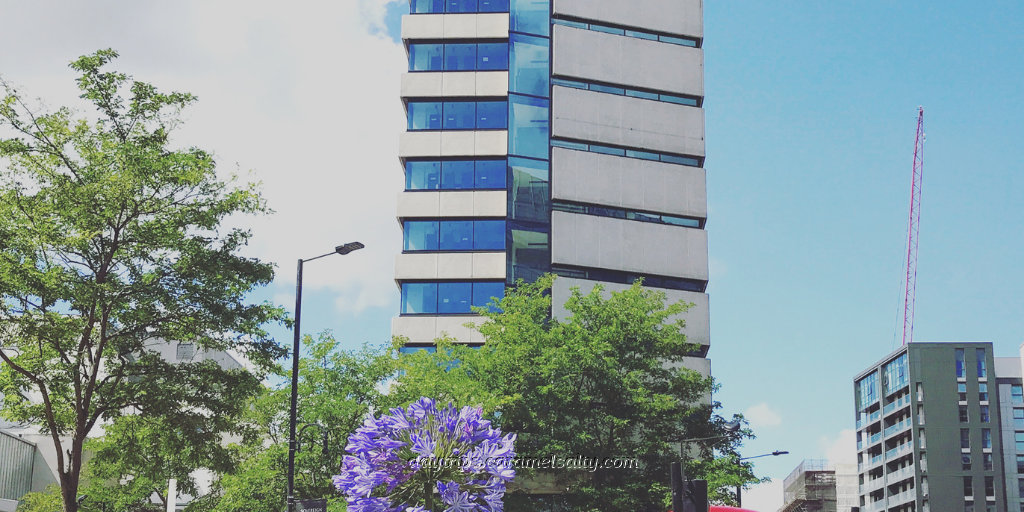 And with that, I find myself back underneath the tessellated white swan. It is dwarfed by the modern office blocks and high rise flats surrounding it. But closer to the surface, it looks as if there is a lot more of Hammersmith to scratch about for another day.
Other Related Blogs
Some Useful Stuff To Know
Face masks are now compulsory on all London public transport.
Tube Map and City Mapper are free apps that provide London maps, route planner and train/ bus times from your nearest stop.
Transport for London is cashless. Only Oyster Cards, purchased at stations, or contactless cards, are acceptable.
Brackenbury Wine Rooms (website) – has a sunny outside seating for a cheeky glass of wine
The Swan in London (website) – enjoy a very British fish and chips here.