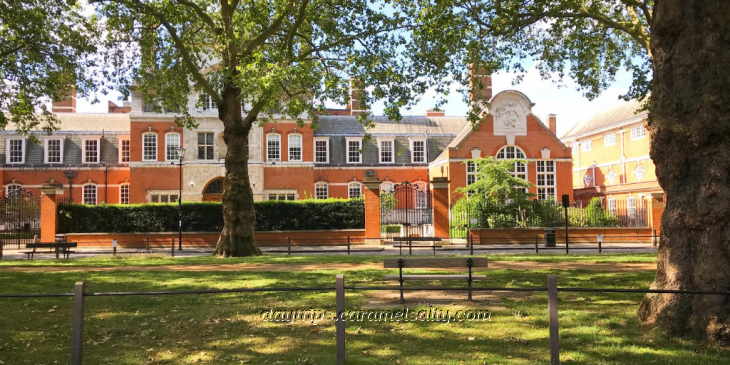 Shepherds Bush Green to Brook Green
Obscured by the [1] W12 Shopping Centre, tower blocks and electronic billboards around [2] Shepherds Bush Green, is a little hidden oasis. There is a lengthy official document about it, which refers to it as L.B.Hammersmith and Fulham's Conservation Area No 3. More concisely, it is also known as the Brook Green Conservation Area.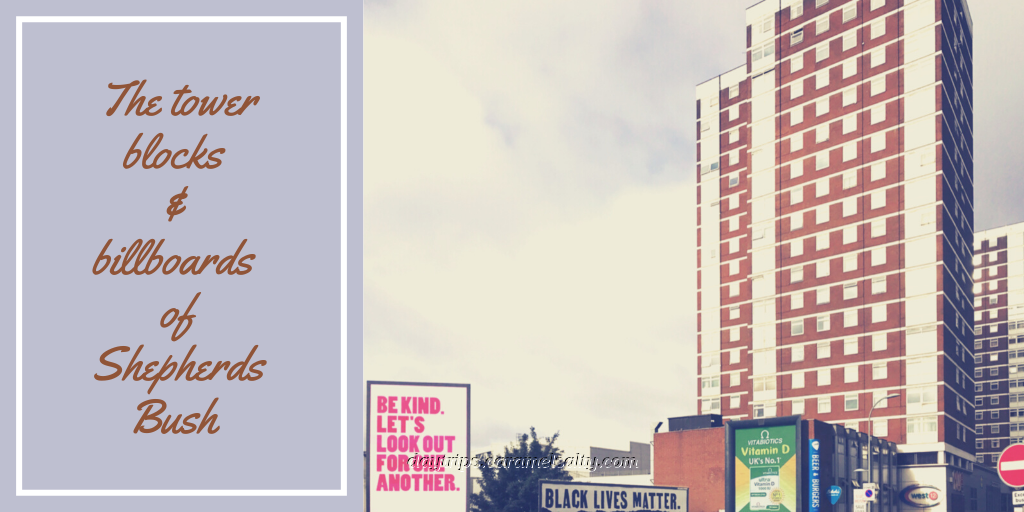 Start of Day: Shepherds Bush Underground Station, Zone 2, London
Cost of Day Out: Cheap
History Content: Low
To get to Brook Green, I descend a walkway from the elevated Shepherds Bush roundabout to the wedge-shaped Duke of Edinburgh, now all spruced up and an office. Heading past the luxurious [3] K West Hotel and Spa housed in a former BBC recording studio, I arrive at a mini roundabout with an eye-catching clump of banana trees at one corner.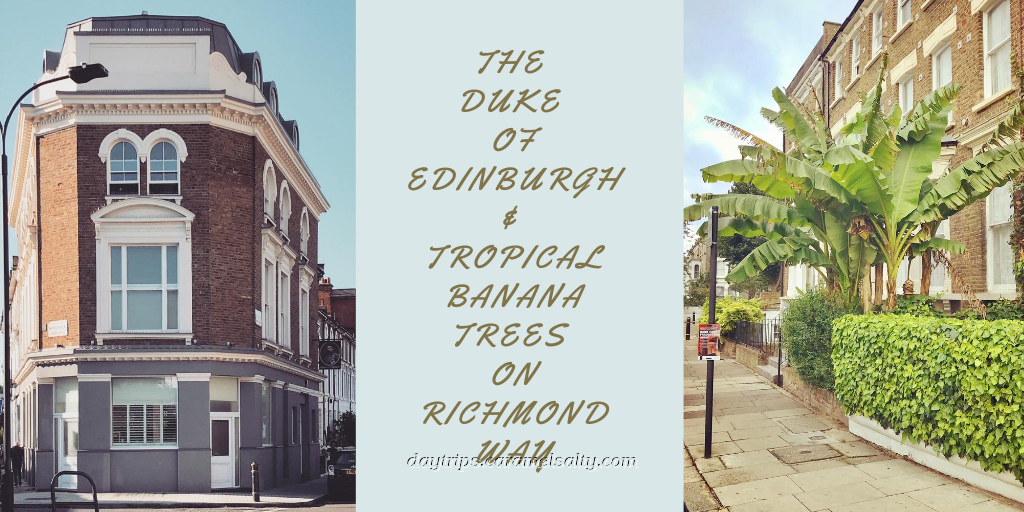 From here, I spot the slender spire of [4] St Simon's on [5] Minford Gardens. Built in 1886, it'll be the first of three churches I'll come across my walk. Around the corner on [6] Westwick Gardens, is a red pillar box that looks like a Penfold. Only 80 originals are still left, and so it warrants a closer look in case it's the real mccoy.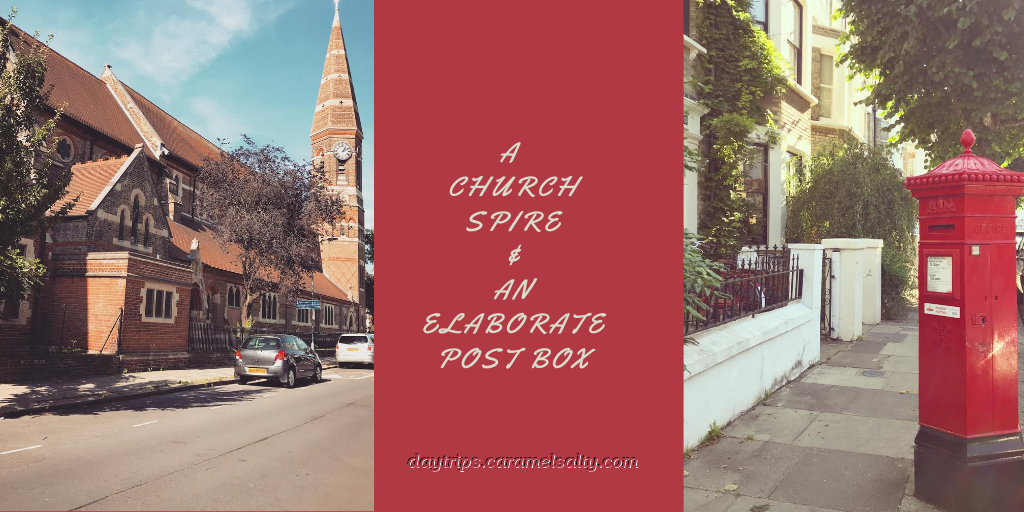 Back at the banana tree roundabout, I continue along [7] Richmond Way, passing a cluster of local amenities. At the junction with [8] Addison Gardens I spot a red brick building with features suggesting that it might have been a church building. On the opposite corner, a weather vane on the beautiful roof of [9] Addison Parks Mansions glistens in the sun.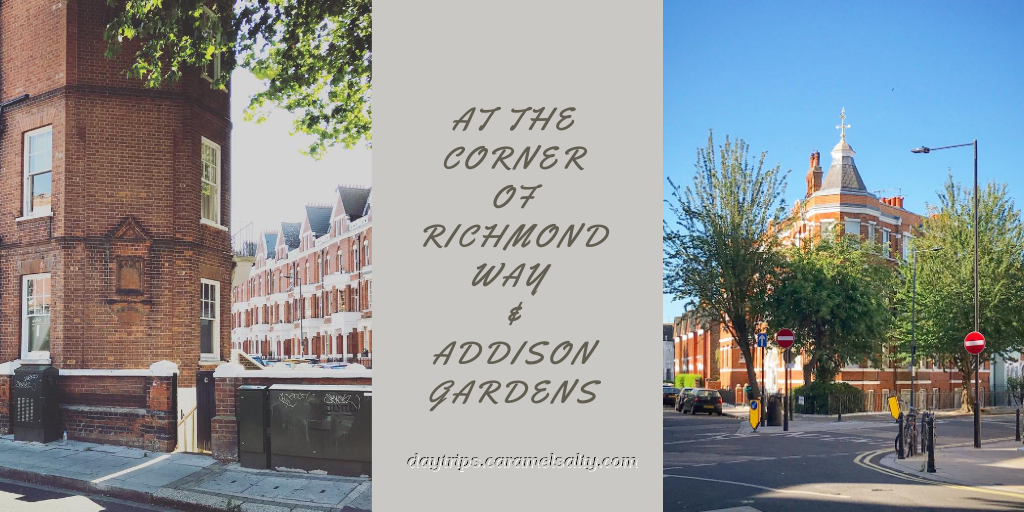 All property agents describe Addison Gardens as "a most desirable tree lined street within easy reach of good schools, transport and shops". It is indeed pretty, with some of the red brick houses painted in pastels. However, I am left quite disappointed by the absence of front gardens for somewhere with gardens in its address.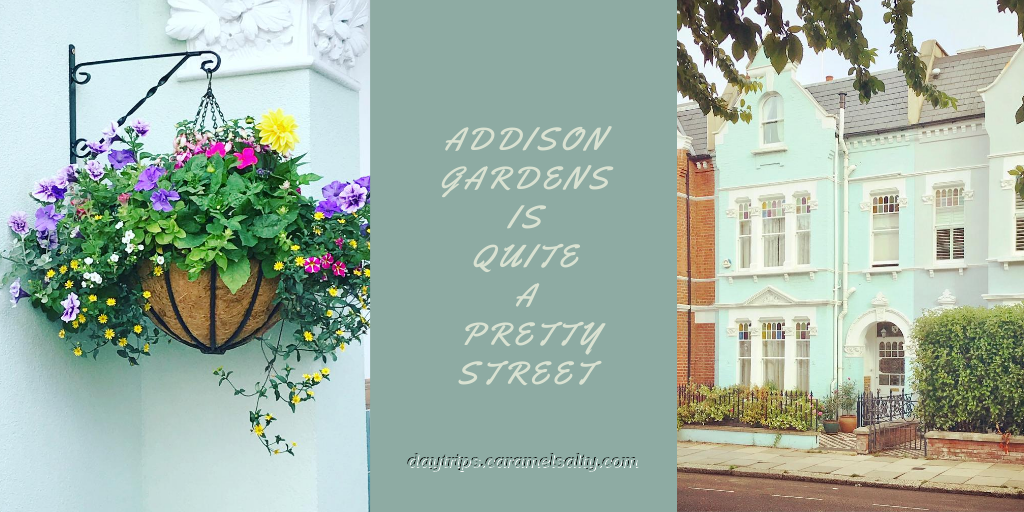 At [10] 61, Richmond Way, I find a house not in keeping with the grand Victorian houses thus far. It's a small yellow house with a 20th century glass block feature. [12] Milson Road on the other hand, has a row of working-class stone cottages. Whilst the [13] Bird in the Hand proudly declares itself rebuilt in 1926.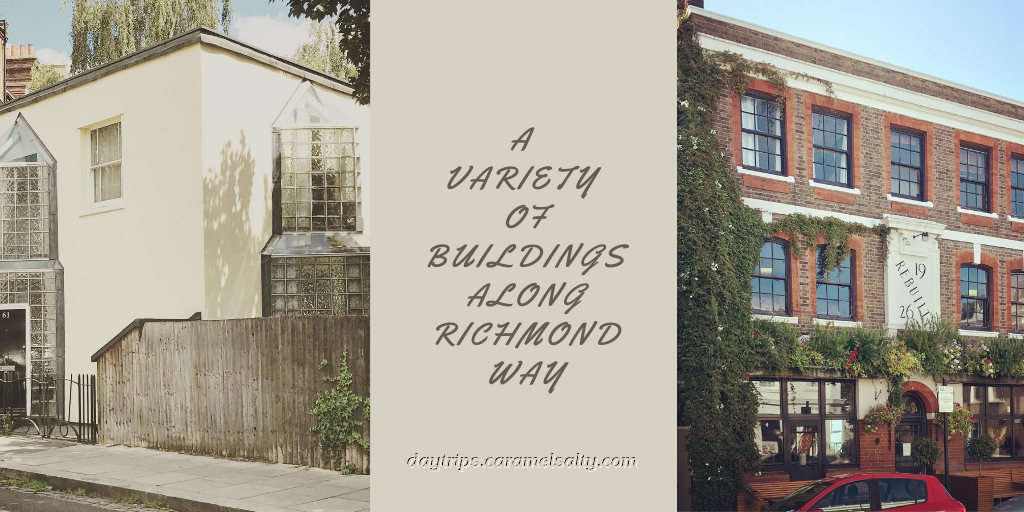 Along [14] Masbro Road is the prettily detailed red brick [15] St Matthew's church built in 1870. Across the street, on the corner of [16] Fielding Lane is a smaller property with stained glass windows and six pruned bay trees. It clearly used to part of the church.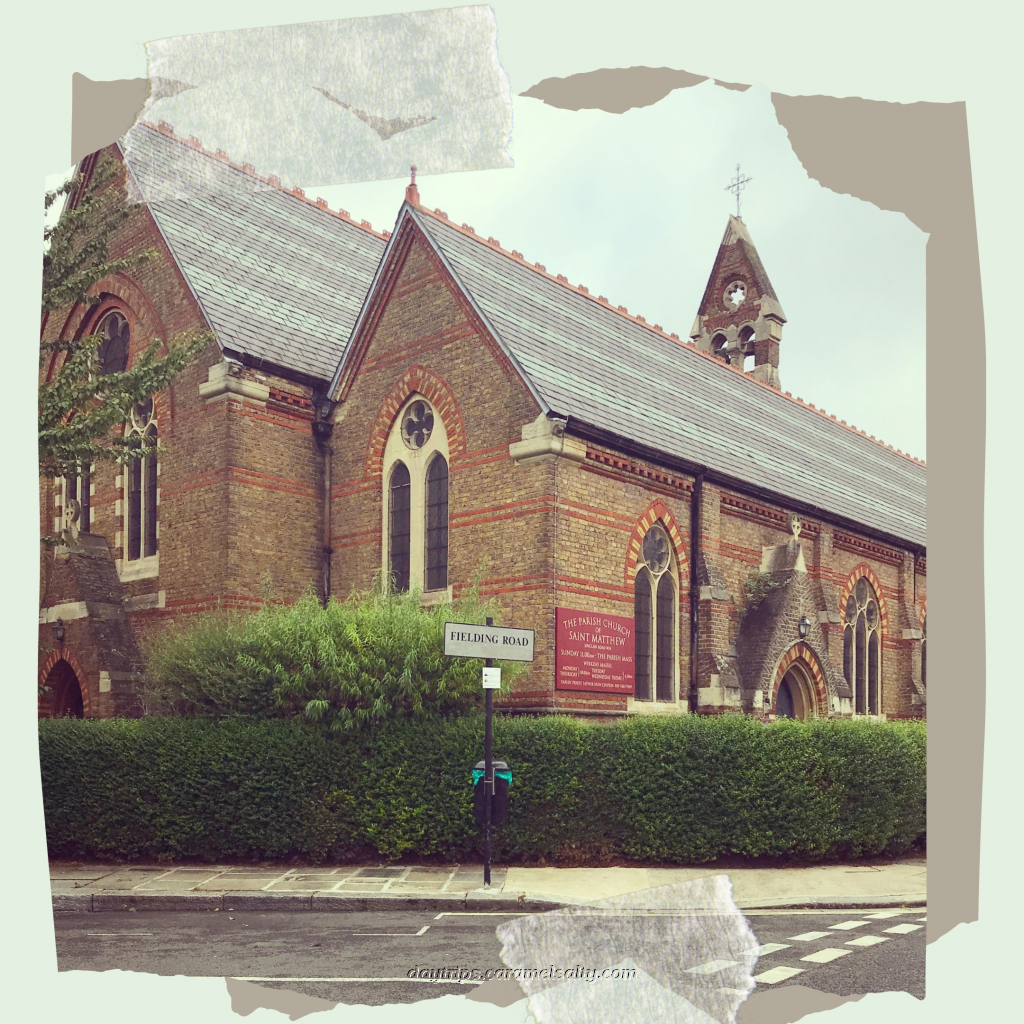 The church's marvelous history page explains how many of its initial churchgoers came from [16] Sinclair Road. Judging by the lovely balconied four storey houses, they were certainly a wealthy bunch. The Victorian class system meant that their servants went to a different church. On [17] Hofland Road, the original arch to the liveries from which their masters and mistresses summoned transport home, still remains.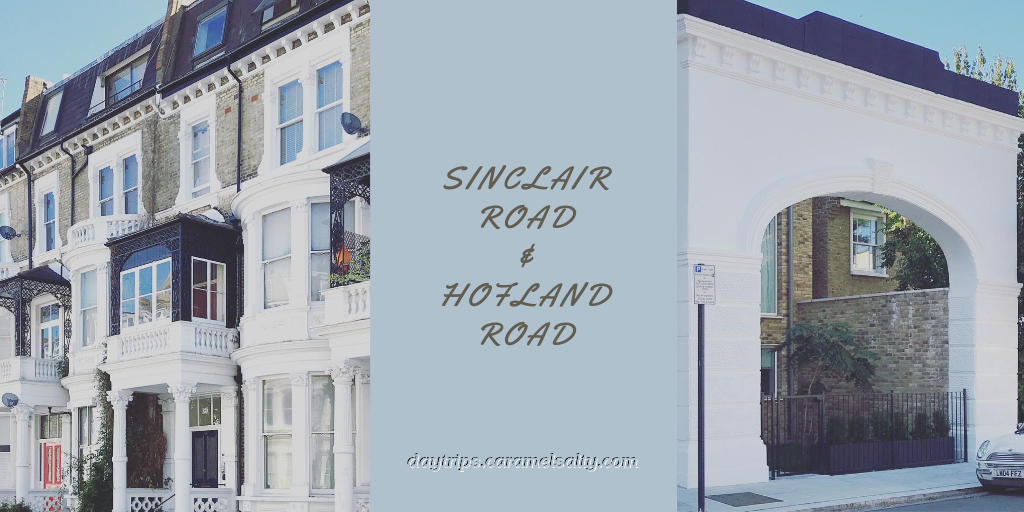 Hofland Road loops back onto Masbro Road. Walking back in the opposite direction, I notice the virgin and child engraving at No 83. From the Bird in the Hand, I can spy the blue hues of the [18] Havelock Tavern. It's a gourmet food pub, which is well suited in this area, as its residents include ex-CEOs of large banks.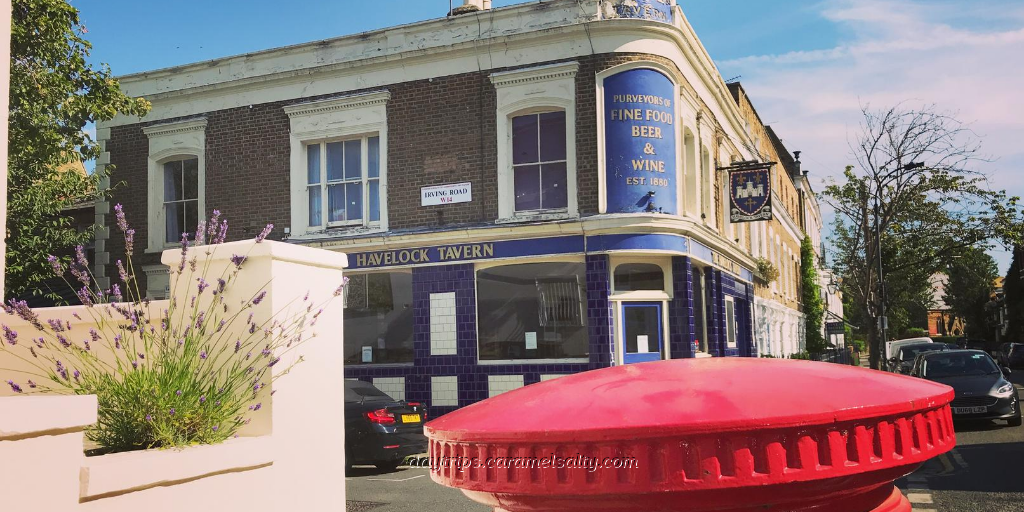 At [19] Blythe Road, there's another cluster of local amenities including the vintage looking [20] Betty Blythe café, and [21] The Popeseye steak house. The latter is a throwback to the name given to this area in the 17th century – The Popery – due to the Catholic population that moveed into the area. In fact, on [21] Caithness Road is a lodge straight out of that era.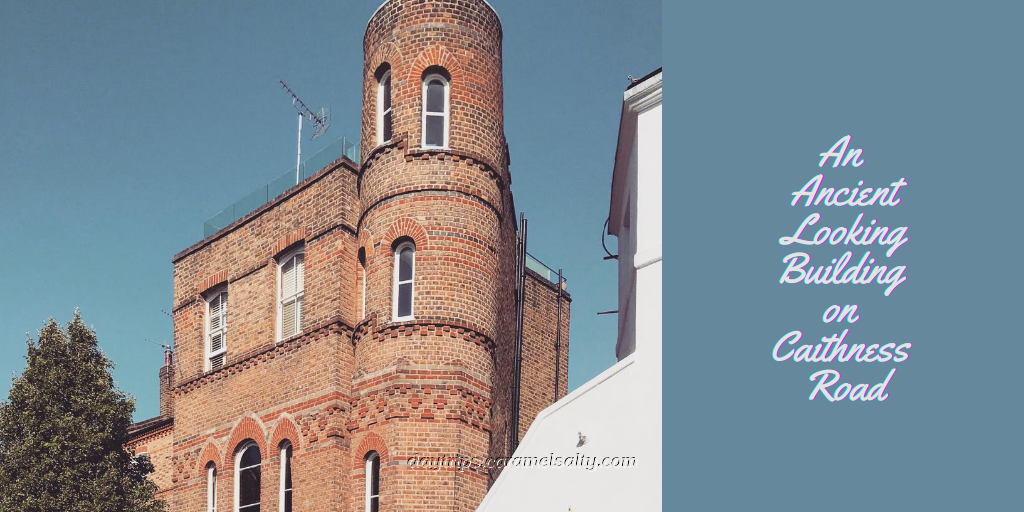 Caithness Road is as good as any to get to the heart of Brook Green, but I want to explore further. So I follow the curve of [22] Sterndale Road and then go straight down [23] Augustine Road. And there it is, the [24] Green with it's splendid London plane and elm trees. But where is the brook?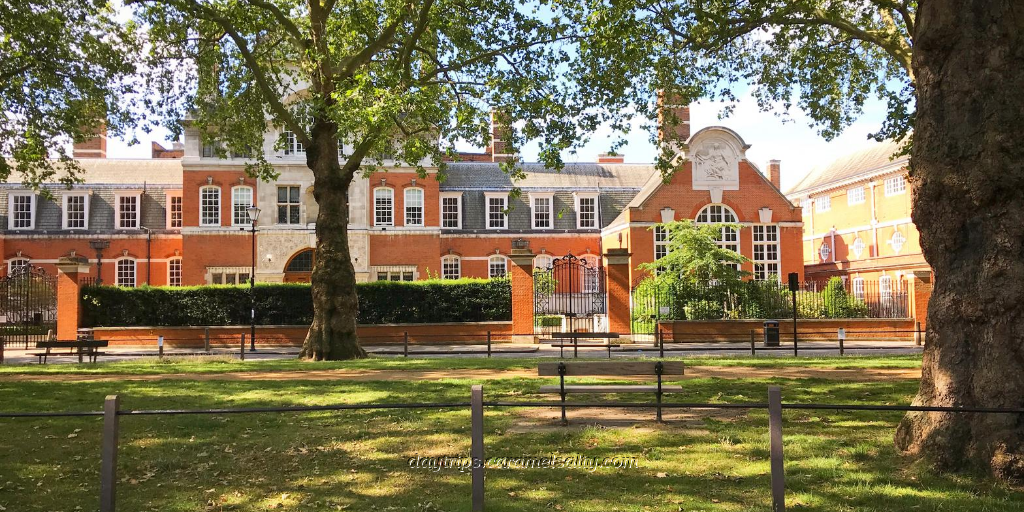 To find the brook, I go anticlockwise around the green to the [25] Brook Green Hotel on the busy [26] Shepherds Bush Road. The brook runs underneath the hotel. It's thought to have been a manmade ditch marking the boundary between Hammersmith and Fulham. But when it filled up with the waste from nearby brick works, it's fate was literally sealed in 1876.
The ditch was also known as Black Bull Ditch or Parr's ditch and it ran through the green. One building with great views of the 19th century marshy green, is the [27] Queen's Head. The Queen's Head is about 100 years older than the Brook Green Hotel, having been built in 1796 as two houses for a pair of brothers.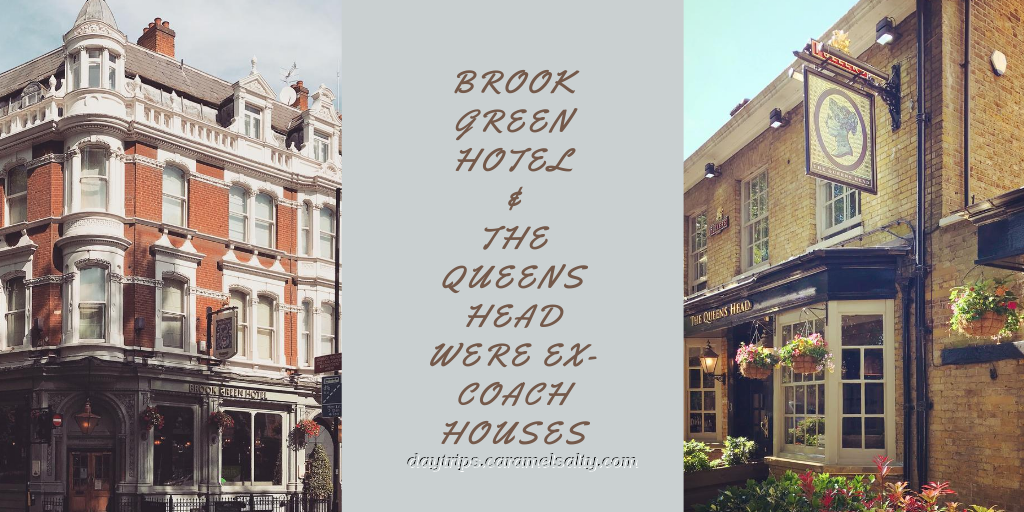 Both Henry Irving and William Morris frequented the Queen's Head because of their links to the stunning [28] St Paul's Girls School nearby. Opened in 1904, it's one of England's leading independent girl's school today. Gustav Holst was Director of Music here. He lived in Brook Green and Morris was a friend of his. As for the actor Henry Irving, his garden is now part of the school.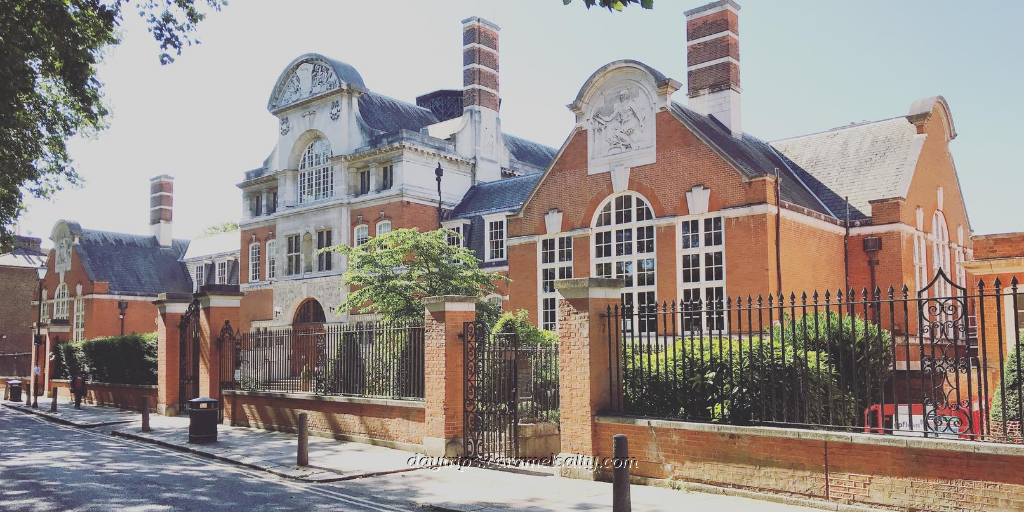 A spire further down marks my third, and final church for the day. This time it's the [29] Holy Trinity Church built by William Warsdell from Kentish ragstone. It was built to meet the demands of a Catholic community, which expanded even more when Irish immigrants moved to this area. If it's open it's worth stepping inside.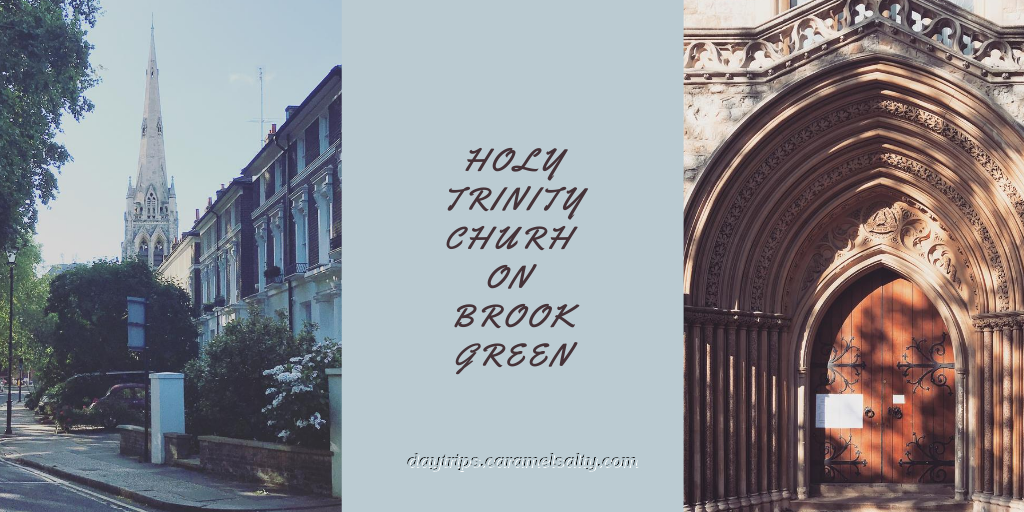 Nearby are two Grade II listed K2 kiosk, cast iron telephone boxes which were introduced in England in 1927. They are in extremely good nick. But then I wouldn't expect any less in a conservation area.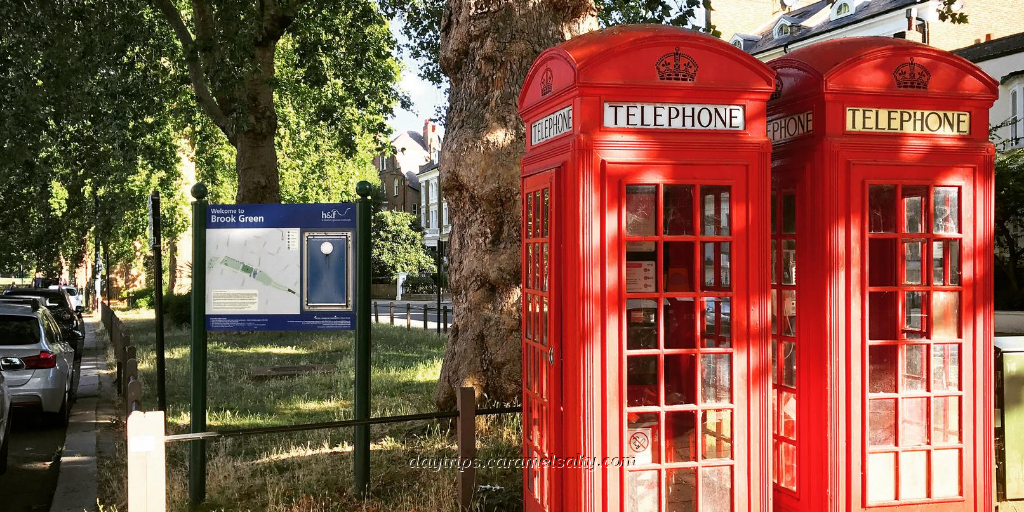 There are two more Grade II listed buildings to visit around the Green. The first is the 'Queen Anne style' house built in 1893 which is now the [30] French School. The side view of the school is quite impressive. And the other is a former synagogue (archive photo here), now a [31] Chinese Church.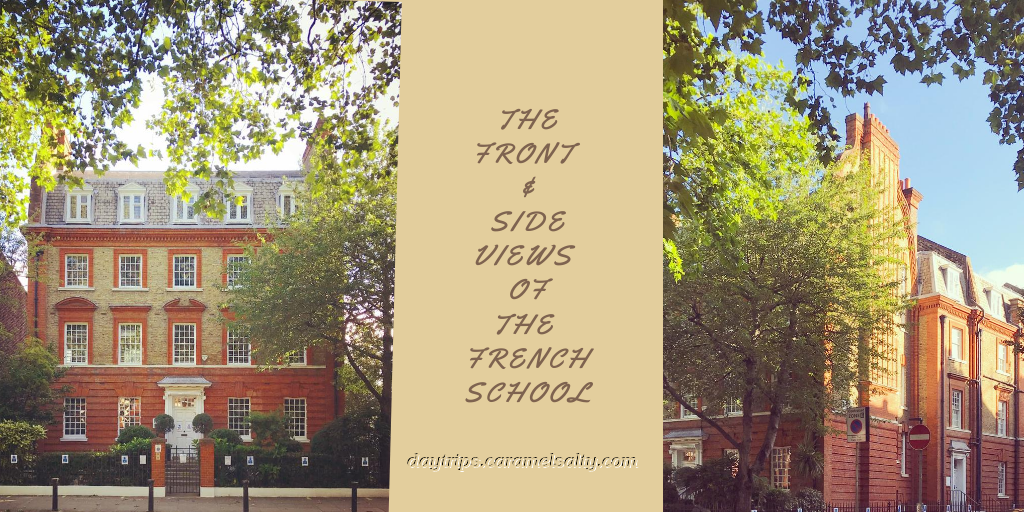 This is indeed a surprisingly tranquil green despite it being so close to major roads and train lines. It's worth a slow walk around it to enjoy the beautiful homes and mansion blocks surrounding it, whilst watching locals having a game of tennis or indulging in coffee at the ice cream hut.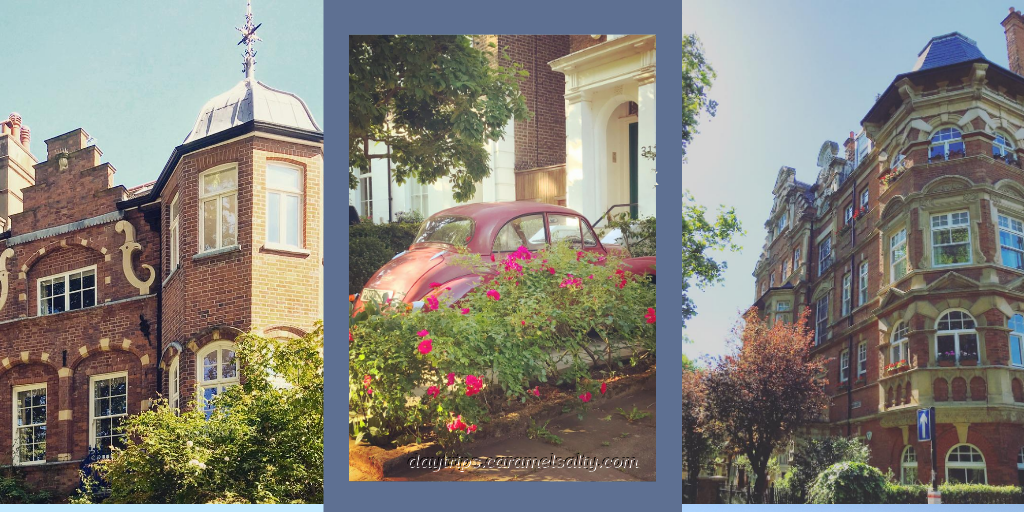 To return to Shepherds Bush, I could've just made a bee line to the three tower blocks at the start of my walk which have constantly been in view. Instead I choose to return along [32] Shepherds Bush Road via a collection of charming shops including a florist, an Aladdin's cave of a lighting shop, fishmonger and a posh fish and chips shop.
On the way back, I drop in on [33] Lakeside Road for the longest row of houses I've ever seen with their Victorian entrance lamp still in situ. I'm assuming that it's all part of the conservation efforts of Brook Green.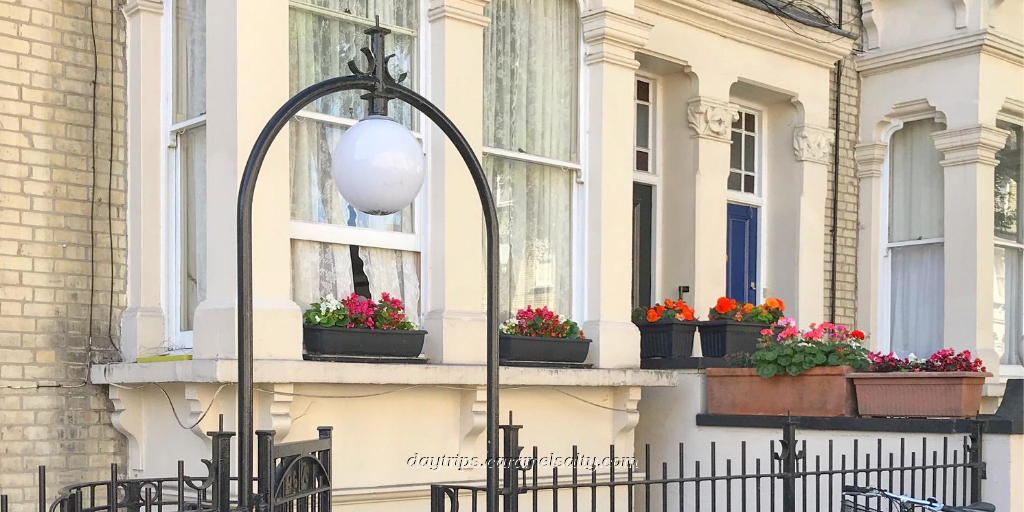 And as it's Saturday, I pop into the weekly farmer's market at [34] Addison Primary School for a little bit of browsing and shopping.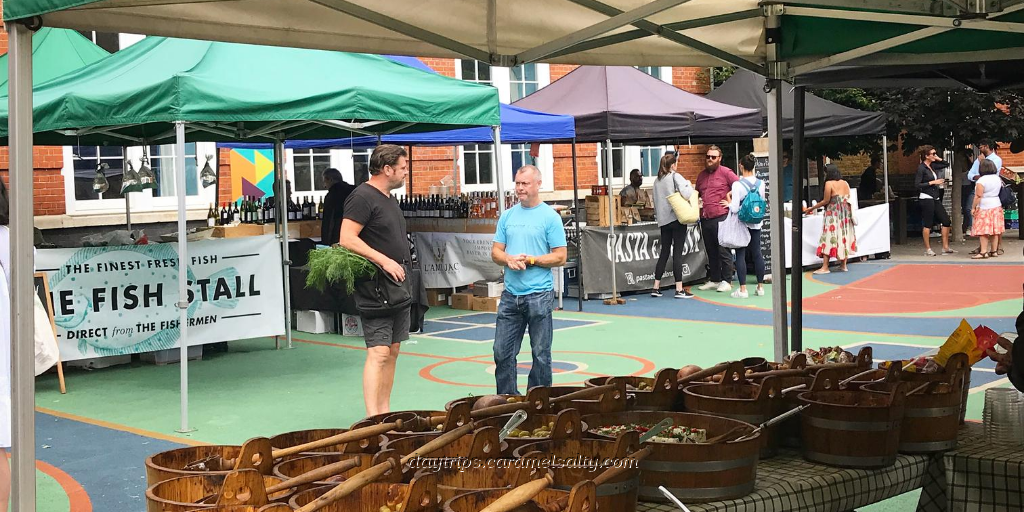 Once past the [35] Richmond pub, Shepherds Bush Road pretty much transforms into bed and breakfast land. But do look out for this little fella below, guarding the entrance to one of the buildings.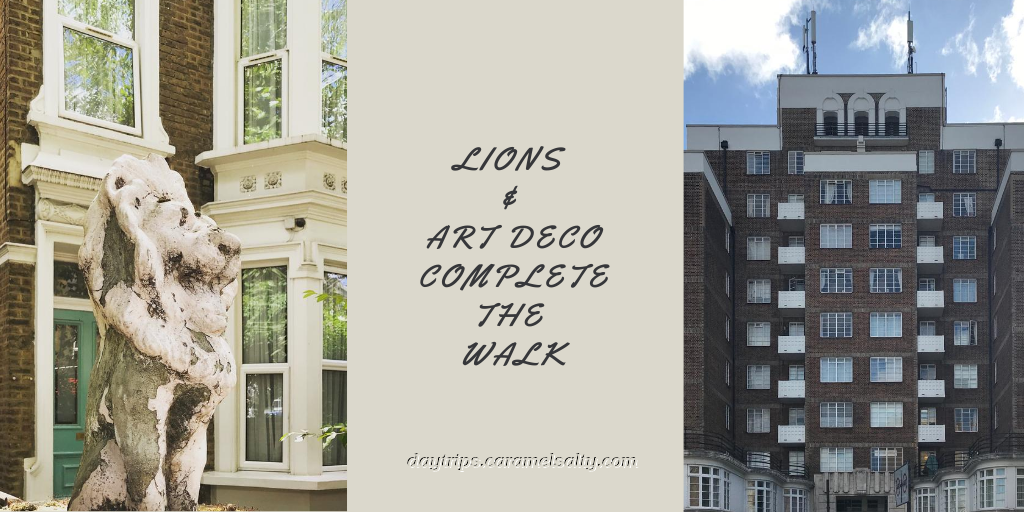 And last but not least, just before the green of Shepherds Bush, there is a towering block of Art Deco flats. And that, I think, sums up a well preserved walk around Brook Green.
Other Related Blogs
Some Useful Stuff To Know
Face masks are now compulsory on all London public transport.
Tube Map and City Mapper are free apps that provide London maps, route planner and train/ bus times from your nearest stop.
Transport for London is cashless. Only Oyster Cards, purchased at stations, or contactless cards, are acceptable.
The Havelock Tavern (website) – is now open again for socially distanced meals in.
Betty Blythe Cafe (website)- for afternoon tea in a vintage setting
The Queen's Head (website) – is now open again
The Farmer's Market at Brook Green (website) – Saturday has more stalls than Wednesday.