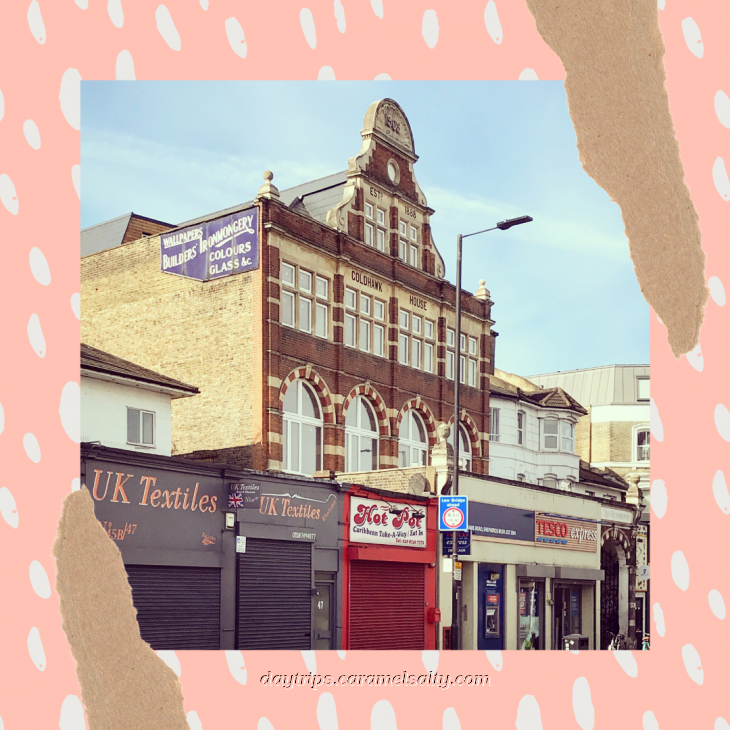 Goldhawk Road to Ravenscourt Park
In Roman times, a highway ran all the way from Londinium to Silchester. It cut through a little hamlet called Shepherd's Bush. Every Friday, Oliver Cromwell would travel along it to Hampton Court Palace. It was called the Devil's Highway in those days, and it still runs through Shepherds Bush today. But it's known, far less dramatically, as [1] Goldhawk Road.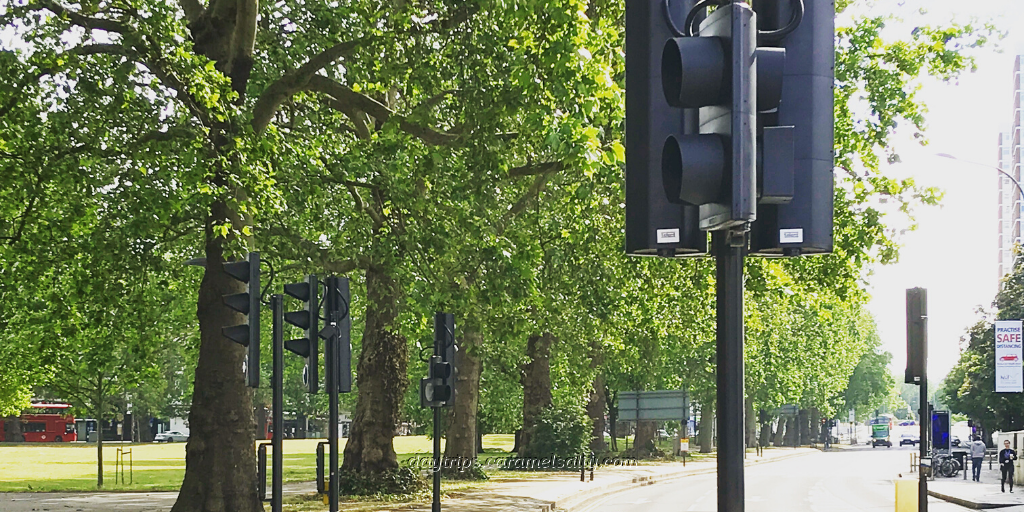 Start of Day : Goldhawk Road Station, Zone Two, London
Cost of Day Out: Cheap
History Content: Moderate
Goldhawk Road actually starts on the south side of Shepherds Bush Green. When Cromwell rode along it, he probably would have paid scant attention to the rural backwater that was Shepherds Bush. However, much has changed since his days. For starters, the railway viaduct that bisects Goldhawk Road was added by the Victorians in 1864, after which, a host of local businesses immediately moved into the railway arches underneath it.
This archive photo of flower sellers under the iron girders gives a sense of what it was like in the Victorian era. Then in 1914, the entrepreneur John Crowe invited traders to set up along Railway Approach. This coming together of shops marked the beginning of [2] Shepherds Bush market, the entrance to which lies directly across the road from [3] Goldhawk Road station.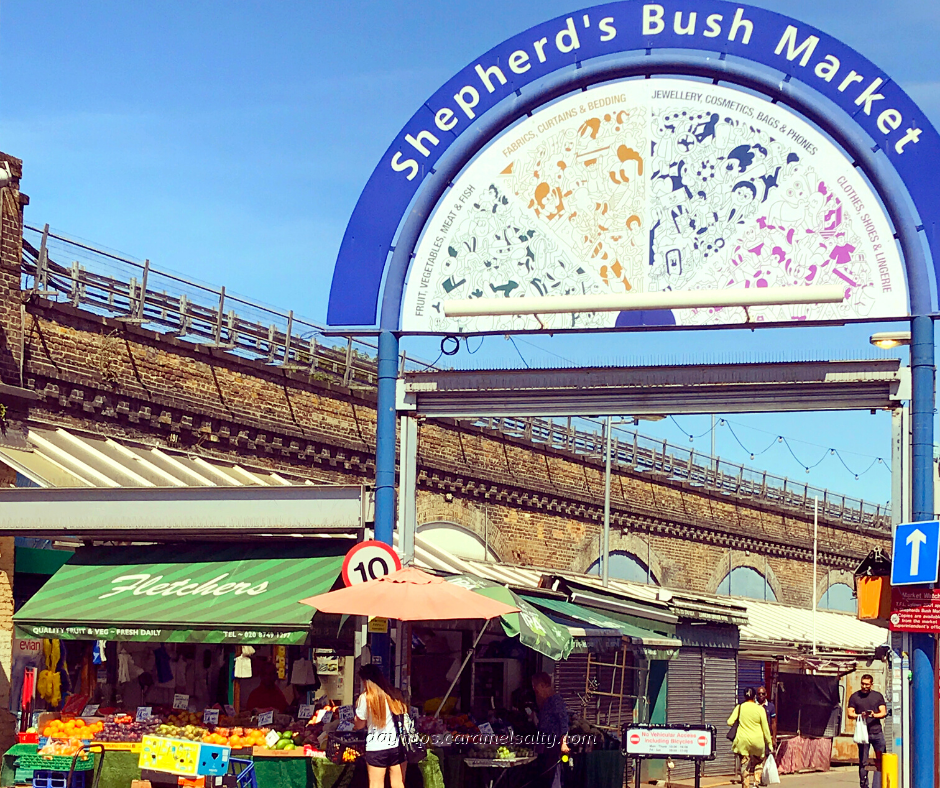 The myriad of market stalls cater for the cosmopolitan mix of Irish, Afro Caribbeans, Asians, Middle East and Africans who call the Bush their home. Watch repairers, hat sellers, fishmongers, the best falafel stall in London and even a modern gym are squeezed into this space along the railway tracks. Locals flock here for day to day necessities, whilst tourists turn up looking for the exotic.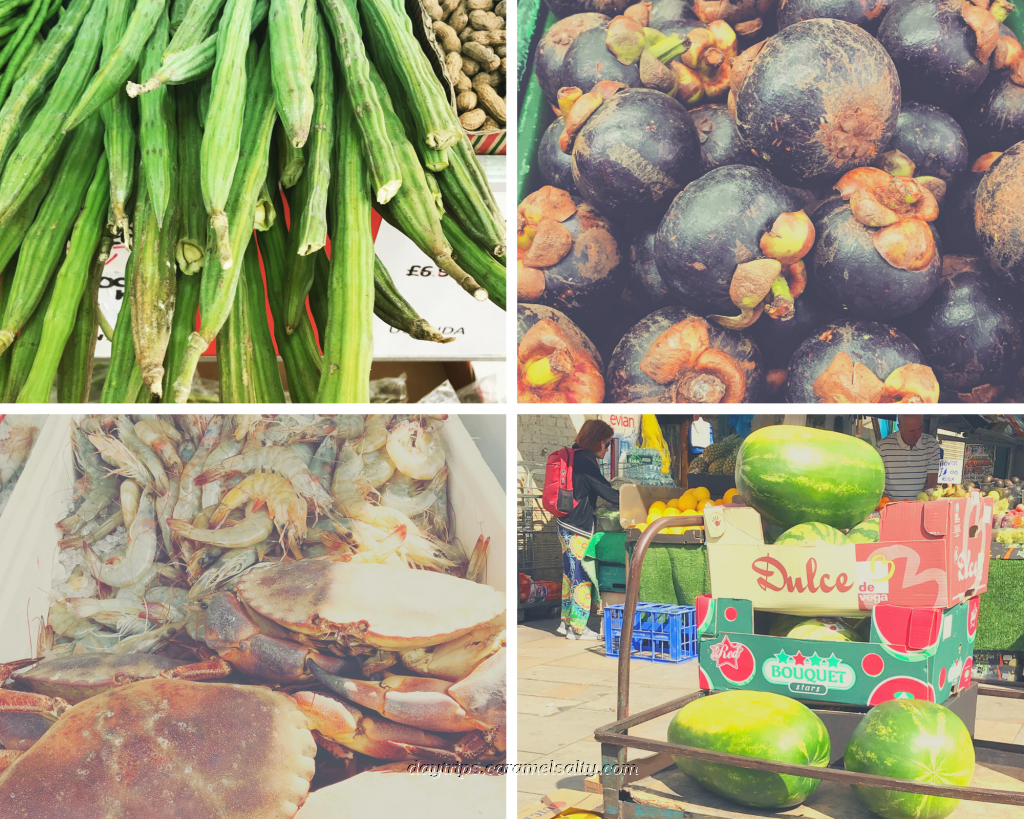 The market's history is a reminder of how family run businesses have dominated the area. Some have been lost forever, such as A Cooke's eel, pie and mash shop which closed in 2015. Judging by the farewell queues, it must have been the best in London. However, the multitude of fabric shops along Goldhawk Road, a trade brought to this area by Jewish immigrants, still survive. For sewing aficionados, these bargain dens sell every type of fabric you could want for.
There is always a constant churn of businesses along Goldhawk Road. Trendy outfits have replaced old fashioned ones, pubs have been converted to housing and a few chains have moved in. But the biggest change along this ancient highway was the disappearance of the fruit orchards on either side of Goldhawk Road when the trains arrived in Shepherds Bush, followed by a rapid pace of Victorian development.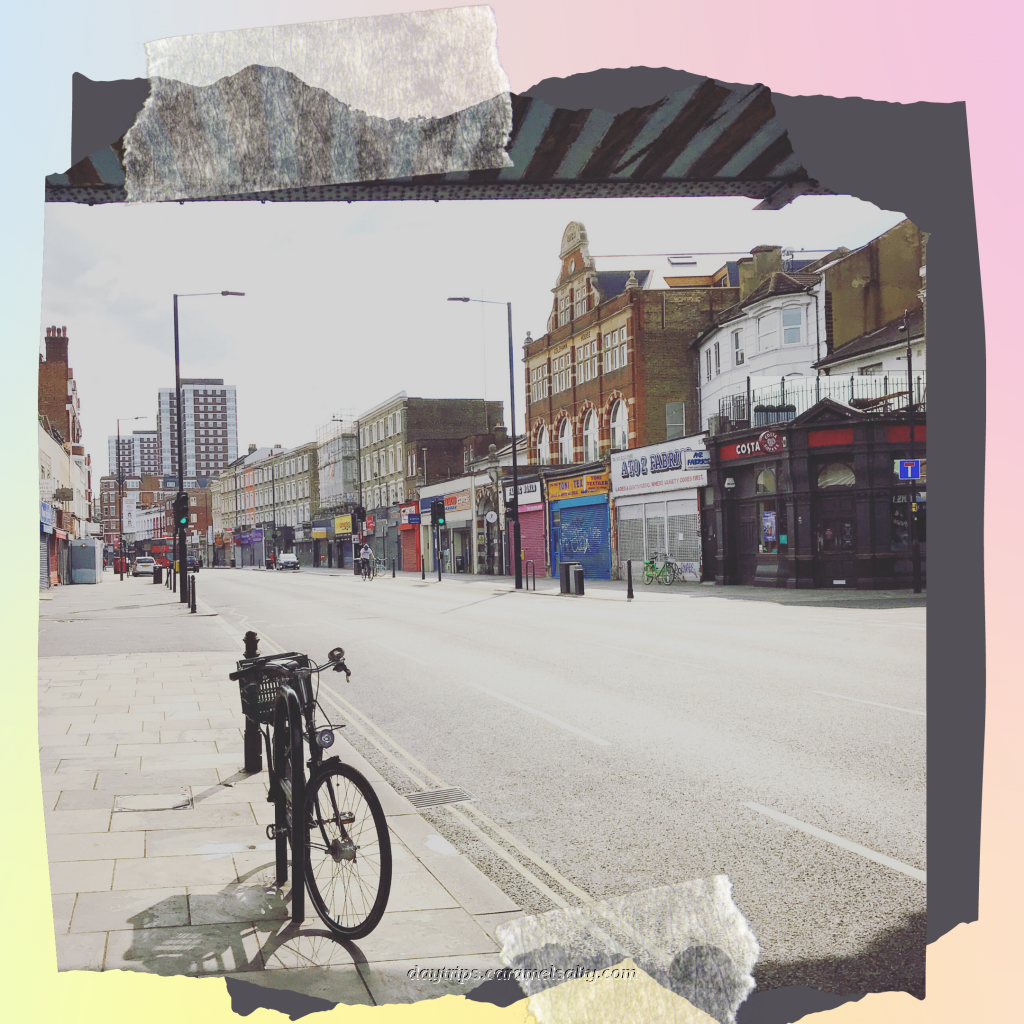 Even Charles Dickens visited Goldhawk Road in 1867. He came to buy a property called Urania House on a side street named [4] Lime Grove, which at the time was described as a "solid brick house, on a country lane". With financial help from his friend Angela Burdett-Coutts from the wealthy Coutts banking family, Dickens coverted Urania House to a shelter for prostitutes.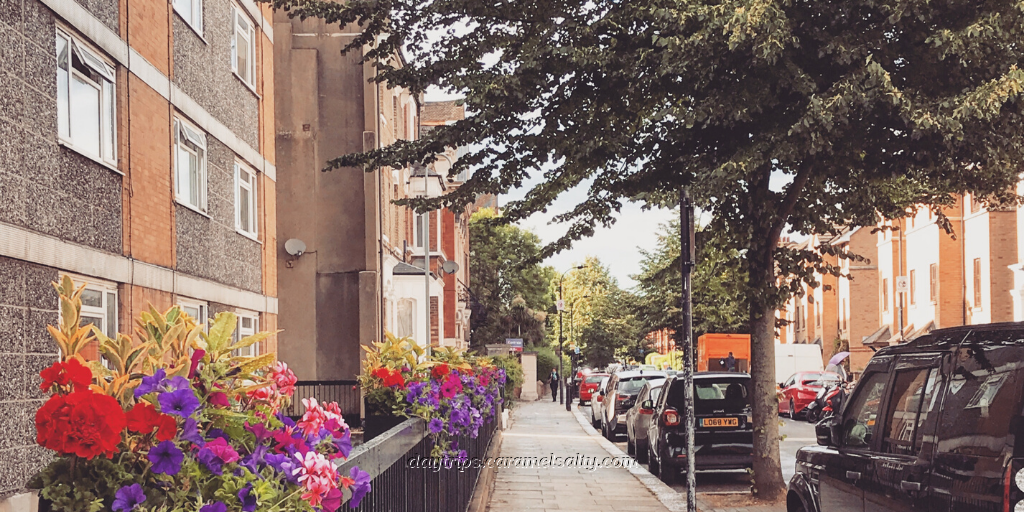 Urania House is no longer there. Neither is Lime Grove Studios, which when built in 1915, was the largest purpose built television studios. Many series like Top of the Pops and Doctor Who were filmed here. However, when the new BBC studios were built in White City in 1991, the building was no longer used. It fell into such disrepair that it was even called "Slime Grove" at one point.
The housing built over Lime Grove Studios still holds the name of the company that built these studios – the Gaumont Film Company. And there are still two remarkable buildings on Lime Grove – the Hammersmith Public Baths and Wash Houses which stand next to, and could even be part of the brown brick [5] London College of Fashions, conveniently located within a stone throw away from those fabulous fabric shops on Goldhawk Road.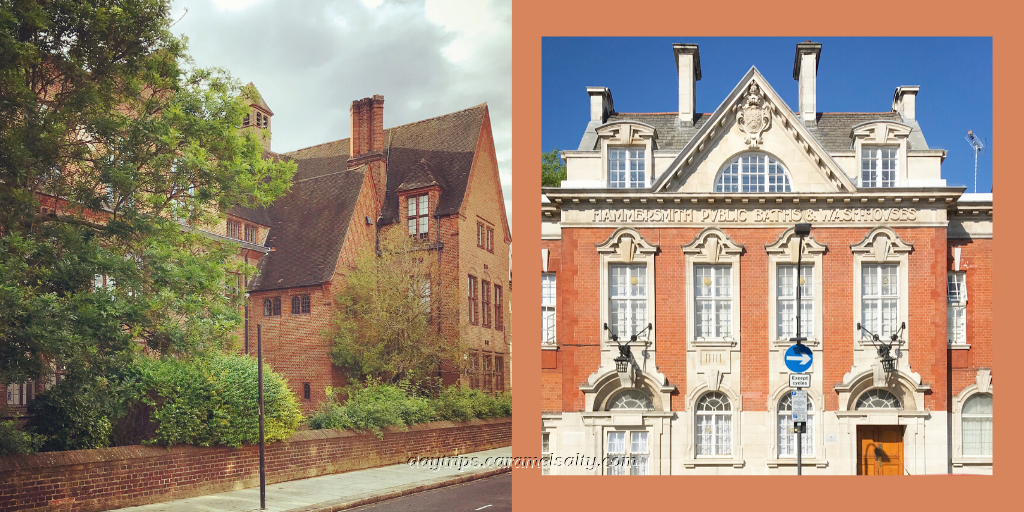 Another interesting side street off Goldhawk Road is [6] Hammersmith Grove, a beautiful tree lined street. It's my favourite walking route to Hammersmith as it allows me to peer into the gardens and windows of its very handsome houses. It's clear that these houses, all in different styles, were built for "ladies and gentlemen looking for ample space indoors for staff".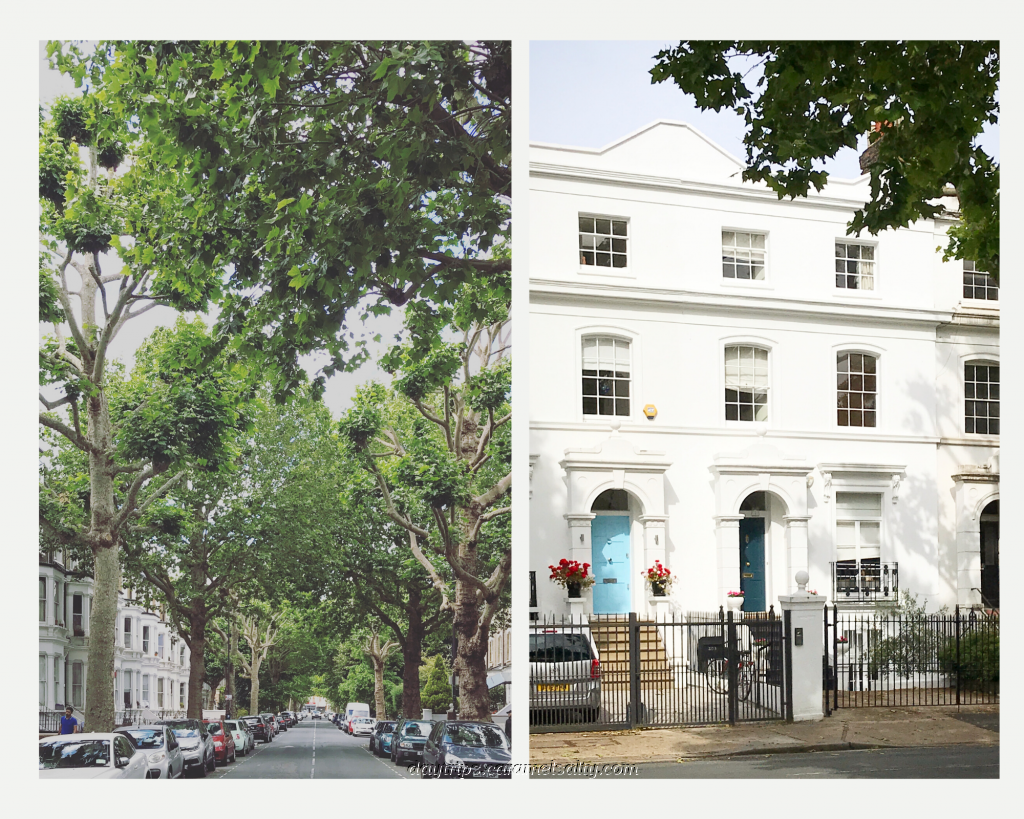 The housing stock along Goldhawk Road is pretty varied. It ranges from large Victorian terraces to tower blocks, from private to council owned, and from cottages to flats. Squeezed in amongst all of this is [7] No 110, Goldhawk Road, the narrowest house I've ever come across. It used to be an old hat shop. In fact, it's display window still remains and has a constantly changing display, thanks to it's creative tenant.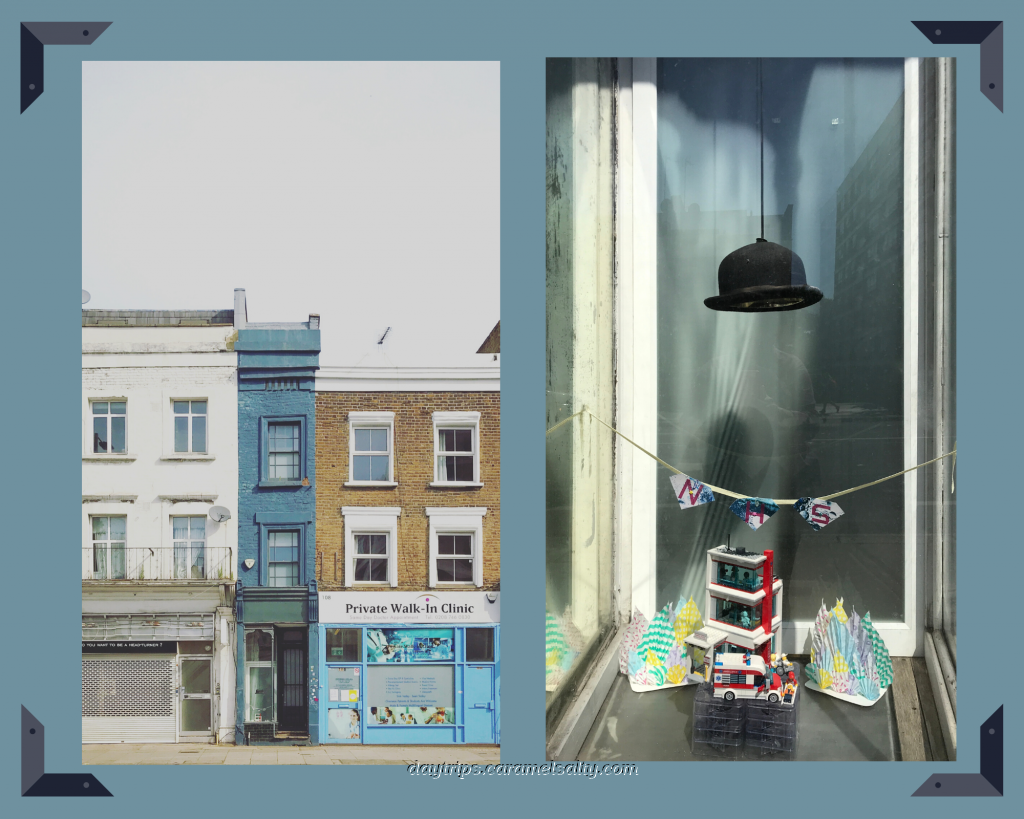 More and more commercial buildings are being converted to homes. The most celebrity laden one along here are the Townhouse Recording Studios. Artistes like the Sex Pistols, Elton John and Robbie Williams, were among the many who used the best recording studios ever built by Virgin. The studios closed in 2008, and have now been converted to expensive townhouses.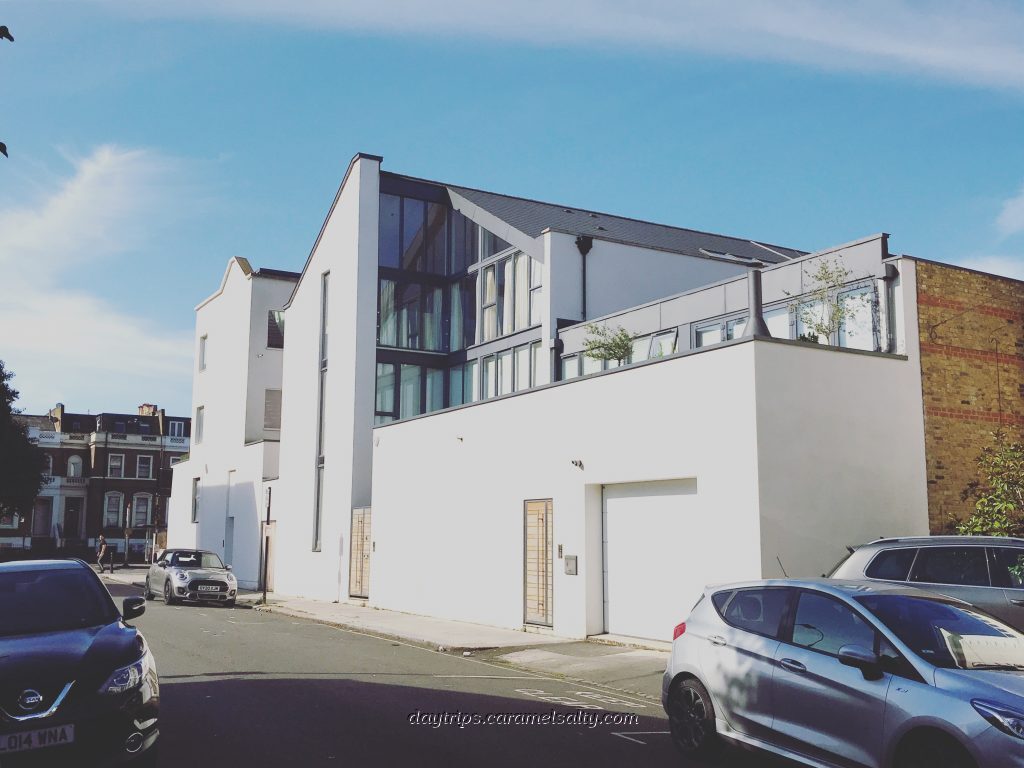 Just further along from these townhouses, is another of my favourite little side streets along Goldhawk Road. [8] Wingate Road forms part of Brackenbury village, which lies due south of Goldhawk Road. What is so charming about this street are the pastel shaped terraced houses running along one side, pretty with flowers in summer.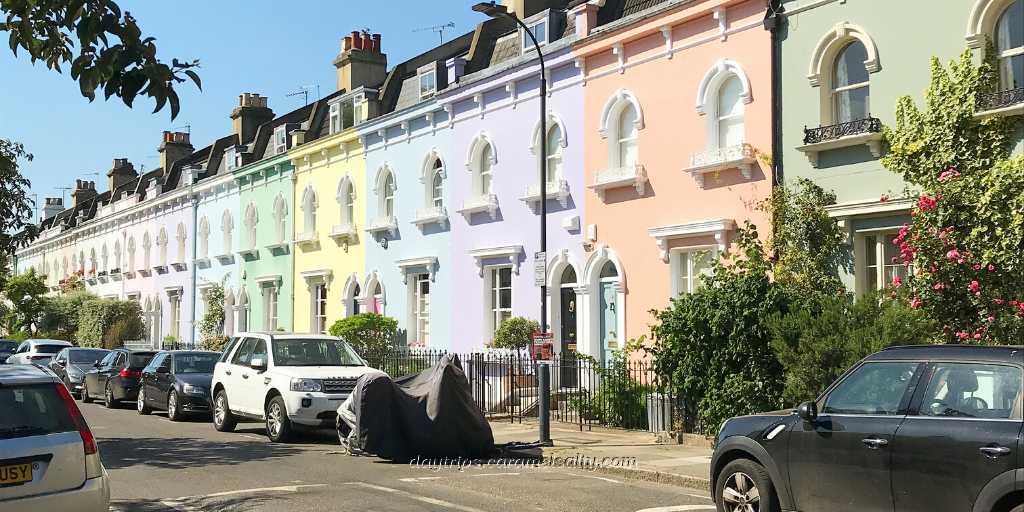 Goldhawk Road then meets [9] Paddenswick Road. On the northside of this junction is a little piece of green known as [10] Starch Green. In times gone by, there would have been billowing pieces of cloth drying on the green, right next to the old flooded in brick pit in which it would had have just been washed in. This large scale outdoor commercial laundry has long since ceased in Shepherds Bush.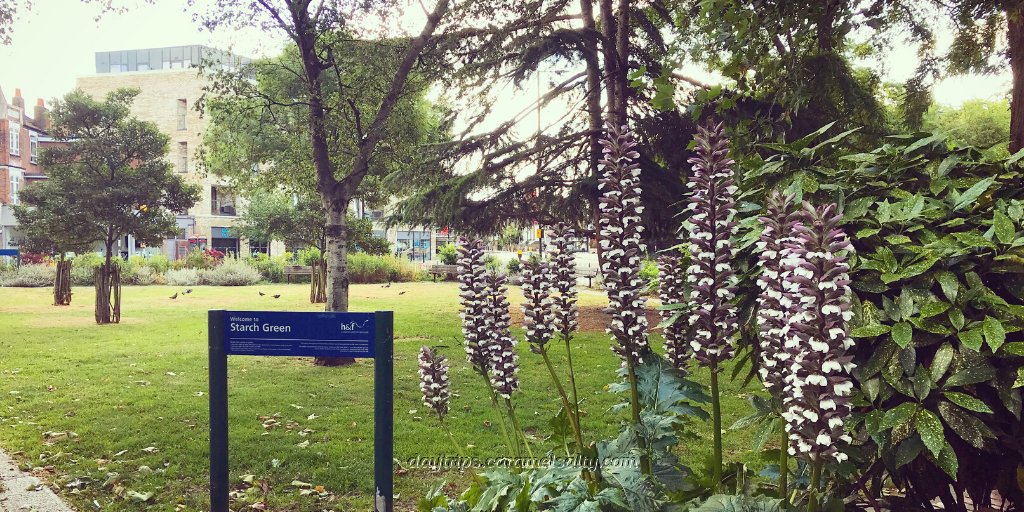 However, speaking of outdoor activity, across the road from Starch Green is the beautiful [11] Ravensourt Park. It runs along the length of Paddenswick Road which got its name from the 12th century manor of Pallenswick that stood in a private estate at that time.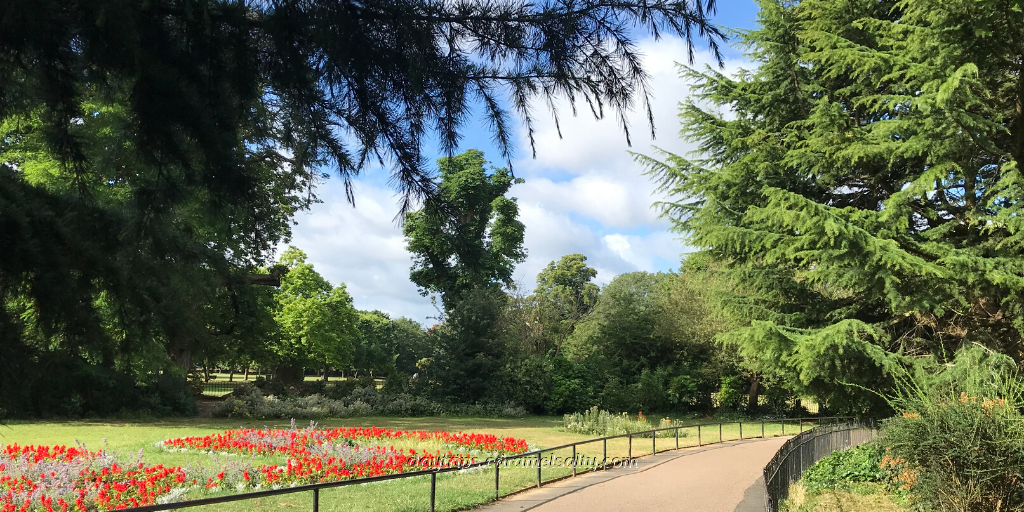 The duck pond in the park is what's left of the moat that used to surround the manor. As for the manor, that was surrounded by a scandal when Edward III gifted it to his mistress, Alice Perrers. Alice is said to have exerted so much influence over the King that she had many accusations and insults thrown at her. Some even said that she had bewitched the King.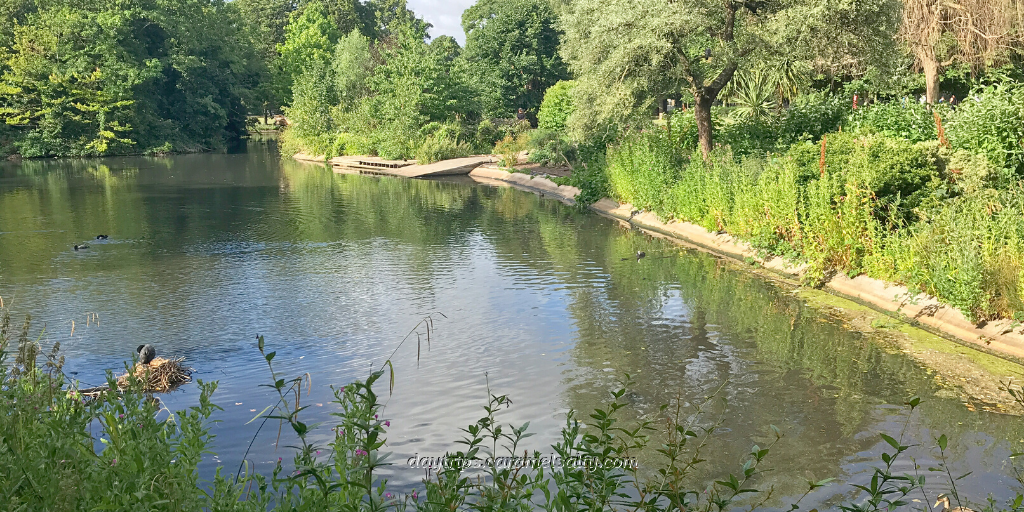 However the only thing bewitching about this park today are its enticing trees. In spring, it is adorned by its cherry trees. Right in the centre is a stunted thick London plane said to be struck by lightning. There's also a smelly heavenly tree. And the most gigantic London plane I've ever laid my eyes on, by the basketball courts. My favourite tree though, is the tall eucalyptus along the main avenue.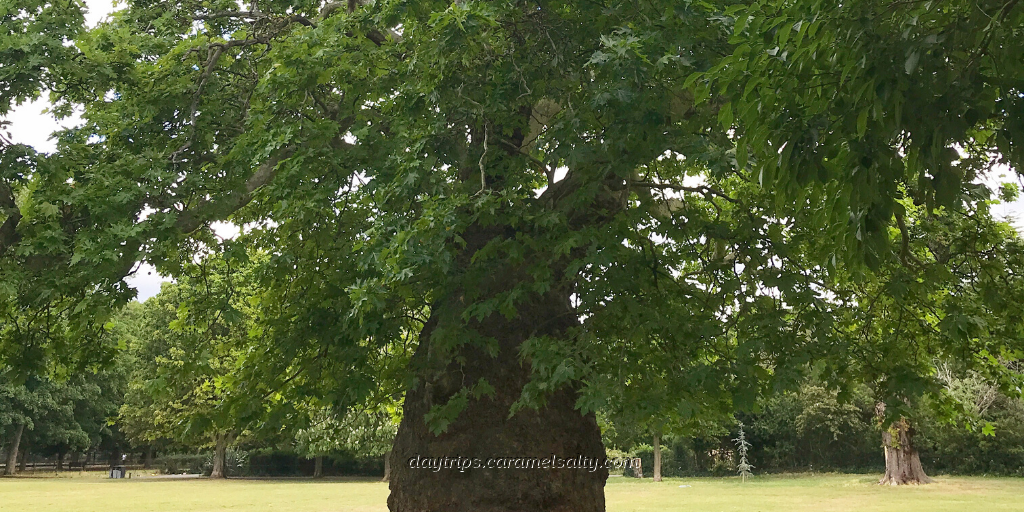 After being hit by a bomb in 1941, the manor was never rebuilt. The solitary building that remains of the manor is the tea house which used to be the stables. This wonderful park, has something for every age and activity – like the bowling green (in the same spot where it's always been), tennis and basketball courts and a Lido for kids. As for me, I end my walk at my favourite spot – the old kitchen gardens of the manor, lovingly looked after by the Friends of the Walled Garden of Ravenscourt Park.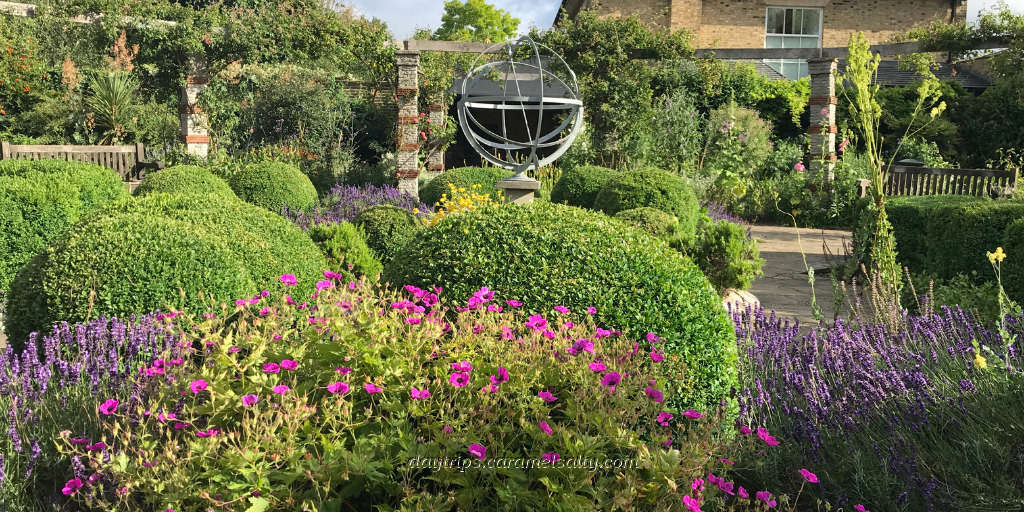 Other Related Blogs
Some Useful Facts to Help You
Face masks are now compulsory on all of London's public transport.
Tube Map and City Mapper are free apps that provide London maps, route planner and train/ bus times from your nearest stop.
Transport for London is cashless. Only Oyster Cards, purchased at stations, or contactless cards, are acceptable.
The walk ends close to Ravenscourt Park tube station.
Events and the Friends of Ravenscourt Park can be found on its website here.