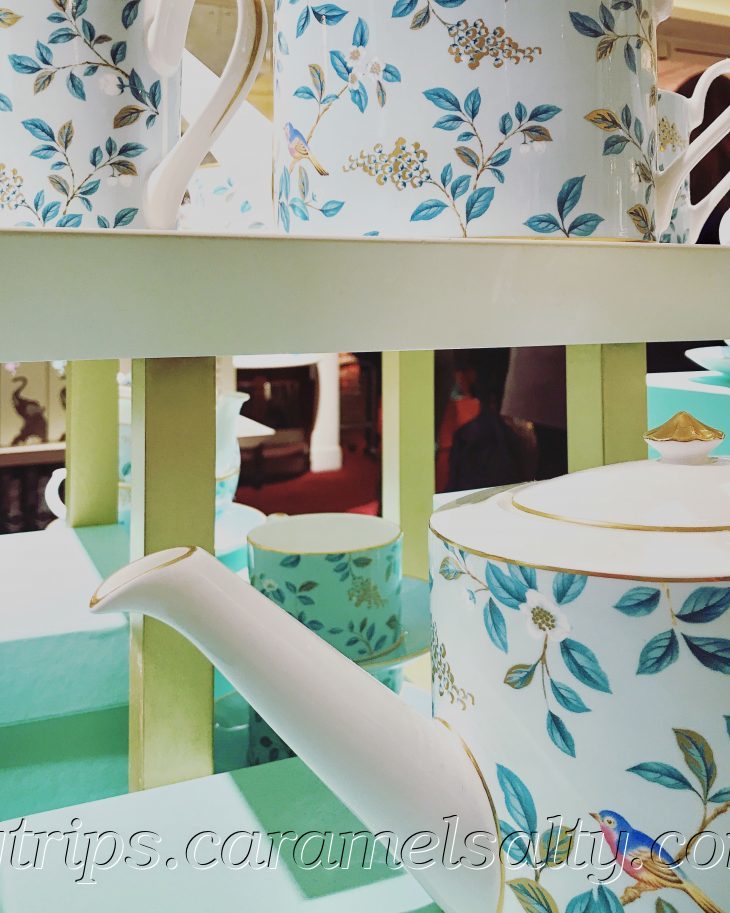 Piccadilly – Christmas Time Around Fortnum and Mason
In 1886, Mr. Heinz disembarks at an English port. He has, with him, 5 heavy cases. He lugs them all the way to Piccadilly. There, the grocers Fortnum and Mason, seeing its potential, buy all 5 cases from him. And since then, no English breakfast is considered complete without a ladleful of warm baked beans.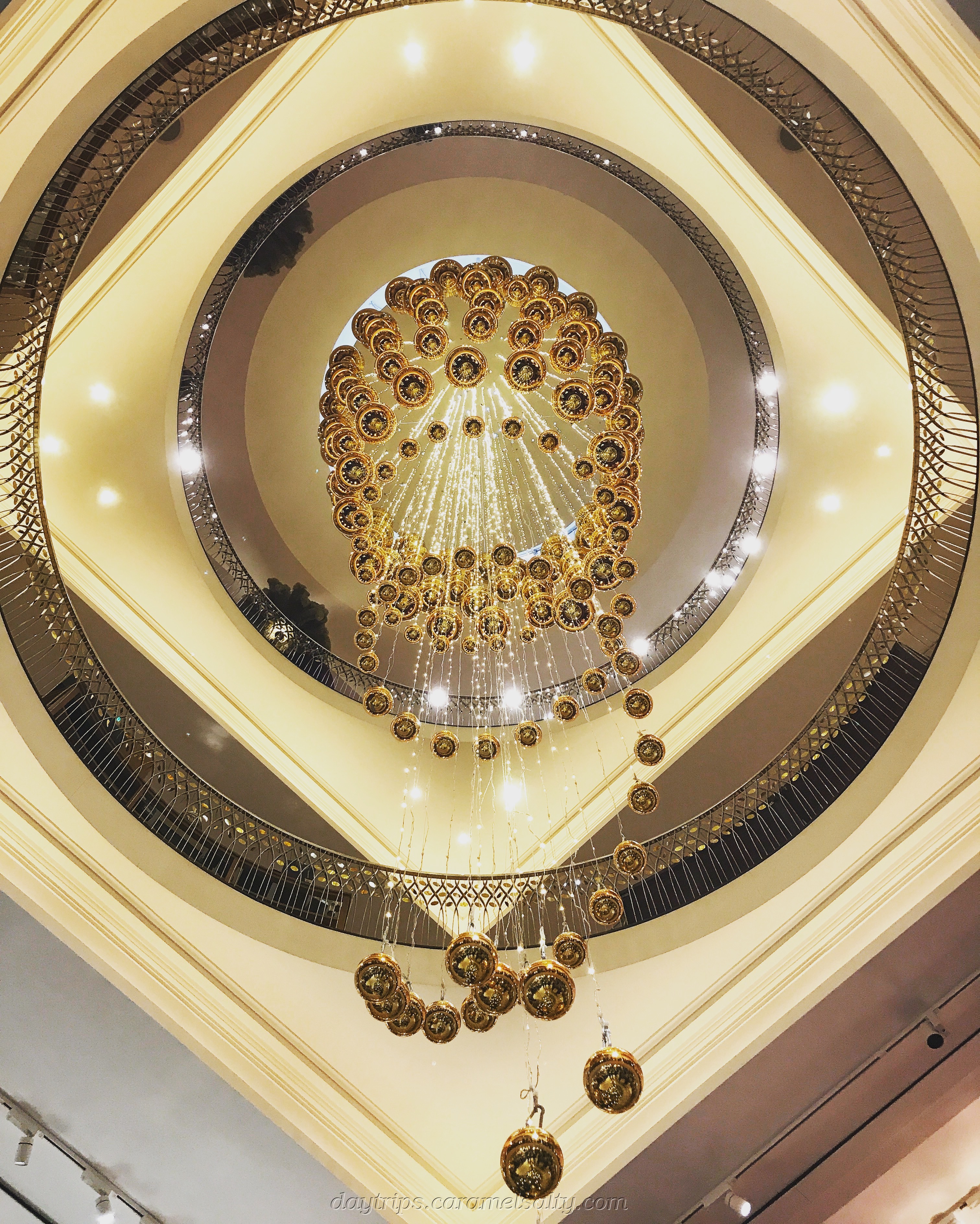 Start of Day: Green Park Station, Zone 1, London
Cost of Day Out: Cheap
History Content: Moderate
Every hour on the hour, no matter the weather, Messrs. Fortnum and Mason make their way out. With one hand behind their backs, they bow stiffly to each other, before returning into the clock above the entrance of the upmarket food store that bears their name. I presume that it's Fortnum who carries the candlestick. As a royal footman, he collected the previous night's half burnt candles discarded by fussy Queen Anne and sold them on. Which is how he moves into retailing.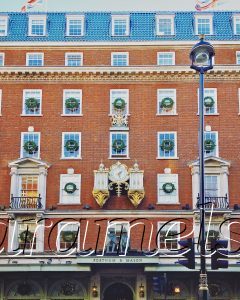 A doorman in Victorian regalia lets me in through the main entrance of [1] Fortnum and Mason. My feet sink into beautiful carpets, designed to slow me down. I'm glad of that. I'm certainly not in a hurry to leave the shelves stacked with their mouth-watering food products. Which they also serve in their restaurants and tea rooms.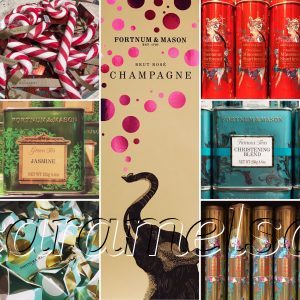 I am forever indebted to Fortnum and Mason for inventing the Scotch egg in 1738, initially intended for travellers. And for successfully rebranding and repopularising London Dry Gin. And for seeking out and selling all kinds of tea, including a gin and tonic flavour one.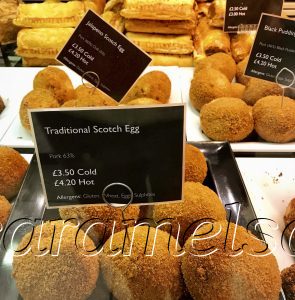 On Fortnum and Mason's roof, they host four colonies of bees, nurture a kitchen garden and smoke their own salmon. Or so I'm told, as it's not open to the public.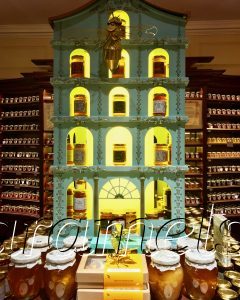 Their hampers are famous too. In 1911, Fortnum's send hampers to the suffragette prisoners who broke their windows during a protest. Hampers are also sent to the frontline. Although they soon realise that an all tinned food hamper is best at preventing the mice from getting to the treats first. In 1983, Linda McCartney orders hampers for (CND) protestors in Greenham Common. And on Derby Days of old, coaches would be queueing nose to tail on Piccadilly to pick up pre-ordered hampers for a day of horse racing.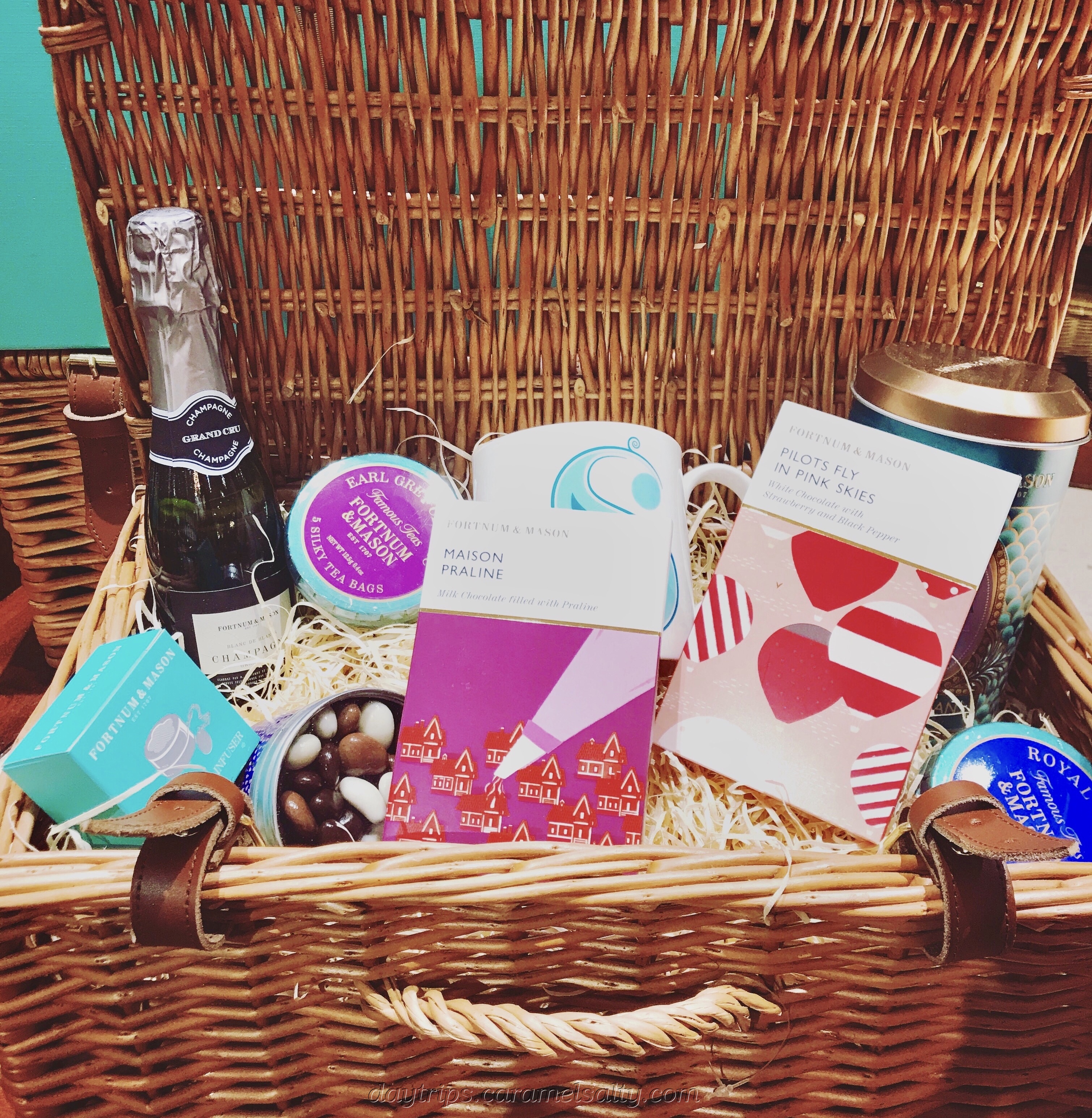 The [2] Royal Academy along Piccadilly is one of London's oldest institution, founded in 1768 to promote British art through education and exhibition. There's actually an arts school on its Piccadilly premises, which it moved into only in 1868. The highlight of the art year is the annual Summer Exhibition held here, which is open to all artists.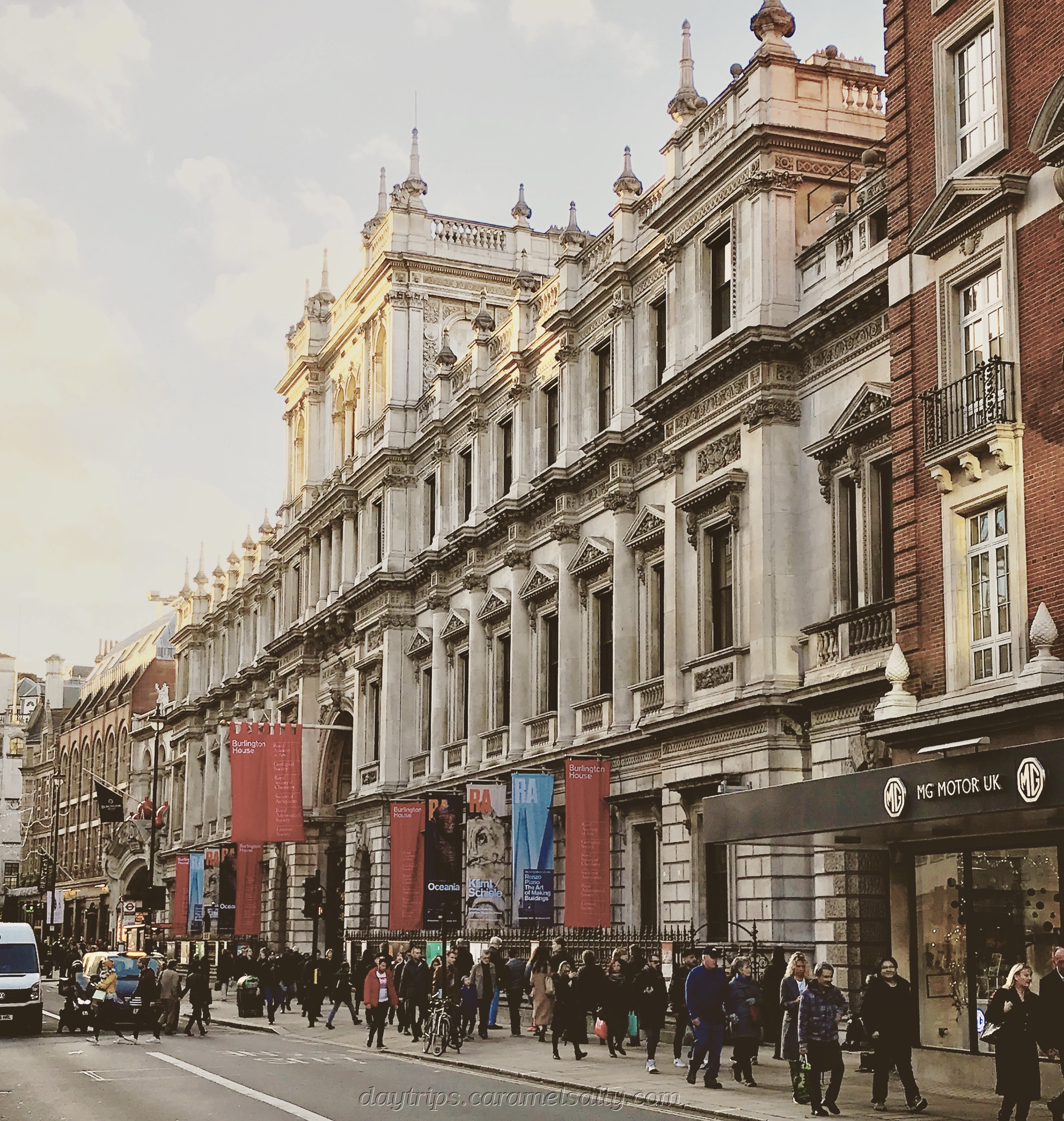 The most prized possession in the Royal Academy's collection is Michelangelo's Taddei Tondon, a marble carving of the Virgin Mary and child, and the infant St. John the Baptist. It's most controversial exhibition was probably the painting of Myra Hindley, a convicted child murderer. It provoked sufficient public reaction for the painting to be vandalised whilst on display.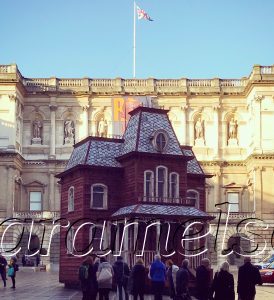 The Royal Academy used to be home to Lord George Cavendish. He had only one complaint whilst living there – the empty oysters shells being thrown over his garden wall. Not by the posh people who lived in Mayfair, but by Joe public walking past. Oysters were once the food of the common people. And red meat the preserve of the rich. What a contrast to today. Just look at the affordability of a McDonald burger to 1/2 a dozen oyster shells !!
So to stop oyster shells and other rubbish from landing in his garden, Lord Cavendish builds a covered arcade, calling it [3] Burlington Arcade, after his home, Burlington House. By putting some shop units in it, he creates the longest retail arcade in Britain. Luxury brands move in. The arcade becomes the place where the middle classes could shop, safely away from the riff-raff. Until I turn up, that is ……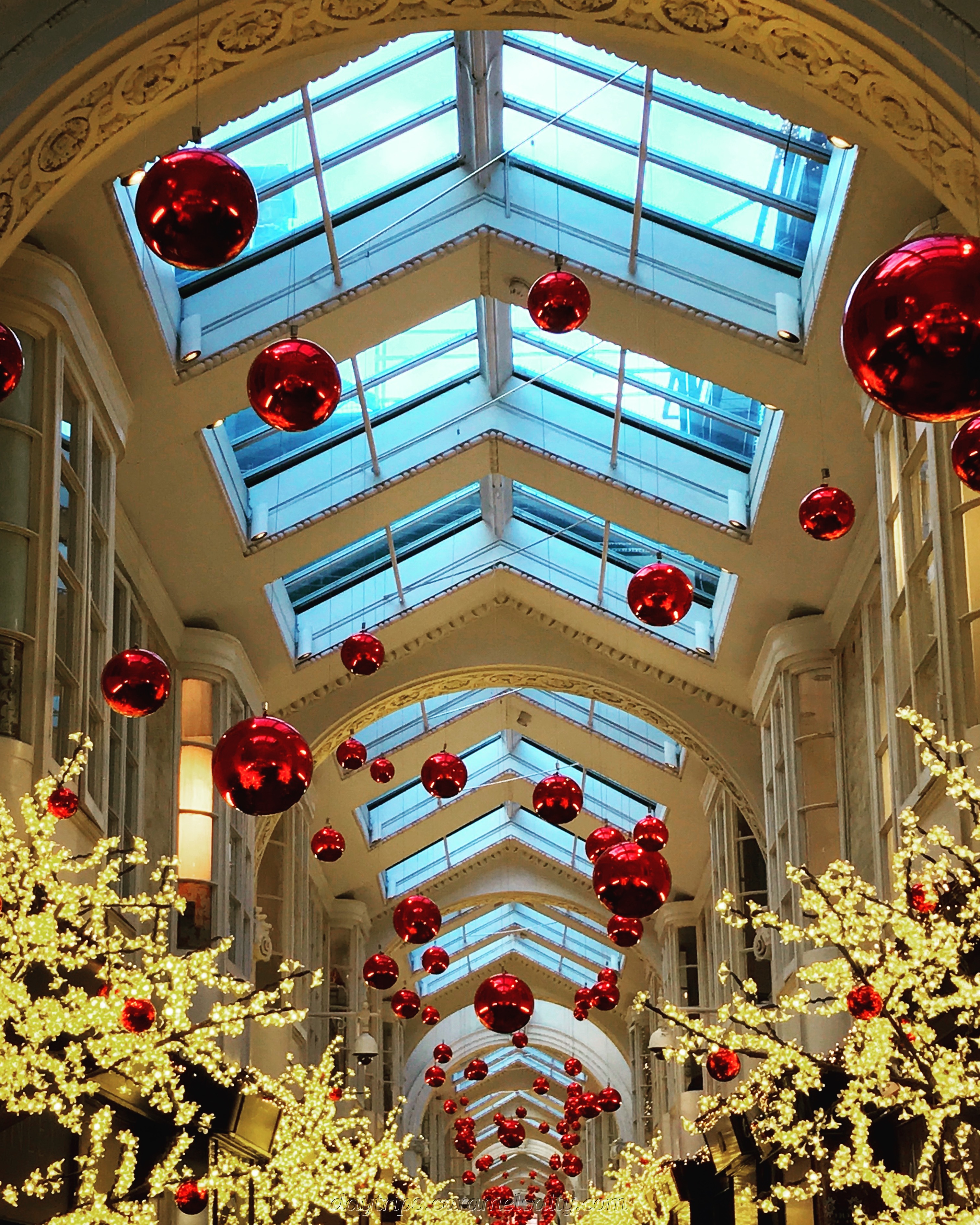 To prevent undesirable pickpockets from mingling with the shoppers, Lord Cavendish employs the Beadles, the smallest police force in the world. The Beadles still guard the arcade in their black Victorian frock coats. But they couldn't prevent a bunch of thieves in a classy British Jaguar crashing through the arcade. The car conveniently comes to an emergency stop just outside the goldsmiths. Despite office workers throwing pots and furniture at the escaping car, robbers, jewellery and badly dented car are never seen again.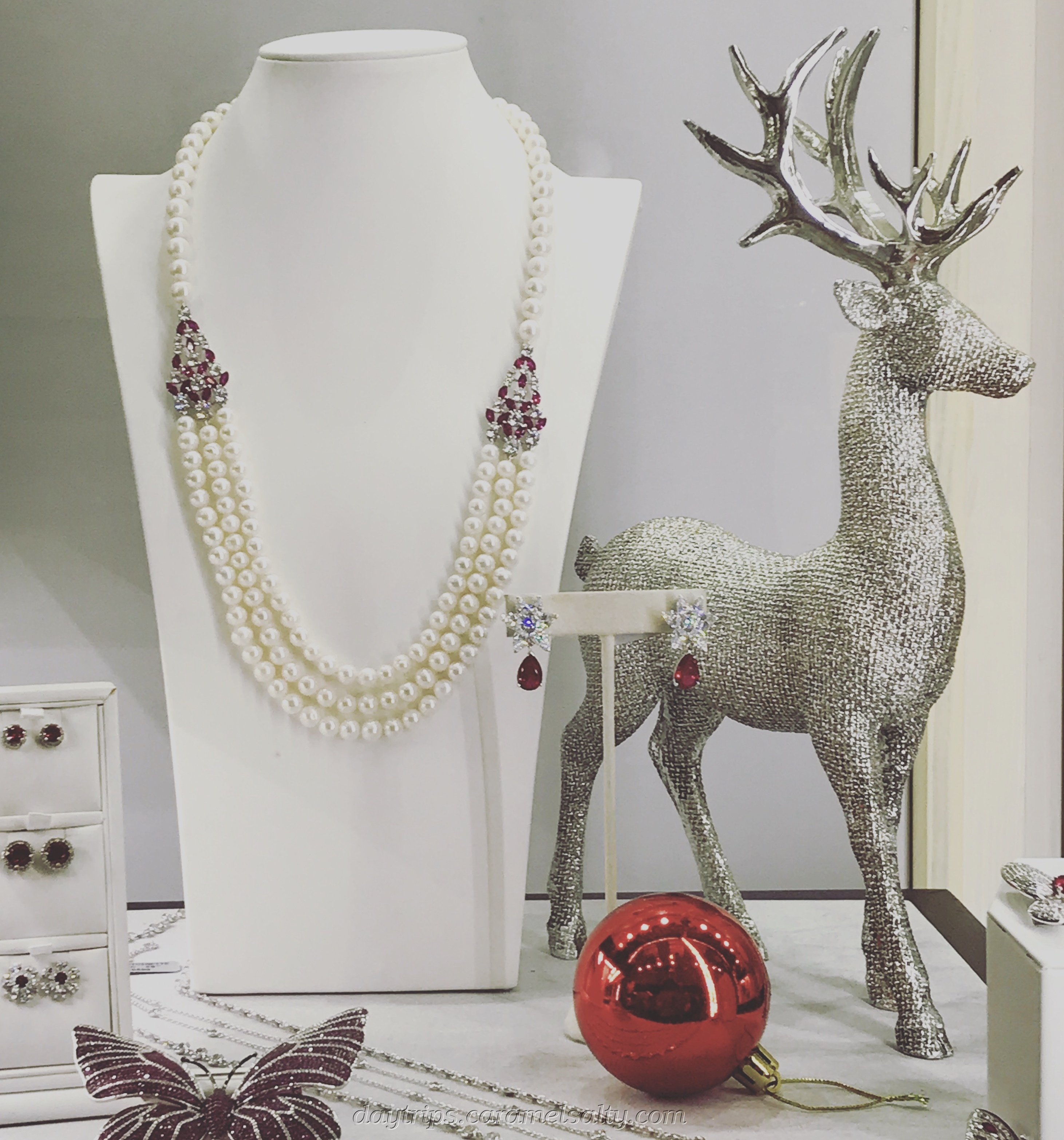 There are many things that one still can't do in the arcade. Running, busking, opening of umbrellas and cycling are No no's. As is whistling. Whistling was how the pimps alerted the prostitutes in the upper floor brothels, of approaching policemen. And also how the prostitutes warned the pick pockets below. Prostitutes in the arcade? Gives a whole new meaning to Lord Cavendish's desire to build the arcade for industrious females !!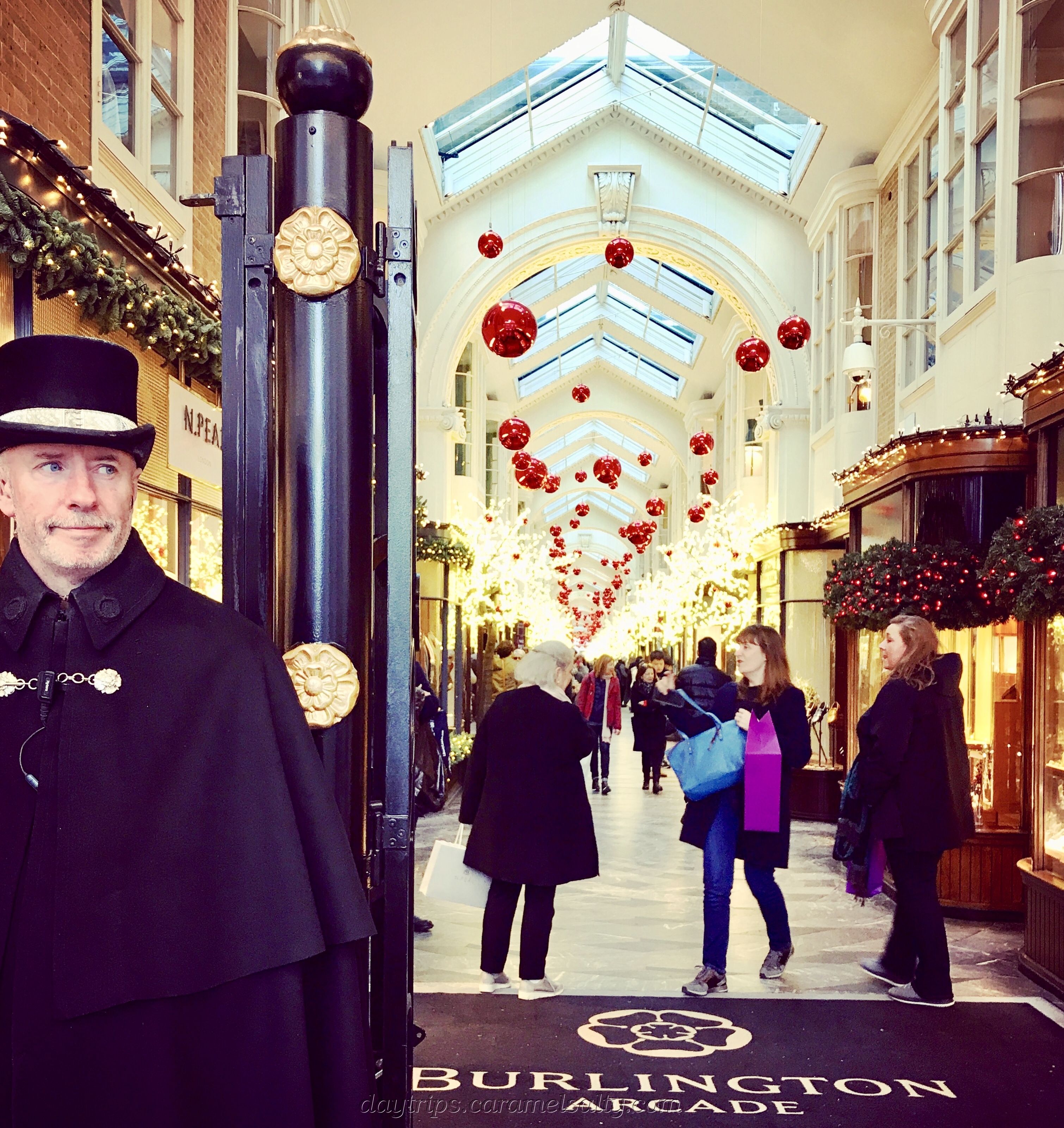 Whilst Oxford Street (see my blog here) is the northern border for Mayfair, Piccadilly marks its southern border. 19th century Mayfair was where one would live if one was a gentleman seeking his fortune in London. And I wonder if princesses did too, as I wander past the beautifully adorned [4] Princess Arcade in sophisticated silver.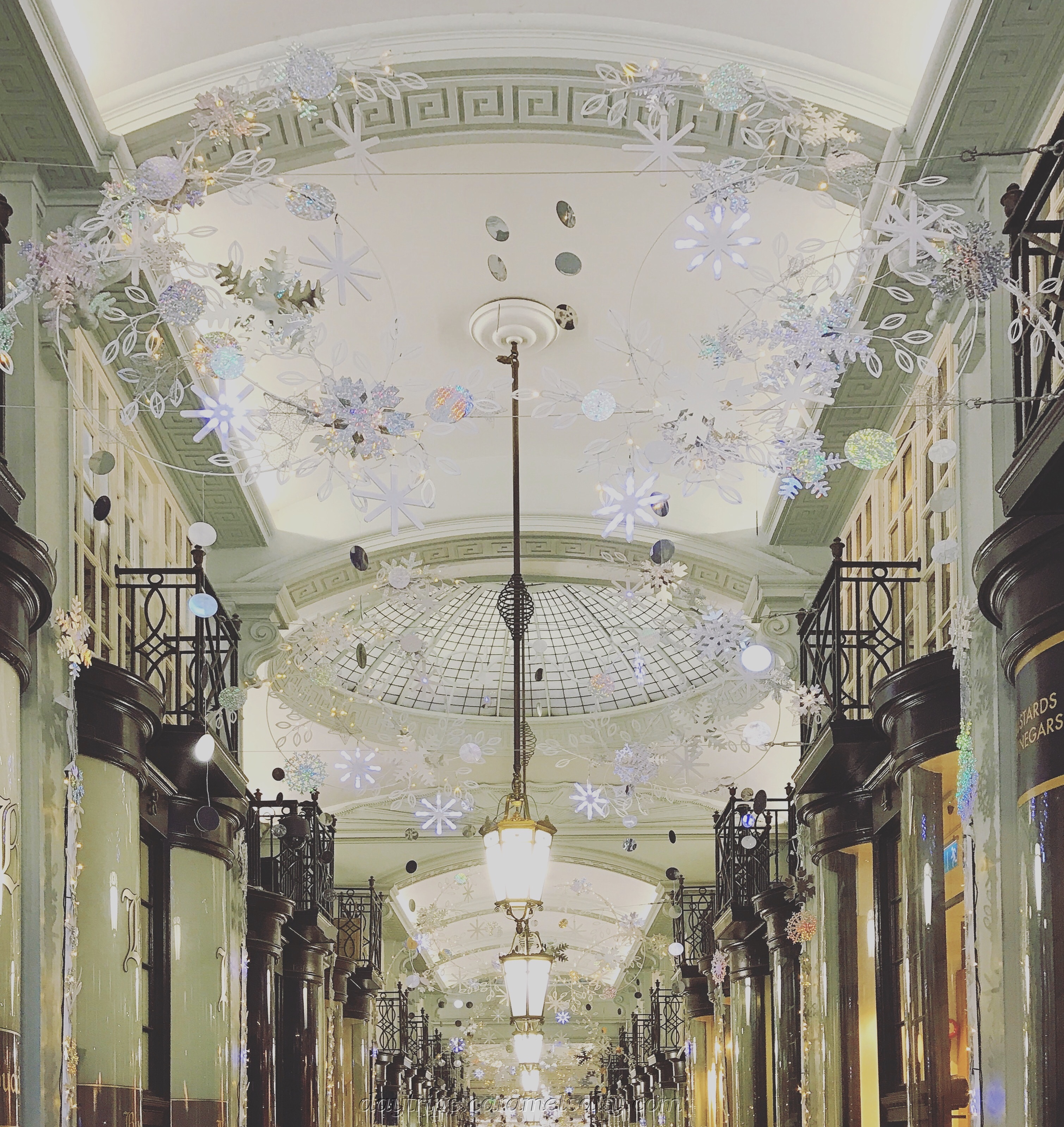 From princesses, I move across the street to where bachelors used to live at [5] Albany Court. It's no longer a bachelor pad. Anyone who can afford the minimum £2m price tag, is welcome. Some of the single men who lived here had such imaginative names that I couldn't have made them up. There was Mr. Fascination Fledgeby (Our Mutual Friend, Dickens), Ernest (The Importance of Being Earnest, Oscar Wilde), Charles Egremont (Sybil, Benjamin Disraeli) and Pongo Twistleton (Uncle Fred Flits By, P.G Wodehouse).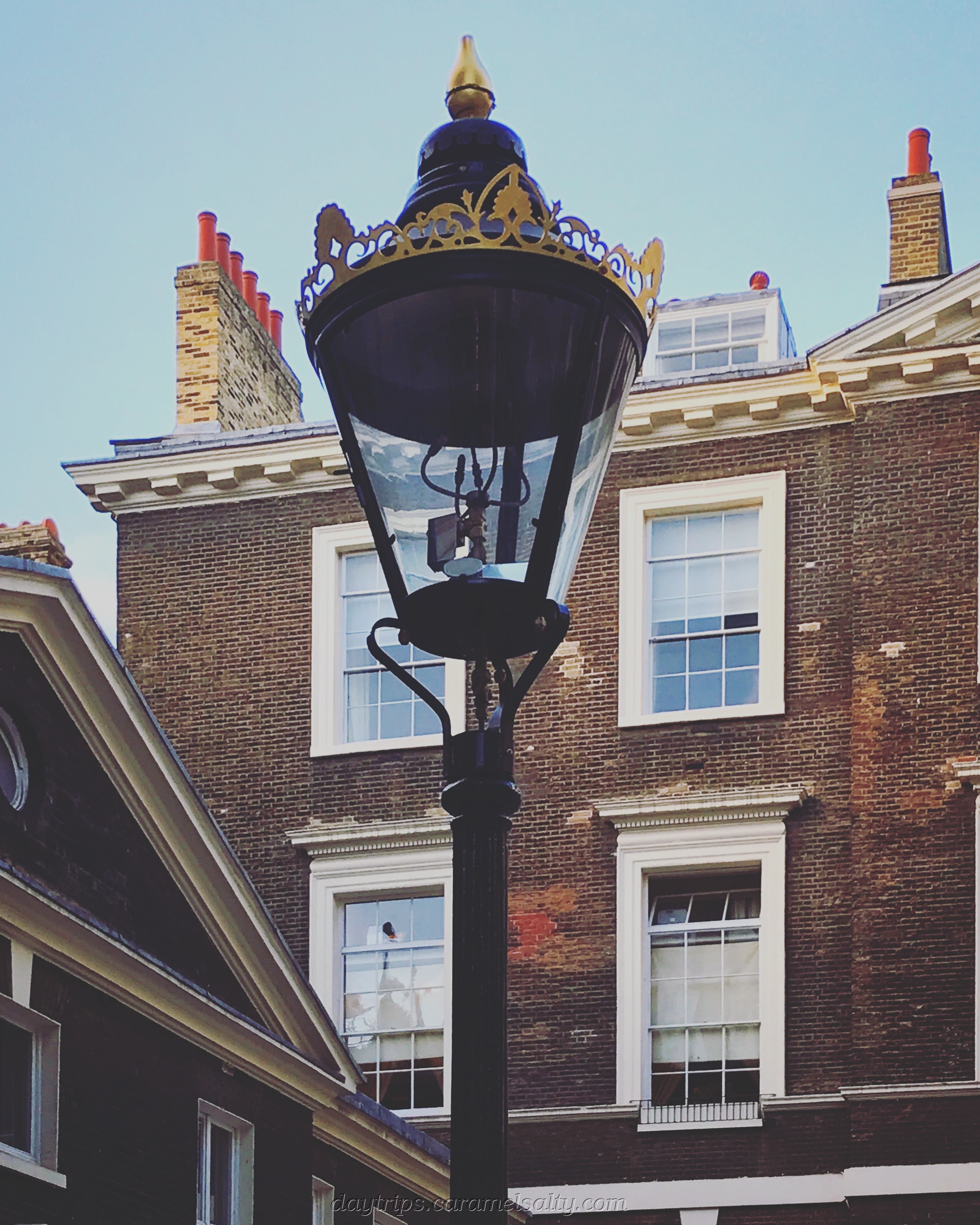 And so how do I end my little walk around Yellow Piccadilly, at the bottom of Green Bond Street, which borders Indigo Mayfair, in a manner in keeping with this area? Why, with a cup of tea at Fortnum and Mason, of course. And then losing myself in their wonderful Christmas floor.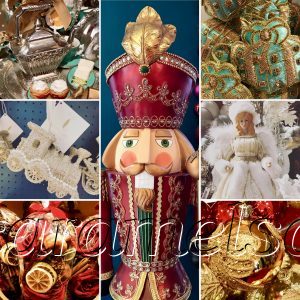 And maybe buy some delicious chocolates. Just the one box …….or two.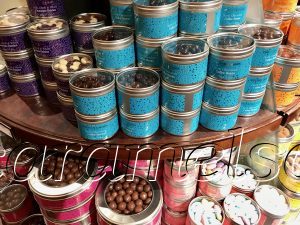 Other Related Shopping Blogs in Posh Mayfair

How to Go Straight To Piccadilly
Tube Map and City Mapper are free apps that provide London maps, route planner and train/ bus times from your nearest stop.
Transport for London is cashless. Only Oyster Cards, purchased at stations, or contactless cards, are acceptable.
The story of Fortnum and Mason can be found here
Royal Academy of Arts (website) – Open daily. Late night Fridays. Some exhibitions are free.