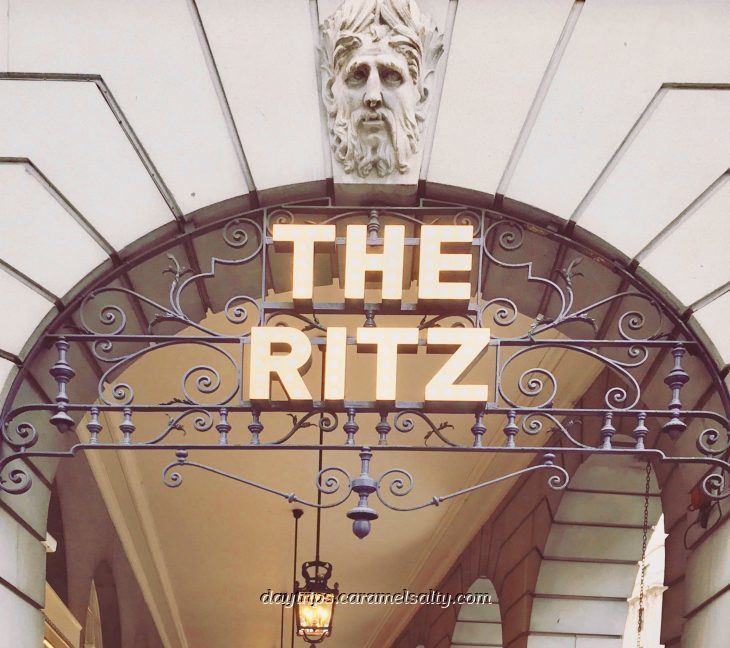 Mayfair – The One Hundred Acre Dowry
It's not unusual for a 21 year old English aristocrat to marry a 12 year old English heiress. Especially if it's 1677. And especially if the heiress has a dowry of 500 acres to bring into the family. 100 of these acres lie south east of the River Tyburn, where Marble Arch station is. Today it's known as Mayfair, where my walk starts at Berkeley Square.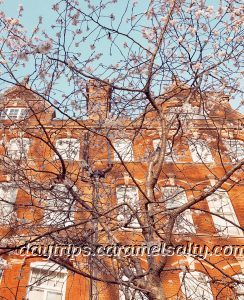 Start of Day: Green Park, Zone 1, London
Cost of Day Out: Cheap
History Content: High
As unlikely as it is to spot one in London, according to the song, a nightingale sang at [1] Berkeley Square. Probably in one of the many London plane trees here, which unlike the nightingale, can be found all over London. Except that the ones in Berkeley Square are some of the oldest in London, having been planted in 1789 by Edward Bouverie who lived at No. 13.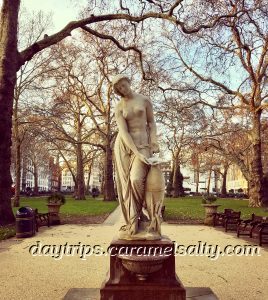 Robert Clive of India lived at [2] No. 45. Such a soubriquet suggests a man of many adventures. And it does, as he is credited with establishing British control over most of India. But he also faces criticism. For implementing a tax regime to maximise the profits of his employer, the British East India company, regardless of the 10 million people who eventually perish in the Bengal Famine of 1770.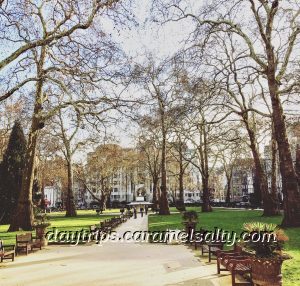 Other notable residents of Berkeley Square include Charles Roll, co-founder of Rolls Royce, who is born here. And Winston Churchill, British Prime Minister, who lives for a while at No. 48. A ghost, apparently, lives at No 50. And at [3] Fitzmaurice Place, Mr. Selfridge moves into the house that was originally built for the 3rd Earl of Bute by Robert Adams.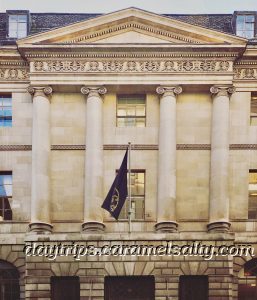 According to [4] Landsdowne Club's history page the original building was partially demolished in the 1960s to make way for a road. But before then, Mr. Selfridge manages to throw many lavish parties here (See my Oxford Blog for more on him). If house parties is not your thing, then there's always the option of partying at [5] Annnabel's, a private members club, at No. 46, Berkeley Square.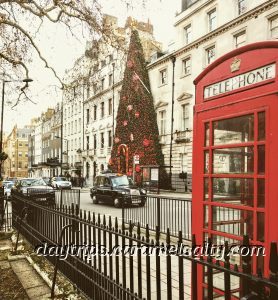 Around the corner from Berkeley Square is a pub with, supposedly, the longest name in London. Except that the "I Am The Only Running Footman" pub appears to have been shortened to just [6] "The Footman". But the long form name still lives on in Martha Grime's 1986 book, by virtue of the fact that her story involves a dead body being found outside this Mayfair watering hole.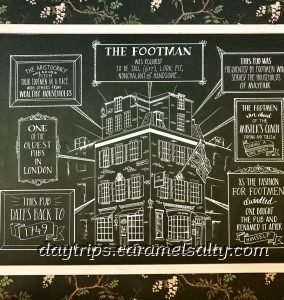 Apparently these running footmen did really exist. Their role was to inflate their master's ego, by running in full livery ahead of their master's sedans to announce their arrival. And to deal, with great pomp, impediments such as closed gates. It's no wonder then that the less pompous folks called the footmen running at the back as "fart-catchers".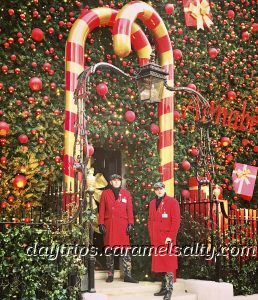 According to the history chalked out at the Footman, these footmen declined in popularity. Until there was just the one footman. And then there were none. Which is a perfect segway for my next landing place, the Grade II listed [7] Fleming's Hotel on [8] Half Moon Street. It's said to be the inspiration behind Agatha Christie's murder mystery novel At Bertram's Hotel.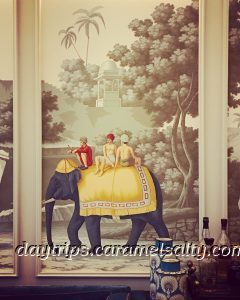 Continuing with the novelist theme, at No. 1, Half Moon Street, lived Frances (Fanny) Burney, a.k.a. Madame D'Arblay. A self-taught writer, with published work, it's her letter to her sister in 1811 that makes a compelling read for me. She shows incredible courage to have made the observations she did whilst undergoing a mastectomy, which in those days, was carried out without anaesthesia. And then to write about it.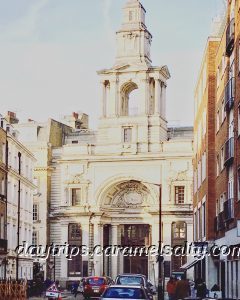 As I walk over tarmac roads to Mayfair's village centre of [8] Shepherd Market, it's hard to imagine that the river Tyburn once flowed overground through here. These one hundred acres used to be a "low lying swampy mead", otherwise known as a marsh in modern English. Which made it suitable only for farming and a local market. And not much else.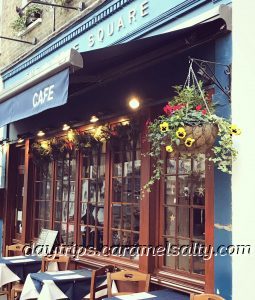 All this empty land is perfect for holding a big outdoor festival. And so a 13th century fair, previously held at St. James, moves to Shepherd Market in 1686. Actors, performers, puppeteers, jugglers, prostitutes, fairground owners, freaks and oddities, sausage stalls and gambling booths, all turn up for a slice of the annual revelry which lasts for 14 days from the 1st of May.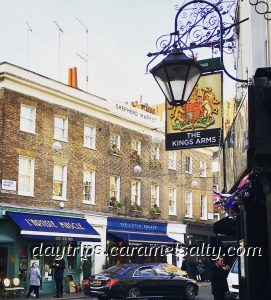 Inevitably, the fair also attracts some rowdy folks too. Which starts to bother the royal family living down the road at St. James. As well as the upper classes moving into Mayfair. So they get Edward Shepherd to develope the market. And then they ban the fair in 1764. But they can't shake the name. And so it sticks.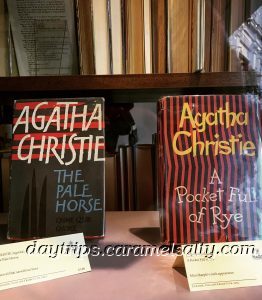 Shepherd Market is a perfect spot for a bit of lunch. Regretfully, there are no sausage stalls any longer. But there is plenty of choice, from traditional pubs, to up market European cuisine, to Middle Eastern fare. I plump for Japanese, at the very cosy, very friendly, and totally scrumptious [9] Titu restaurant.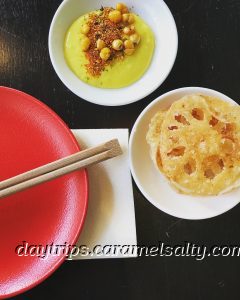 The narrow [10] White Horse Street leads directly to the top of Green Park. I cross the road to the 5-star [11] Ritz Hotel, in its Grade II building, hosting its A-list hotel guests. Charlie Chaplin stayed here. As did a whole host of the rich and famous. Including Tallulah Bankhead. Though I wish I'd been at her press conference in the 1950s, at which she drinks champagne from out of her shoe !!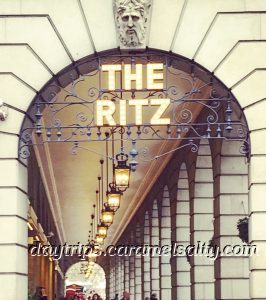 It certainly is a very luxurious and grand hotel. When it was built in 1906, the specification included an ensuite bathroom and a real fireplace in every room. Clearly a luxury in those days. The interior is very French, decorated in grandiose Louise XVI style.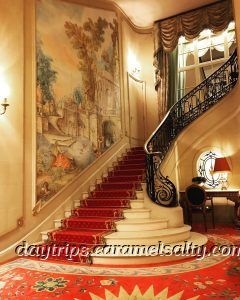 My favourite story of the hotel guests here, is of the late Sir Roger Moore. He checks in as Mr Roger Moore. Cutting across Green Park, he pops into Buckingham Palace to visit the Queen. The next day, he checks out as Sir Roger Moore.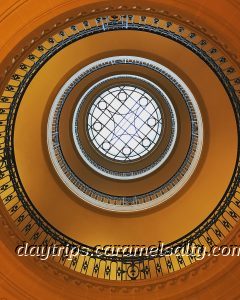 I'm sure Queen Elizabeth, the Queen Mother, who dined here often, must have partaken of the ever popular afternoon tea at the Ritz. I guess, given the proximity of Buckingham Palace, this would have been her local. And whilst she dined, the Ritz always played her favourite piece on the piano. It was, of course, A Nightingale Sings in Berkeley Square. And so, here is Dame Vera Lynn's version to see me out.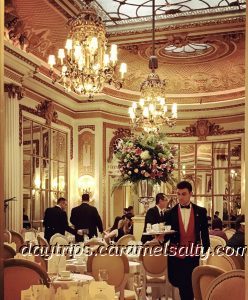 Other Related Blogs
Useful Links and Tips

The Footman Pub (website) – a very convivial pub. Has a restaurant upstairs too.

Titu

Restaurant (website) – cosy, reasonably priced and friendly.
The Ritz Hotel (website) – for details of its afternoon tea and other dining options. And more of its history here. Trainers not permitted past reception. Jeans are OK.
Tube Map and City Mapper are free apps that provide London maps, route planner and train/ bus times from your nearest stop.
Transport for London is cashless. Only Oyster Cards, purchased at stations, or contactless cards, are acceptable.