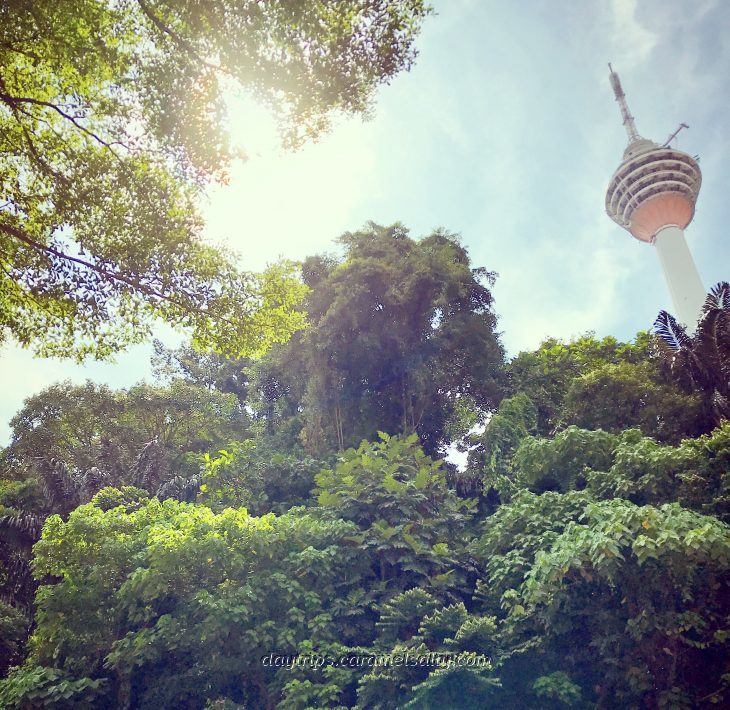 Kuala Lumpur – Central Market, Market Square and KL Tower
It's in 1857 when the first tin mine is established in Kuala Lumpur. 87 Chinese miners arrive at the confluence of the Gombak and Klang river. They set off on foot through the thick jungle of what is now Ampang. Within a month, 69 of them would be dead from malaria. But not before they change the fortunes of a tiny trading post irrevocably.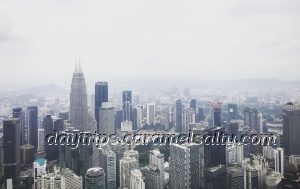 Start of Day: Pasar Seni LRT, Kuala Lumpur
Cost of Day Out: Expensive (due to the entrance fee to KL Tower)
History Content: Moderate
I begin at [1] Central Market, also known as [1] Pasar Seni locally. Built in 1928 as a wet market, this sky blue Art Deco building is an air conditioned craft market today, and a popular shopping destination for all things tropical and exotically Asian.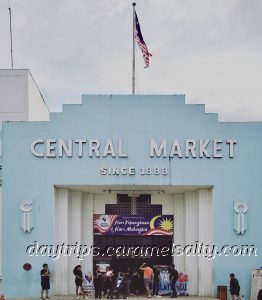 Tourists and locals stop by [1] Central Market for its reasonably priced batik wares, sarongs, Asian masks and paintings. Stall after stall display ceramic, wooden, textile and pewter crafts. Malaysian snacks can be found on the ground floor. And on the top floor are indoor hawker stalls.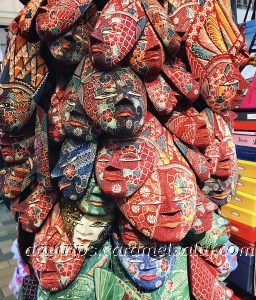 Outside Central Market, the wau (traditional Malaysian kite) makes an appearance overhead on the pedestrianised [2] Jalan Hang Kasturi. It used to be known more succinctly as Rodger Street, after a British colonial administrator named John Pickersgill Rodger.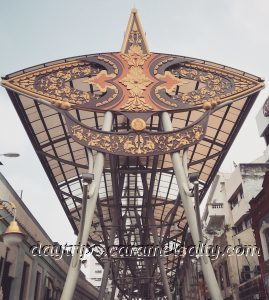 As I head north along [2] Jalan Hang Kasturi, fruit and clothes stalls give way to pre-war Chinese shop houses. In just minutes, I arrive at the landing point at the same confluence where those 87 miners gathered at the behest of Raja Abdullah.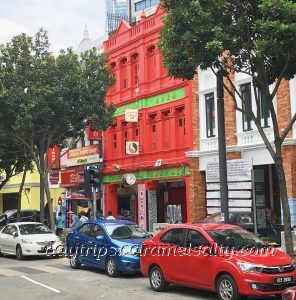 But the miners aren't the first here. As the confluence with the Gombak river is the furthest point a boat could sail up the Klang river in those days, an enterprising Sumatran Mandailing named Sutan Puasa was already trading here. He is soon joined by other equally enterprising Chinese traders.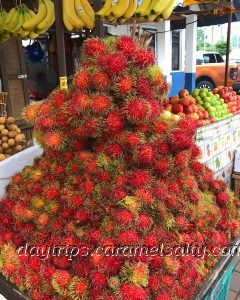 The settlement becomes known as Kuala Lumpur, meaning muddy confluence. The heart of the tin mining community is [3] Medan Pasar or Market Street. It can be recognised by the [4] Clock Tower built by Kuala Lumpur's British administrators to commemorate the coronation of King George VI in 1937.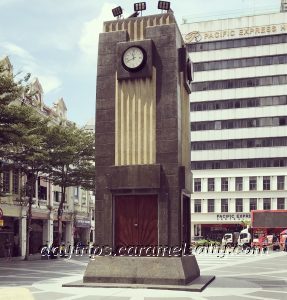 During the reign of Yap Ah Loy as Kapitan Cina in the late 1800s, a wet market thrives in the square. So do many brothels, gambling and opium dens, that Medan Pasar is also referred to as Macao Street by the local Chinese. When Ah Loy dies in 1885, Frank Swettenham, the British Resident, moves the wet market to the newly built Central Market.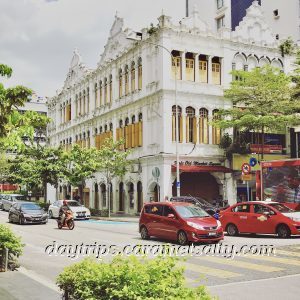 Swettenham also demolishes the remaining ramshackle buildings in Medan Pasar in the 1920s to rebuild the shophouses still standing today. The ones on the right hand side of the square are gabled and in Art Deco style. When the Mercantile Bank of India opens a branch here around 1930, Medan Pasar becomes the commercial hub of Kuala Lumpur.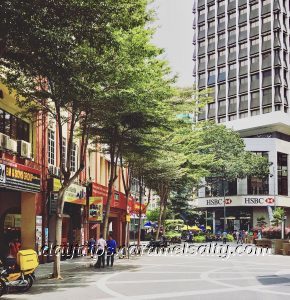 In fact, Ampang Road is still lined with banks, law firms and insurance companies. Amongst them is the [5] AIA building, which once upon a long time ago, stood out as one of the taller buildings in the heart of Kuala Lumpur. It is still there, but just a little less conspicuous.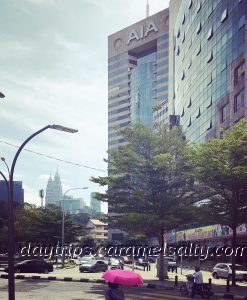 Years later the [6] Maybank building, shaped like a keris (a Malay traditional knife), is proudly declared as the tallest building in Kuala Lumpur. Today both buildings are considered dwarves amongst giants.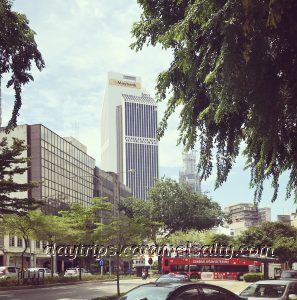 [7] Jalan Ampang, previously Ampang Road, has existed since the 1880s to connect the tin mines of Ampang to the commercial and transport hub at Medan Pasar. Ampang is the Malay word for dam and may have been a reference to the many dams that the miners built.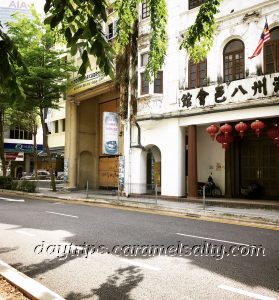 When Kuala Lumpur becomes a sizeable enough settlement, Raja Abdullah builds a garrison at Bukit Gombak. Nothing more would have been said about this hill along Jalan Ampang, if two incidents in history hadn't happened.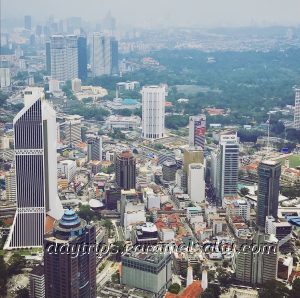 The first is when a villager of the Sumatran Batu Bara ethnic community is killed by a Bugis from the garrison. When Raja Abdullah refuses to punish the Bugis community, the incensed Batu Baras pledge allegiance to Raja Abdullah's enemy. And thus the seeds of a civil war, with far reaching impact for Kuala Lumpur, is sown.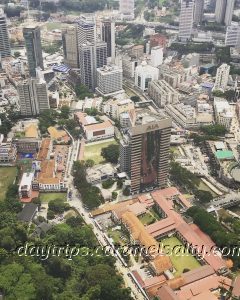 The second incident is the building of a 421 meter telecommunication tower called [8] KL Tower (Menara KL) on this hill in 1994. Despite being overshadowed by the newer, taller and shinier Petronas Twin Towers, this free standing tower has a fair few advantages over the twins.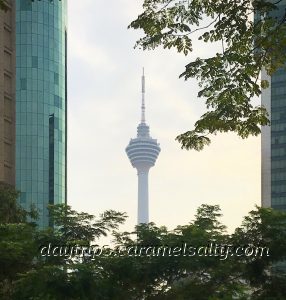 For starters it has a 360 degree observation deck on the inside and outside. And a glass Skybox that sticks out precariously for some fabulous views. It also has a revolving restaurant that serves high tea. And as it is on a hill, it actually looks taller than the Petronas Twin Towers.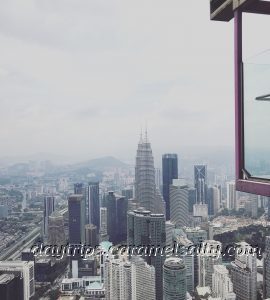 I wonder if KL Tower was deliberately shaped to reflect the hill it is on, which was renamed from Gombak Hill to [9] Bukit Nanas. It's by no accident it's called Pineapple Hill. It is said that during the Selangor Civil War between Raja Abdullah and Raja Mahdi, pineapples were planted around the garrison as a form of defence.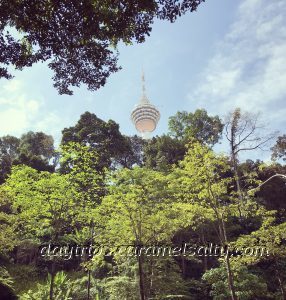 At the base of the tower is virgin tropical forest, the kind that covered Kuala Lumpur when the initial group of miners arrived. The forest used to be called the Bukit Weld Forest Reserve after an ex-Governor of the Straits Settlement. It also used to be 17.5 hectares in 1909 when the British designated this a reserve.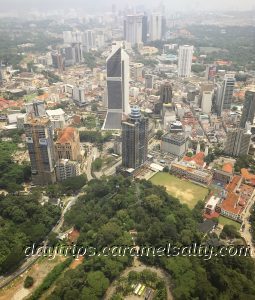 Today the reserve is known as the [10] Eco Forest Park (Taman Eko Rimba). It has also been downsized to 9.3 hectares, mainly because of the building of the tower. But it deserves a visit for its canopy walk and to enjoy the fact that a primary forest in the middle of towering Kuala Lumpur has not been built over entirely.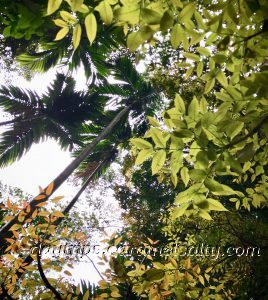 With paths and a managed mosquito population, it's no great hardship for visitors to trek through this little reserve. But 150 years ago it would have been thicker, darker and less welcoming for the pioneers who make their way in the direction of Ampang Road.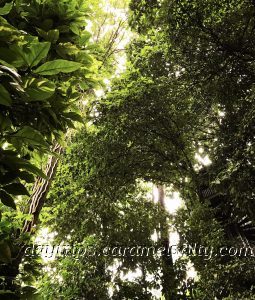 If it wasn't for Raja Abdullah instigating tin mining in the Klang Valley, the story of Kuala Lumpur may well be a different one today. As for the 87 men whose foray into the jungles of Ampang creates a settlement called Kuala Lumpur, they have remained nameless in the annals of history.
Other Related Blogs
Some Useful Stuff
From KL Sentral Station catch the LRT to Pasar Seni, or to Dang Wangi to start at Bukit Nanas.
The free Go KL Bus (Purple Route) from Pasar Seni drops off at the base of KL Tower. Click here for more info.
Touch and Go Cards are accepted on all trains (cashless) and buses in Kuala Lumpur. These can be purchased and topped up at LRT Customer Services Kiosks. Supermarket outlets (e.g. Seven-Eleven, Mynews.com) also top up for a small charge.
To walk to Eco Forest Park/KL Tower – at the side of the AIA building on Jalan Ampang is a narrow covered corridor which goes up stairs that exit at St. John's Institute. Make a dog leg down Jalan Bukit Nanas. The park entrance is opposite St. Andrew's Church. The tower is at the top of the park.
KL Forest Eco Park – official portal. Here's a blog with more photos & info. Free entry, although there are reports that a ticketing office may be in construction by the canopy walk.
KL Tower – Observation deck tickets (discounts for Malaysians) and meal reservations for the restaurant (cover charge of $50 for drinks only) can be organised at the ground floor lobby. I couldn't find a direct website for online bookings, so suggest contacting them on Twitter – @Menara_KL. This blog has more general info.