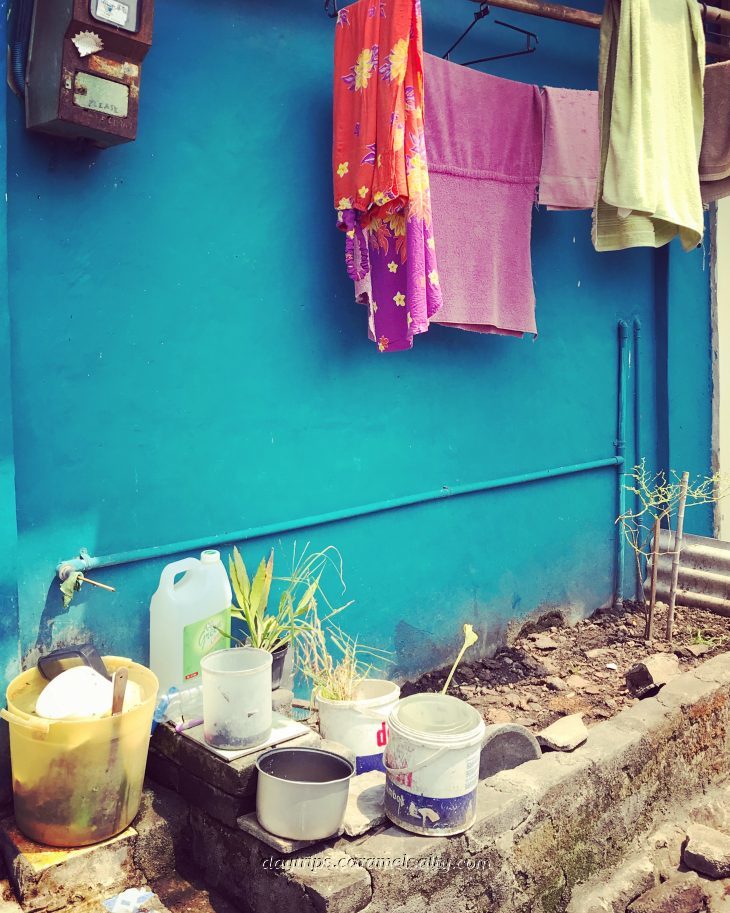 Yogyakarta – Along the Banks Of The Kali Code
Tucked away beneath Yogyakarta's busy flyovers and bridges, just beyond the high rise hotels of [1] Malioboro Road, is a village that lies along the river Kali Code. Not many tourists drop in. After all, it's home to the poor. So it's bound to be dirty, dangerous and drab, right? Well let's see……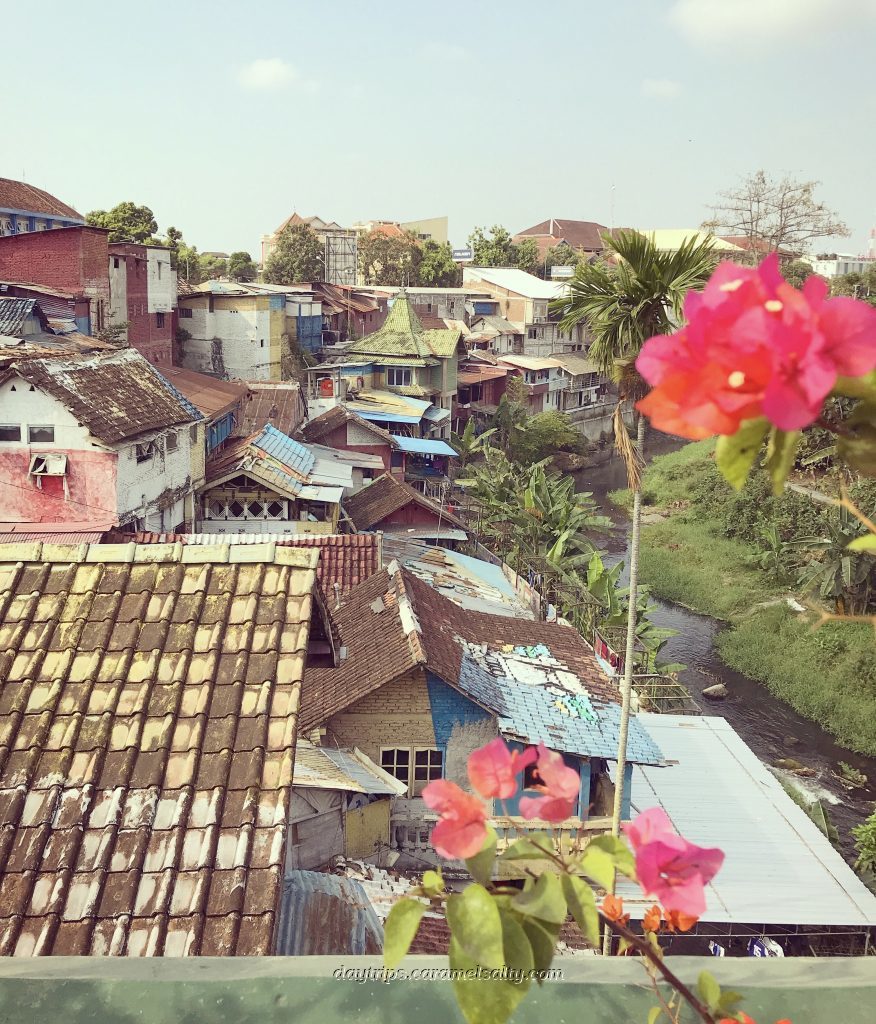 Start of Day: The Level Crossing on Jalan Malioboro, Yogyakarta
Cost of Day Out: Cheap
History Content: Low
I start at the level crossing on [1] Malioboro Road which was built by the Dutch in 1887. The railway bisects Malioboro Road, thus severing a 16th century royal road. The road still leads to the palace, but visitors may find themselves held up by a passing train.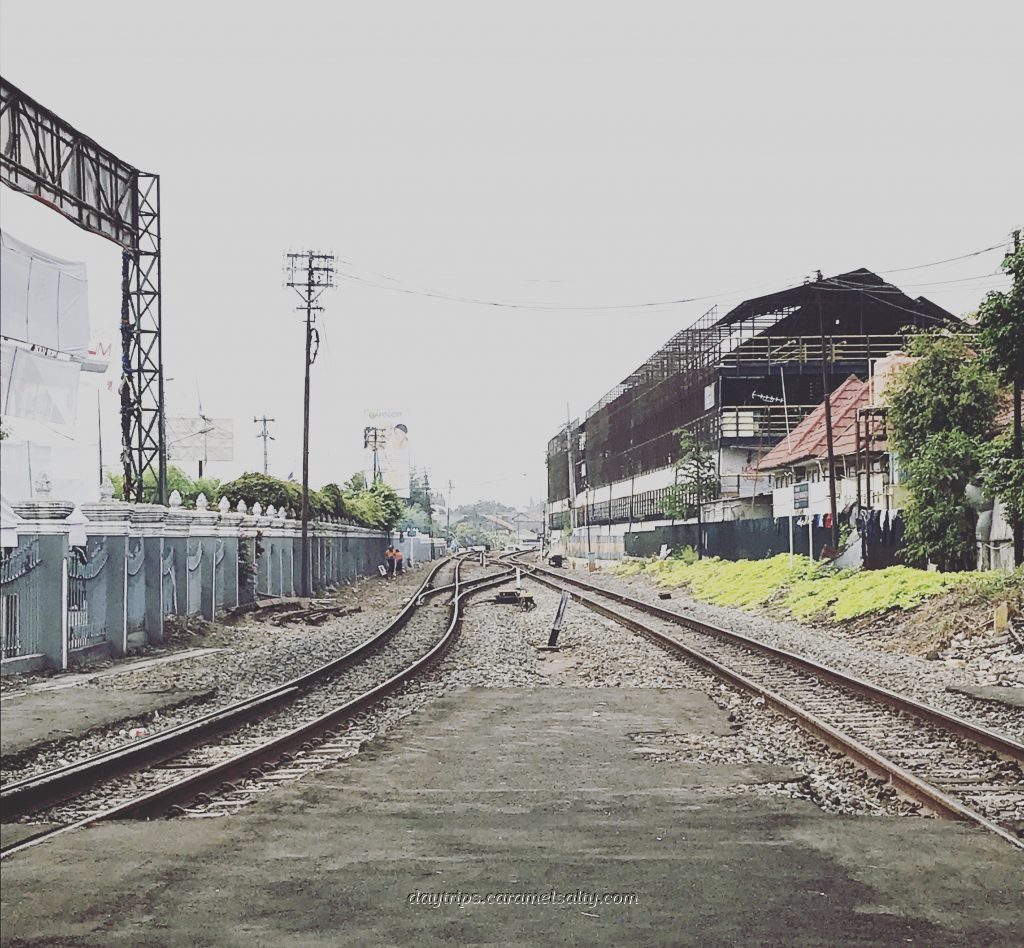 My timing could not have been more perfect. An intercity train has just trundled past and the barriers are rolling back. With no holds barred, the crowd's patience dissipates. I step aside as they rush across the tracks.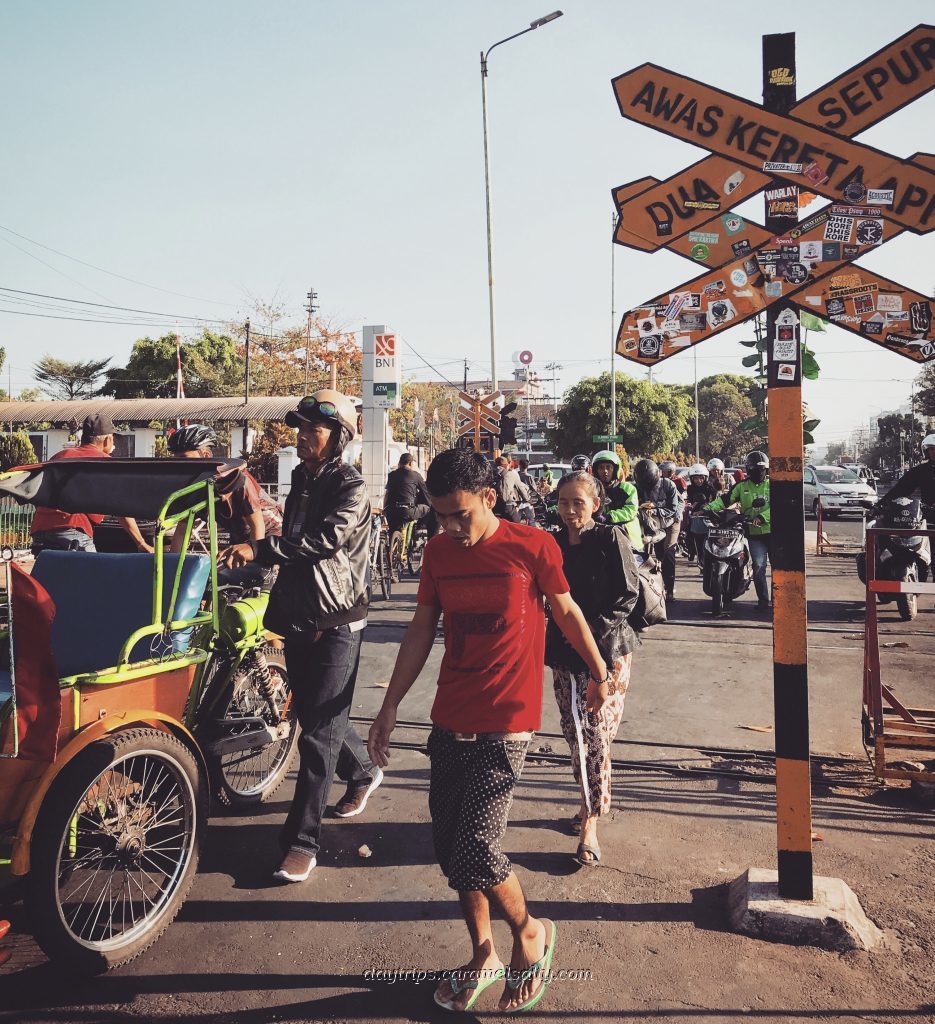 The level crossing is devoid of cars. That's because Yogyakarta's motorists prefer to go the long way around on the elevated flyover system. [2] Jalan Kleringan is chockful of traffic. To escape I go down a discreet side street into [3] Kampong Jugoyudan.
Rush Hour On Jalan Kleringan

Rush Hour In Kg. Jugoyudan
Bliss is finding myself along on a road with only a wandering chicken for company. A hanging tin kettle invites me to venture into Warung Makan Mbak Yulia. In this basic, but rustic little cafe, a grainy coffee sets me back 3000 IDRs. Plus a selfie with the friendly owner.
The Kettle

The Rustic Cafe
But even more priceless is my view from the cafe's wooden bench. Partially hidden behind a sweetsop tree is a mural worthy of being in an art gallery. What a bargain breakfast experience this is for only 3000 rupiahs. And a selfie.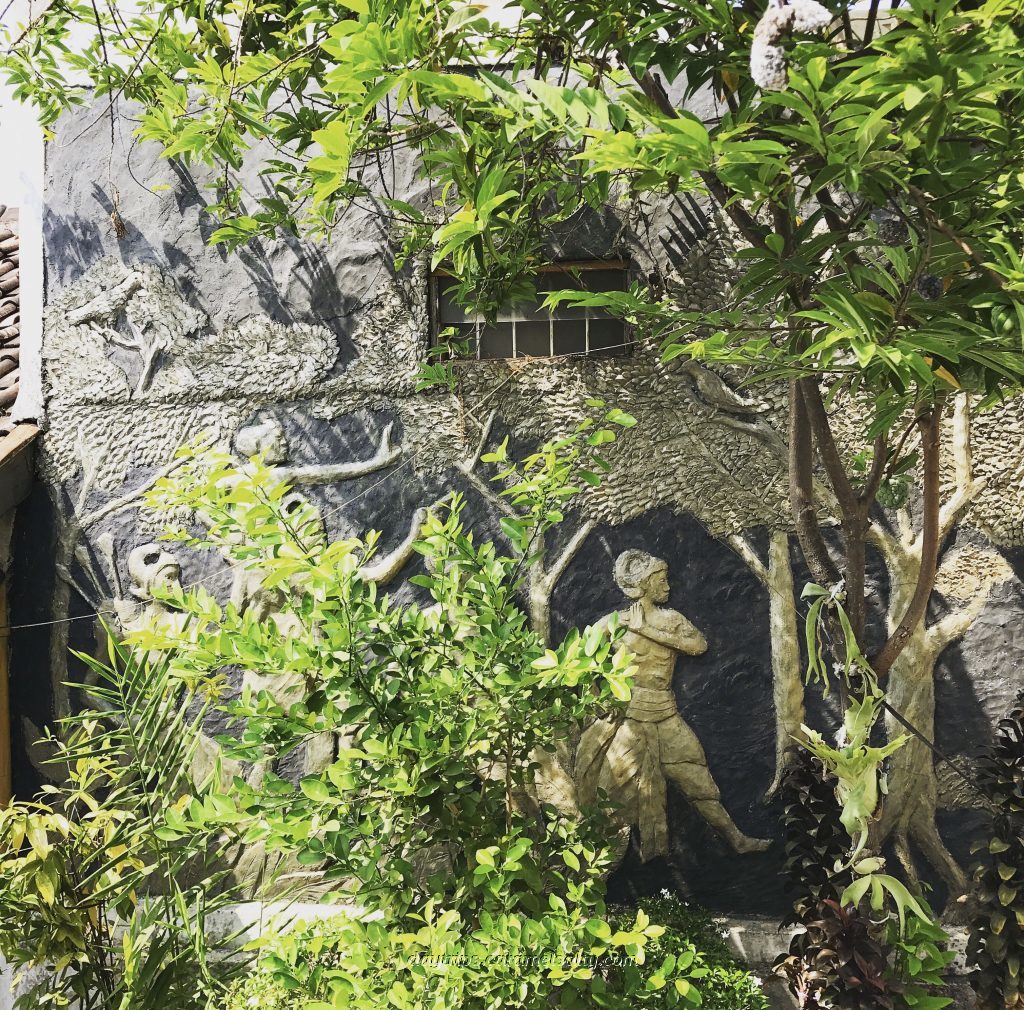 Kampong Jugoyudan has a rather unique split level layout. From the top, I look down into what resembles a steep crater crammed full of roofs, gardens and narrow lanes.
Stairs Leading Down Kg. Jugoyudan

Stairs Leading Up Kg. Jugoyudan
I had started at the crack of dawn and am glad for it. For starters, it's nice and cool. And early school starts mean I get to catch the school run. Followed by synchronised chanting from the local village madrasah which mingles with my view of the sun glancing off the minaret of [4] Syuhada Mosque across the river.
The Precarious School Run

View Of Syuhada Mosque
When I descend to the bottom, I find the streets much narrower. They're only wide enough to allow one slow moving motorbike at a time. Round the corner I find a driverless bicycle.
Motorbike On A Narrow Lane

A Bicycle Parked Up
These villages are said to be the preserve of the desperately poor and ex-criminals. But I don't feel intimidated at all. Grandmas with grandchildren hoisted on hips smile at me as they head next door for the morning's gossip. Other villagers peer over my shoulder, curious to know what it is I'm photographing.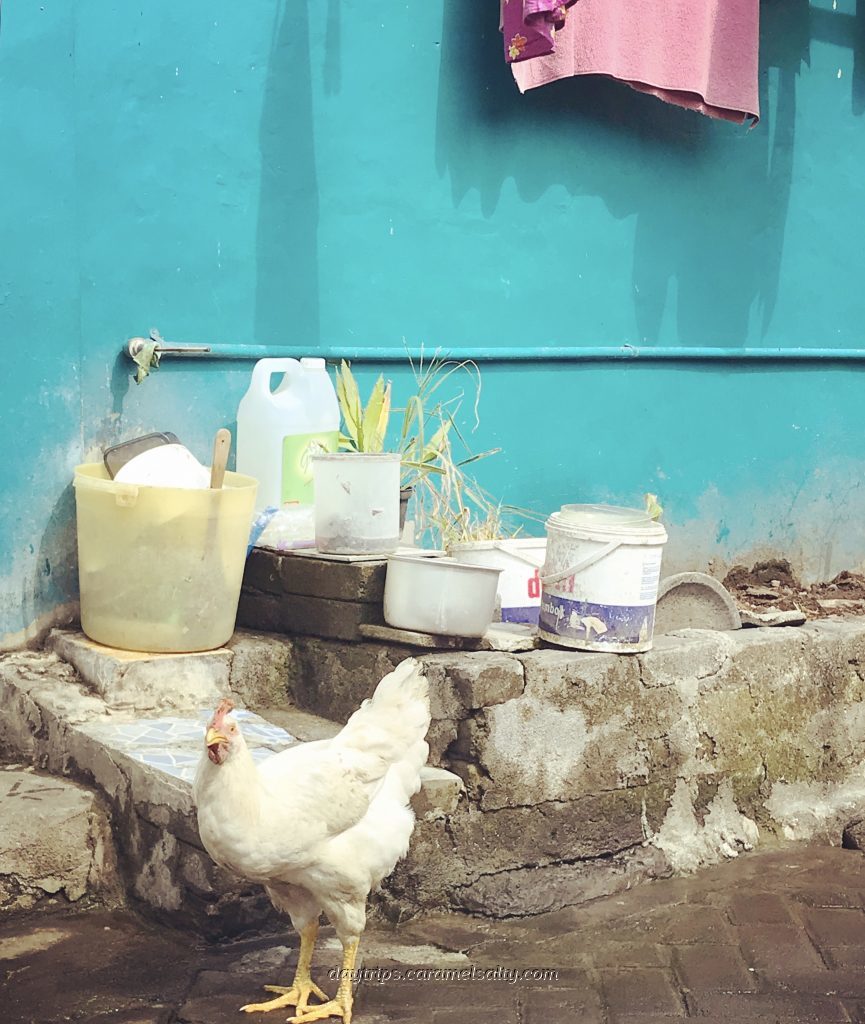 Walking down these narrow, cramped streets I fell as if I'm in the corridor of someone's home. Cooking aromas emanate from a dark kitchen. Through an open door I hear a child being chided. The invigorating sounds of a bucket shower adds to the intimacy of the whole experience.
Bayung Baskets On A Door

A Village Store In Someone's Front Room

An Improvised Market Garden

Cut Vegetables Outside A House
Despite cottage industries and chicken coops being kept in close quarters, Kampong Jugoyudan is spotlessly clean. It's clear that the streets are swept daily. There is no litter. There is no odour. There is no clutter.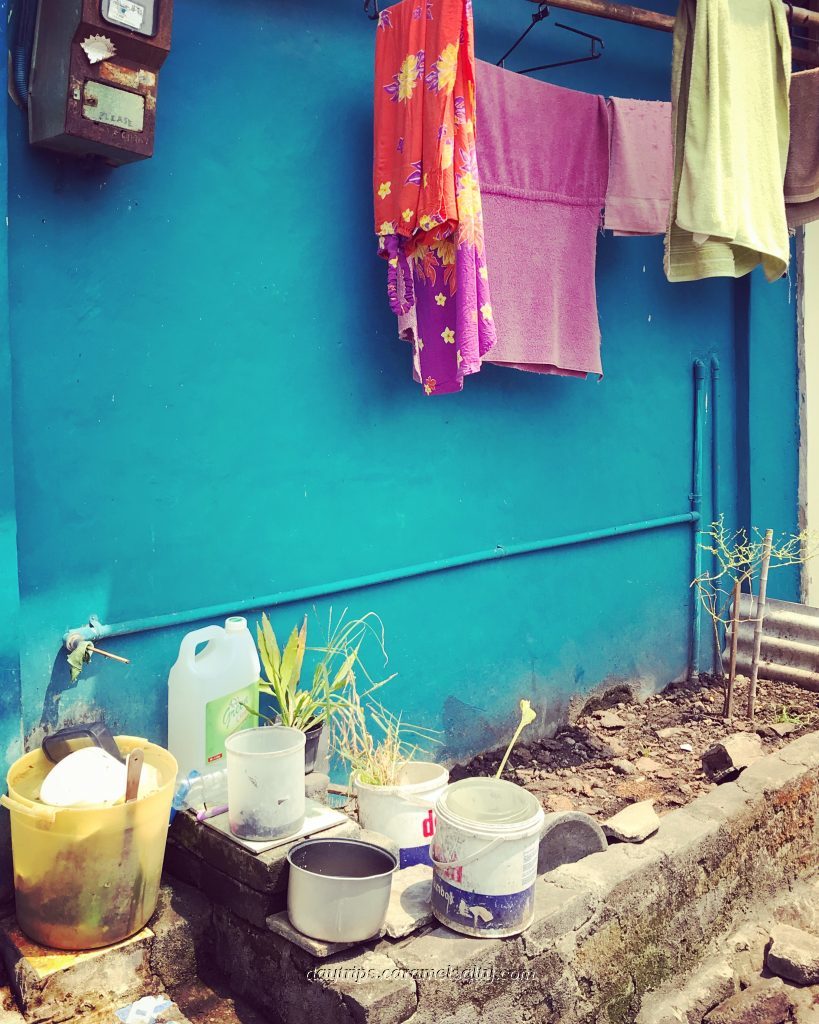 The village aesthetics are also enhanced by abundant greenery and tropical flowers. The plants are tightly packed in to the smallest of spaces, just like everything else in this village.
Banana Trees

Bougainvillea

Adenium

Orchids
This remarkable village is down to Mangunwijaya's award winning social experiment. This self-taught architect dissuades the Indonesian government of the 1980s from demolishing the squats and selling off the land along the river. Instead, he builds a well managed village of low income dwellings covered in pastel shades and inspiring murals and art.
A Public Information Mural

A Pastel Corridor

A Door Stares Back At Me

A Mural With A Message Of Solidarity
Workers clambering about a timber frame of a two storey building is a reminder that this village still evolves. And in a country of gods and legends, it doesn't seem out of place for a deity to watch over the building material.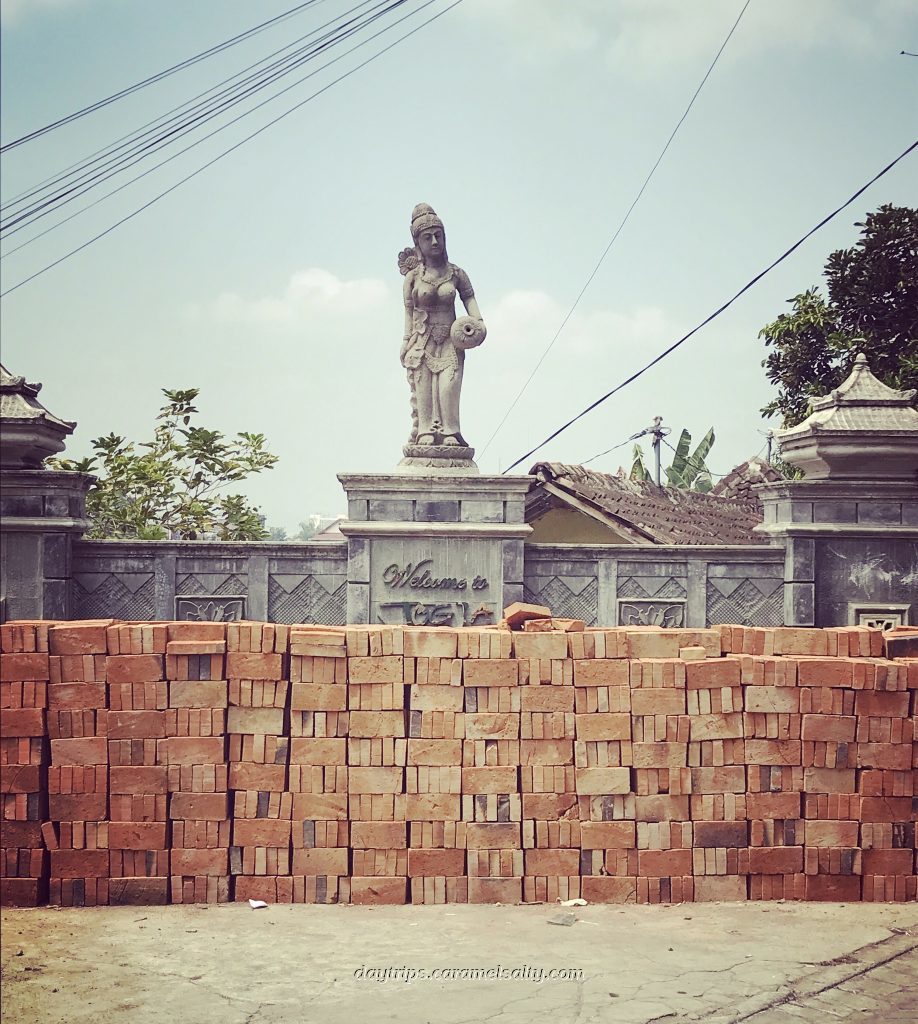 Back on top, the shrill but melodious chirping of caged birds alerts me to a Chinese household. The Chinese have lived in the Indonesian archipelago since trade began with China. But many more arrive in Java during the increased trading activity of the Dutch East Indies company.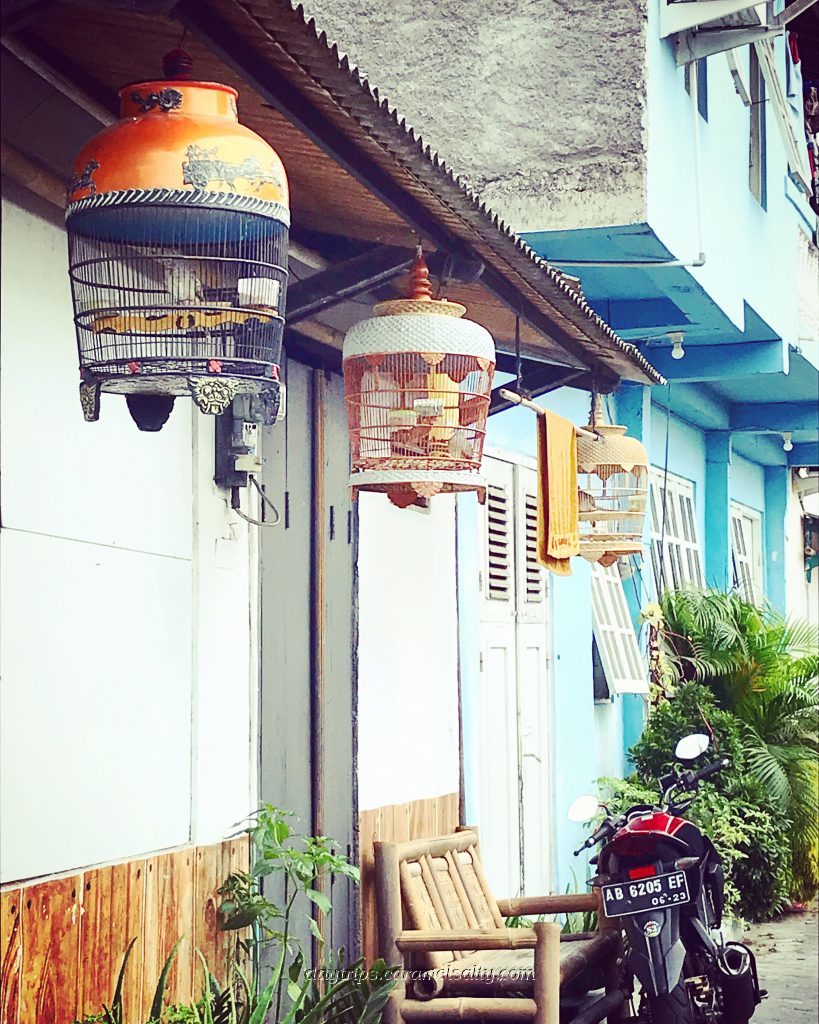 Just before I spill out onto busy, chaotic [5] Jalan Jend. Sudirman, I pass by the home of what must be the head honcho of trishaws (bechaks). These colourful little "Bentleys of the poor" are all parked in a pretty row in his purpose built outdoor garage.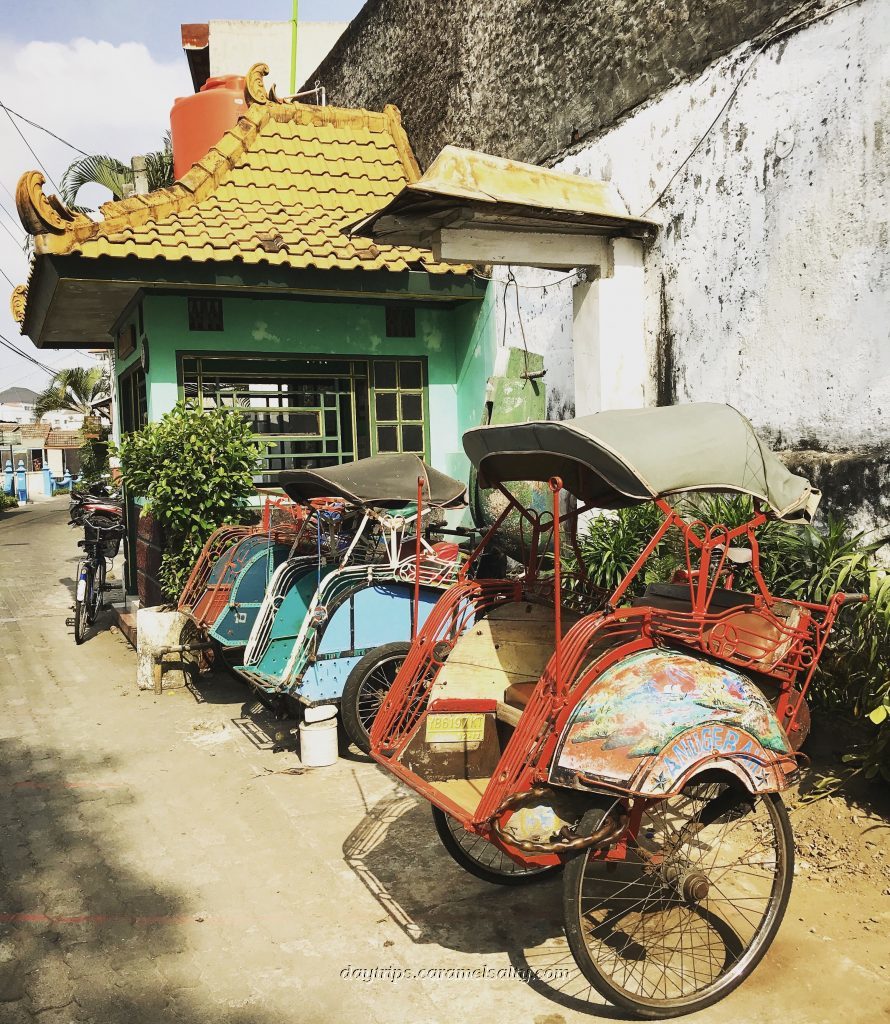 As for [5] Jalan Jend. Sudirman, its only redemption is the view from the bridge. It's a stunning scene of the higgledy-piggledy rooftops of Kampong Jugoyudan and [6] Kampong Kali Code. And these wonderful views continue along my return route via [7] Jalan Prau.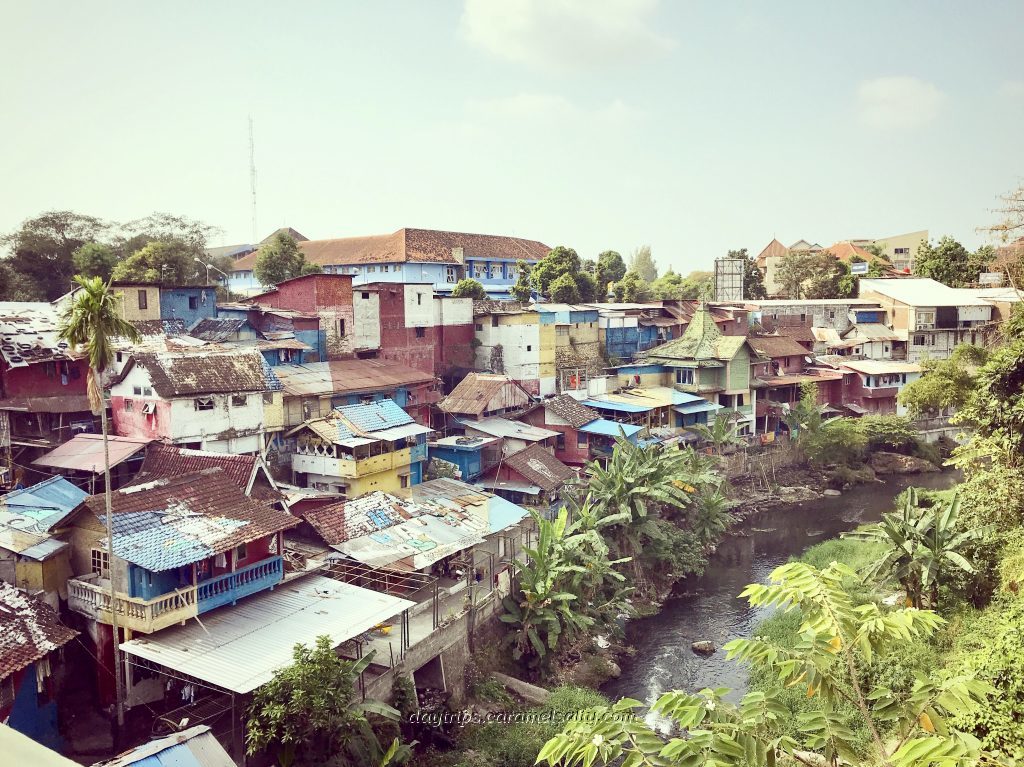 Along [7] Jalan Prau is the [8] Sandi museum. It's about how the Indonesians develope and use coded messages during their fight for independence. Whilst I manage to figure out the coded message handed to me on entry, I fail to work out if it is intent or accident that a code museum lies within earshot of river called Kali Code.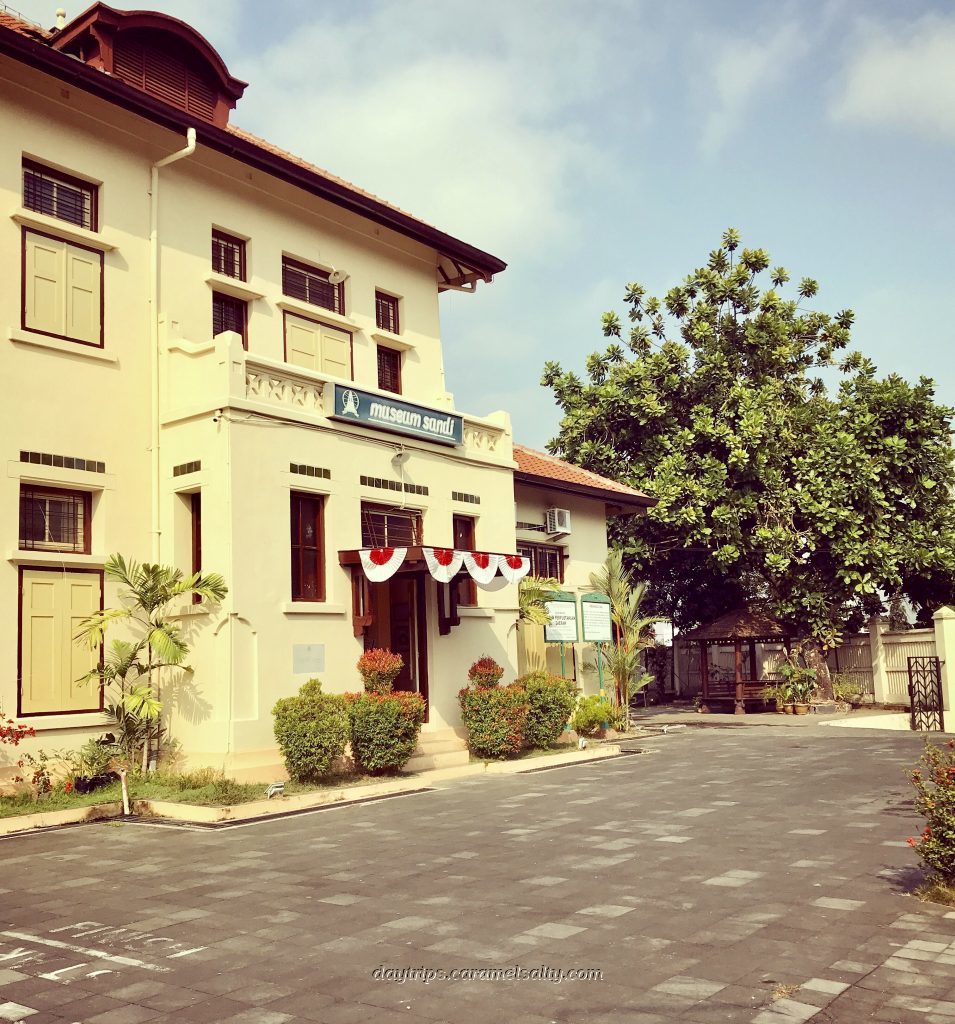 Lunch is at the most excellent and highly recommended [9] House of Raminten. The staff are great. The food is superb (all three times I visited!!). However, I have to say that it's a little unnerving to be surrounded by so many reminders of Madam Raminten as I dine.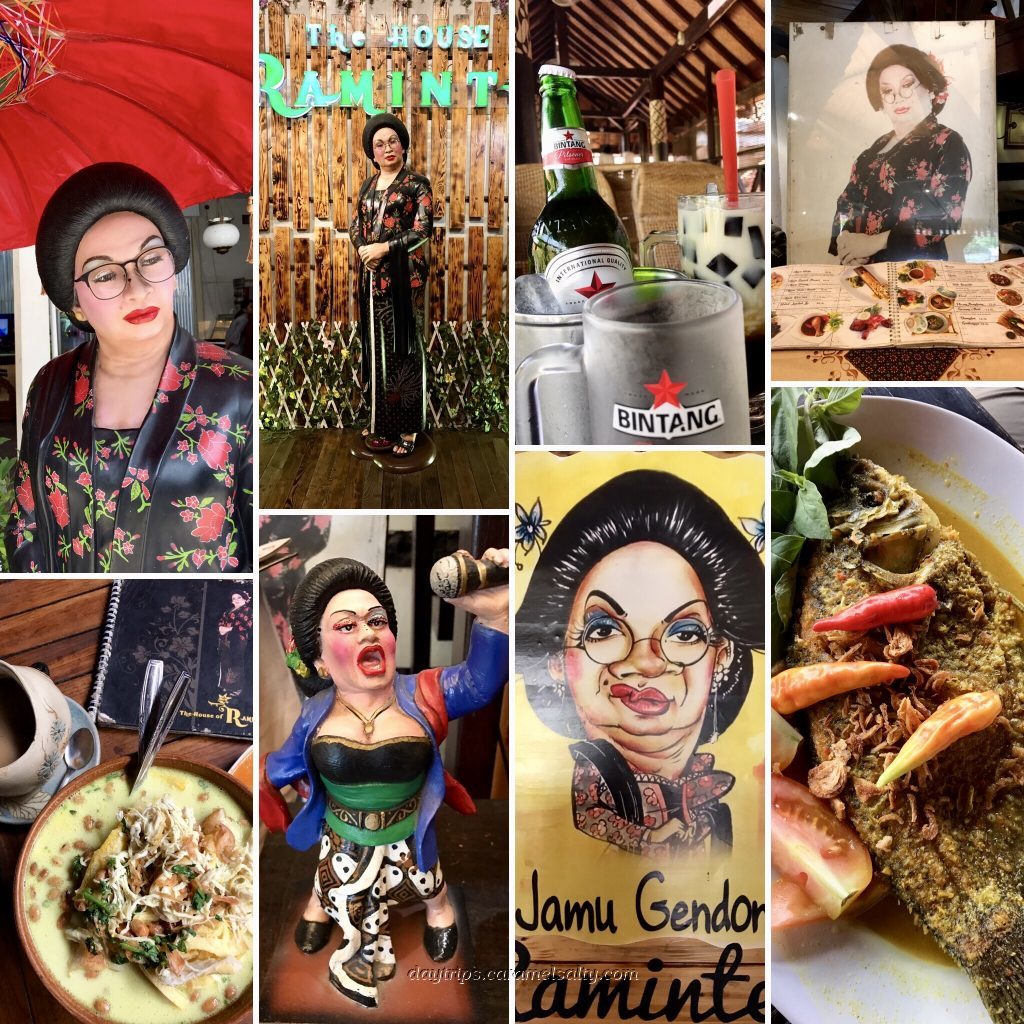 As I wander back, I realise I haven't said much about [10] Kali Code itself. The river which starts 20 miles away at Mount Merapi, is inexorably linked with the volcano. Every time Merapi erupts, the river transforms into a violent, terrifying lava flow.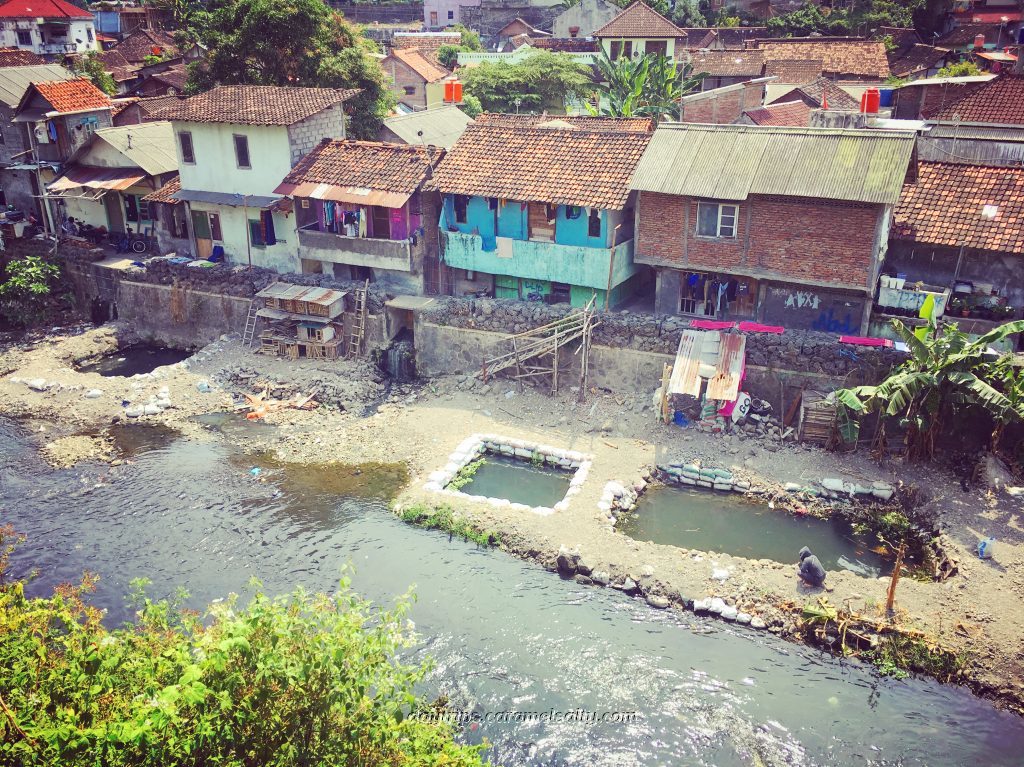 I end back where I started – at the level crossing on Malioboro Road. I train spot, but from the comfort of [11] Loko Coffee Shop. The cafe even has a live departure board installed, which makes it popular with waiting commuters. An iced coffee in strategically placed train spotting seats is a great way to whilst a hot day away.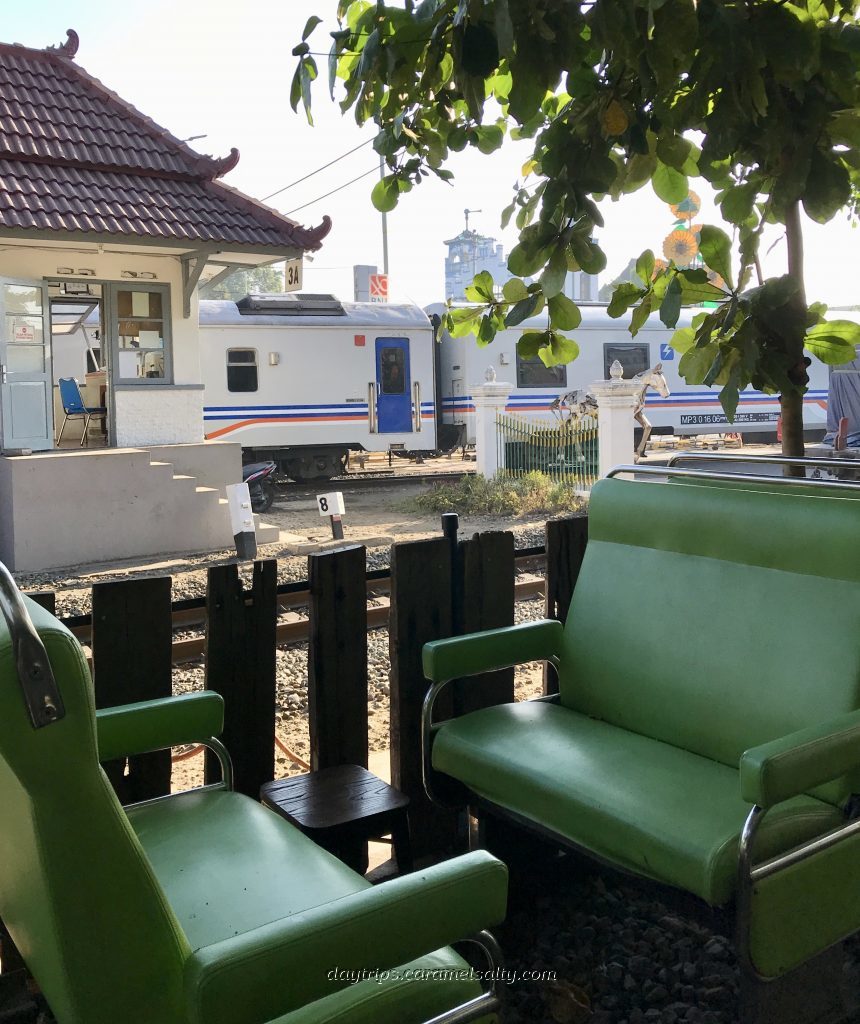 And so ends my early morning walk along the banks of the Kali Code, which may never have happened if I hadn't spotted it from the 1A bus from the airport. It may not be a UNESCO World heritage sight. But it did win the Aga Khan award for an architectural design that revitalised a community that would otherwise would have been abandoned and forgotten.
Some Links to Save You Googling