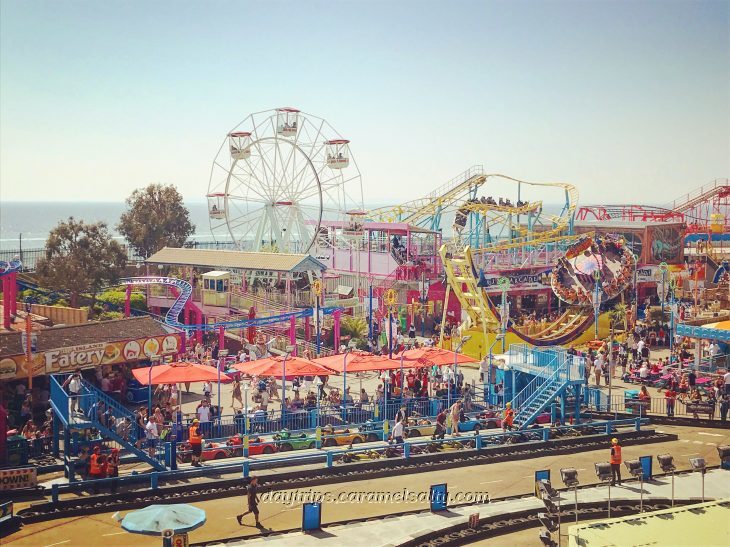 The Thames Estuary – Southend-On-Sea
"The pier is Southend, and Southend is the pier", said John Betjeman. Indeed, the pier at Southend is the longest pleasure pier in the world. And an object of pride. Even for the local footy fans who waste no chance in boasting to visiting supporters about the size of their beloved appendage ………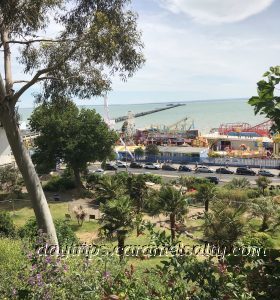 Start of Day: Fenchurch Street Station, Zone One, London
Cost of Day Out: Cheap
History Content: Moderate
My route from the train station along the main shopping boulevard is dotted with a gamut of fish and chips eateries. And at [1] Mr Simms Olde Sweet Shoppe I step back in time to an era of boiled sweets, sticky fudge and rock candy. Which can all be washed down with a coffee on the outside terrace of the [2] Royal Hotel with its fabulous views of the promenade way below.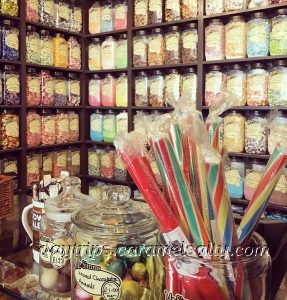 The Georgian [2] Royal Hotel (previously the Grand Hotel) can be found at the end of the [3] Royal Terrace (previously just plain old "the terrace"). It's when Princess Caroline comes to stay at Nos 7-8 in 1803, that the royal prefix is added for a touch of class. These Georgian terraces are the only ones to survive from the 1790s when Southend was being transformed to a resort to become the next Brighton or Margate.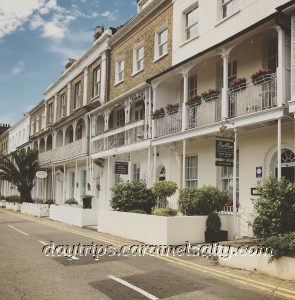 The [2] Royal Hotel and [3] Royal Terrace are perched along a ridge looking down at Southend's promenade. The fabulous mature trees on the cliff side is [4] The Shrubbery. It was planted by one Lady Langham in 1809. It wasn't a spur of the moment project, but done to commemorate the jubilee of George III.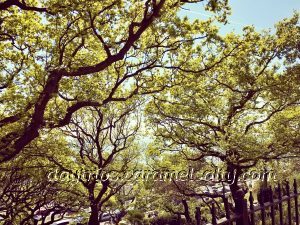 At around the time Lady Langham was busy planting, Southend is no more than a tiny village of around 1000 people. So by today's standards, it's virtually a sparse, as well as a spa, retreat for Victorians desperately seeking clean air and recuperation from a polluted London.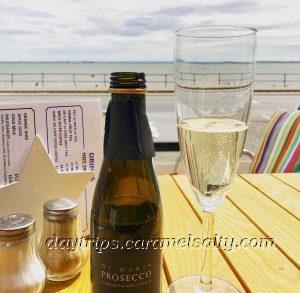 By 1901, [5] The Kursaal is built. It's one of the earliest purpose built amusement park in the world, attracting visitors to its 26 acres of gardens, greenhouses and rides. However, cheap package holidays in the 60s consign the Kursaal to life as a bowling alley and casino. But that does not spell the end of Southend-On-Sea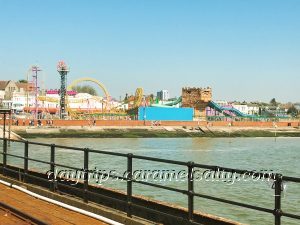 The Kursaal may have gone, but I don't have to go far to find adrenaline filled rides. All I have to do is to follow the exhilarated screams piercing the air from the direction of [6]Adventure Island, right by the pier. And it gets me into a beach holiday mood as I wander onto [7] Southend pier.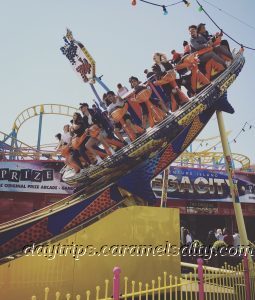 The pier sticks out for what seems miles, all because of the shallow mudflats along the Thames estuary. Once the pier is built in 1830, tourist ships are able to dock at the very end. On a hot day like this, I can just imagine a bevy of long skirted ladies under parasols, embarking excitedly to walk all the way along the pier into town.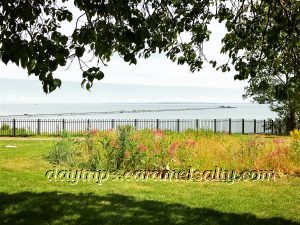 I could have caught the train all the way to the [8] RNLI Lifeboat station at the end of the pier, but instead I decide to stride out towards the vast nothingness. Needless to say this iron and wooden Victorian pier has withstood ordeals by fire, including this novel way of putting out the last incident. And it has remained standing despite the occasional boat crashes like this one.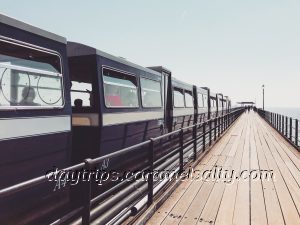 From the number of pleasure seekers out in force by now, it's quite clear that Southend has resiliently toughened out world wars and economic downturns. Back on land, cafes, restaurants, ice cream parlours and pubs are busy. Dark amusement arcades filled with retro and high tech games do their best to entice all who pass by.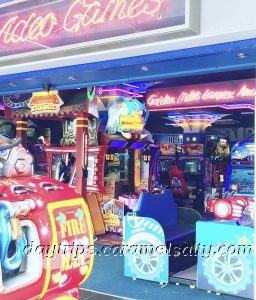 I return to the Royal Terrace, but this time via the [9]Southend Chair Lift built in 1912. It may be slow and steady, but it beats walking back up a steep hill. Back at the top, I enjoy spectacular views of Southend pier once again, before I set off to explore in the other direction.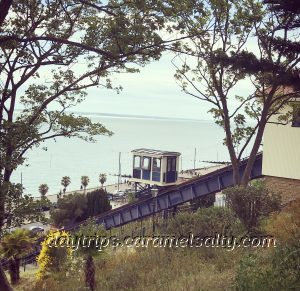 At the other end of the terrace is the [10] Naval and Military Club, originally for WWI veterans, but now open to the public. The club marks the edge of [11] Clifftown where I go pass [12] Gleneagles Hotel. I have to stop, as I can't resist not having coffee and cakes on their patio.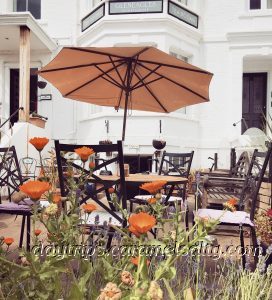 Just further along is [13] Prittlewell Square Gardens. It is ideally located for a lie down amongst some pretty formal flower beds, especially after a cake, or two, too many.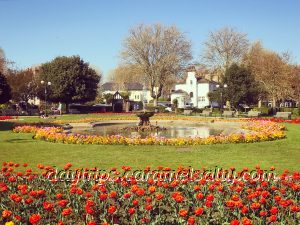 As I walk along [14] Clifftown Parade, I can't tear my eyes from the breathtaking views of the Thames estuary. And as if in total agreement with me, the [15] statue of Queen Victoria points her index finger in the same direction. Although some suggest she used to point to something else.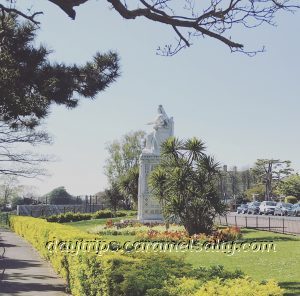 Just past Queen Victoria's statue is one of Lutyens' [16] Cenotaph built in 1920. (More about the design here). He is one of England's most prominent architect. And if I need reminding of another one of his war memorials nearer home, I just have to visit the cenotaph at Whitehall.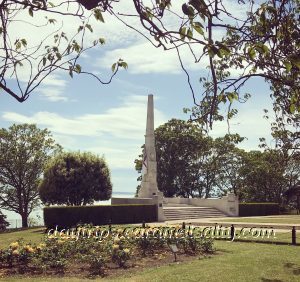 The cenotaph marks another entrance to [17] Southend's Cliff Gardens, which is a continuation of the Shrubbery from before. Just like Prittlewell Square Gardens, they are full of delightful Victorian flower beds, except this time on steep terraces. These gardens used to extend all the way to sea, before town planners built the Esplanade down below.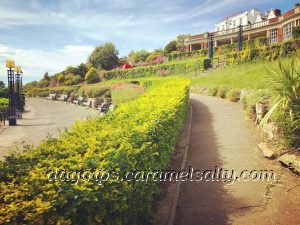 There's a lot of climbing up and down as I visit every bed, fountain and pavilion in the [17] Cliff Gardens. Also in the vicinity is [18] Cliffs Pavillion, Southend's local theatre. Given that it's also perched on the cliff edge, it has commanding views from its terraces and from it's indoor café.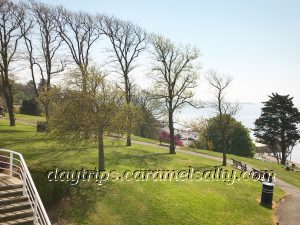 So this is Southend. There are no reminders left of the Anglo-Saxon village of a few fishermen happily minding their business. But despite intense development, I can still find an old world beach resort charm to Southend. And the view of the Thames Estuary hasn't changed much either since the days of those fishermen.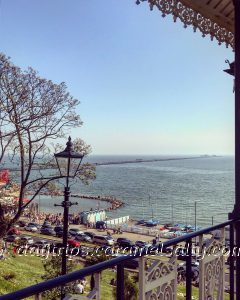 Other Related Blogs
Some Tips and Links To Keep You Busy in Southend-On-Sea
Tube Map and City Mapper are free apps that provide London maps, route planner and train/ bus times from your nearest stop.
Transport for London is cashless. Only Oyster Cards, purchased at stations, or contactless cards are acceptable.
Catch a train to Shoeburyness or Thorpe Bay after comparing fares on C2C and Trainline. Discounted off-peak fare with Network Rail Card.
Mr Simms Olde Sweet Shop (website) – open daily.
Royal Hotel (website) – has a tiny charming outside terrace, restaurant and cocktail bar.
Adventure Island (website) – open daily. Access to rides is by purchasing wristbands.
Southend Pier (website) – open daily. Tickets can be bought at reception.
RNLI Station (website) – tours and viewing gallery available. Donations encouraged.
Southend's Chair Lift (website) – open daily. Small fee applies.
Naval and Military Club (website) – open daily. There is a bar and som outside seating
Gleneagles Hotel Tearooms (website) – closed Saturday.
Cliff's Pavillion Palace Theatre (website) – has a theatre cafe with some outstanding views. You could even finish the day with a show.