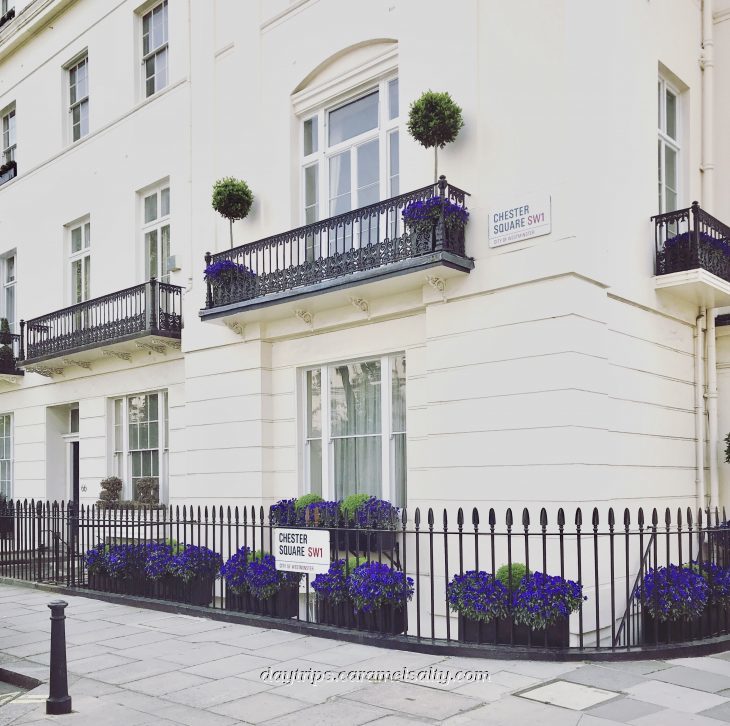 Belgravia – Cubitt's Squares
It's 1820. King George IV decides to renovate Buckingham House into a Palace. Across the palace walls is a swamp of market gardens and animals grazing in fields. Oh, if only the aristocrats could be moved into this swamp. Then they'd only be yards away from their beloved monarch, ready to do his bidding, available to pop over for tea at short notice….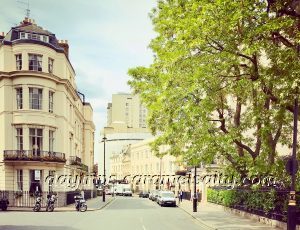 Start Of Day: Sloane Square Station, Zone 1, London (a continuation of my earlier walk around Belgravia)
Cost Of Day Out: Cheap
History Content: High
George IV appoints John Nash to extend Buckingham House. The Grosvenors, who own [1] Belgravia, appoint the builder Thomas Cubitt to start draining Belgravia in 1824. Within 30 years, Cubitt covers Belgravia in elegant white Italian styled stucco terraces, complete with live in aristocrats.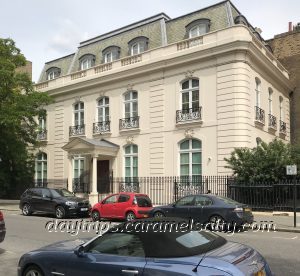 To appreciate Cubitt's genius, I don't have to venture further than the three main squares of Belgravia. I start at the modest [2] Eaton Square. The immaculate well-kept exteriors give away little of its luxurious interiors. As these interior photos of an Eaton Square property show, it's no wonder these properties command the price tags that they do.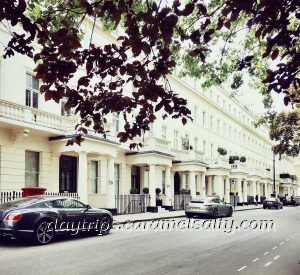 The terraces north and west of [2] Eaton Square are said to be some of the best examples of Cubitt's work. Judging by the cars parked on the street, any Belgravian property coming onto the market must stir the interest of any super wealthy person without a London address. If it's a Cubitt as well, then that's additional prestige.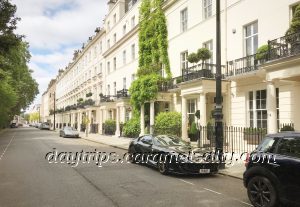 Belgravia is not all stucco by the way. In his desire to bring a bit of countryside to Belgravia, Cubitt incorporates garden squares in his design. [3] Eaton Square Gardens is an example of this. However, I can only admire it from behind bars. Most of Belgravia's garden squares are private communal gardens.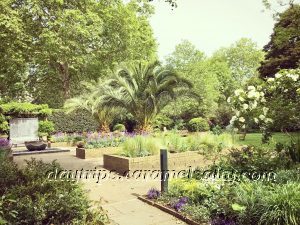 But Cubitt's squares are not ordinary squares. The mature trees and carefully arranged shrubs are so dense and pretty in the summer, that I could actually forget that terraces line the other side of the square. [2] Eaton Square must have been the inspiration behind the verse about Belgravia which goes …..
"Tis hard to say, such space the city win
Where country ends and where the town begins."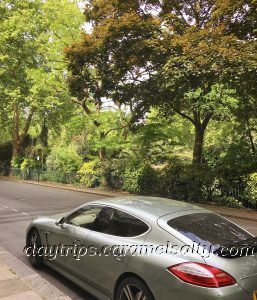 Belgravia becomes the haunt of the upper classes. And if I were them, I'd live on [4] Chester Square. I think it's the most attractive. And it has an aura of immense wealth. From the blue plaques littered here, I get a fairly good idea of the type of people who can afford to rent or buy here.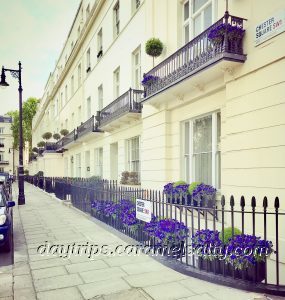 [5] 77 Chester Square will forever be enshrined as the office of the exiled Dutch Queen Wilhelmina. Whilst in England, she broadcast often on Radio Oranje on the BBC World Service, sending messages to the Dutch resistance. She is such a force majeure that even Churchill is known to have said "I fear no man in the world than Queen Wilhelmina".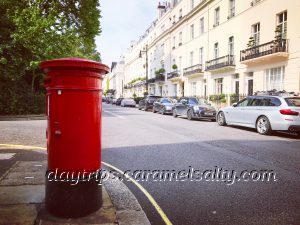 A grand way to arrive at Belgrave Square is via the Eatons. They range from [6] Eaton Street, [7] Eaton Place and [8] Eaton Terrace. With no squares separating the houses, it is a study of continuous white. Tall stately terraces with neatly painted black numbers and porticoed entrances exude upper classness in a very upper class area.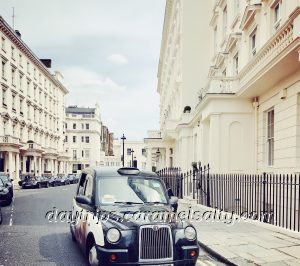 Just as I am getting slightly jaded with stylish white porticos, black railings and pretty window boxes, I find myself in [7] Chesham Street, just off [8] Eaton Place. Here I find something new – old gas lamps (now electric) still suspended over the front doors.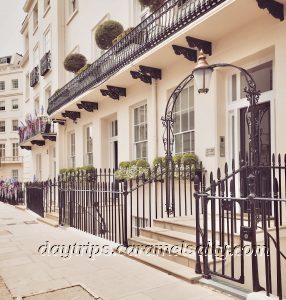 Belgravia has a certain uniformity about it that makes it very attractive. There are several reasons for this. Firstly one man, Thomas Cubitt, designed and built most of it. Secondly, it was left relatively unscathed in WWII. And thirdly, many of the buildings are Grade II listed, which prevents them from being modified.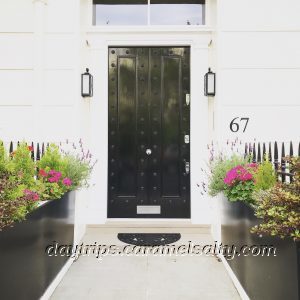 But every now and then, the uniform terraces are broken by occasional grand houses. Like the one on the corner of Elizabeth Street and Eaton Square with bonsai plants in the window balconies. It now becomes a new sport for me to try and spot as many of these unique designs.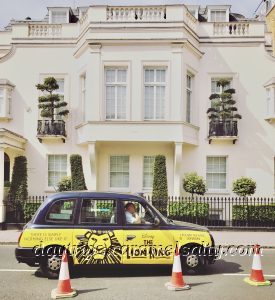 I'm finally at [9] Belgrave Square where the terraces overlook a green square across an unmarked 4 lane boulevard with fast cars zipping round. The tranquil, but private Belgrave Square, is wonderfully landscaped with trees and sculptures. A far cry from WWII when it was asphalted over to form a carpark for military vehicles.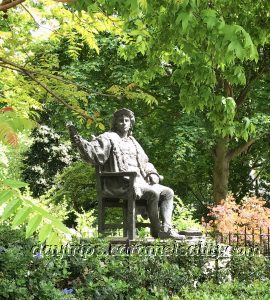 [9] Belgrave Square is probably the only square in Belgravia which is not residential. After WWII, the aristocrats sold up and now flags and signs indicate embassies, charity headquarters and businesses.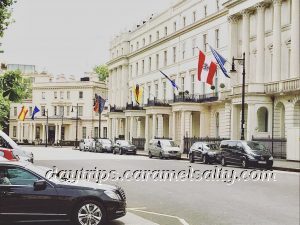 A statue of [10] Robert Grosvenor,  1st Marquess of Westminster stands at a corner of Belgrave Square. The milestone at his feet indicates that it's 197 miles to Chester, the Grosvenors' ancestral estate. The family, whose original title is Viscount of Belgrave, have their seat at Eaton Hall in Cheshire.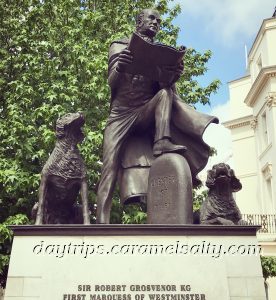 As I wander around Belgravia, it's impossible to forget that the Grosvenors own Belgravia. The Grosvenor family insignia of the wheatsheaf is embedded in the white walls and buildings here. And lots of green signs stating its their "private property".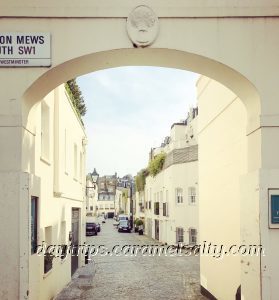 As the Grosvenors are busy incorporating their northern roots in the names of the streets and squares in Belgravia, I wonder about Mary Davies. She is the child bride and heiress who gifts her dowry of 500 acres of swamp, now prime London property, to her husband's family in 1676.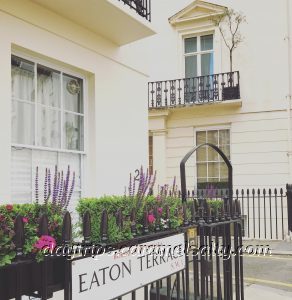 According to this blog, after her husband Thomas Grosvenor dies, she runs away to Paris and marries a Catholic. Her loving family claim she is insane, try to annul the marriage and then commit her to an asylum at the age of 40, where she eventually dies, probably alone.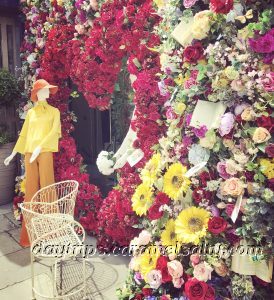 Years after Mary dies, the Grosvenor brand, and wealth, grows from strength to strength. First they develope Mayfair, followed by Belgravia a 100 years later. For such a central London location as Belgravia, it is a feat to be able to say that little of it has changed since, making it a pleasure to walk amongst Cubitt's squares.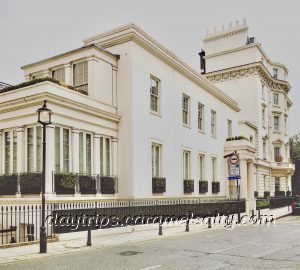 Other Related Blogs
Some Things to Help You
Tube Map and City Mapper are free apps that provide London maps, route planner and train/ bus times from your nearest stop.
Transport for London is cashless. Only Oyster Cards, purchased at stations, or contactless cards are acceptable.