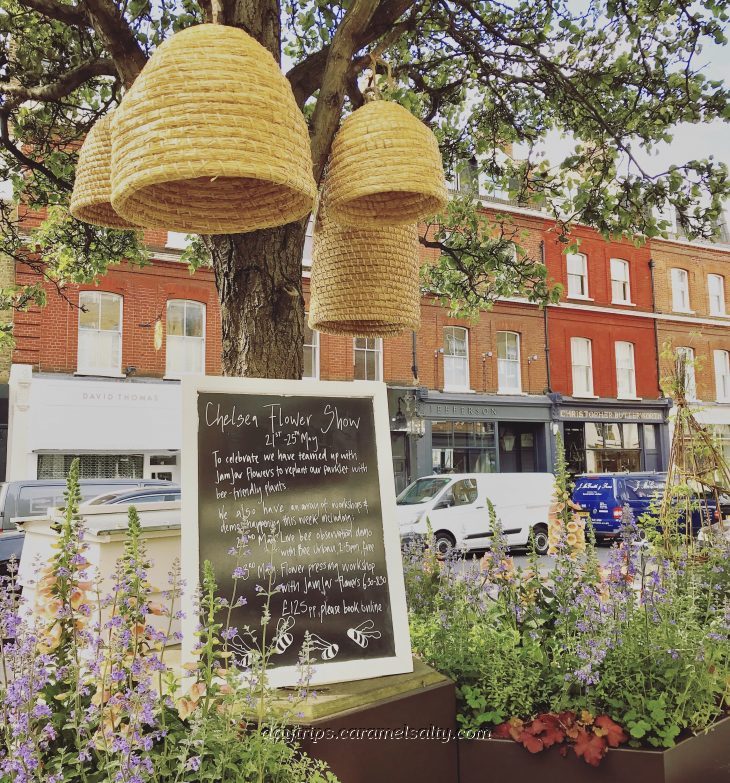 Belgravia – A Dangerous Swamp
It's the Middle Ages. The Westbourne flows by [1] Sloane Square. Blandell Bridge is nothing more than a plank across the river. Around are wide, open fields. It's pleasant enough during the day. But as Lord Harrington's cook finds out, the night is a different story. In 1590, as she walks across in the dark, she is beaten to death on Blandell Bridge, also known as Bloody Bridge. For obvious reasons.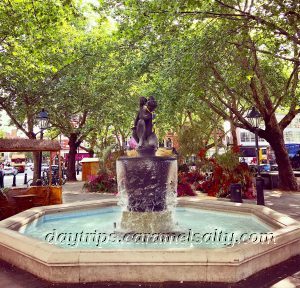 Start Of Day: Sloane Square Station, Zone 1, London
Cost Of Day Out: Cheap
History Content: High
From [1] Sloane Square I wander down [2] Holbein Road. Holbein Road used to follow the curve of the Westbourne as it flows through Belgravia. Today there's no Bloody Bridge, marshy fields or highwaymen about. There's no Westbourne River either. It now runs underground.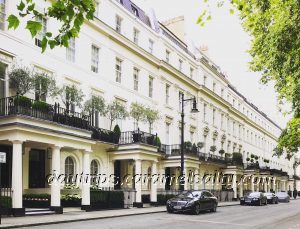 The 19th century [3] Fox and Hounds on [4] Passmore Street do claim that it's the Westbourne flowing beneath their cellars that is responsible for their super chilled Guinness. [4] Passmore Street itself is a perfect example of social demarcation seen so often in London. On one side is Peabody social housing, and on the opposite side are pricey, contemporary homes with BMWs parked outside them.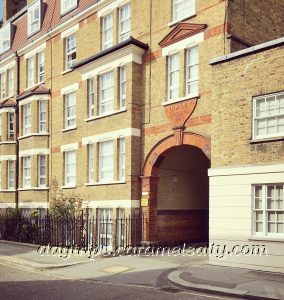 At the bottom of Passmore Road is [5] Pimlico Road known for shops that specialise in the kind of furniture that my mother, if she had been able to afford it, would not have let me eat a jam sandwhich on it. Some royalty is present here in the form of Viscount Linley's shop. He is cousin to the current Queen.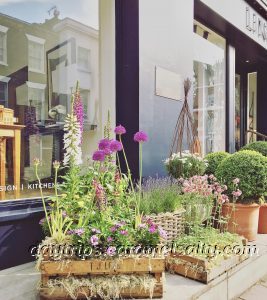 Ahead is a little paved triangle called [6] Orange Square where a statue of Mozart stands. He lived just down the road at [7] 180, Ebury Street for about 7 weeks in 1764. But that's all the time this child prodigy needs to write his first symphony whilst living in the house marked by a bronze plaque.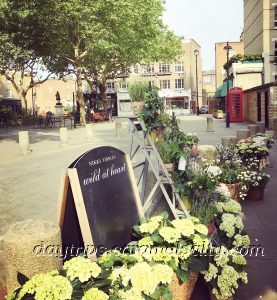 [5] Pimlico Road is the the main drag tread by the fashionable folks from London heading to fashionable Chelsea. So taverns, cafes and tea gardens pop up around [6] Orange Square. The Chelsea and Bun House frequented by George I and II used to be nearby. At Easter, queues of up to 30,000 form to buy its hot cross bun.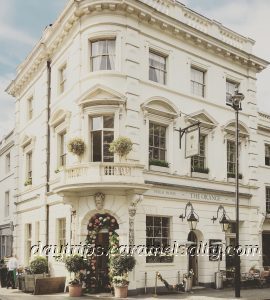 [9] Ebury Street was once known as Five Fields Row. Up to the 1820s, this low lying land floods during high tide. Animals graze in the series of fields during the day. At night, "footpads and robbers" roam freely. The danger they pose is reinforced, when in 1728, a man is found with half his face and five fingers missing.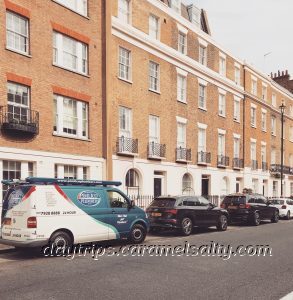 [10] Ebury Square Gardens is built over a former market garden of Belgravia. Conditions here are perfect for market gardens. The water table is just inches from the surface. The horses pulling carriages provide manure. The willows growing along the banks of the little canals feeding the reservoir at Victoria station, are woven into baskets for carrying the vegetable produce.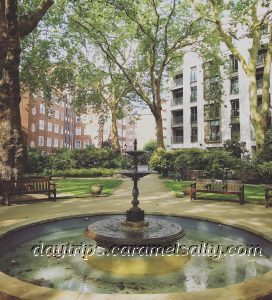 In Saxon times, a manor of 500 acre called Ebury stood here. At some point it moves out of aristocratic ownership, to end up with a little one year old girl named Mary Davies. The Davies are a family of shrivners (scribes who read and write in Latin). Despite all that property, the Davies lack an aristocratic title. The problem is solved when the 21 year old Thomas Grosvenor marries the 12 year old Mary Davies in 1677.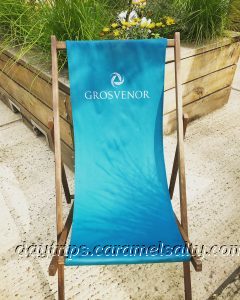 The Grosvenors are an ancient family. Their name comes from the title of Master Grand Hunter (Grand Veneur) from William the Conqueror's French court. They arrive with the Norman invasion, and make their fortune in "the bowels of the earth". Their vast estate in Cheshire includes a hamlet called Belgrave. And their original title is Viscount of Belgrave.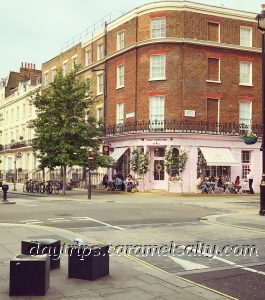 As I stand in front of the delightful pink flowery entrance to the [11] Peggy Porschen cake shop on [12] Elizabeth Street, I am reminded of Belgravia's market gardens. I wonder why they disappeared. But not until I have one of Peggy's impossible to resist tiny delectables on show inside.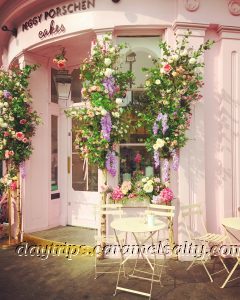 An 1824 Act of Parliament gives the Grosvenors permission to drain marshy Belgravia. They appoint Thomas Cubitt, a builder whom even Queen Victoria refers to as the "clever Mr Cubitt". A son of a Norfolk carpenter, he escapes poverty by journeying to India as a carpenter. He makes enough money to return to London to open his own firm.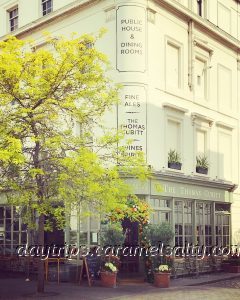 As for the nursery men of Five Fields, they do put up a protest by building blockades. But they are eventually presuaded to relocate to Lincolnshire. With the advent of trains, it is still possible for them to bring their goods to market in London. So It's a win-win situation for the Grosvenors and the farmers.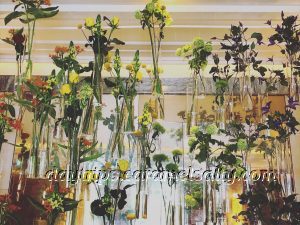 To discover Thomas Cubitt's legacy, I dive back to [9] Ebury Street to start my tour. First of all I go past [14] Ecclestone Yards. This little hidden square has only been recently refurbished as part of the regeneration of Belgravia. It contains co-working spaces, shops and restaurants. More about yards and mews in my next blog.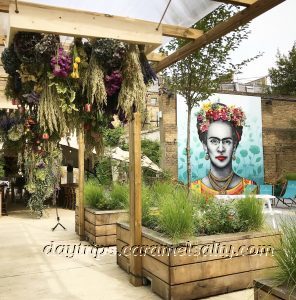 Then I cross over [15] Belgrave Place, walking past [16] Ken Lo's Chinese restaurant. The houses have switched from half brick from earlier, to elegant porticoed terraces of entirely white stucco. Ian Fleming, author of James Bond, lived at [17] 22B Ebury Street. [18] No 18B Ebury Street used to be a safe house during WWII.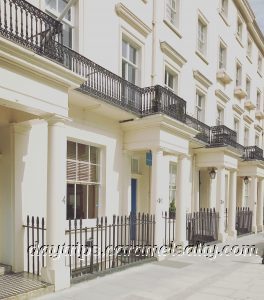 Next its [19] Lower Belgrave Street, infamous for events on the night of the 7th November, 1974 when a bloodied and distressed Veronica Duncan bursts into the [20] Plumbers Arms. She tells the shocked patrons that her nanny has just been murdered in the basement room of her home at [21] No 46, Lower Belgrave Street.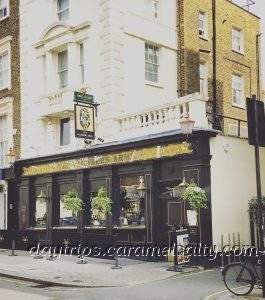 Veronica's estranged husband, Lord Lucan, is the main suspect. The couple had long been engaged in an acrimonious battle over the custody of their children. Lord Lucan, however, disappears without trace. Despite several reported sightings, till today no one knows where he is or if he is even still alive.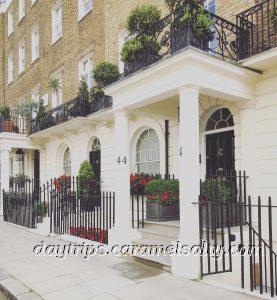 I hadn't quite intended to start my tour of Belgravia recounting murders. Things have changed a lot since the bad old days. Ladies and Lords, Queens and Prime Ministers, oligarchs and celebrities now live here. But the poor muffin man still avoids the area. One was left blind in the 18th century when he was robbed of his wares.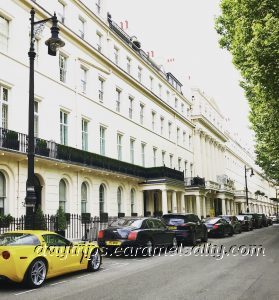 Other Related Blogs
Handy Things to Have Handy
Tube Map and City Mapper are free apps that provide London maps, route planner and train/ bus times from your nearest stop.
Transport for London is cashless.Only Oyster Cards, purchased at stations, or

contactless

cards are acceptable.
The Fox and Hounds (website) – if you fancy tasting their cool Guinness
Elizabeth Street (website) – has plenty of shops and restaurants
The Thomas Cubitt (website) – a lovely spacious pub in the midst of the shops on Elizabeth Street
There may be less flowers when you wander around as I explored Belgravia during Belgravia in Bloom (website for the 2019 festival).