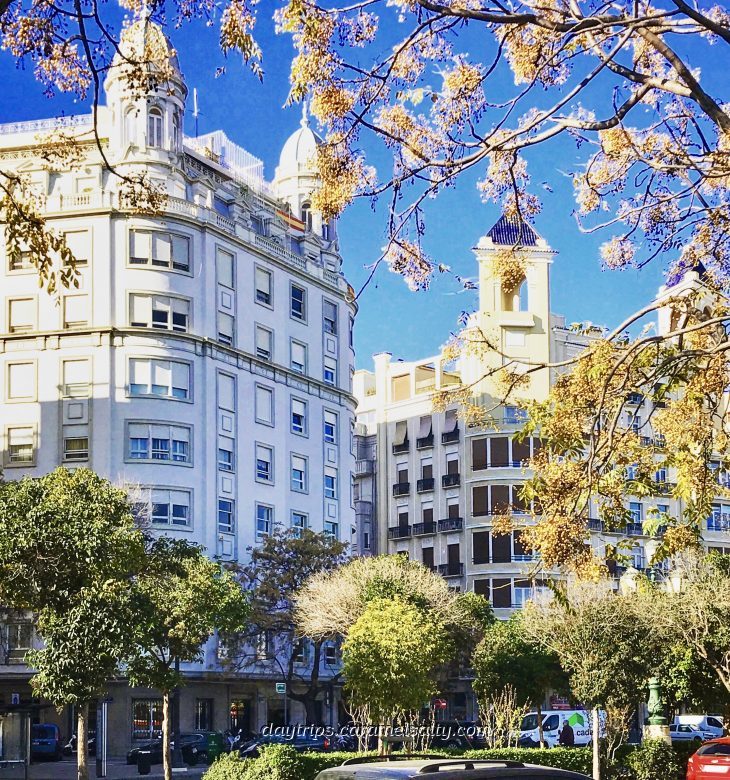 Valencia – An Architectural Delight
[1] Valencia's Nord Station (1917) is undoubtedly one of the most beautiful train stations in the world. It's cream Modernista facade is covered in flowers, orange blossoms and trees. An eagle about to fly, perches above the clock tower. It symbolises speed. Which is comforting for potential train travellers, I guess.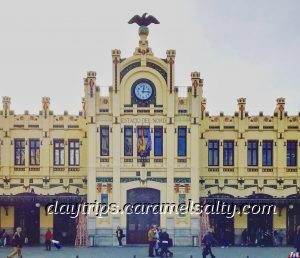 Start of Day: Valencia Nord Station
Cost of Day Out: Cheap
History Content: Low
Venturing inside Valencia's train station, I'm transported to another world. Ticket machines rest against a wall of stained glass windows. Fully tiled ceilings are supported by pillars decorated in the same motifs as the outside. And behind the ceiling to floor wood panelling are the manned ticket booths.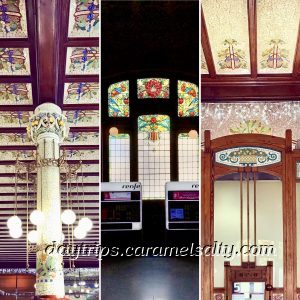 I step out of Valencia's station into an architectural wonderland. Next door, is the handsome brick [2] Bullring of Valencia. And across the road, a giant phoenix with rider tops the imposing Propiedad de la Union de Fenix.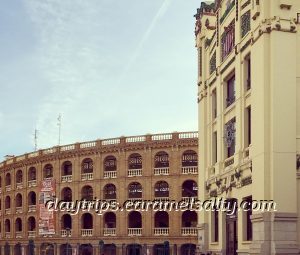 The short walk to [3] Plaza del Ayuntamiento is packed with some incredibly elegant buildings. All thanks to the Modernisme movement which sweeps through Valencia in the early 20th century. Buildings are decorated extensively with wrought iron, ceramics and glass.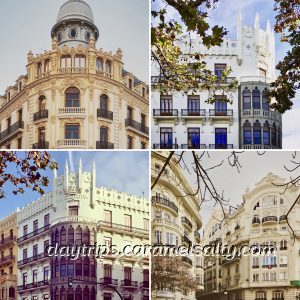 The stone pavement switches to marble. I must be close to power. And so I am, as I stand outside the Town Hall. Peering in, I can see a simple white balustrade staircase and chandelier. All pretty ordinary. Until I enter the rooms upstairs.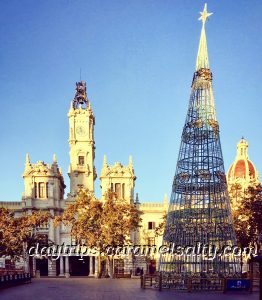 I shall never engage in a "my town hall is better than yours" debate with a Valencian. I will lose hands down. The rooms are gaspingly stunning as I stare at painted ceilings, grand chandeliers and polished marble floors.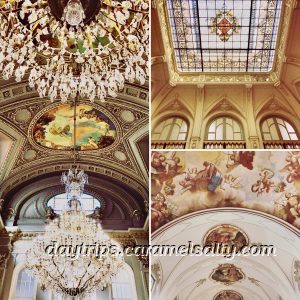 Once outside, I make my way through the florists on the square to the [4] post office. Not to post a postcard, but to gawp at the stained glass dome inside. The entrance is majestic too, with a silver globe topping everything.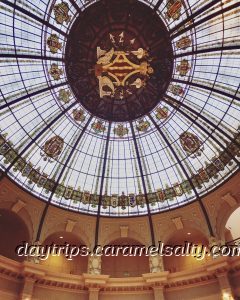 I wander round the perimeter of the Plaza de Ayuntamiento to admire cupolas, wrought iron balconies, turrets and decorated facades. These gorgeous Modernista buildings found everywhere in the city, is reason enough to visit Valencia.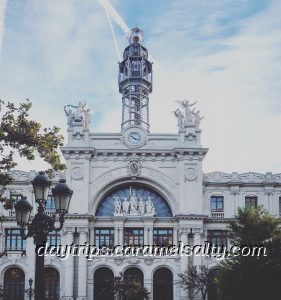 Heading away from Plaza del Ayuntamiento, I'm on [5] Carrer de les Barques, where palm trees fringe some large Spanish banks. I walk past the charming Caixa Bank, followed by the fortress like Banco de España. But the loveliest of them all, all pretty in pink, is [6] Banco de Valencia.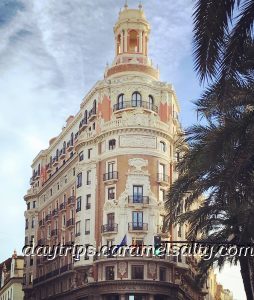 At [7] Colon metro station, there's a bronze model of the old city. The station marks the eastern edge of the medieval Christian city. And the area that the Jews were pushed out to. By this man on a horse that I spot in [8] Placa D'Alfons el Magnánimo just further up.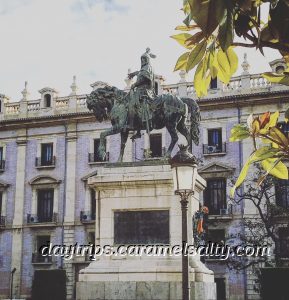 My next stop on this whirlwind tour is the [9] Fundacío Bancaixa. It's worth accidentally walking into the main reception just to peer at the sculptures in the lobby. But when directed to their public gallery, I get my daily fix of Uiso, Alfaro and the amazing Picasso! And for free !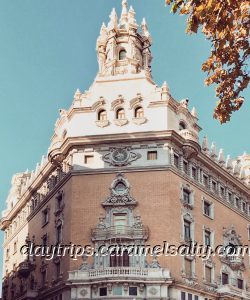 A little detour from the Fundacío Bancaixa finds me an open door leading into an oasis of palm trees. I walk in. Security guards throw open another double door. And suddenly, I'm in the grey granite stone interior of the [10] Convent de Santo Domingo.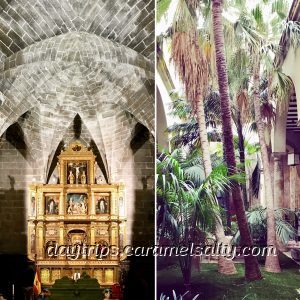 More architectural gems are discovered on [11] Carrer de la Pau, a very straight road flanked by handsome Modernista buildings. As it's also quite narrow, I have to keep crossing it to admire the architecture.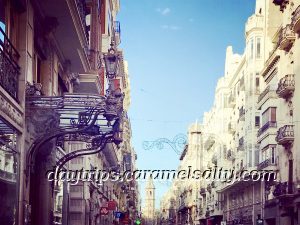 Through the gap of a side street, the terracotta coloured [12] Iglesia de Santo Tomas beckons. Inside, I take in its gilded dome, the ceiling to floor solid teak altar, and the blue and green tiles in the aisles. It reminds me so much of the Portuguese churches I've visited before.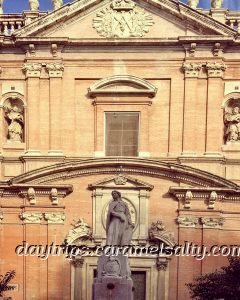 Diving down another side street, I arrive at [13] Placa del Col-legi del Patriarca. The square is dominated by the university's cultural centre. It's a chance to wander around a university building. And to peruse its current exhibition, which this week was about human rights.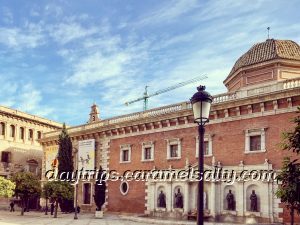 Next door, a half closed-door lets me through what seems to me to be an impenetrable monastery wall. It's the [14] Patriarca National Monument (1604). This renaissance building is built with Italian marble and Spanish tiles. Large tapestries hang in its little chapel. Not to mention the painted frescoes in there too.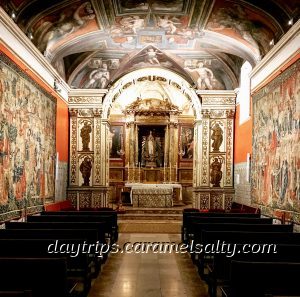 It's admission by guided tour, but only conducted in Spanish. However there are certain words that transcend all languages, such as "Caravaggio". No stopping me now. Upstairs, in its little museum of "cinco salas" (five rooms), is its renaissance art collection of subjects like the epiphany, saints, Mary and Jesus. And works by Ribalta.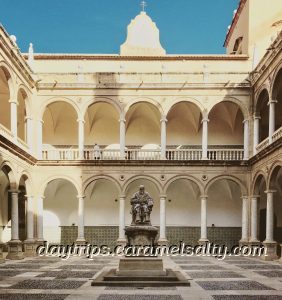 The highlight is, of course, Caravaggio's The Kiss. But I also find Thomas More's original script, written whilst he was imprisoned by Henry the VIII for refusing to annul the King's marriage. Despite him being decapitated,  they manage to smuggle his words to out here.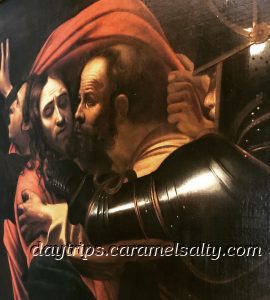 Down more back streets and I arrive at the extravagant rococo palace that resembles a decorated iced cake. The 15th century was the golden age for Valencia's ceramics industry, and this proud heritage is displayed here at the [15] Museo Nacional De Ceramica.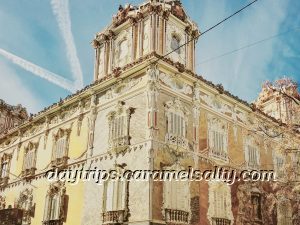 The influence of the Moors and Christians are reflected in the design through the centuries. And boy, did they use them everywhere. They ate from it, tiled their homes with it, held flowers in it, produced sculptures, furniture and art with it.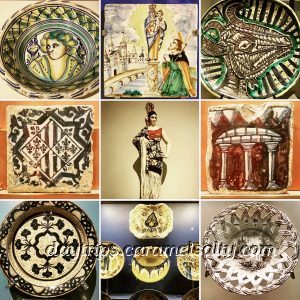 The museum used to be, and still is in sections, the opulent Palacio de Marques de Dos Aguas. The "dos aguas" can be found in its renowned entrance, worthy of more than just a glance. The two rivers of Valencia, the Turia and Jucar, is represented by two naked Atlanteans, under whom, water pours from an urn. The composition of this marvellous entrance can be read here.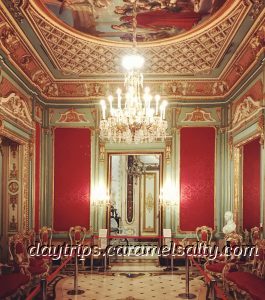 What an architectural gallop it has been around the city. Enough to build an appetite. Back at the Town Hall, on a side street, I stumble across [16] Homenaje. It serves freshly prepared tapas. And a lovely rose wine. All afternoon.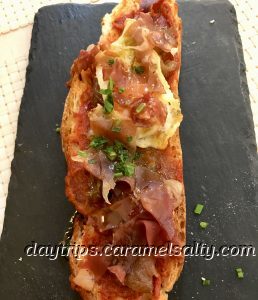 Other Related Blogs
Useful Stuff To Know
Bullring and Museo Tauri de Valencia – Closed Monday. Sunday a.m. only. Small entrance fee. Discount with the Valencian Tourist Card. Guided tours available.

Town Hall – Weekdays 08:00 – 15:00. The museum includes paintings and maps of old Valencia. Free.
Post Office – office hours. Free.
Fundació Bancaixa (Spanish website) –  Closed in the afternoon. On Sunday, a.m. only. Free. As are their occasional concerts.
Parroquia Castrense de Santo Domingo – Weekdays 10:30 – 12:00. Weekends a.m. and p.m., during service. Free
Universitat de Valencia: Biblioteca Histórica – Closed in the afternoon & all day Monday. On Sunday, a.m. only. Free.
Museo del Patriarca – officially, guided tours are only at 10:00 or 11:00 Mon – Sat. But when I visited, they were entertaining walk ins. Entrance Fee.
Ceramics Museum (website) – Closed in the afternoon and all day Monday. On Sunday, a.m. only. Small Entrance Fee. Free on Sundays.Discount with the Valencian Tourist Card. Tip: Look at the ceiling & at your feet for displays you might otherwise miss.

Route of My Architectural Tour of Valencia