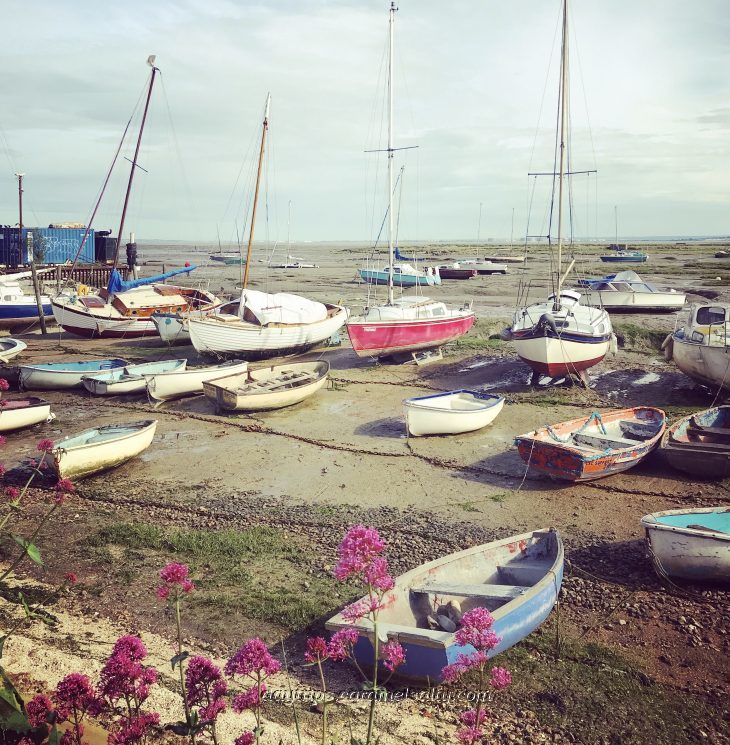 The Thames Estuary – Leigh On Sea and Hadleigh Castle
When word arrives that Princess Beatrice and Ralph de Binley are in the village of [1] Leigh waiting to sail to France, the guards at [2] Hadleigh Castle are summoned. Henry III has ordered that his daughter's elopement is stopped. And so they must make haste.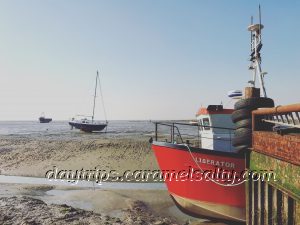 Start of Day – Fenchurch Street Station (Zone One), London
Cost Of Day Out – Cheap
History Content – Moderate
Princess Beatrice's attempt to elope is in 1255. Given that [2] Hadleigh Castle has just been built in 1230, it must have been a far grander castle that the guards depart from, compared to the ruins on top of the hill today.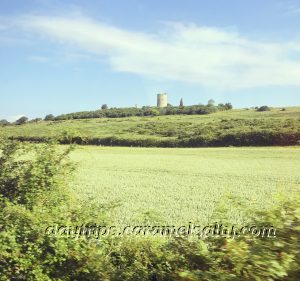 From the station, a short walk via [3] Castle Drive and along fields of barley gets me to the ruins. Invisible birds chirp loudly in the shrubbery, whilst a rabbit hops into the hedge as a train whistles past in the distance.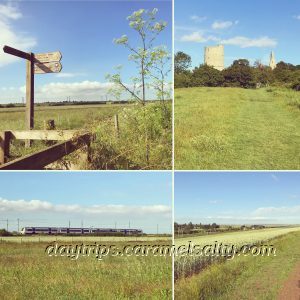 As I tackle the hill, there are incredible views of Canvey Island, Benfleet and, of course, the Thames Estuary towards Shoeburyness. No wonder Edward III decides Hadleigh is a perfect look out for French ships, especially as he has just picked a 100 Year War with them.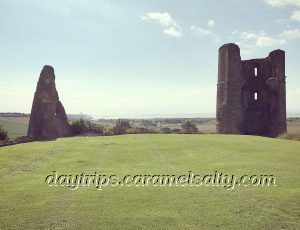 Unable to resist signs for "tearooms 5 mins way", I arrive at the [4] Salvation Army Farm and Tea Rooms. It's in 1886 that Peter Booth, its founder, sets up a colony of 1000 acres to address the problems of urban over crowding in the city of London. Today it's a visiting farm that will delight even the adults.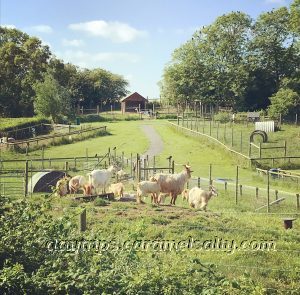 From the tea room I wander past the arable fields of [5] Park Farm owned by the Salvation Army. The walk along the ridge provides me with some fabulous views of Hadleigh Castle. But along [6] London Road, the views become a somewhat skimmed version of before. But it all changes when I arrive at [7] Marine Parade.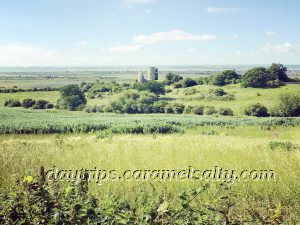 The green along [7] Marine Parade, which borders [8] Belton Hills Nature Reserve, stretches all the way into the centre of [9] Leigh-on-Sea. When I make it a point to sit for a moment at every bench, that's when I realise that each one of them has a totally different view.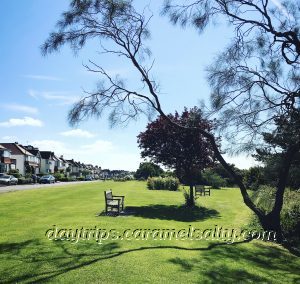 The train station of earlier lies way below. The main drag towards it is the very steep [10] Belton Way, with fab views of the estuary. There are also at least 3 sets of stairs running from Marine Parade down towards old Leigh for those on foot. The views are, needless to say, to die for.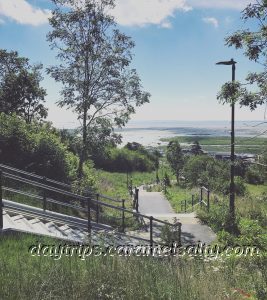 Yearning for a cup of coffee, I stop off at [11] Natural Bite, with its little garden café with views. Then I venture down [12] Broadway passing a most higgledy piggledy DIY store, the handsome red brick [13] Leigh Library, a tea room, numerous restaurants, before finally arriving at [14] St Clements Church.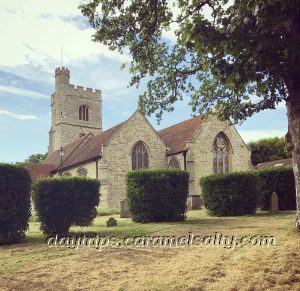 On the 31st May 1940, a small fleet of cockle boats sets off from Leigh under the cloak of darkness to France. Despite being under fire, the civilian fishermen make it onto the beaches of Dunkirk several times to evacuate allied troops.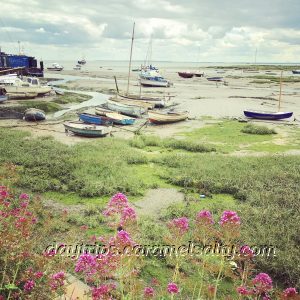 The men are successful in their mission. But in this heart-breaking account, I learn that on her way home, the Renown sails over a mine. A memorial with a moving epitaph lies in the church yard to the crew, all of whom perished.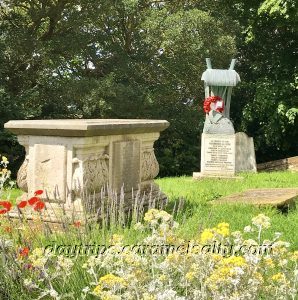 After paying my respects, I set off down [15] Church Hill to "old" Leigh, enjoying the gorgeous views, going past little terraces with typical sea side wooden cottages and over the pedestrian bridge to emerge by [16] Leigh Sailing Club.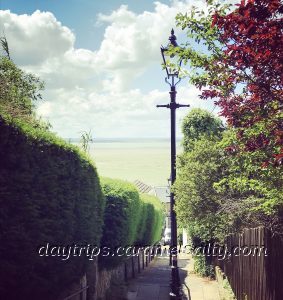 The train line I've just crossed over marks where the town of Leigh is split into two when the train service is extended from Tilbury to Southend in 1856. Sadly, many of Leigh's old timber framed houses are demolished in the process.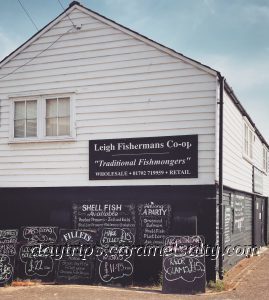 But despite the devastation of the old village, the fishing industry does get a boost with faster access to Billingsgate in east London. And from surveying the town, there is still plenty of evidence of fishing activity.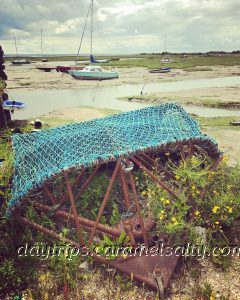 Leigh is now a popular commuter town. But back in 1086, when Leigh is known as Legra, and the Normans come round to collect data for their famous census, Leigh is noted as comprising of only "five smallholders above water, who do not own land".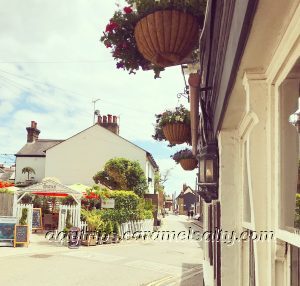 If the men conducting the census had then bothered counting the underwater residents, they would've found thousands of cockles inches from the surface of Leigh's mud flats. Cockles love rain. And given the recent deluge, the mud flats must be inundated with shellfish waiting for tide and plankton to surge in.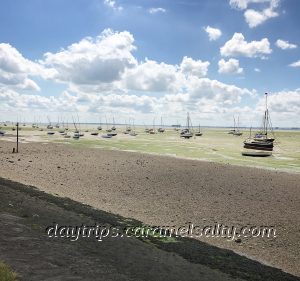 If I had had a pair of wellies, I could have wandered out to the silvery brown mud, its surface scarred by rivulets of water and dotted with boats looking as if they've been left high and dry. With my hands or a rake, I could've mustered a few cockles the traditional way.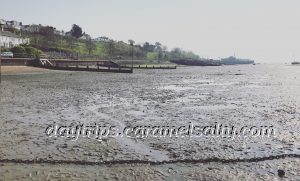 It's now time to taste these delicious morsels. At [17] Osborne Bros, I order the mixed seafood plate. There's something quite magical to then savour it in an open yard whilst gazing out at a blue, shimmering landscape.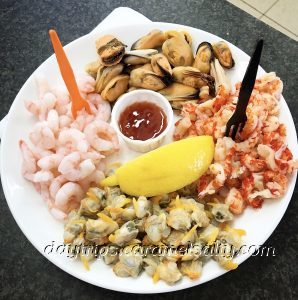 Just around the corner, is the wonderful volunteer-run [18] Heritage Centre which has a fantastic archive of photos and videos. After exploring a typical fisherman's house in Plumb's Cottage, I wander out onto the estuary to breathe in more of the fresh sea air and scenery.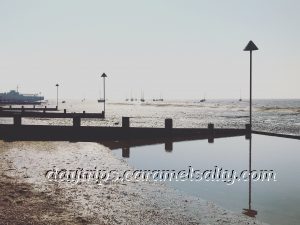 In the 19th century, the fishing boats coming in would have also been engaged in smuggling. Which is why there is a [19] Customs House dating from 1815 in the centre of Leigh. Smuggling is a game of wits, and according to this article, the fishermen of Leigh are pretty canny at it.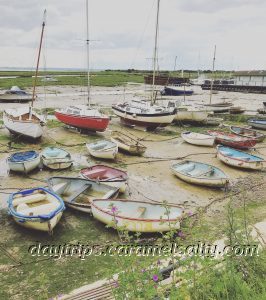 Much of the seized loot by Customs is foreign booze. Happily though today, there's plenty of legal booze to sample in Leigh's delightful pubs. [20] Ye Old Smack, named after a type of boat, is my favourite with its outside balcony overlooking the Thames.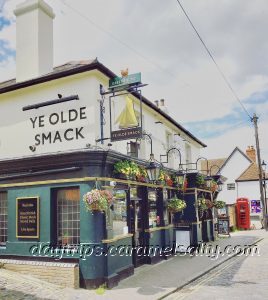 And what becomes of Beatrice and Ralph who started my story? History is a little sketchy about Ralph's fate. One story says that he was arrested and executed. Another says Beatrice waves forlornly as he is put on a ship in Leigh and banished from England.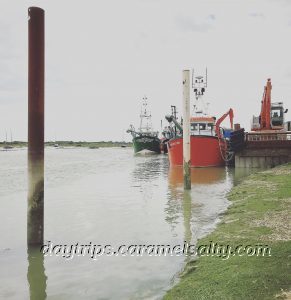 Beatrice must have returned to London with a heavy heart. As do I. It's been such a great day out, under blue skies, with ruins, and views, and history. The Thames is now rushing in. Folk are beginning to gather along the narrowing beach to kick a ball, to have a beer. It has been very pleasant indeed to have been beside the seaside today.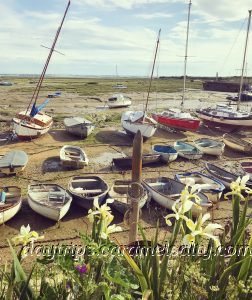 Other Related Blogs
Useful Stuff To Know Before Going to Leigh
Tube Map and City Mapper are free apps that provide London maps, route planner and train/ bus times from your nearest stop.
Transport for London is cashless. Only Oyster Cards, purchased at stations, or contactless cards are acceptable.
Catch a train to Leigh On Sea after comparing fares on C2C and Trainline for train times, fares and advance ticket purchase. Discounted off-peak fare with Network Rail Card.
Hadleigh Castle (website) – Open everyday during reasonable day light hours. Free Entry.
Salvation Army Hadleigh Farm (website) – Open in the summer. Entrance fee applies.
Leigh Heritage Centre (website) – Open everyday. Free Entry.
Osborne Brothers (website) – Open everyday. And a shellfish lover's idea of heaven.