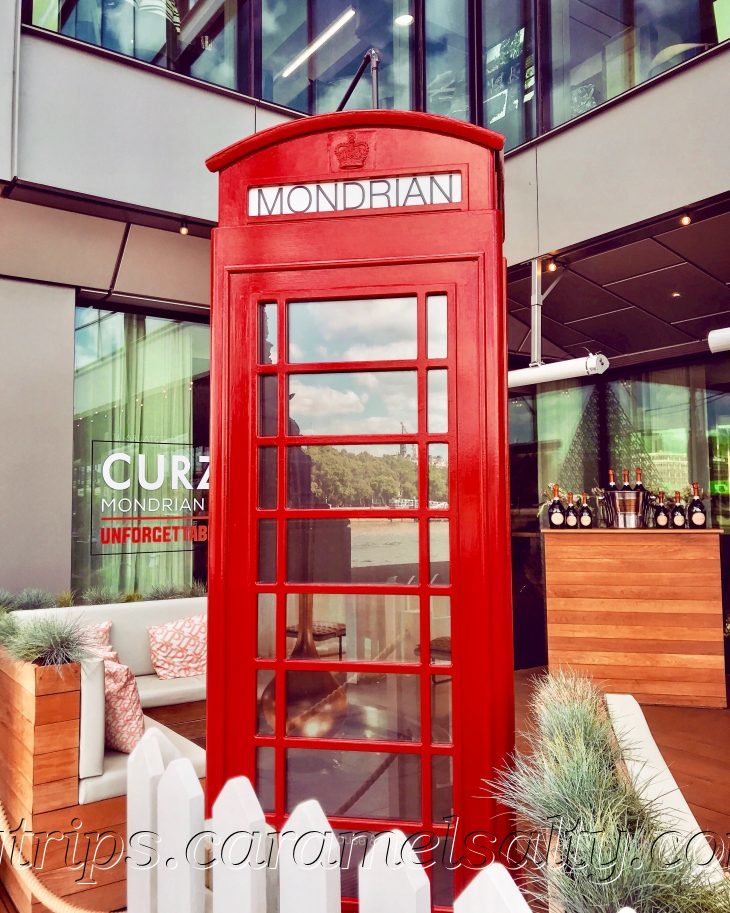 The South Bank (Part Two) – Hungerford Bridge To Waterloo Bridge
It's a story straight out of a James Bond movie. It's 1978. A Bulgarian dissident writer stands at a bus stop at Waterloo Bridge. He feels a sharp pain in his thigh. Three days later he is dead. The cause of death – ricin, administered with the tip of an umbrella. But till today Georgi Markov's murder still remains open. And the stories of this bridge built by women, doesn't stop with just murder. It extends to the devil and despairing Londoners.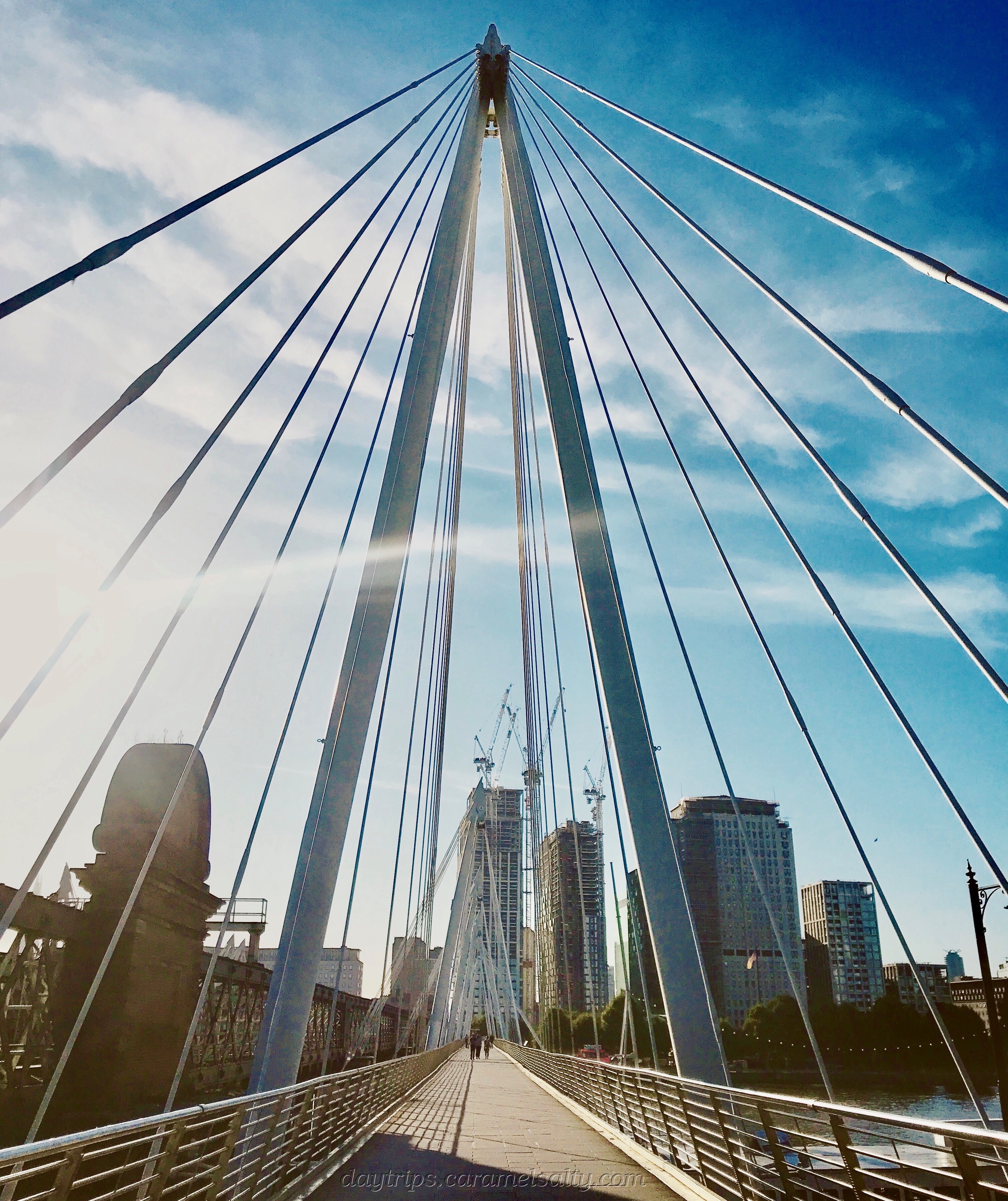 Start of Walk: Embankment Station, Zone 1, London
Cost of Day Out: Cheap (without the attractions)
History Content: Moderate
For a long time the river Thames formed a natural barrier between the north and south banks of the river. The South Bank was where, in the 19th century, dirty, unpopular industries such as tanneries, soap making and vinegar distilling were located, well away from the city. It was very smelly and polluted around here at that time. All that is gone, and today the South Bank is littered with tourist attractions, halls, galleries, restaurants, rides, pop up kiosks and even an open air book fair under Waterloo bridge.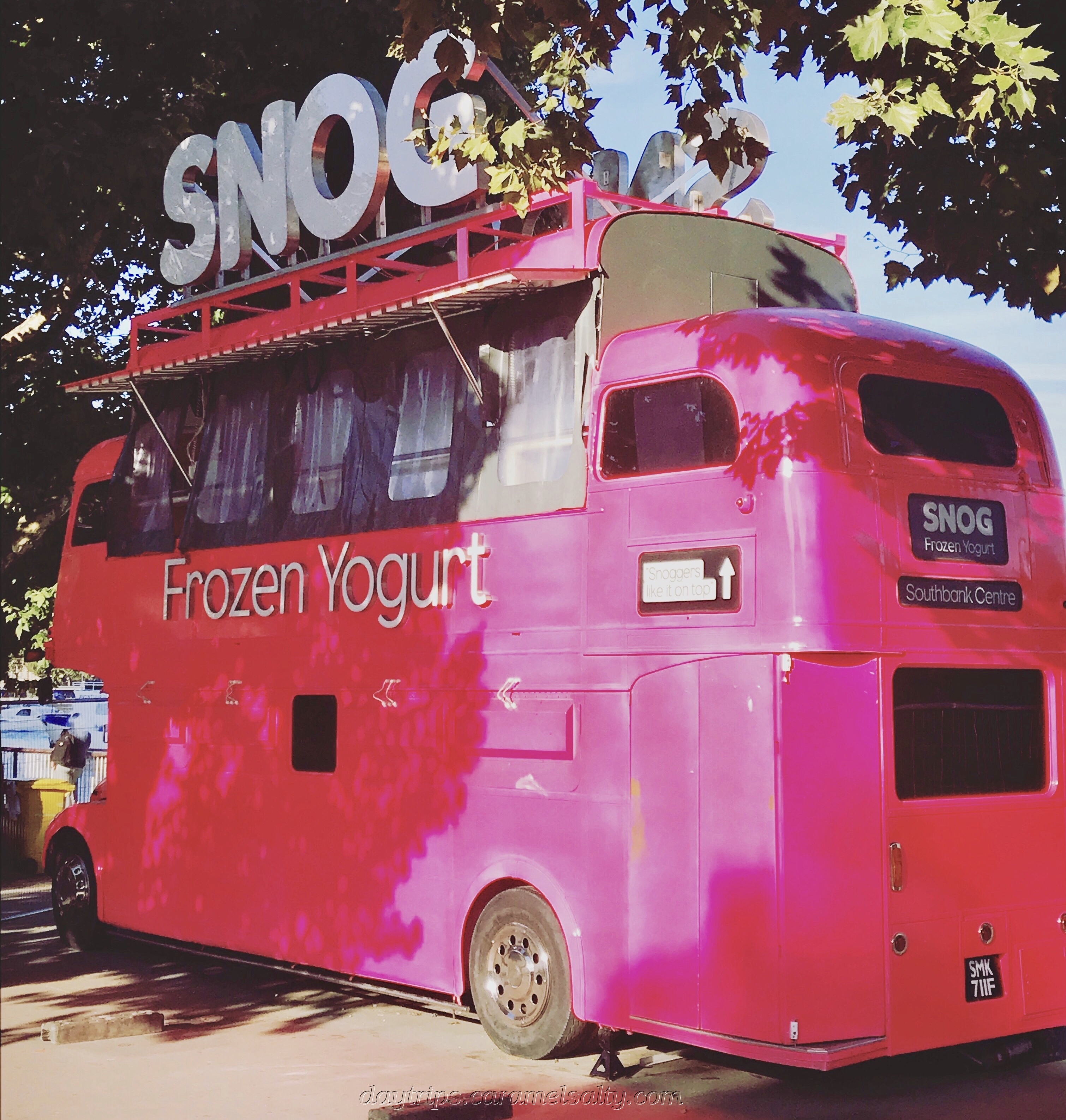 My walk starts where [1] Hungerford Bridge meets the South Bank. I head towards Waterloo bridge, going past the [2] Skatespace underneath the Queen Elizabeth Hall and Purcell Room. This haven for skaters, BMXs and graffiti artists is the oldest skateboarding park in the world. When the South Bank Centre revealed plans in 2013 to relocate the skatepark to Hungerford Bridge in preference of retail units here, the proposal is not only overturned by the hard-fought campaign by Long Live Southbank but also secures the longevity of the park for future generations.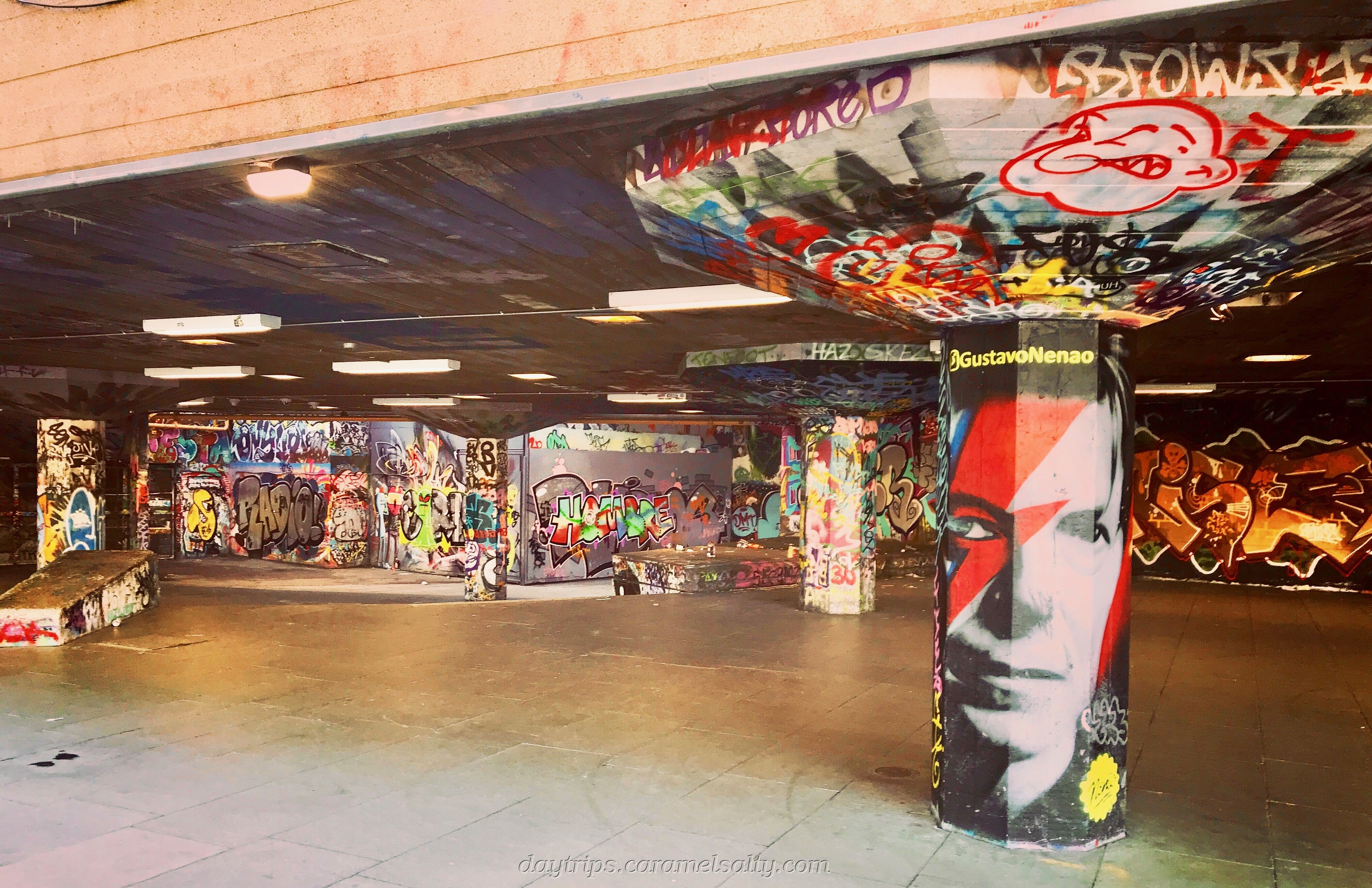 The bridge past the Skatespace is [3] Waterloo Bridge (1817), named after the famous victory over Napoleon in 1815. It's a shame that it wasn't around when Wordsworth pens his poem from Westminster Bridge, as Waterloo Bridge is said to have one of the finest views along the Thames. If I ever come across Monet's or Constable's painting of it, I will study it long and hard. That's because the original bridge they painted no longer exists.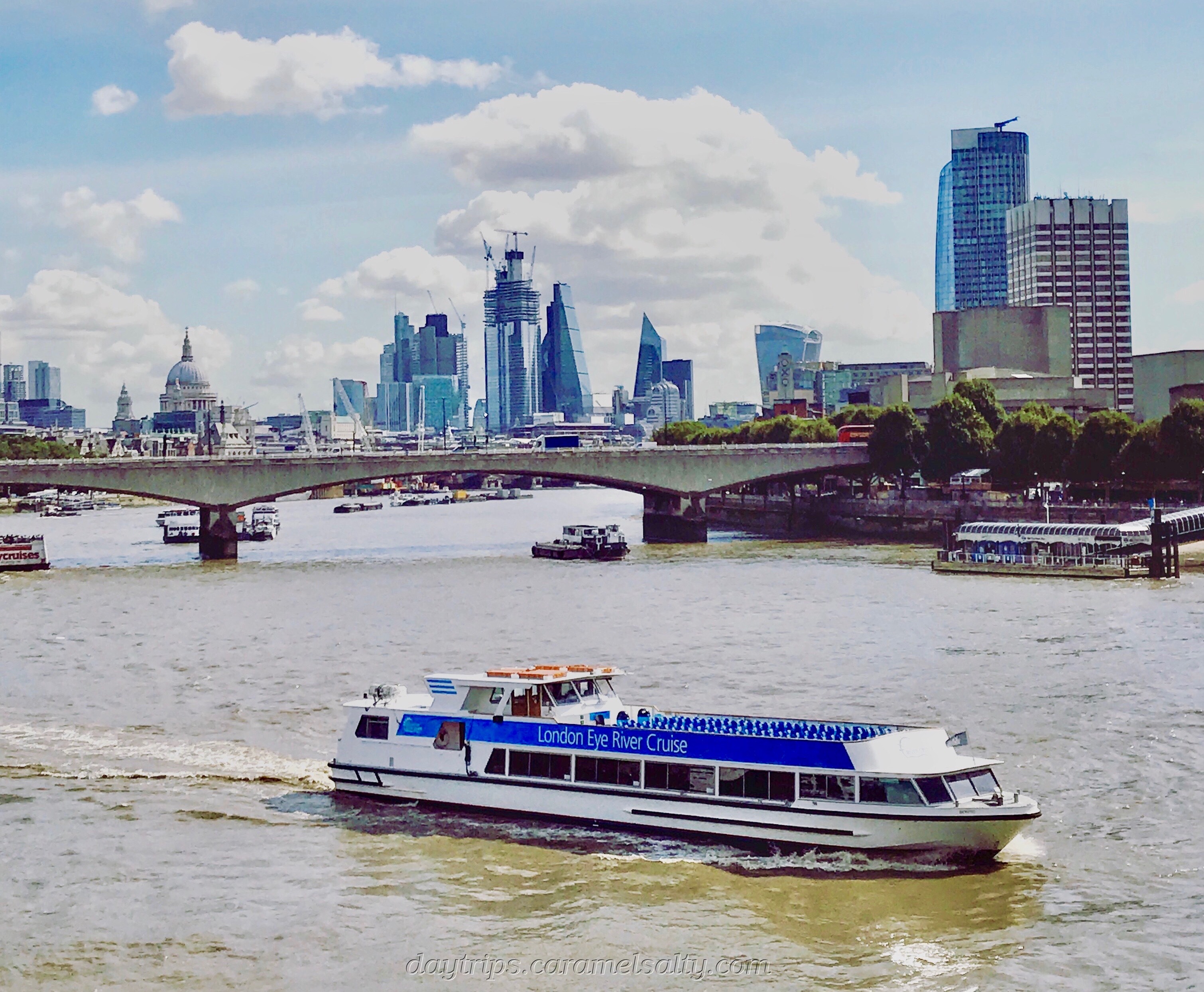 Construction of the new bridge starts just before WWII breaks out. As a result the bridge is completed mainly by women. Hence the reference as the Ladies Bridge. Despite the extensive bombing of London during the war, Waterloo Bridge is the only Thames bridge to have suffered damage during WWII. But it's impossible to tell that today.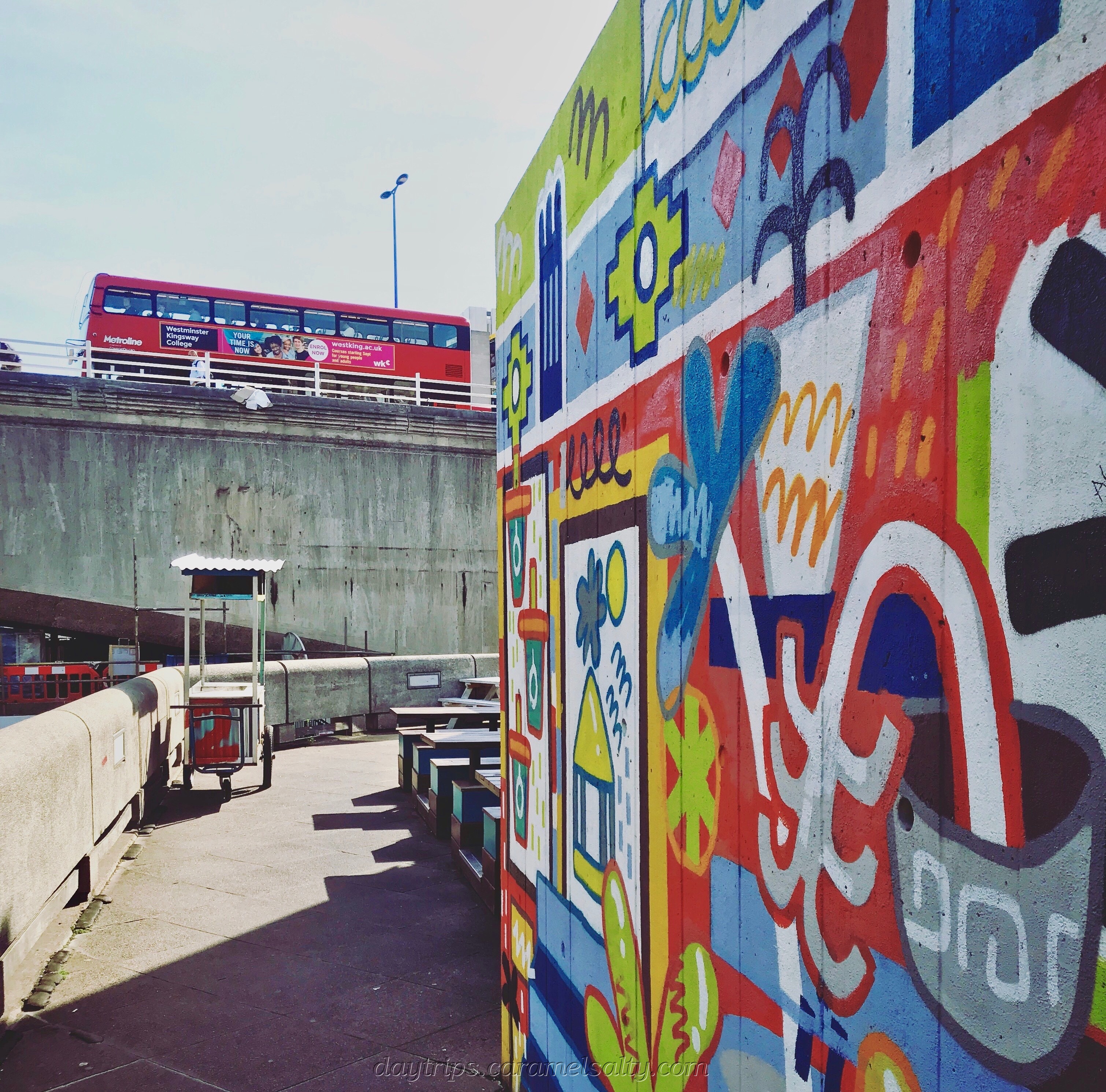 Apart from murderers, bridges seem to also attract devils. This one though, is of the daring type. The American daredevil, Samuel Gilbert Scott, is one man who performs death-defying acrobatics to earn a living. To enhance the thrill of his act he introduces a stunt where he puts a rope around his neck before jumping. In retrospect, it was probably not a good combo, as it ends up going badly wrong in 1841, when Samuel is strangled to death whilst performing on Waterloo Bridge.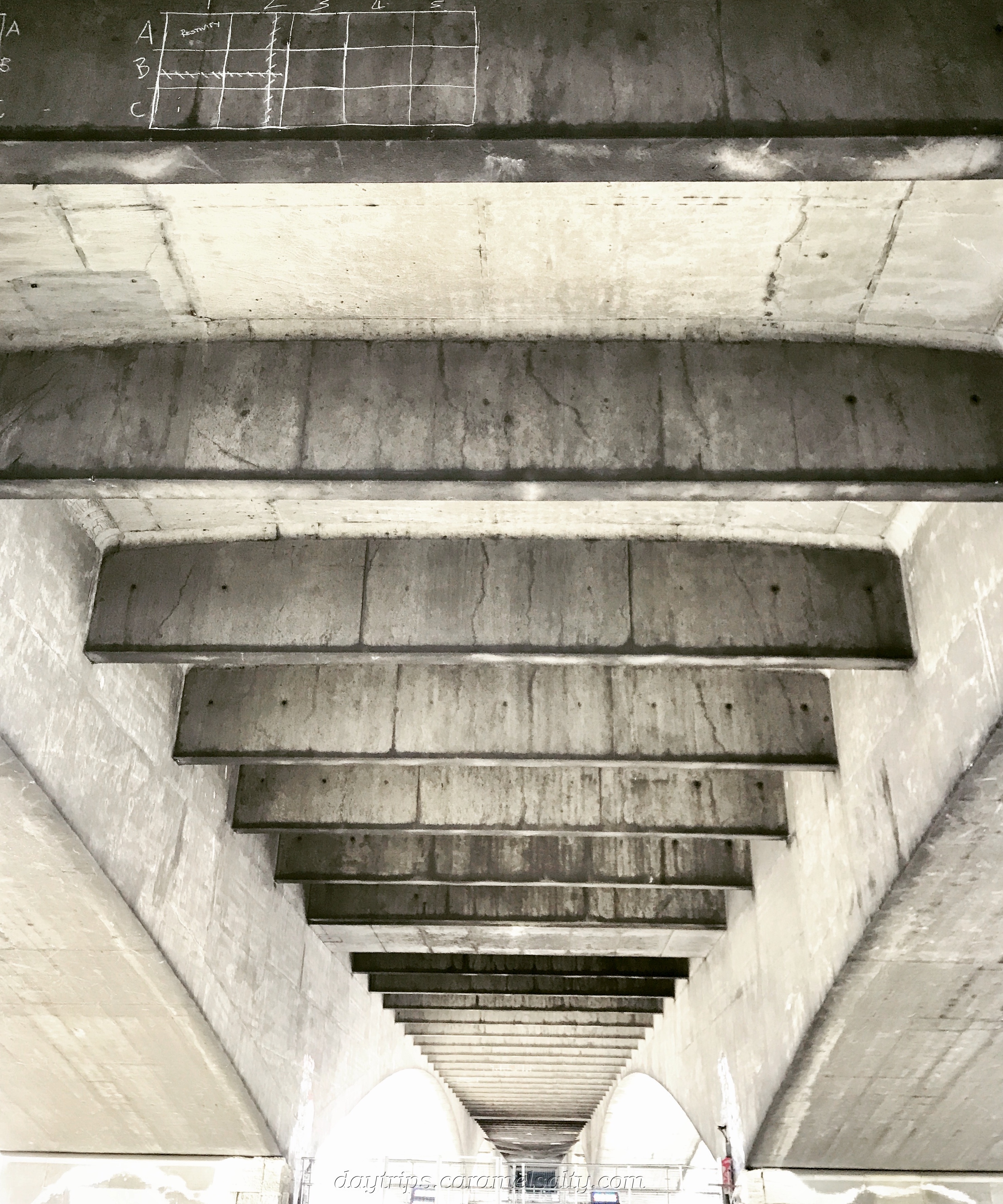 The bridge also has a rather sad and tragic reputation for Londoners who come to realise that the street of Dick Whittington's London is not paved in gold. The bridge becomes a notorious suicide point in the 1840s. Thomas Hood narrates the tale of a homeless woman who jumps off the bridge on a cold night in March, in his poem The Bridge of Sighs. The Thames is a tidal river, and its currents are strong. In such freezing waters, you have to be a strong swimmer to survive it.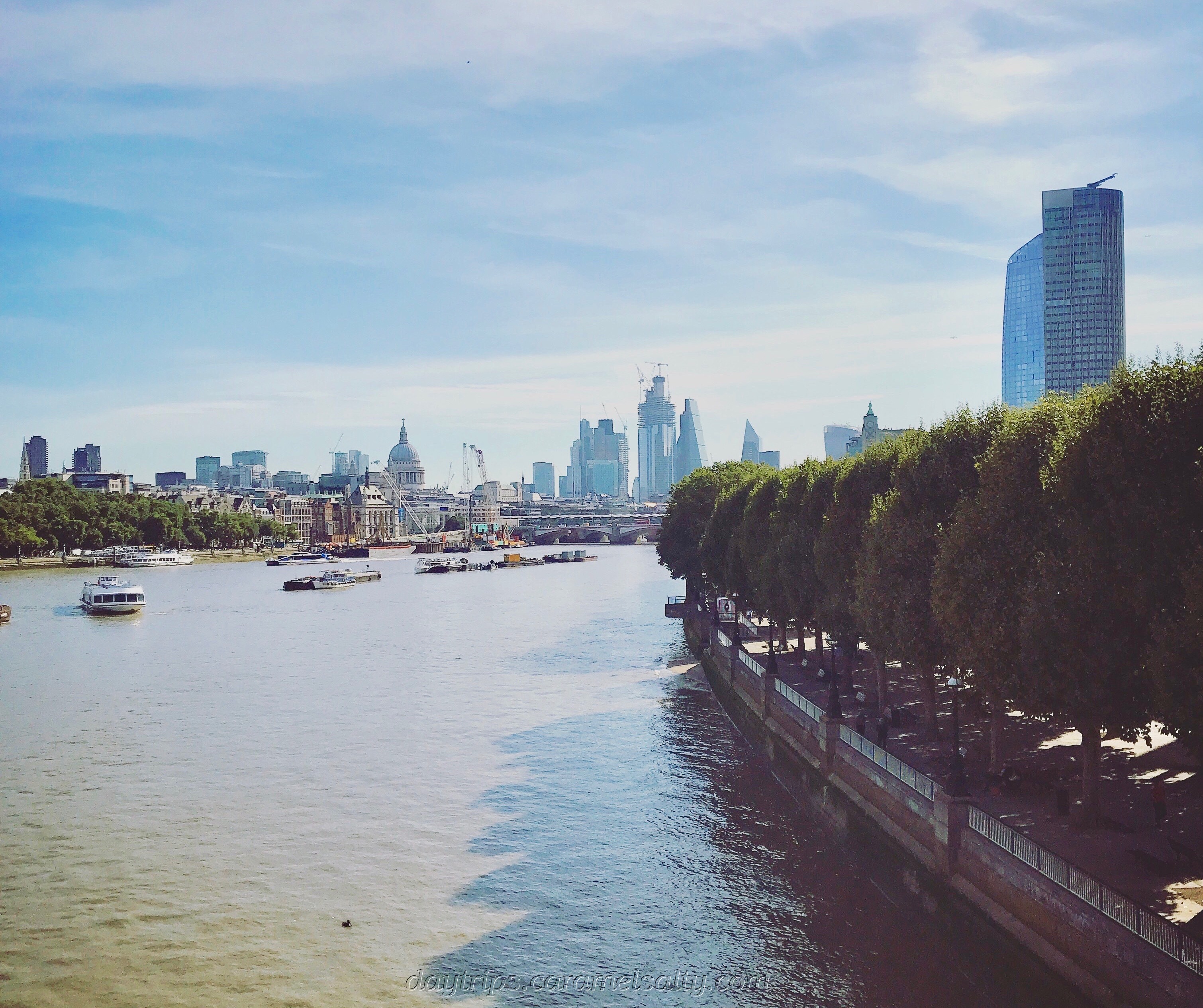 Just past Waterloo bridge is the [4] National Theatre. Also built during the 1951 British Festival which regenerates the South Bank as a cultural event destination, it is very different from its counterpart, the Royal Festival Hall (see my Westminster Bridge walk). In fact, according to this article, Prince Charles likens this piece of brutalist architecture to a "nuclear power station".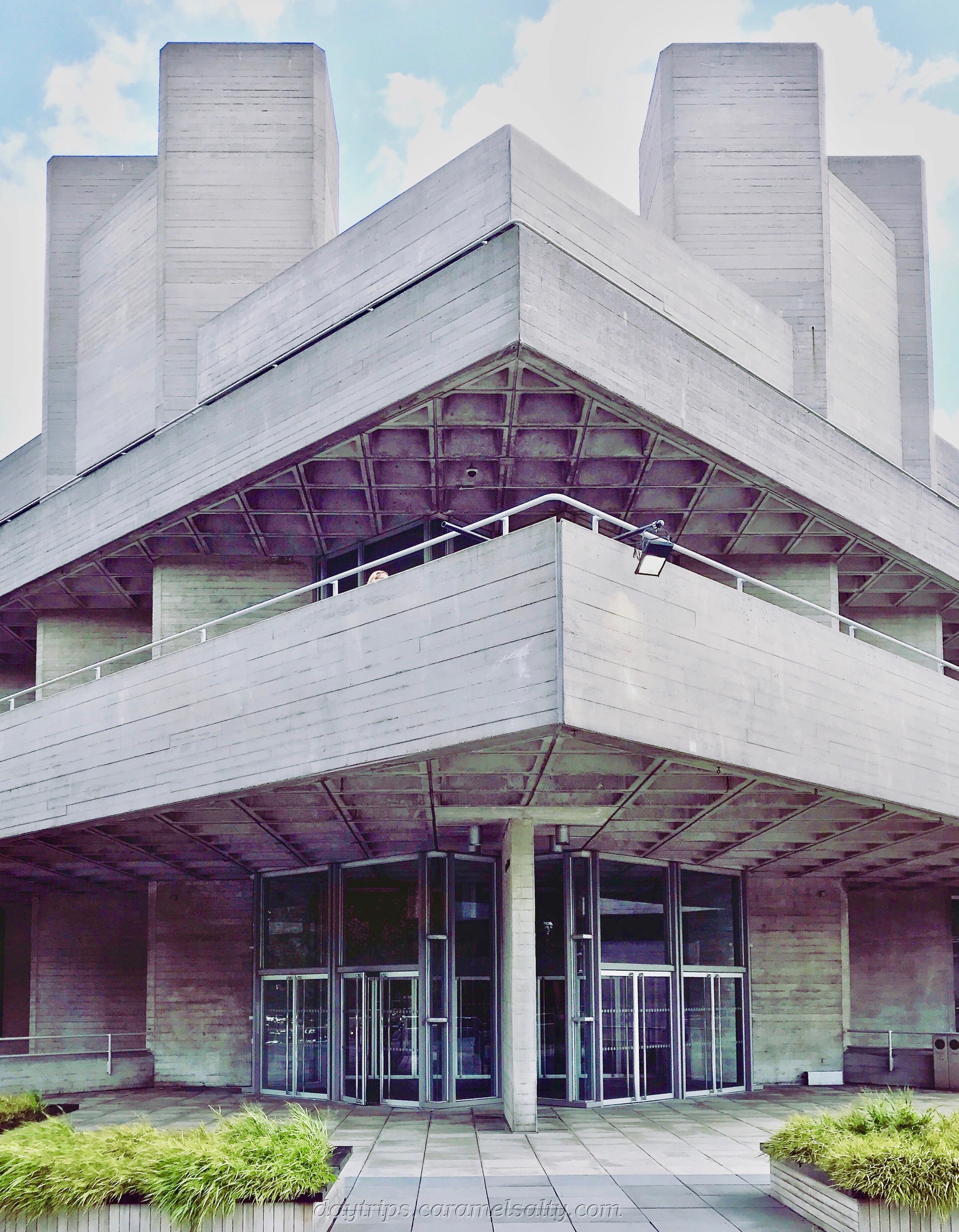 Admitedly, the concrete bare internal walls and staircases are rather stark. But I think this building is unique and marvellous. There is a feeling of calmness and spaciousness as I wander through the complex. At the top floor, I catch some fresh air on the [5] Bayliss Terrace. From this vantage point, I find more open air terraces in various spaces in this fortress-like, angular shaped building. It's modern theatre, which I have attended performances in before, has, in my opinion, not got a single seat with a bad view.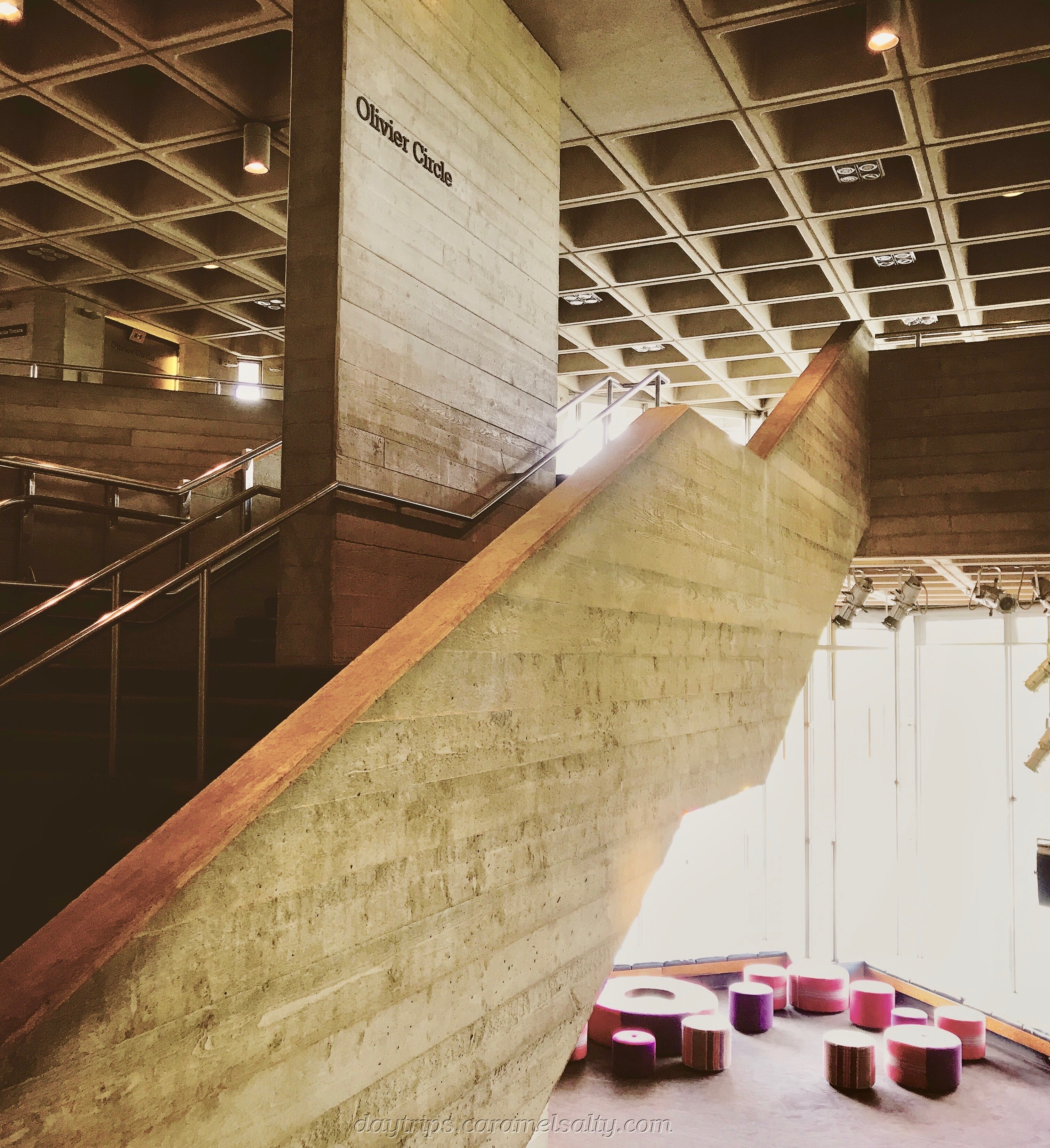 Moving along the South Bank, I come to [5] Gabriel's Wharf, with its little sandy beach. I have seen some incredible sculptures on this tiny little beach, which sadly, at high tide, gets swept away. And from here, I spy the art deco [6] Oxo tower, bought in the 1920s by the Liebig Meat of Extract Company, producer of the beef, and now other varieties, OXO stock cubes. It used to be a power station before the wharf fell derelict in the 1970s. This wharf is saved from hotels and offices by another extraordinary campaign mounted by the Coin Street Community Action Group to transform this space.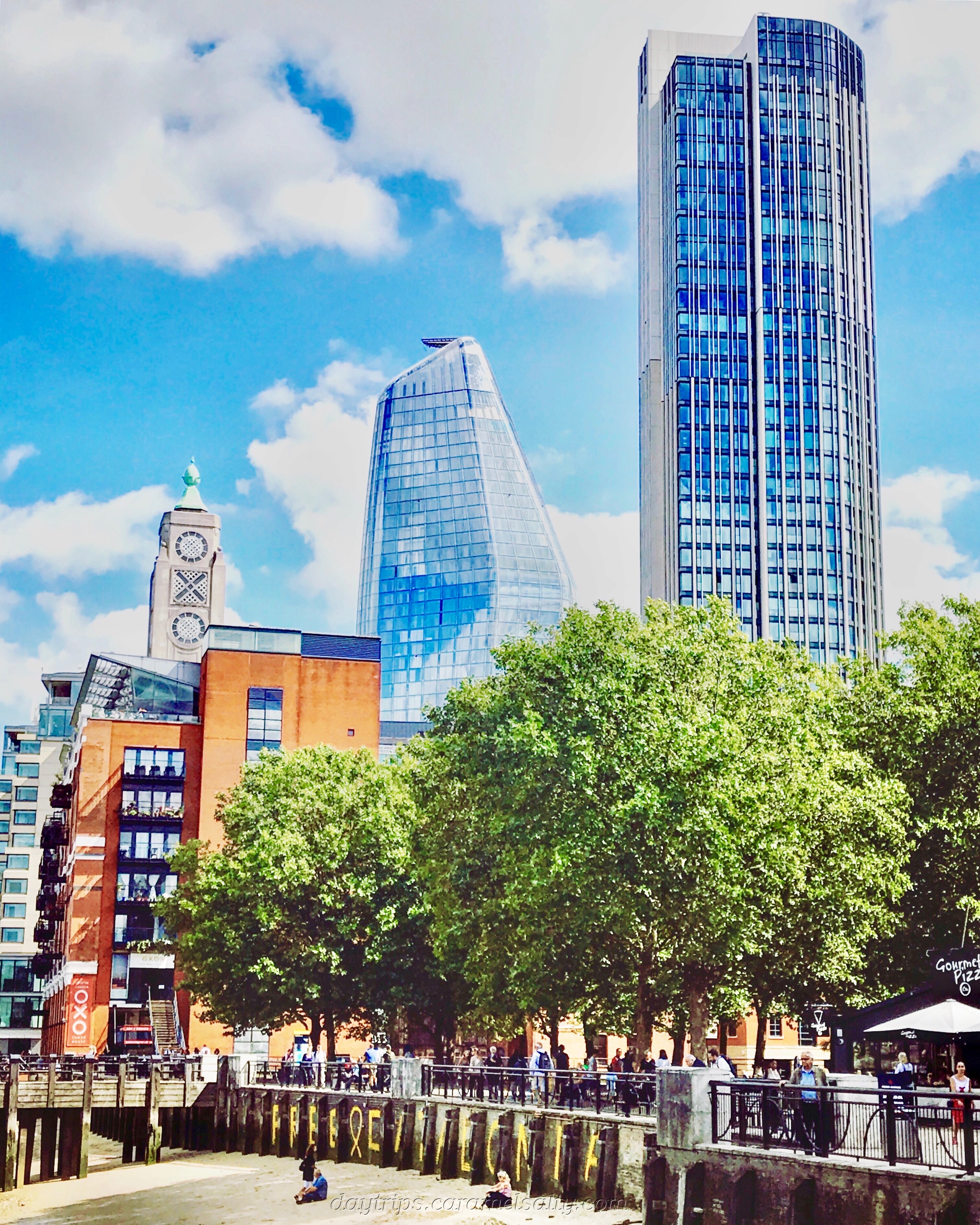 The Oxo Tower, is one of the derelict buildings refurbished by the Coin Street Community. Today it houses studios, independent shops and one of my favourite restaurants in London. There is also a [7] public viewing gallery on the 8th floor inside the Oxo brasserie. The tower contains the letters OXO, which is best appreciated at night, when it is illuminated. This is a genius idea by the Oxo marketing team to overcome the ban on advertising boards along the River Thames.
The [8] Harvey Nichol Brasserie is one of my favourite restaurants along the river, with its fine views of St Paul's. Whilst it may not have the stupendous height and view of the Shard and the Duck and Waffle, there is something earthy about dining aloft outdoors, and still being able to hear the wash breaking, the sight of passing river traffic and the smell of the salty grains left behind at low tide.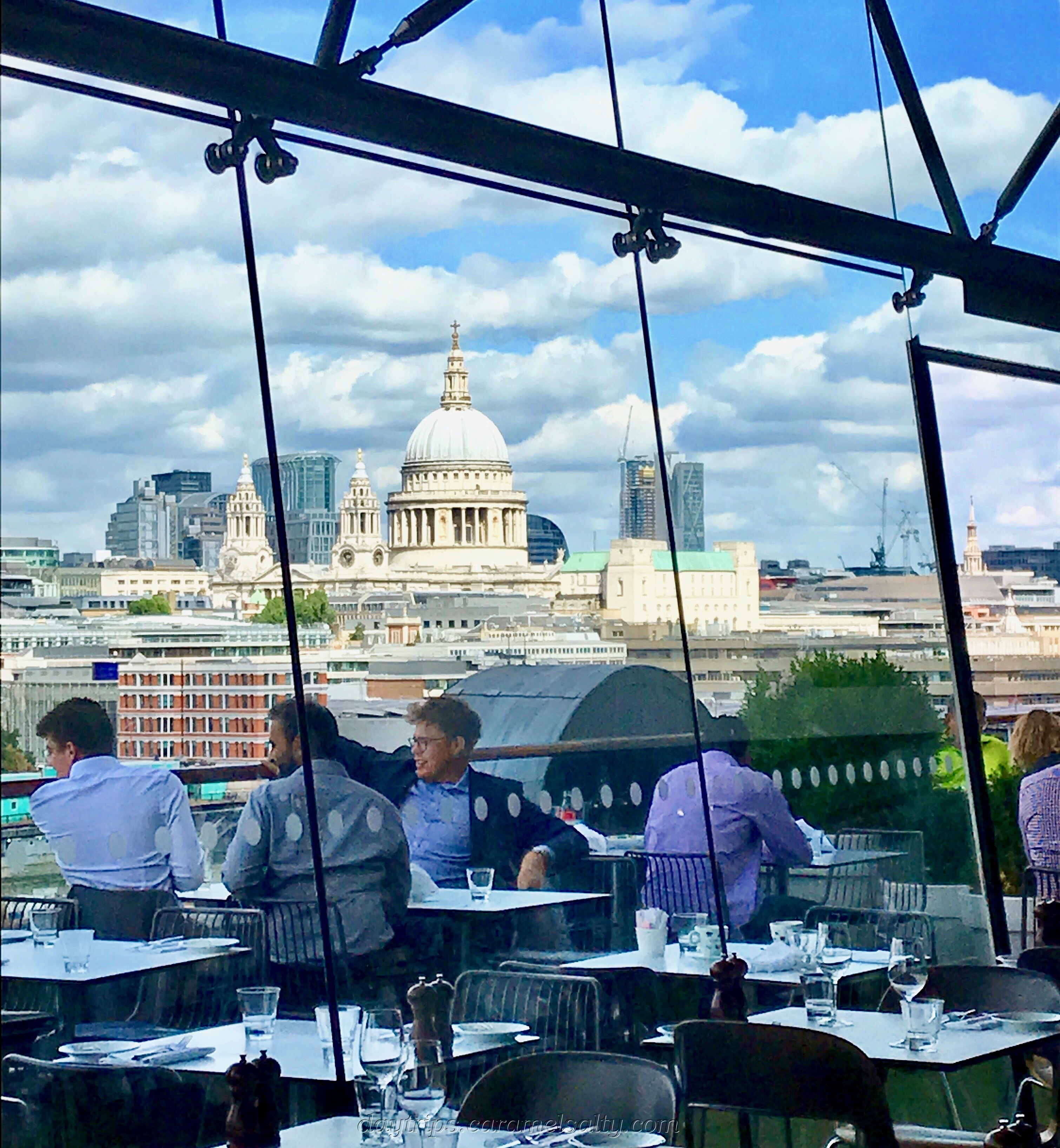 My walk ends at Sea Containers. Today its a very plush hotel, designed like the inside of a cavern, with curves, dim lighting and a bronze look. It used to be the offices of a Bermudan registered company engaged in the business of leasing ships and containers. They went bust in 2006. But not before they started the luxurious Venice – Simplon Orient Express train service.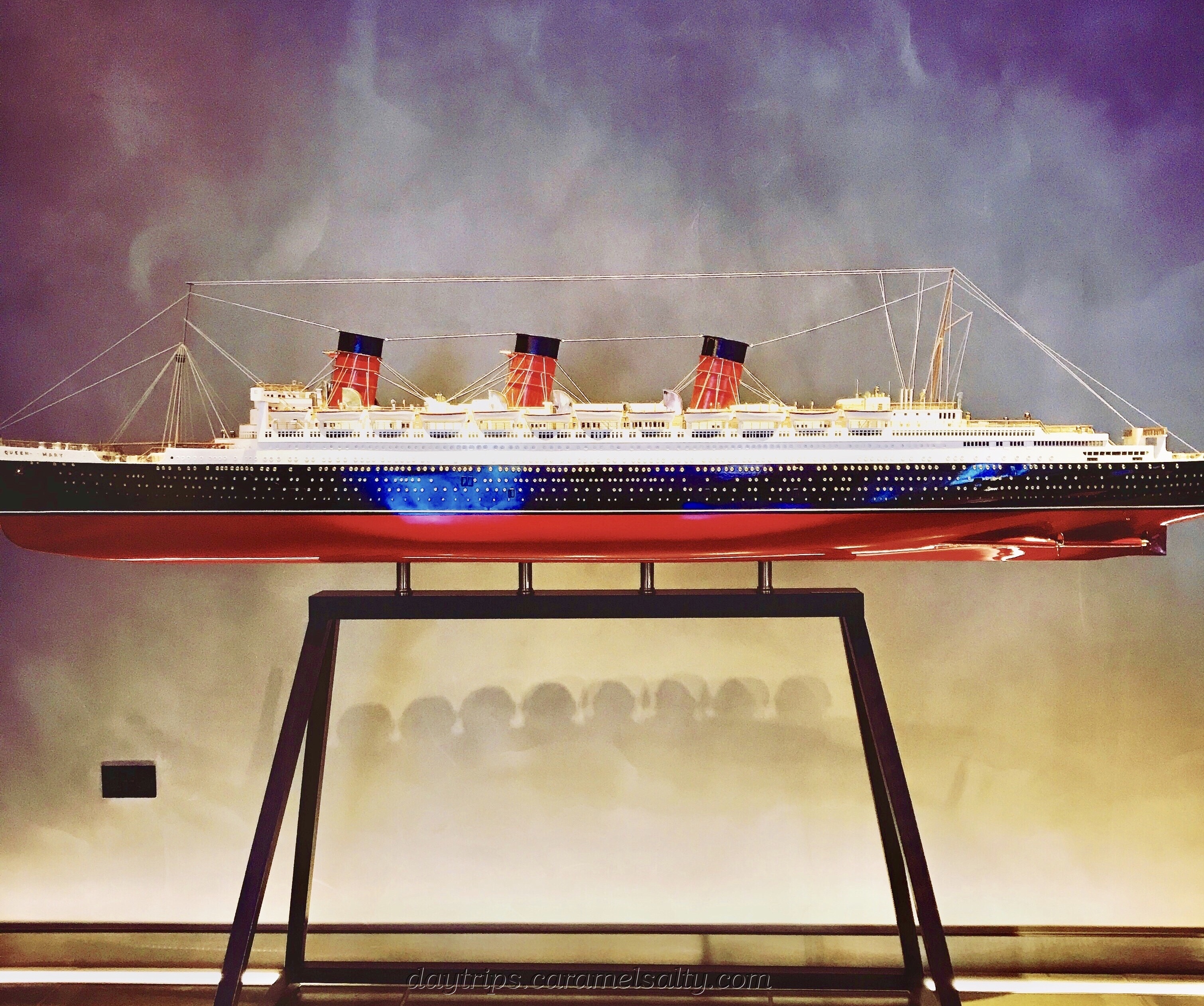 And just like everywhere I've been along the South Bank today, they also have a roof top bar. It's called Rumpus. And as I sit here, I wonder if this series of blogs is dangerously close to slipping, or should I say sipping, into a Thames Rooftop Tour. If it does, it is a rather enjoyable way of eyeing the next bridge for my South Bank series of blogs.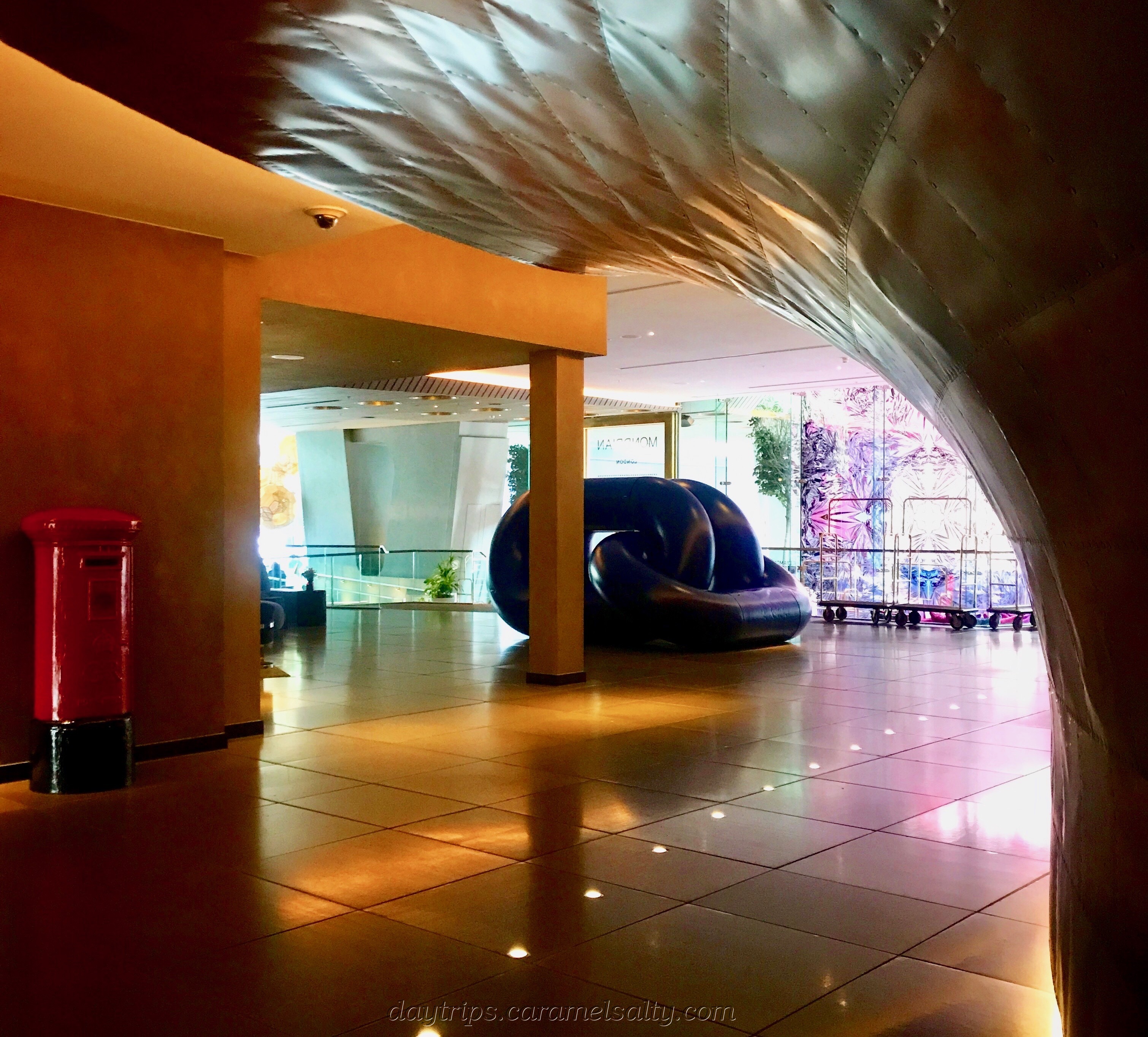 Related Blogs
Some Useful Information
Tube Map and City Mapper are free apps that provide London maps, route planner and train/ bus times from your nearest stop.
Transport for London is cashless. Only Oyster Cards, purchased at stations, or contactless cards are acceptable.
South Bank Website (website) -for details of events.
Oxo Tower (website) – for what's on in the galleries and details of shops and restuarants within.
Harvey Nichols Brasserie (website) – book ahead to reserve a table on the small outdoor terrace.
National Theatre (website) – for details of shows in all of its fabulous spaces
Rumpus Bar at the top of Sea Containers House (website) – daily, from 17:00. Smart Casual.