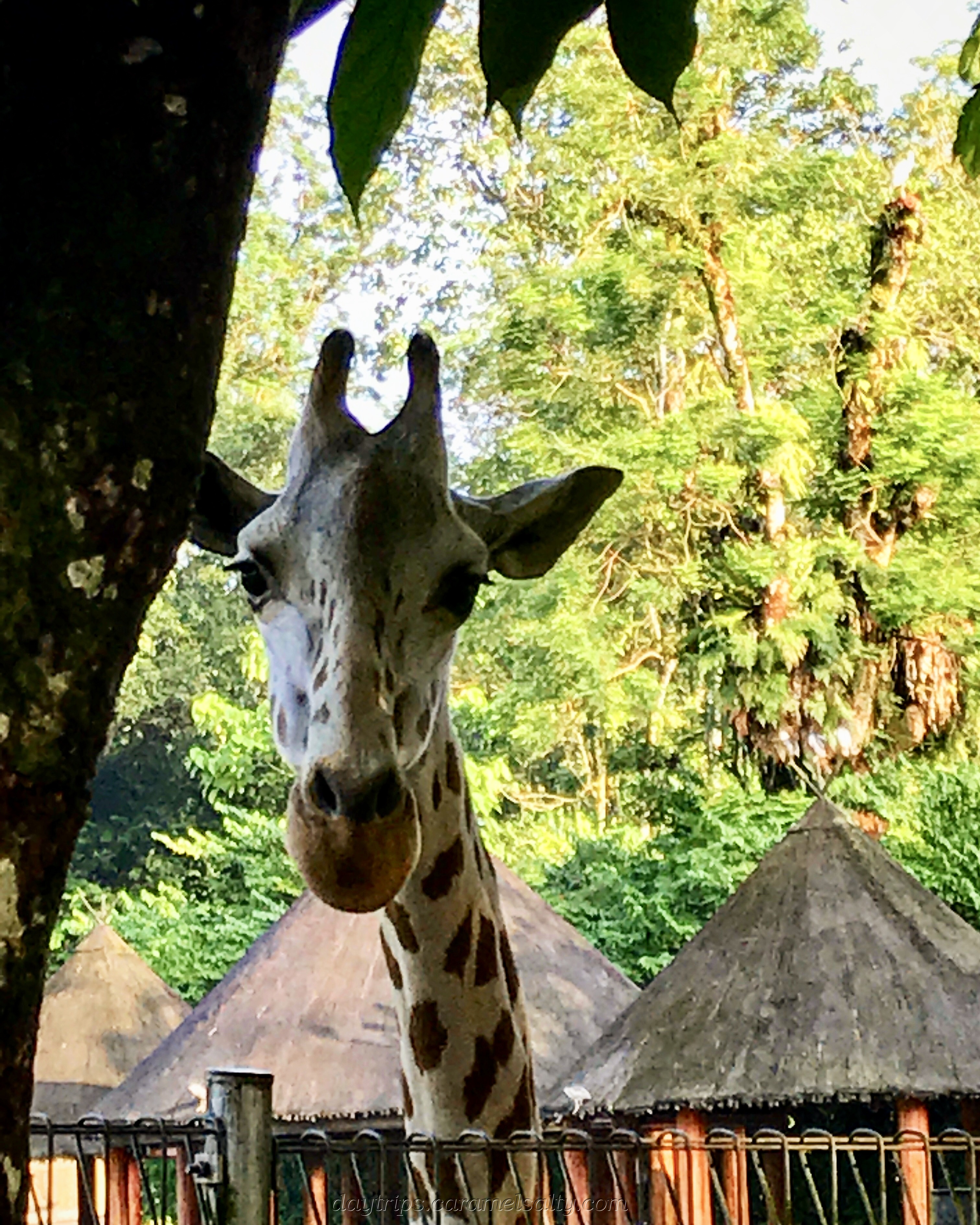 Taiping – A Trail Around Town
The little measure I had of Taiping on my first day is a town rich in Chinese heritage, which still retains its colonial buildings and feel. I have a whole day to discover the essence of Taiping, and so that means an early morning wake up call.
Never one to pass up a chance to see a wet market, I pay an early visit to the 19th century timber structure that is [1] Taiping Market. Keeping a safe distance from the fishmongers' rigorous fish descaling, I wander through the fish and vegetable stalls, relishing in its abundance and variety. So typical of a market in the tropics. So vibrant.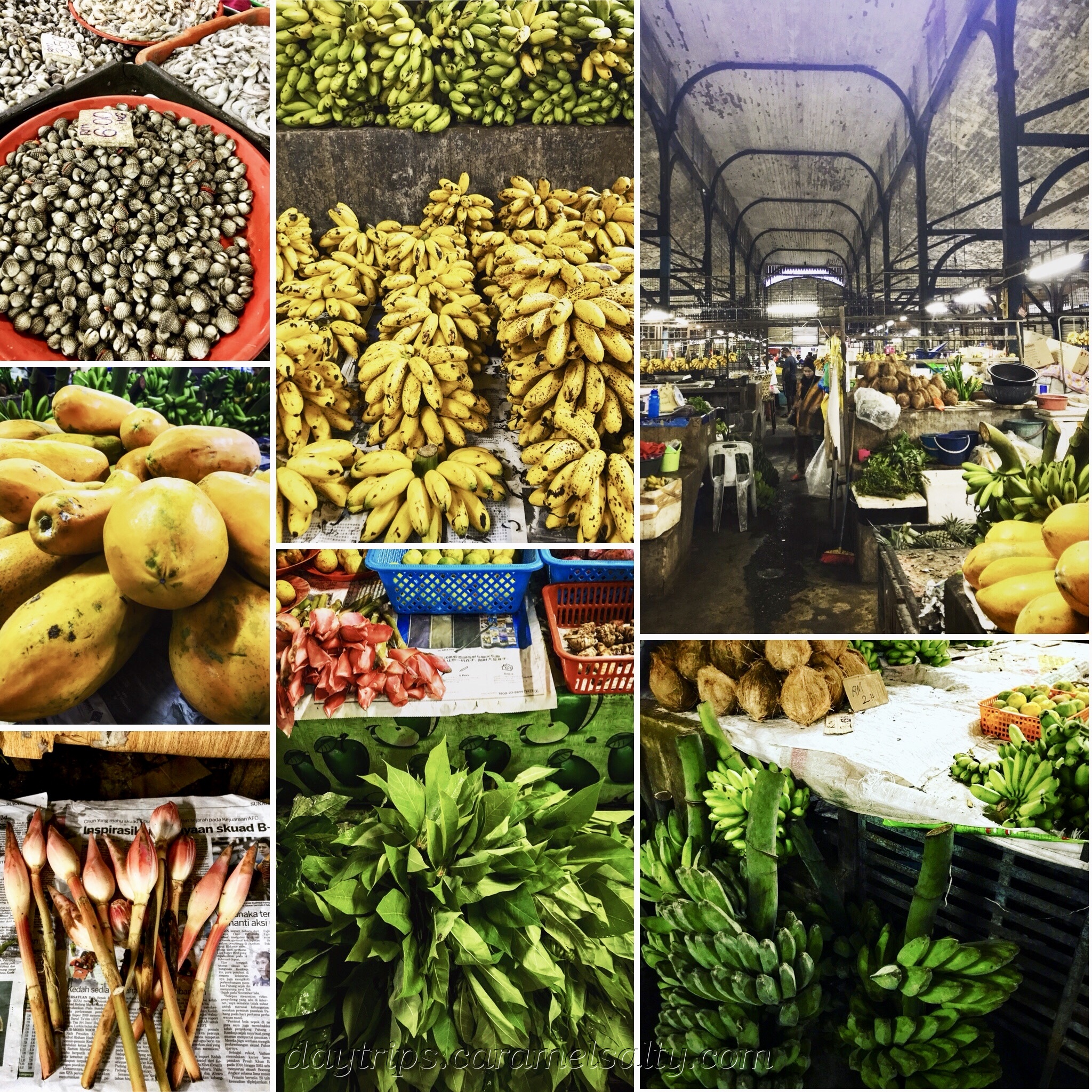 In order to work up an appetite for breakfast, I set out on a southern loop of Taiping. It's an hour's roll call of historical and religious buildings. The first two I come across are the [2] Peace Hotel (1929), built in an Anglo-Indian architecture. and originally the residence of a wealthy Chinese businessman. And round the conrner from it the [3] Pagoda Hotel (1928), built in a straits eclectic architectural. It was also originally the residence of a Chinese trader
Whilst both buildings are now in a less salubrious part of town, I can envisage this area being a desirable neighbourhood in the roaring 20s, when the tin industry was booming in Perak.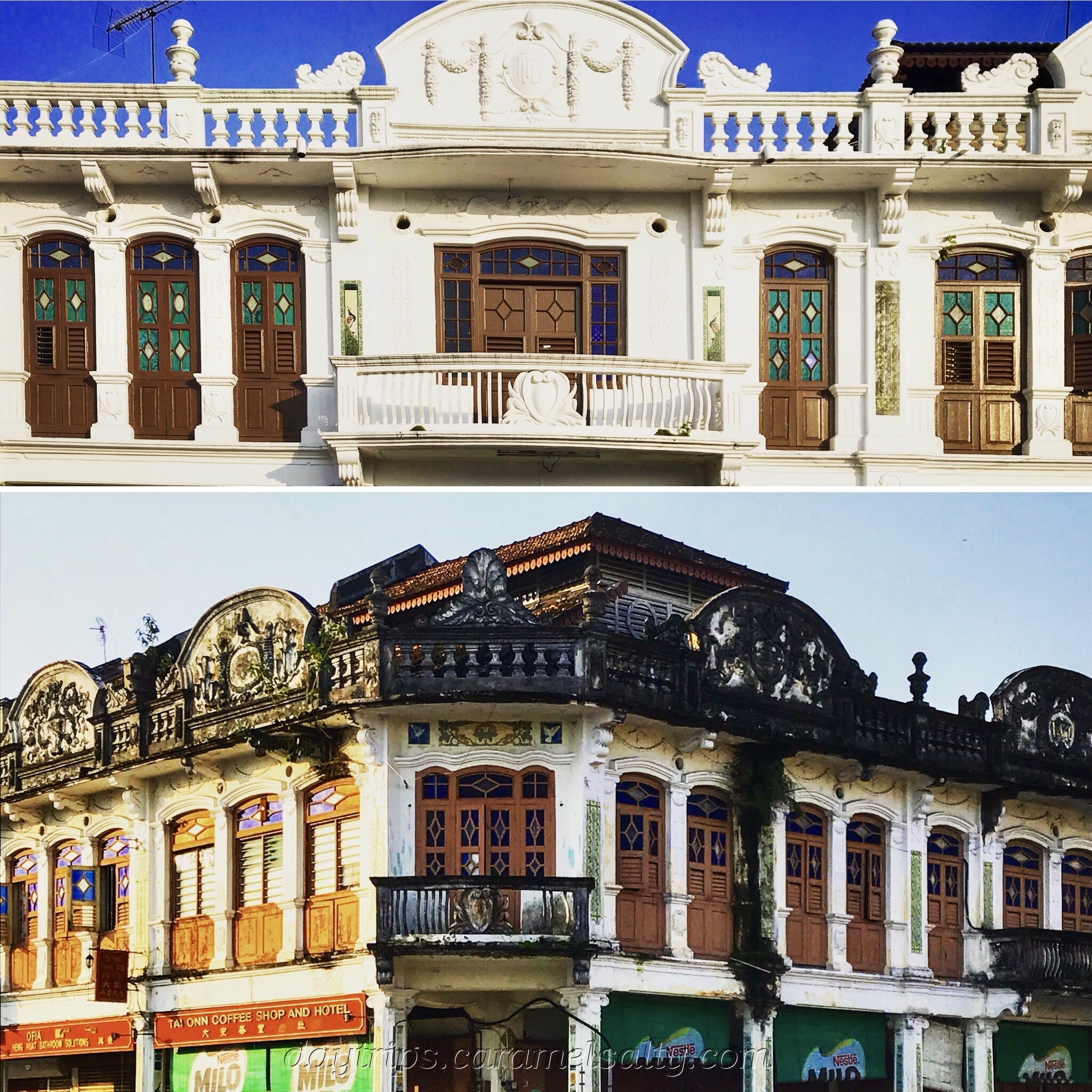 Next door to [4] SMK Convent Taiping, is [5] St Louis Church (1875), the oldest Catholic church in Taiping. It's a rather stark and grim church from the outside. So I'm grateful for the lovely sunrise over the mountains behind, for softening the view. And I'm also glad for that unearthly wake up call at 05:30 this morning, without which I would've missed the beautiful sunrise.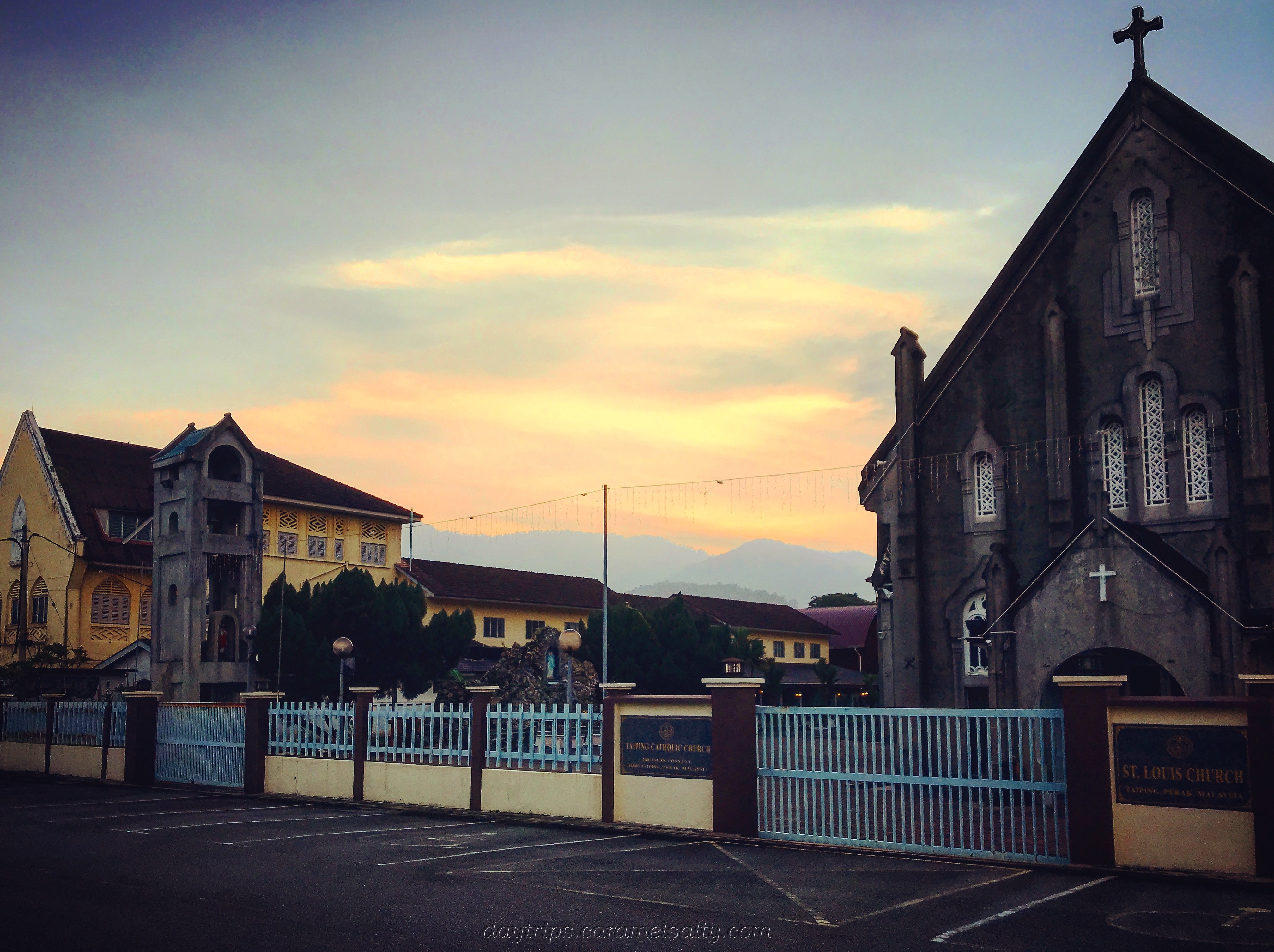 The pink and peachy [6] Sri Subramaniar Temple has deities on a mandir covered in a profusion of candy colours. It's an unexpected find as it's not marked on the heritage trail. The temple is already open for early morning worshippers.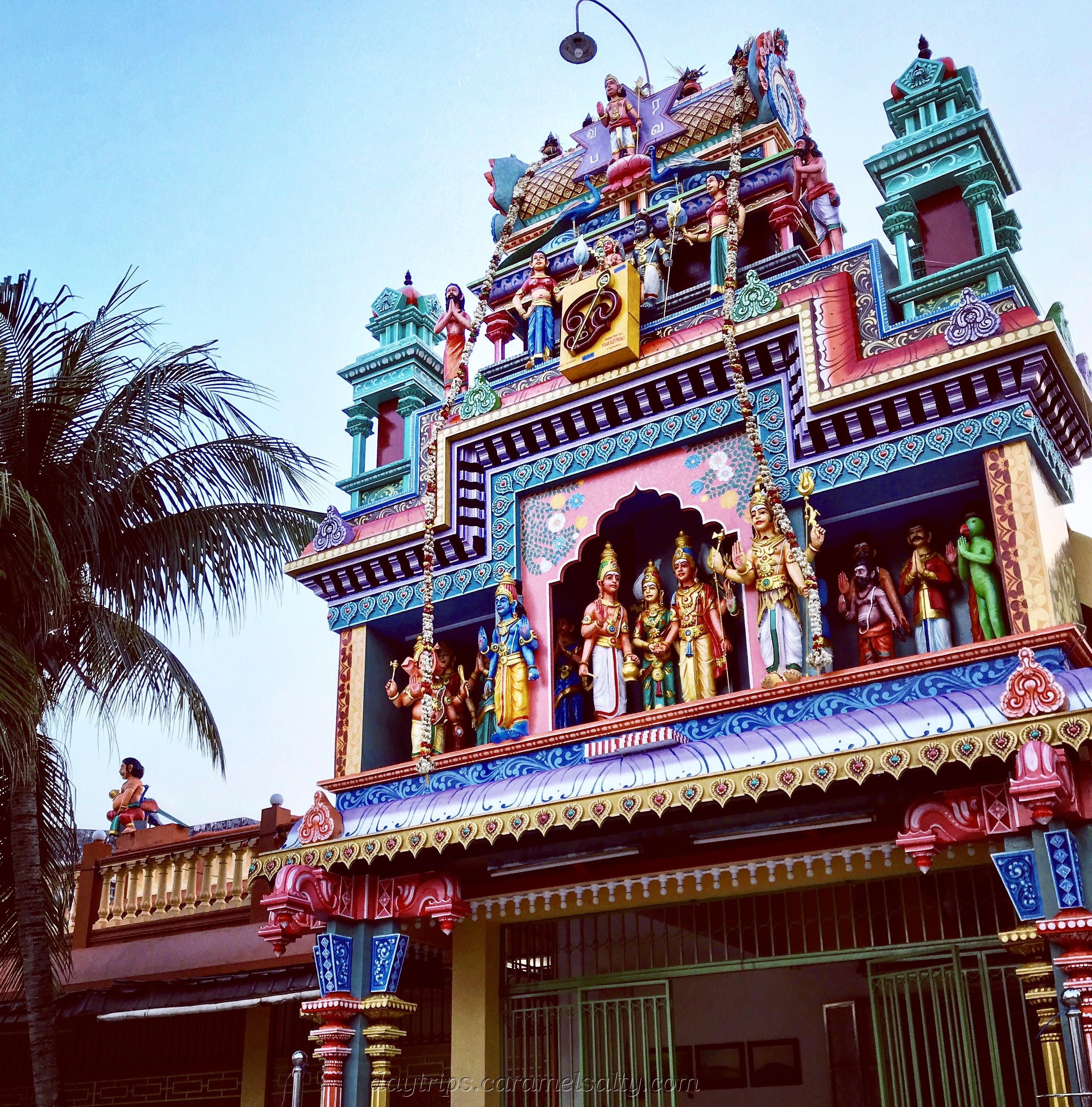 Back on the busy Jalan Kota, I go past the
[7] Taiping Hokkien Association (1931), built for migrants from southern Fujian.
[8] Tokong Hosian (1890), built by donations from Cheng Yen Xin, a rich Chinese tycoon, as a token of love for his daughter, Lin Ai Zen, who wanted to become a monk.
[9] Mariamman Temple (1879), a Hindu temple built on the site where a local woman, Marimuthu Ammal, used to worship a living snake.
[10] the hexagonal Masjid Melayu Bandar Taiping (1897), built by the Hanafi sect of the Indian Muslim community. There's an old cemetery behind the mosque, which I got a good view of yesterday, from Bus 77 to Kuala Sepetang.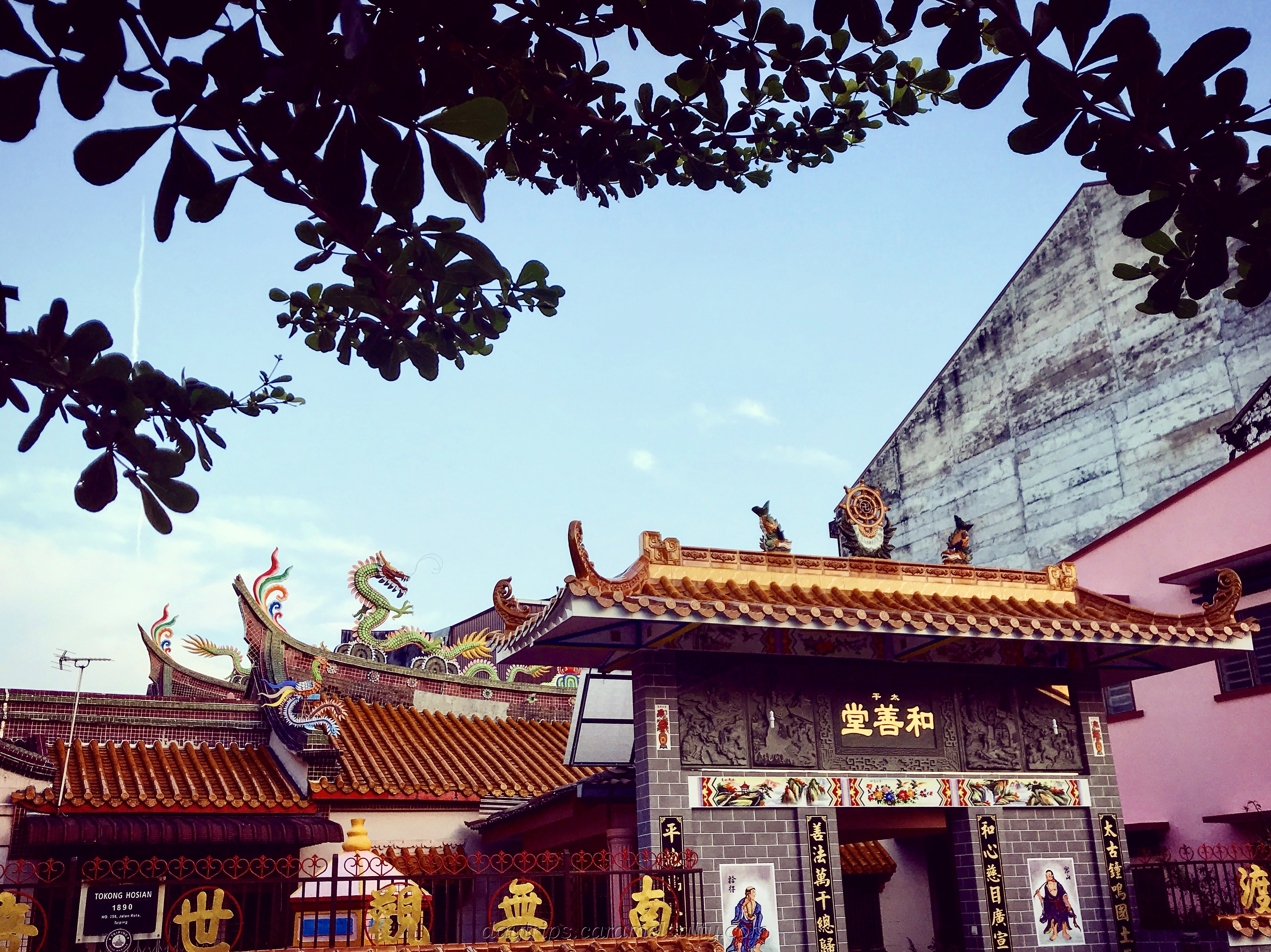 With that, I head to Prima Restaurant & Hawker Stall for breakfast, where I order a freshly made chee cheong fun. I watch as the batter is poured out and spread to the thinnest of layer. Then the translucent batter is deftly scooped up, placed on a plate, filled with plump juicy prawns, folded up and served with sauce and garnish.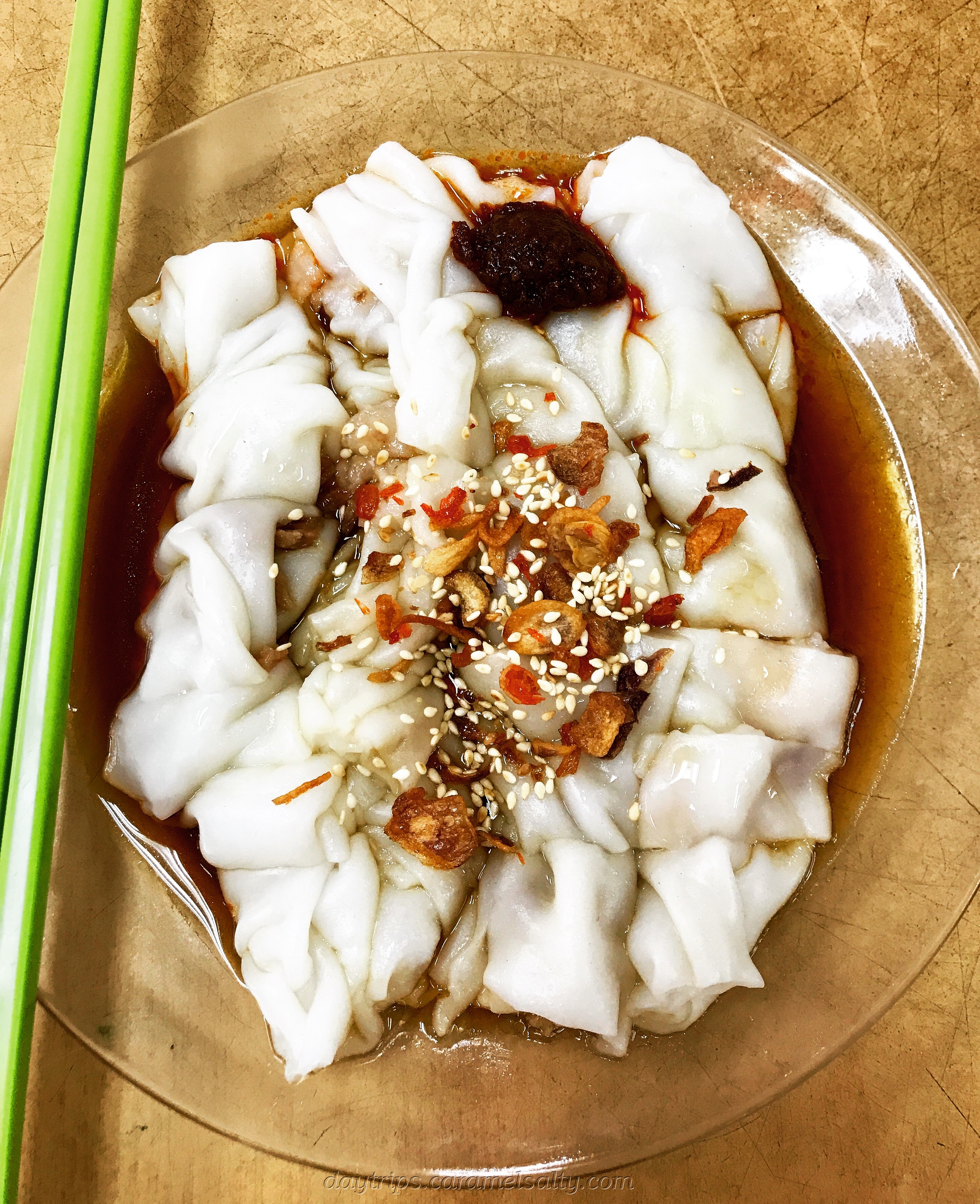 After breakfast,  I make my way to the still shut tourist office from yesterday, and around the corner to Jalan Taming Sari, towards the All Saints Church. The feel along this part of town is still very colonial. With green open spaces and a grand white house looking rather like the clubhouse of old, I wouldn't have batted an eyelid if a cricket match was in full swing on the green.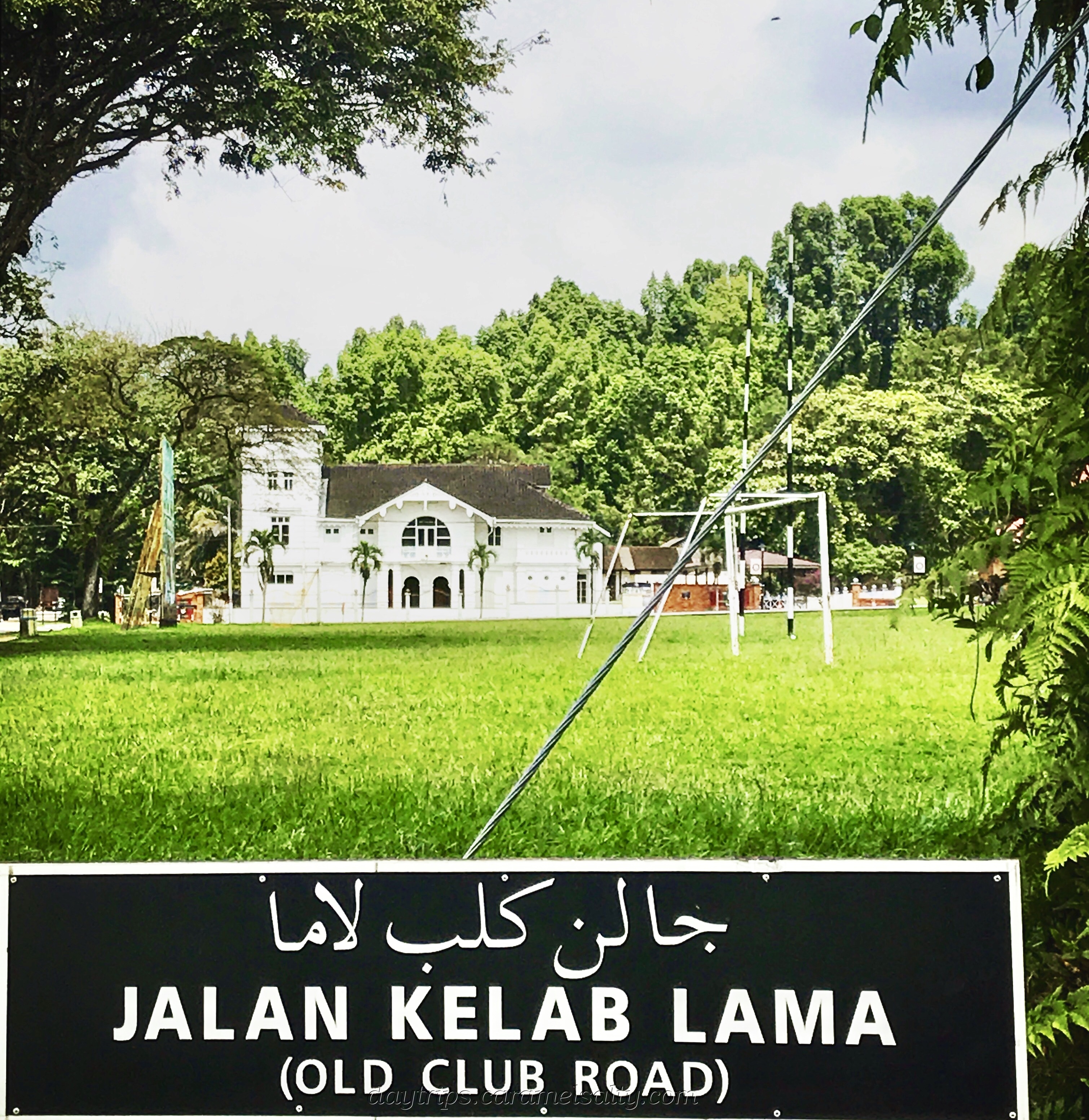 Passing colonial bungalows now commandeered by the Malaysian army, I come to the timber [11] All Saints Church (1886), which, apparently, still plays its original pipe organ during special masses. The church graveyard contains the old tombs of European settlers. I'm sorry that the gates are locked, preventing me from having a closer inspection.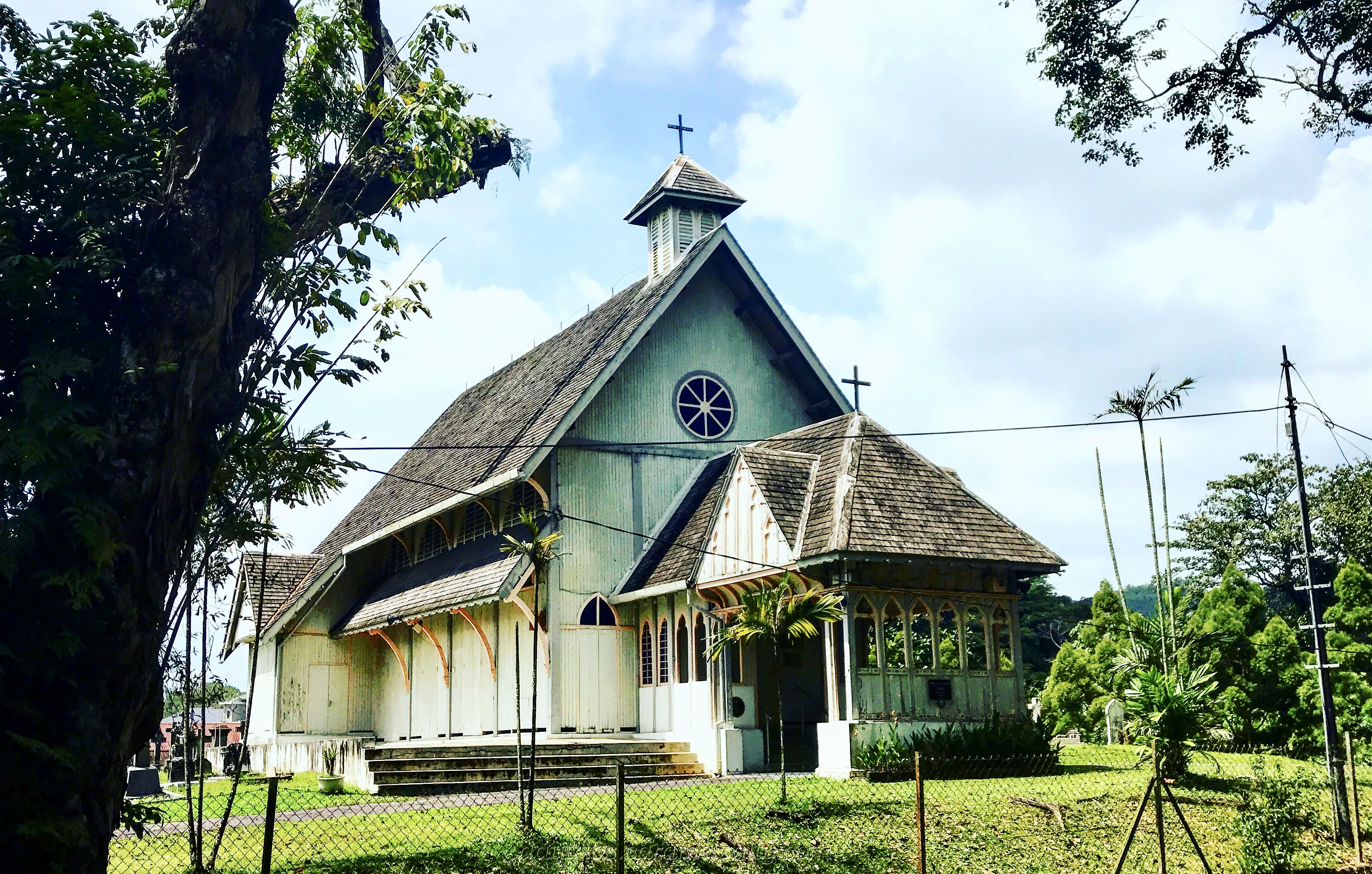 The Perak Museum (1883, oldest in Malaya) and Taiping Prison (1879, first prison in Malaysia) soon come into view. The [12] Perak Museum is a mixture of natural history, ethnographic and local culture exhibits. I learn of a local dance in Perak called the Dabus Dance which has its origin in Prophet Mohammad's time. It requires the dancers to be in a trance to avoid injury or feeling pain. Mind over matter, I guess.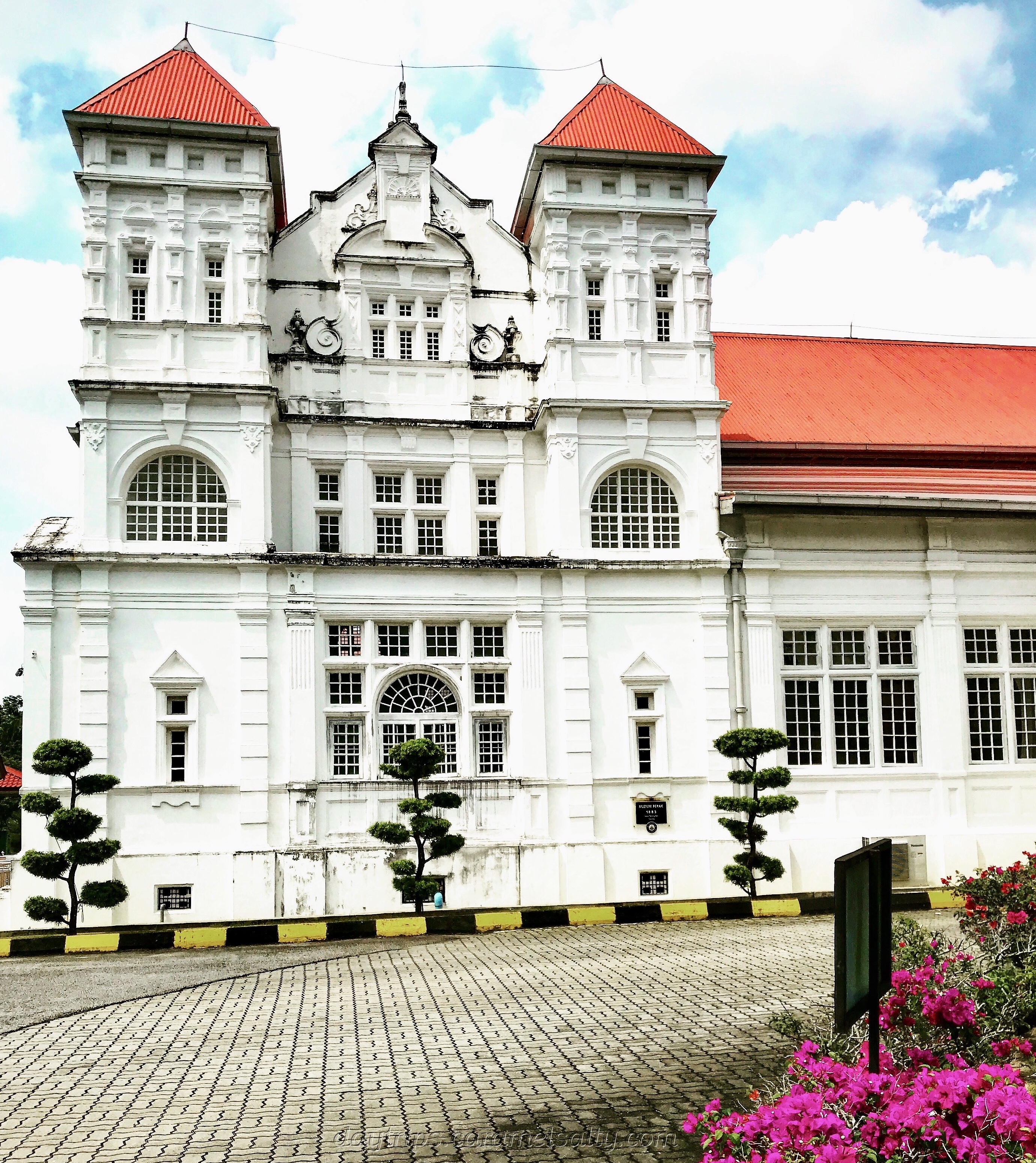 Cutting a lone figure opposite Taiping Prison is [13] Ling Nam Ku Miew Temple, the oldest Chinese temple in Perak. The original wooden temple (1883) was replaced by this stone version (1995) for safety reasons. Despite the recent building, it still feels old and dilapidated.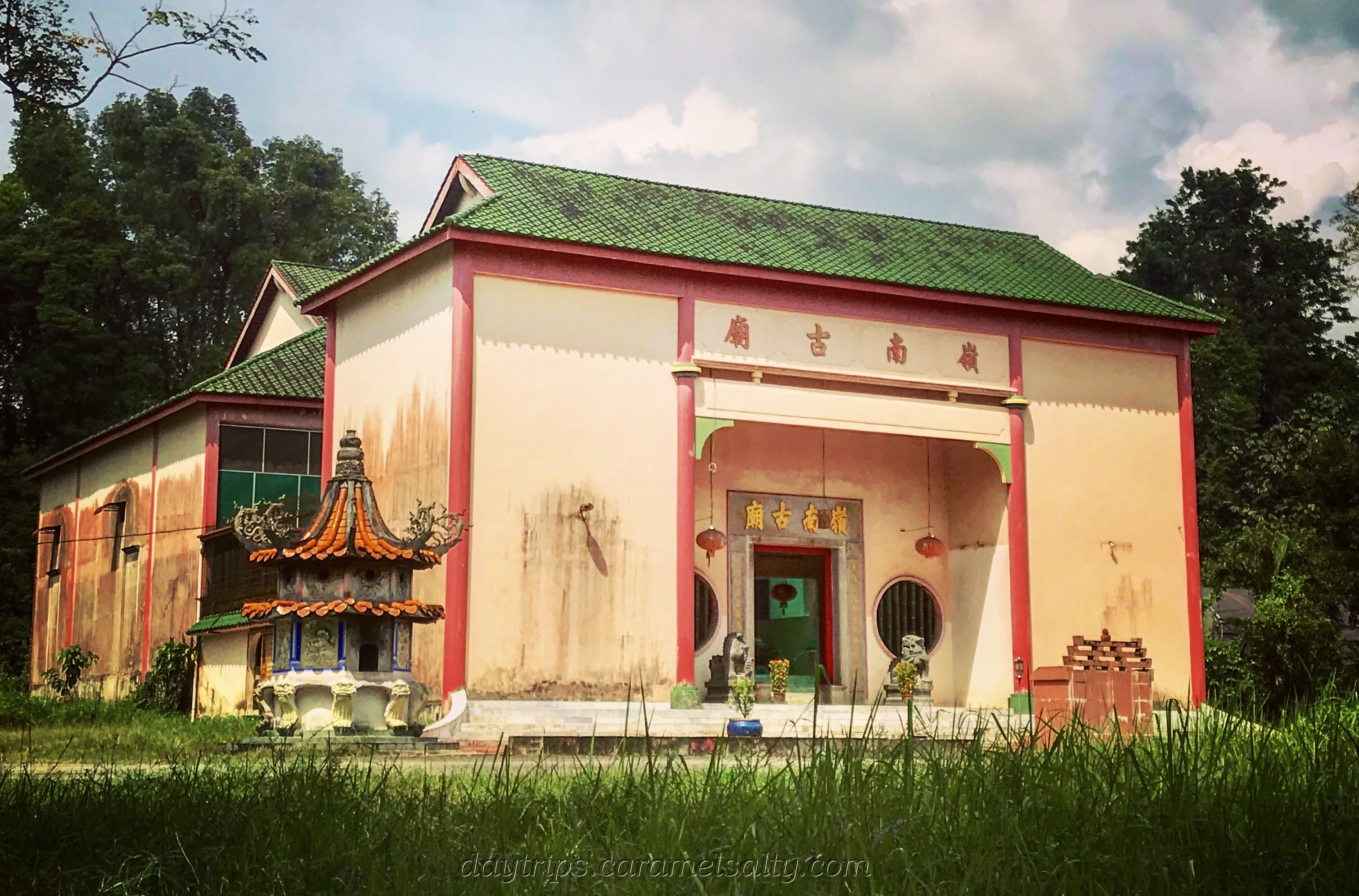 Skirting the walls of the [14] Taiping Prison I get a dramatic view of mountains at the end of a long narrow road. Speaking of which, these roads were probably pedestrian friendly when horse carriages, elephants, bicycles and perhaps the sedate Ford Model T plied back and forth. It does not impress me that, as a heritage trail, there is hardly any pavement or shade along the route.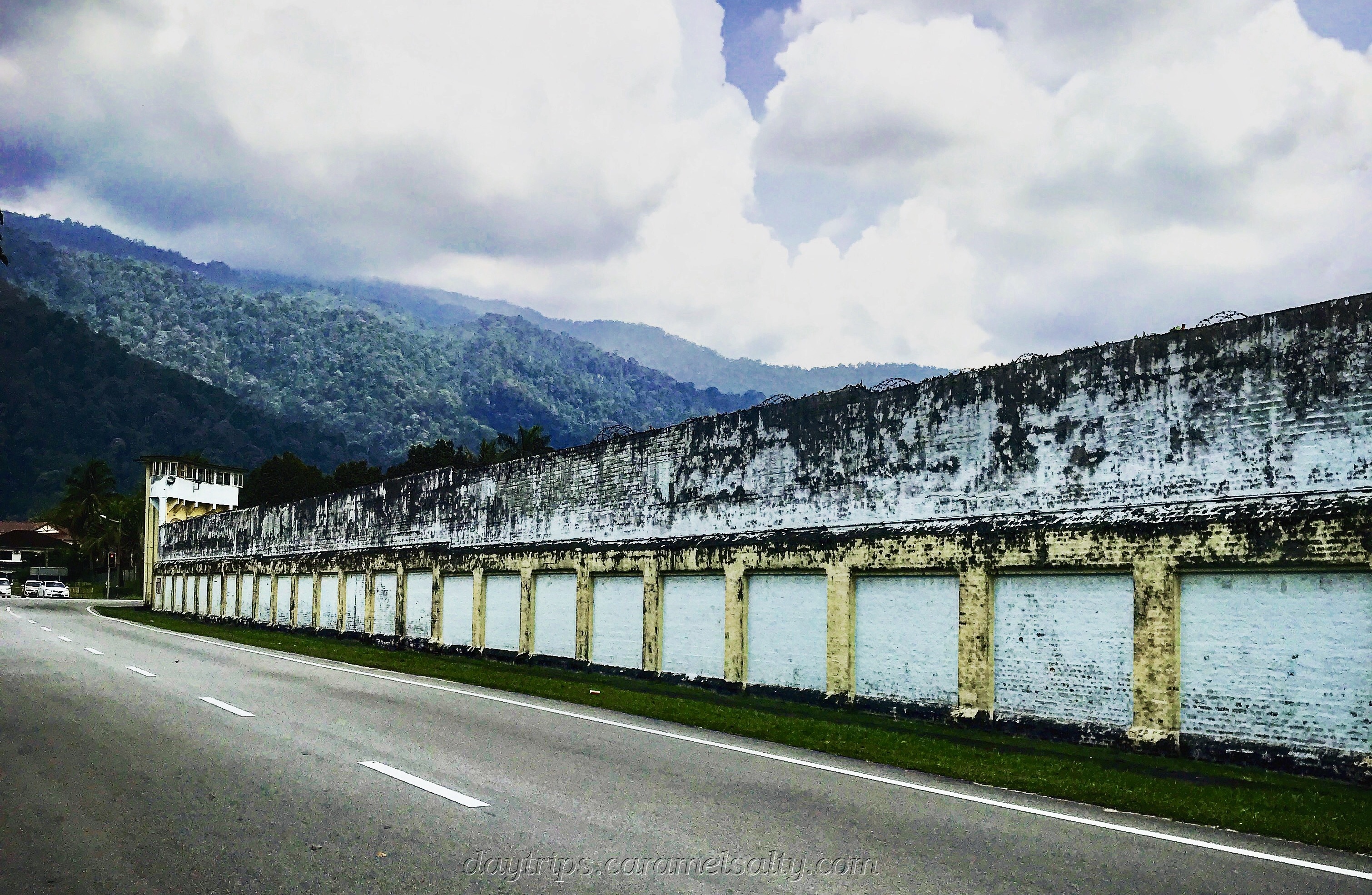 Digressing from the heritage trail, I gratefully walk down the traffic free Jalan Sultan Mansor, to cut across the Lake Gardens to Taiping Zoo. But not before I undertake a solemn task. I visit the tiny [15] Taiping War Cemetery, for the fallen of World War II. I can't but help observing that even in death, social etiquette prevails. The Sepoys are buried in the plot to the left of the road, whilst the British and doctors (of any creed) are buried in the other.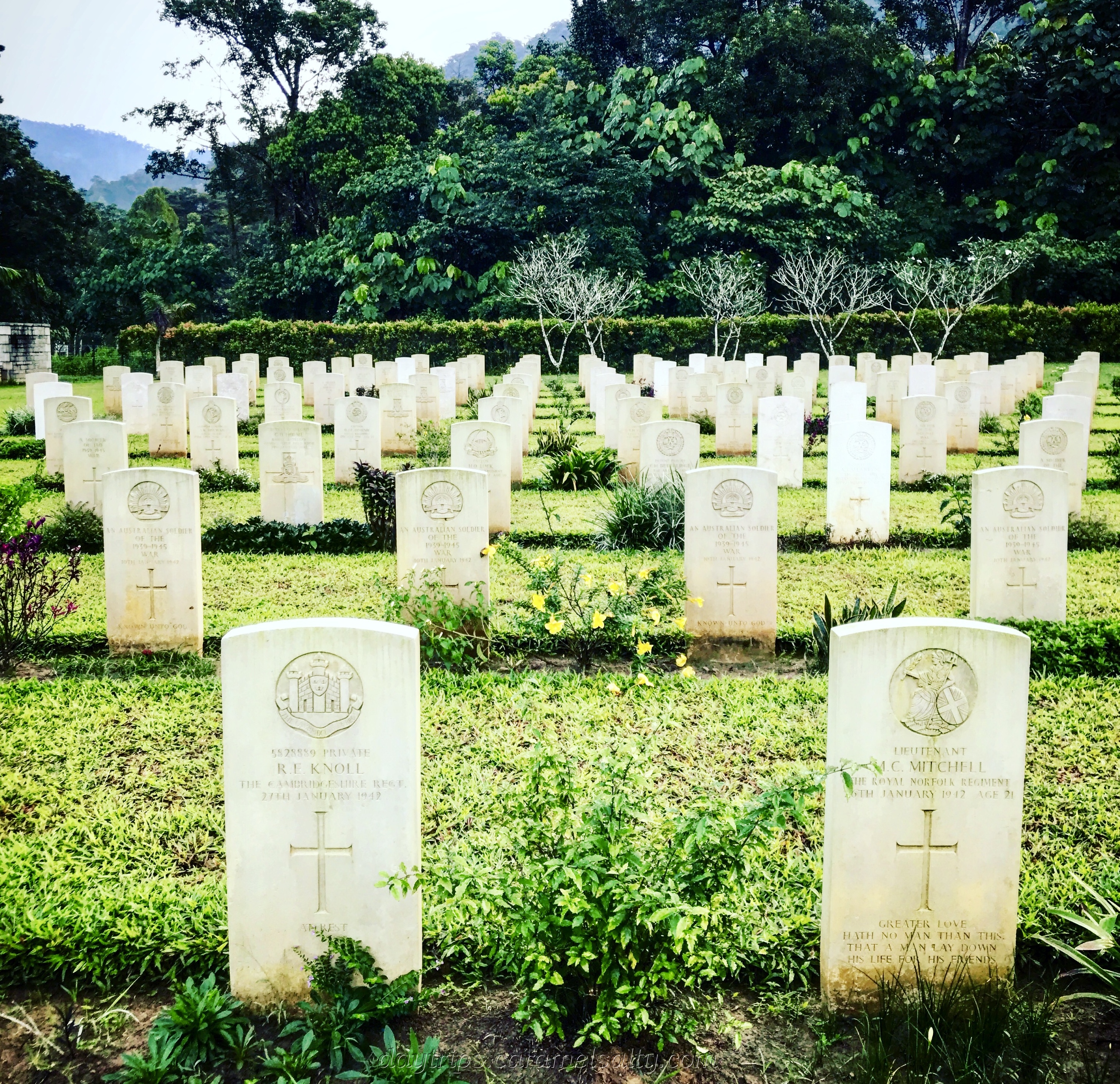 And now for what I hope is the highlight of my day, [16] Taiping Zoo. Set in beautifully landscaped grounds, I almost rub nose (through the fence) with the grumpy rhinoceros, walk through a flock of noisy black crowned night herons, observe how the mouse deer only ever has 3 feet on the ground even when standing, watch the wild boars wallow in stuff I wouldn't wish to wallow in, hear the still irate tigers from yesterday bellowing, listen to the petite Asiatic elephants trumpeting and follow the two inseparable giraffes around. What an outstanding zoo this is.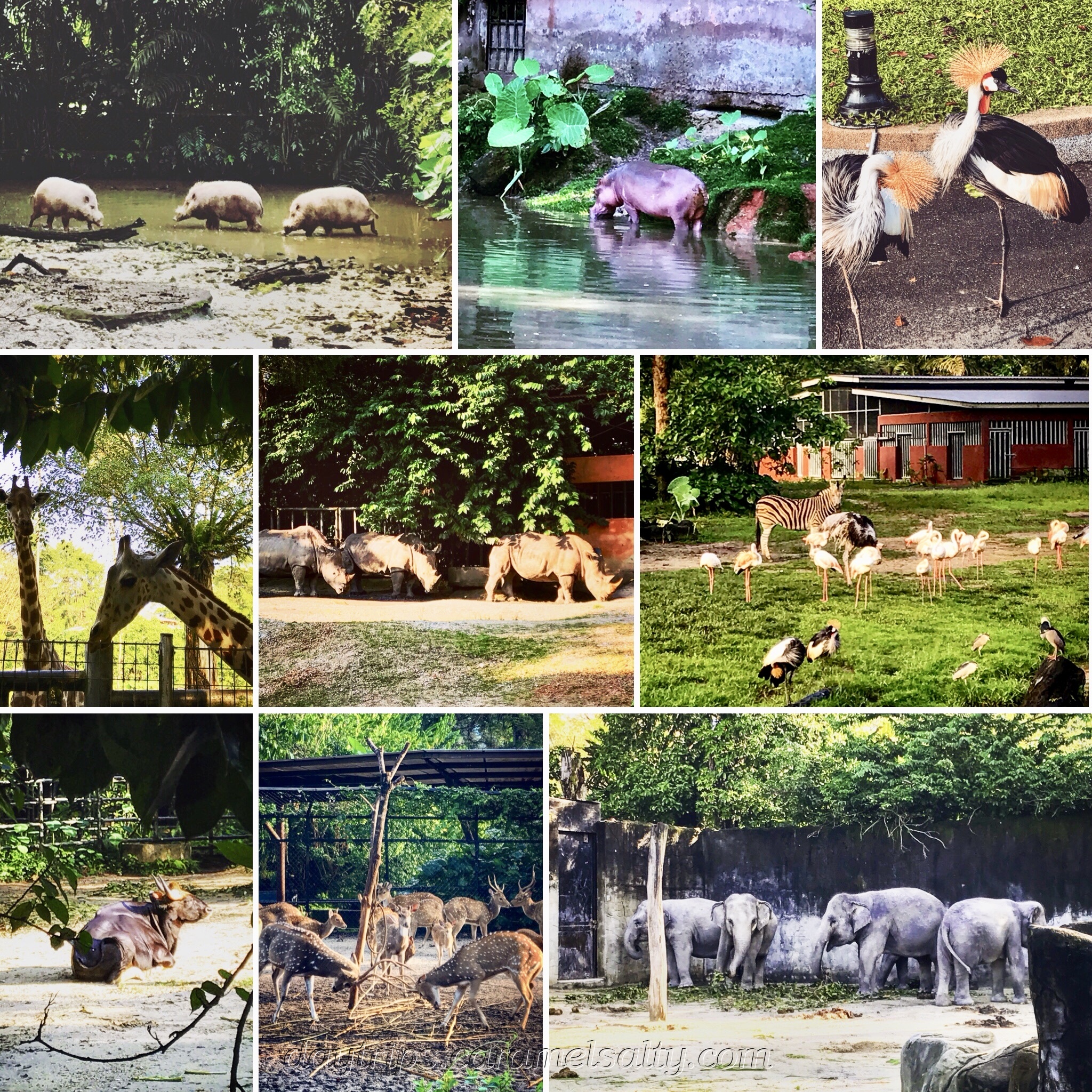 I prefer animals in the wild. But I end up visiting every single enclosure (there are over 60) as I think it's a fabulous zoo, with a good collection of local and foreign wildlife. After a delightful, but hot afternoon at the Zoo, I head to town for some cendol. [17] Ansari cendol, served up with red bean and glutinous rice, is reputed to be the best in town. Which brings some much needed relief.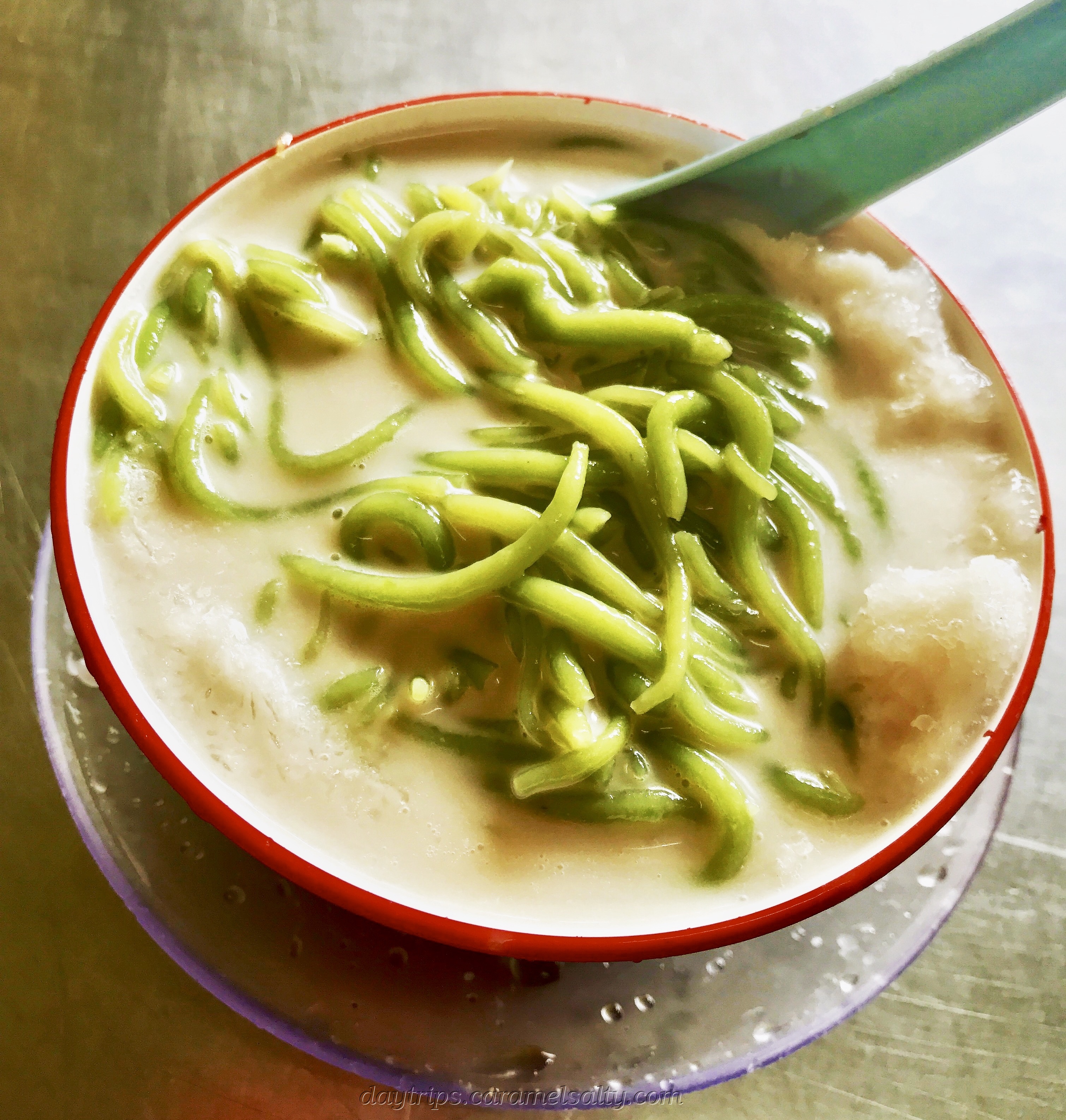 Needing to burn those calories off, I walk over to King Edwards VII school, which used to be the original Taiping train station. And then I wander over to the Abandoned House. Such a same that a lovely colonial bungalow is simply being left to go to ruins. I wnder if there is a reaosn for it?  Is there a story behind it? Is it haunted ? It does look very creepy, and I'm not going to hang around to find out.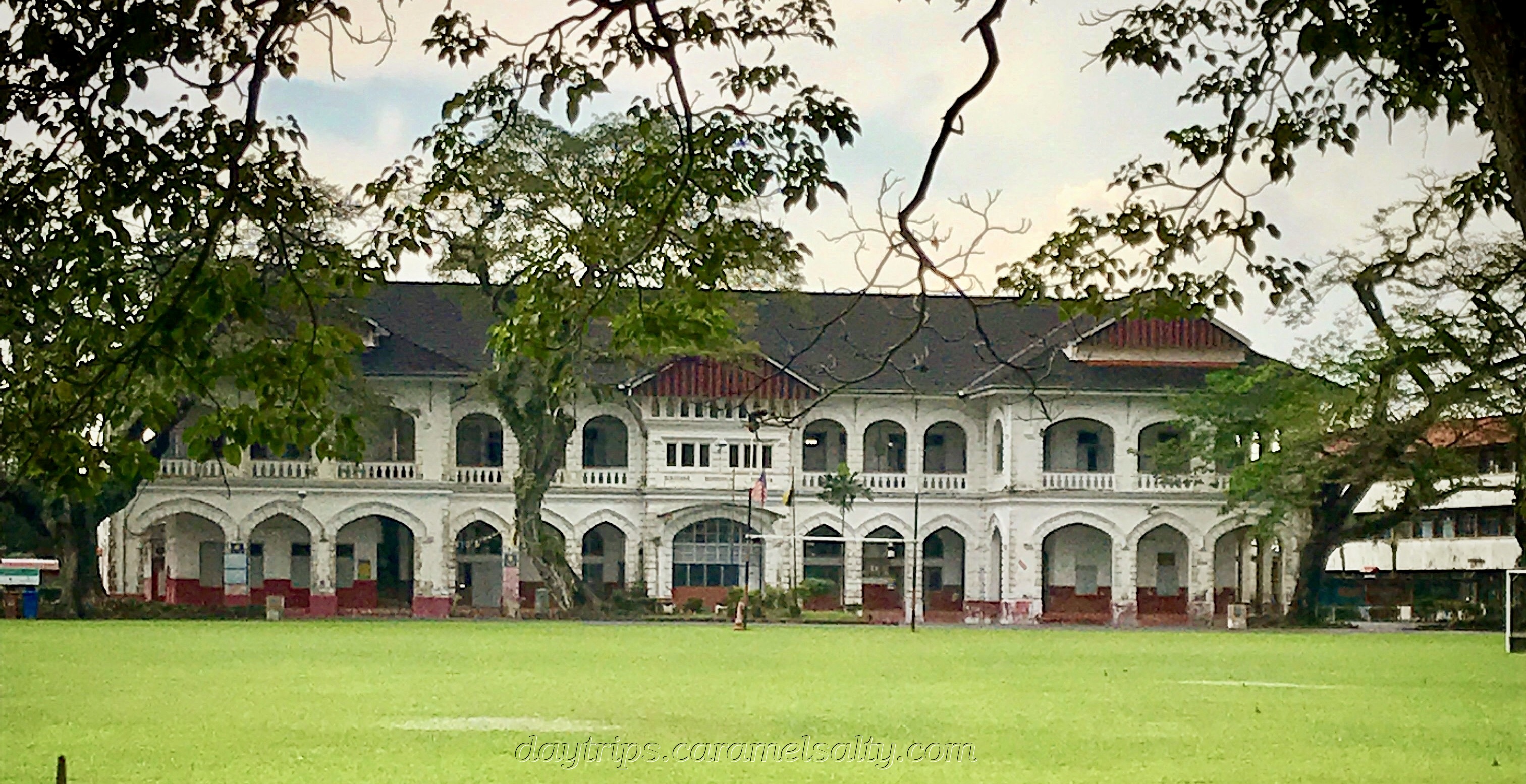 And as I walk back to town, for a shower and rest before dinner, I pass a large field with laundry drying out. I think that's a perfect summing up of my stay in Taiping. Taiping is a trip down memory lane of a laid back, uncongested and uncomplicated lifestyle. May it long continue.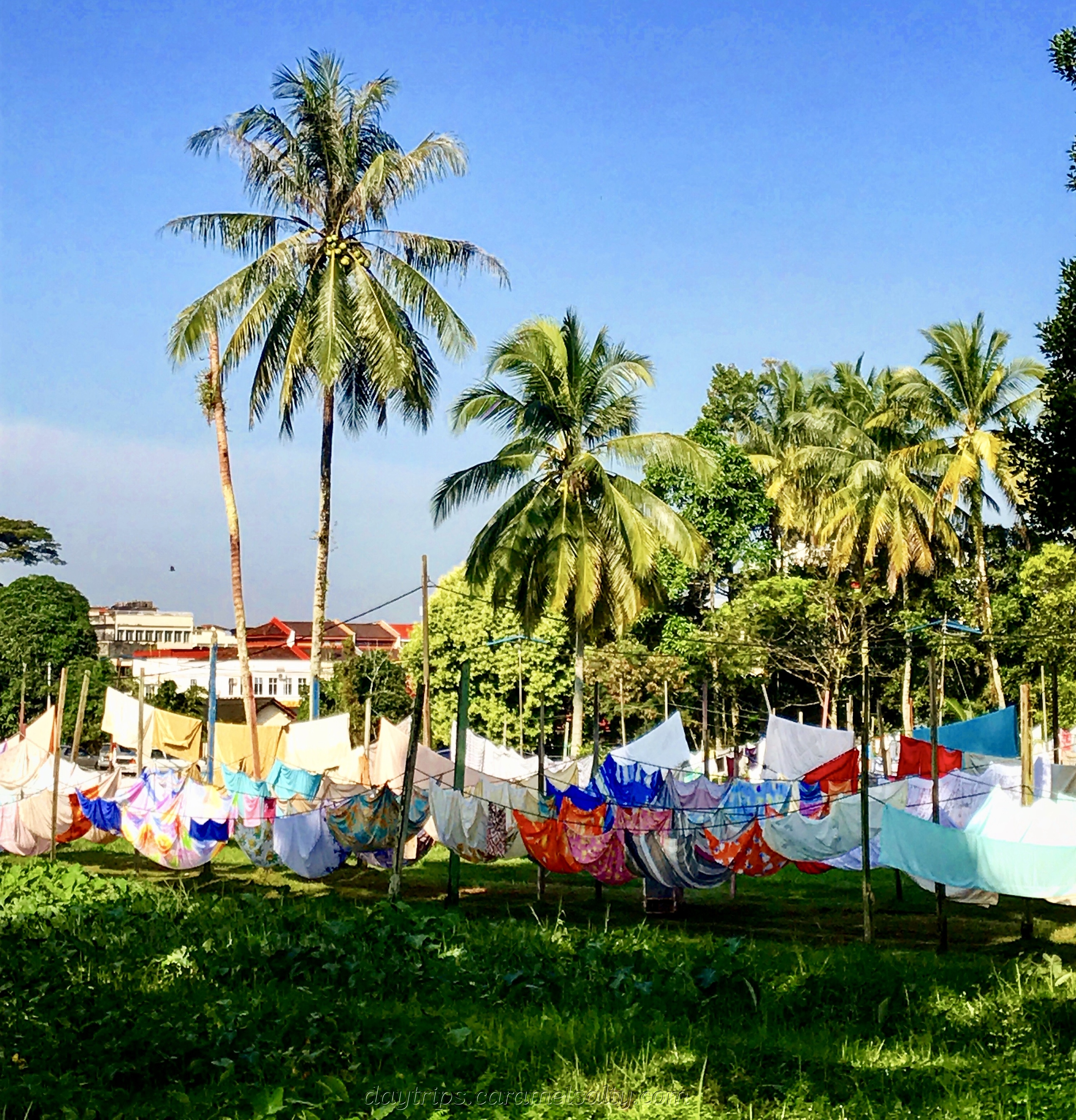 Useful Stuff to Know Beforehand