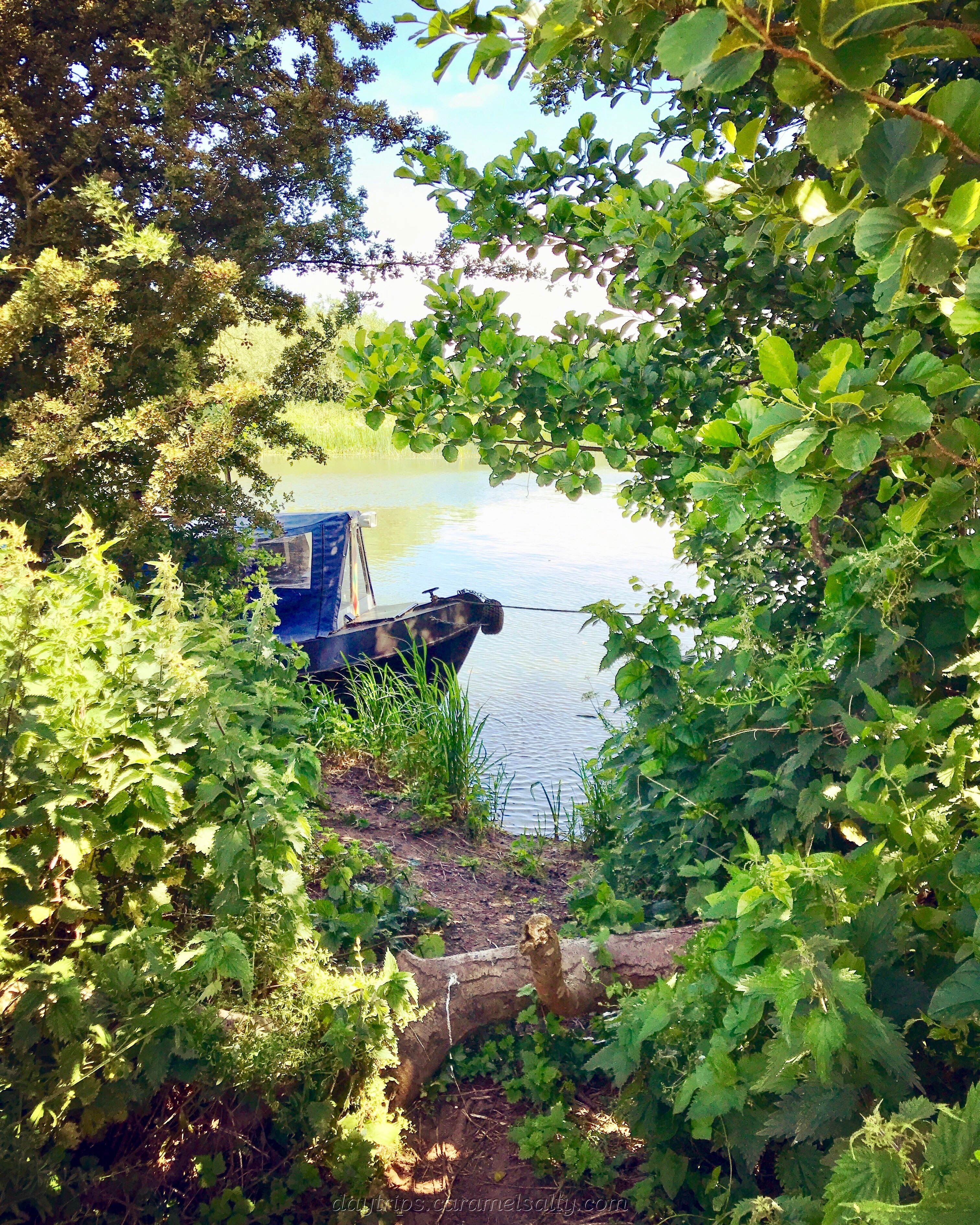 Sonning to Reading – Back to Prose and Reading
Having made it from Shiplake to Lower Shiplake, I must now get to Reading, my nearest station at 4 miles away. But I'm not complaining, as it promises to be a grand old walk along the Thames Path via the pretty town of Sonning. I never know, I may bump into a celebrity or the odd ghost or so.
Start of Day: Paddington Station, London (I continue my walk from Shiplake)
Cost of Day Out: Cheap (£)
History Content: Low
What a jolly walk I have had thus far in Shiplake, so much so, I wrote my morning's blog in rhyme. But now I descend back to prose, as I walk back down to the Thames towards Sonning. The almost midday sun is heating things up nicely, perfect weather for lazing around on a barge.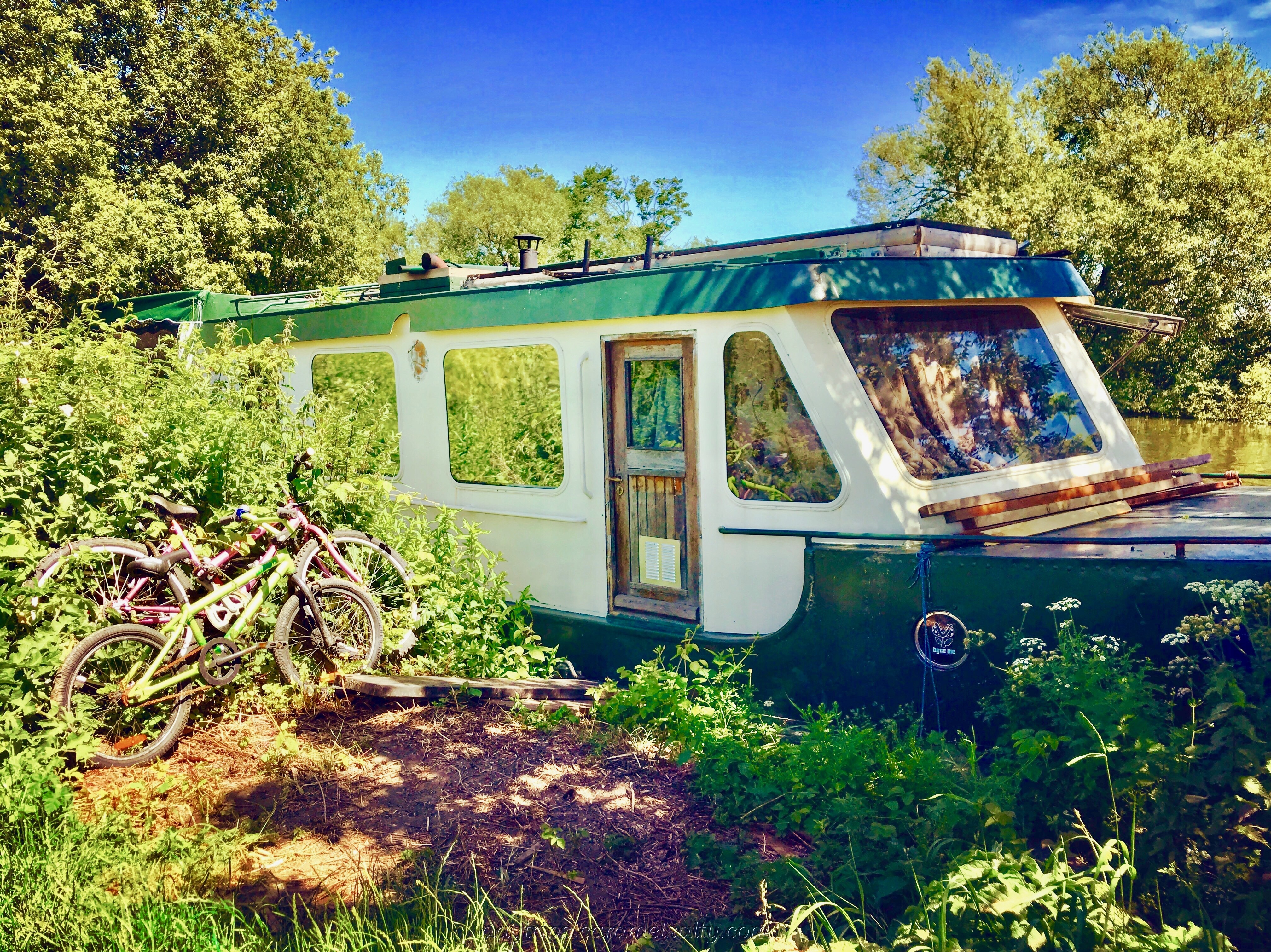 It's all incredibly heavenly and pastoral along this part of the Thames, that is, until I'm startled by the squawking of an annoyed water fowl. Followed by a scene I'd never thought I'd see, a herd of thirsty cows scrambling down to the river for a quenching drink.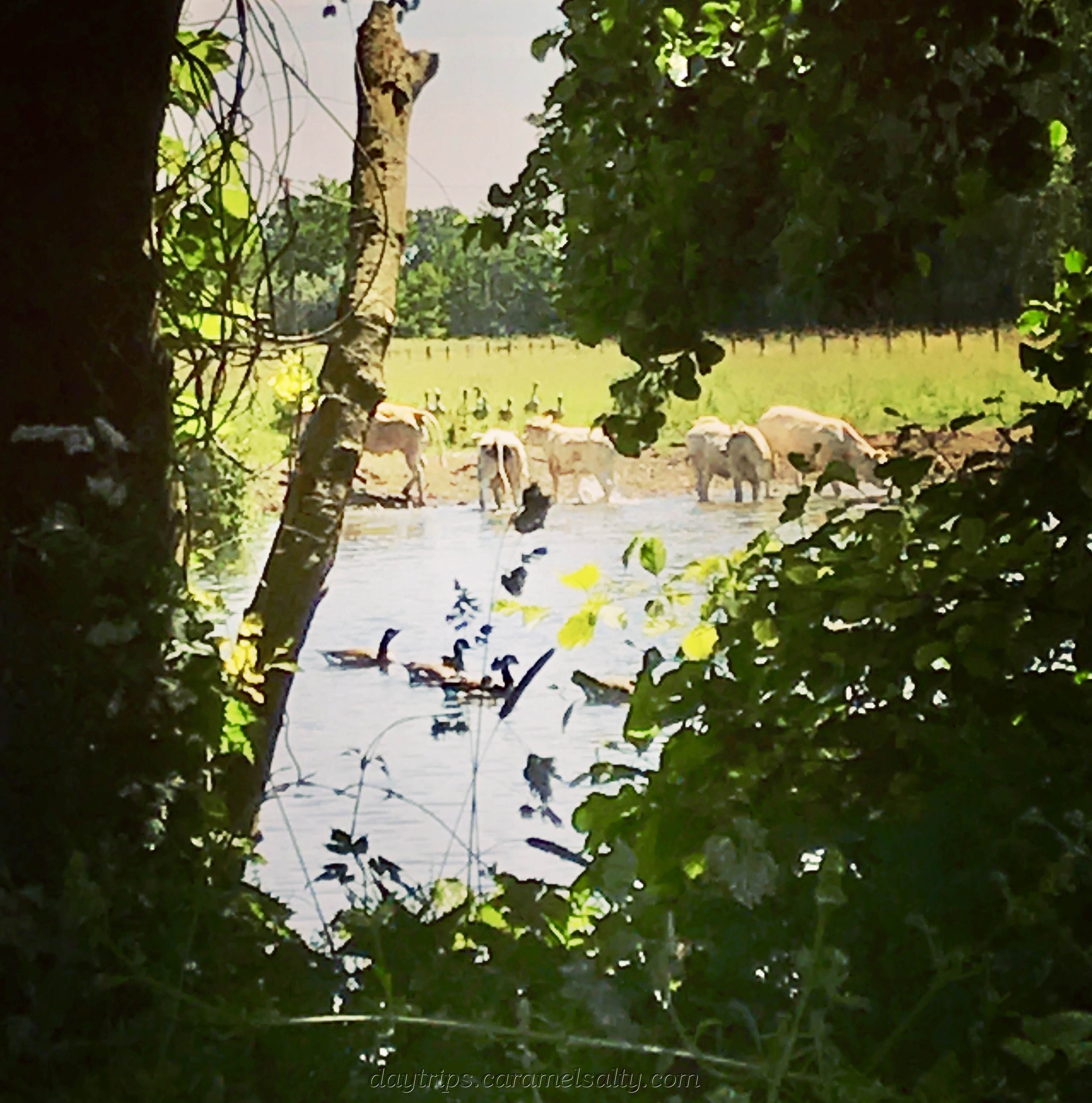 As I approach a meadow of willows, it suddenly starts to rustle loudly. Is that the sign of the ghost of a Queen of England I wonder? The melancholy ghost of Isabella of Valois is said to haunt the river near Sonning. It was in Sonning that she was interned by Henry IV after being widowed at the tender age of 9, when her husband, Richard II, was murdered.
The sceptic in me doubts very much if Isabella's ghost does stalk the Thames. After all she does return to France eventually, remarries at 15 and dies of childbirth at the age of 19 in a country far away from England.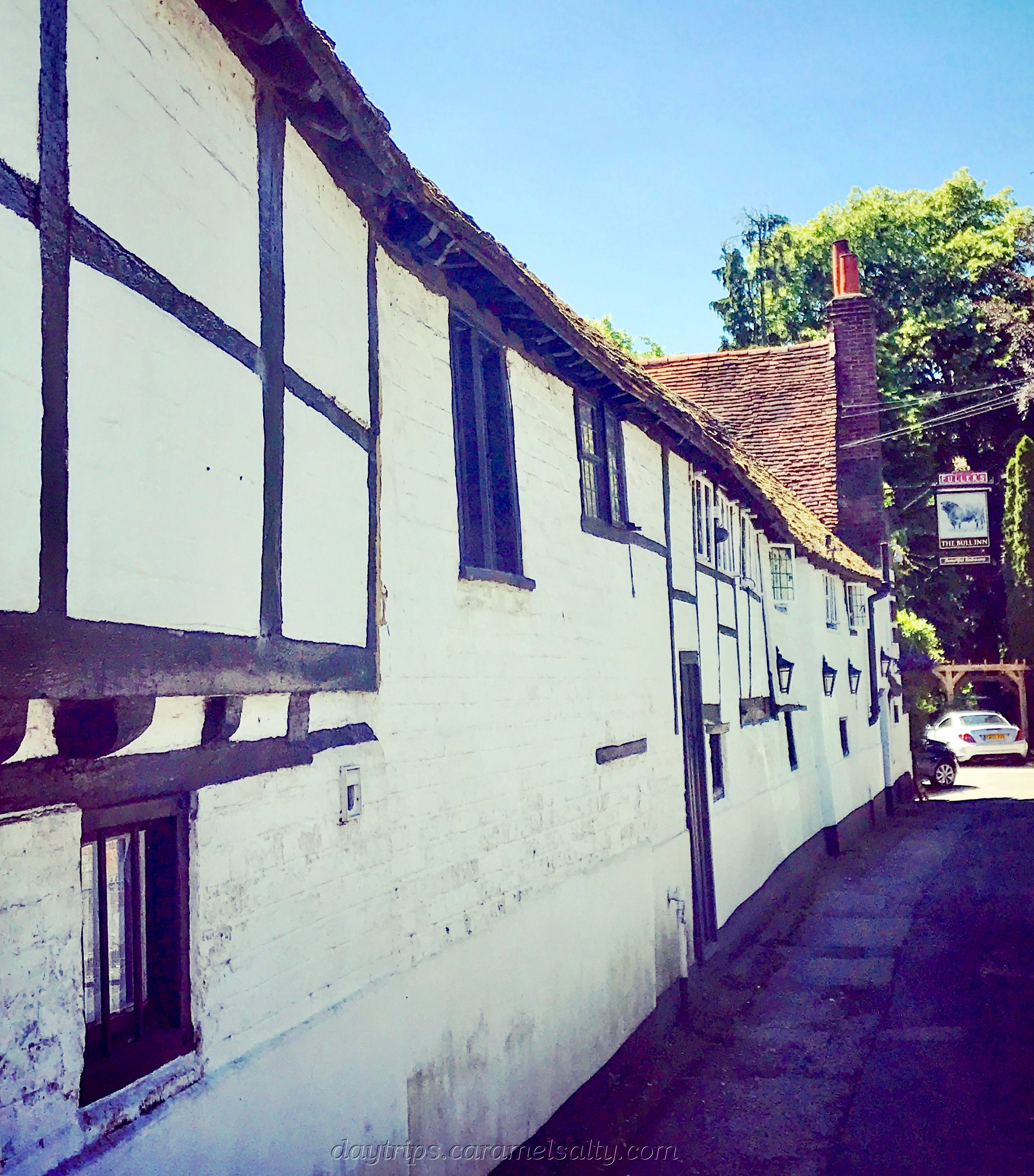 So banishing all thoughts of restless spirits, I sweep round the corner to come upon the charming village of Sonning. I'm greeted by its 18th century brick bridge, a Norman church spire and a large pub with gardens leading down to the river. A nice place to be interned if, I may say so.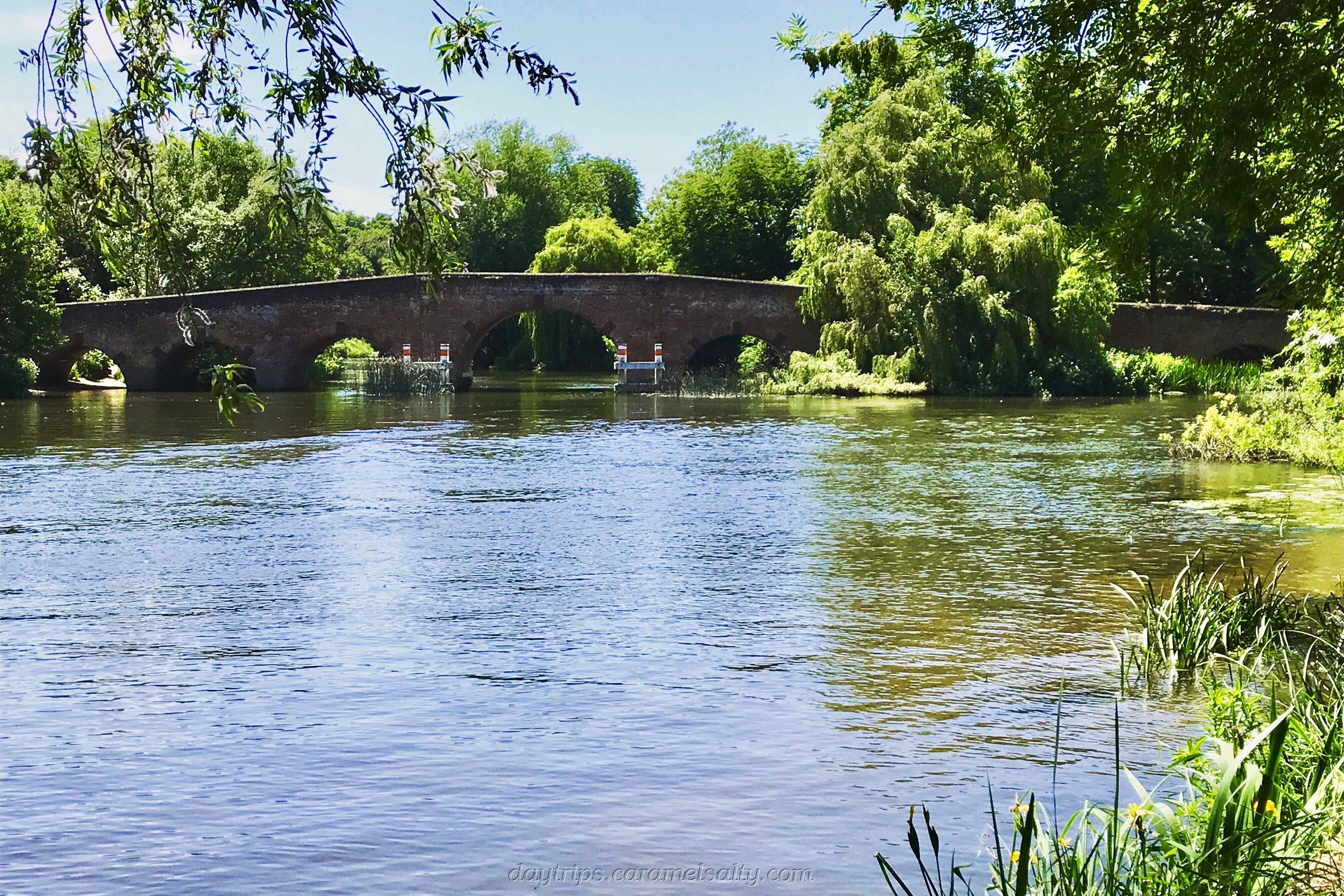 When I get to the other side of this old bridge that spans the Thames, I come across the mill at Sonning. Mentioned in the Domesday book in 1086, it goes to show how long a mill has stood here.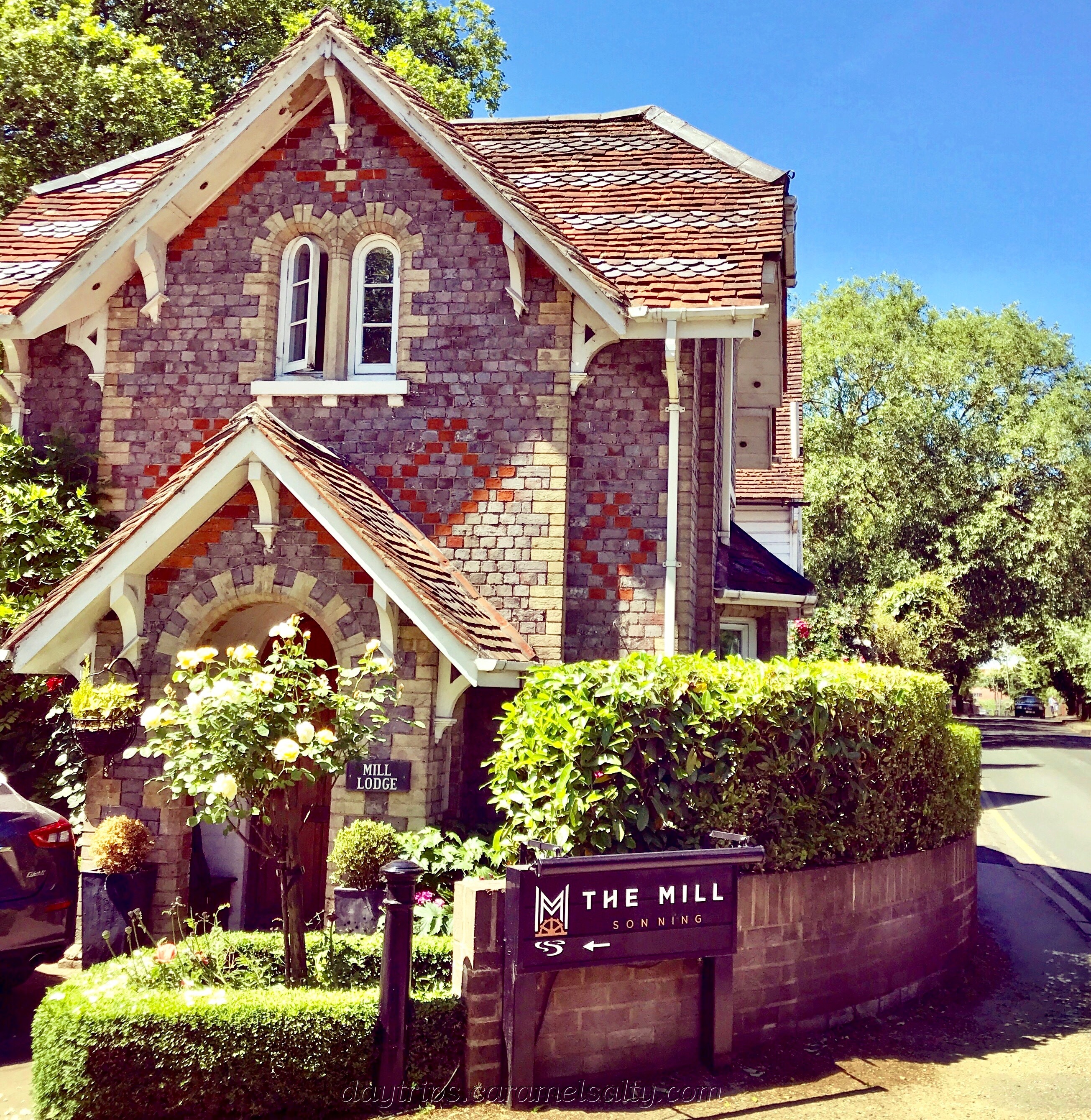 Sonning mill is so old, it must have a story or two. And so it does. It's place in history is forged by the smuggling of supplies to the King's Army during the siege of Reading during the English Civil War in the 1640s.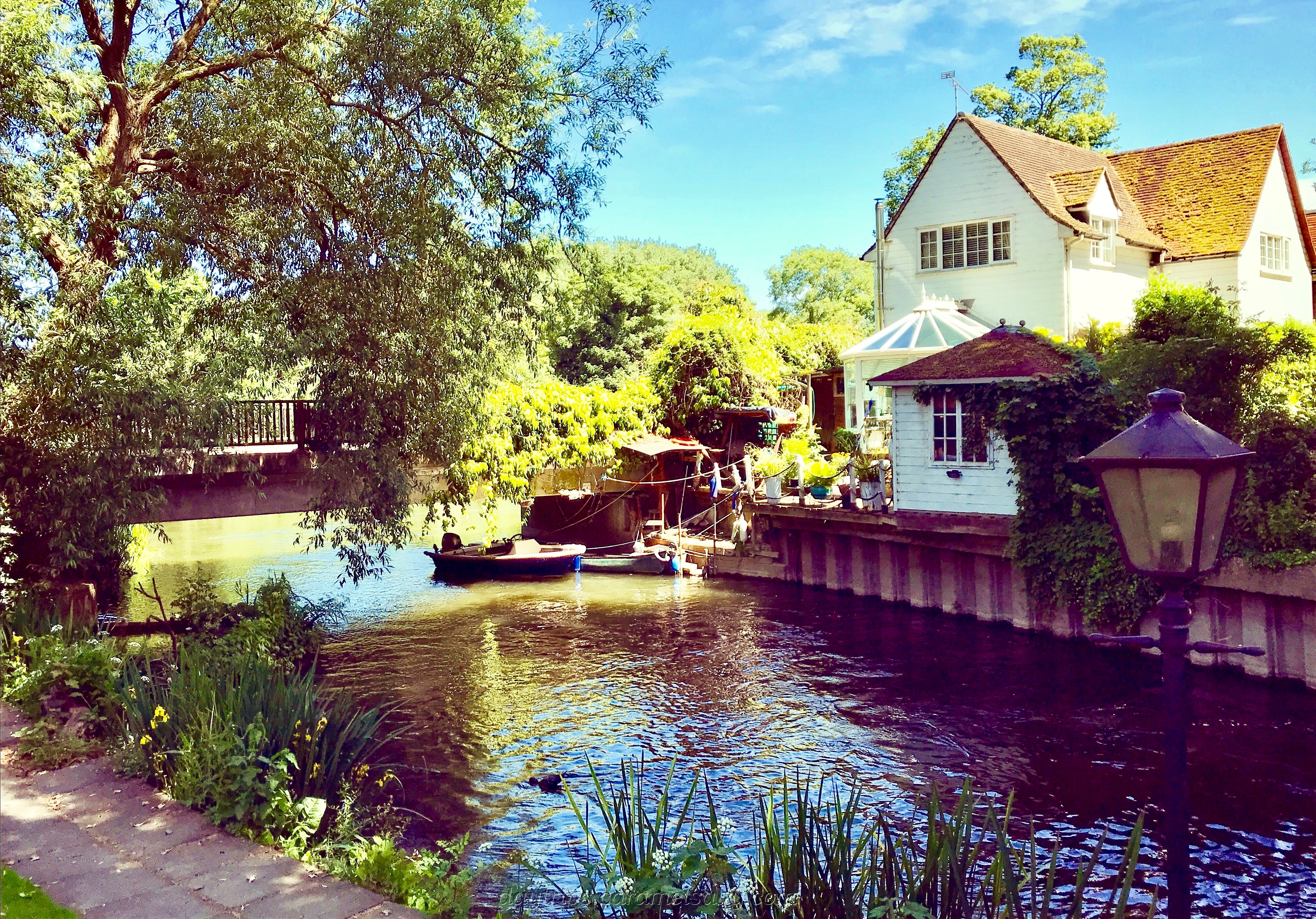 But Sonning the village existed long before the mill. It's name comes from ancient Saxon origins. Sunna, was a Saxon chief whose people lived in East Berkshire. His capital, Sonning, loosely translates to the Place where Sunna's people live.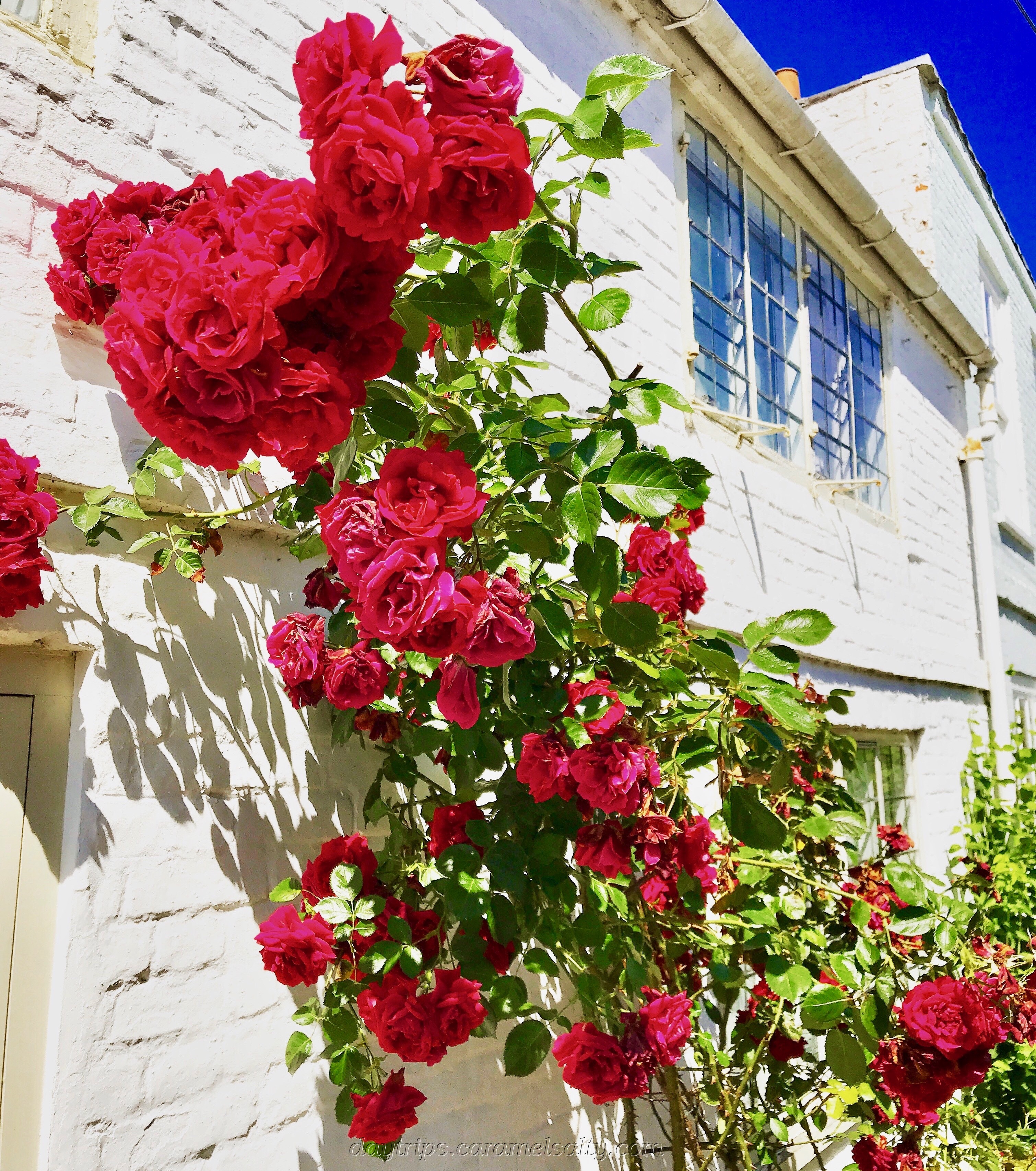 It's lunch time !! Lunch is at the Coppa Club, the large, open pub I spied as I walked in. All of the outside seating in glorious sunshine has been snapped up. But to be honest, I'm quite grateful for the respite indoors from the heat.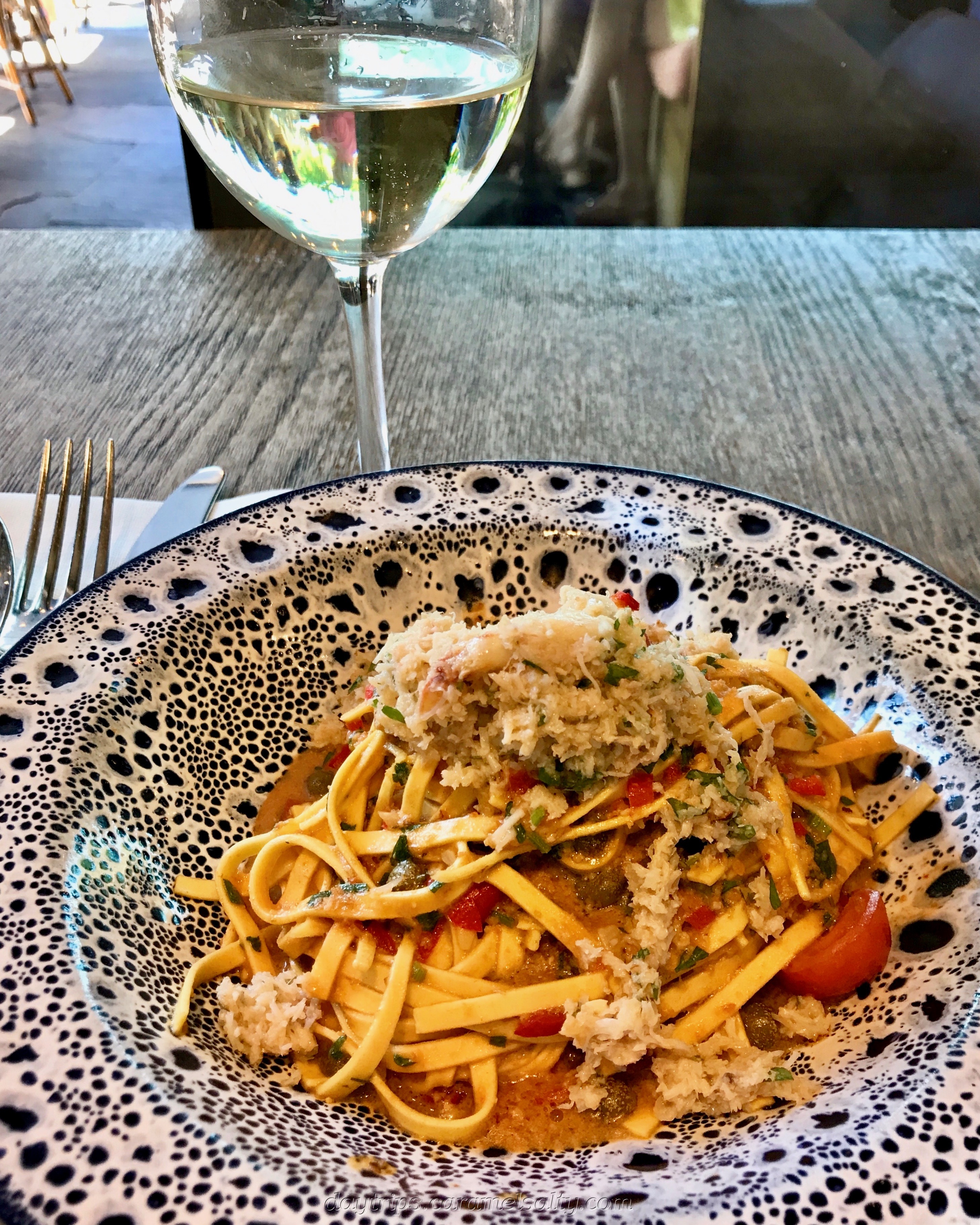 Sonning is such a pretty little village. I can see its immediate attraction to celebrities like the Cloonies. Apart from the slightly busy B478 road cutting through the village, it's a very quiet, genteel village.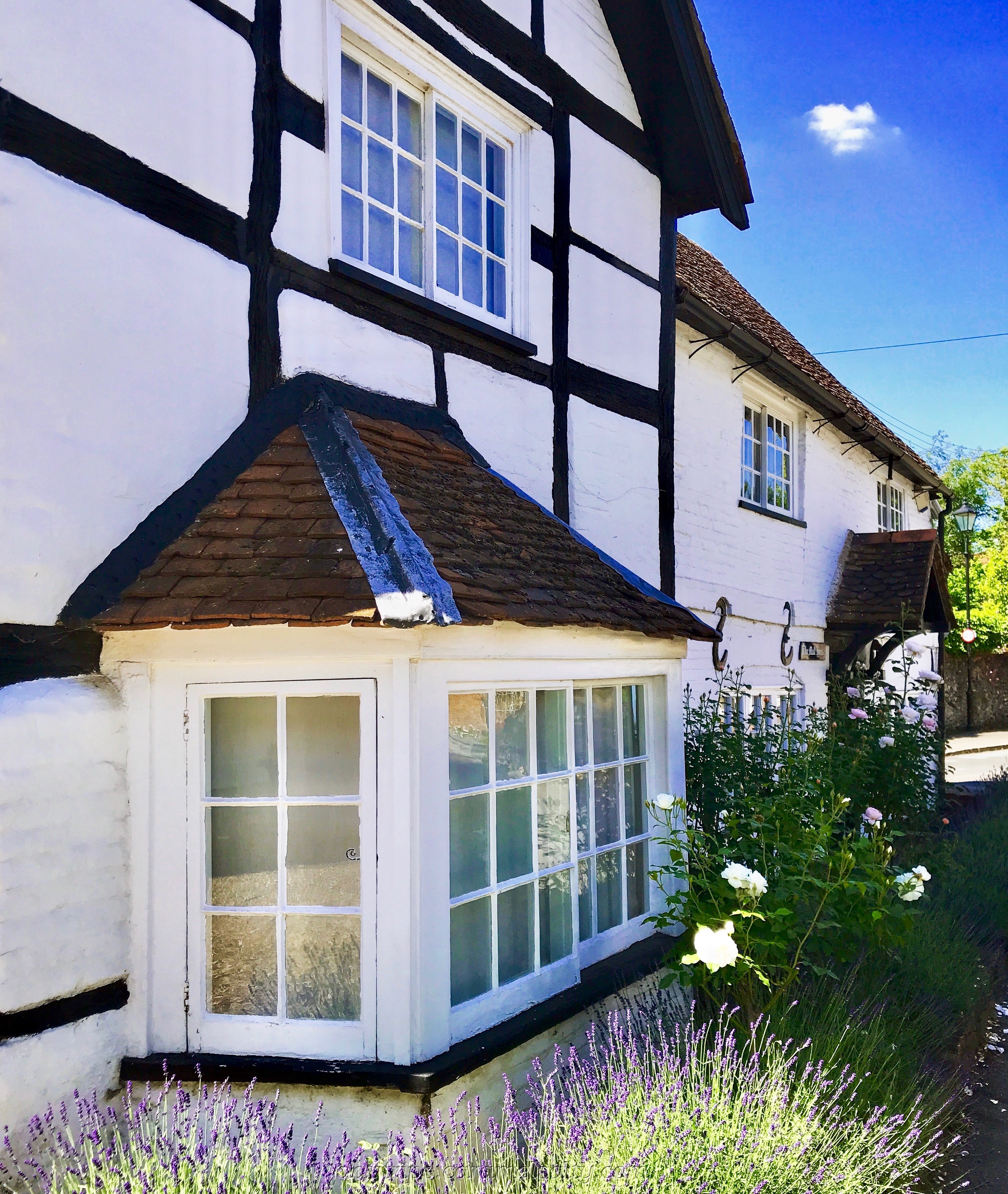 Of course I can't leave without visiting that Norman spire. The historic St. Andrew's Church hints at an important religious role for Sonning once upon a time. In fact it was the seat of the Bishop of Salisbury, whose palace was situated in Holme Park. Whenever the Bishops were in town, prominent visitors such as monarchs also dropped by.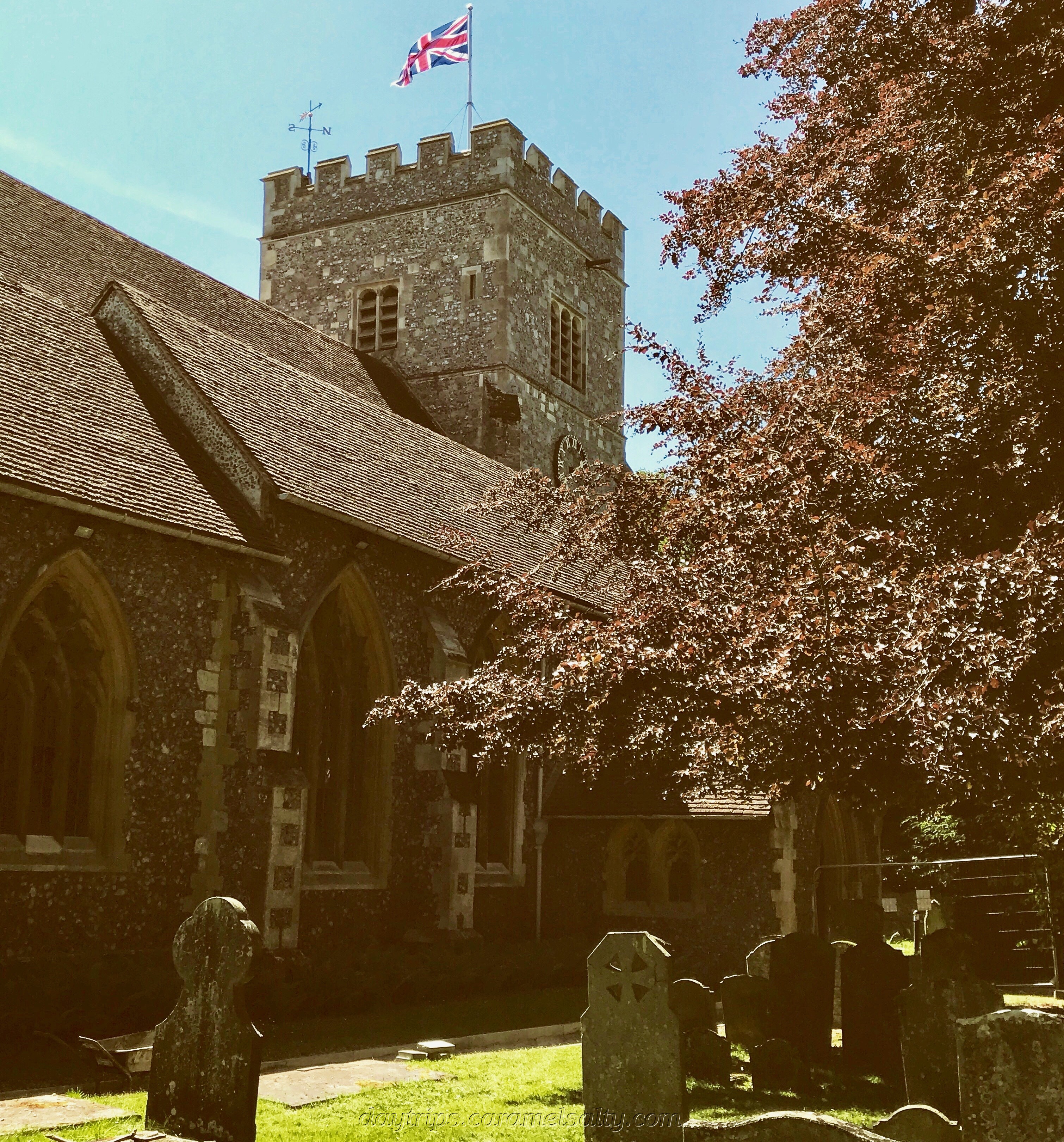 The bishops leave after exchanging Holme Park for two of Queen Elizabeth's manors in Wiltshire. Lizzie only ever visits Sonning twice. But apparently she is known for being parsimonious, refusing to pay for the repair of the bridge.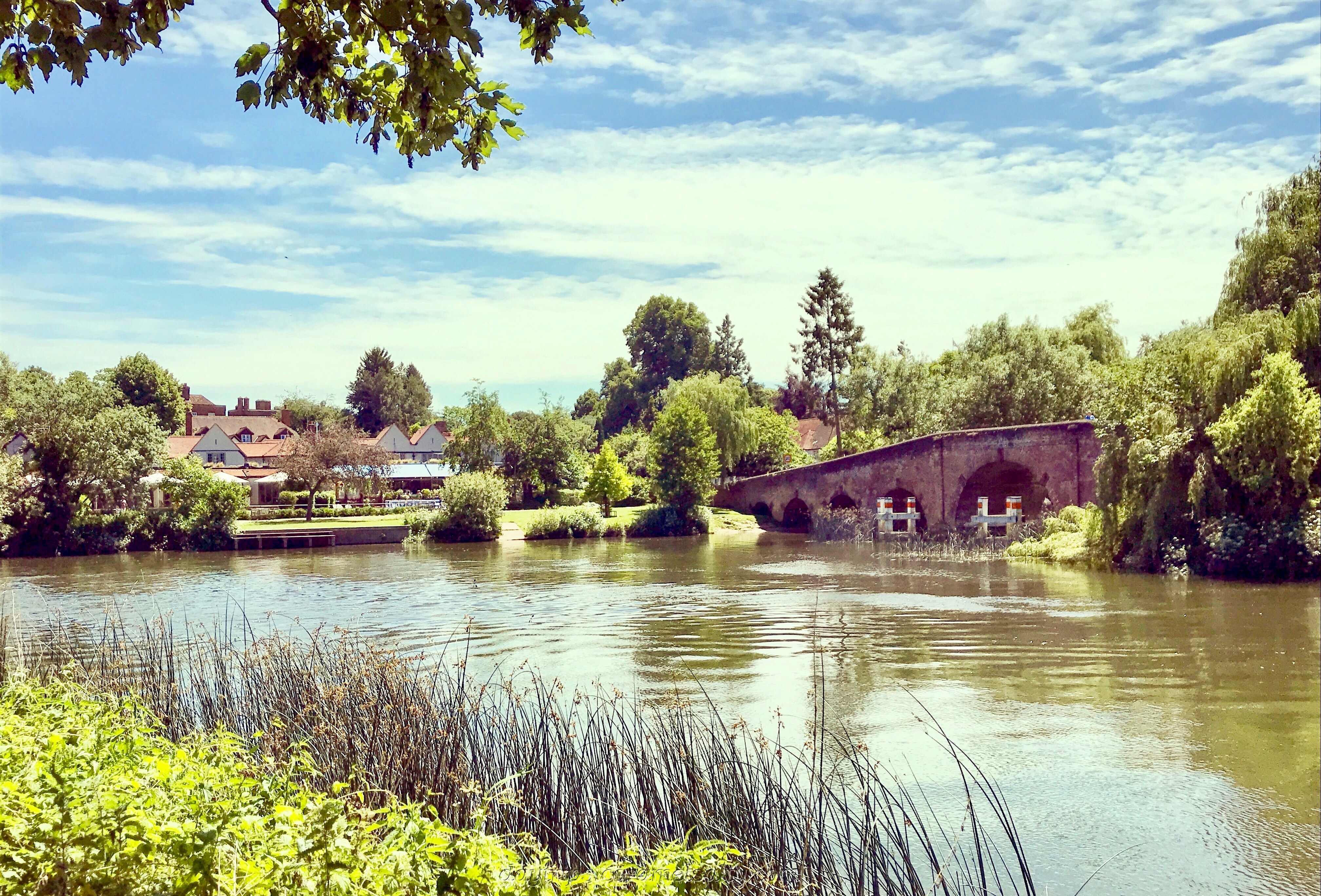 The headstones on the church floor, especially the ones right by the altar are worth a close perusal for their marvellous carved inlays of marble which depict a knight, coats of arms and several members of a family on another. And I also find a luxurious seat, worthy of a Bishop or a King.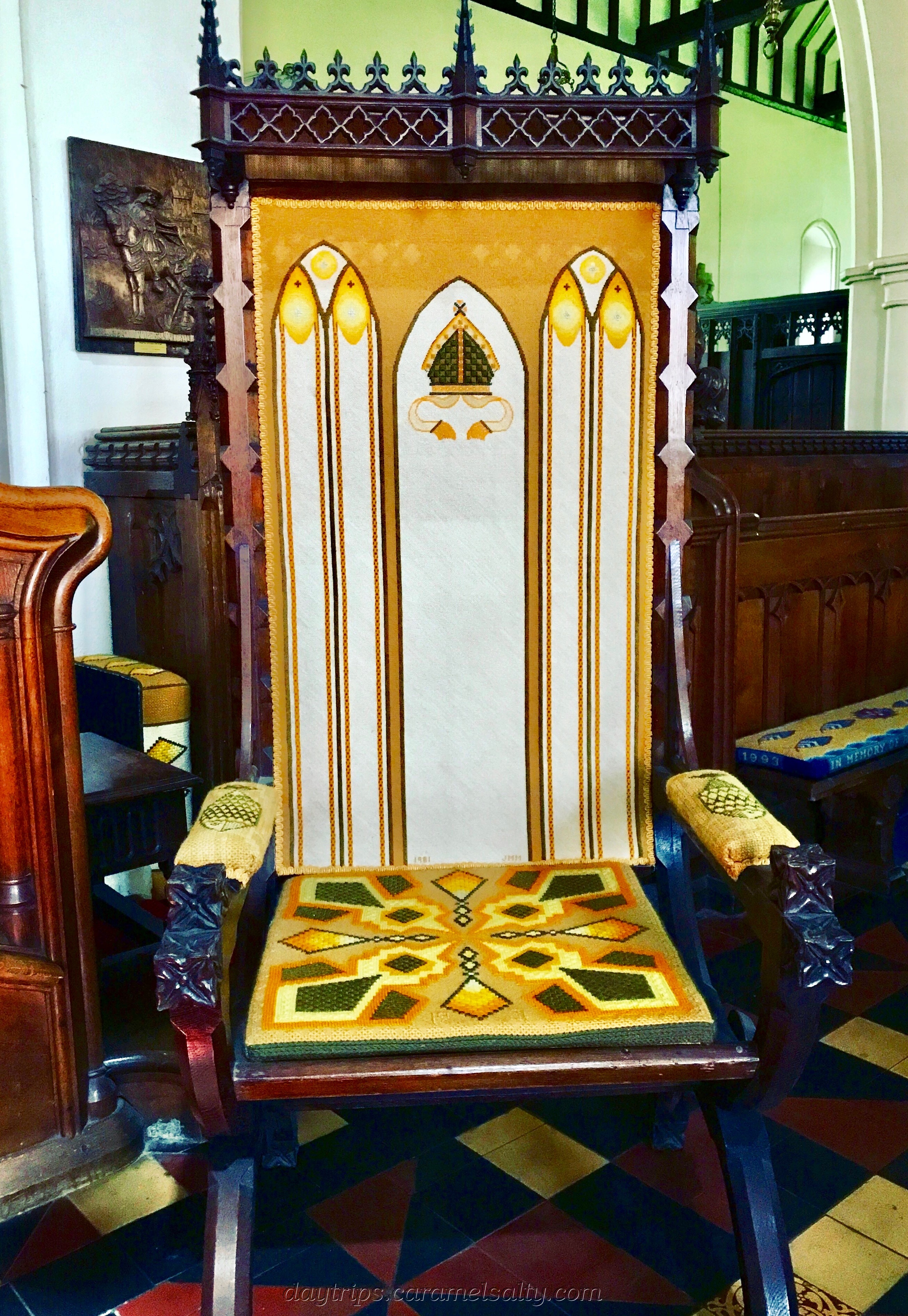 Interred somewhere in an unmarked grave in the vast churchyard are the remains of hundreds of "navvies" who were drowned. Not in the river as I assumed, but in a landslip on the eve of X'mas in 1841, along the newly excavated Sonning Cutting which still connects Twyford and Reading by train.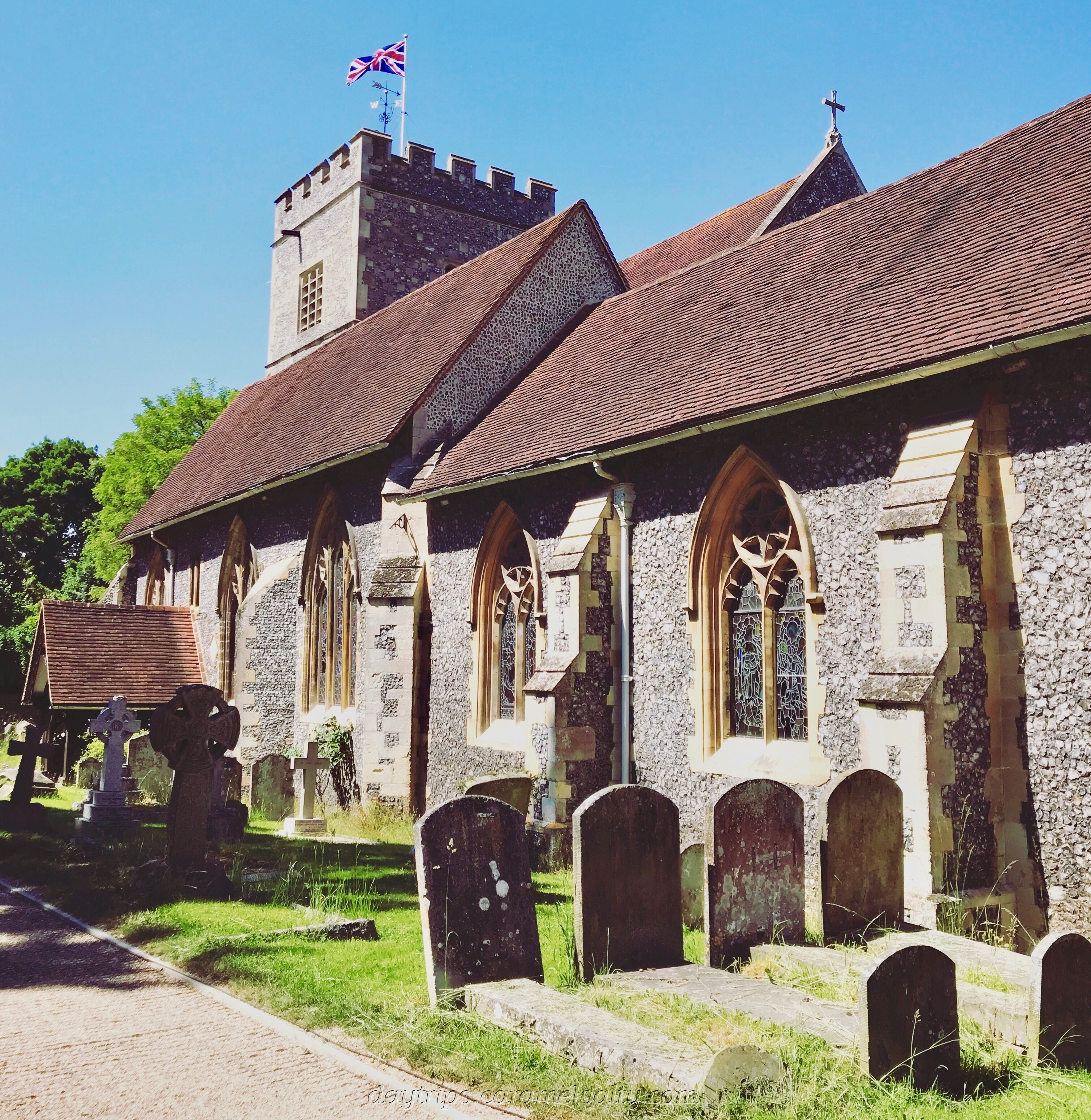 The way out of Sonning takes me past the prettiest lock on the Thames I've ever come across. It's like driving a boat through an English garden. Such a contrast to Sonning Lock this morning.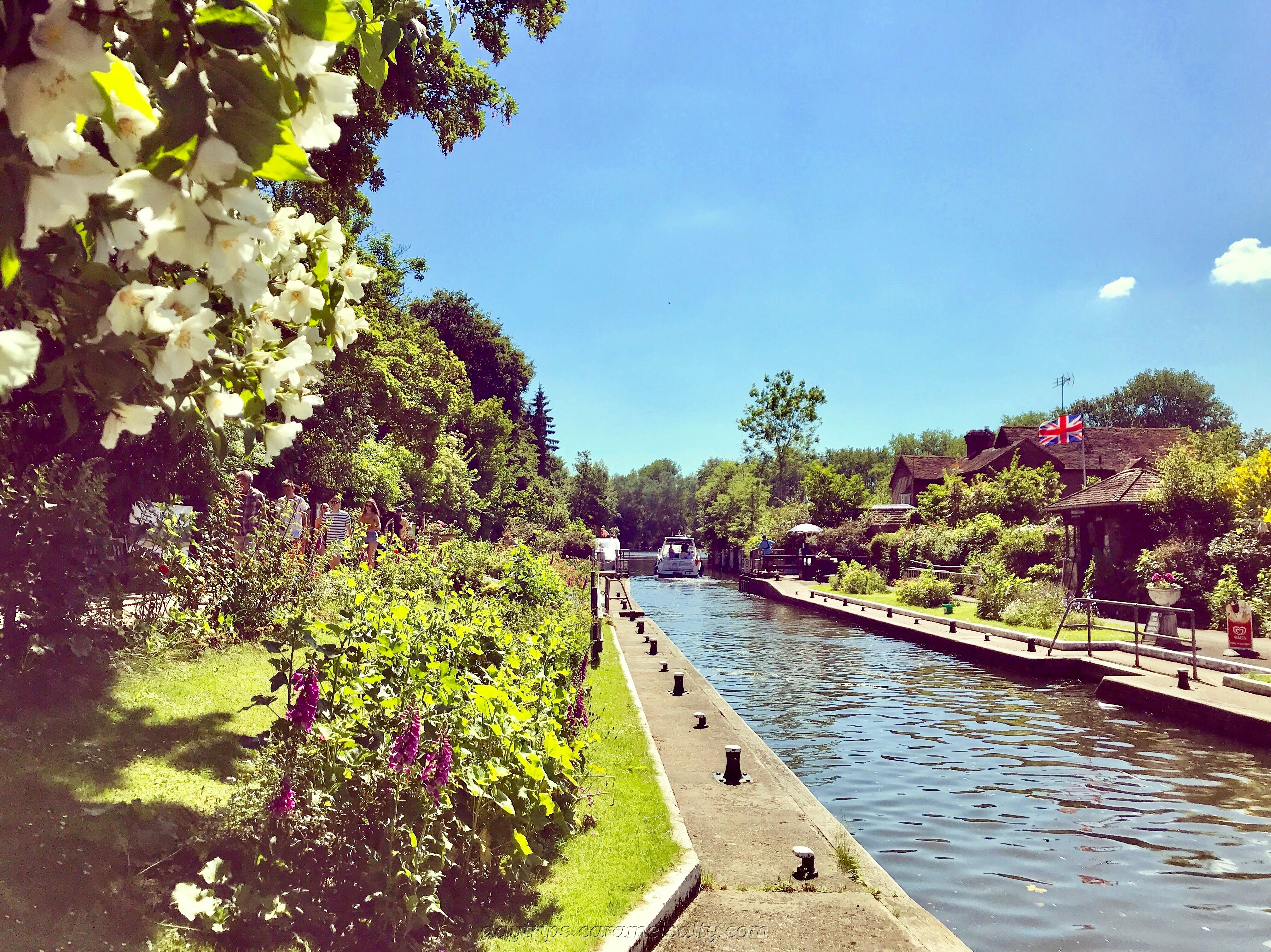 More and more of these locks are becoming "self-service". Which is a shame, as these keepers have something to add to life along the river. The one at Sonning was doing a bit of gardening. Another lock keeper, James Sadler (1845-1885), kept bees and composed a poem of the lock.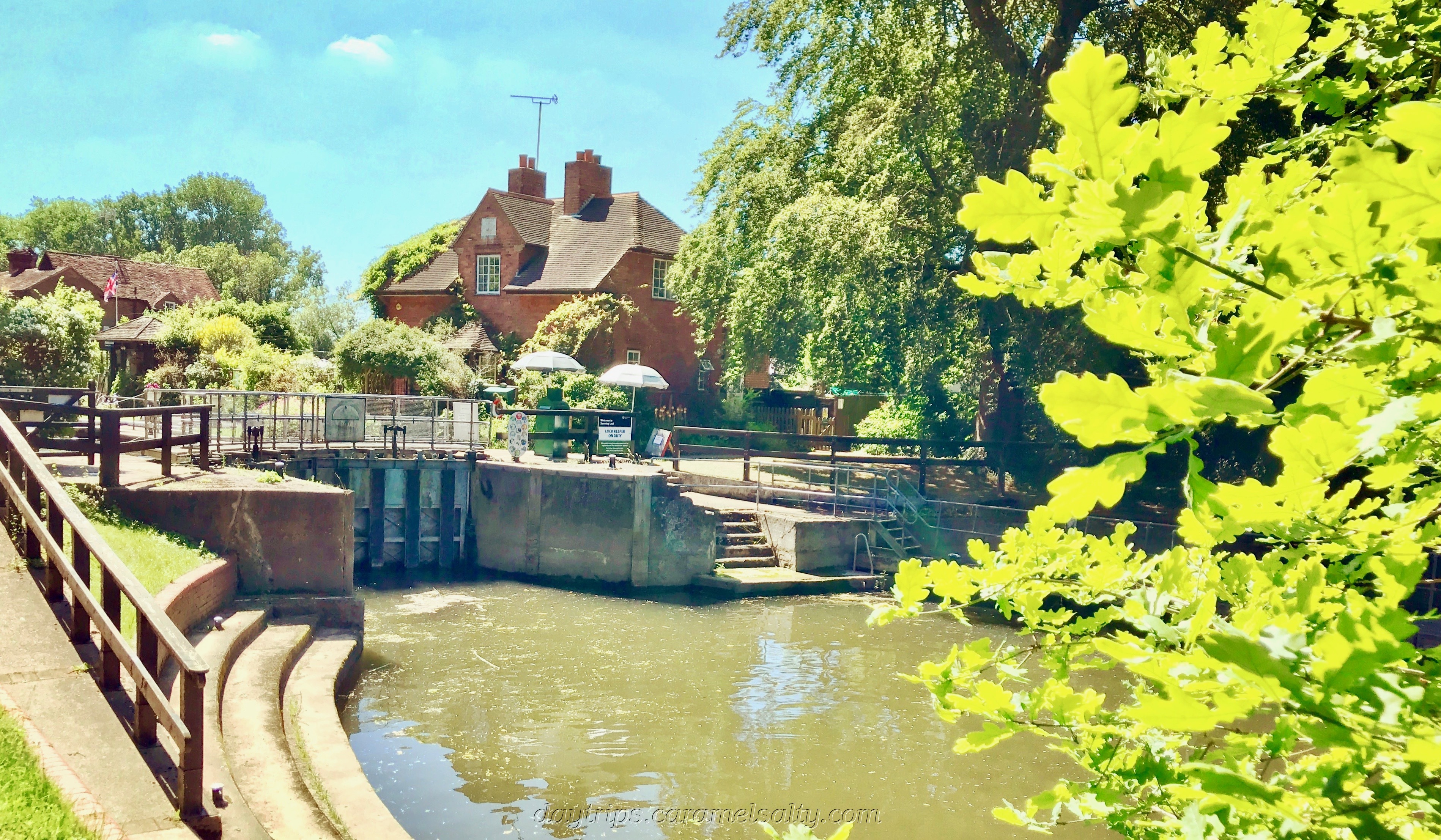 The river it giveth, and it taketh away too. On days like this, it can yield unimaginable pleasure to wander along it. But a few have drowned in it too, as did Denys Amos, whose plaque along the lock refers to a much missed teacher who accidentally drowned in 1953.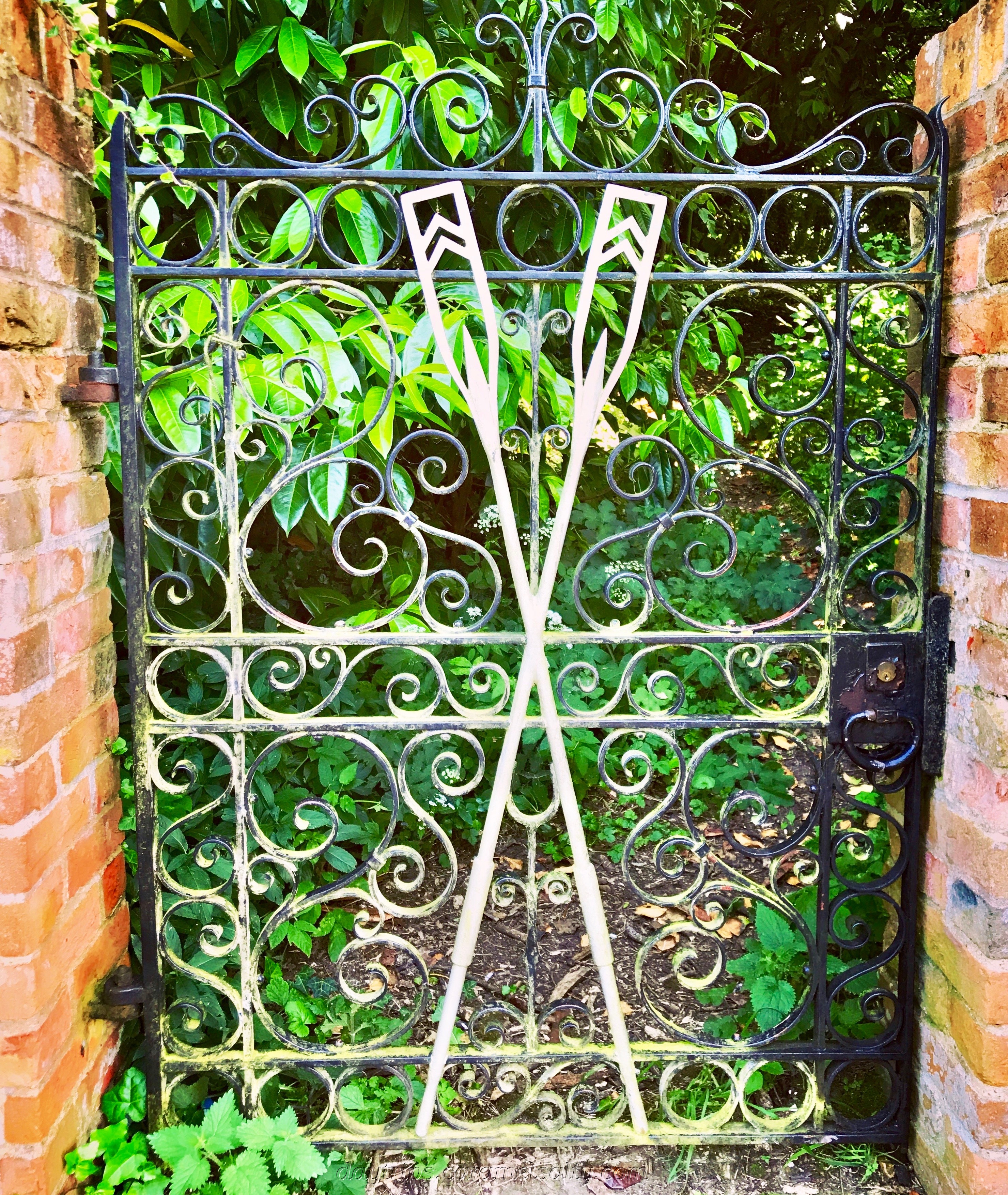 There are give away signs that I'm now approaching the large conurbation of Reading. Thank goodness the Thames distracts me from the retail parks, office blocks and sports centres that start to fill in the horizon to the left of me.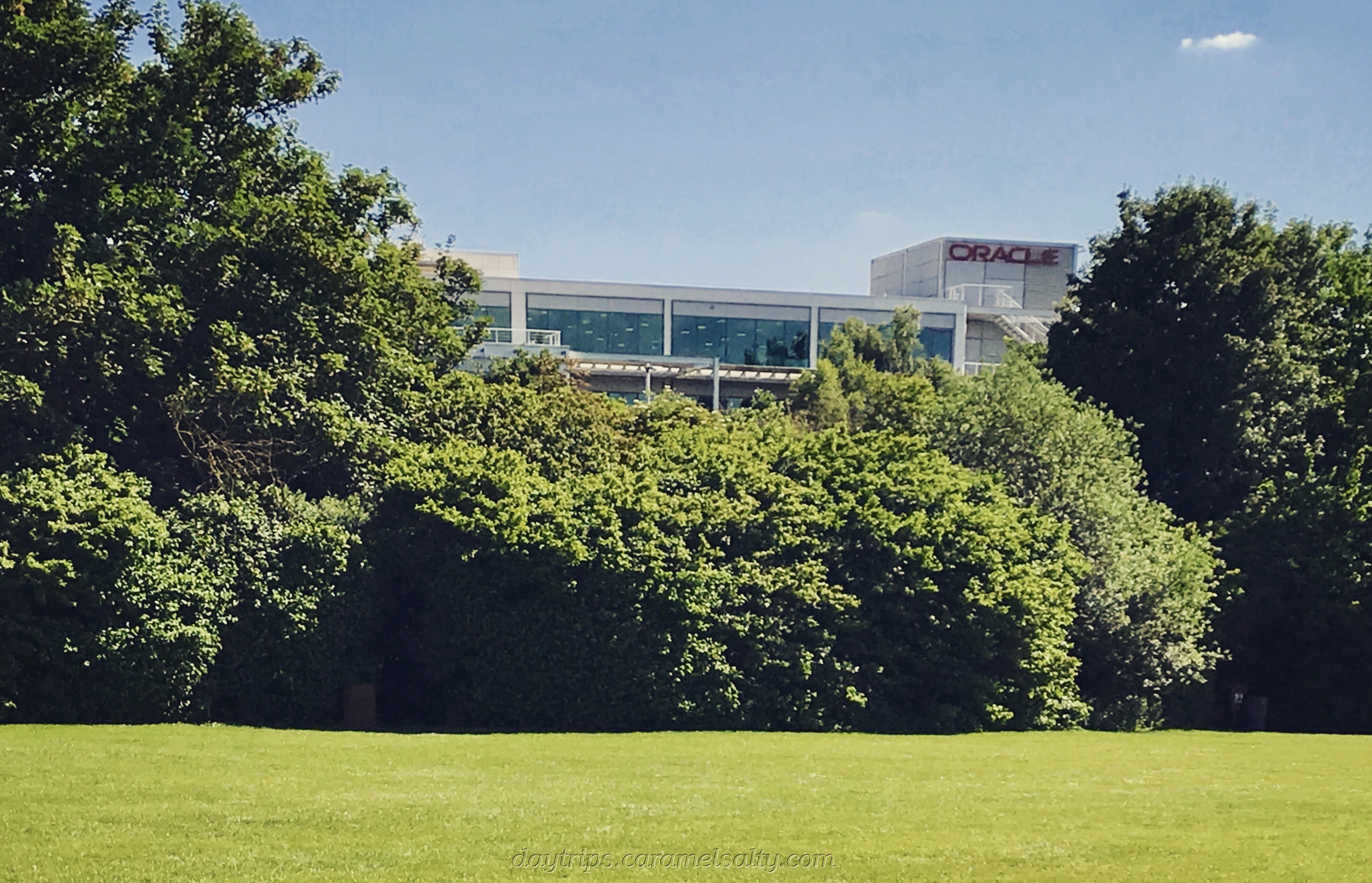 Despite the river now running round the back of Reading city, I'm surprised by how relatively rural it still is. A swan glides along the meadows fronting the Oracle building, I spy an old iron cast sign post hidden amongst the trees and despite a large Tesco sign along the river, it is well hidden behind a park and trees.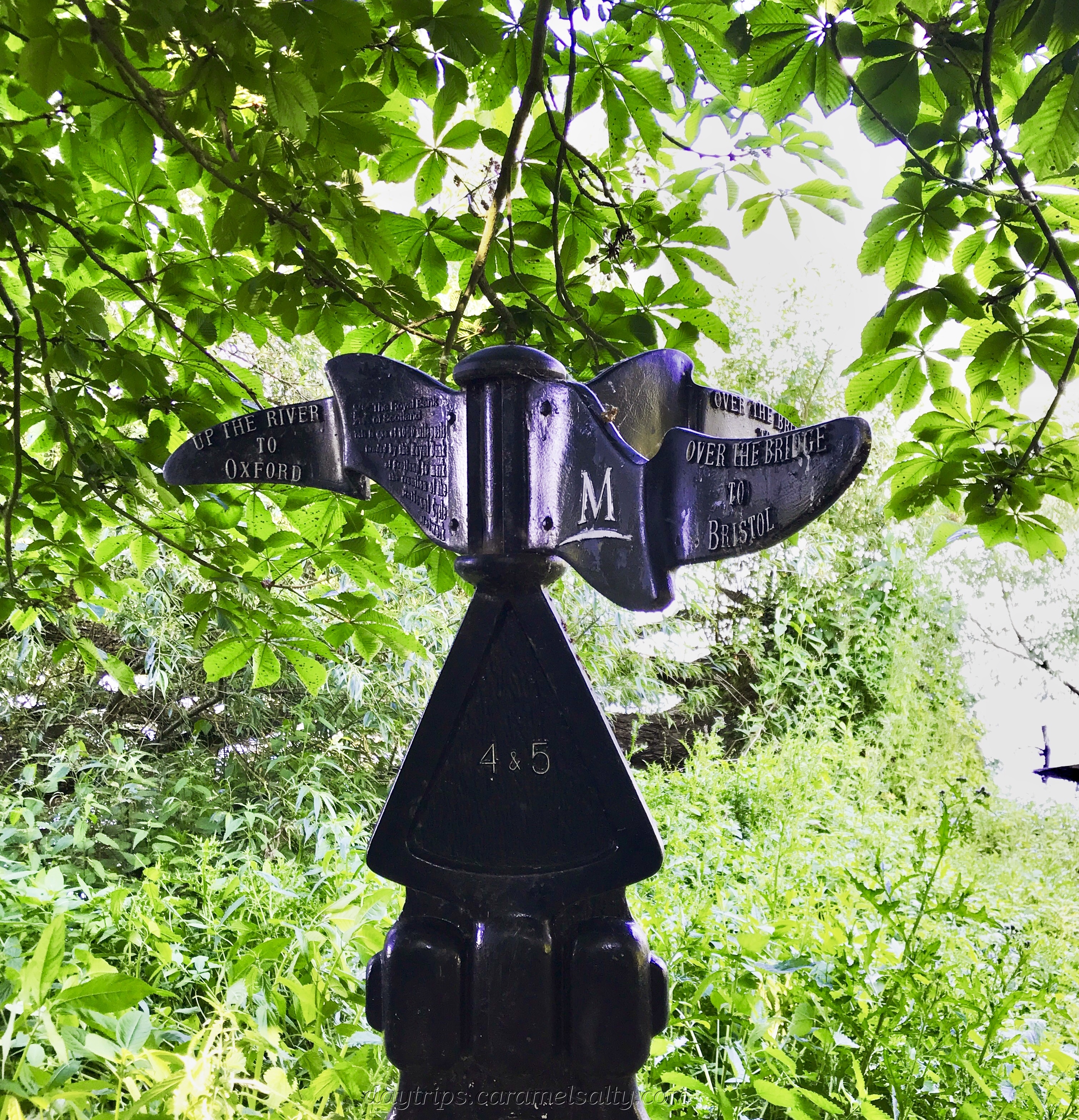 Eventually I have to drag myself away from the water's edge to head into Reading. There's not really a lot to say about this part of Reading. It's exactly what I expect of a busy commuter town. But they've certainly made an effort in modernsing the look of the station.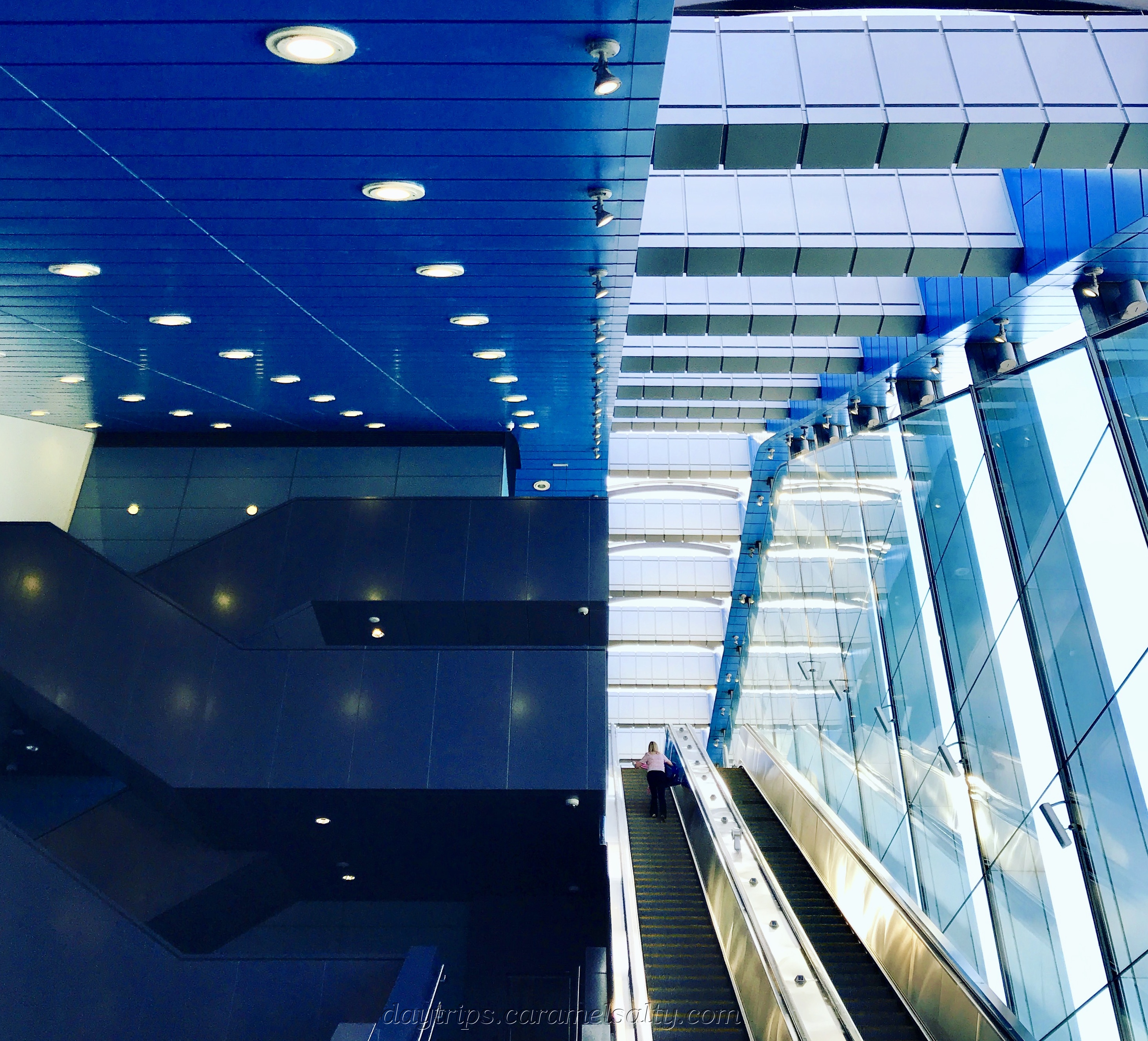 And so I board the train from Reading back to London, going through Sonning Cut, where that landslide took place many years ago. What a great adventure I've had along the Thames Path today, one of the most picturesque walking routes in England. 6 miles down, just another 178 to go!!
How to Walk to Reading
Catch a tube or bus to Paddington (Zone 1) or Ealing Broadway (Zone 3) for a return train journey to Shiplake, via Twyford. I then buy a single from Reading to Twyford. Far, far cheaper than buying a return via Reading.
Catch a train to Shiplake using Trainline's website for train times, fares and advance ticket purchase. Discounted off peak fare with Network Rail Card.
This is part of the Thames Path walk (pdf here.), where I walk the section from Shiplake to Sonning, en route to Reading.
The Church of St Andrew (website) – open 10-4
Coppa Club, Sonning (website) – for a great lunch
The Deanery, built by Sir Edwin Lutyens, still survives in Sonning today. However it is no longer open to the public.