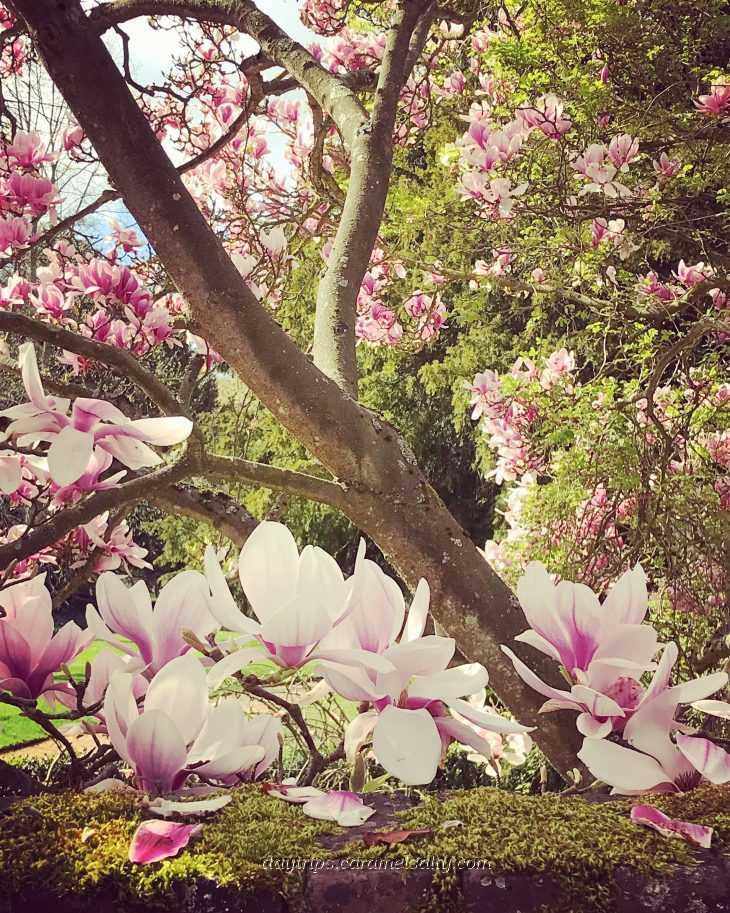 Osterley House to the Grand Union Canal
The arrival of spring cannot be personified any better than cheery clumps of bright yellow daffodils. To date I've spotted them under trees, along banks and at my local florist. So today I'm setting my sights on spotting them against a backdrop of a gorgeous Georgian palace. That would certainly be very grand indeed.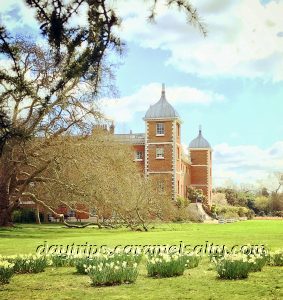 Start Of Day:

Osterley

Station or

Osterley

Library Bus Stop, Zone Four, London
Cost of Day Out: Moderate
History Content: Moderate
There are many ways of getting to Osterley. My choice is a leisurely bus ride from Shepherds Bush. Having to switch at Chiswick High Street only serves to extend my leisurely trip with a relaxing breakfast at [1] Parle Pantry, followed by a 30 minute bus ride to Osterley.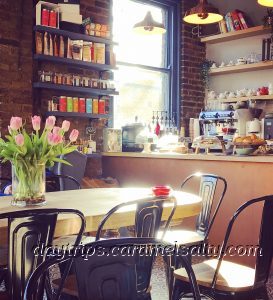 [2] Osterley House is a short walk from the bus stop. I go past the now redundant 1883 District Line station of Osterley & Spring Grove, which closes when the Art Deco [3] Osterley Station opens in 1934. The old station is now [4] Osterley Bookshop, a quirky little business, the likes of which is a dying breed in this modern world.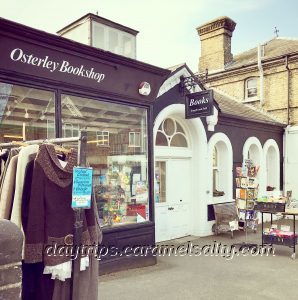 As soon as I pass through the entrance to Osterley House, I'm greeted by wide open fields. Cows and horses graze quietly in them. Within sight are two lodges on either side of the entry road. But there is no sign of Osterley House at all. Which is not surprising, as it does lie in one of the largest open spaces in London.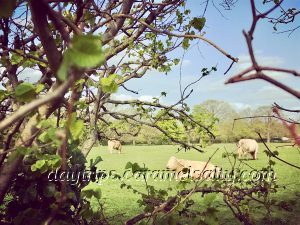 The constant line of descending planes in the sky is a reminder that Heathrow is not far away. The planes are low enough for their wheels to be out for landing. But I soon forget about the planes, as I skirt around the edge of a large field to [4] Osterley Lane for my first glimpse of daffodils on the estate.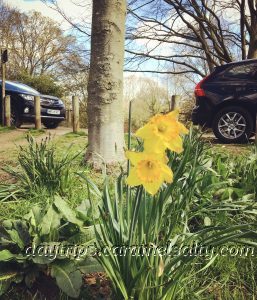 At this time of day, Osterley Lane is busy with dog walkers, horse walkers and joggers. Passing through another set of lodges, I soon arrive at the first of the two large lakes in Osterley Park. Standing by the edge, I wonder who built it. Was it the 16th century Thomas Gresham, rich banker and first owner? Or was it during the 18th century tenure of the Childs, another family of rich bankers.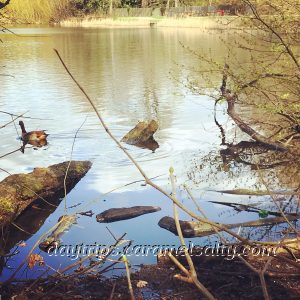 It is only when I emerge out of a copse, that I finally set eyes on [5] Osterley House way over the other side of another huge lawn!! When the decaying Tudor property that Gresham builds comes onto the market, Sir Francis Child buys it in 1713. The house is completely rebuilt, but the stables by the side are still the original Tudor design from Gresham's era.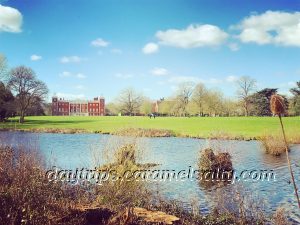 The house is now open and I join the guided tour of the lower floors, otherwise known as the servant quarters. The knowledgeable guides provide a fascinating insight into the lives of the house staff. But I'm itching to get upstairs. That's where the aristocrats partied. And that's where I'm hoping to find some splendid rooms.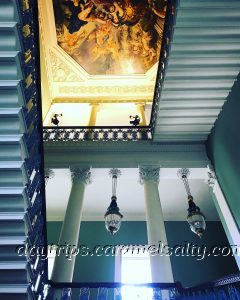 Francis Child dies soon after buying Osterley House. His sons, Francis and Robert inherit, amongst other fortunes, their father's bank, Childs &Co, as well as Osterley House. Osterley House is a perfect place for entertaining business colleagues and potential customers. If only it could be done up just a little bit……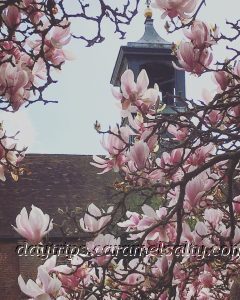 In 1761, the brothers hire the up and coming architect Robert Adams. Adams is responsible for those wonderful ionic columns at the front. And for the French grey and white entrance hall , looking very much like a room from ancient Rome. This is my favorite room by far.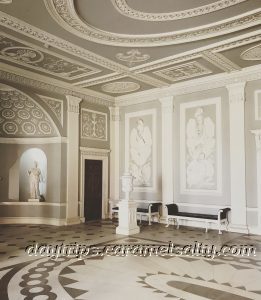 And then there's the wonderful gold and green Long Gallery, with paintings hanging on every inch of wall space. Followed by the warm and rosy tapestry room. And the wonderfully striking Etruscan drawing room. Indeed, Osterley House is one of the finest of Adam's works. His trademark colors and plasterwork is to be enjoyed everywhere.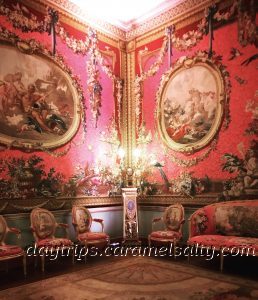 My entry ticket also gives me access to the gardens beyond the brick wall. And what a daffodil treat it is on this lovely spring day. I thoroughly appreciate the effort gone into labeling the plants and trees. The very first tree I come upon is a sprawling Oriental version of the great London plane tree. That's news to me !!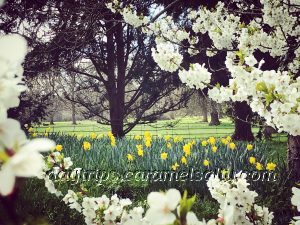 The names given to the pretty spring borders suggest a link to the Child's tenure. Names such as Mrs Child's border and the American border for trees brought in from that continent, hint that it was designed for Robert Child. The reason for this conjecture is that it's only Robert who is left, after Francis dies childless a couple of years after Adams was appointed.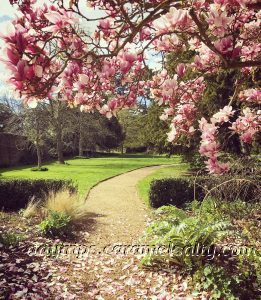 The lavishness of the parties at Osterley House is reflected in the fact that at peak party season, a retinue of up to 60 servants worked here. Guests like Horace Walpole, describes it as the palace of palaces. The gardens are also worth as much time as the house. I'm sure Thomas Jefferson who also visited, must have spent time admiring the American trees in the garden.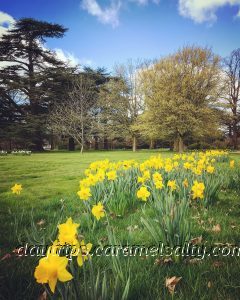 After lunch at the Tudor stables, I have to leave this delightful place to embark on my walk to the Grand Union Canal. I return to Osterley Lane, turning left down a lane by the lodges from before. There are still plenty of dog and horse owners around. The joggers have gone to work though.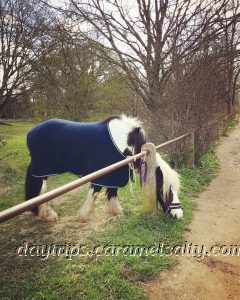 I cross over the not too busy [6] Windmill Lane by the delightful looking [7] Hare and Hounds. Just past the busy M4, I find a nature reserve that runs along a babbling brook only 15 or so feet below the rushing cars !! [8] Long Wood was part of Gresham's original estate. So the M4 clearly now cuts across what was once the enormous Osterley estate.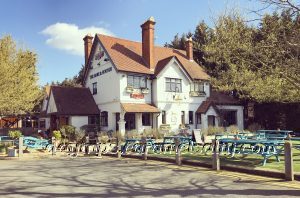 Incredibly, in just 20 minutes I'm transformed from aristocratic splendour to urban industrial. A picturesque skip marks the start of the narrow lane I have to cut through. A tall rabbit fence and a barbed wire line my path. This is my grand entrance to the industrial park in the distance.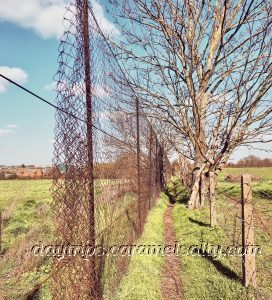 As advised, I cautiously cross over railways tracks into the industrial park. There are stacks of wooden pallets everywhere. Lorries trundle past. A loud torrent of Brexit debate assaults my ears from the radios of parked up trailers. But I don't stop to discuss with any of the drivers, which side they're on.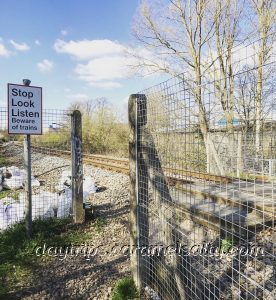 And then I'm finally on [9] Trumper's Way Bridge over the River Brent. The sight of water and colorful barges does wonders in softening the harshness of industrial units, scrap yards and trash. And it also marks the start of a very different story to look forward to.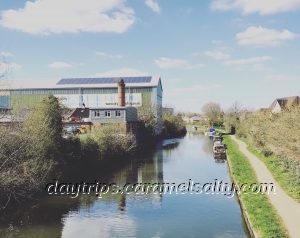 Other Related Blogs
Some Useful Links
Tube Map and City Mapper are free apps that provide London maps, route planner and train/ bus times from your nearest stop. I caught the 237 from Shepherds Bush, and then the

H91

to

Osterley

.
Only Oyster Cards, purchased at stations, or

contactless

cards are acceptable on Transport for London.

Osterley

House and Gardens (website) – open daily. Entrance Fee Applies. Free with National Trust Card or Arts Fund Pass. The downstairs can only be visited on the tour.
AA Walk from

Osterley

along the Grand Union Canal (Pdf Guide here ).
If you wish to end the walk at this point, buses can be caught on Boston Road.