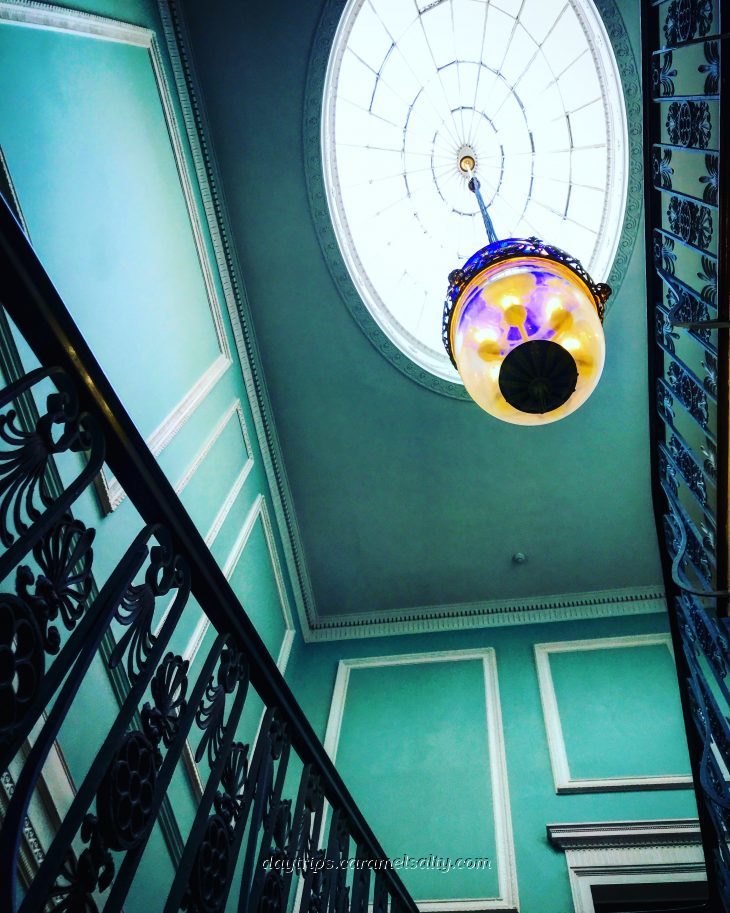 Hampstead Heath To Kenwood House
I read somewhere that Hampstead Heath is so magical that when C.S. Lewis was walking in the snow there and spots an old-fashioned lamp, he comes up with the idea of the Lion, The Witch and The Wardrobe. I may have missed the snow for this year, but I'm still hoping for an inspiring visit.
Start of Day: Hampstead Overground Station, Zone 2, London
Cost of Day Out: Moderate (£)
History Content: Low
The River Fleet is said to start from Parliament Hill. Indeed, one of the tributary to the river was dammed up here in 1700 to form reservoirs to supply London. These ponds are only a 10 minute walk through a tree-lined path that begins across the road from the station.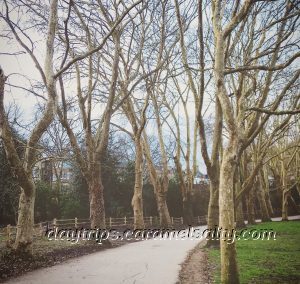 The imaginatively named [1] Hampstead No 1, Hampstead No 2 and Mixed Bathing Pond, all next to each other, are also bird habitats today. The majestic swan, resident at No. 1, performs for my camera. However, he glides away most disappointed when he realises that I have come empty-handed.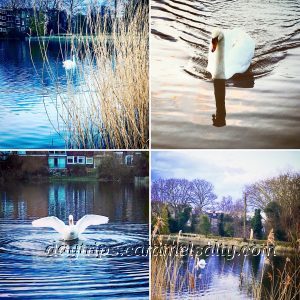 Crossing between No 2 Pond and the Mixed Bathing Pond, I make my way up a slight slope to [2] Parliament Hill view. The rising sun illuminates a dog and his walker on the brow of the hill. For how early it is, there are a surprising number of people around.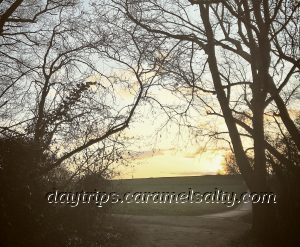 There are benches scattered around the park, many of them dedicated to past walkers of the heath. One bench I come across enroute to the viewpoint has an intriguing [3] inscription by Parviz Owsia, an Iranian writer. Despite pondering over it, I'm not sure if I've quite fathomed out what the writer alludes to.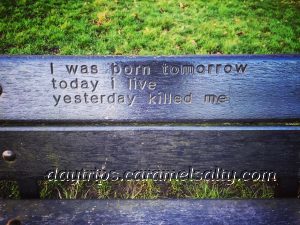 During the English Civil War (1642-1651), this hill was occupied by troops loyal to Parliament, and was called Traitors Hill. And no wonder, given the vantage point they had of the city. A horizon filled with glass and steel today, it would have been just church spires during the Civil War. And somewhere within sight too, is said to be the mysterious location of the remains of Boudicca, Queen of Iceni.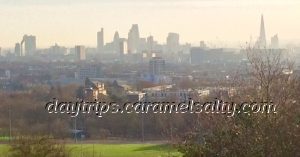 From here too, I can also make out [4] the pointed spire of St Michael's Church and the green-domed St Joseph's Catholic Church in Highgate. But I soon lose sight of these towers as I take a track lower down the hill to enjoy the wonderful sculptures formed by the bare trees of a winter walk.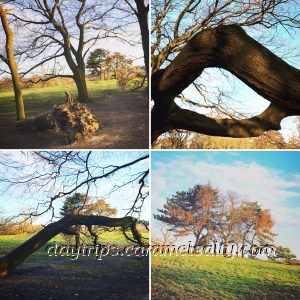 As I wander in the open heath, the sound of honking geese alert me to a pair flying low towards the [5] Men's Bathing Pond, my next pond. I soon spot it shimmering through the stripped back trees.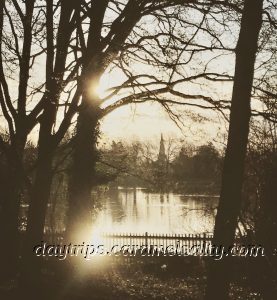 It's only 08:00 a.m. The temperature on land is only 2 degrees. And yet a half naked man walks briskly along the spring diving board. I involuntarily brace myself as he lifts off to dive into the freezing grey water. Oooh ! That must be so cold.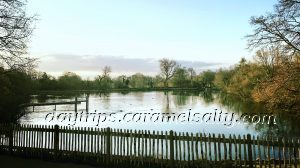 At the corner where I'm stood, I hear the rush of water under a grate. I wonder if this is one of the tributaries of the River Fleet, now relegated to being just an underground drain. When I get to the other side of the [6] Model Boating Pond, a host of pretty yellow daffodils beside the lake, beneath the trees, remind me of the words of Wordsworth.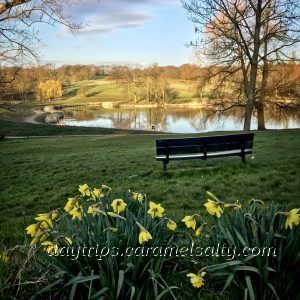 I follow a tarmac road outside the heath up the hill, past some handsome large houses. At the fork to Fitzroy Park, I take the left lane going past [7] Kenwood Ladies' Bathing Pond, in a secluded location, far away from prying eyes. I am greeted by an early morning, invigorated female bather, departing for the day after her dip.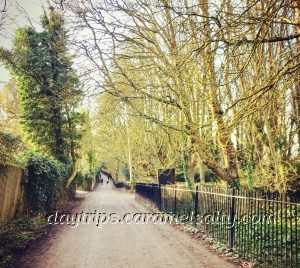 I turn left at [8] Stock Pond. A red robin flits in and out of the ivy and bramble along the pond. This pond, unlike the others, has a natural wild look about it, surrounded by overgrowth. It is also liable to flooding, as the sign warns me.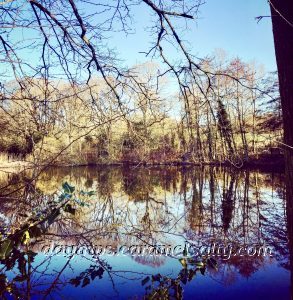 Soon after Stock Pond, I come across one of the many entrances to Kenwood House. This one dips into a dark green wood. On turning around to warm my face in the sun before diving into the gloom of the trees, I'm surprised to find that I still have a view of the London skyline.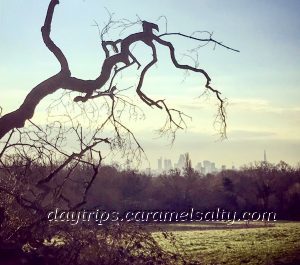 Emerging out of the woods, I am greeted by a sprawling, manicured lawn with ponds and bridges. A slope leads up to a grand white building. The setting is typcial of an English country stately home. I clamber up to the side path for an obscured, yet charming view of Kenwood House through the trees.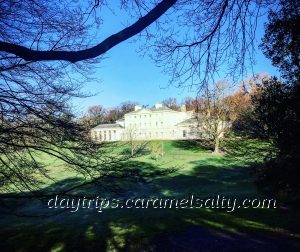 During Victorian times, [9] Kenwood House would have been considered the countryside. It would have been connected to London by a lonely track. It's spectacular gardens, with its outdoor sculptures, including a Henry Moore, its views of London, an ivy tunnel and ponds make for a serene and peaceful walkabout.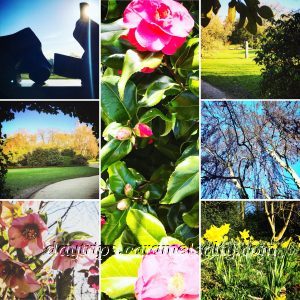 When the house opens, I wander in for a delightful tour of the house which Robert Adam remodelled between 1764 and 1779, in his trademark style of lightness and airiness. In the entrance, on the ceiling, is a painting of Bacchus and Ceres (Antonio Zucchi), Greek Gods of Agriculture complete with the ivy which Bachus is associated with.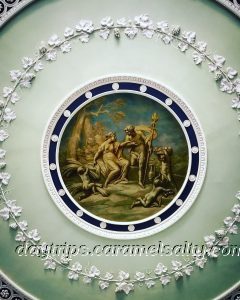 Through the first door, I come to my favourite bit, what I call the blue staircase. With the sun shining through the glass dome, catching the glass blue lamp above the staircase, which then casts a blue light over the duck egg blue ironwork and walls, it provides a sense of calm in this stairwell.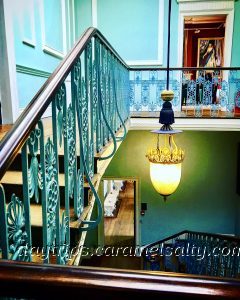 Living in this house in the 18th century is the Earl of Mansfield (1705-1793), and Lord Justice. He is responsible for making several landmark rulings to abolish slavery. And Belle (1761-1804), the mixed race daughter of a middling class Navy officer is is brought up by her aristocratic great-uncle, the same Earl of Mansfield in white upper middle class London society. Which must have turned heads during the time when slavery was still rife.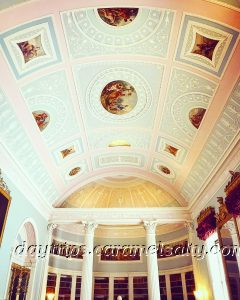 Kenwood House is staffed by very knowledgeable volunteers. I always learn something new from them every time I visit. There is plenty of great art displayed in every room, from Rembrandts, Reynolds, Gainsboroughs, Larkins and even a view of Dordrecht by Albert Cuyp.

I also love the shop in the Orangery. I always purchase a bottle of liqueur having been persuaded by the tasting that precedes it. I depart Kenwood House, heading back to Hampstead village. I try to spot the warblers sat on top of the bare branches lining my exit path. But I find it impossible, despite no leaves obscuring my views.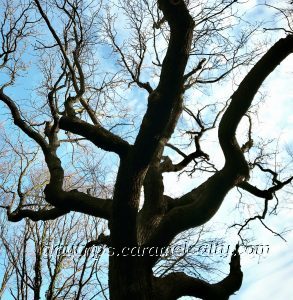 So did I find inspiration for a story at Hampstead Heath? Well let's see…….. mysterious looking gnarled trees, puzzling inscriptions on a bench, freezing ponds, poetic daffodils, a warrior Queen lost in battle, white mansions, granite giant sculptures, blue staircases, a mixed race girl brought up in a white aristocratic family. I think somewhere in there is a story that could even become a movie one day.
Related Blogs
Useful Stuff To Know
Tube Map and City Mapper are free apps that provide London maps, route planner and train/ bus times from your nearest stop.
Transport for London is cashless.
Only Oyster Cards (at stations) or

contactless

cards are acceptable.
London Panorama Guide from Hampstead Heath's viewing point
Kenwood House (website)- open daily, free. Guided tours are extra.