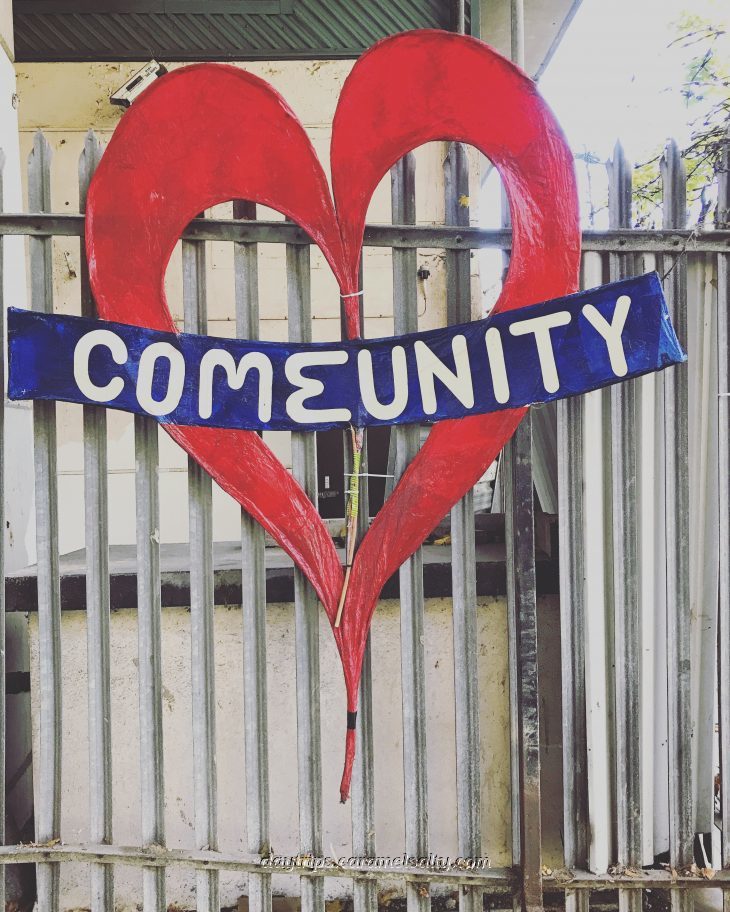 Notting Hill (Part One) – Westway, Wormwood Scrubs and the Mitre Bridge
As the Hammersmith Line makes its way overground to Ladbroke Grove, a busy dual carriageway known as [1] Westway dominates the view. Built in the 1960s, it writhes through North Kensington like a snake on stilts. A short walk from [2] Ladbroke Grove tube station brings me to right underneath it. And it's in the cavernous underbelly of the A40M that I start my day.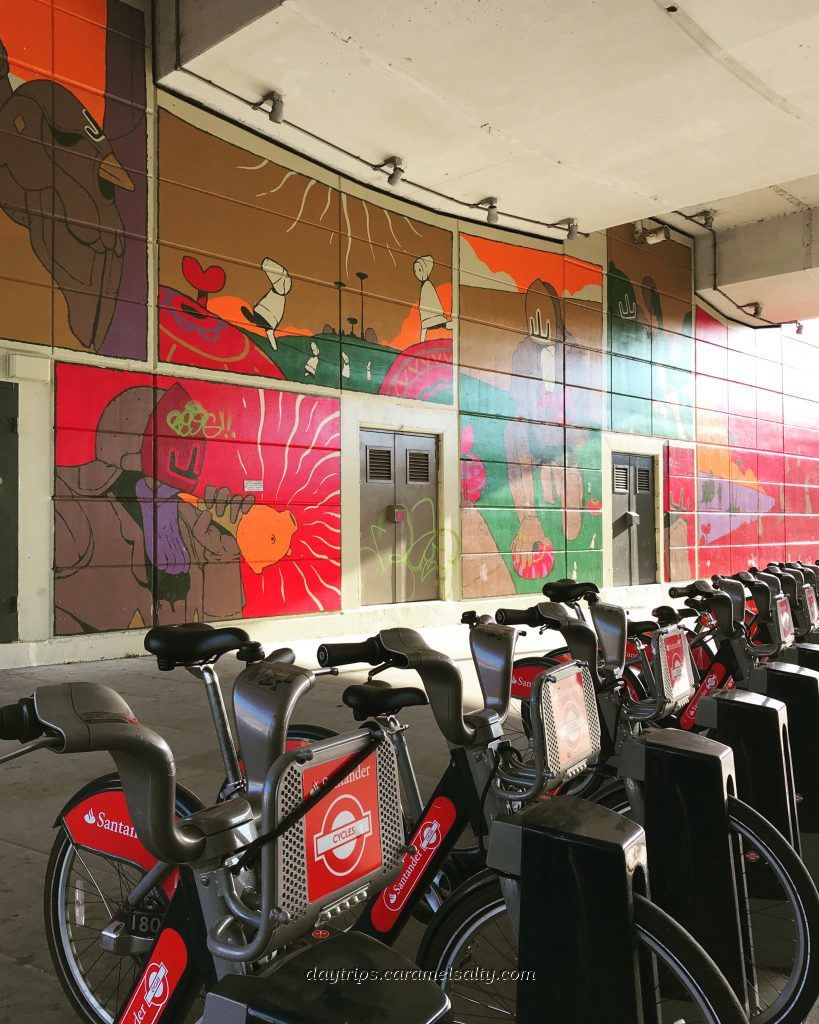 Start of Day: Ladbroke Grove Tube Station, Zone One, London
Cost of Day Out: Cheap
History Content: Moderate
This 2 ½ mile carriageway holds the enviable title of the longest stretch of elevated motorway in Europe. It was the first urban road project of its kind in England. Motorists love how quickly it takes to get into central London. But I spare a thought for the poor residents of Nottinghill, who for 8 years had to live in a construction site in an era before environmental studies. Today, over 50,000 cars zoom just over, alongside or beneath homes and schools on a daily basis.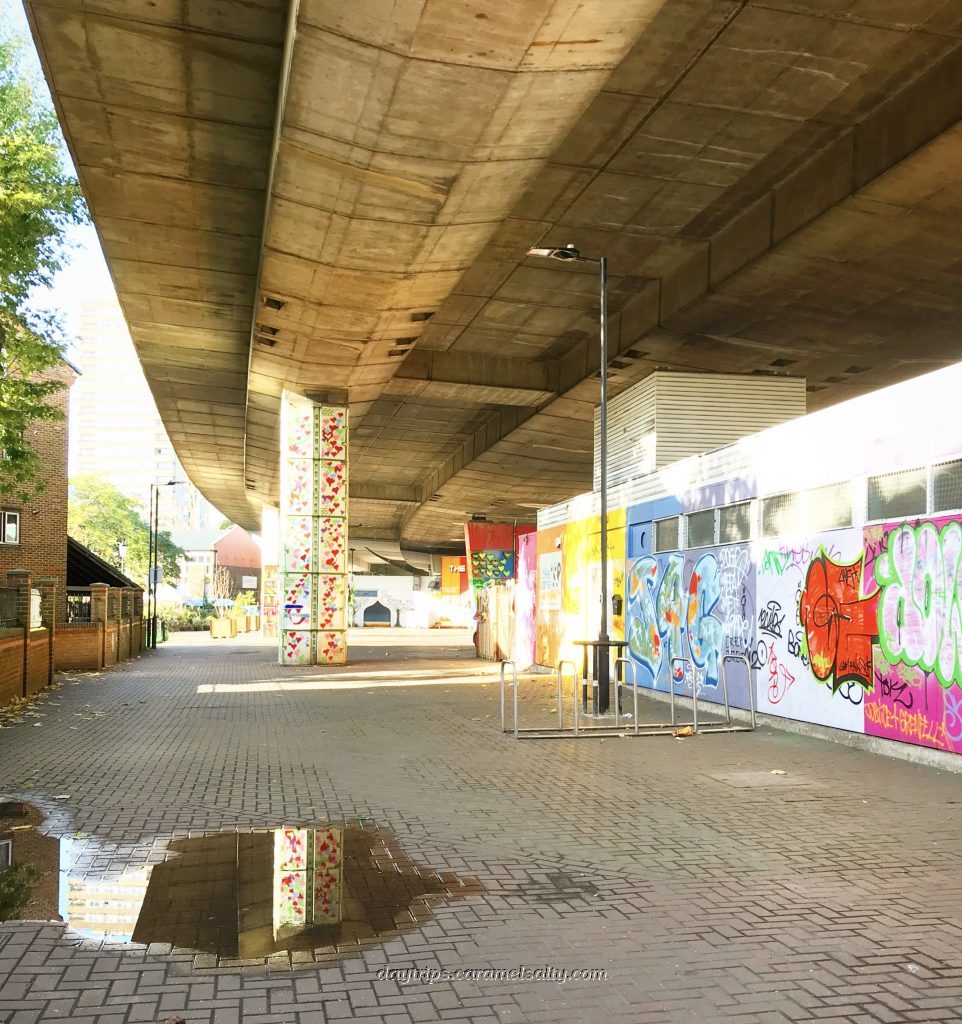 From these incredible archive photos it's clear that the project literally divided communities. Homes were compulsorily purchased, but only if it was in the way. Through roads were converted into cul-de-sacs. Protests would follow, eventually resulting in the North Kensington Amenity Trust (now Westway Trust) taking custody of the 23 acres underneath the motorway with the aim of rebuilding the community. And nothing lifts the soul more than a gaily painted piano, which I play to the rhythm of the rainwater dripping from the trunk road above me.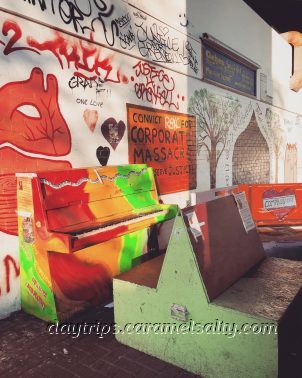 Sports and recreation is squeezed into every nook and corner available. There are 5-a-side football pitches, a full sized football pitch, cricket nets, indoor tennis, outdoor table tennis, playgrounds, a paddock, a swim farm and a climbing wall. Even a couple of gardens are neatly tucked into corners. At the sports cafe, also under the flyover, I pick up a hot bacon bagel languishing by protein pots.
Spaces are also utilised for after school clubs, corner stores, chemists and shops. Units built into the motorway arches are home to businesses and social enterprises. Nearly every surface is covered in bright graffiti, bringing colour to the grey, concrete landscape.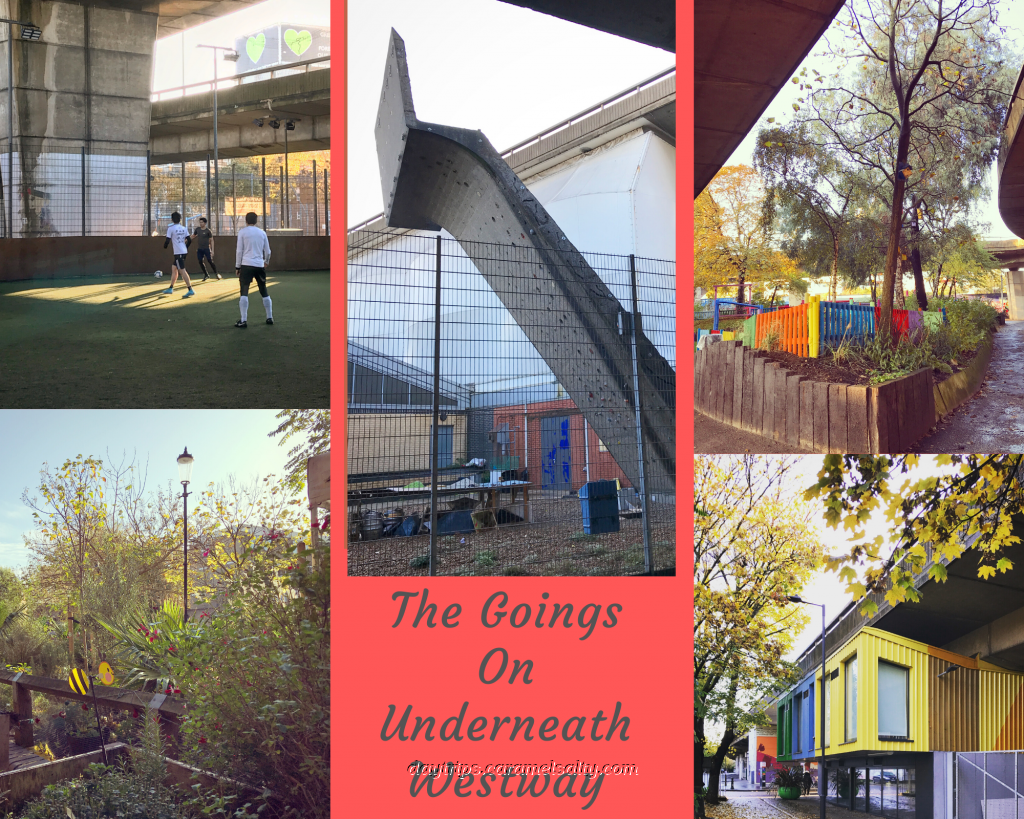 But all this stands in the shadow of another structure built two years after Westway was opened in 1972. From the moment I turned into [3] Lancaster Road earlier, the silent carcass of [4] Grenfell Tower shrouded in white plastic has been in my eyeline constantly. Those terrible TV images in the summer of 2017 of Britain's worse modern disaster are still vivid in my memory.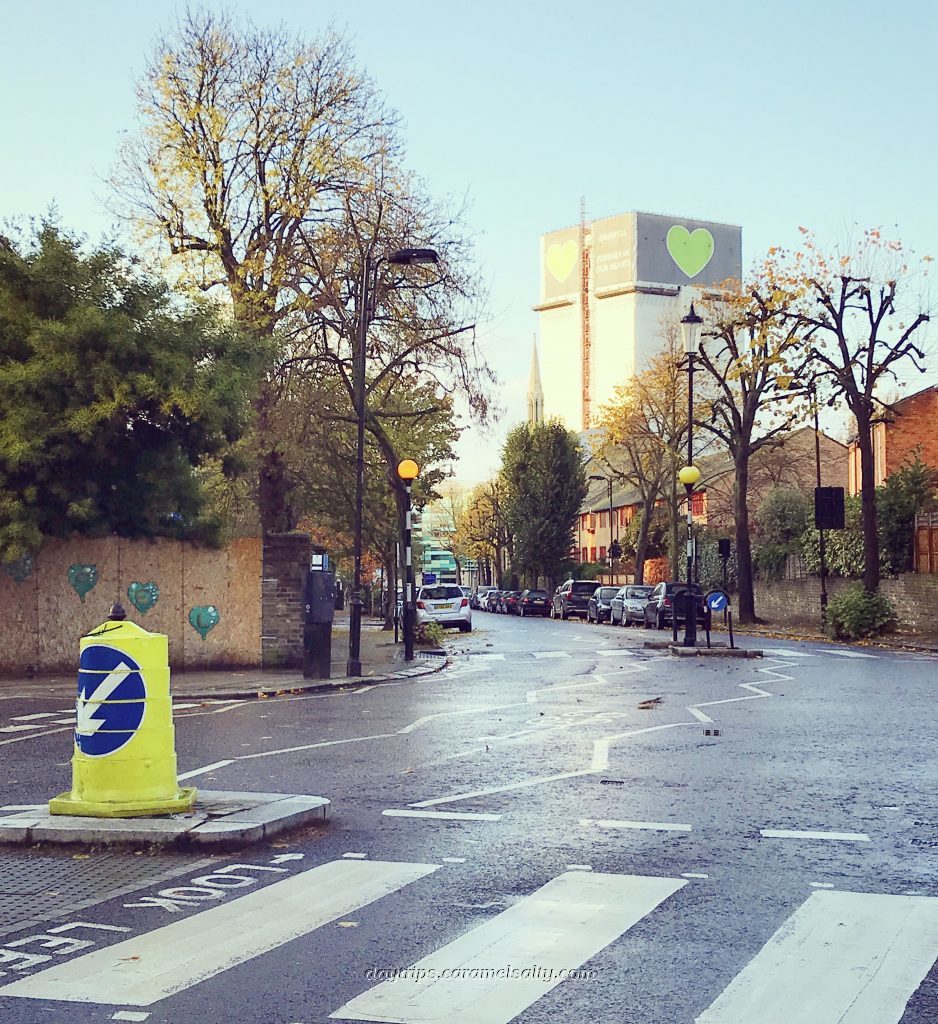 The area under Westway directly behind Grenfell Tower has been turned into a memorial. The most moving one is the wall listing all 72 of the victims. There are hearts everywhere, the symbol of the grief, love and unity of the community. And notable too is the anger vented in writing on these walls.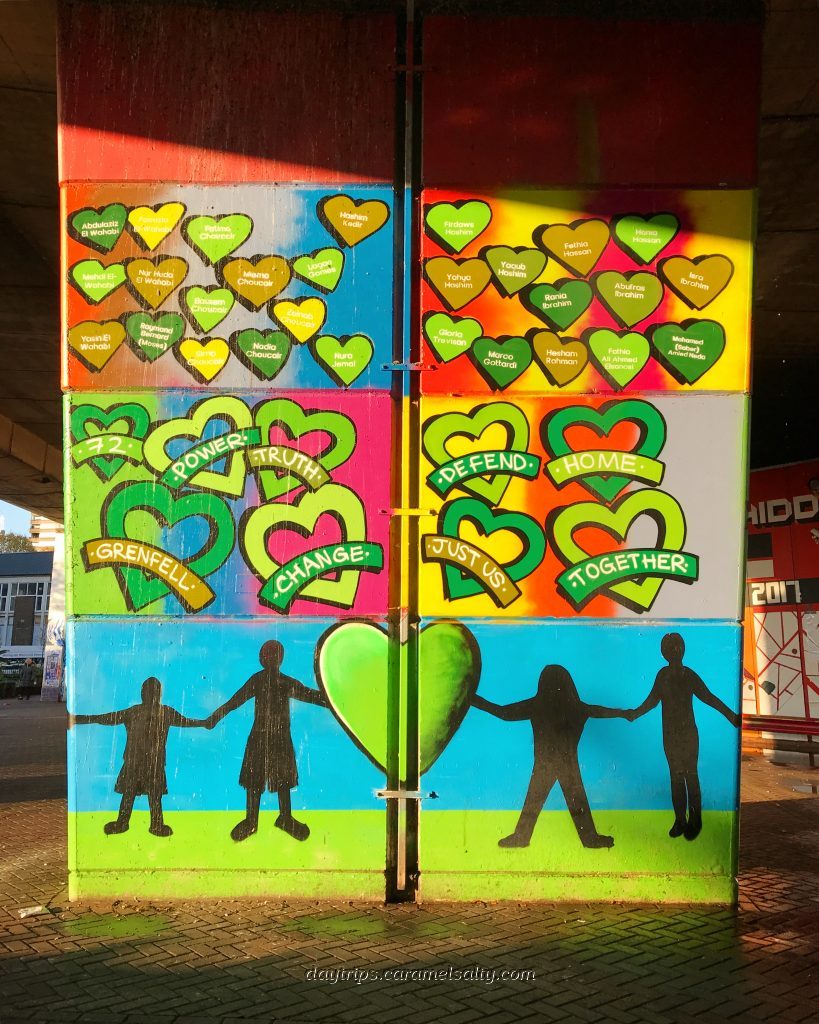 After scanning the tributes, I detour round the back of the football pitches to a little back street with amazing full length murals. As a sexy red Aston Martin reverse parks next to me, I realise that [5] Crowthorne Road is where the neighbourhood lads park up for their Saturday morning footy.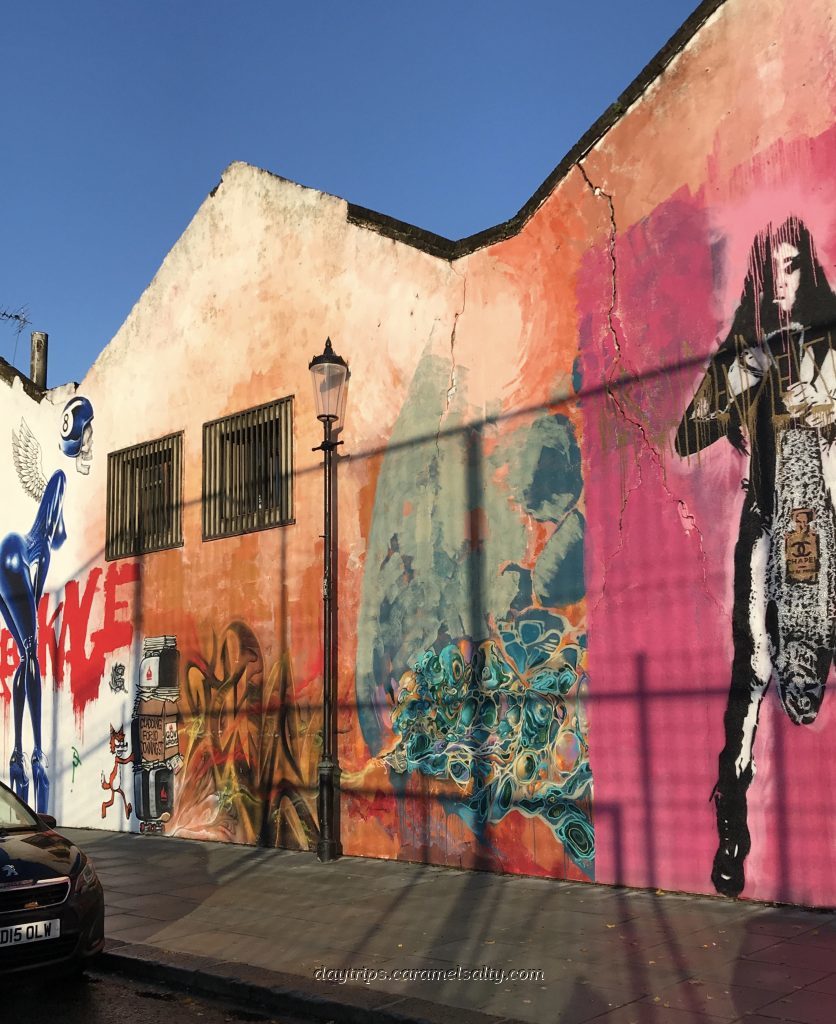 Then it's down [6] Highlever Road, a pretty unremarkable road of modest, expensive red brick semi detaches. That is until I get to a little green where I find a scarlet oak, or rather what's left of it, in a garden that has worn accolades. I make a mental note to return earlier next autumn to see the oak in all its glory as I make my way to [7] Little Wormwood Scrubs recreation ground. The "scrubs" can clearly be seen ringing the green to the north. It is a great place for walking dogs or playing a casual game of rounders. Or even to use the outside gym.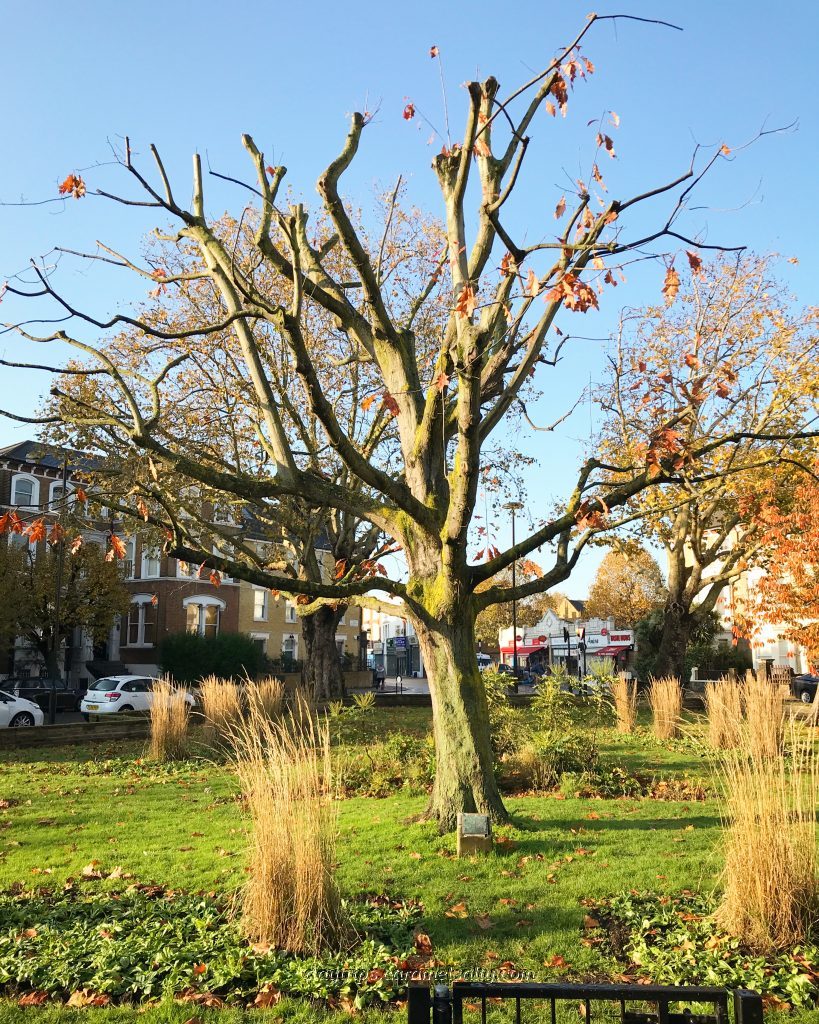 The rest of [8] Wormwood Scrubs lies across [9] Scrubs Lane. In Saxon times it was a large piece of arable land known as Wormholt Wood, which translates to snake woods. The grass snakes have long left as land is used for grazing, duelling, military practice, Queens Park Ranger's ground for a few years, the marathon route for the 1908 London Olympics, and now a Local Nature Reserve. And for something described as scrubs, I actually find it quite stunning in autumn.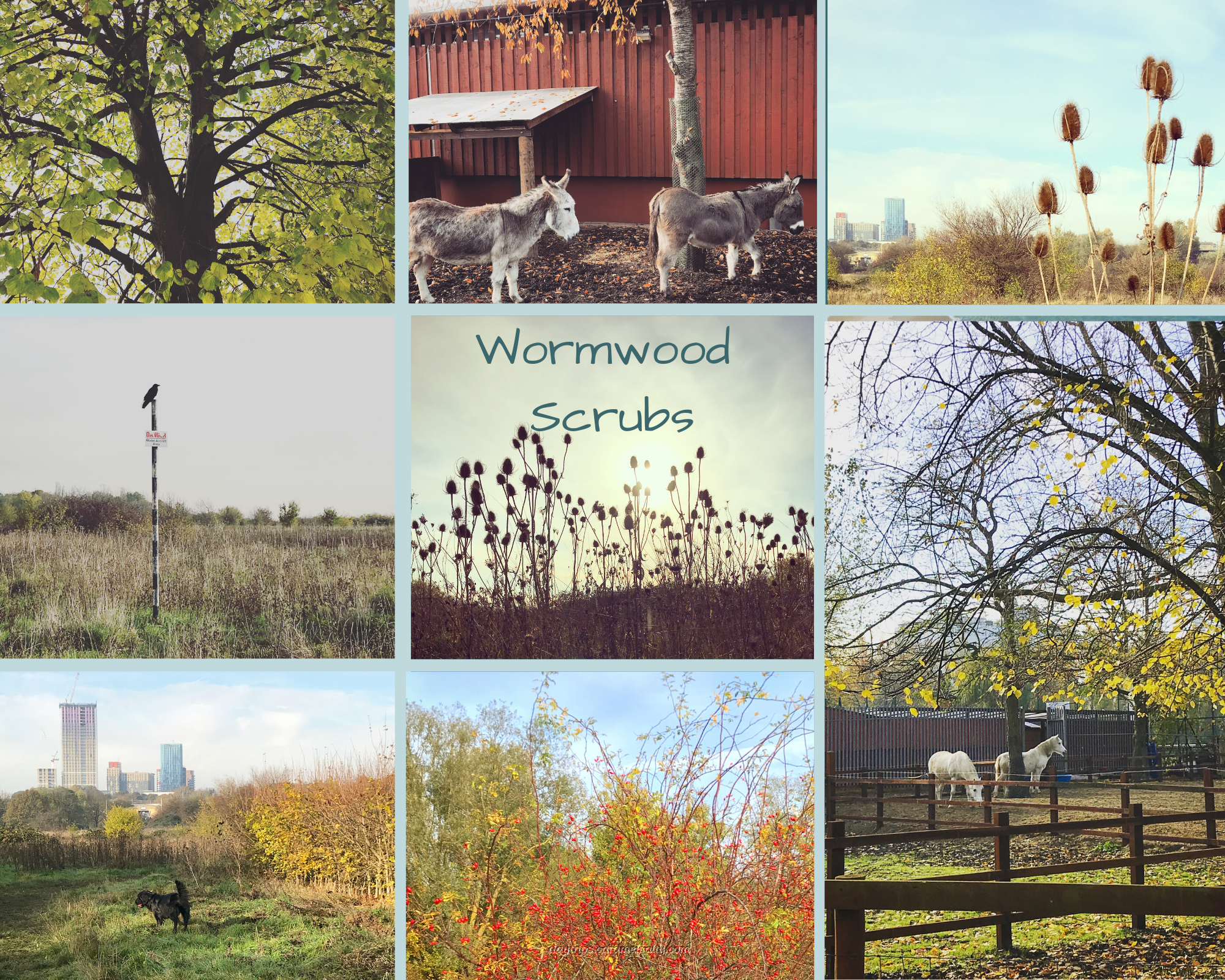 I'm about 200 years too late to revel in the semi naked athletics, gambling and public kissing conducted in the scrubs much to the disgust of the local clergymen. In its place now is the very respectable [10] Linford Christie Sports Centre.
There also happens to be a Grade II listed building on the scrubs. It's the notorious [11] Wormwood Scrubs prison, built using convict labour. Since opening in 1874, it has had a history of riots about poor sanitation and prisoner treatment. And it has a famous escapee – the British spy and double agent George Blake who scrambles over the wall in Oct 1966 to flee to Moscow.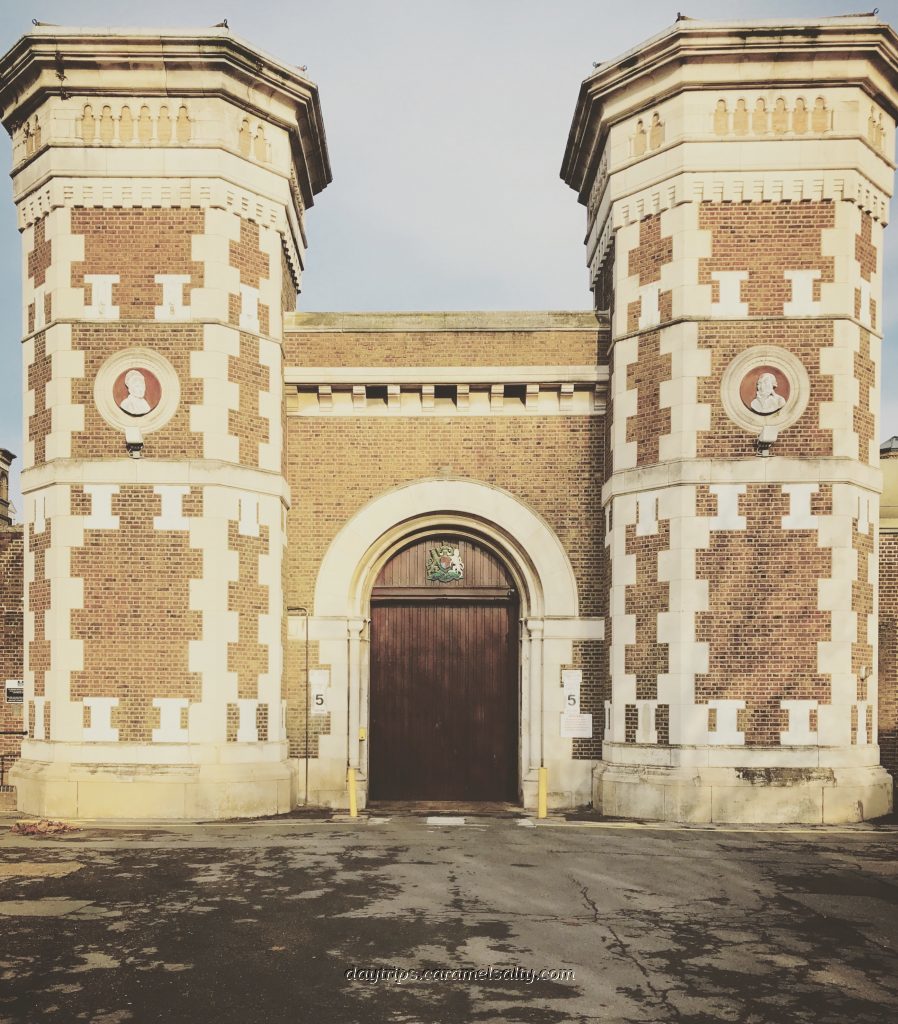 As the largest open space close to central London, the Friends of Wormwood Scrubs are constantly battling rail companies, council and developers to preserve these 200 acres. The friends have a a great history and picture archive to peruse, whilst on foot there's plenty of copses and paddocks and scrub to explore. A must visit is the Lester Embankment. It's named after local birdwatcher Lester Holloway who campaigned to save the scrubs in 1986.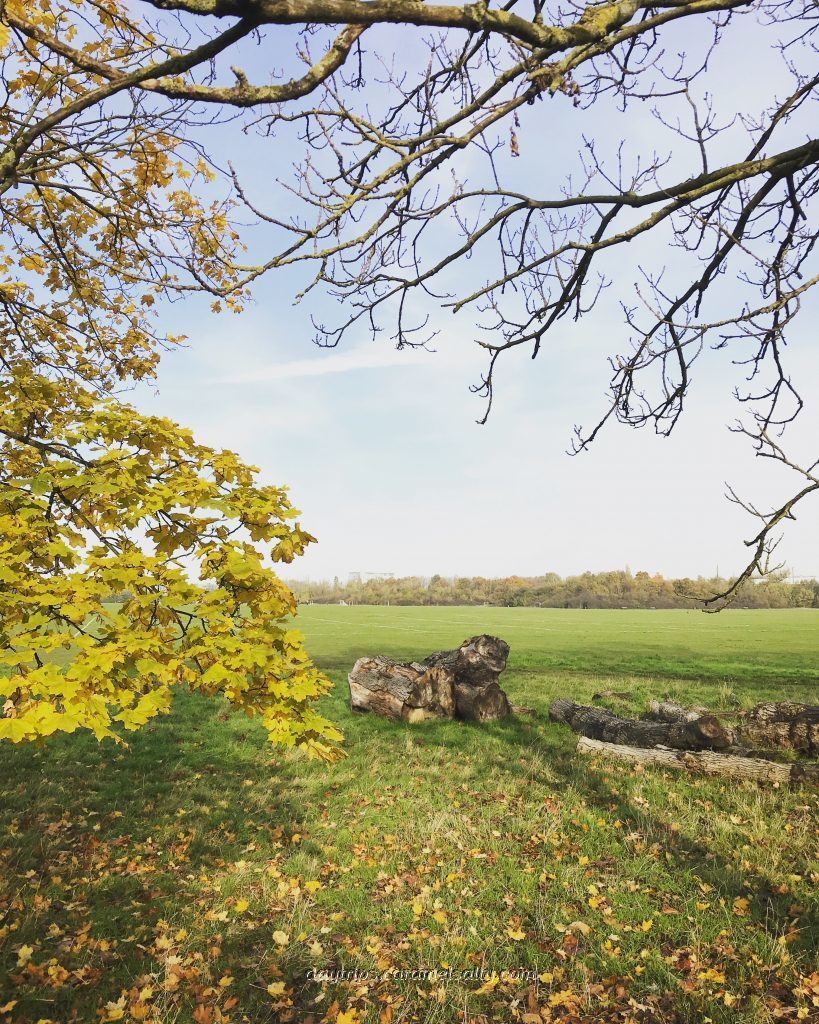 Cutting through the football pitches on Wormwood Scrubs I eventually emerge back onto Scrubs Lane. And then onto a bridge. The landscape, as it so often does in London, completely changes from open green to industrial.
And then I find myself on the very pretty [11] Mitre bridge. Underneath it lies the [12] Grand Union Canal. The canal (1801) and the railway line (1838) also isolated another community, this time the residents of Kensal Green who only had only one public crossing for a long time. I descend the steps of the bridge to the tow path below for the start of my next journey.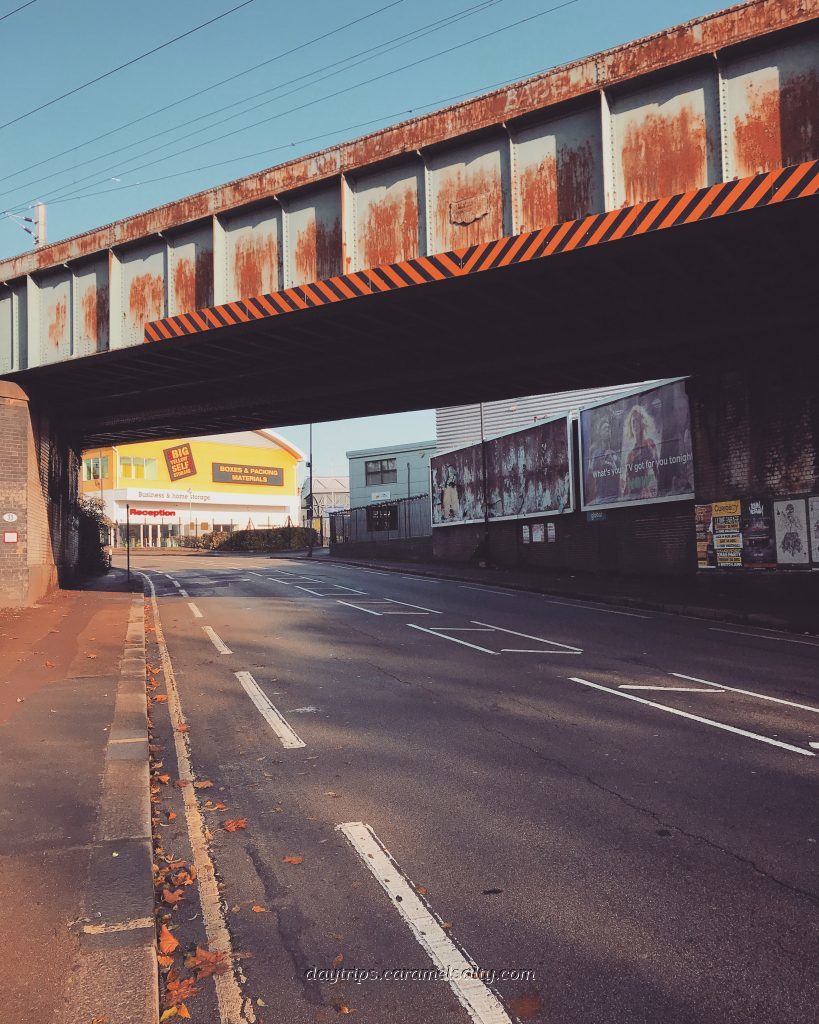 Some Super Tips
Tube Map and City Mapper are free apps that provide London maps, route planner and train/ bus times from your nearest stop.
Transport for London is cashless.
Only Oyster Cards, purchased at stations, or contactless cards are acceptable.
Westway Trust (website) – for a list of facilities
Friends of Wormwood Scrubs (website) – for events or information of how to join them.