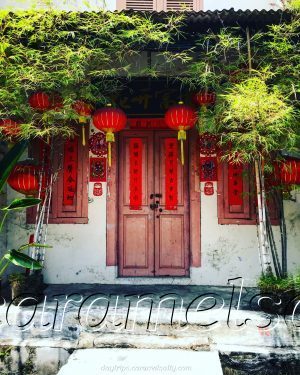 Melaka – Of Heritage Streets, Peranakan Cuisine and Legends
I've left the streets around my hostel for my last morning in Melaka. I have faith that the streets of Melaka can offer up something totally unique from all the other towns and cities in Malaysia. So fingers crossed, here I go ……..
Start of Day- Bottom end of Jonker Walk, Melaka
Cost of Day Out – Cheap (£)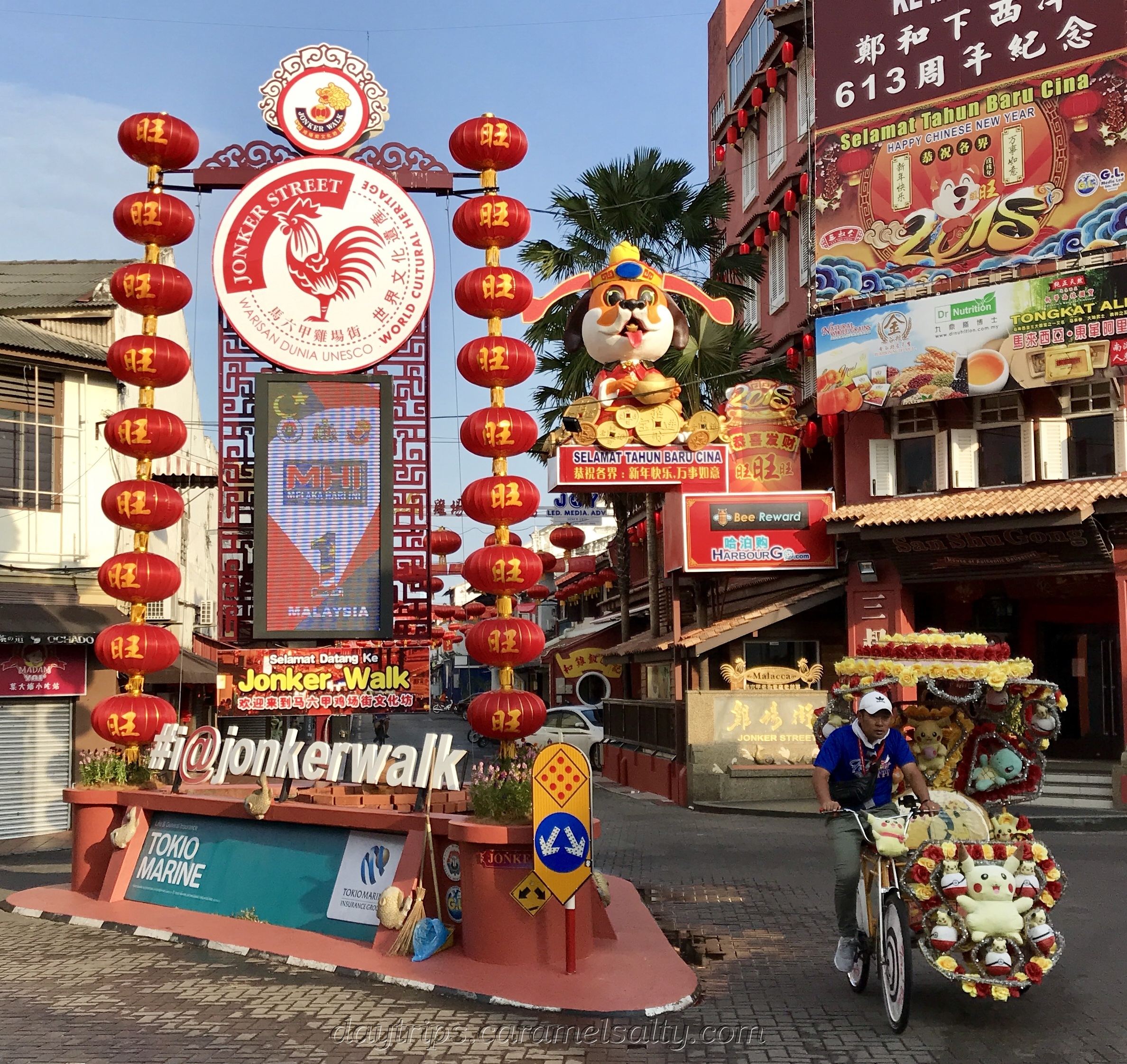 I have no clear plan, and so I randomly head right from the #jongkerwalk sign. It's my lucky morning when I stumble across [1] Sayyid Antique and Cafe. Feeling decidedly youthful in relation to the objects I am sat amongst, I order the traditional Malay breakfast of Nasi Lemak. It is served simply, with matching old fashioned prices.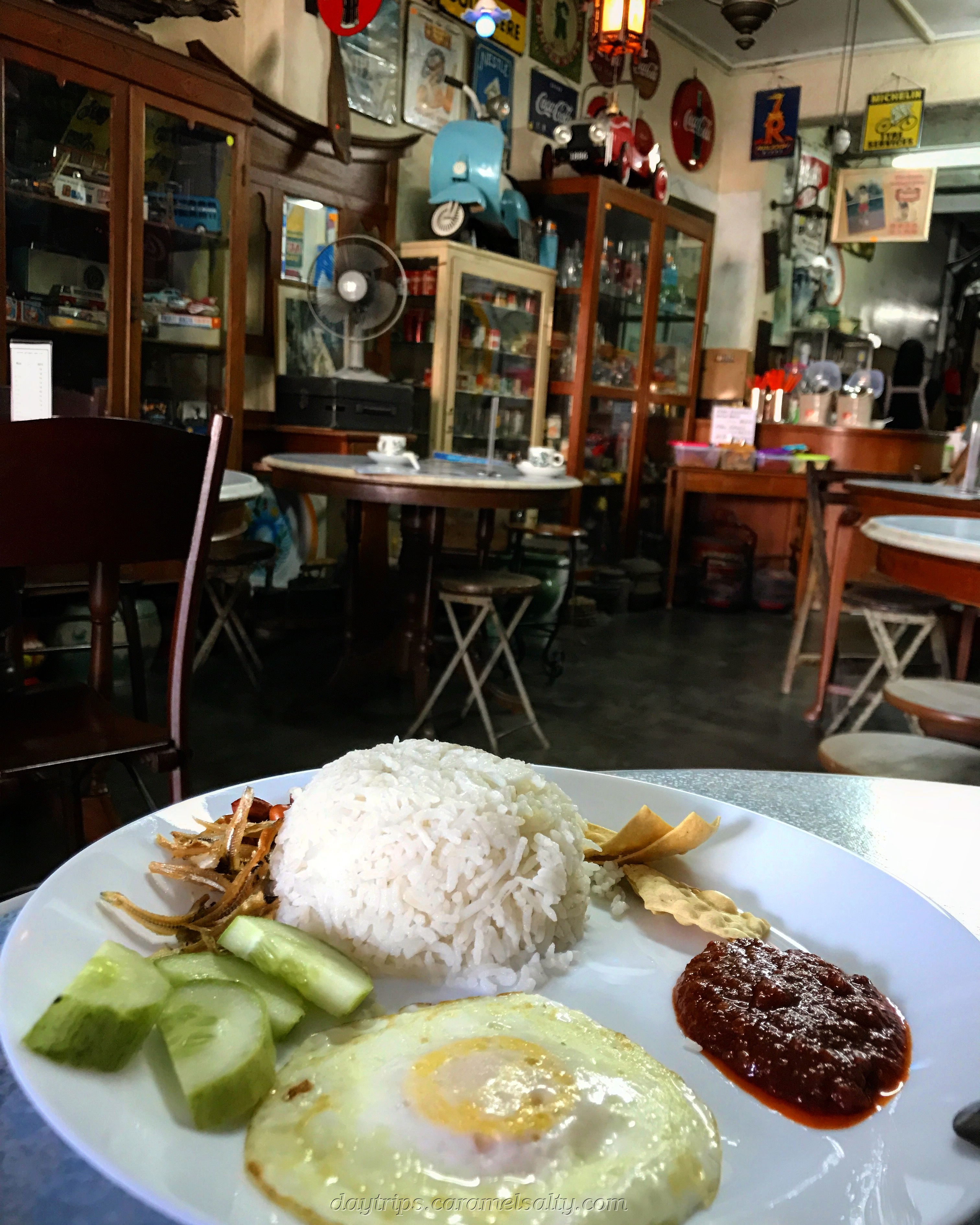 I'm having breakfast on Jalan Hang Jebat, named after one of Melaka's Famous Five. Long before Enid Blyton publishes her adventures of five friends, there were 5 good friends and legendary warriors in Melaka. Their service under Sultan Mansur Shah (1459-1477) is nothing short of an epic tale of bravery, skullduggery and loyalty.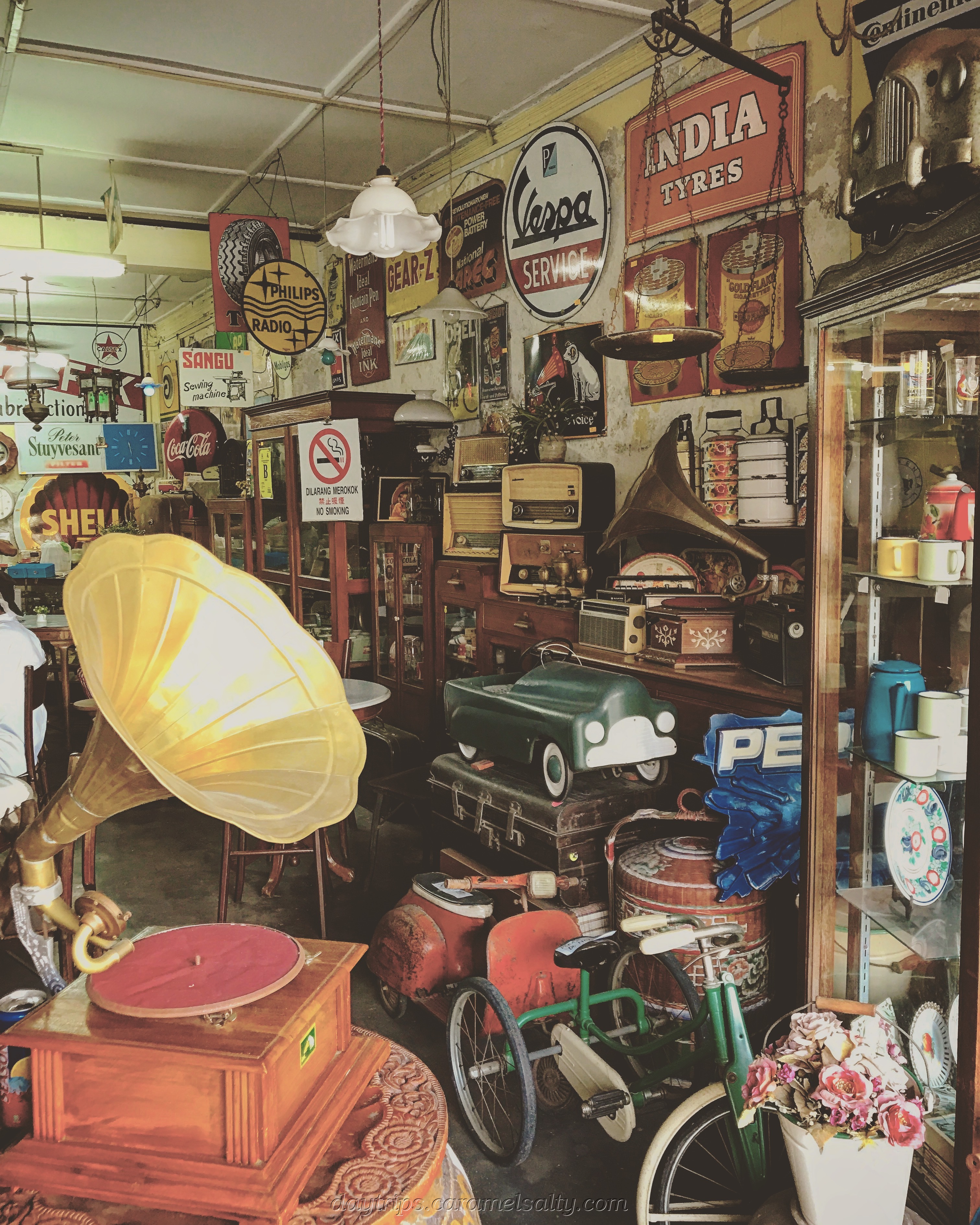 Given their fame in Melaka folklore, it's no surprise that [2] Hang Jebat's mausoleum is just up the road along [3] Jalan Kampung Kuli. The street itself is named for the Chinese and Indian coolies working the port and plantations in Melaka. Thankfully, this street still feels laidback and free of tourists. Let's hope it stays that way.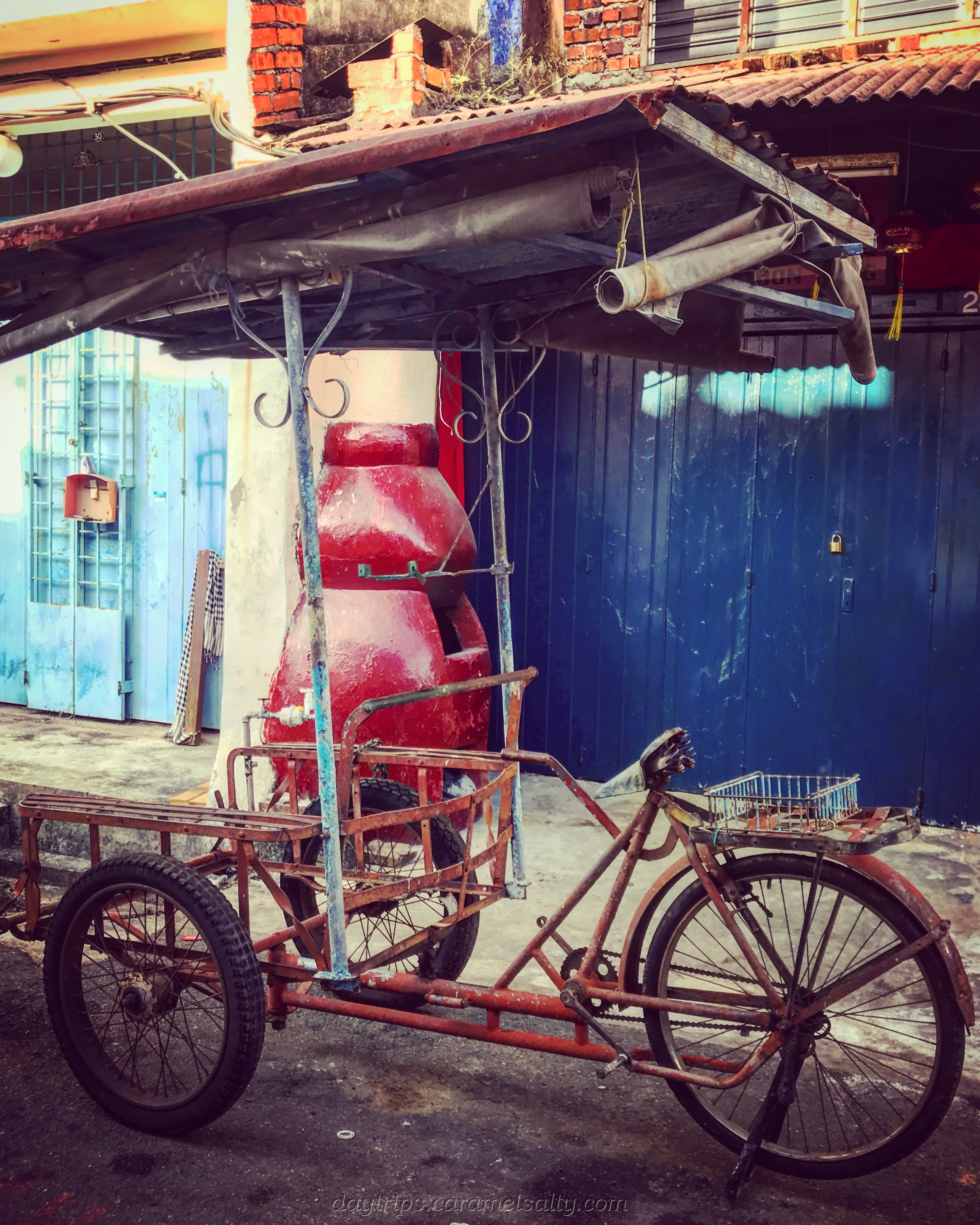 At Hang Jebat's mausoleum, I read about his tumultuous death.  Whilst the version here states that his executor is Hang Tuah, whom Hang Jebat is actually trying to avenge, other versions suggest that it's Hang Kasturi who kills him. Rather ironic therefore, that Hang Jebat's mausoleum is located close to the intersection of Jalan Hang Kasturi. In return, [3] Hang Kasturi's mausoleum, which I visit later, is on Jalan Hang Jebat.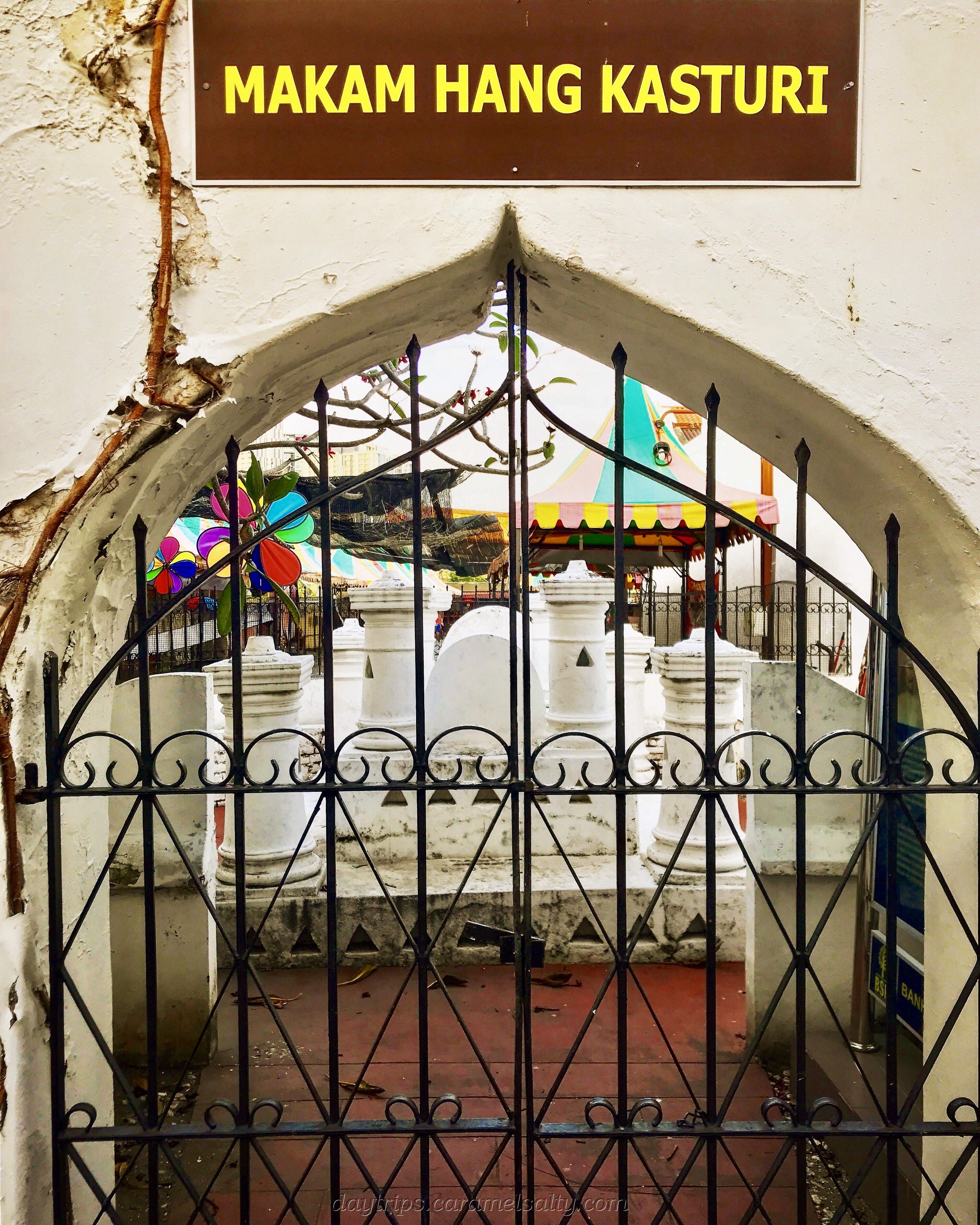 Jalan Hang Kasturi marks the border of Malacca's tourist gentrification. Buildings are being renovated to reap their potential to bed or feed tourists. Ahead of me, restaurants and hostels come into view.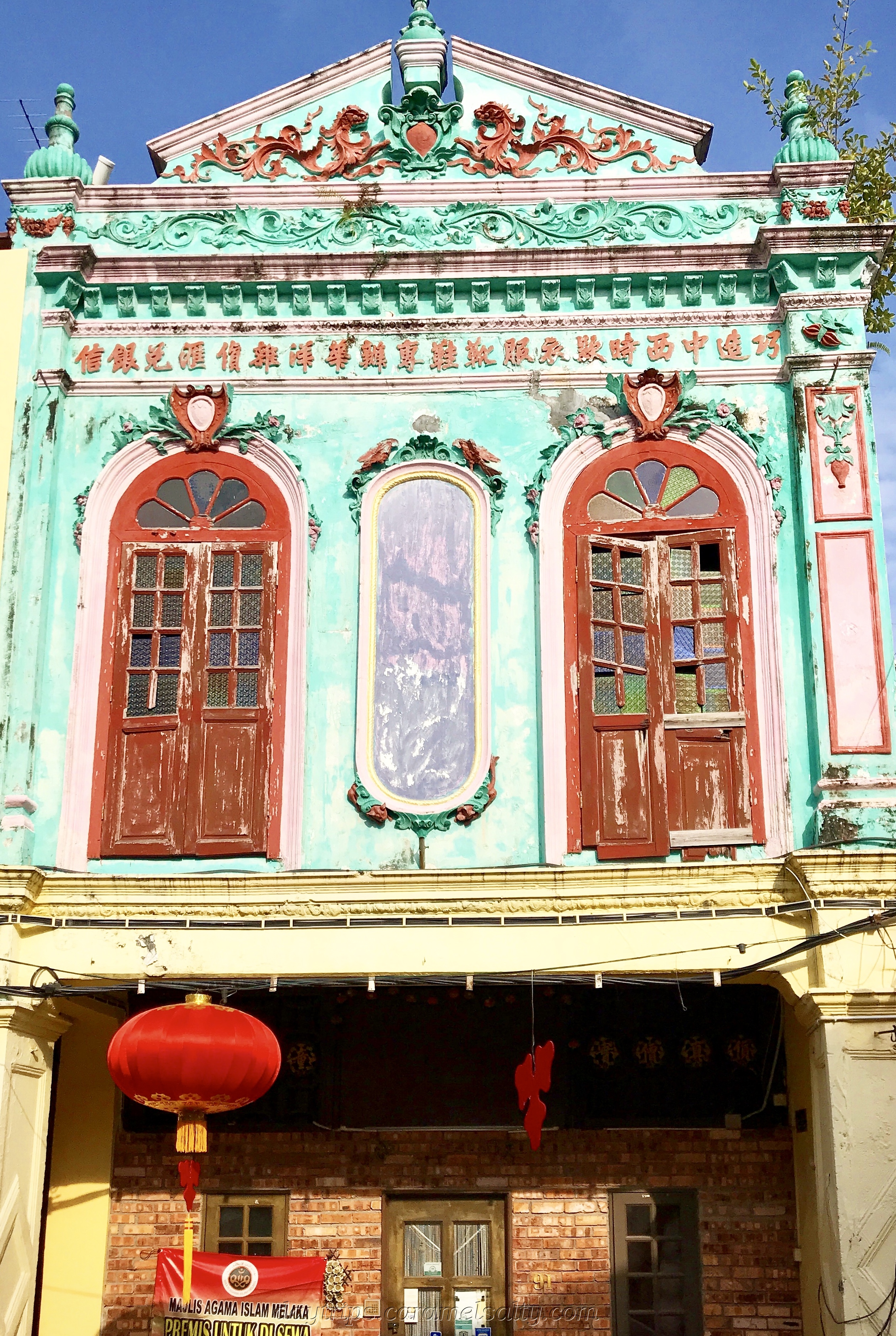 As I head along Jalan Hang Kasturi to Jalan Tokong Besi, I spy a little [4] back alley filled with murals. A wonderful distraction. A great display of local talent.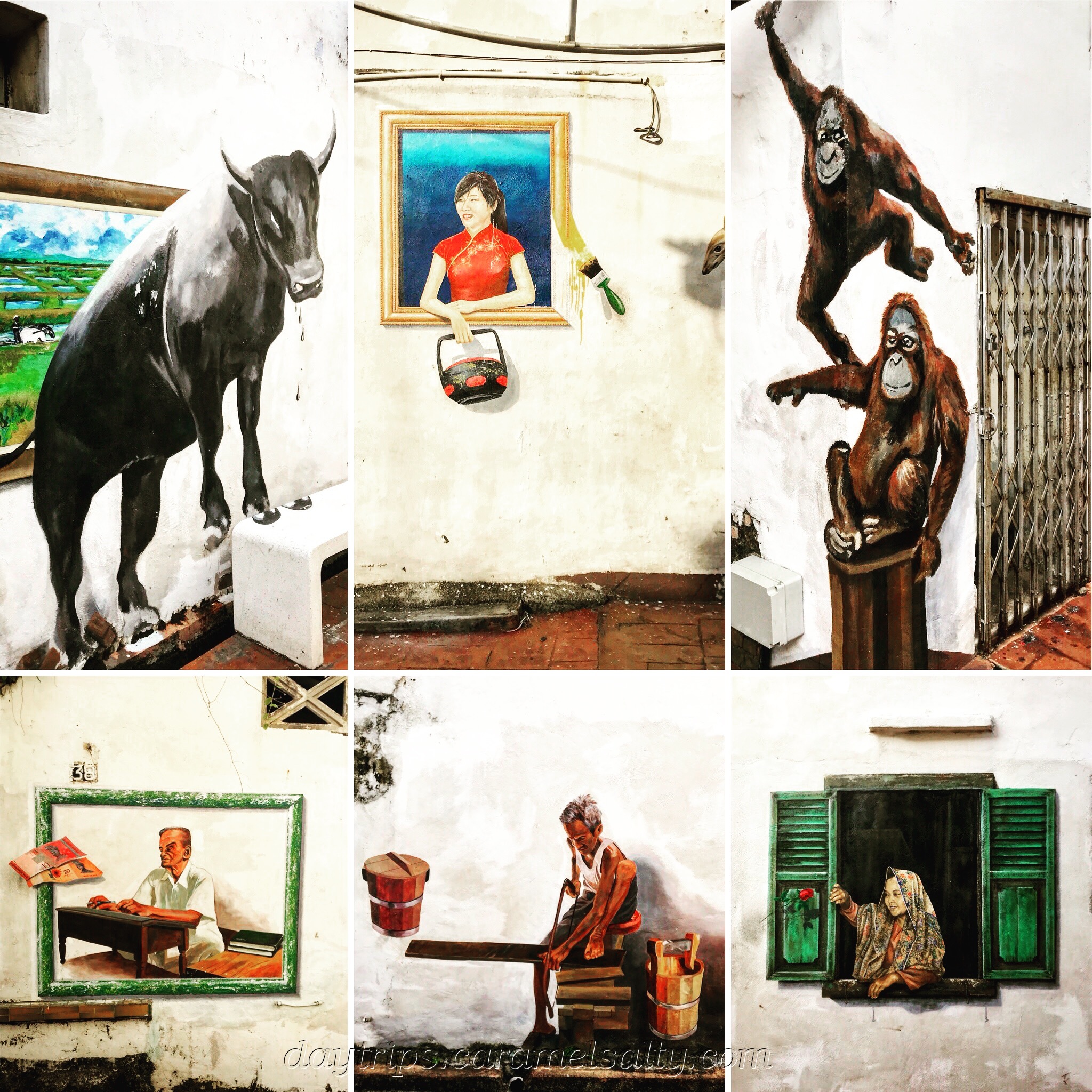 Next its the petite, but beautiful [5] Sam Toh Kong (1795). From it's Chinese website, I gather (thank you Google translate!) that it was built for the Fujian Chinese migrants. From the trickle arriving though trade, their numbers swell in the 18th century as they flee the destabilising Qing dynasty (1636-1912). Sam Toh Kong translates to the Three More Temple. Apparently it's a blessing for many children.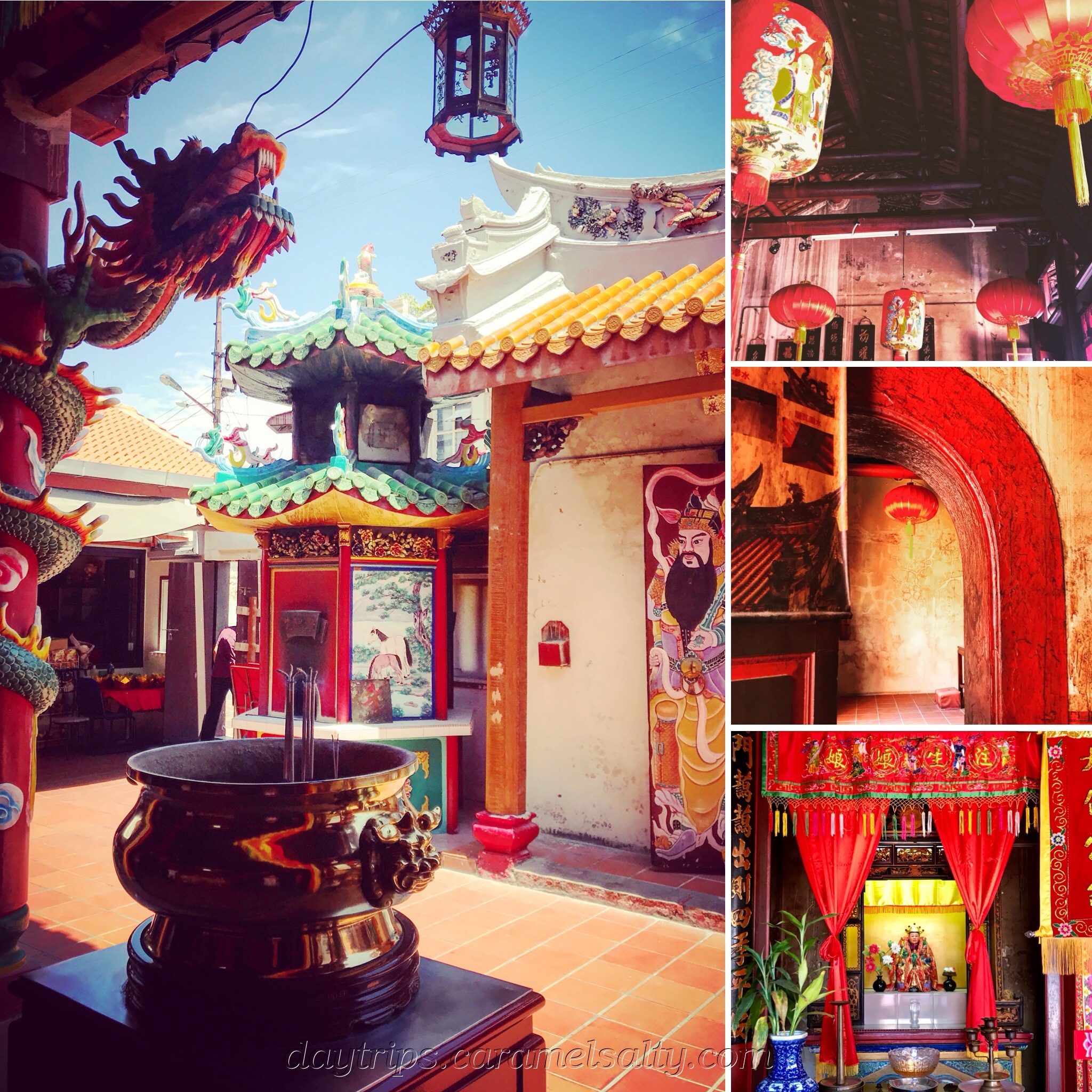 A few steps away, is the [6] Sri Poyyatha Vinayagar Moorthi Temple (1781) dedicated to Ganesh, the elephant god by the Chitty Tamils who arrive in Malacca  during the Malay Sultanate (1400- 1511). They assimilate into the community here, developing their own localised version of Tamil. Not dissimilar to the story of Hang Li Po and her entourage, from my visit to Bukit Cina.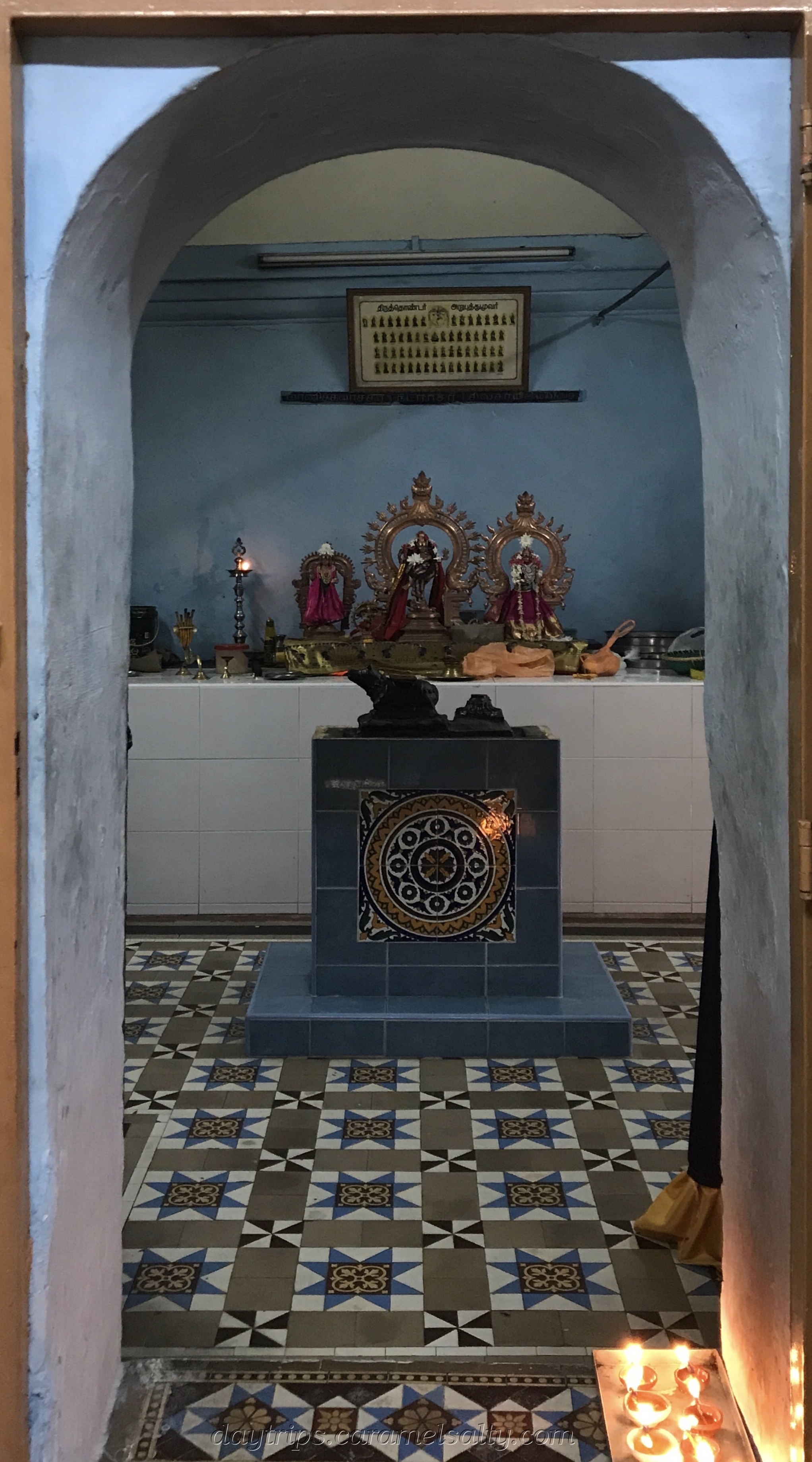 It's no wonder this street is known as Harmony Street. [7] Masjid Kampong Kling (1748) is only just up the road. Built where the Muslim Indians (the Kelings) from South India settle, its style of architecture with a pagoda like minaret, English and Portugese decorative tiles and a fountained ablution pool, is unusual for a mosque.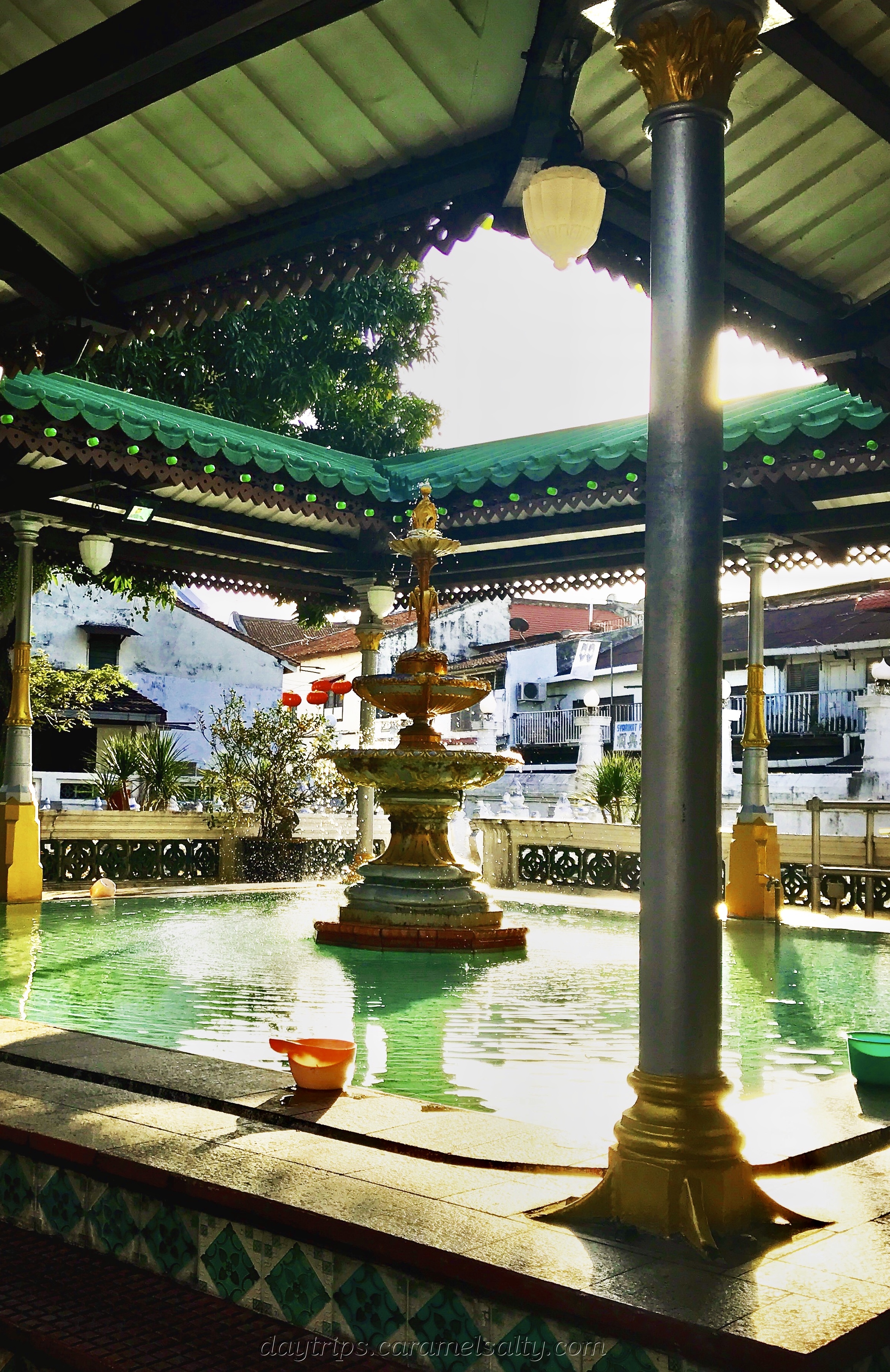 Further along, is the [8] Cheng Hoon Teng temple (1646), Malaysia's oldest Chinese temple. Dedicated to Kuan Yin, the goddess of Mercy, its literal translation is the Green Clouds Temple.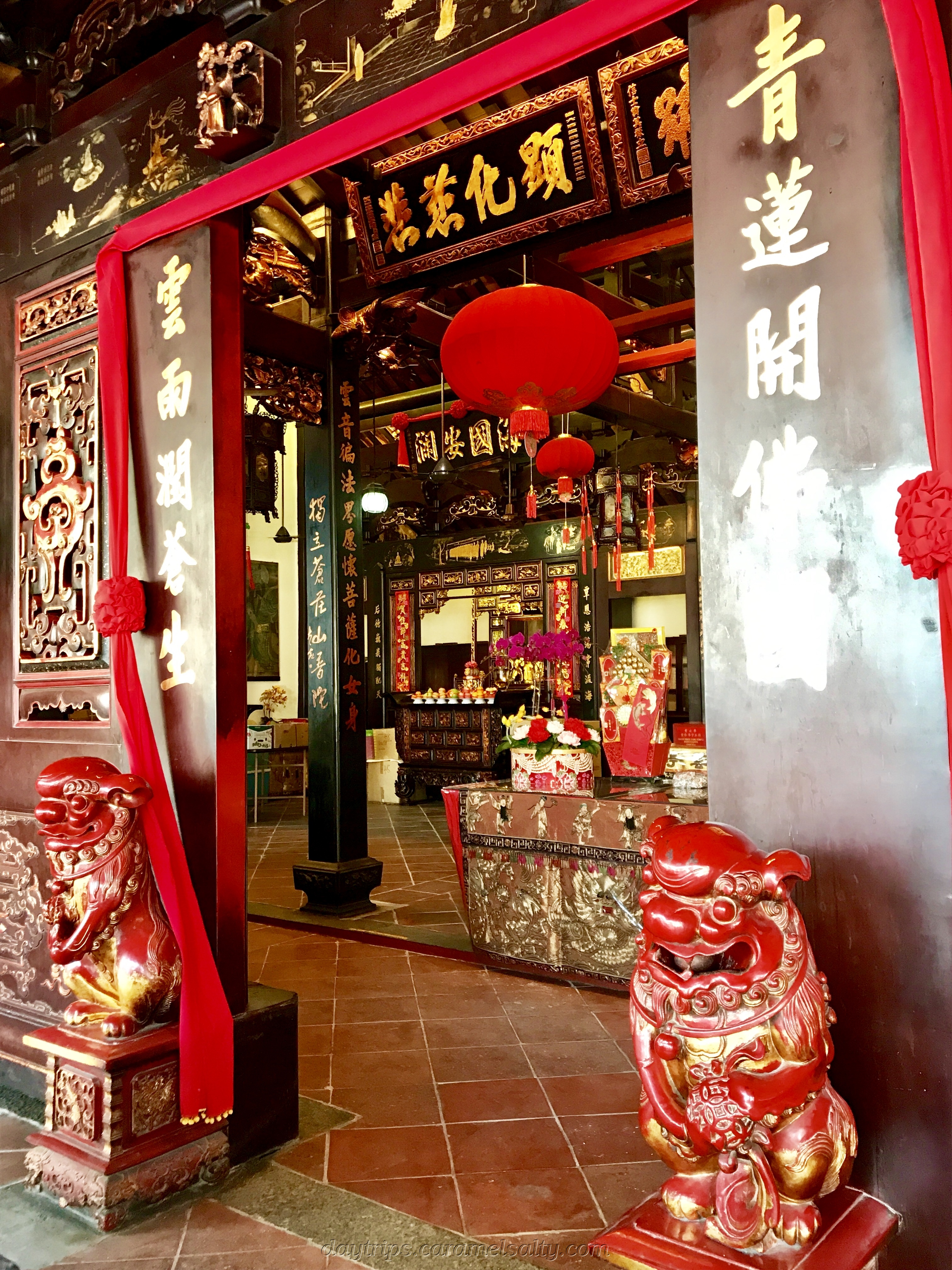 The streets are festooned with red Chinese lanterns for Chinese New Year. But at the top of Jalan Tokong Besi, the red lanterns give way to yellow pineapple lanterns. This is no accident. Under these "pineapples" are several [9] shops selling pineapple tarts.  These irresistible tarts are a result of a most happy marriage of Portugese pastry making, abundant local pineapples and innovative Peranakan cooks.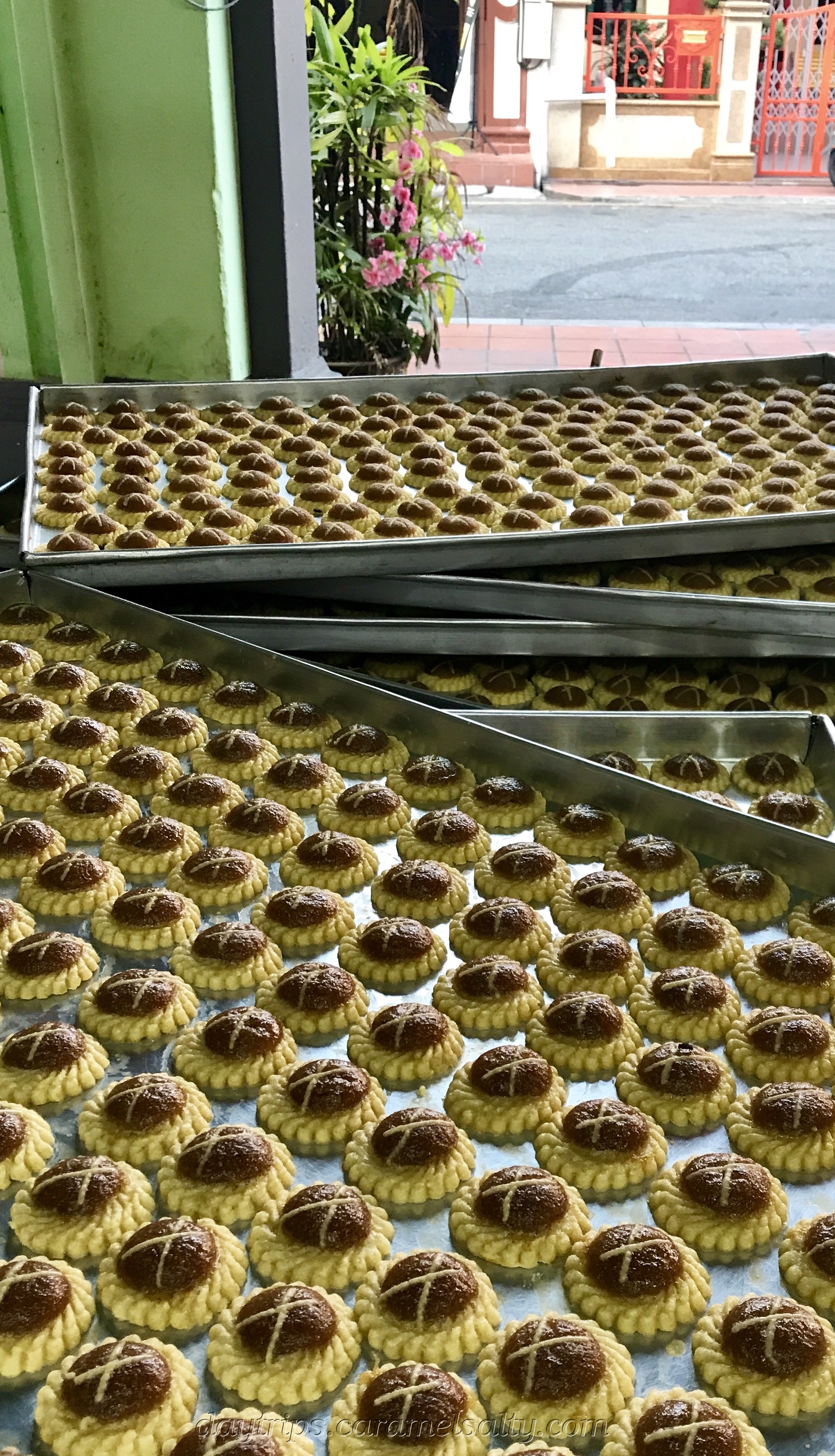 Two boxes of jam tarts safely tucked in my bag, I walk down [10] Jonker Walk, or Hang Jebat Road.  When the Dutch arrive, they call it Bruggestraat (Bridge Street), as it bridged the river to the Dutch Square. The Dutch order that all Portugese timber and tiled roofed buildings are replaced with brick and clay ones, to prevent fires of course. It has nothing to do with the Dutch monopoly over the brick and clay industry in Melaka. Anyone unable to do so has to move out.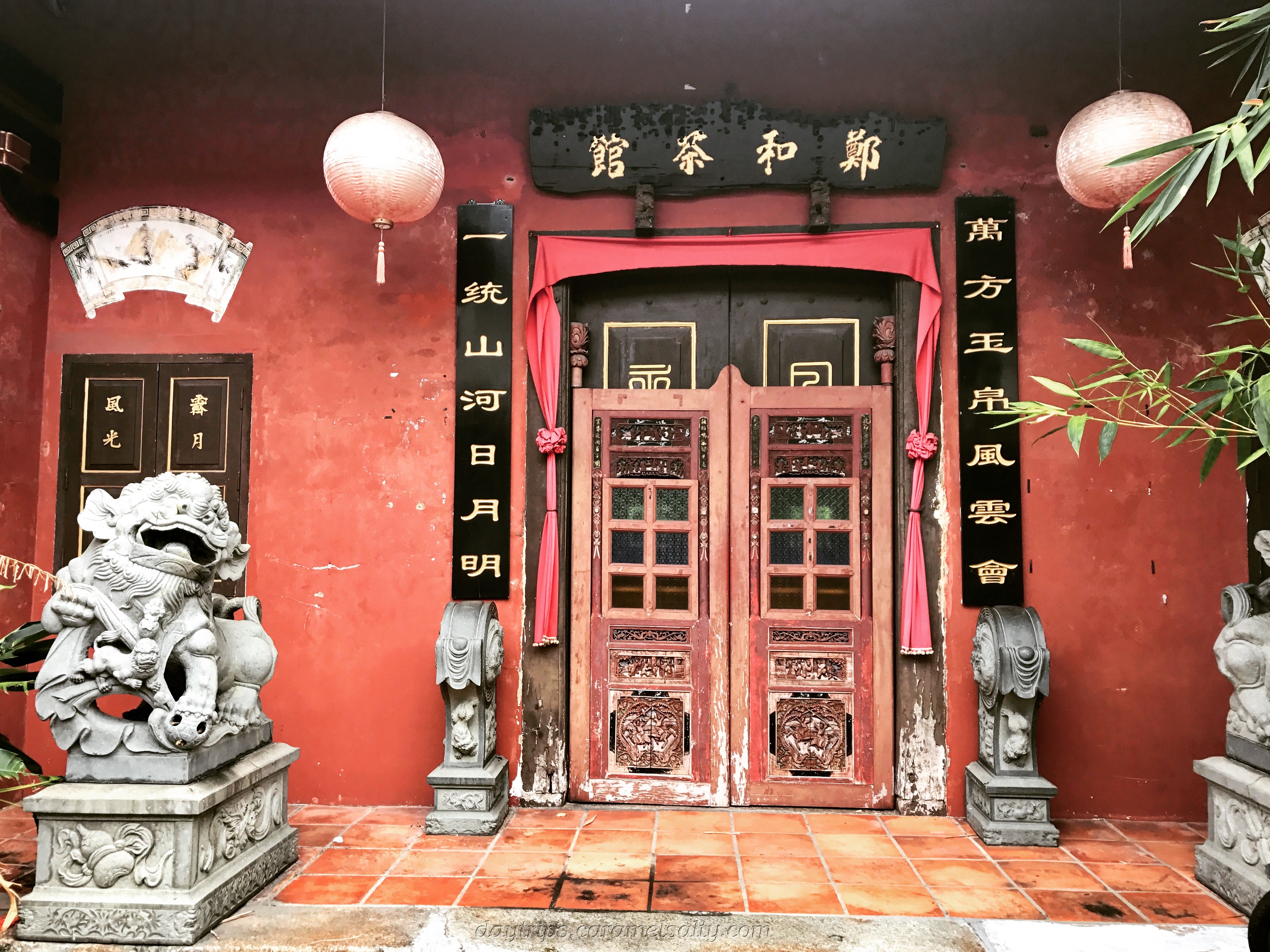 So that explains a couple of things for me. The lack of buildings from the Portugese era, and how this policy gentrifies this area for it to be named Jonker Straat (Noblemen's Street). Today it has morphed into food heaven. With the distinct aroma of durian (a love -it or hate-it fruit) in the air, I follow my nose to [11] Tastes Better, a shop specialising in durian treats. Heaven can't get any better than a delectable durian ice cream.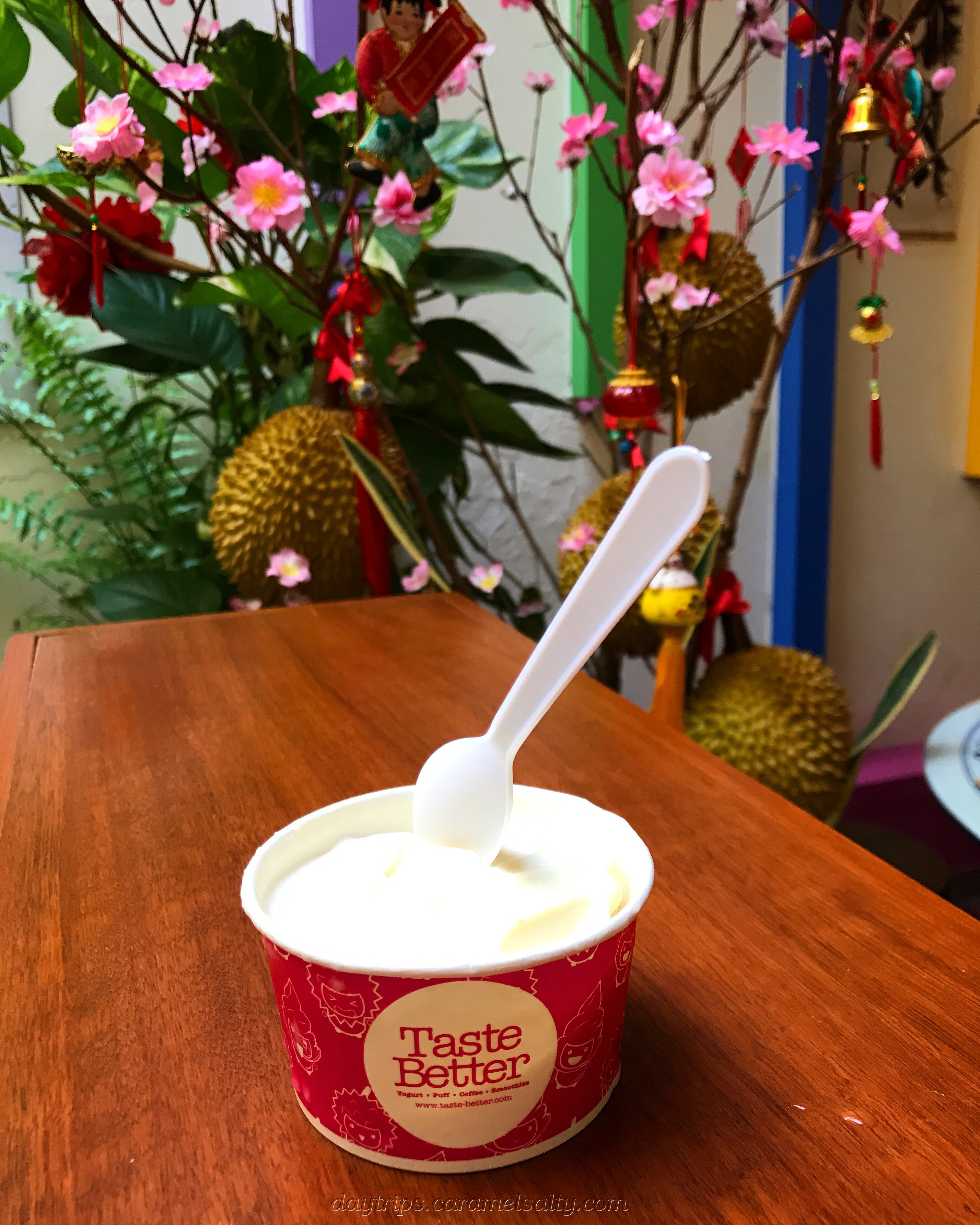 Now for [11] Jalan Tun Tan Cheng Lock. Many guest houses on this street are called Heeren, Dutch for gentlemen. It rightfully earns the nickname Millionaires Road when I read about the properties here and the who's who list of past residents. I think it is has some of the most aesthetically pleasing architecture and walkways in Melaka.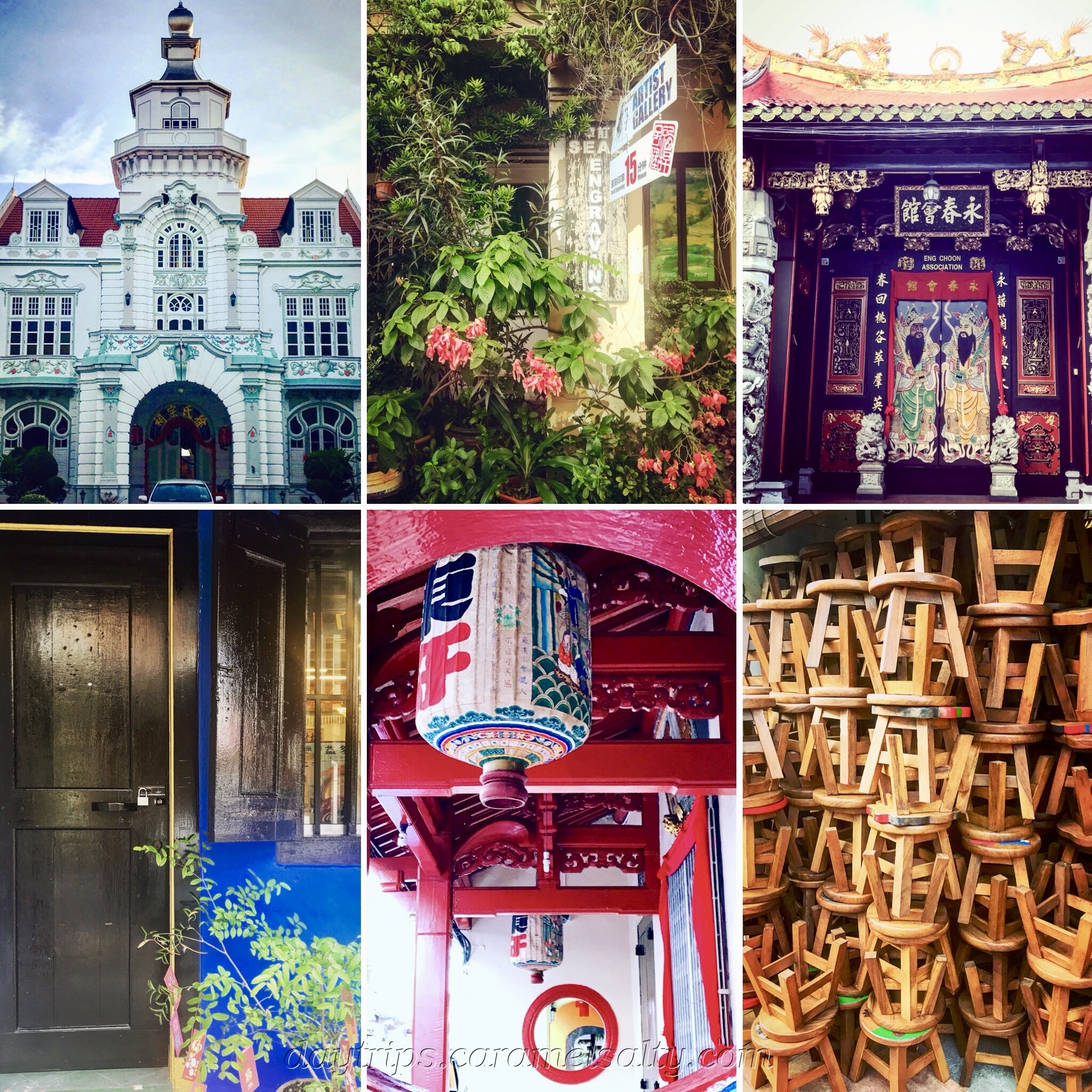 Many of these grand properties have now been converted to museums. I have time to visit the [12]Pernakan Museum. The tour is given by a young Baba Nyonya, who very proudly, and entertainingly,  explains the origins of the Peranakan Community.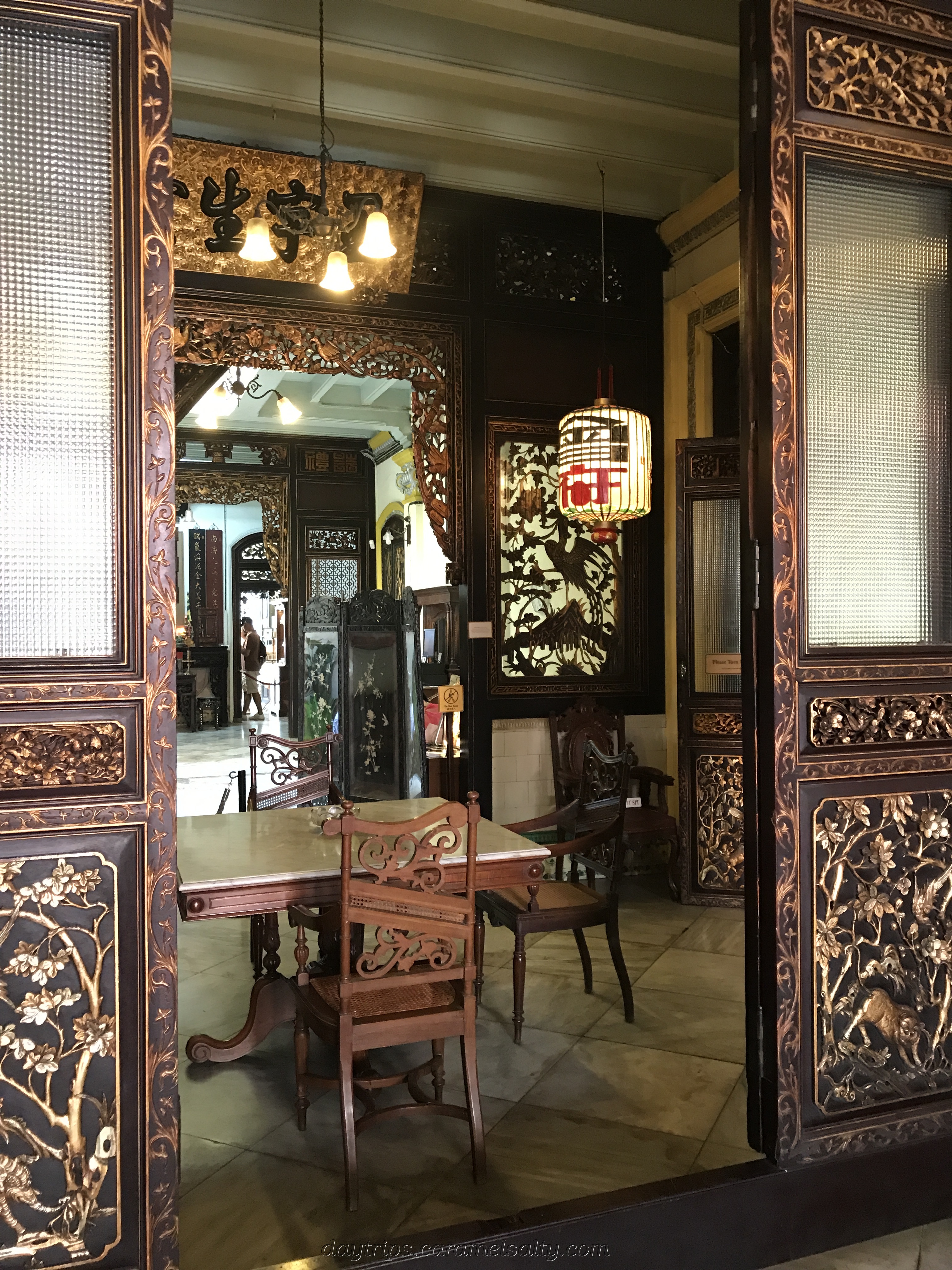 It's lunch time. Given my calorie busting day to date, I decide I may as well go the whole hog, so to speak. Lunch is at [12] Calanthe Art Cafe, where I have their speciality laksa. It's creamy, it's spicy, it's slurpy,  it's delicious.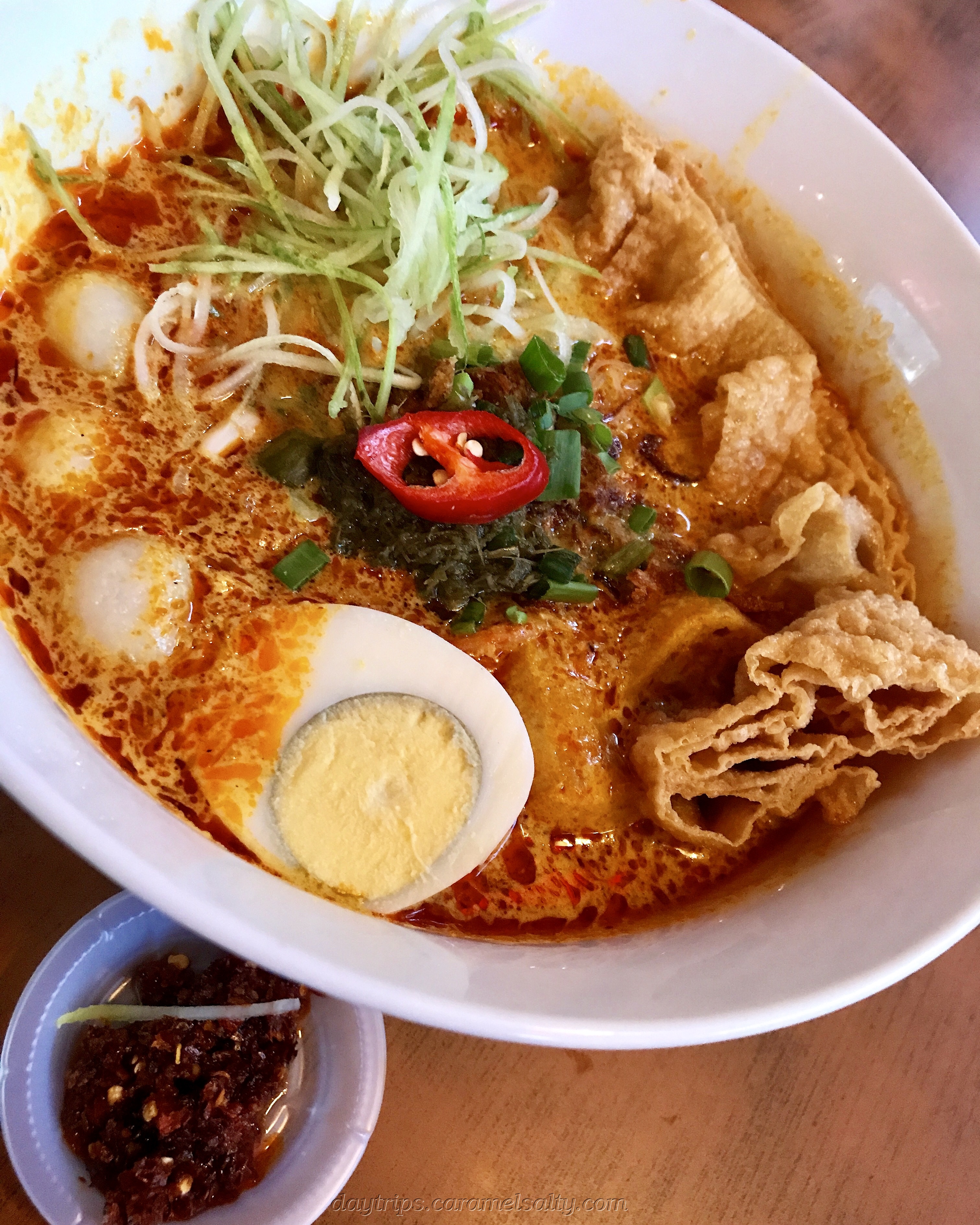 I need to walk lunch off. Back to the bottom half of Lorong Tokong Besi I go, to find amongst other things, the ape mural I saw from the boat yesterday.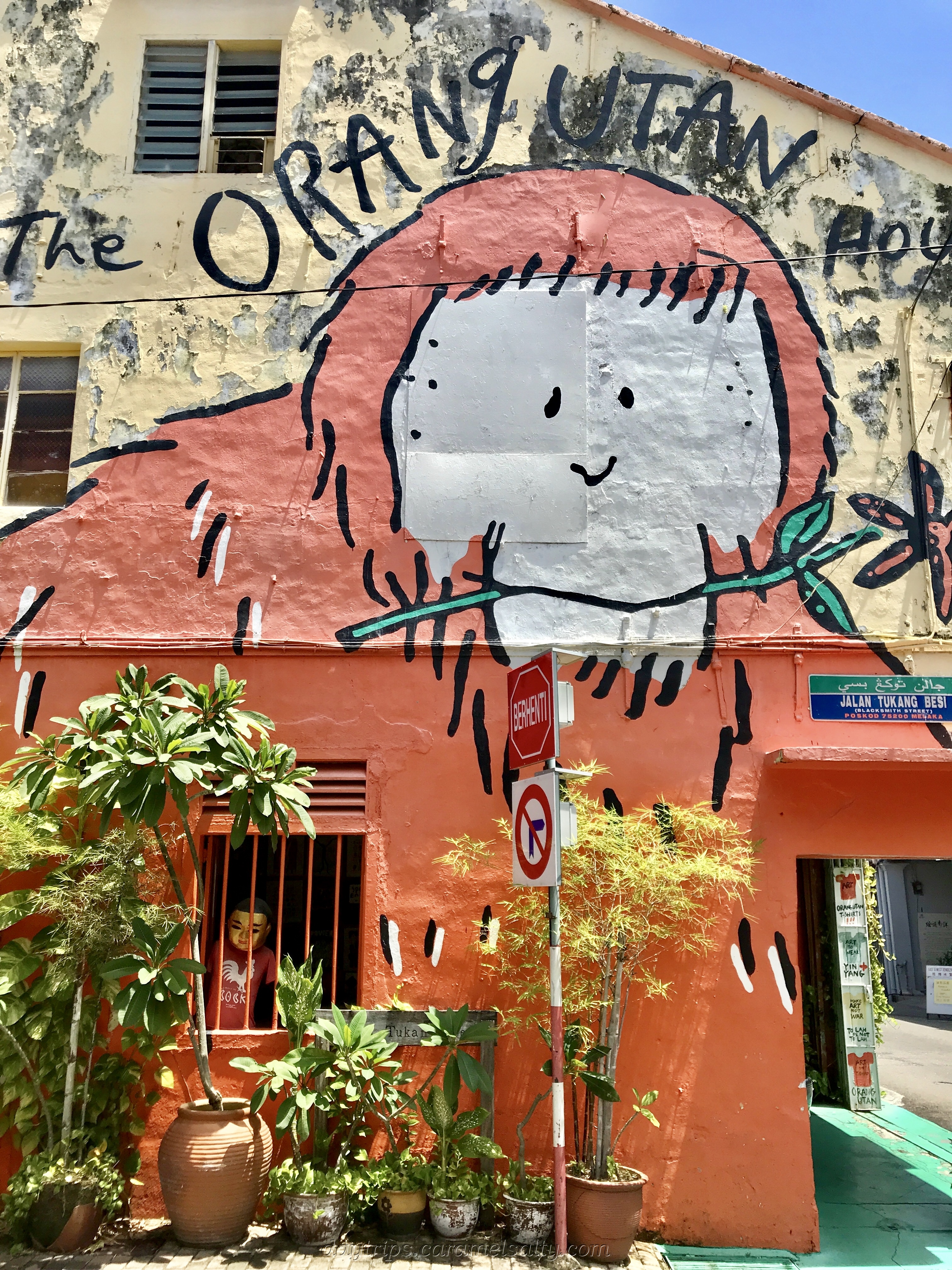 Having two hours to kill before my bus back, I head towards the Melaka Riverwalk, for some refreshments.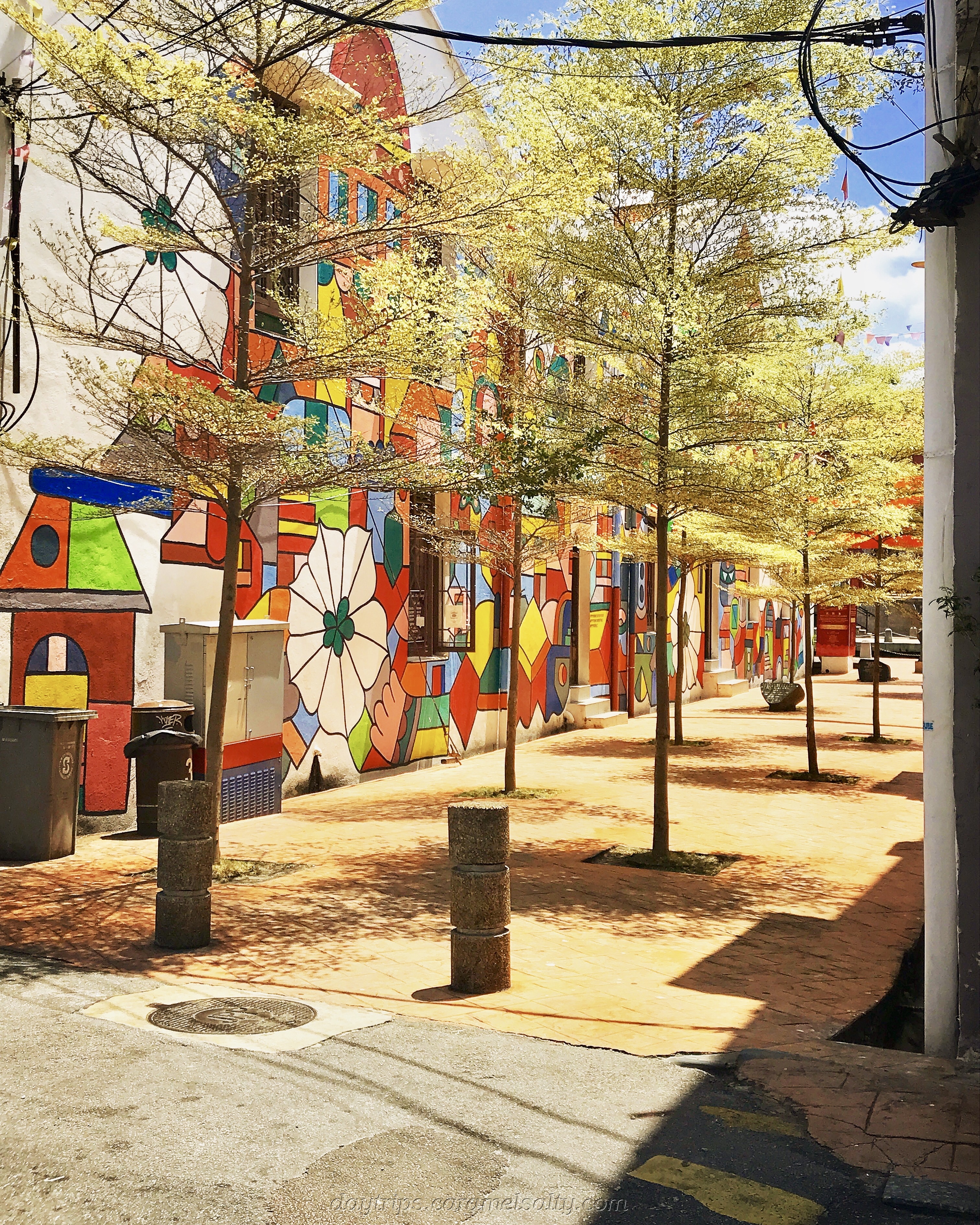 I find a friendly, cheap bar, before gratefully sinking into some shade by the sun dappled river. My cold beer turns up. A perfect end to a calorie filled day.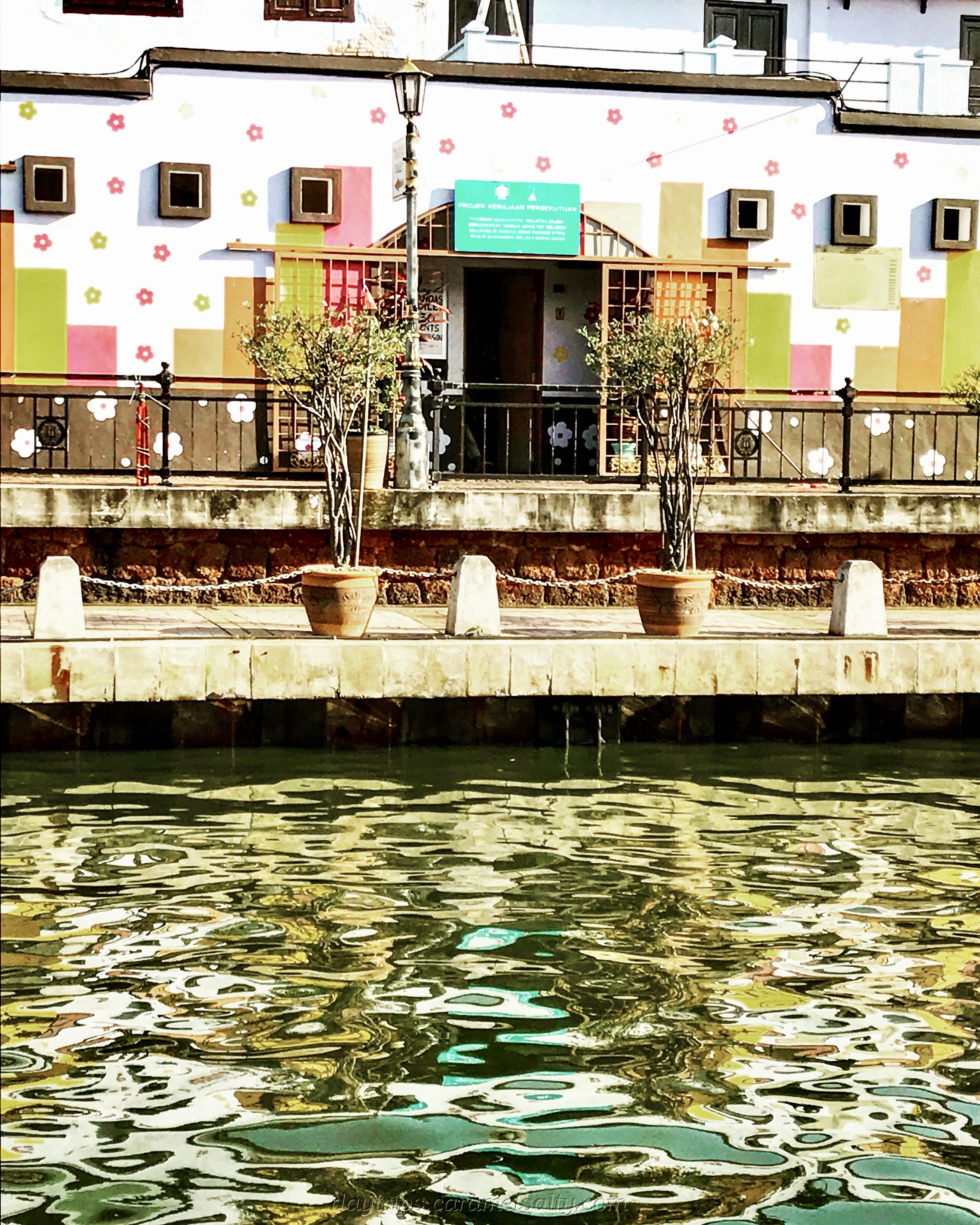 As I relax by the river, my thoughts return to the mystery of the graveless Hang Tuah. Despondent at failing to meet the Princess of Gunung Ledang's impossible demands before accepting his beloved Sultan's wedding proposal, he is never seen again. Is this story true ? Is Hang Tuah still alive? Would I still be swotting mosquitoes if the Sultan had truly collected 7 trays of mosquito hearts for the Princess? Should I have another beer? And the answer is definitely Yes, but only to the last question.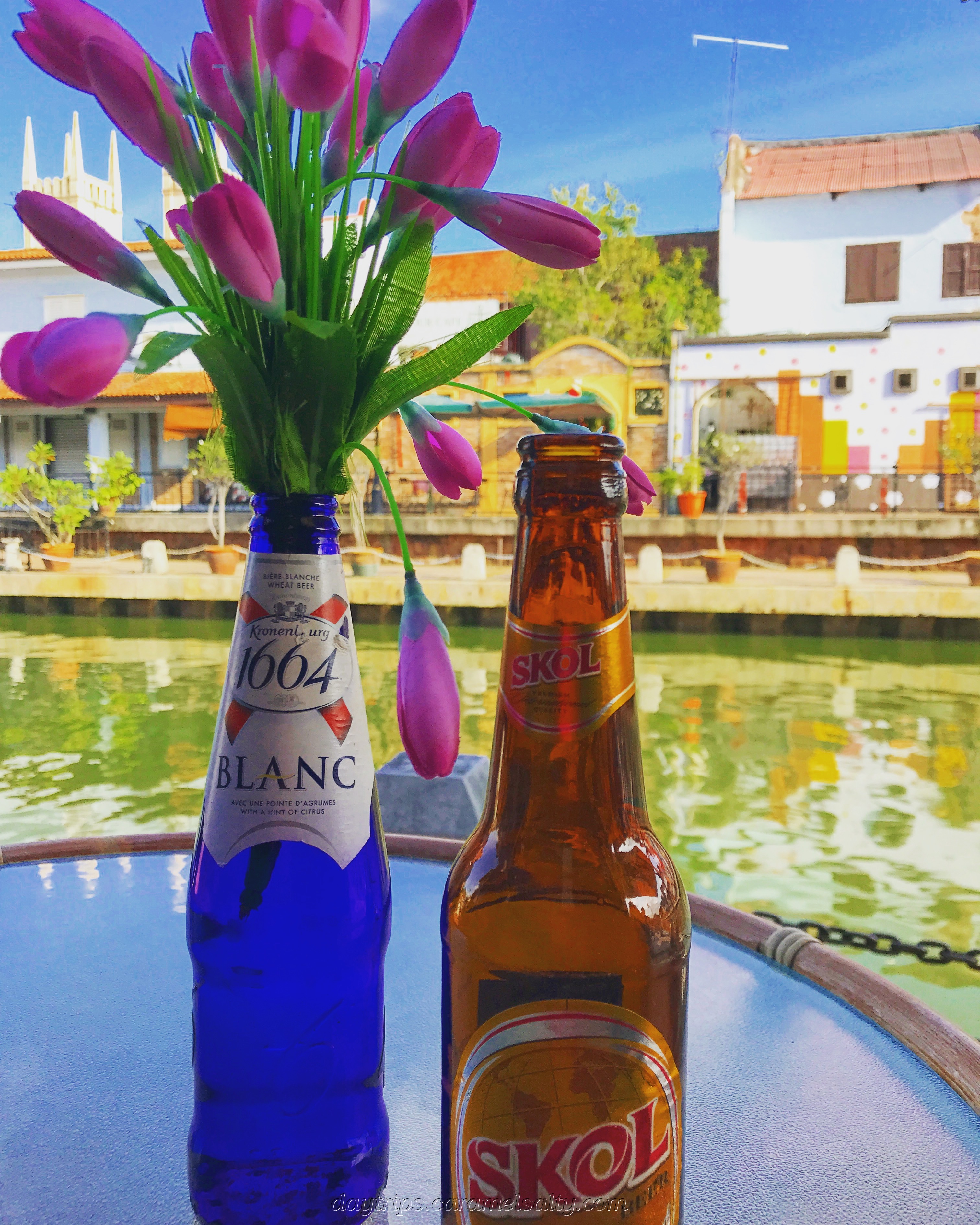 Helpful Hints
Sayyid Antique and Cafe–  08:00-17:00, closed Tuesday and Wednesday
Pinang Pernakan Museum (website) – daily, entrance fee applies
Calanthe Art Café (website) – daily, except Thursday where its open only for breakfast.