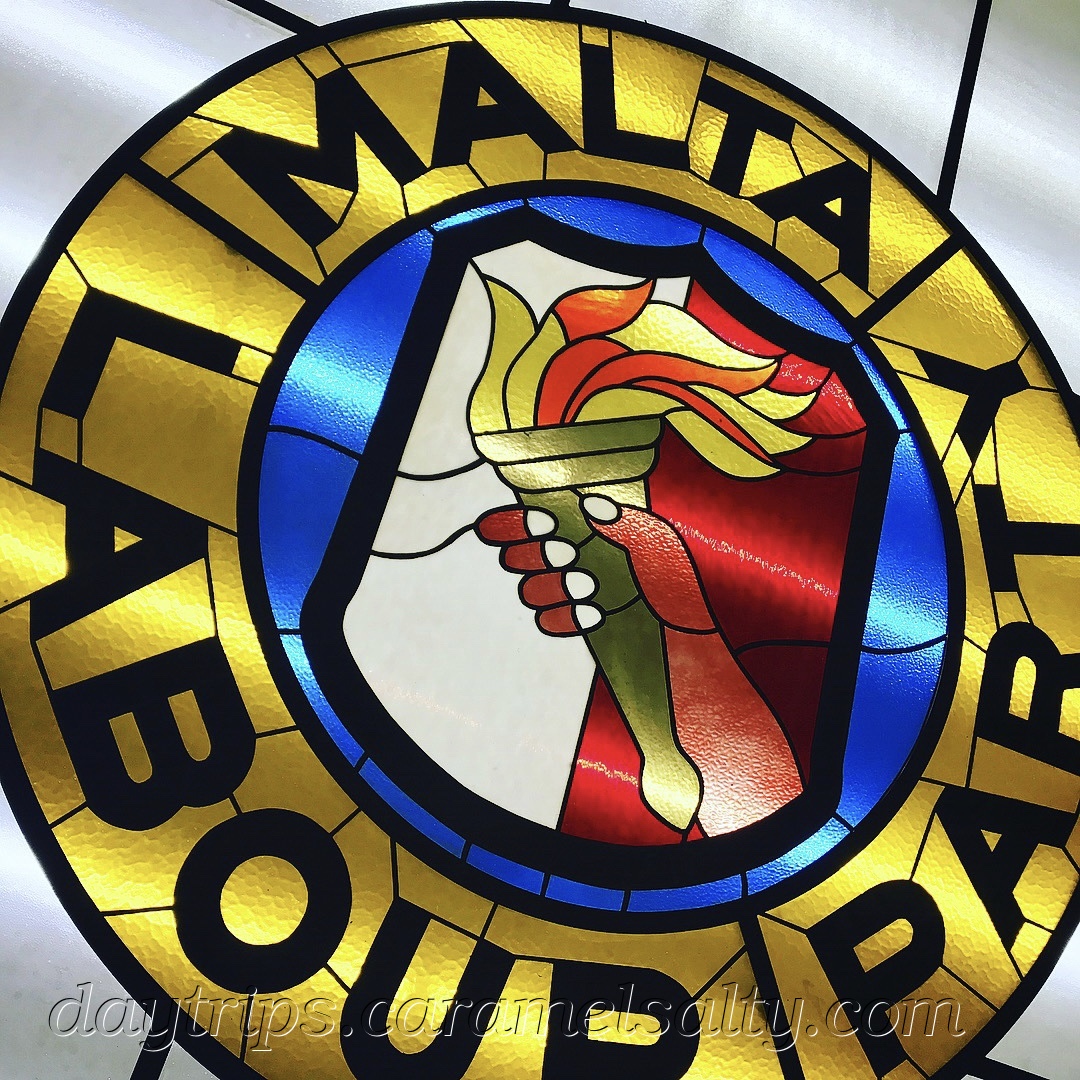 Malta – Rabat, Siggiewi and the Blue Grotto
From the bus, Rabat hadn't looked as appealing as  the walled city of Mdina which I had visited a couple of days ago (blog link here). But as my ticket to the Natural History Museum also covers entry to other sights in Rabat, I decide to return.
Start of Day: Valetta Bus Terminal, Malta
Cost of Day Out: Moderate (££)
As the bus approaches Rabat 4 bus stop, a British telephone box accentuates a row of fine terrace houses. Peering through the bus window, I glimpse quaint narrow streets, suggesting that Rabat may be more promising that initially thought.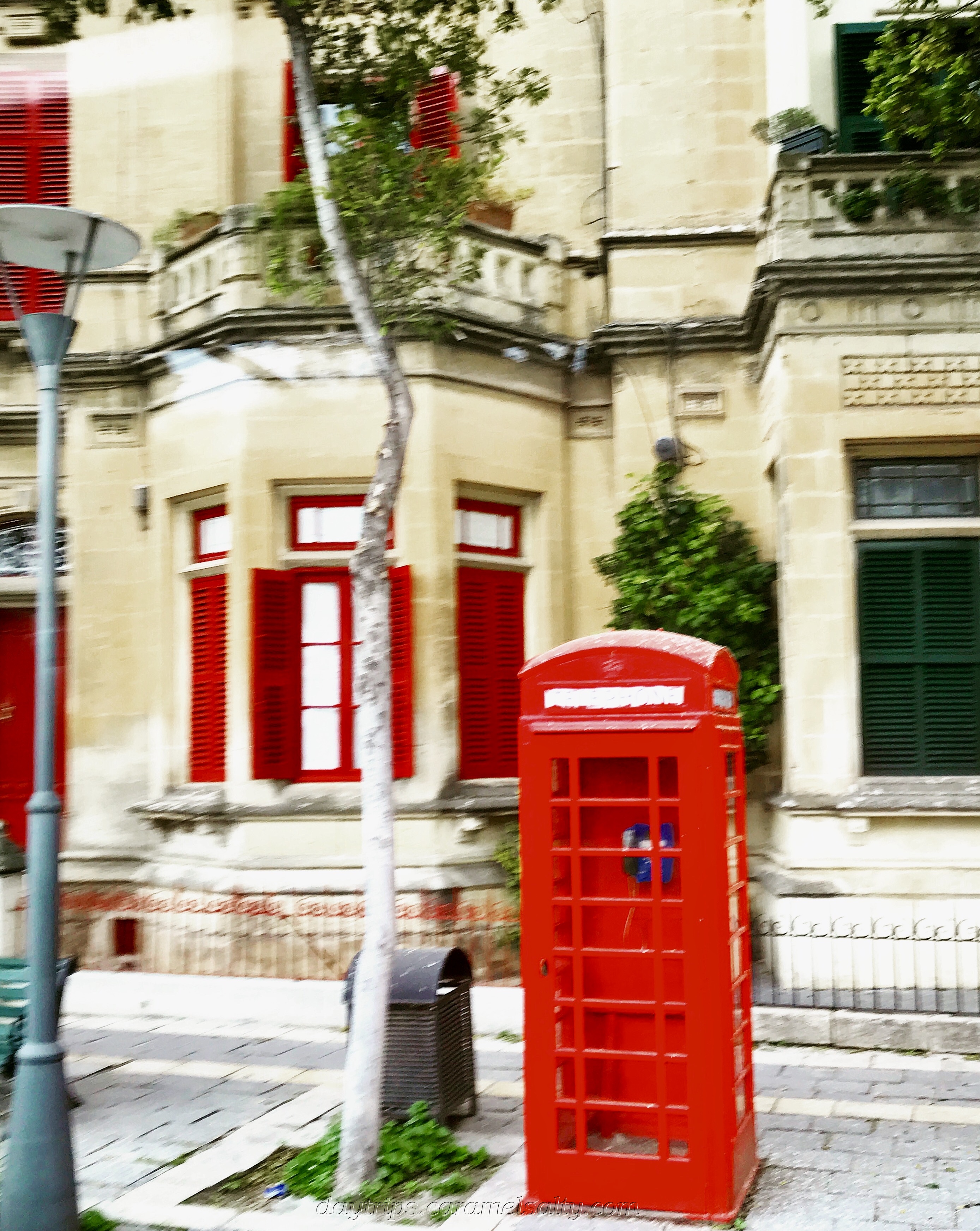 I get off at the same bus stop as Mdina. This time however, I turn left towards Rabat. Knowing that churches are normally open early for morning mass, I head there first, down a gaily decorated street, with posters announcing a religious festival this weekend.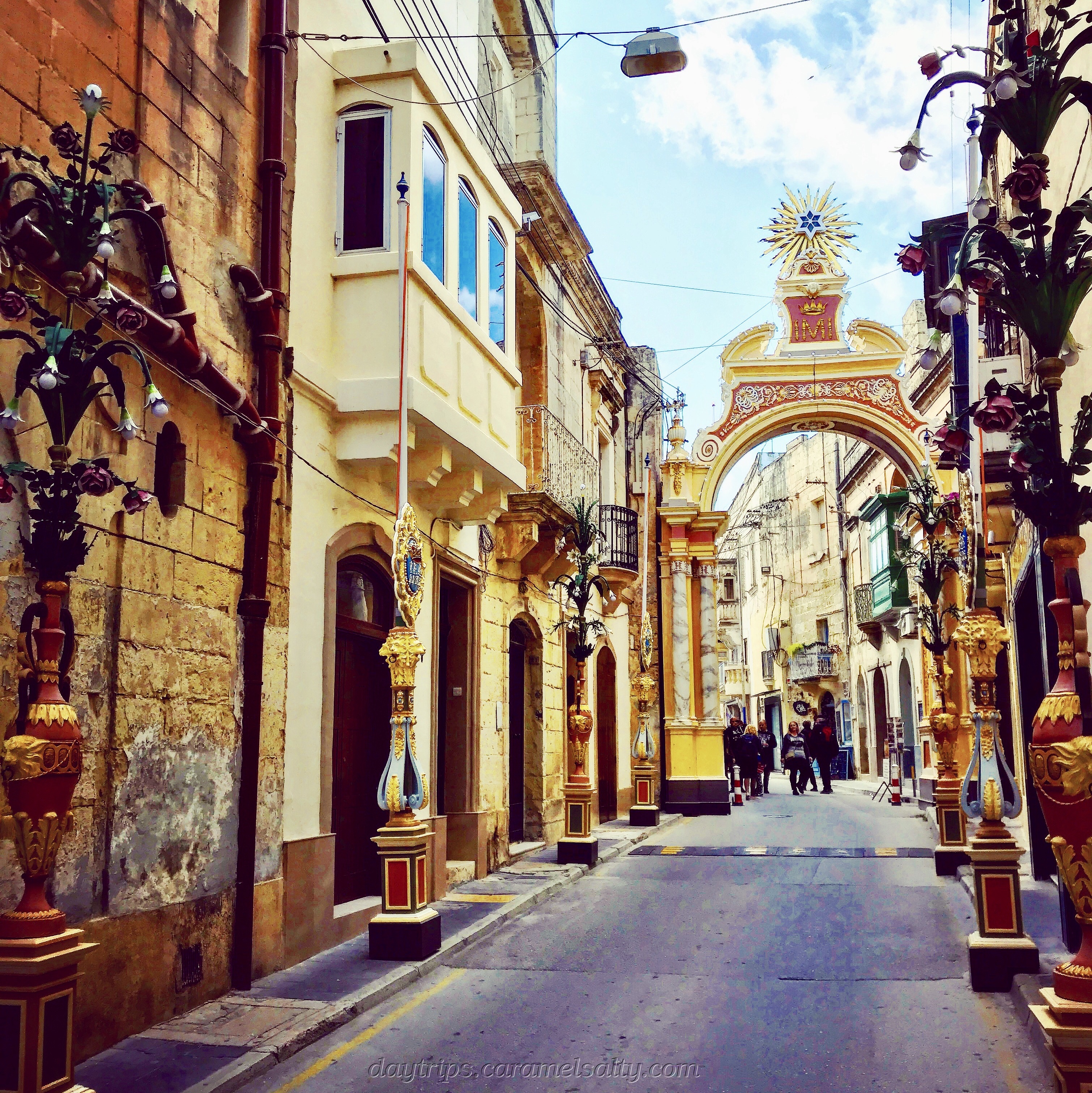 This is my  lucky morning. The [1] Santa Marija ta Giezu church is open. Judging by its highly decorated frontage, I suspect that this church will be the focal point for the upcoming procession of the Madonna.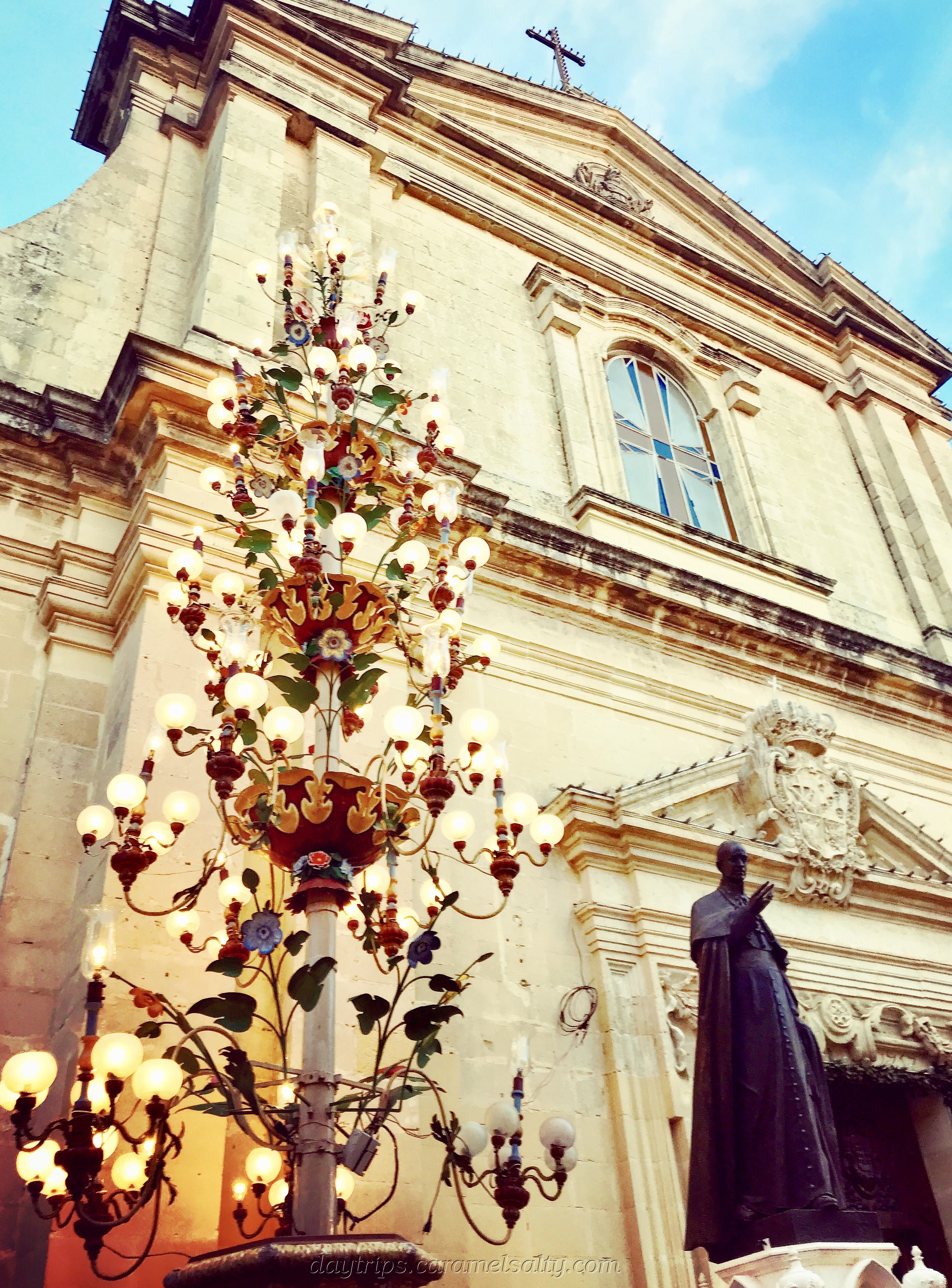 My suspicions are confirmed inside this lovely church. I can't quite get to the altar due to washed carpets lying out to dry in readiness for the impending celebrations.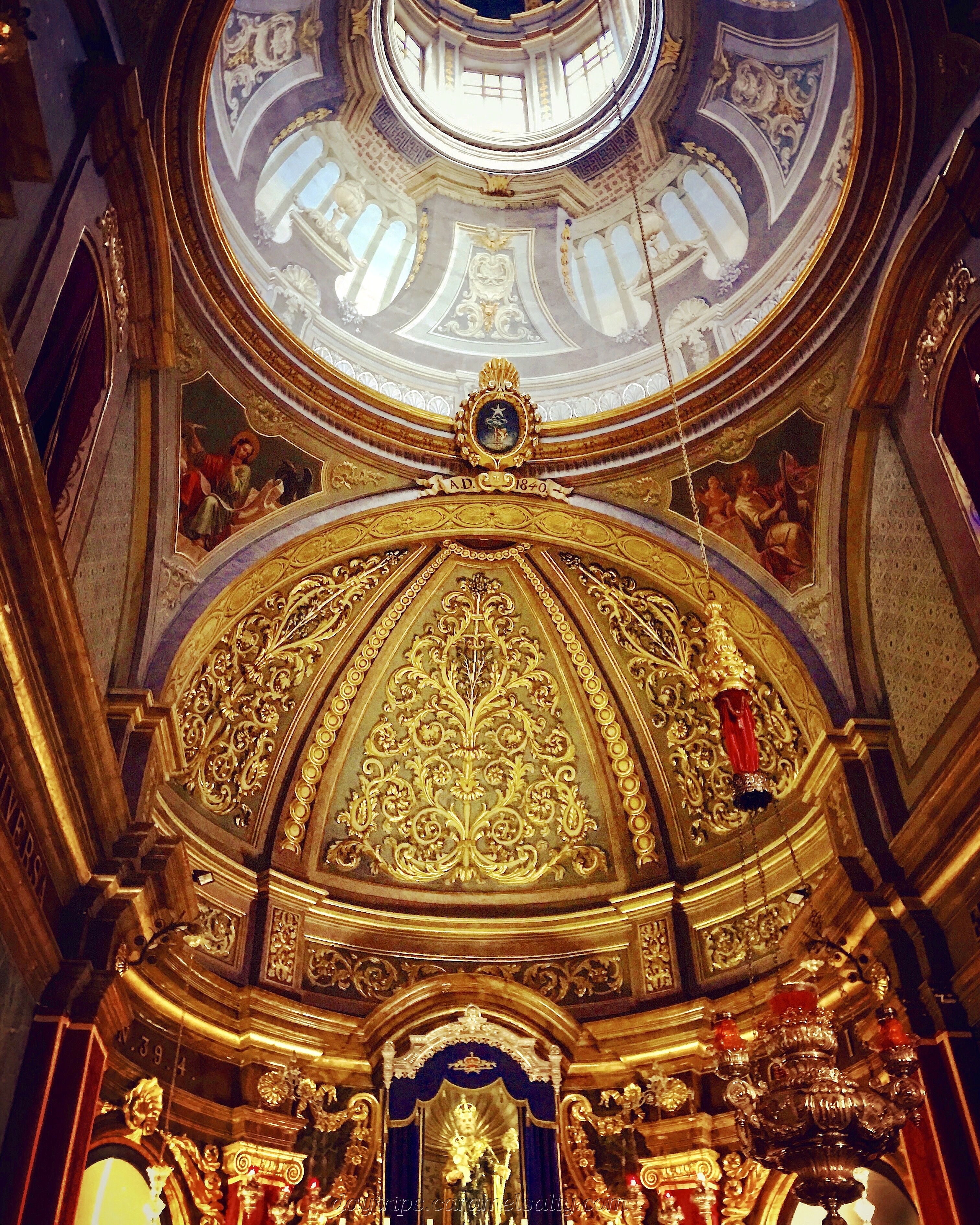 The next church on the list is the [2] Parish Church of St Paul (16th centruy). I only just make it in time, as I'm soon ushered out by 09:00. The grand facade of the church faces a lively square with a bar. Many locals are sat outside having coffee.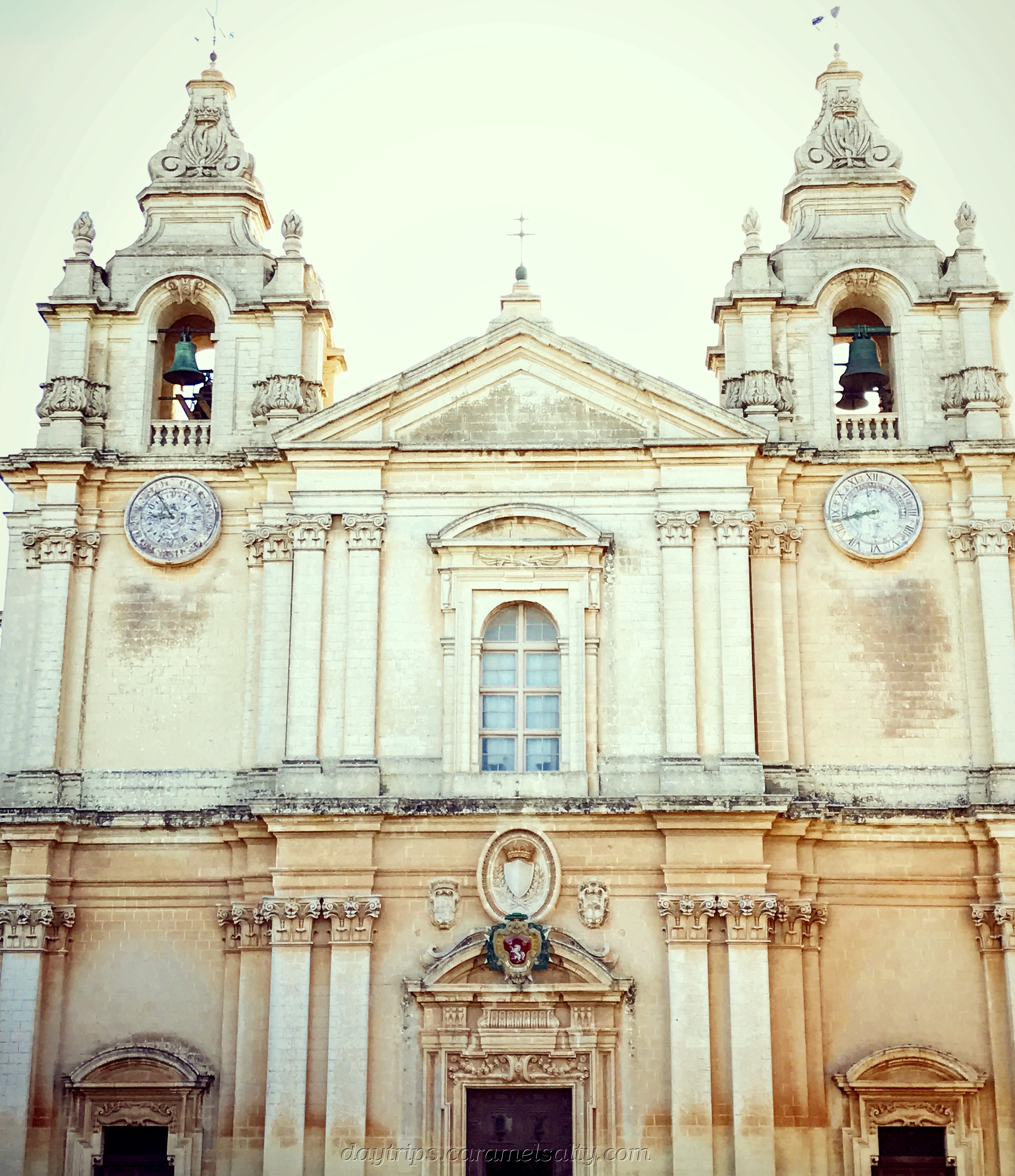 The church is built over the caves where the shipwrecked St Paul is believed to have stayed. The church, another ornate Maltese specimen, has a pretty painted dome and several tombs of the knights of St John embedded in the floor. By now, I should really learn to not expect anything less in a Maltese church.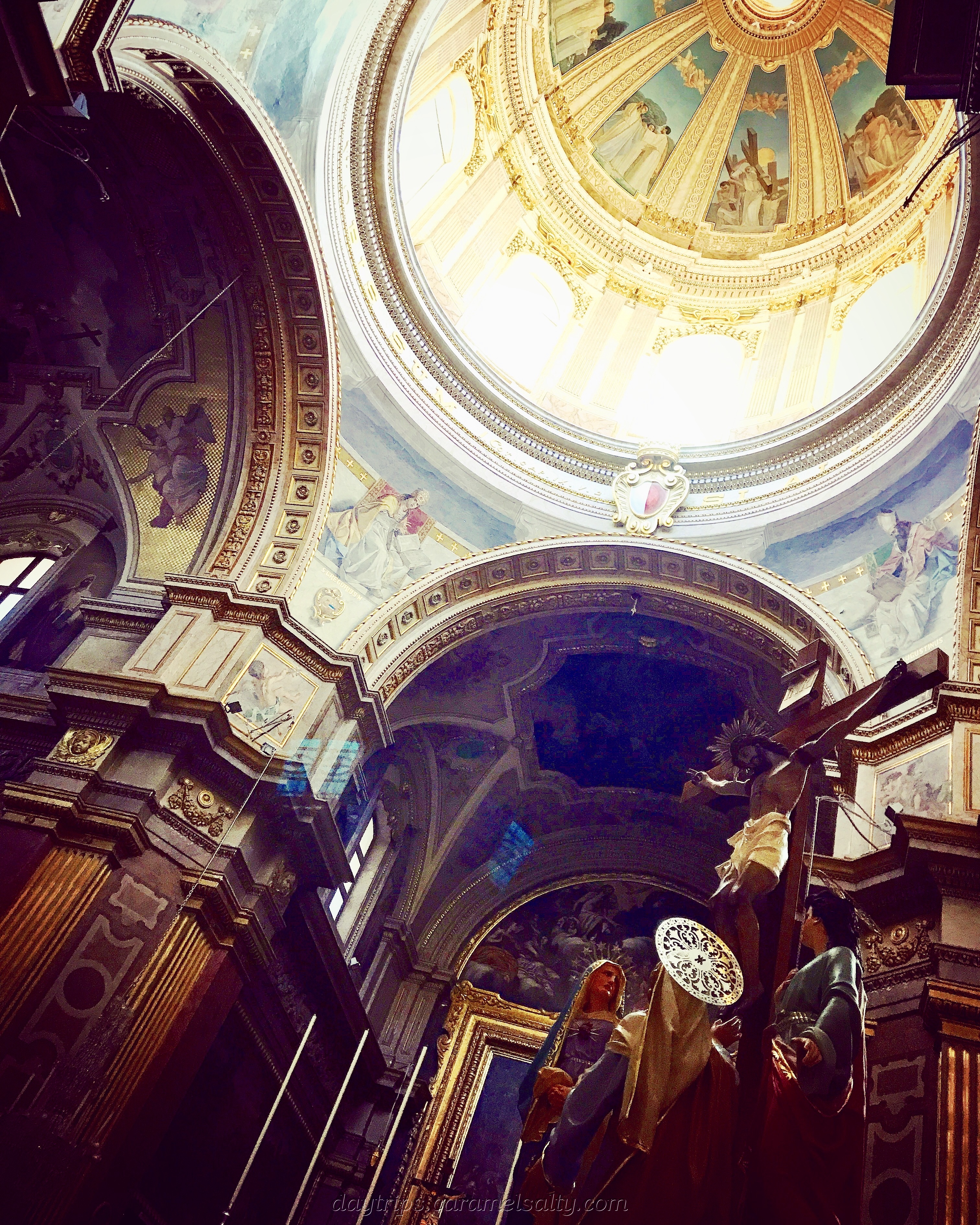 I had noticed several signs already for various catacombs in Rabat. The proliferation of catacombs in Rabat goes back to the Roman period when bodies had to be buried outside Mdina's city walls. [3] St Paul's Catacombs, my next destination, are said to stretch out under the streets of Rabat, including underneath St Paul's Church.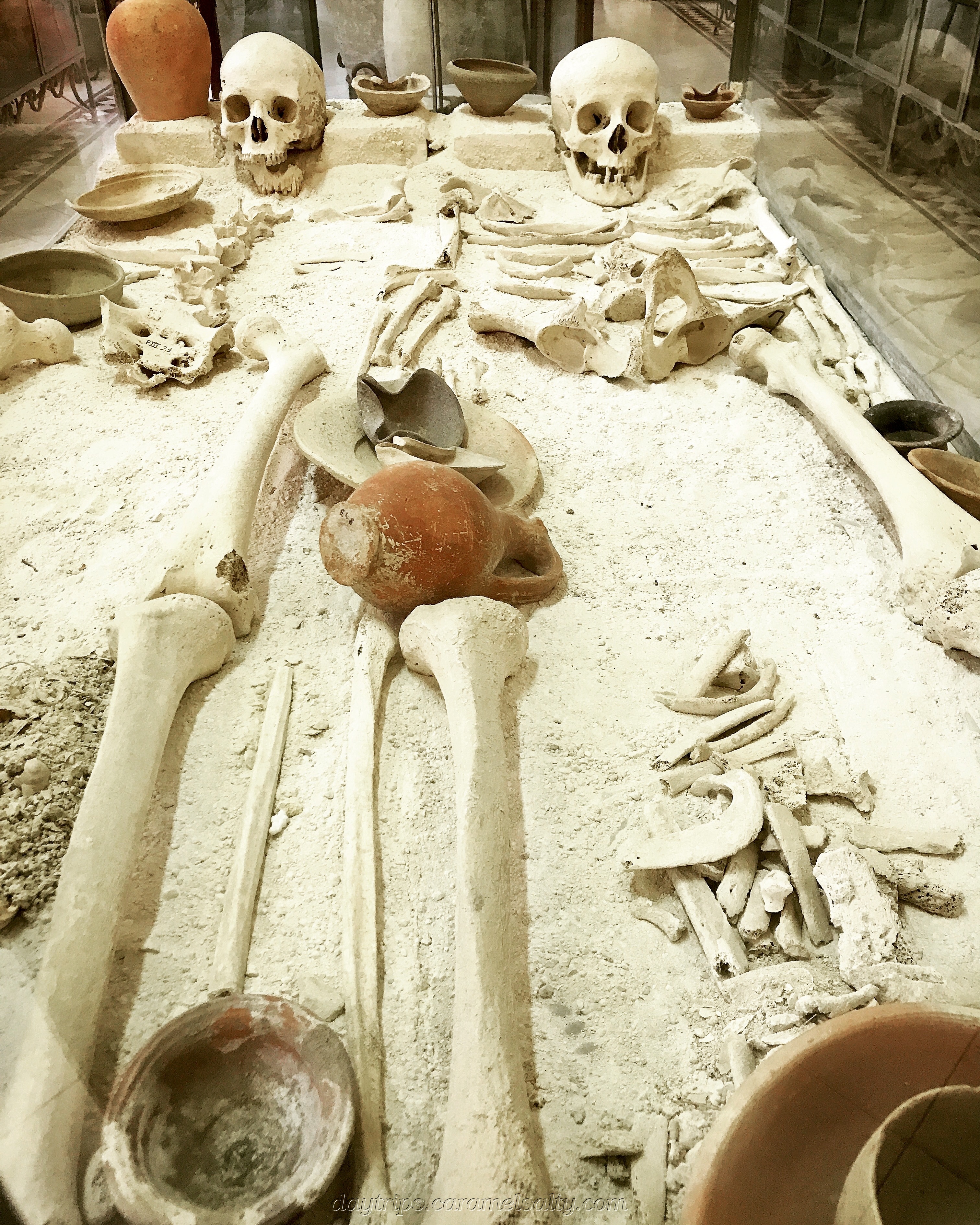 I'm allowed to wander freely round St Paul's catacombs. Suppressing my irrational fear of bumping into another lost soul loitering underground, I wander around the maze of narrow tunnels, along hundreds of carved out tombs, devoid of bodies and cleaned out, thankfully. I'm bemused as to how anyone managed to return to their loved ones' graves. You'd need a map, or a trail of breadcrumbs.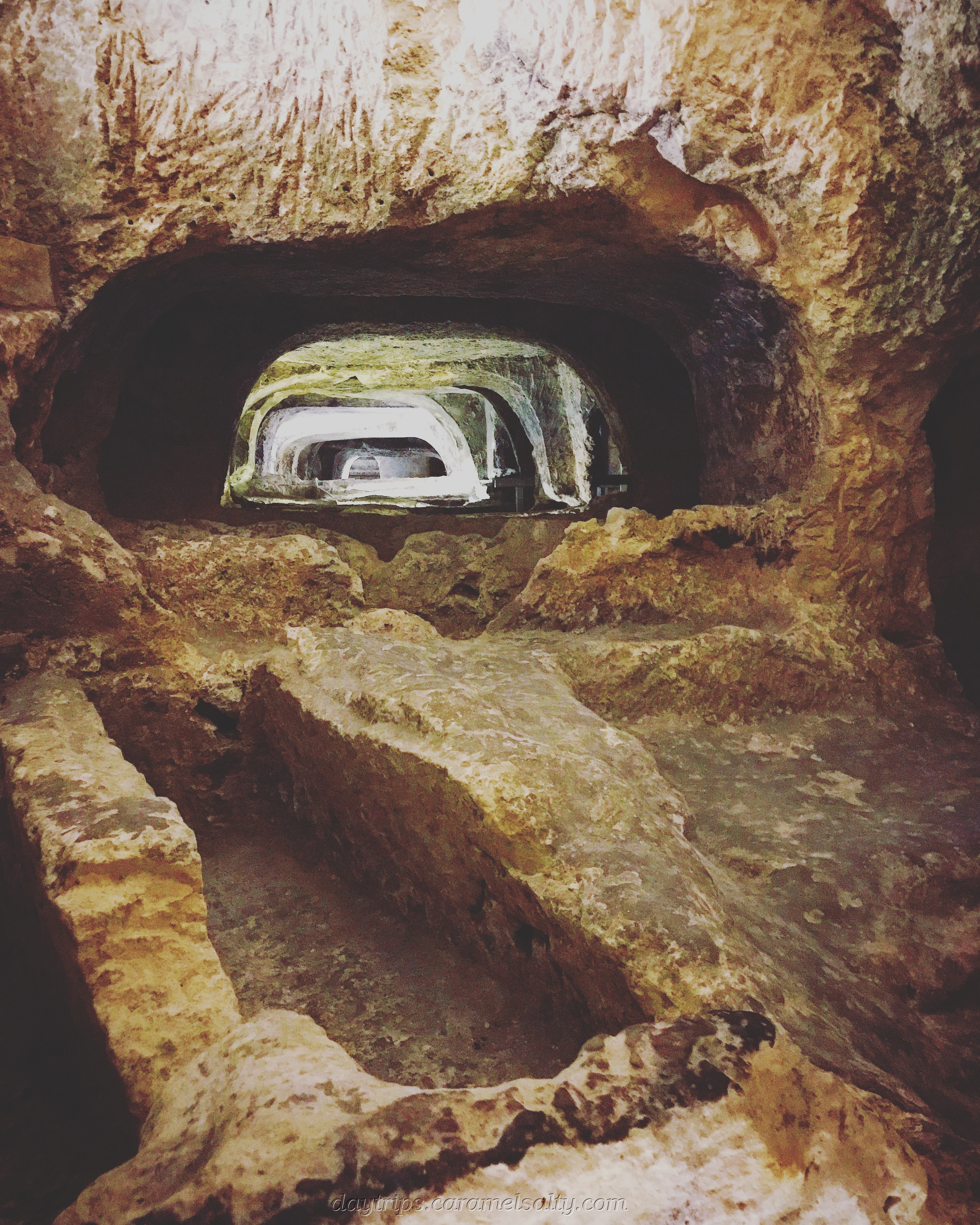 As I exit St Paul's Catacombs, I see a sign for more catacombs at St Agatha's. This is the same St Agatha whose painting I'd seen at Mdina's Cathedral Museum. The rather eye-catching side street leading down to it persuades me to visit yet more tombs. But despite the 10:00 opening time displayed, I find the museum firmly shut.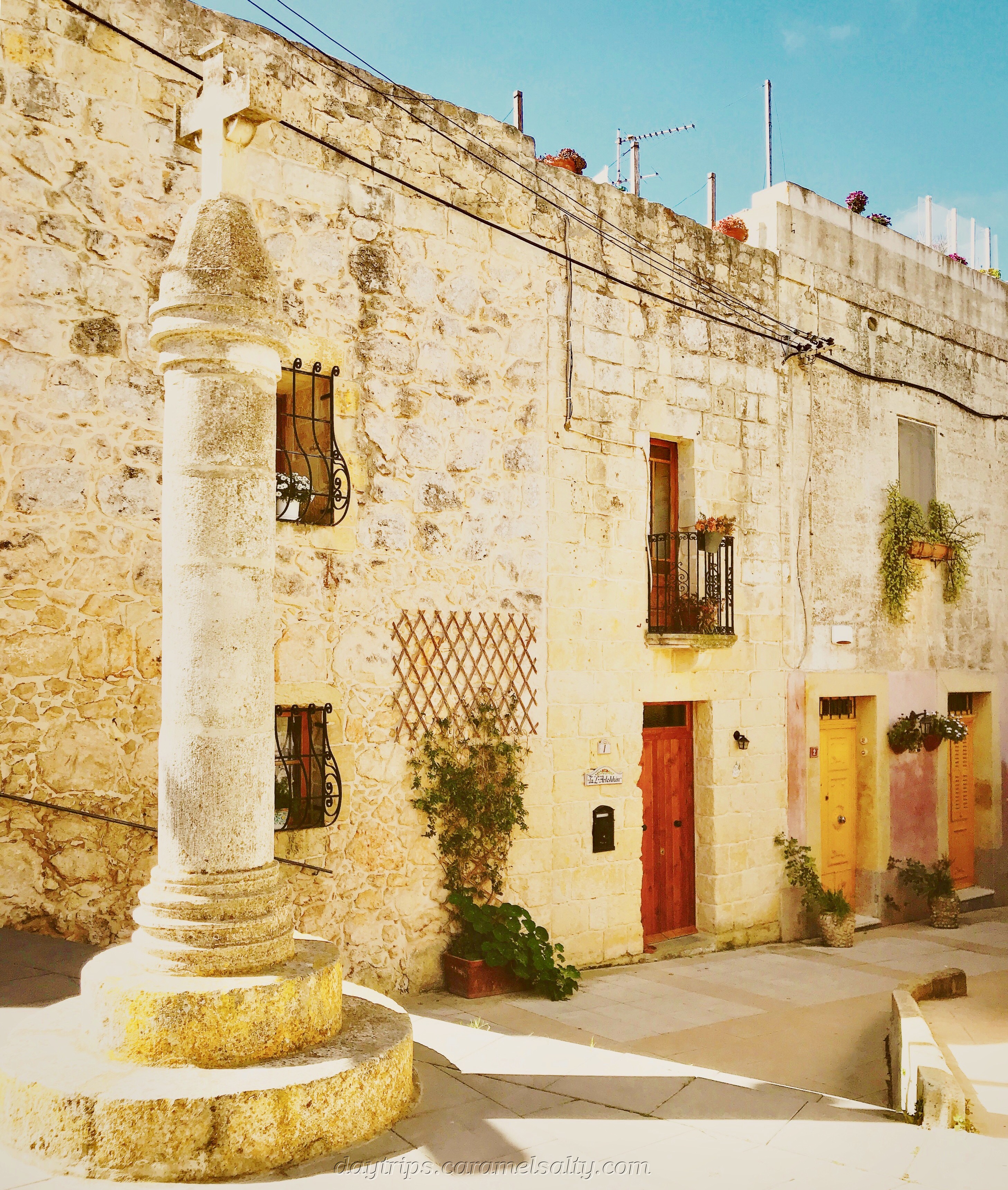 I'm just about to give up, when a lady passing by assures me the museum will open in 10 minutes. So I wait, under the watchful gaze of Agatha herself, whilst I read about the horrible torture she underwent. Despite various miracles keeping her alive, eventually she succumbs.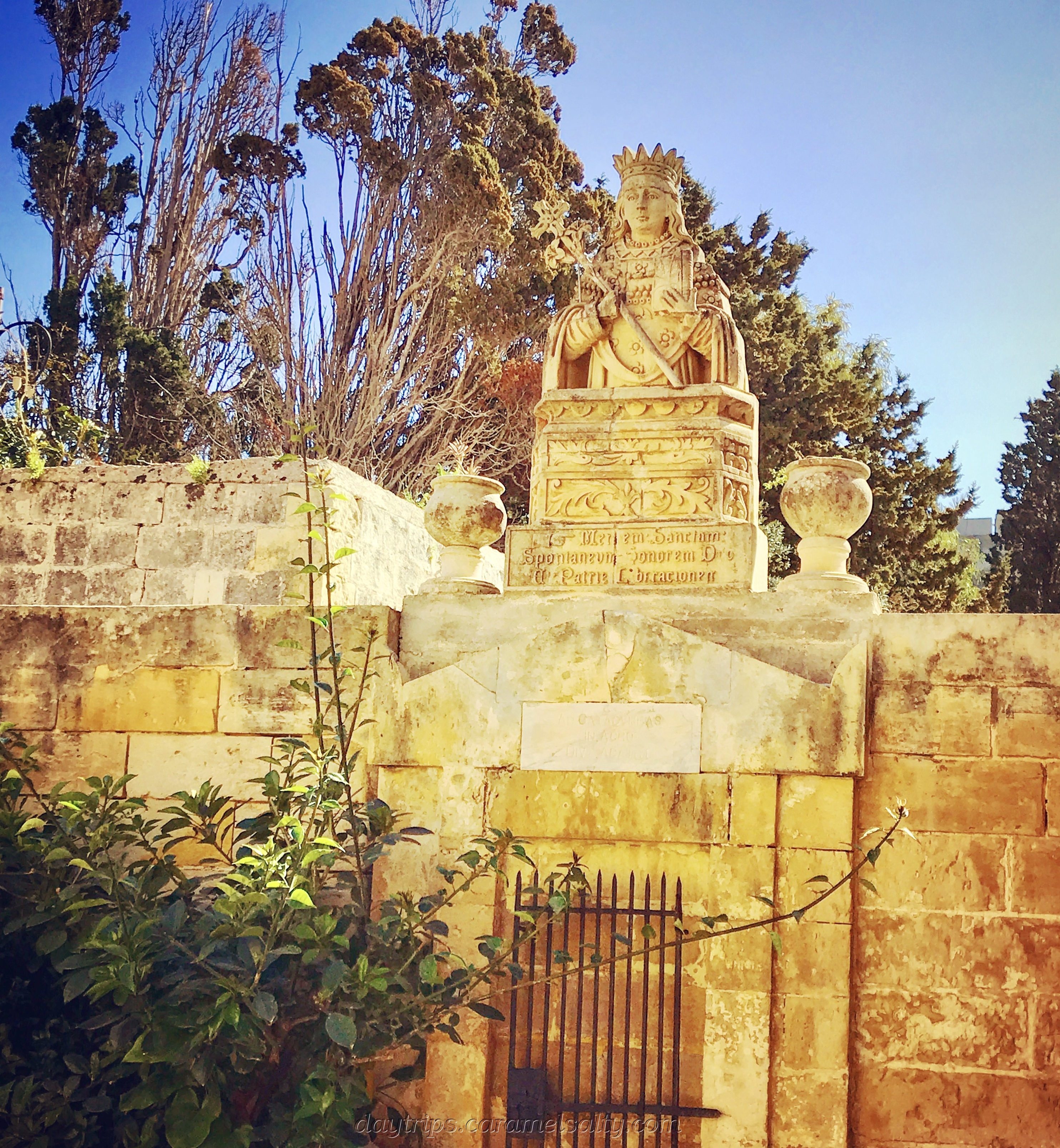 20 minutes later, the museum doors open. The [4] archaeological museum upstairs is a geologist's treasure trove of what must be every rock and crystal known to mankind. And when I go down into [5] St Agatha's catacombs (no photos allowed), I'm accompanied by a guide. These catacombs are totally different from St Paul's. For starters, there's the chapel where St Agatha worshipped before returning to Italy and being tortured. And it still retains some colourful though faded frescos. Which proves that catacombs were not the plain, dingy, morbid places I imagined them to be.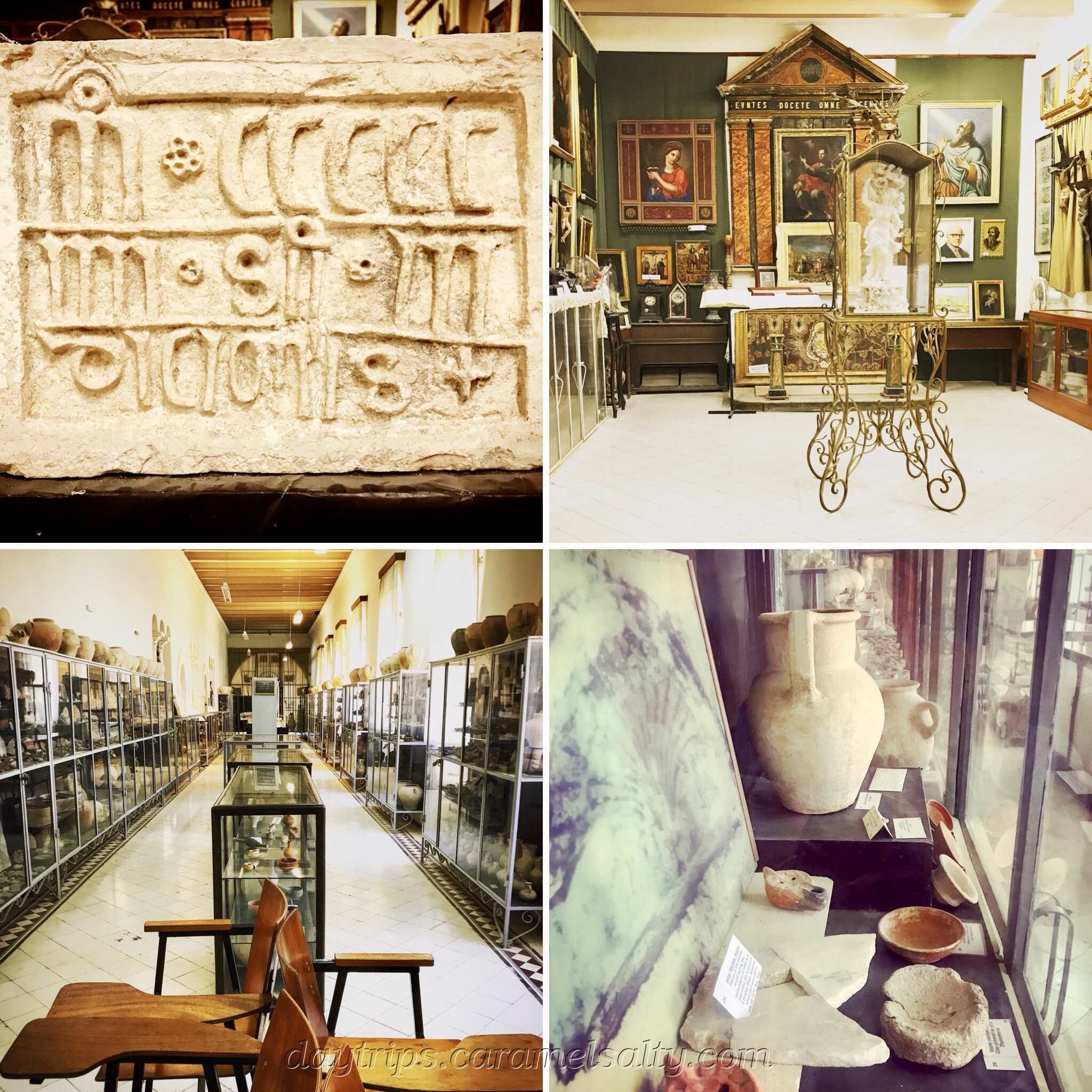 Out in the bright sunshine, I wander around in search of somewhere for lunch. I discover some delightful streets in and around Rabat, the trendy and popular coffee shop of  [6] Ta' Doni and plenty of interesting restaurants.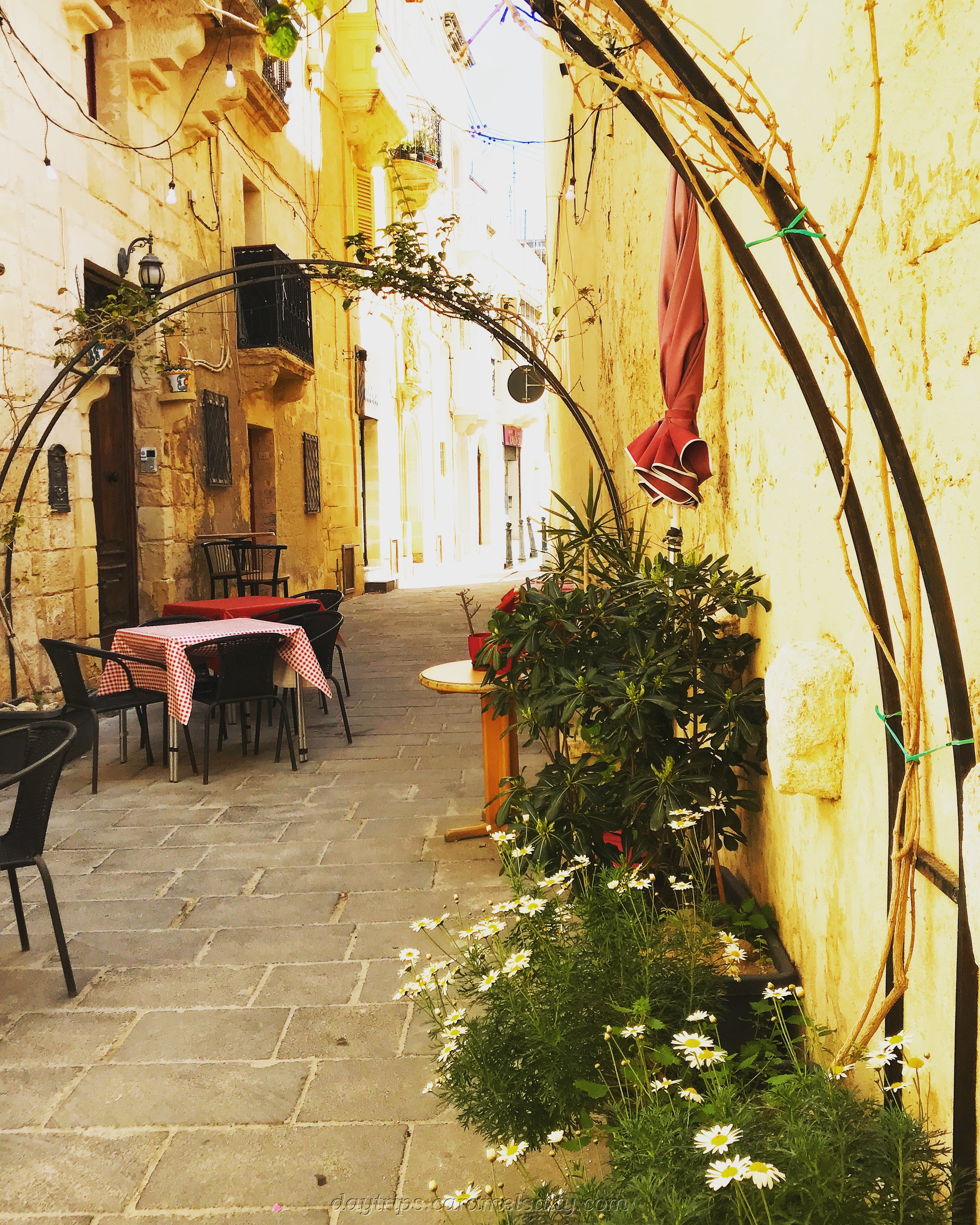 However I plump for the [7] Malta Labour Club restaurant. And for a very reasonable price I have a sumptuous Maltese platter and a very very large glass of red Maltese wine. What a find !!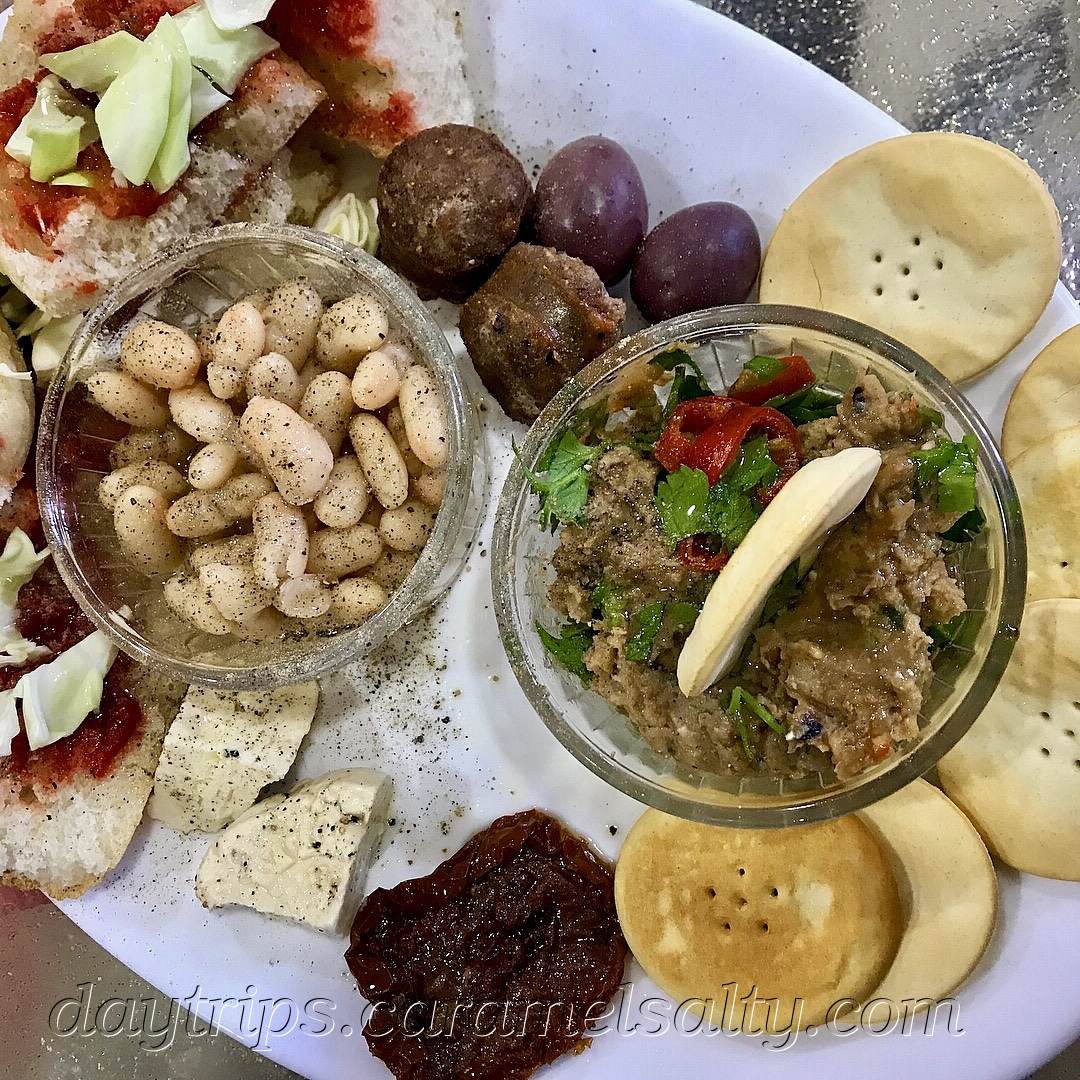 Casa Barnard does not accomodate lone visitors, despite charging a fee. So on that basis, I go to my final museum of the day, the [8] Domus Romano, back at the main road. It features many Roman remains, including a well-preserved mosaic floor.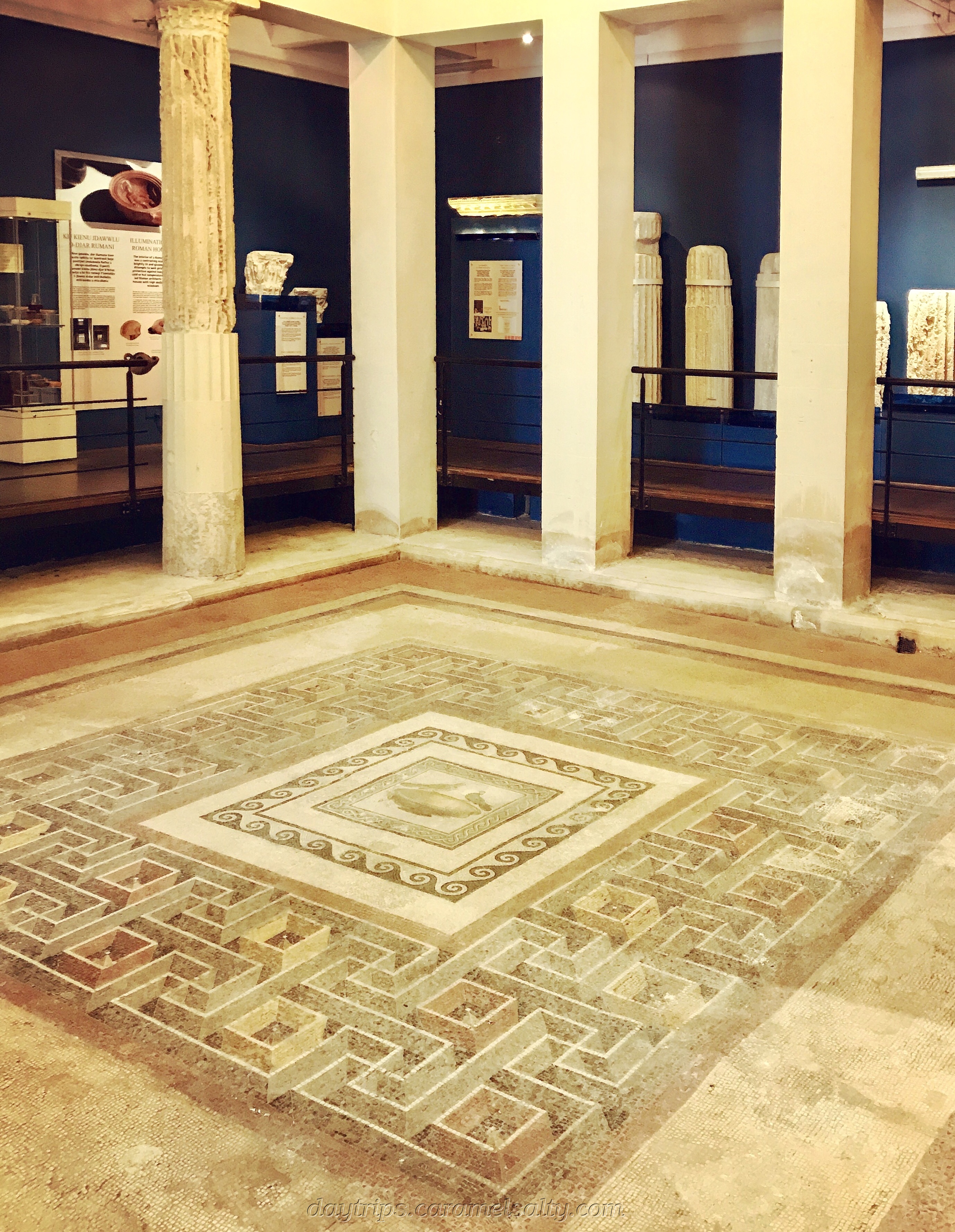 From Rabat, I jump on the #201 to the Blue Grotto. The bus takes a familiar route past Dingli cliffs, which I walked yesterday (blog link here). The [9] #201 route has got to be one of the most scenic bus routes on the island of Malta.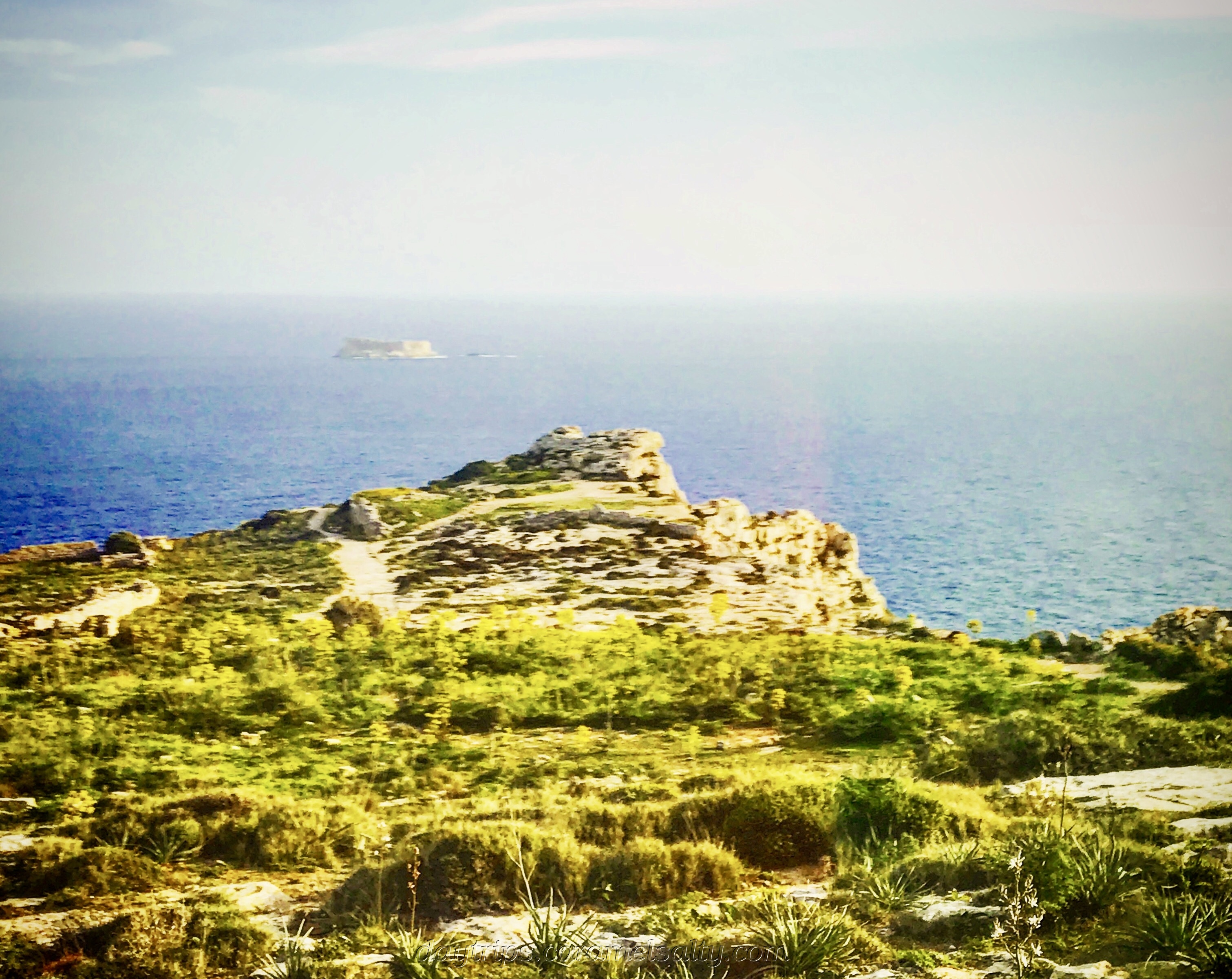 From my elevated seat on the bus I get a bird's eye view of the numerous [10] large quarries along Dingli cliffs. They are deep, they are monstrously huge, and some of them are right up to the cliff edge. Will Dingli Cliffs be able to survive this onslaught, wonder.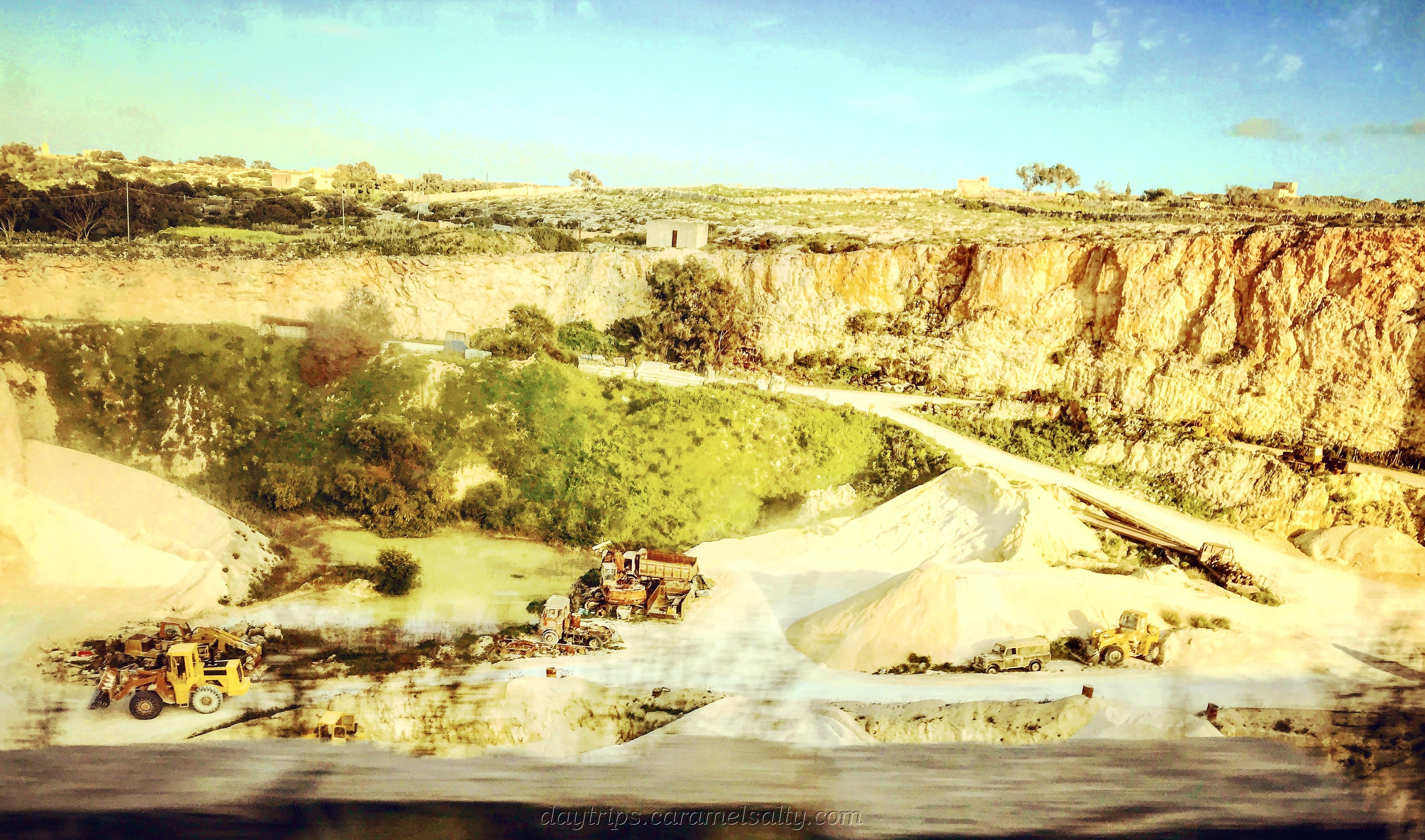 The bus drives into [11] Siggiewi, a town whose church I had seen from afar on my Dingli Cliffs walk. The bus offers me an incredible close up of that marvellous church.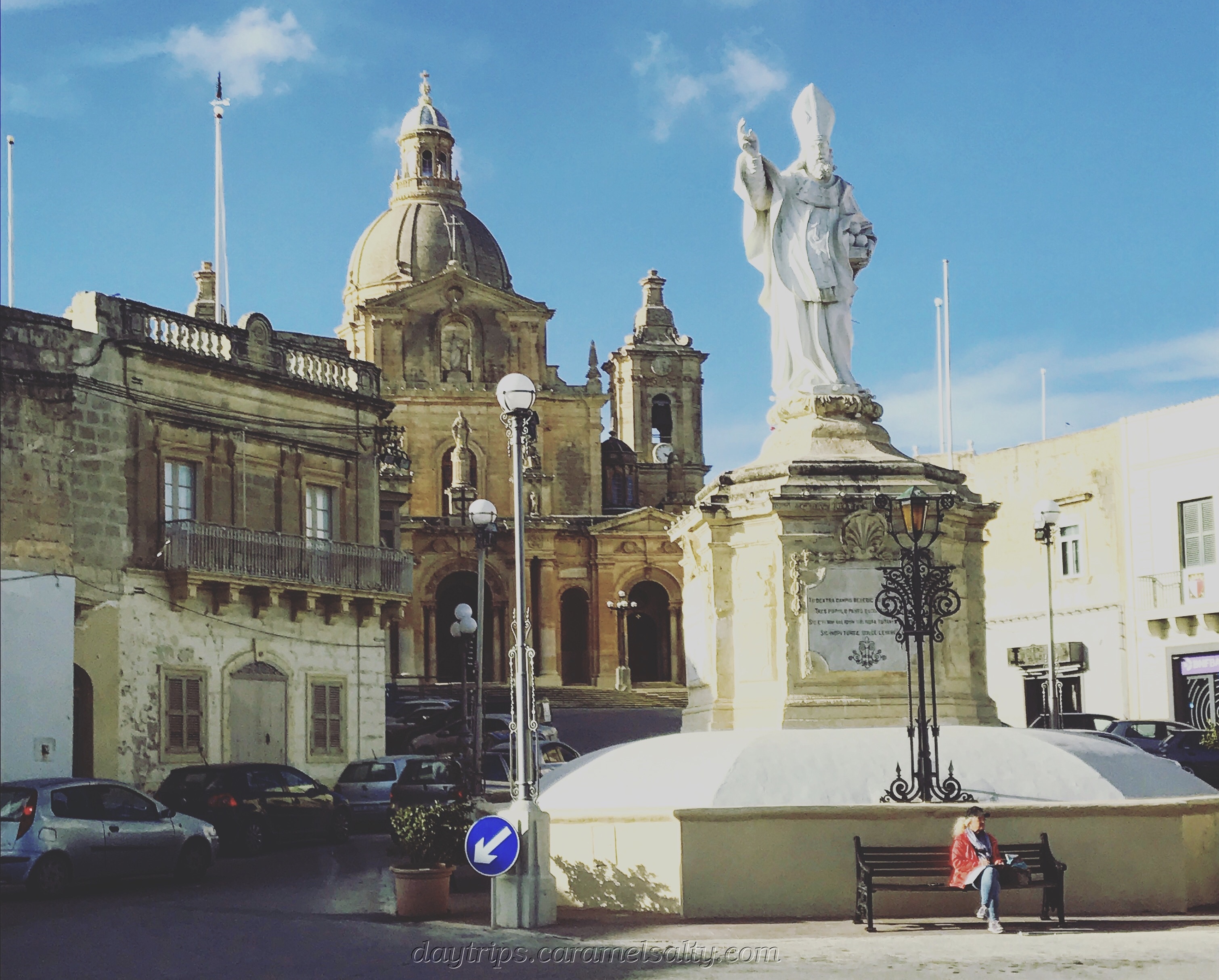 If the streets weren't narrow enough in Siggiewi, then several poor choice of locations for parking a car, certainly make them so. Hat off to the bus driver, who has to negotiate through some tight spots. Siggiewi, by the way, has some very picturesque houses and is worth a quick wander round.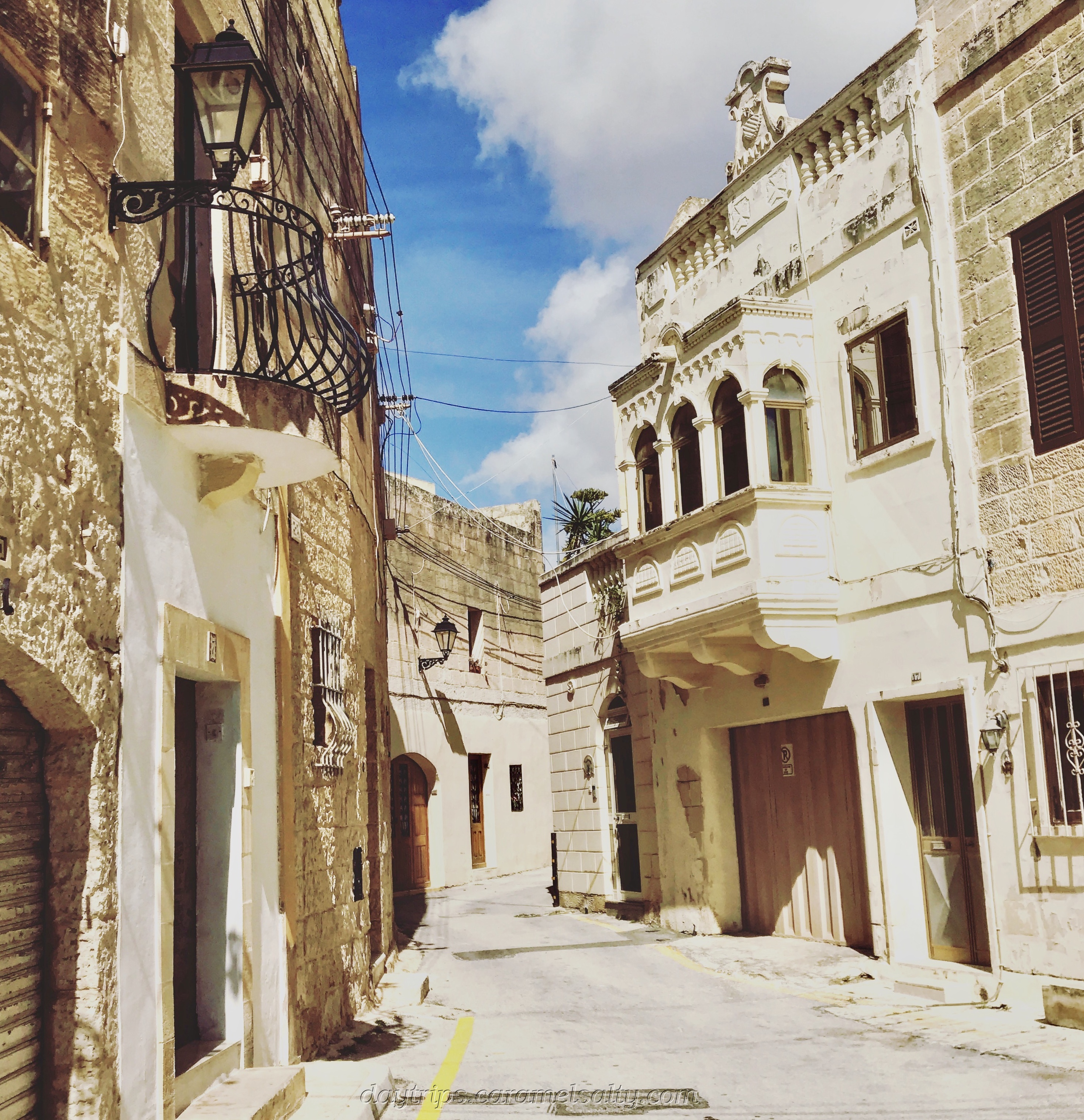 The bus drives all the way down to the [12] Blue Grotto. If there's only one thing to do on a very windy day in Malta, it's to visit the Blue Grotto. Walking down to the water's edge, I'm hypnotised by the seething, swelling cauldron of a mighty sea crashing against rocks. Nothing would have got me on a boat in these waters. And no one was foolhardy enough to set boats out to the caves on a day like this.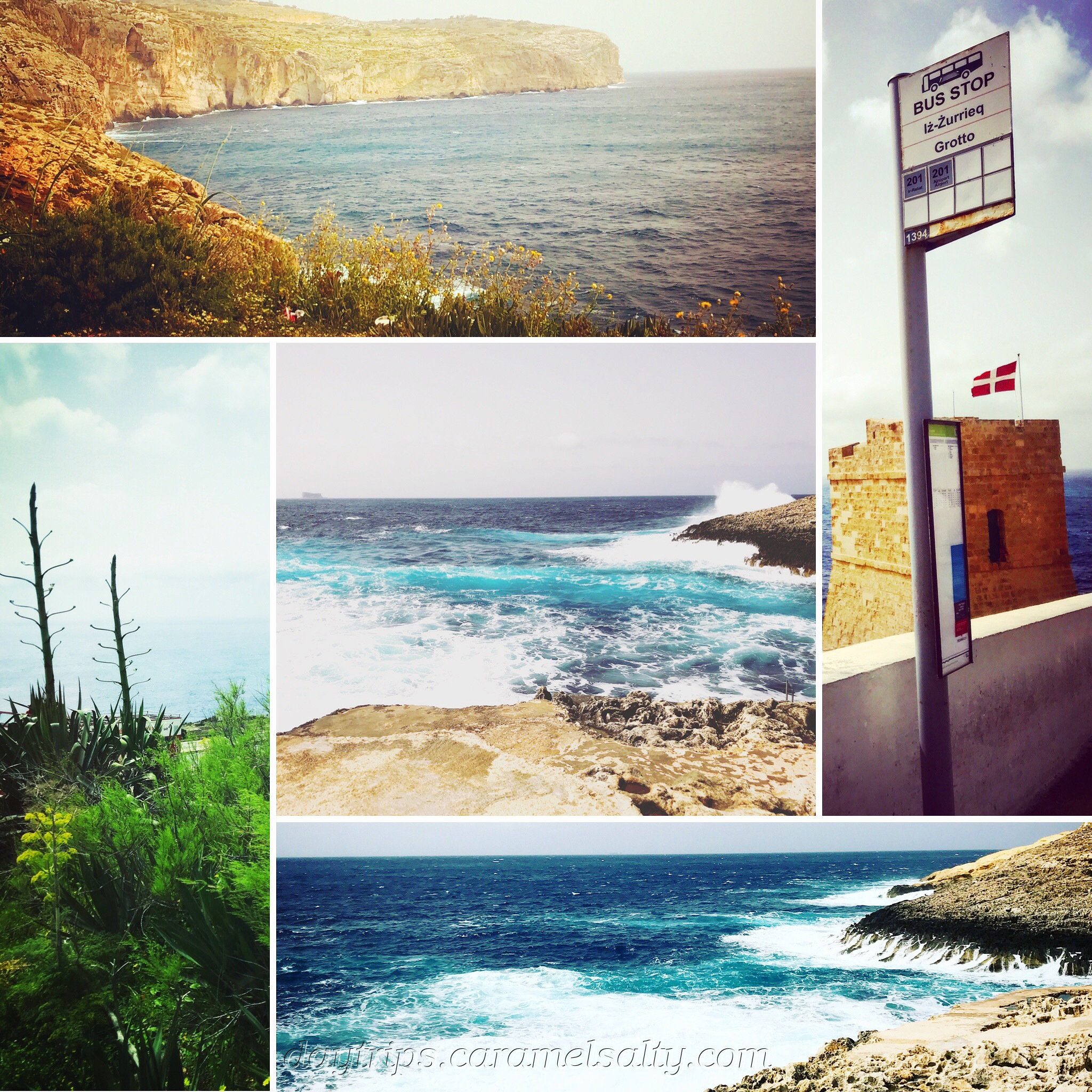 And so I return to Rabat for my onward journey to Valetta. The streets around Rabat are lit up by now. Rabat may have been separated from Mdina by a fortification wall during the Arab Occupation, but it doesn't make it the poor cousin of Mdina. Definitely worth a visit, especially for the catacombs.
Stuff To Help You Along Your Journey…