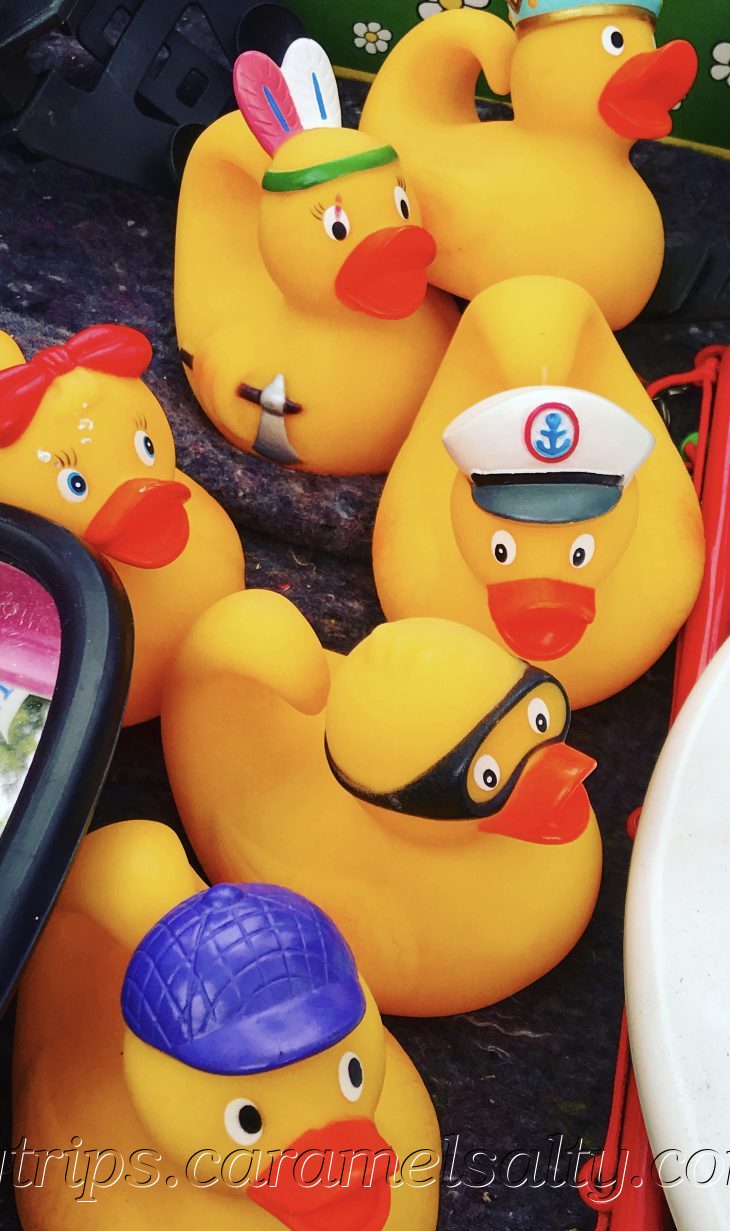 Maarssen-Dorp – A Walk On King's Day
It is thoroughly by accident that I arrive at my lodgings in the village of Maarssen on the eve of King's Day. With nearly everything shut for the holiday, I opt for a local walk in this delightful village.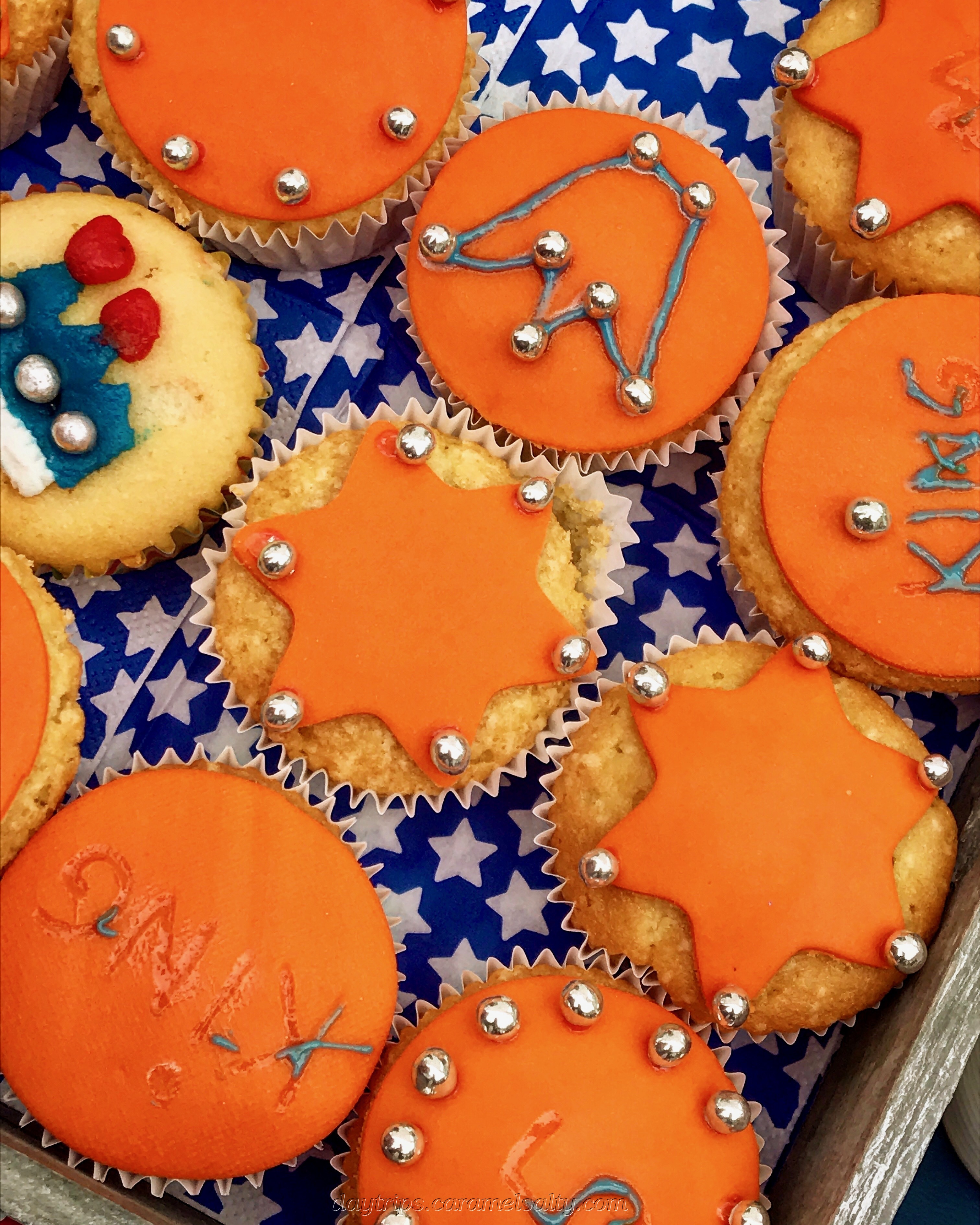 Start of Day: Utrecht Main Bus Station, the Netherlands
Cost of Day Out: Cheap (£)
History Content: Low
The Straatweg (N402) is the main road that runs past Maarssen. This is where my bus dropped me off yesterday, at the [1] Maarssen Dorp stop. I start my walk from there, heading in a northerly direction along the N402. As this is the Netherlands, there is bound to be a canal along this road. Ah yes, there it is, covered in white and yellow spring wildflowers.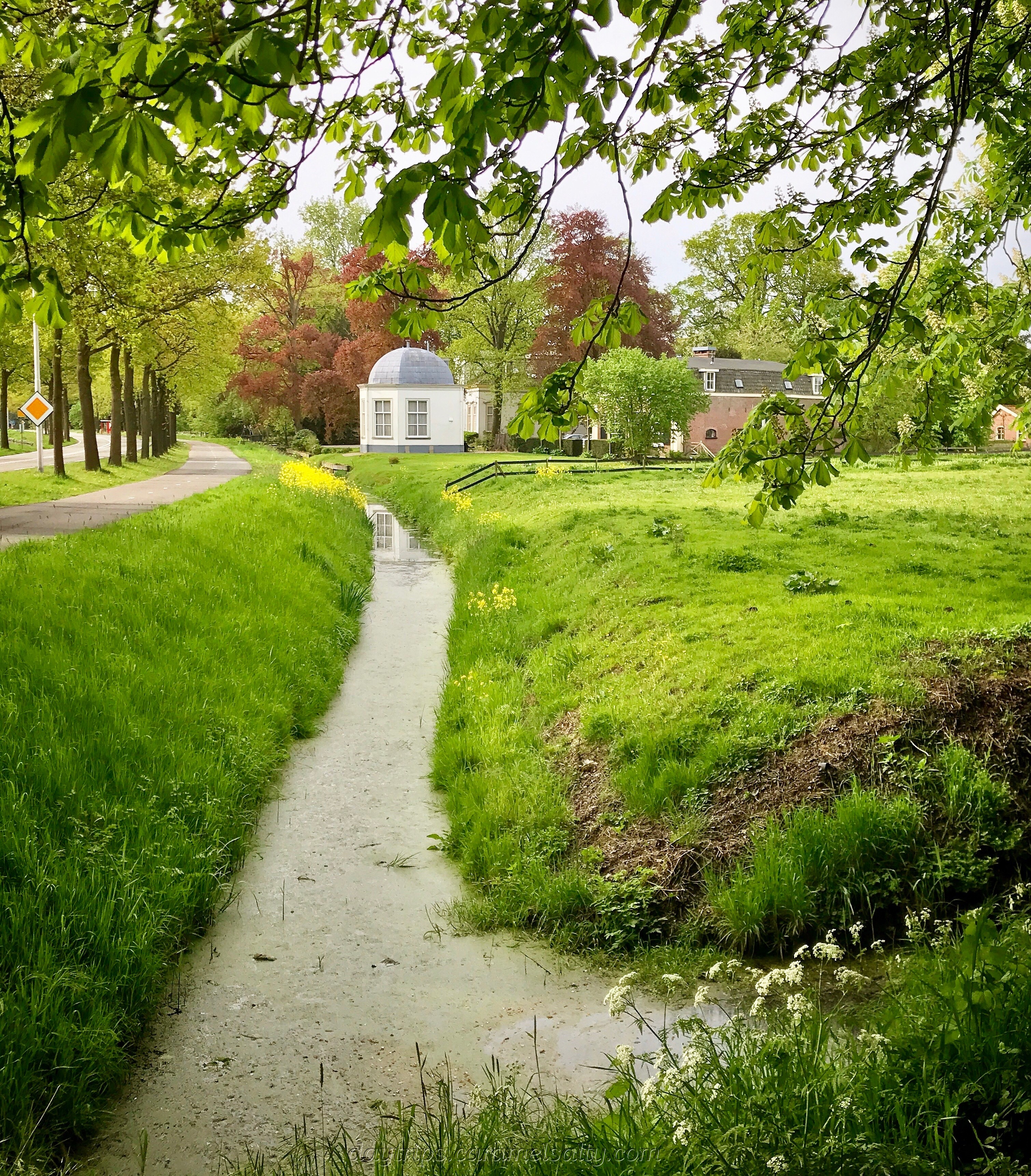 Large detached houses line the road on the far side from the River Vecht. They are of various architectural styles, from typical Dutch barn styles, to classical white homes or red brick 19th century abodes, some of them have gravel front drives, others have lawns, and one has formal beds.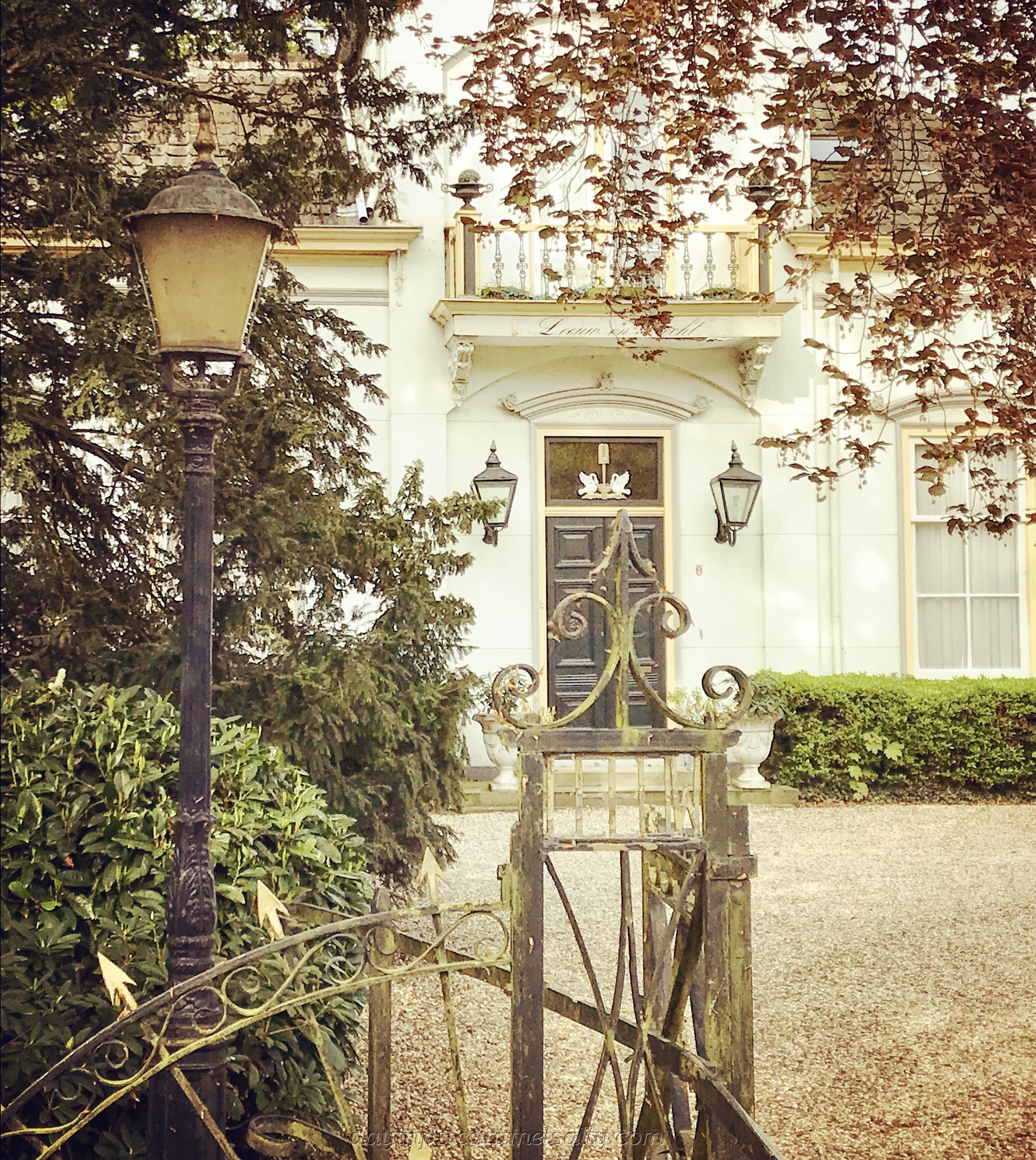 To my left, a side road appears. There is a sign in Dutch. I don't quite understand what it says. But there is an open gate. And a gorgeous cherry tree, clad in ivy.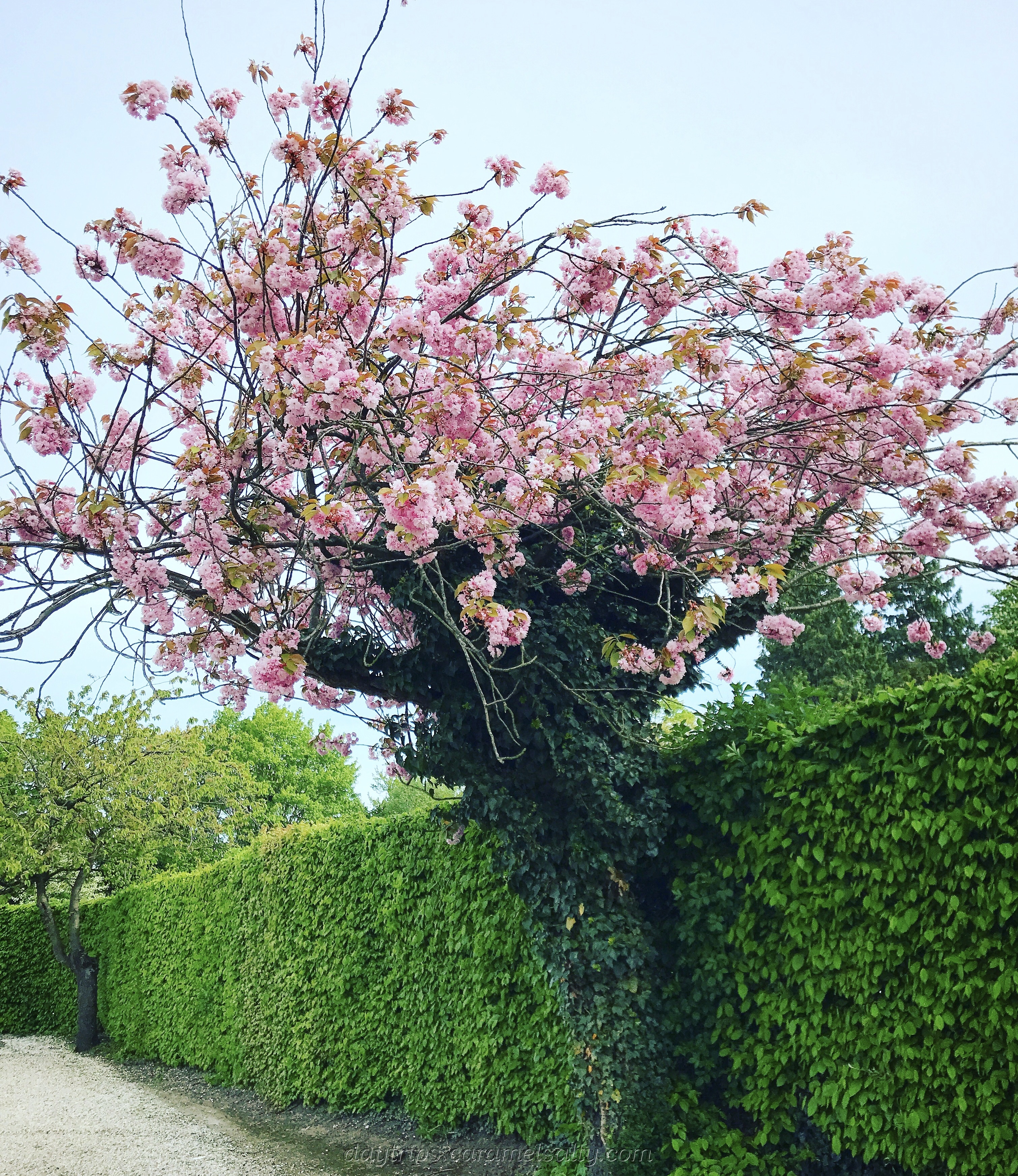 I find myself in [2] Algemen Begraafplaats, the general cemetery of Maarssen, which was what that sign was all about. It's only a small cemetery, but it is lovingly looked after. And I find some unique gravestones as I wander around quietly.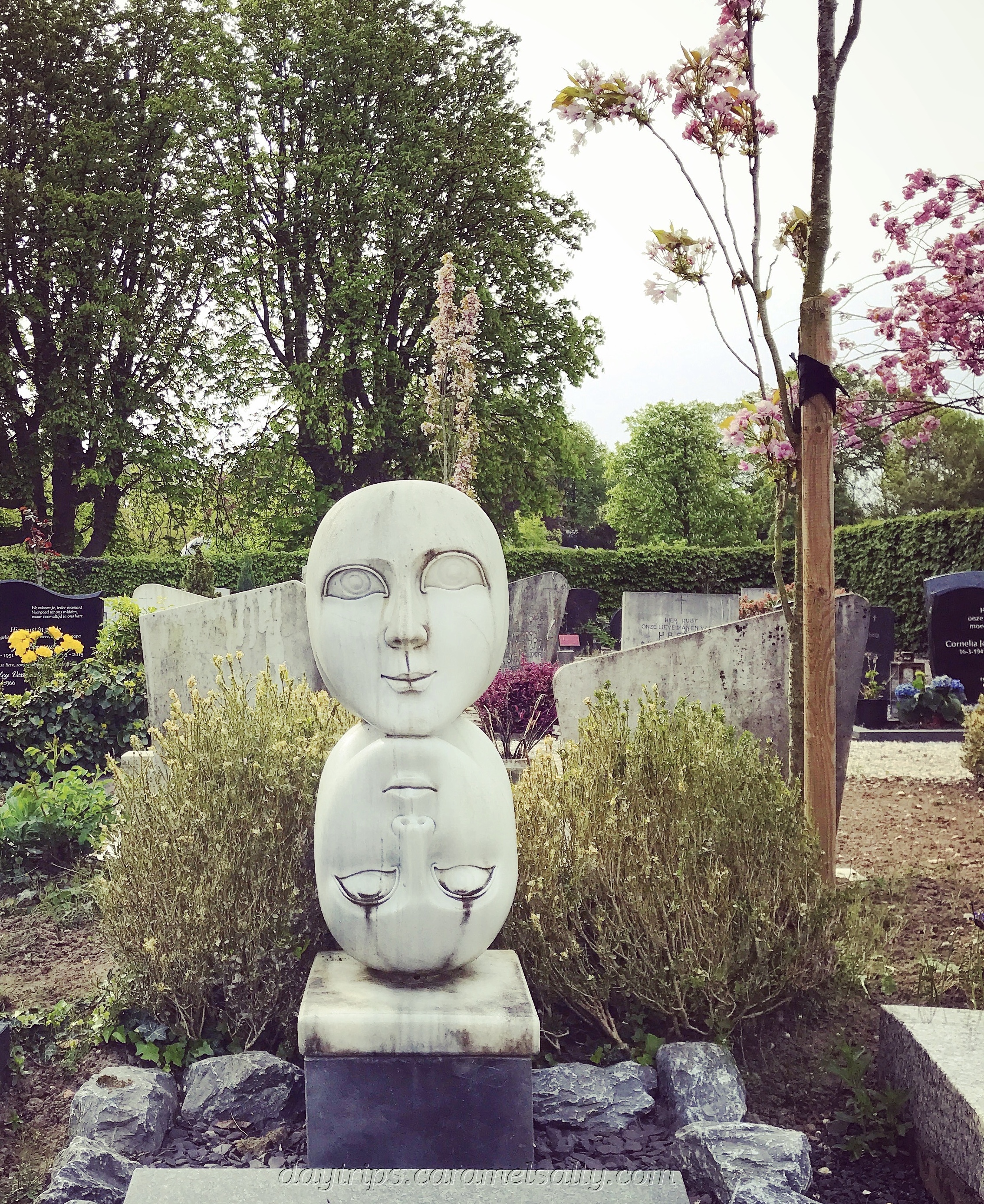 Back along the N402 I return towards the village of Maarssen-Dorp. There are two Maarssens – Dorp and Broek. Dorp is, by far, the more charming of the two. This time I walk alongside the [3] River Vecht, with Doornburgh Park as a backdrop on the other side.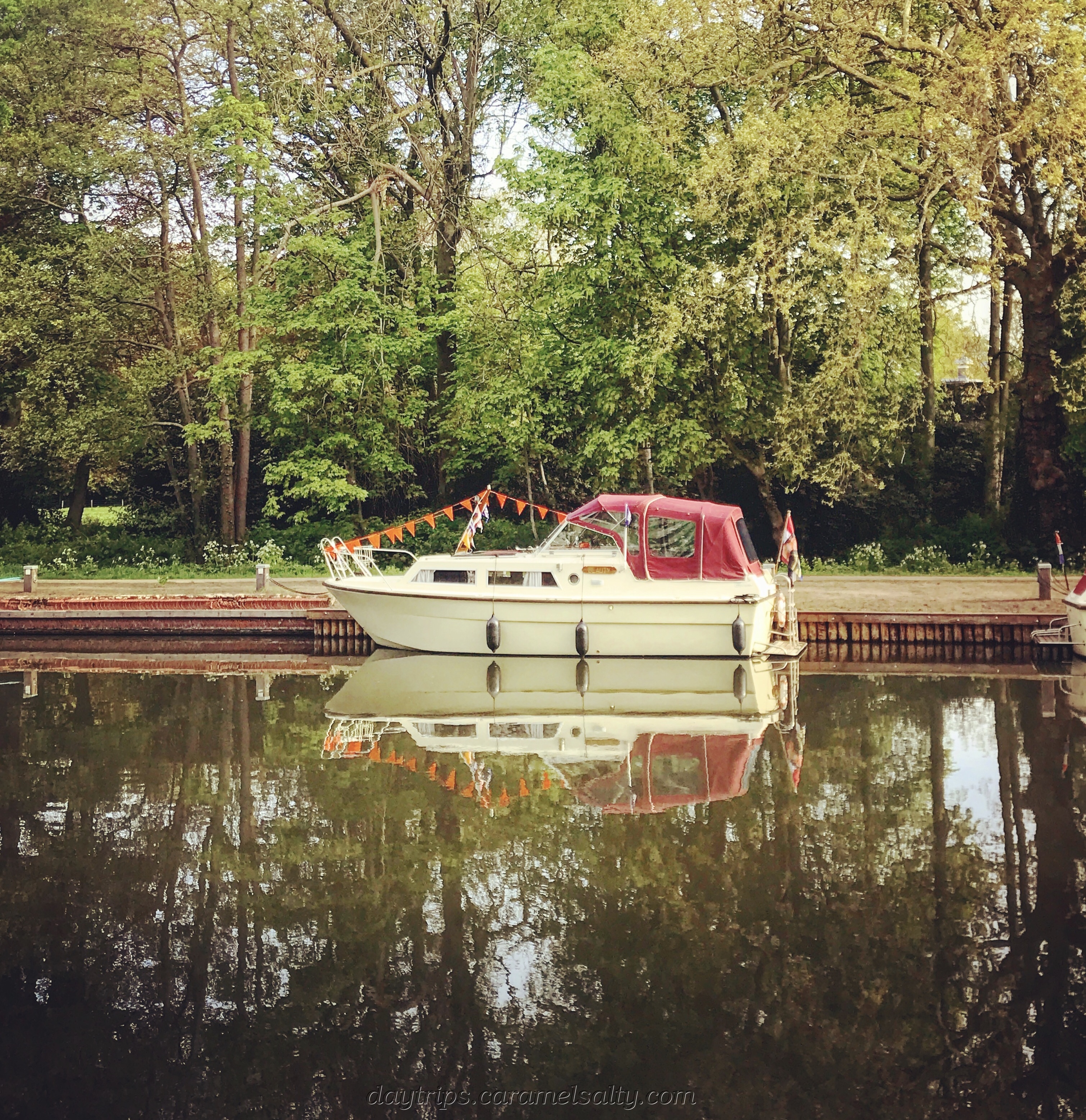 I soon realise that the Vecht is not the only waterway here. From the corner of my eye, across the field, I catch the top of a floating boat to my far right. So back across the road I go.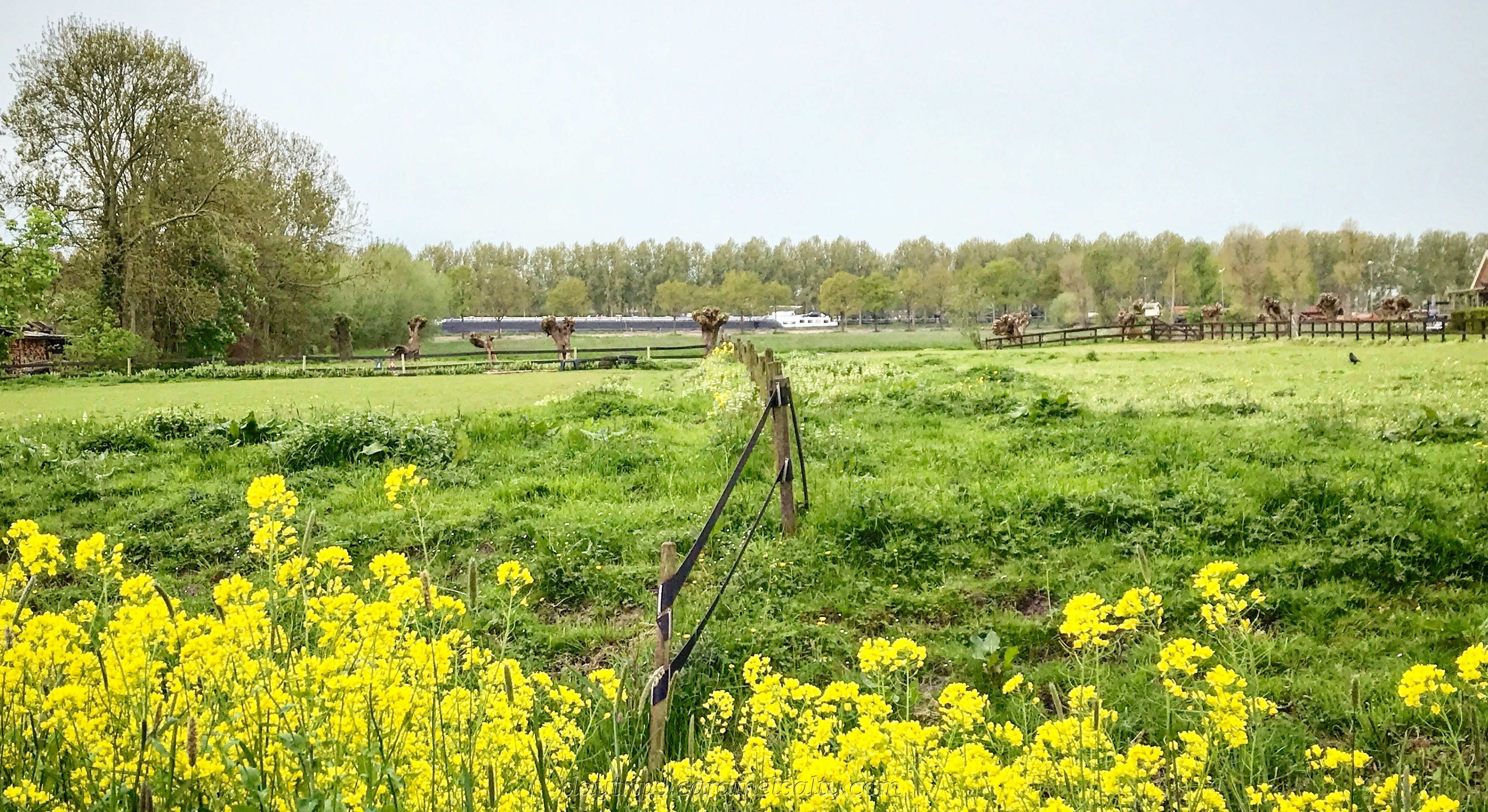 A little track takes me straight down to the [4] Amsterdam-Rhine Canal. As it's name suggests, it connects Amsterdam to the tributaries of the Rhine that flow through the Netherlands, way south of Utrecht.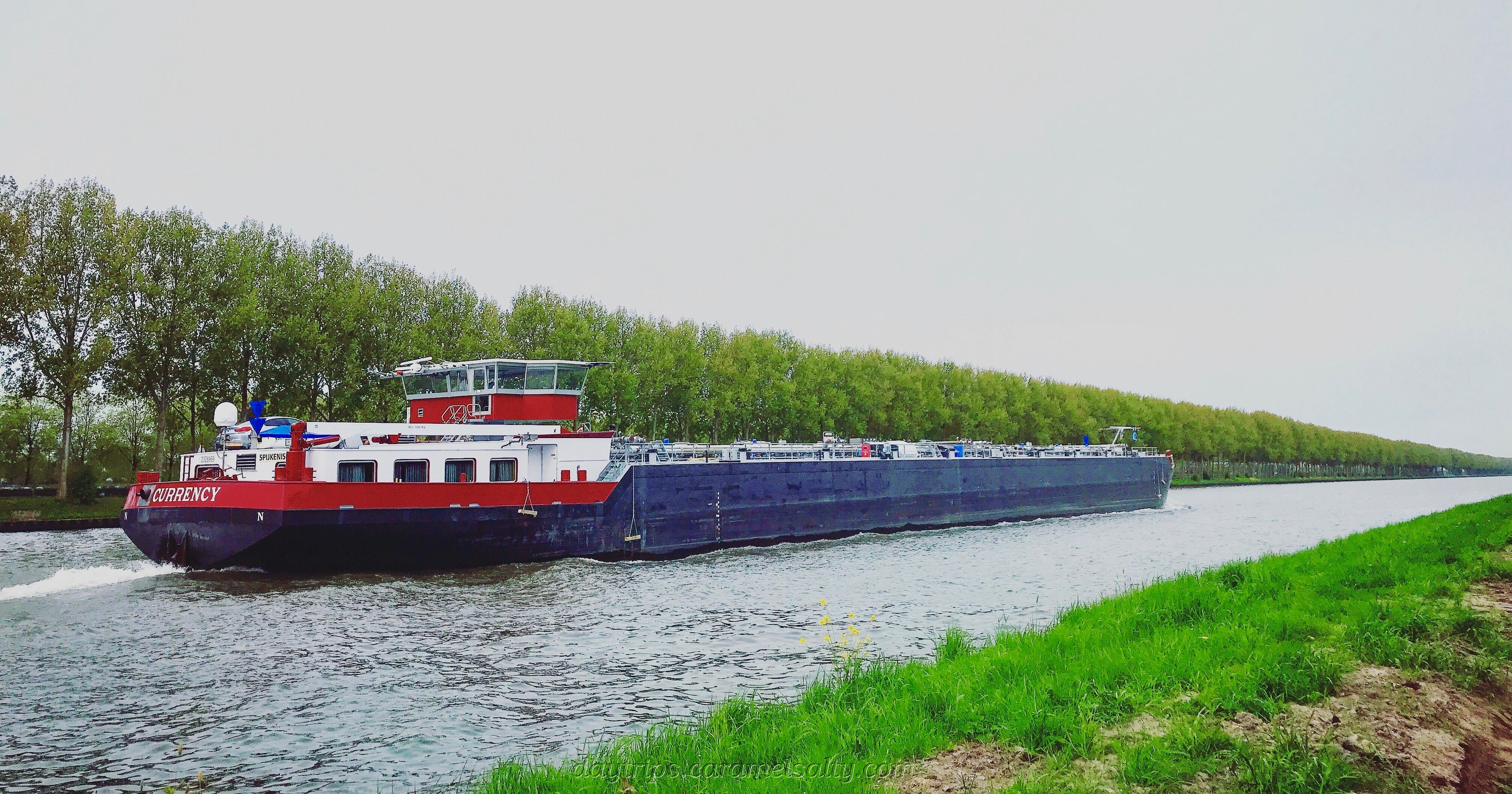 On my return back to the N402, I decide to divert through a little bit of green. I wander into a community of say, no more than 100 houses of the typical, modern, brown brick types I see everywhere in the Netherlands.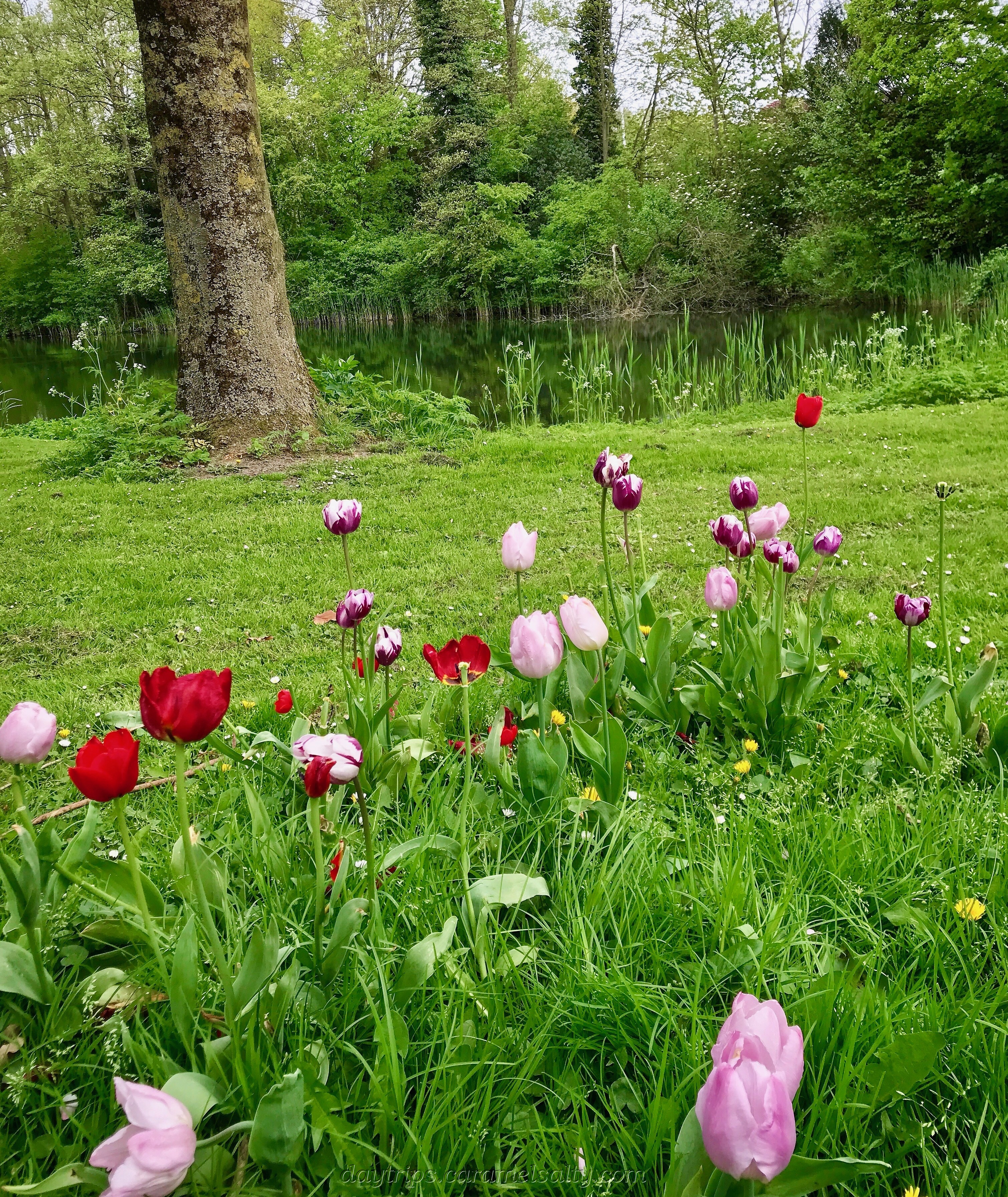 As I walk along a tarmac road of semi-detached family homes, with cars on drives and children's bikes in front gardens, imagine my surprise when a brood of hens wander out casually from one of them. And then I go past stables with horses in a compound with an old brick well. All very charming.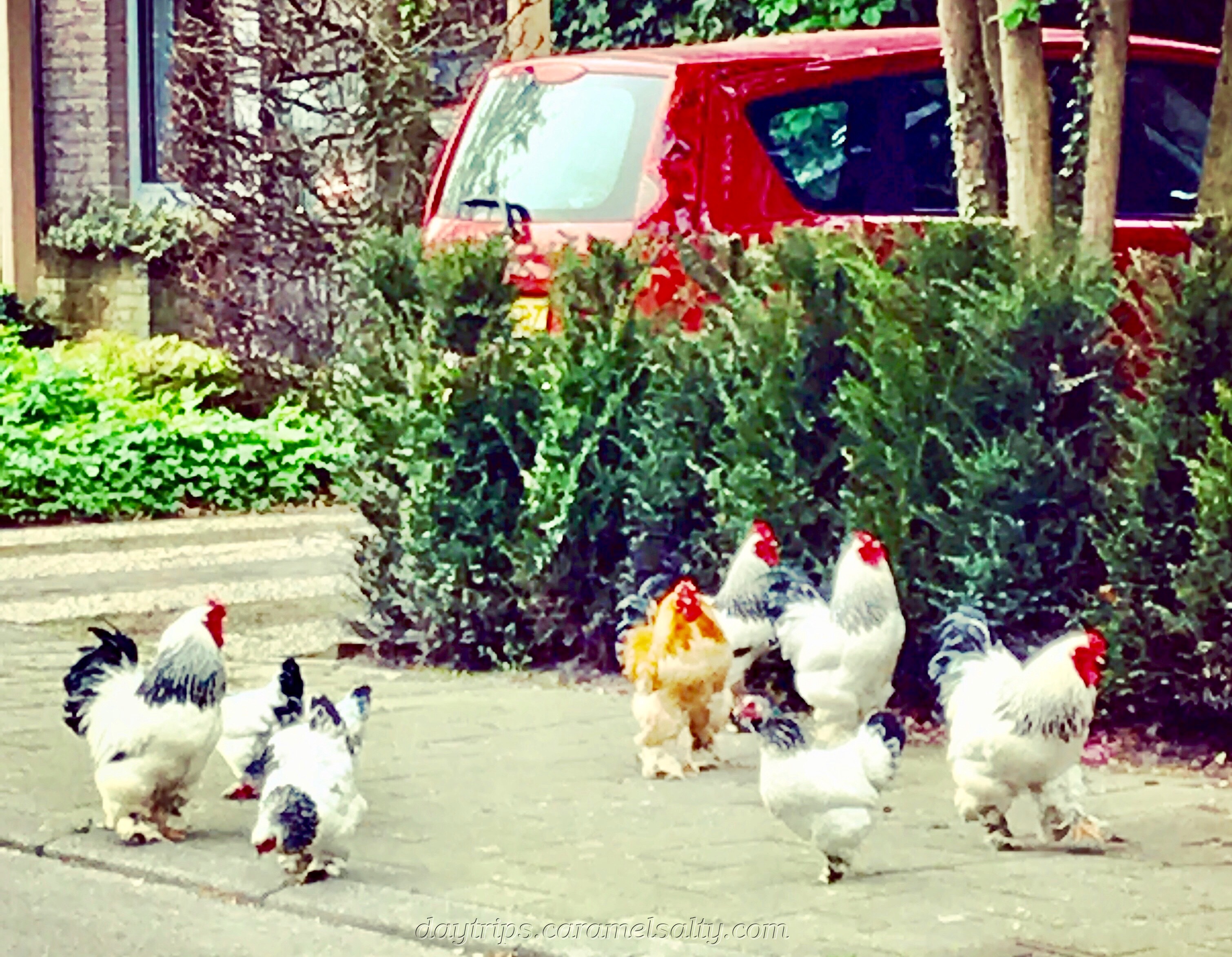 I cross over to Maarssen-Dorp. King's Day is in full swing, but I shall leave that for later as I head towards the charming church of [5] H Hartkerk. It's just by the bridge that will take me across the Vecht.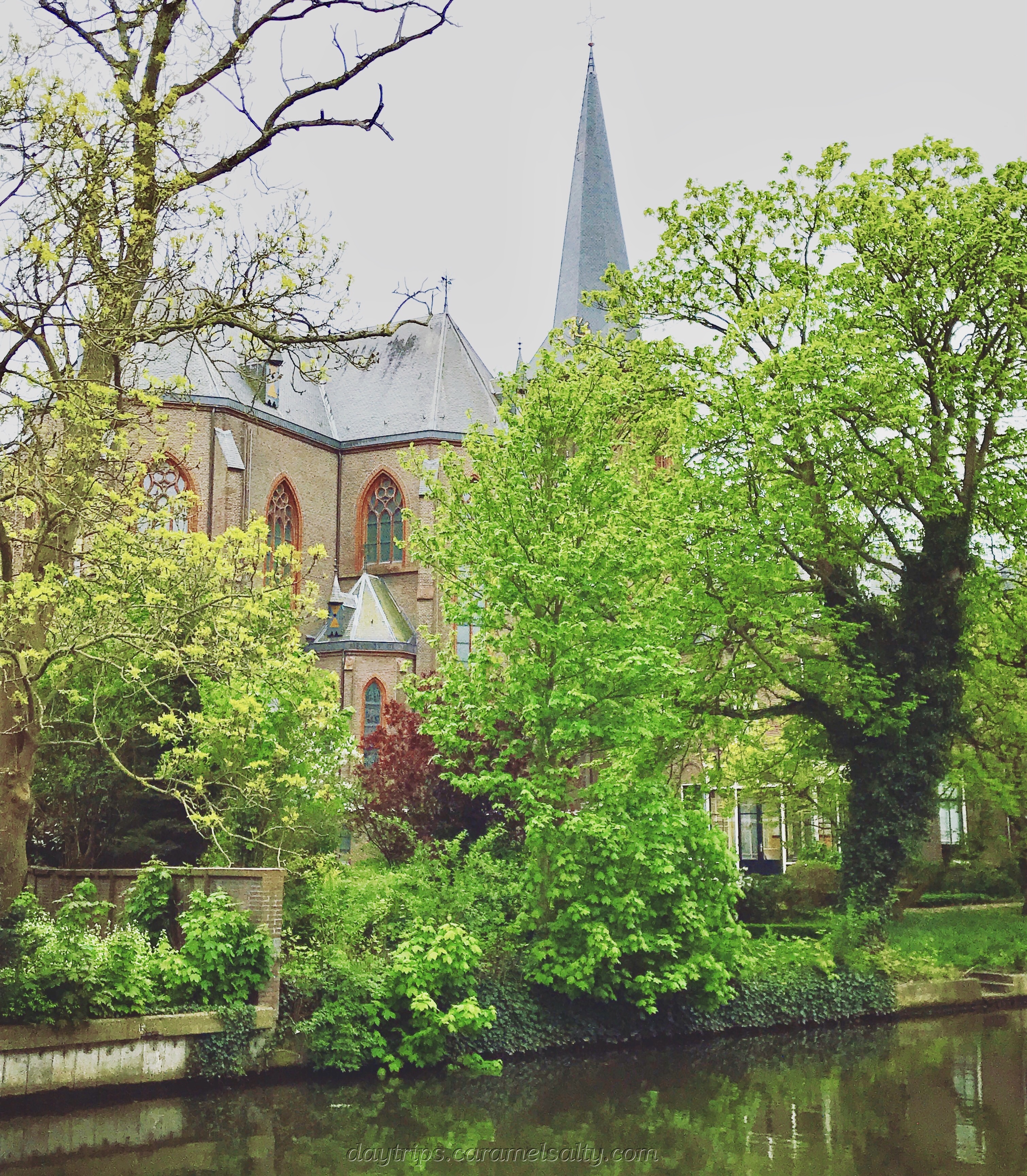 As the church is shut, I wander around the churchyard. Not surprisingly on this national holiday, many have taken to their boats. And so bridges along Dutch canals all over must be very, very busy today. There is something captivating about watching a bridge rising gracefully.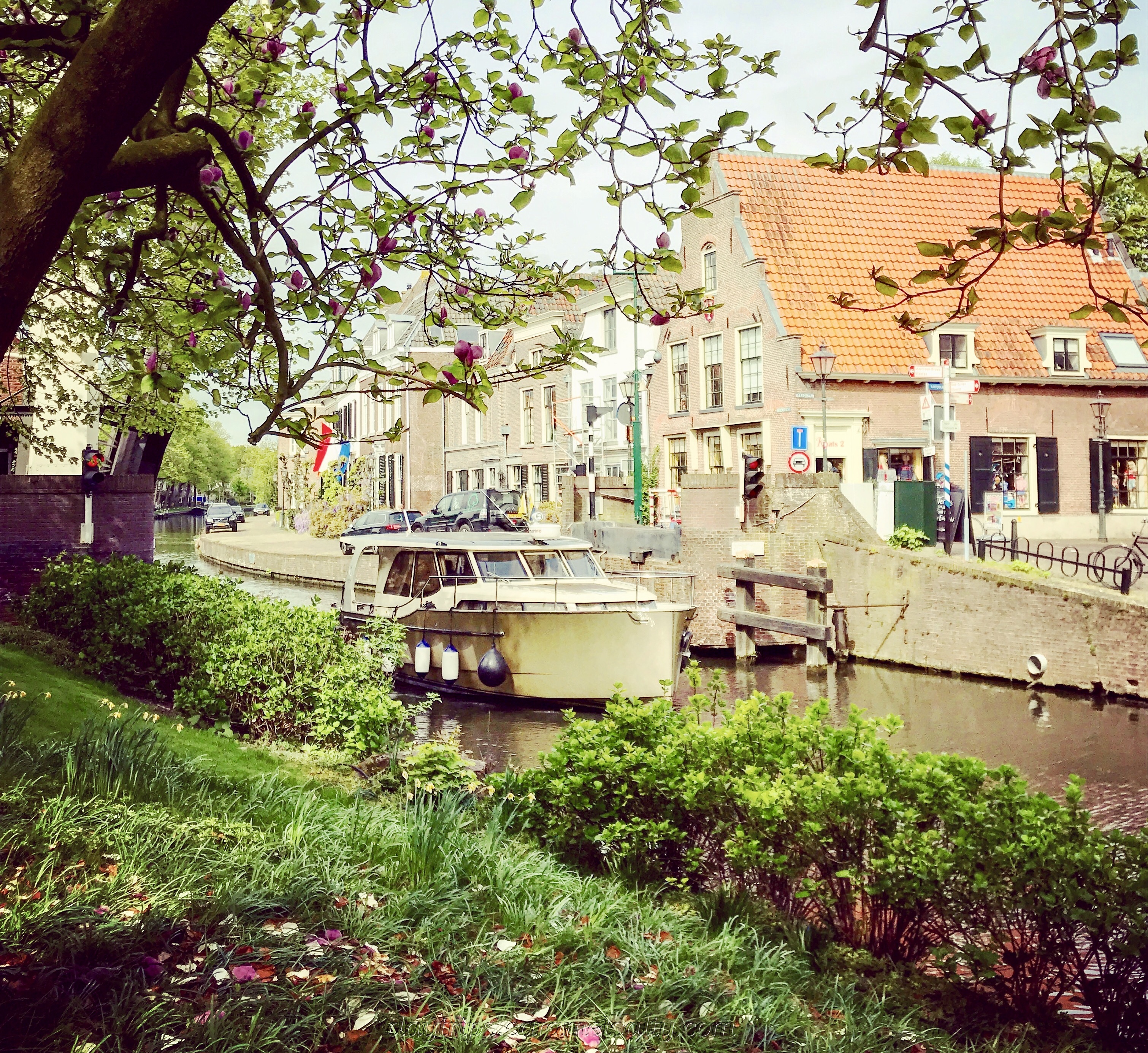 The bridge is now firmly down, and so I cross the Vecht to [6] Herengracht on the other side. It's a typical Dutch canal street, a single cobbled road with houses whose doors more or less open straight onto the street. And even in this little space amongst stones and bricks, the Dutch still manage to cram in their plants and flowers.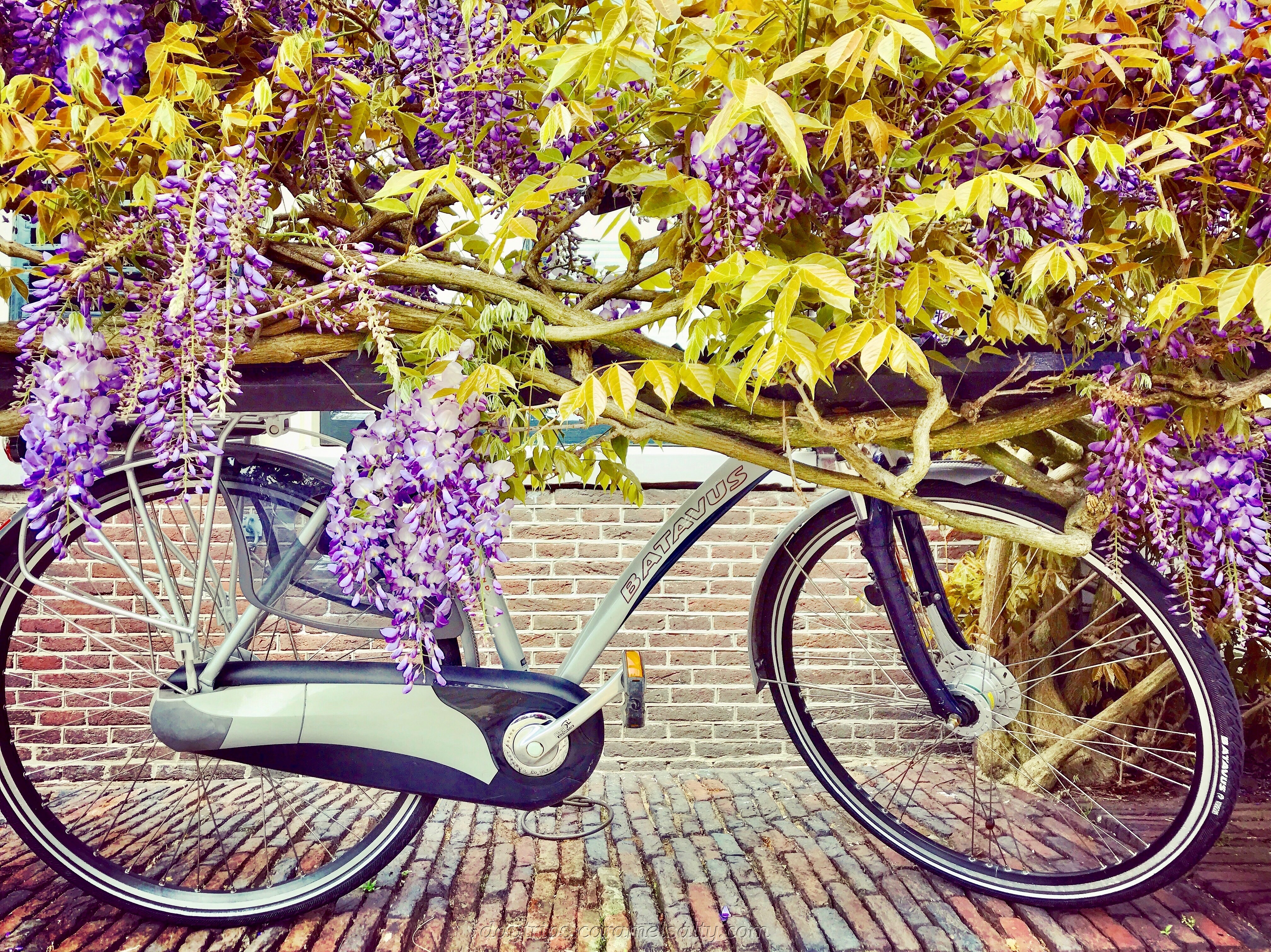 Herengracht ends at a bicycle track with grass verges. On the other side of the River Vecht, house gardens with quaint outdoor furniture sit in glorious view. Little boats are moored up. At the far end I spot a small white octagonal building with a lead canopy roof.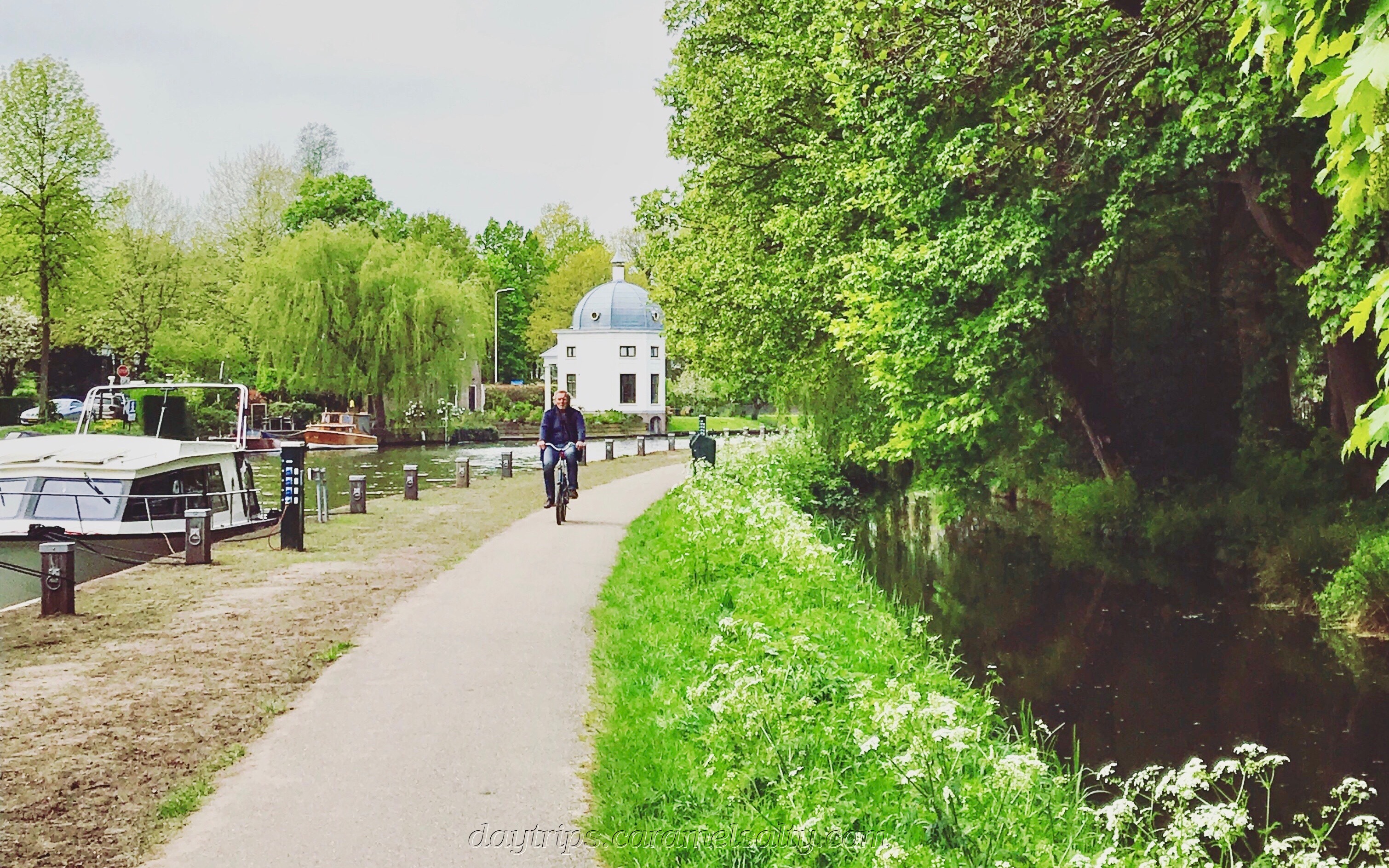 I go past the locked but ornate wrought iron gates of Doornburgh, a 17th century country estate. It becomes a monastic centre for the Order of the Holy Sepulcher in 1957. I'm not sure what it is today. But sadly it's not open to the public.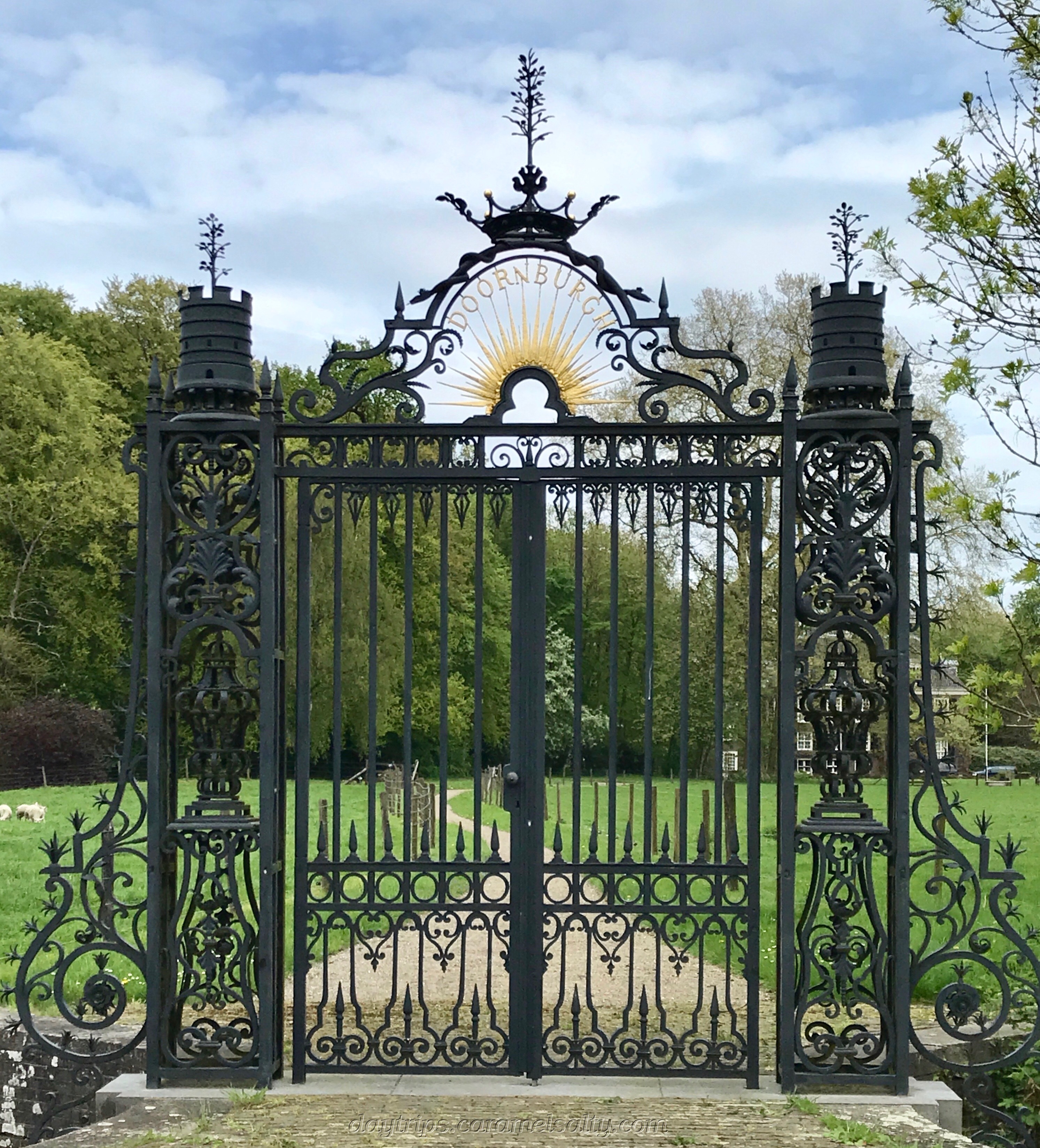 I turn right at [7] Timmermanslaan. A bunch of parked bikes outside a forest lodge now converted into a home, suggests to me that a cosy lunch is in progress inside.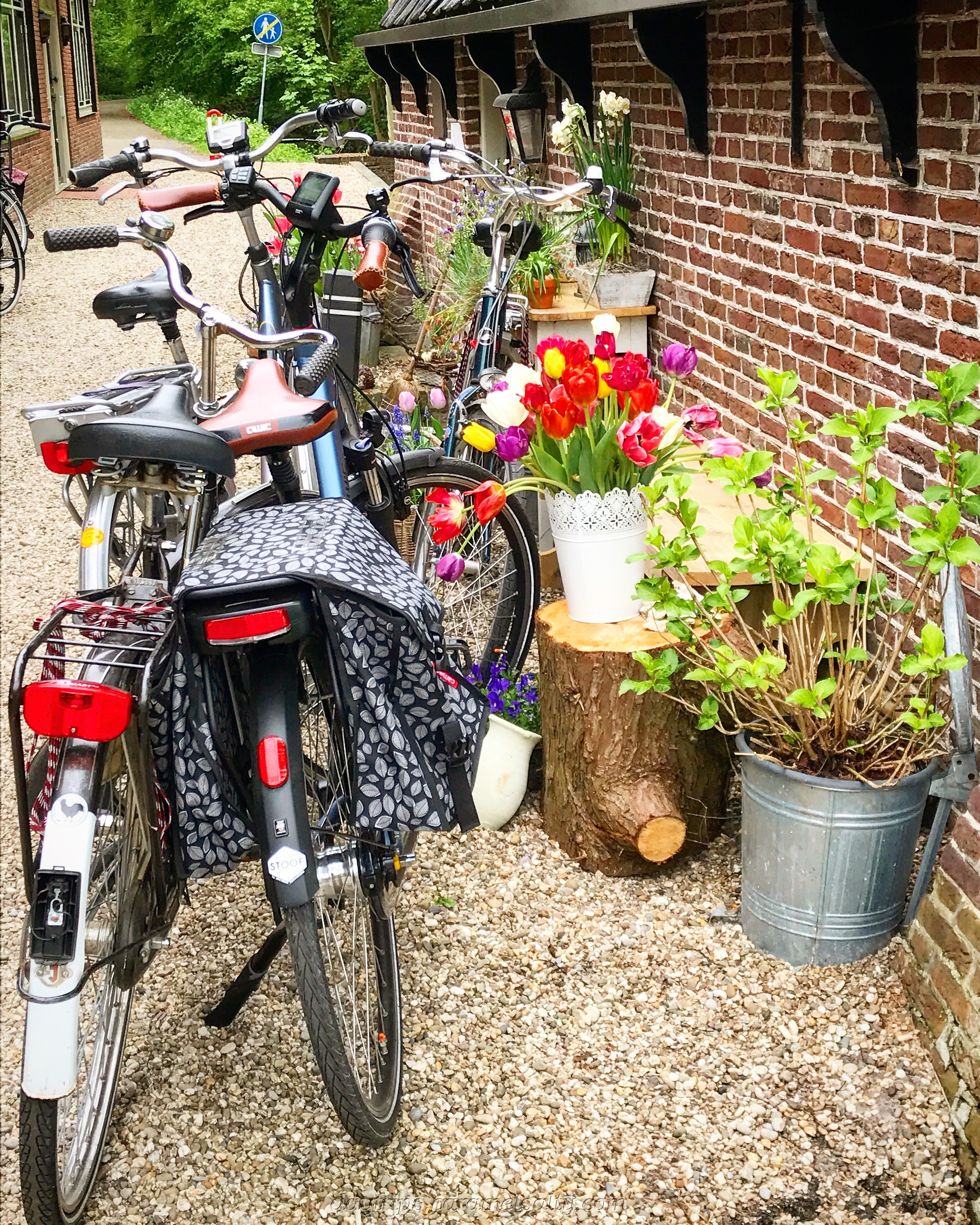 The forest I am now in was part of Doornburgh's estate, transformed by a landscape artist. A local tells me to listen out for the birds. So I do. It's so peaceful despite the strains of the gleeful shouts of children at a King's Day fair in the grounds of the Gemeentehuis Goudestein next door.
I am now cutting across a much larger, but typically neat and spotlessly tidy Dutch housing estate. Pretty mundane until I get to the top of [8] Kortelaan. Suddenly the path becomes a track and houses start getting sparser.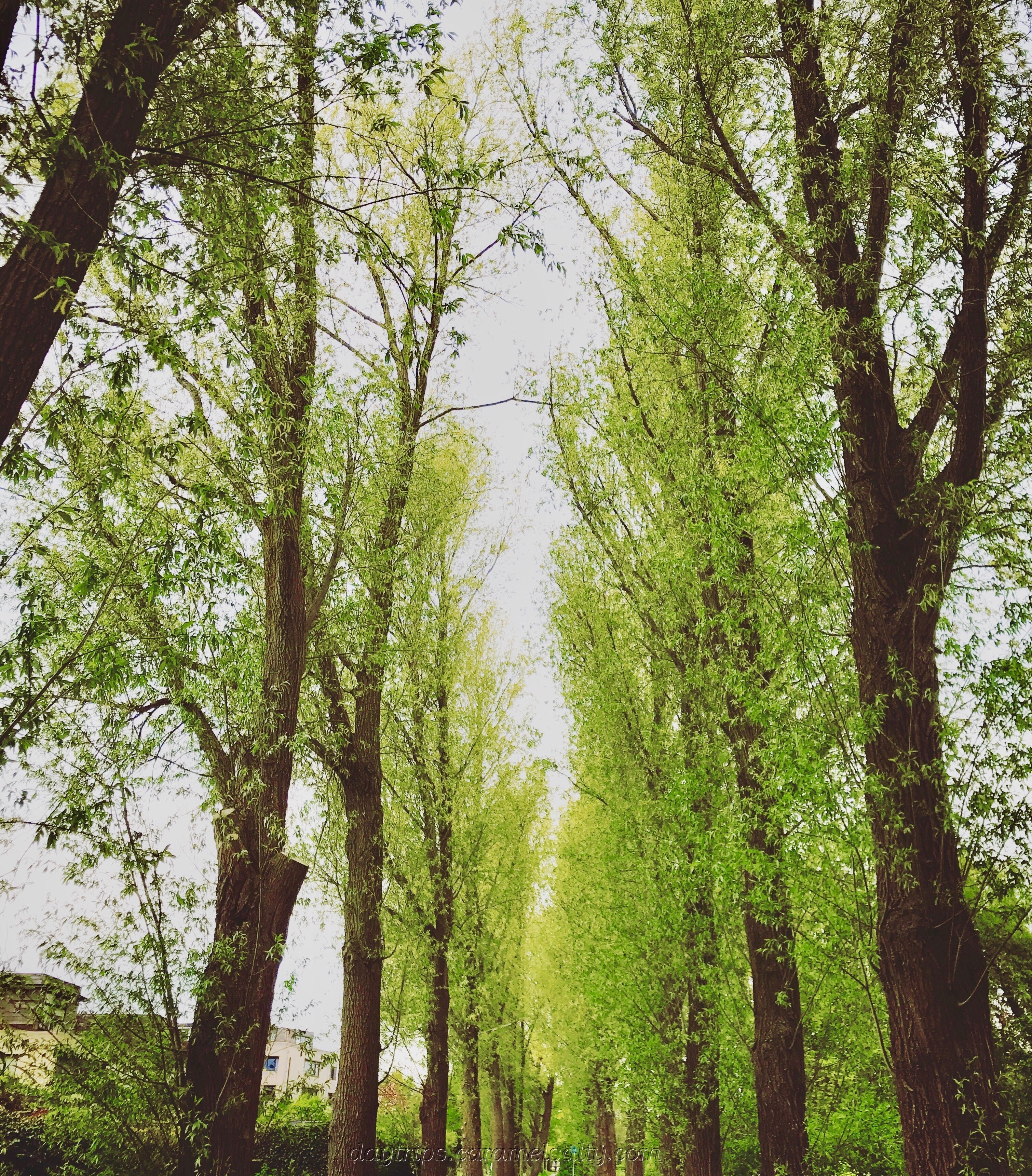 I make a right into [9] Wilgen Plaas Recreation Centre, and arrive at one of the largest portakabin community I have seen in the Netherlands. The lakes look like those created by the once intensive peat digging in the Netherlands, which I cover in my Kinderdijk blog.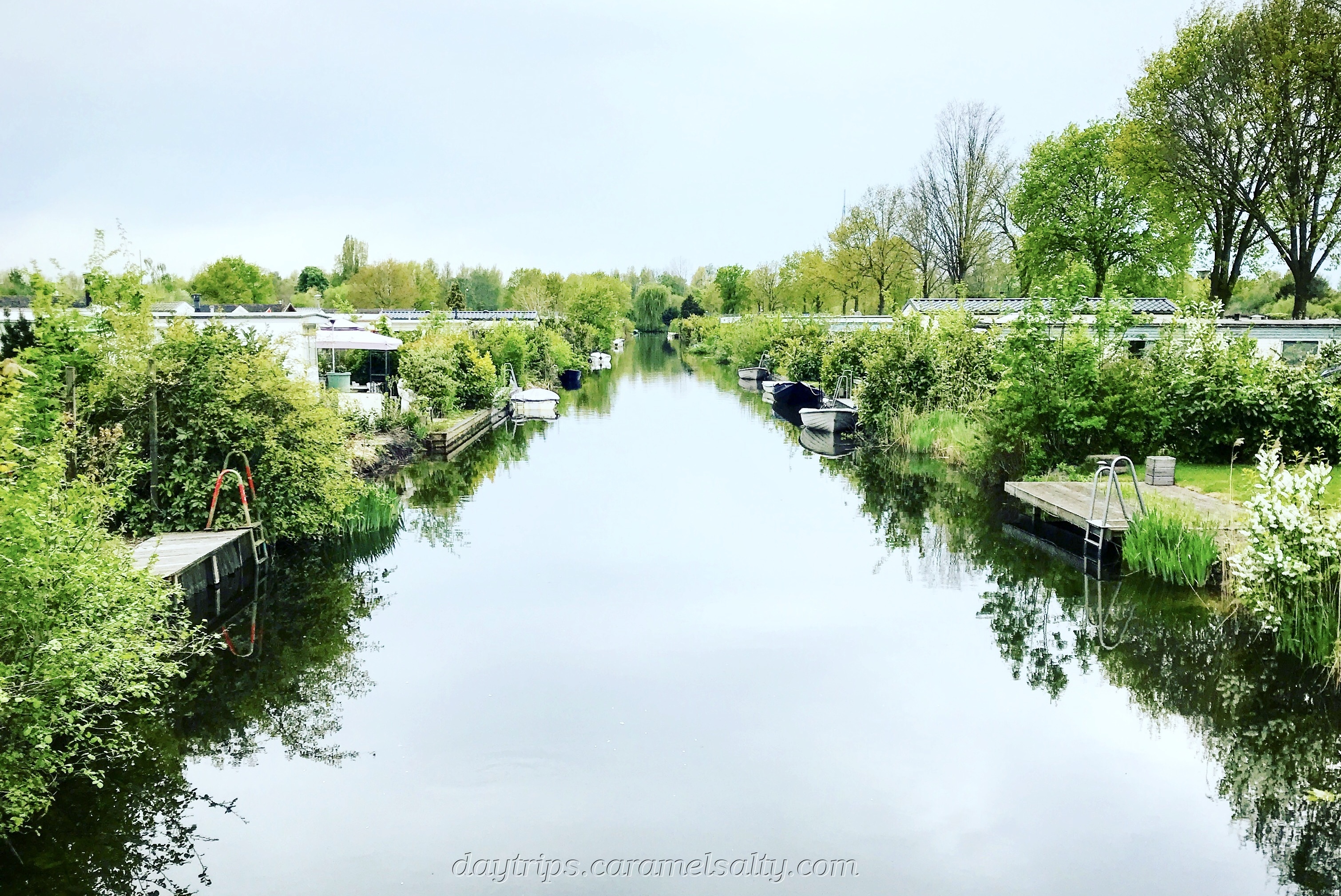 I am surmising that this is the Dutch solution for low-cost housing. But again, everything is neat and tidy. And in the fields beyond, there are families of ducks and fowls either swimming about in the canals or walking across the sodden fields.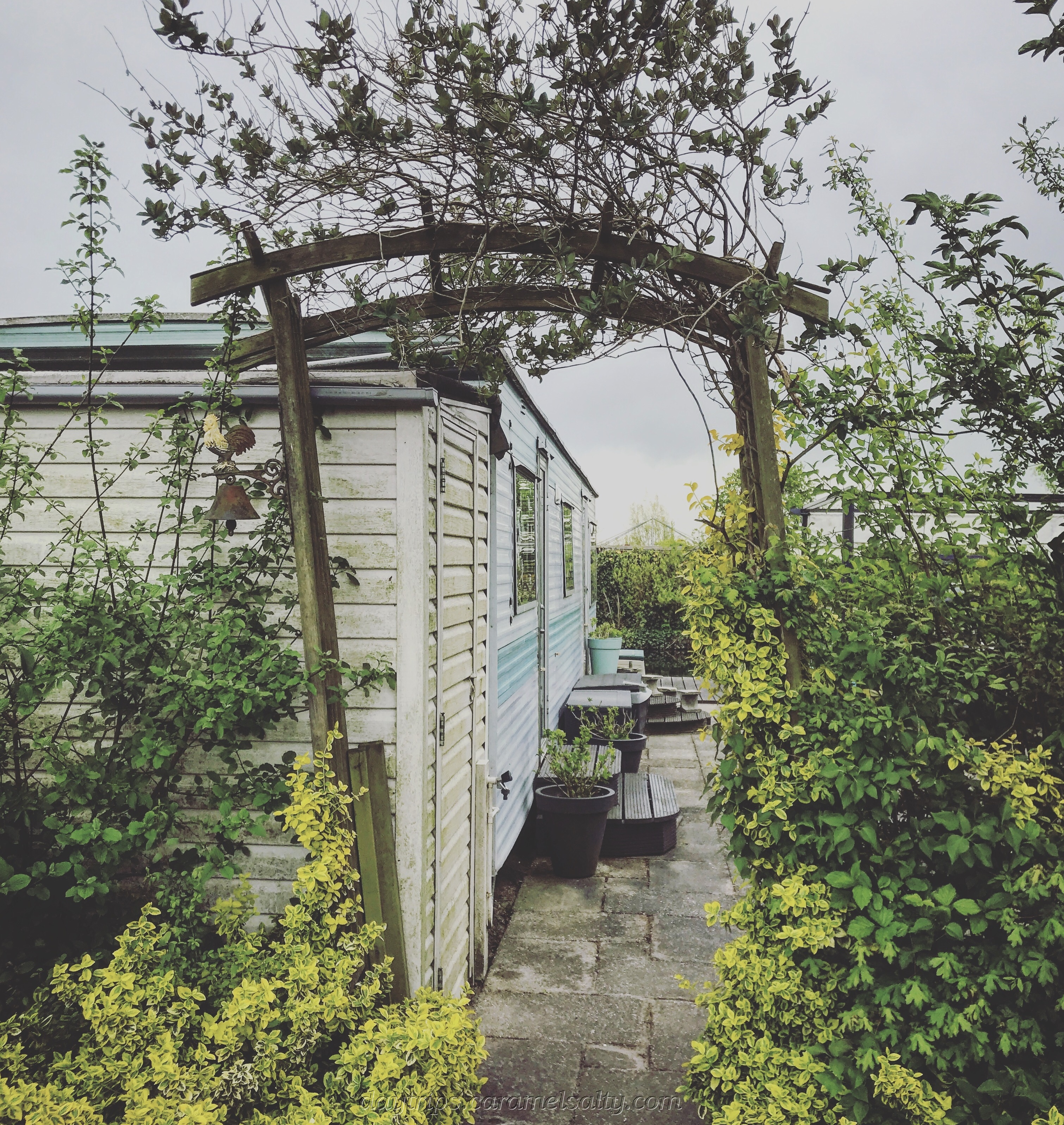 I head back to Maarssen Dorp to catch the back-end of King's Day, invented in 1885 to celebrate the birthday of Princess Wilhelmina. The celebrations have evolved into streets of vrijmarkts (flea-market stalls) on the streets for the Dutch to get rid of unwanted items. It is fun browsing to discover unusual items for sale.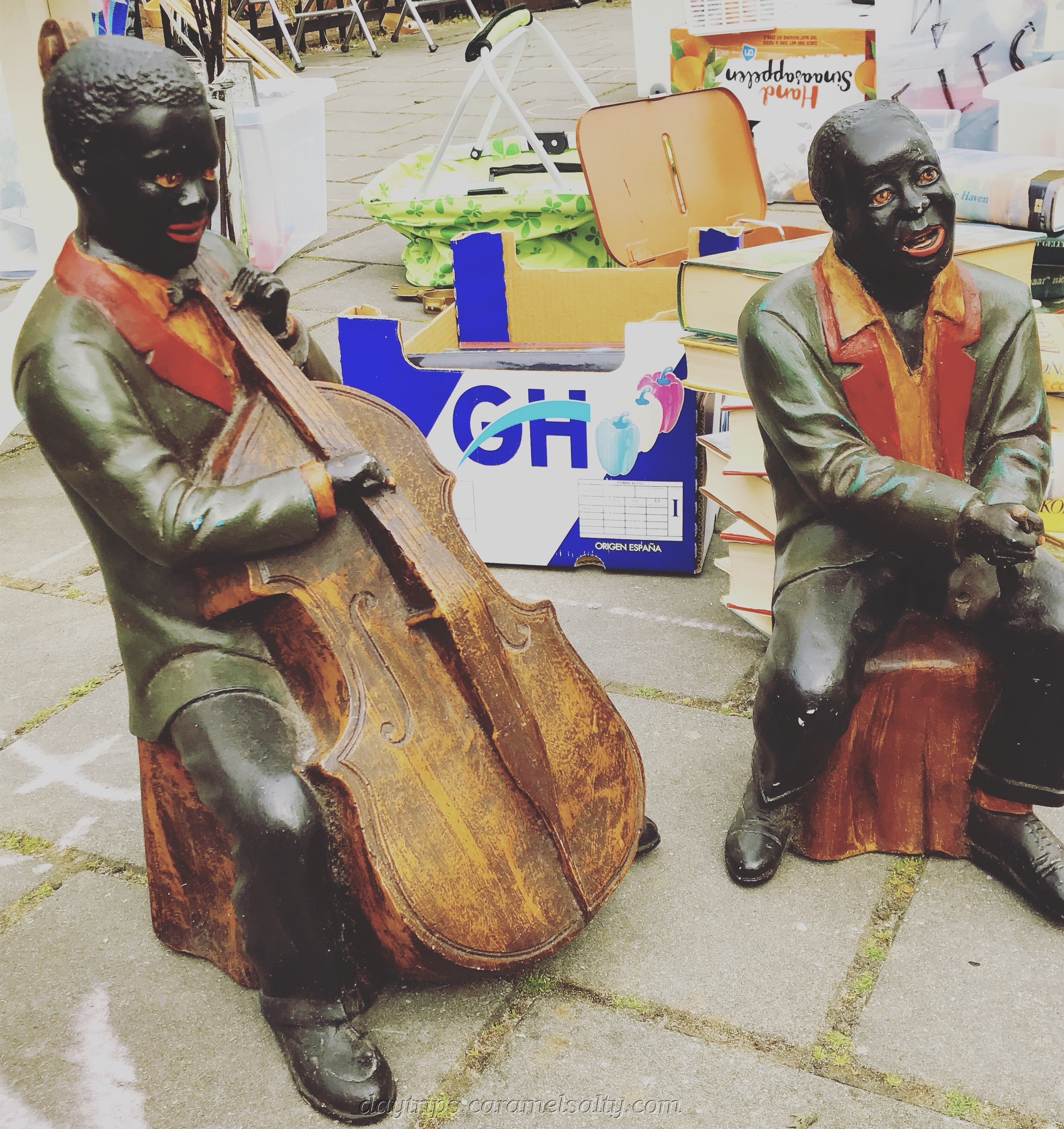 Needless to say, the smell of barbecued sate, a dish from a previous Dutch colony, is very welcoming after a long walk. And after some skewers of meat in peanut sauce, I head to the local bar where the revelry is bound to get even more boisterous.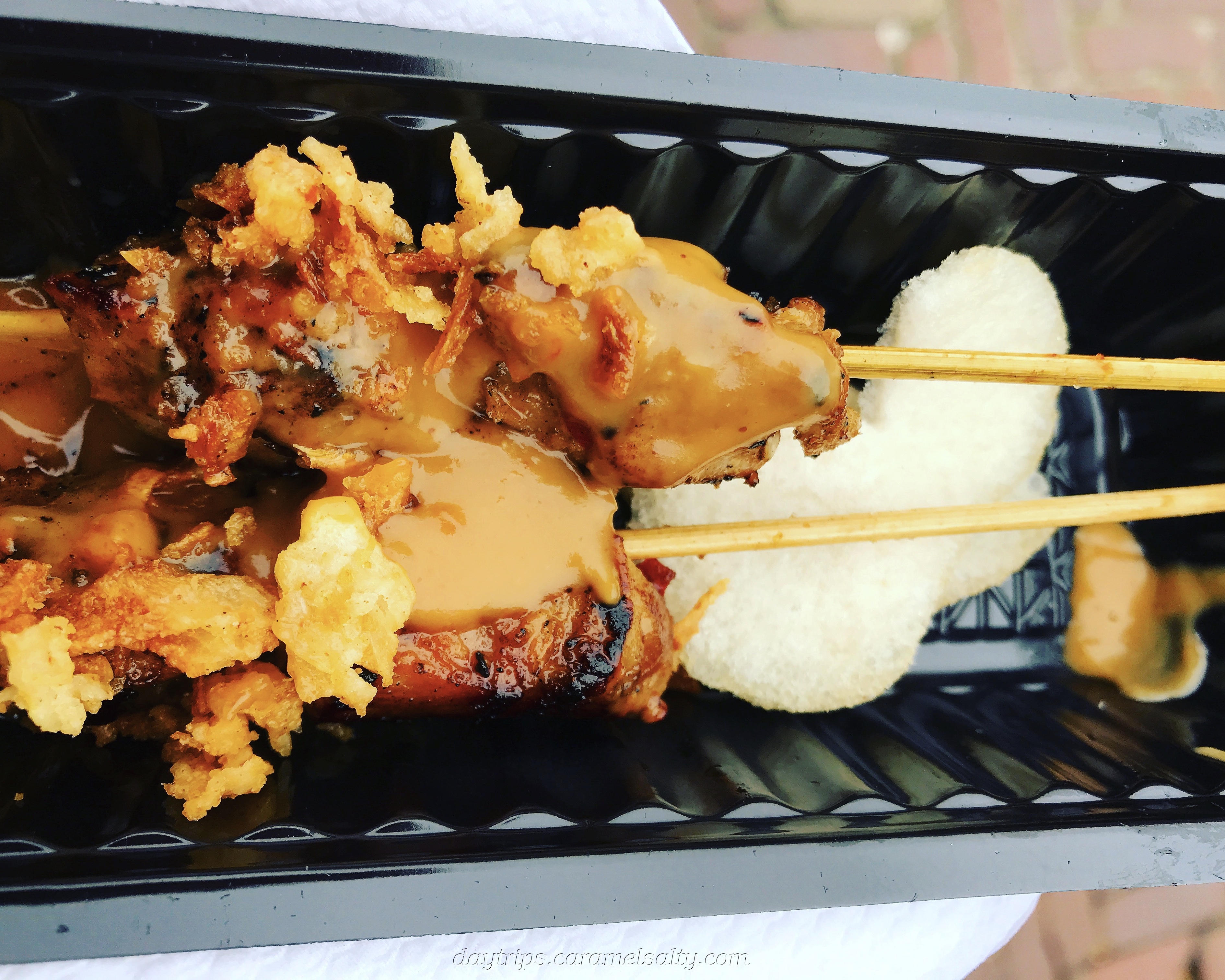 Which goes to prove that you don't have to be in Amsterdam to celebrate King's Day. There's plenty to do even in a little charming village like Maarssen-Dorp.
Related Blogs
How to Do What I did
Netherlands Rail (website) – route planner, timetable and fares available online
Bus #120 (Utrecht – Amsterdam) is the most direct route (20 mins) to Maarssen-Dorp (Maarssen-Dorp stop). Bus #5(Utrecht – Maarsenbroek) takes a longer route (40 minutes). The stop is Raadhuisen. Both can be caught from Utrecht Bus Station beneath the train station.
V Chipkaart (website) – the anonymous Chipkaart avoids queues and can be topped up by credit card at machines at all train stations. Economical if you're doing over 20 journeys/multiple holidays