Lanzarote – Maguez, Guatiza and Tahiche
Today I am in search of cliff top views, cacti and a man called César. As I'm in Lanzarote, I figure this shouldn't be too difficult to manage.
Start of the Day Trip- Estación de Guaguas, Arrecife
Cost of Day out – Moderate (££)
Maguez is another 5 minutes by bus past Hária (my other day trip). From Hária, it's a roller coaster ride to Maguez as the bus dips into a deep valley and then out again. But I'm not complaining. The views are fantastic.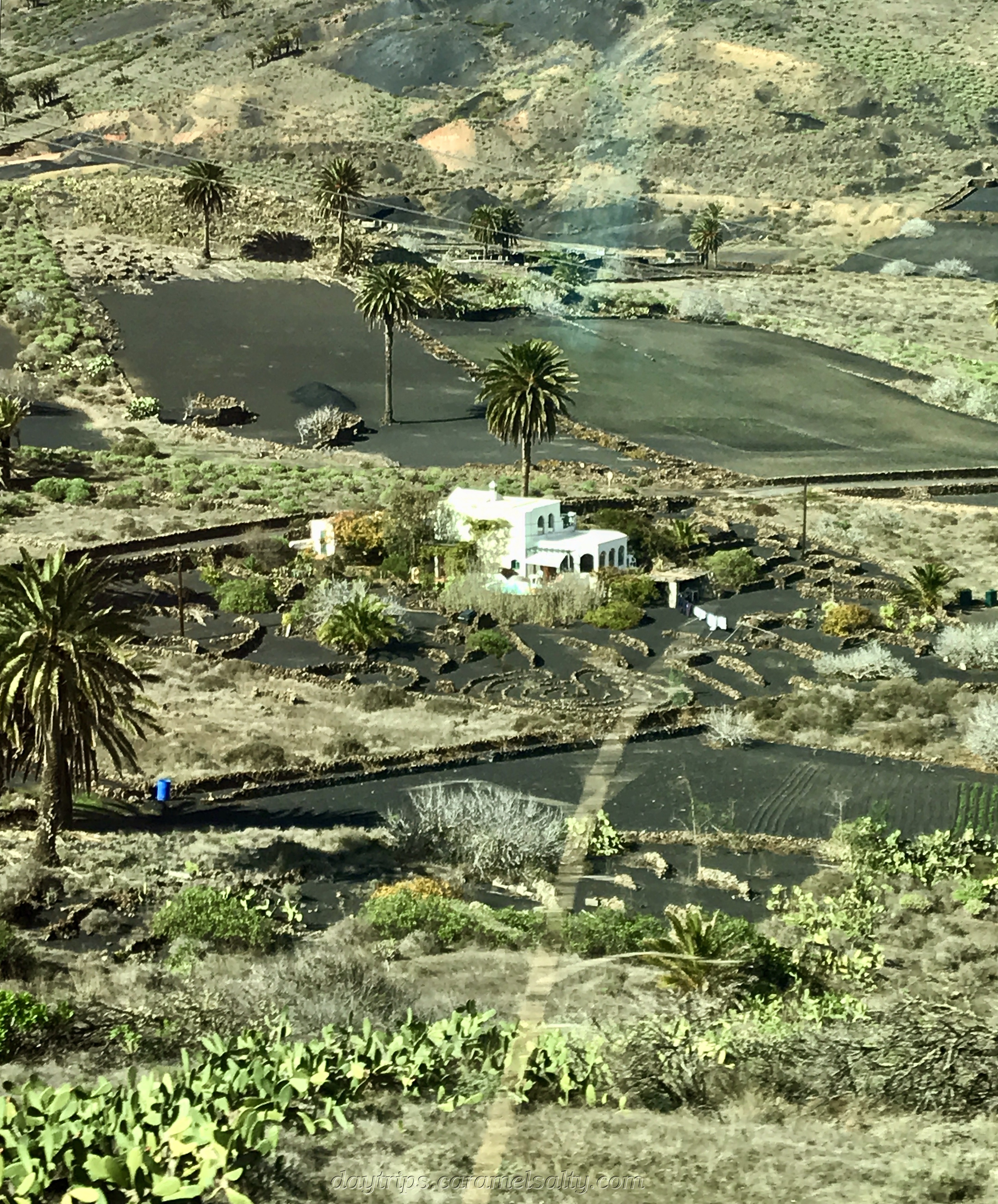 The bus had been fairly full when it started. But virtually everyone has got off at Teguise and Hária. By the time the bus gets into Maguez, there's just me and one other on board. I begin to wonder if I've made the right choice for a daytrip.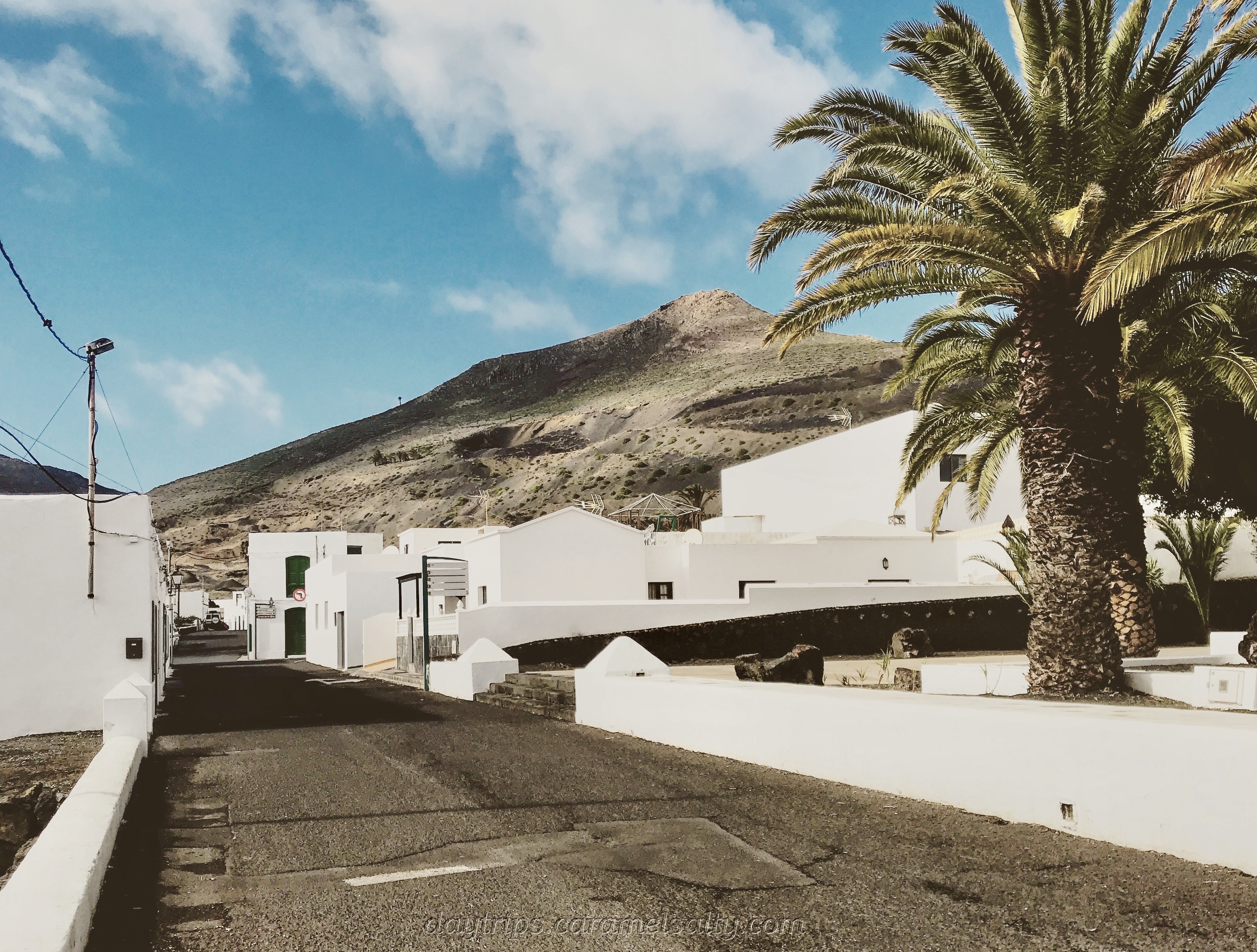 On alighting, I set off for the Mirador de Guinate immediately. This requires walking through, and out of, the tiny village of Maguez of no more than 150 houses, apparently.  I adore the traditional Canarian white houses and green doors.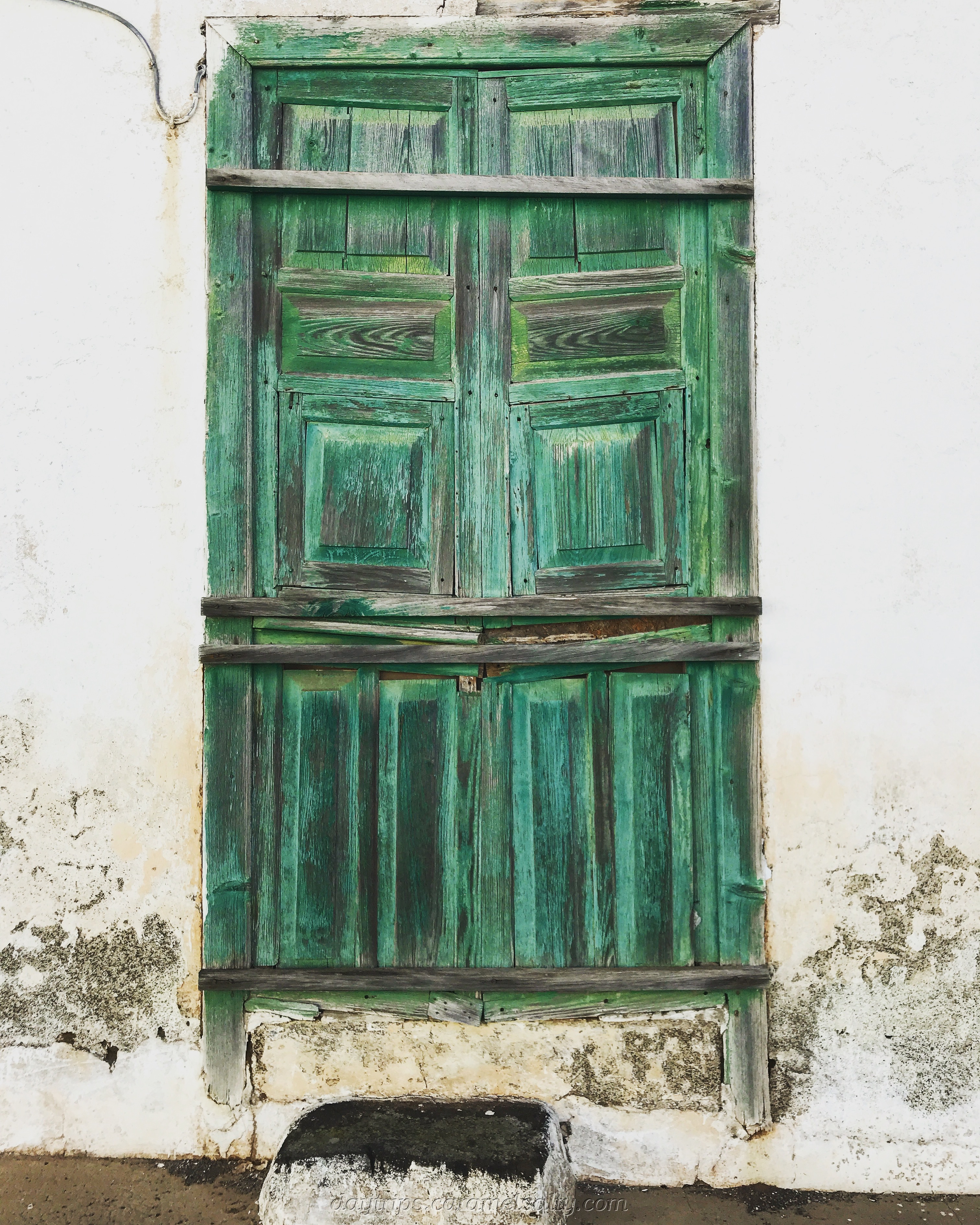 I've never been fond of the cacti back home, growing in pots. But here, in these spectacular surroundings, they look so majestic. Some are thriving in front gardens, others grow in the wild. They are phenomenal. But little do I know, that later on in Guatiza, I would be even more impressed.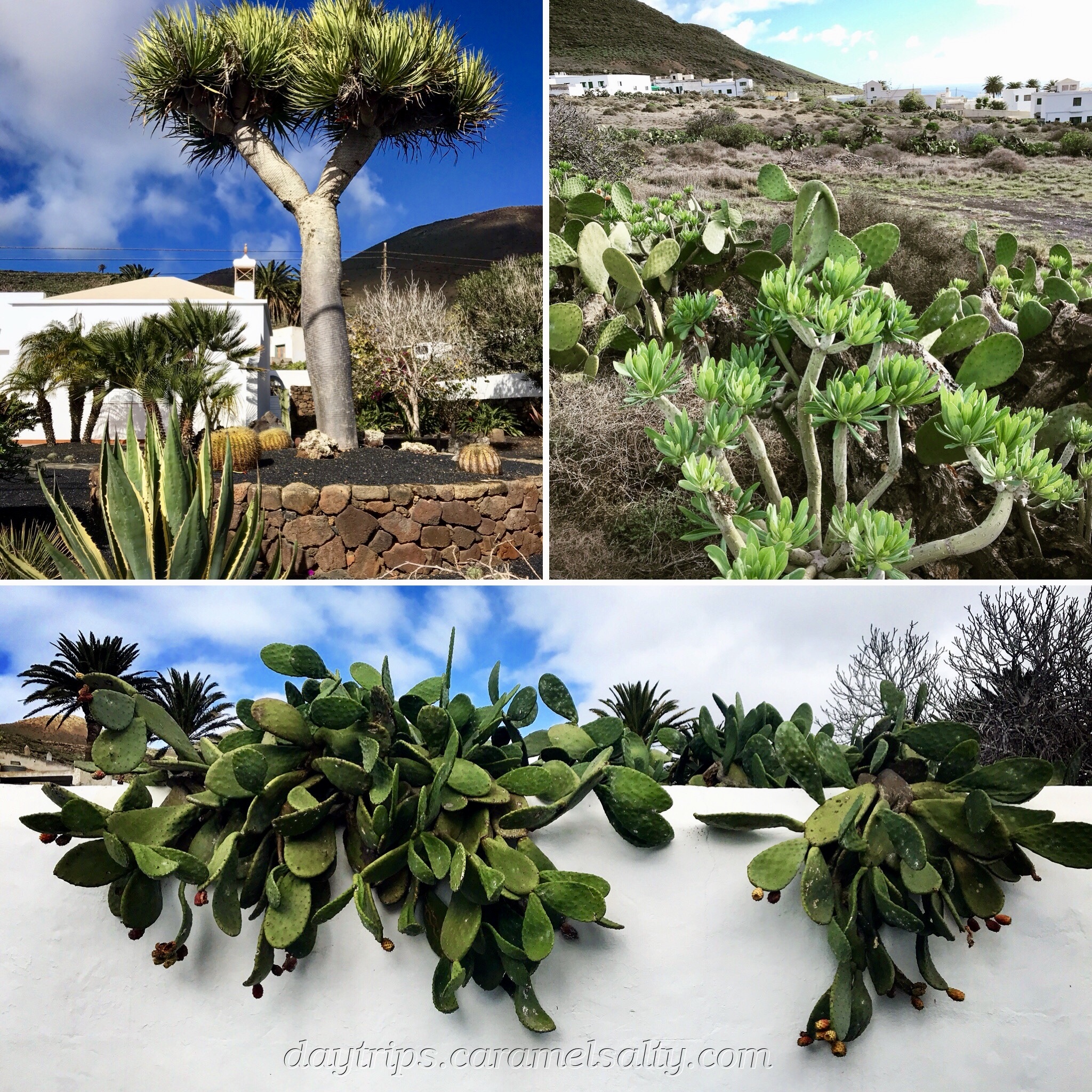 It doesn't take long for me to realise that Maguez is a farming village. Raked fields of black picon lie in the shadows of mountains, where the local campesinos grow crops such as corn and potatoes.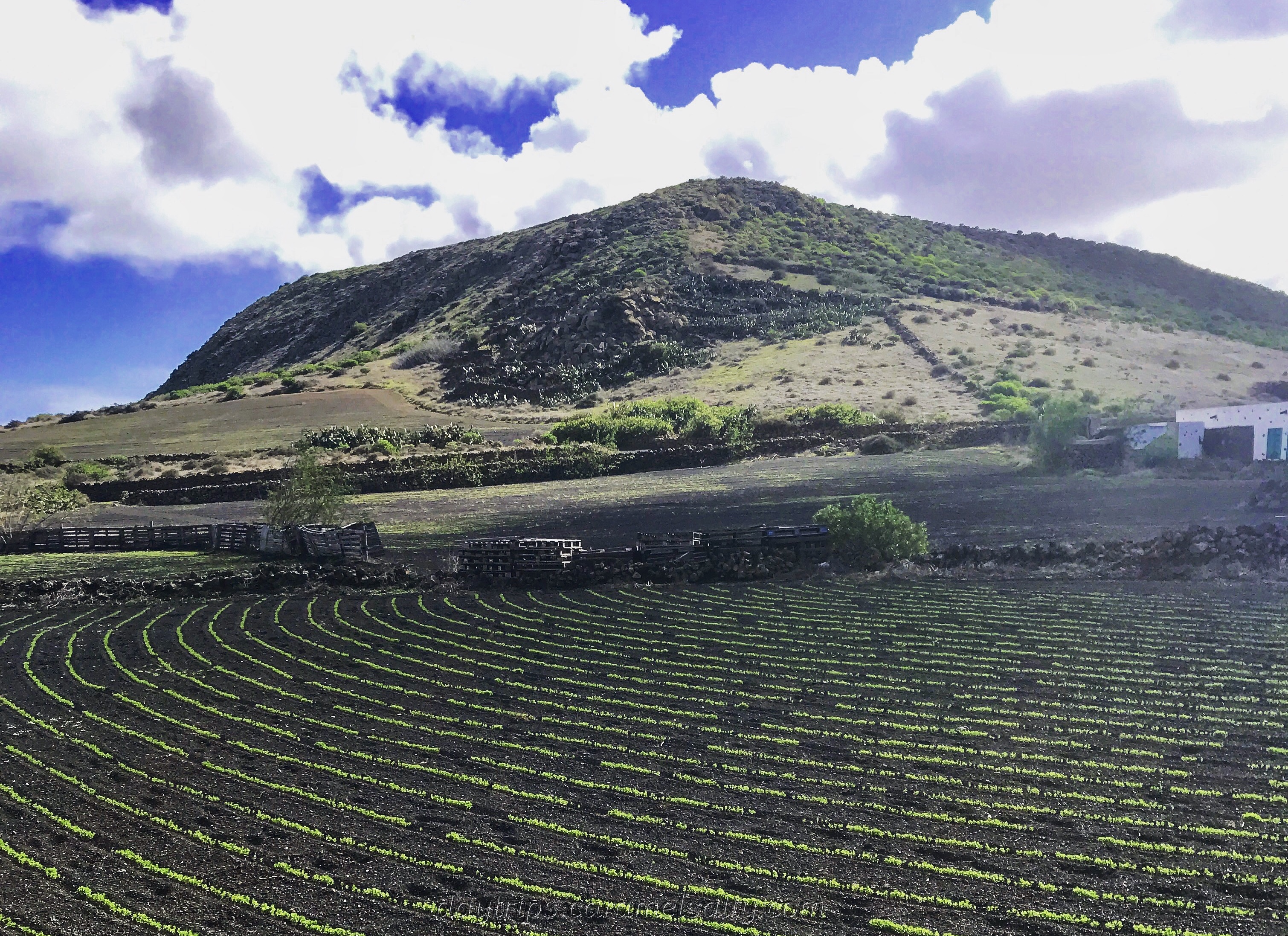 At the end of the village, there's a board displaying a scenic route to Guinate. I'm in two minds, but I decide to stick with the original plan, the main road. Despite this, I'm still treated to some fabulous views.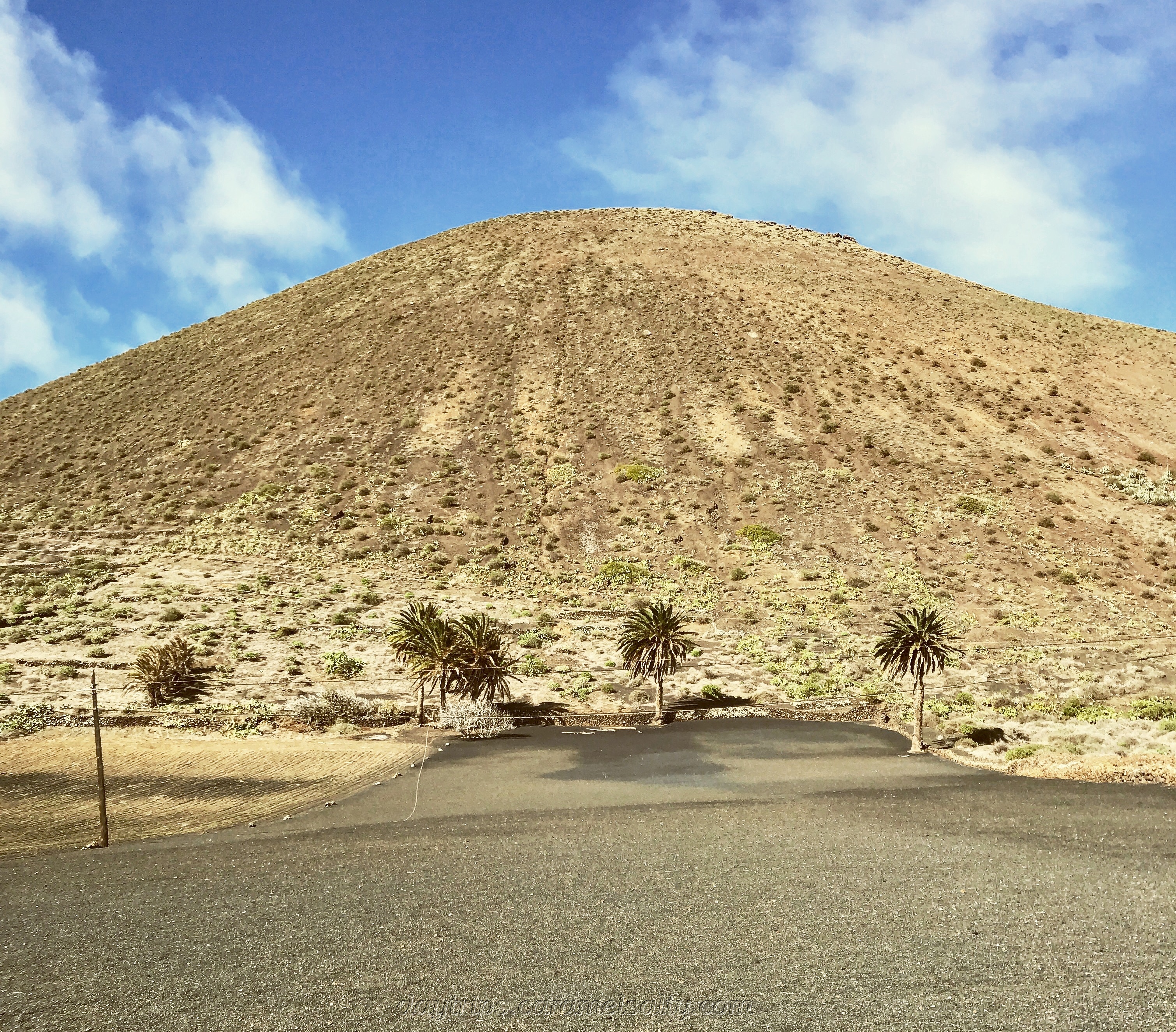 It looks as if I could be here a while. And on my own. Every other tourist I see are either zipping past on cycles or in cars, with apparently only one destination in mind, the Mirador el Rio, which is about 1.5 km further up from Guinate.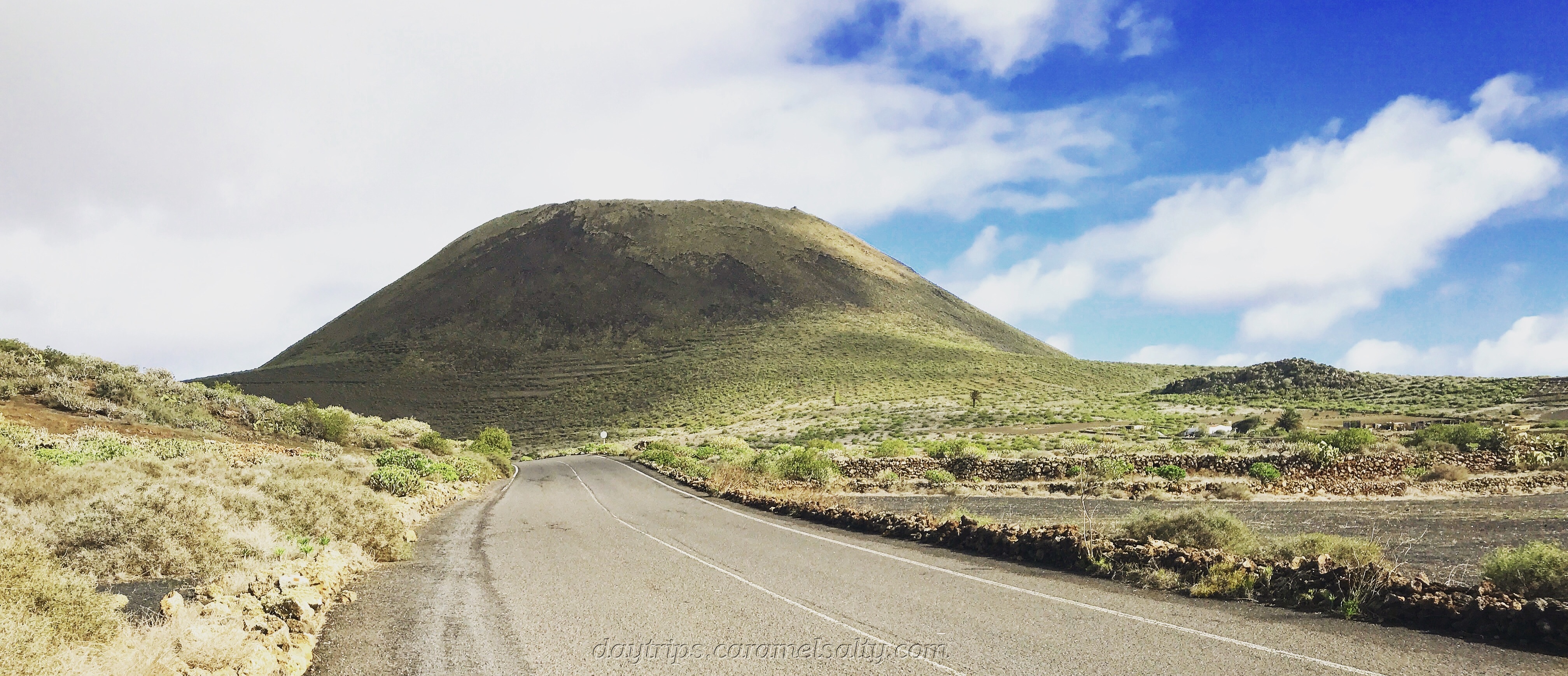 I turn left at the signposted junction for Guinate. If Maguez was a tiny village, then Guinate is miniscule. Apart from the two very excited dogs, there is not much sign of anyone else as I make my way to the Mirador.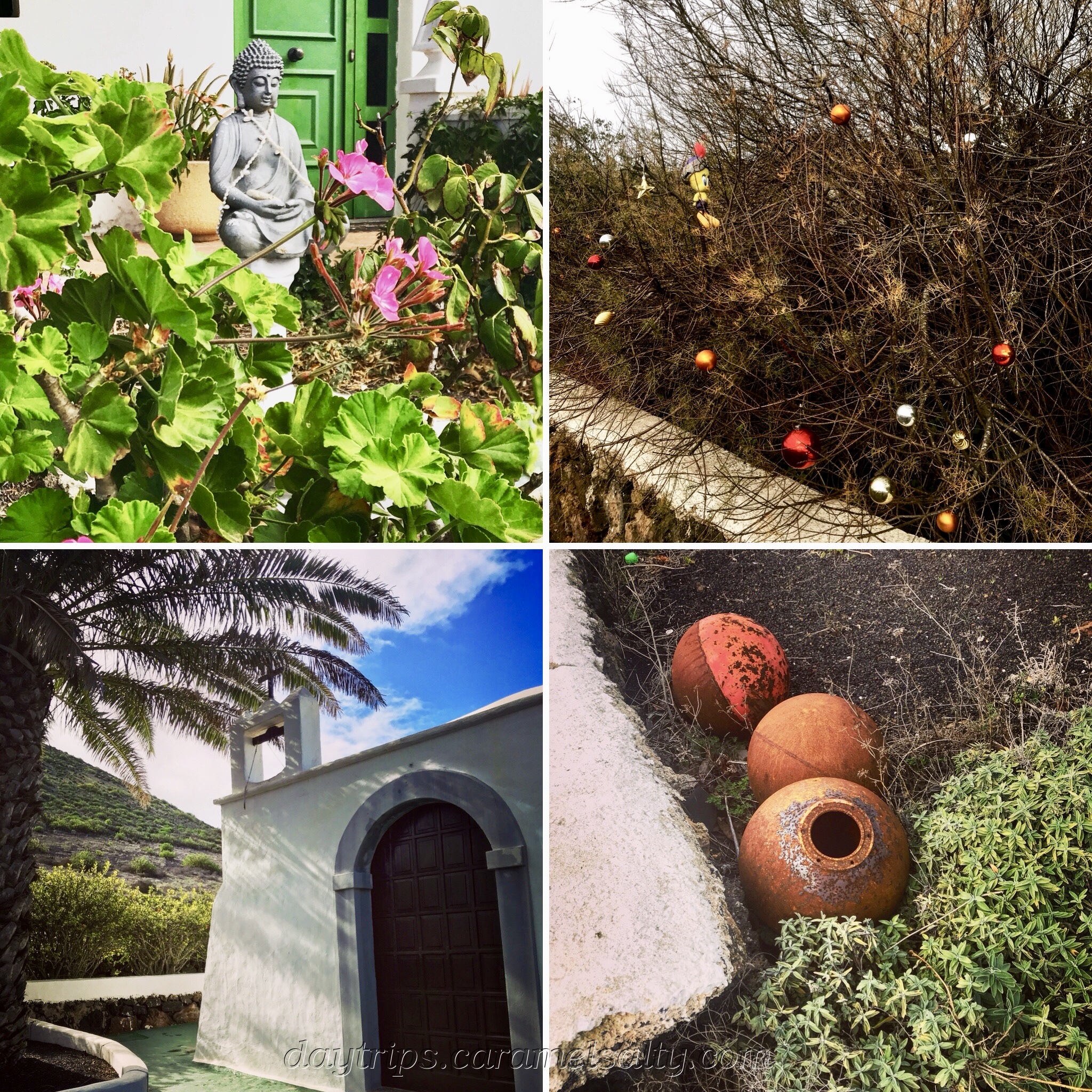 When the road dips, I spy a bit of blue, as in sea blue. I'm at the mirador !! And what vistas. Cloaked by dramatic cliffs on either side, I gaze down Caleta la Famara to my left, and La Graciosa to my right. I can even make out the ferry on its way to the island of La Graciosa.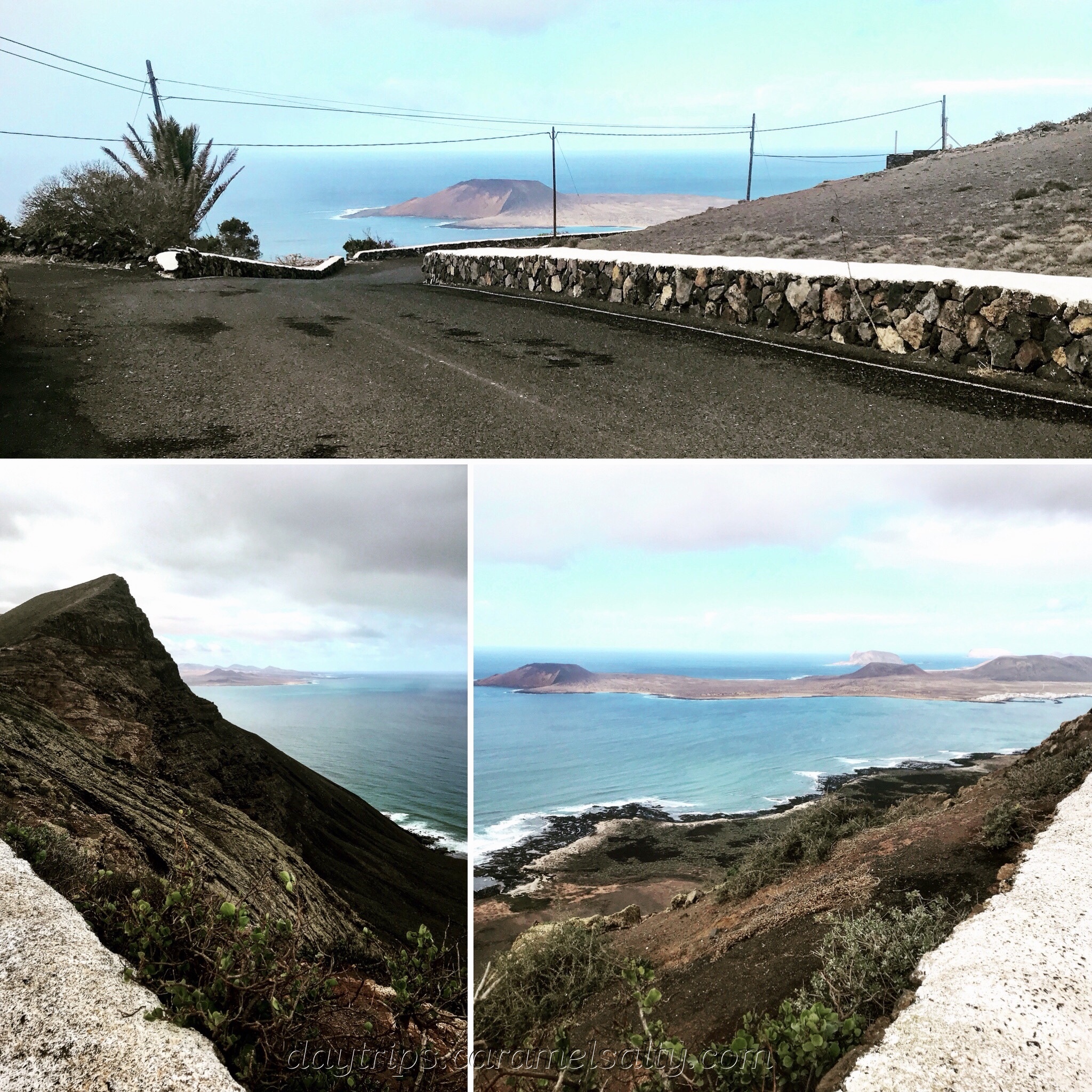 I have to return to Maguez, to catch the bus out. As I walk the 2 km downhill back to the bus stop, I am treated to different scenery. I can see Maguez, and in the background, the mountains around Hária.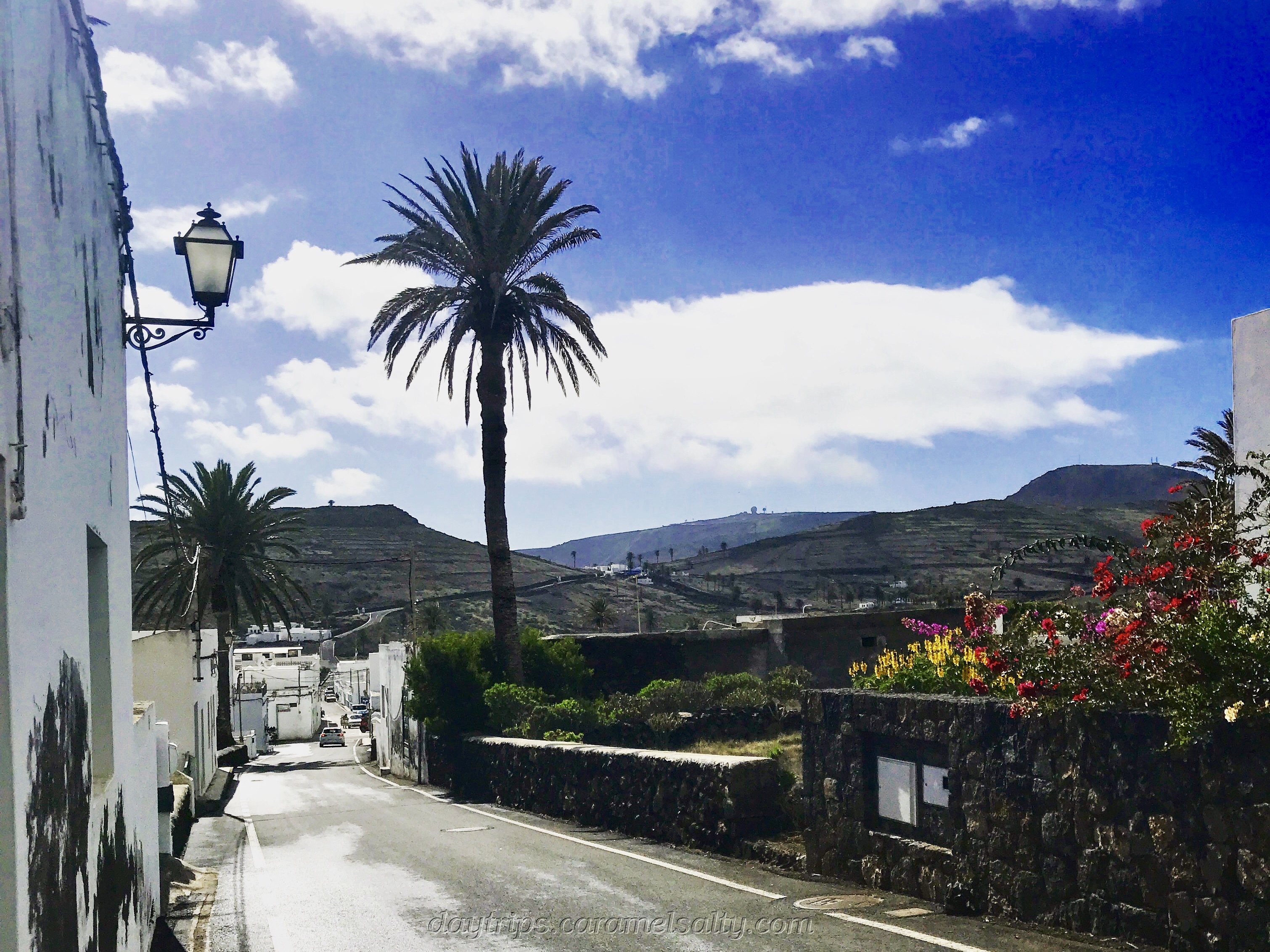 There is only time to do just one thing in Maguez before the bus turns up, and that's the Santa Barbara church, by the bus stop. I believe that César Manrique had a hand in this. It certainly has all his trademark signs, simple but effective, plants complementing the architecture.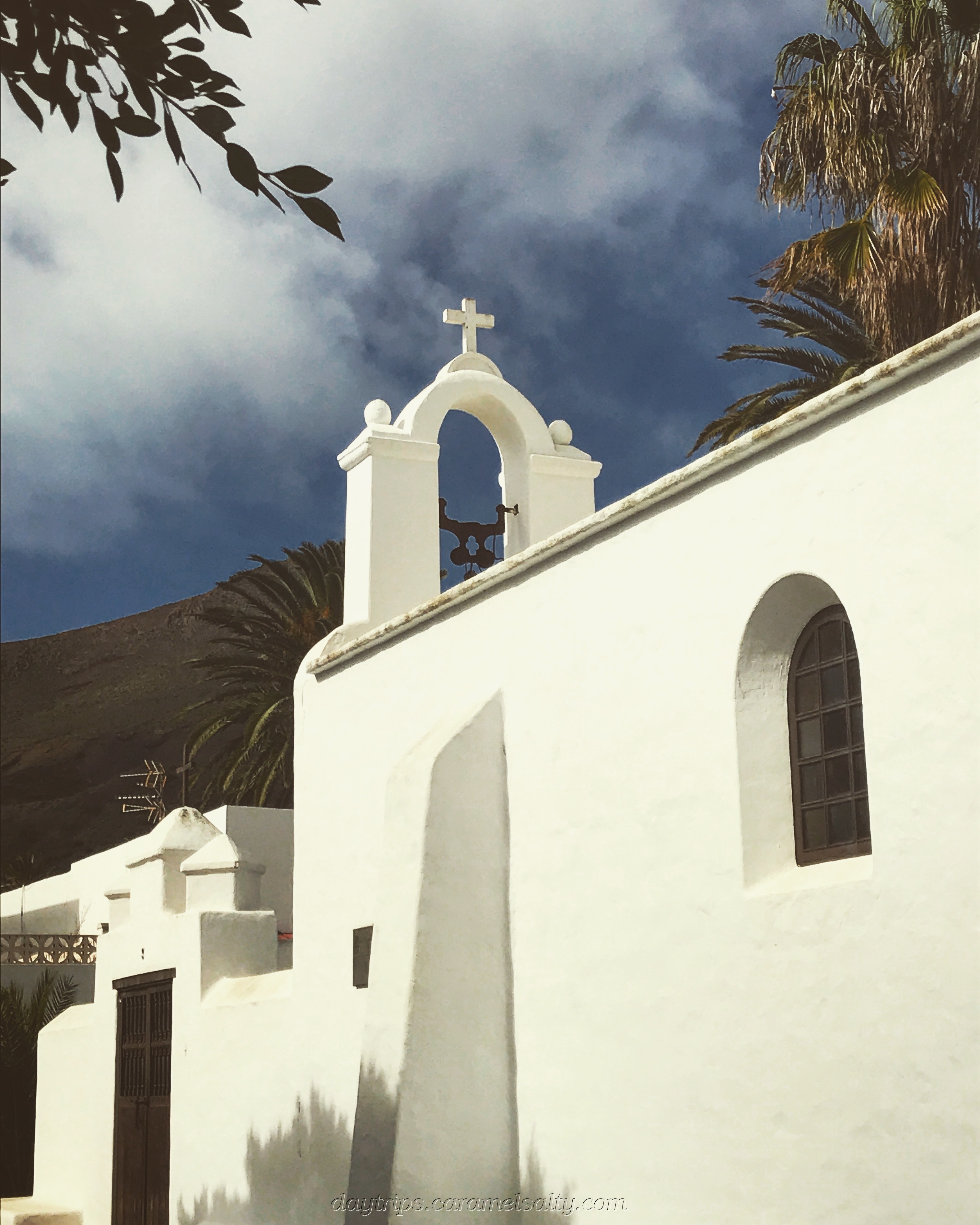 As the bus approaches my next destination of Guatiza, I am greeted by field after field of Tunera cacti, on which the  Cochineal bug breeds. It would appear that the Cactus Garden is located in the heart of Lanzarote's cactus growing country. And César Manrique definitely had a hand in constructing this.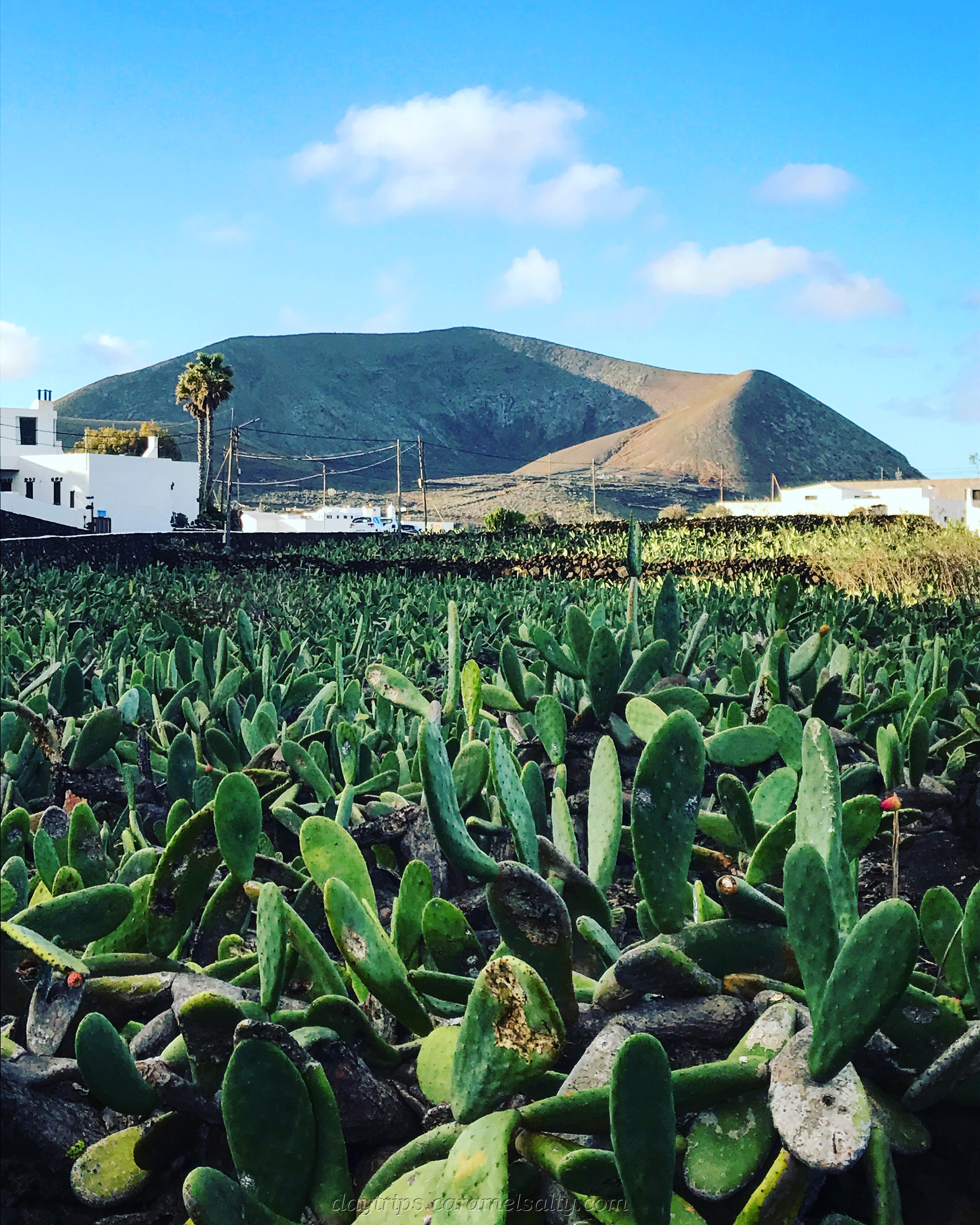 I've seen lots of amazing cacti species all over Lanzarote, in gardens, neatly planted on roundabouts, growing wild, and just now, in farms. But the collection at the museum contains cacti of shapes and sizes I've never ever seen before. There are large trees, little clumps, round bushes, straggly branches, flowering ones, non flowering ones, glossy ones, spikey ones, colourful ones.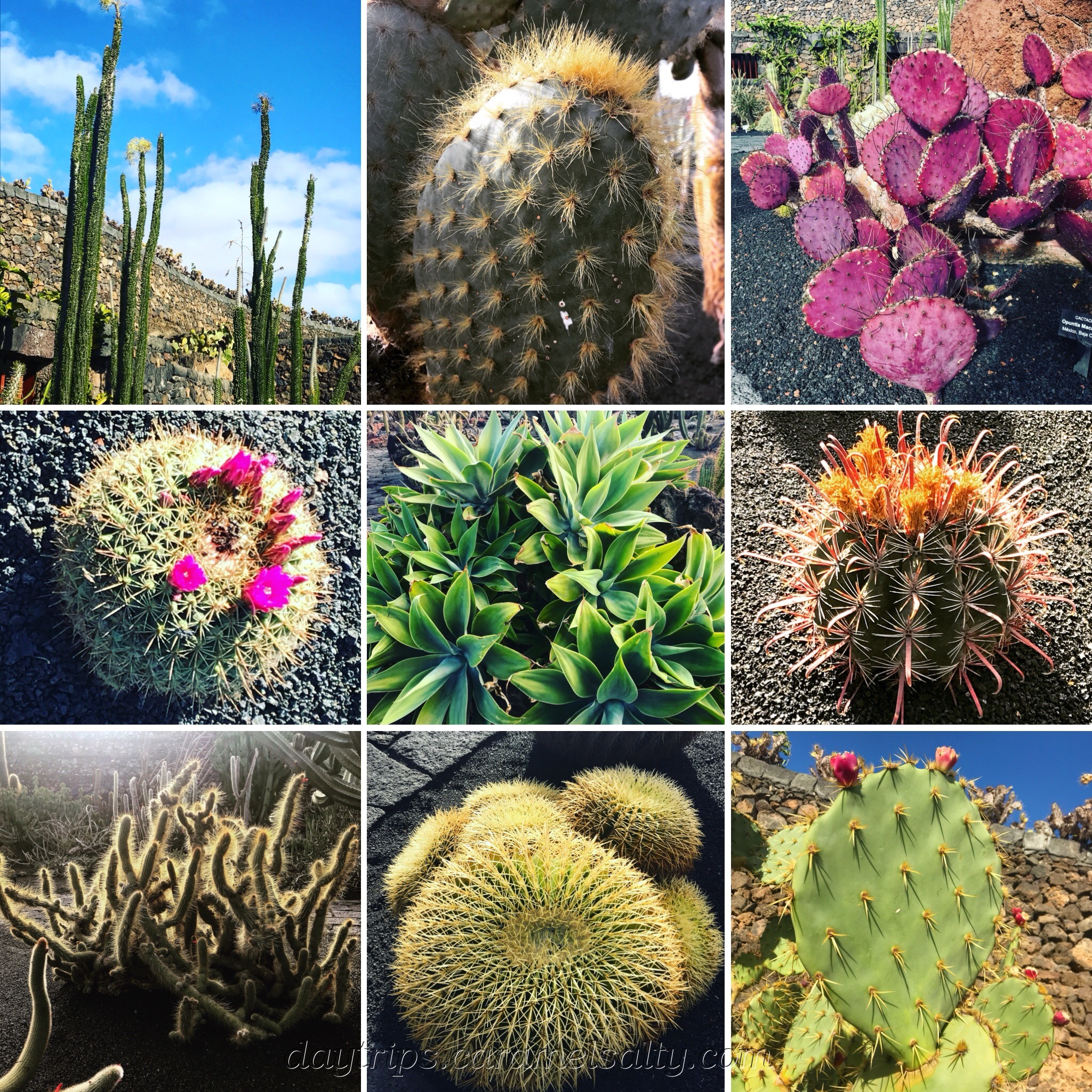 The cacti is beautifully displayed in an amphitheatre hewn from an old quarry. The cacti motif is repeated everywhere, including the door handles. And the café also serves cacti burger (why wouldn't it!). The windmill at the museum is actually a restored gofio mill. And from the windmill, I get a wonderful view of the mountains around Guitaza.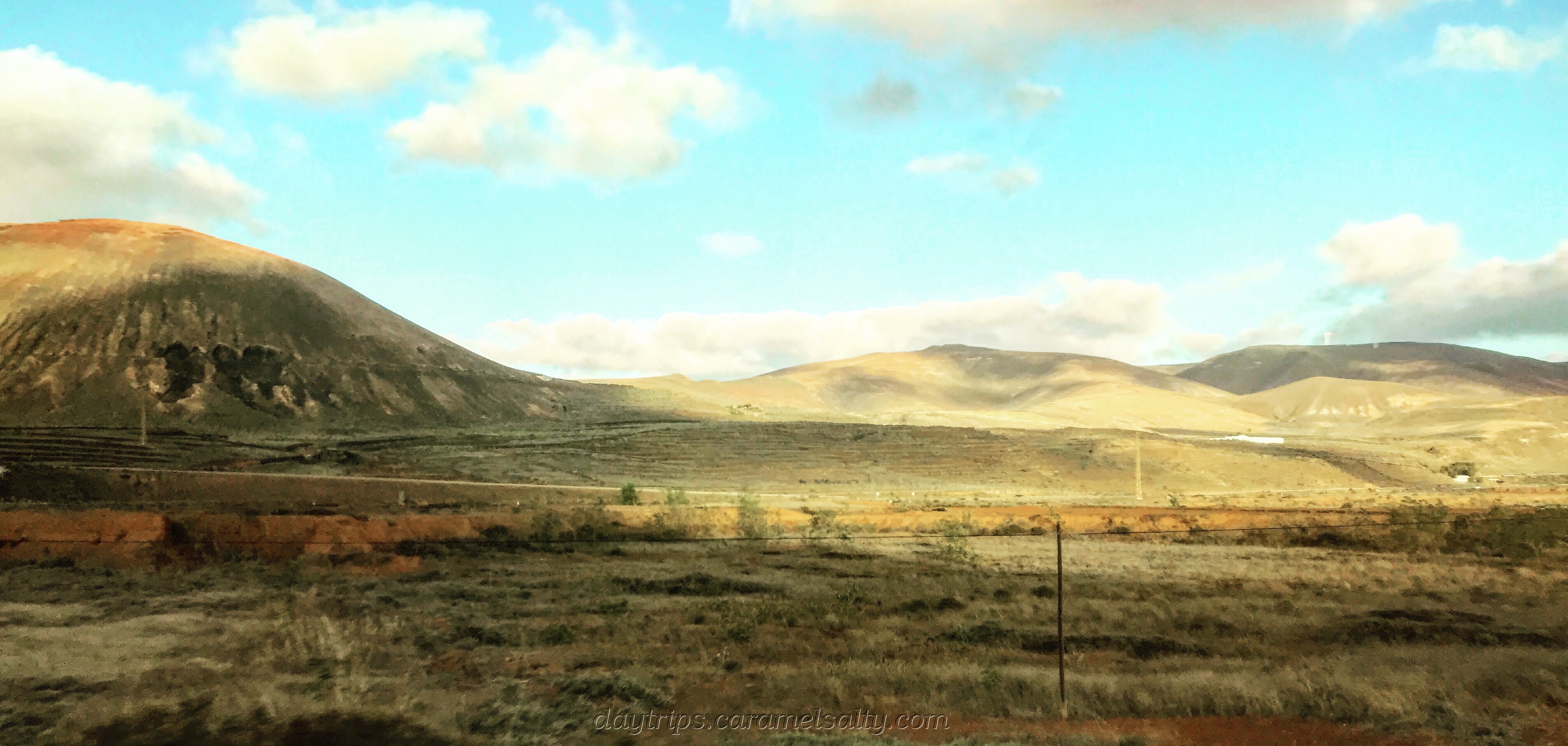 As I've got some time before the bus to Tahiche, I explore the tiny village of Guatiza. There's not much, a little church, cacti (no surprise there), and a lively local bar called the El Bulin, just by the return bus stop. It's cozy, and there's time for a quick coffee.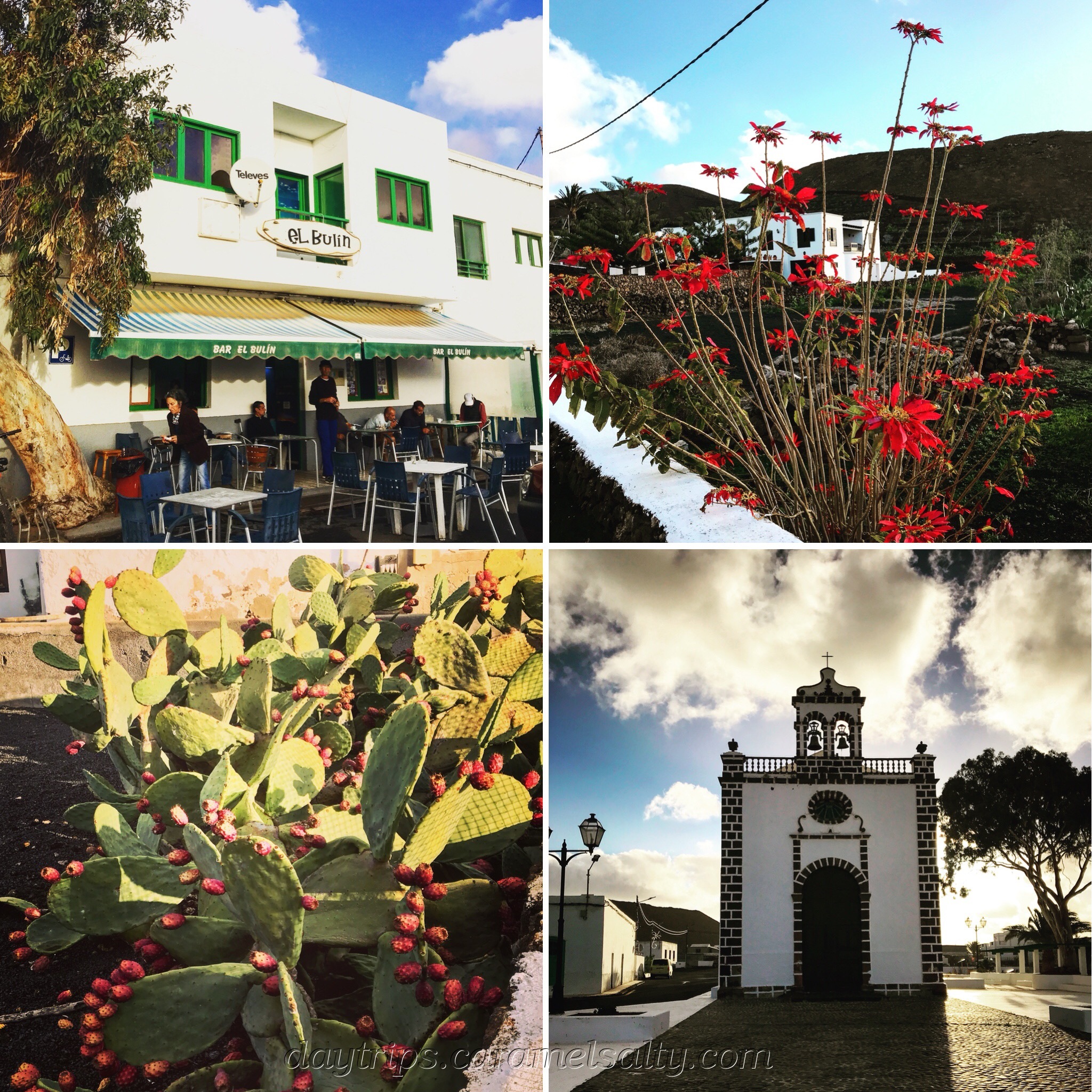 I get dropped off  very close to the César Manrique Foundation at Tahiche. As the Lanzarote guide points out, he built this house in lava fields, which surround the property. There's a little art collection indoors. But the wow factor are the rooms built in the lava bubble. His attention to detail and organic architecture style is quite something.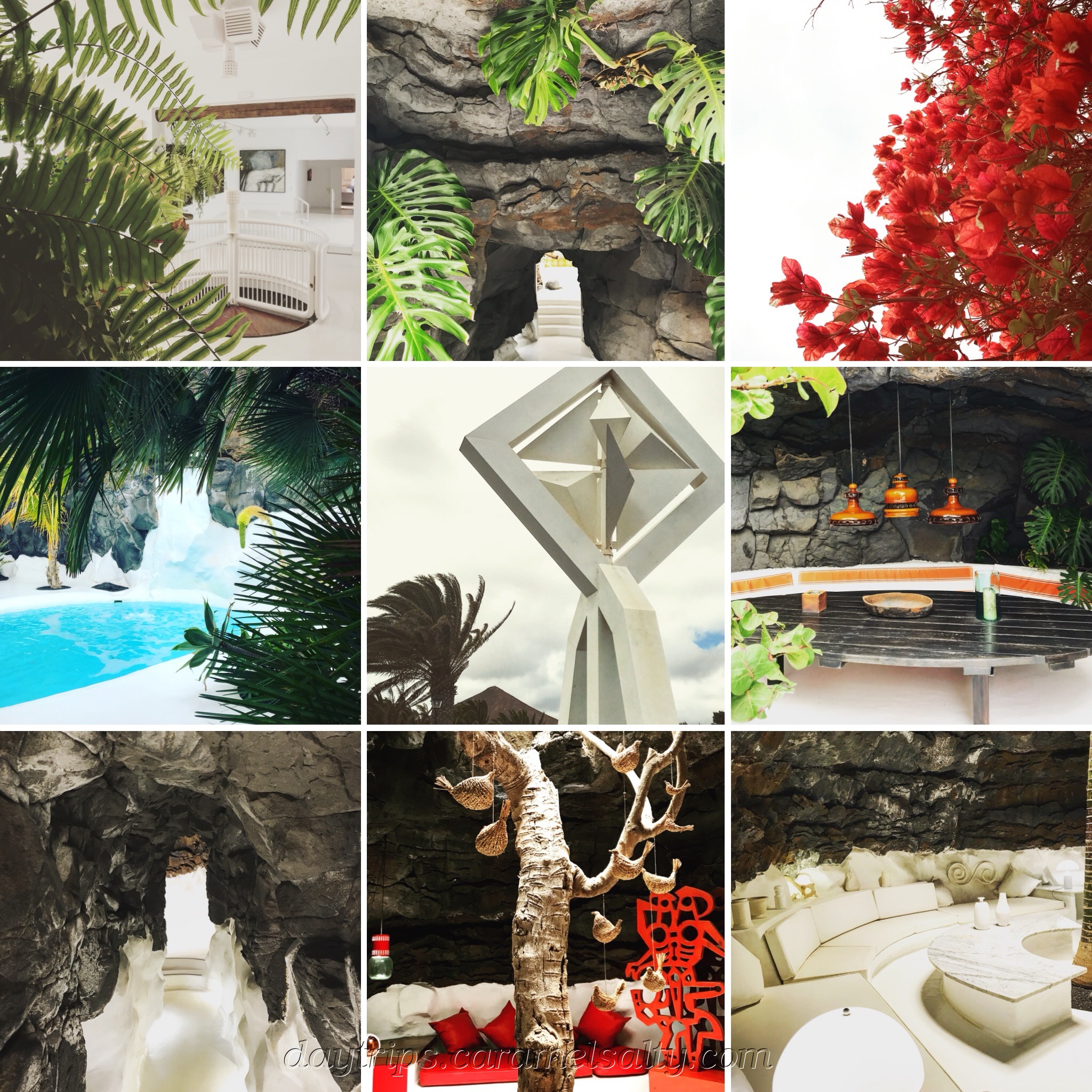 As I'm not in a hurry to get back to Arrecife, a 10 minute walk from the Fundación across the roundabout gets me to Los Aljibes. A great restaurant, where I enjoy a nice meal until the next bus.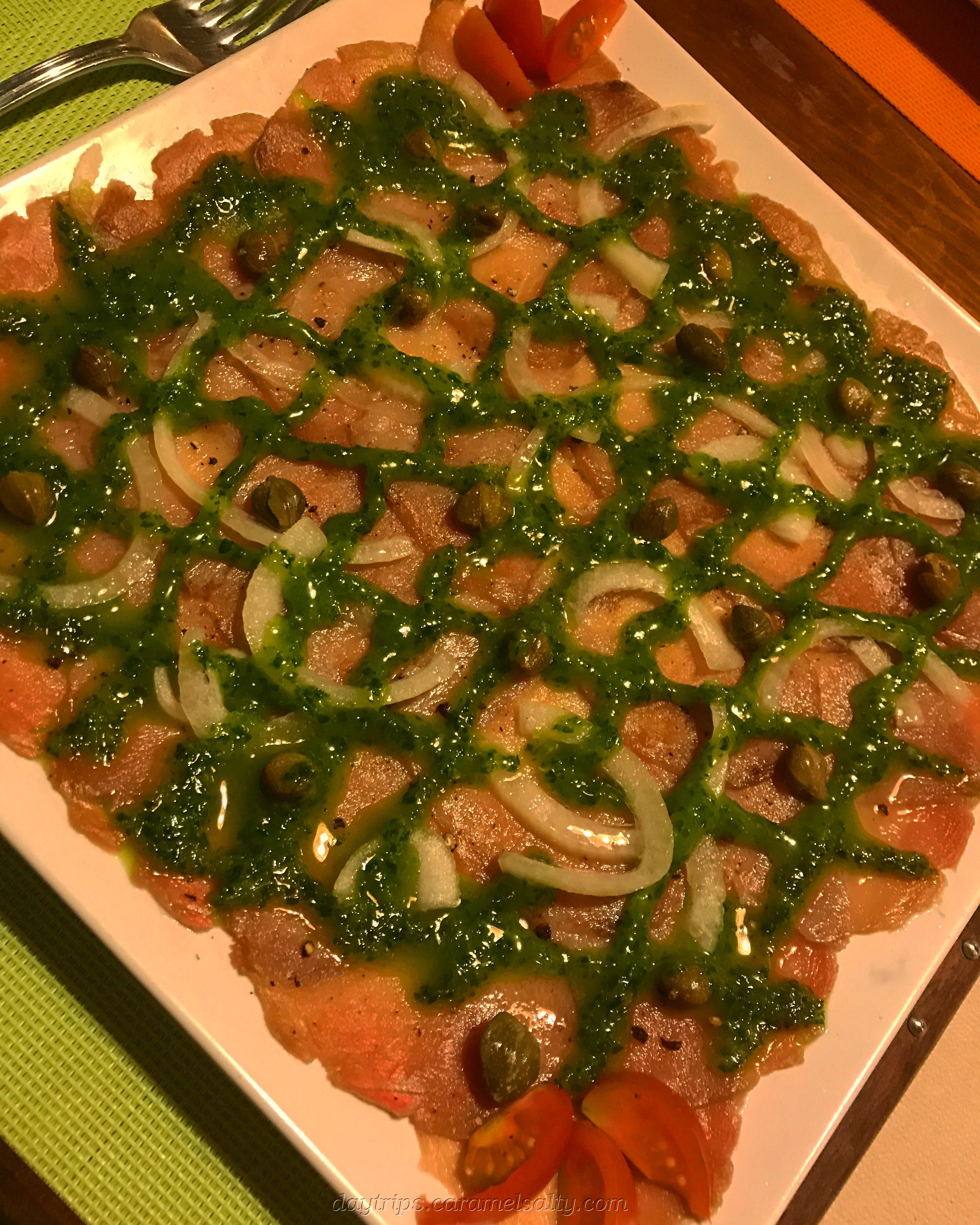 Cliffs, Cacti and César Manrique ….. all done and dusted in a day. And the Mirador de Guinate should be on every tourist's to do list on Lanzarote.
 How I Planned the Day
Useful Links
Timetable for Bus no 7 – timetable
Jardin de Cacti – Admission 5Euros, 10:00-17:45