Lanzarote- Costa Teguise, Arrecife and Teguise
All 3 places have something in common with each other. Arrecife is the capital of Lanzarote. Teguise used to be the capital of Lanzarote. And Teguise shares its name with the resort of Costa Teguise. So are they peas in a pod or chalk and cheese?
Start of Day – Intercambiador (Interchange), Arrecife
Cost of Day Out  – Cheap (£)
Town No 1 – Costa Teguise
The bus drive between Arrecife and Costa Teguise passes the port and some very urban scenes, including an IKEA. Not pretty or charming. Yet there's something about enormous ships, large steel structures and water at ports that I find fascinating.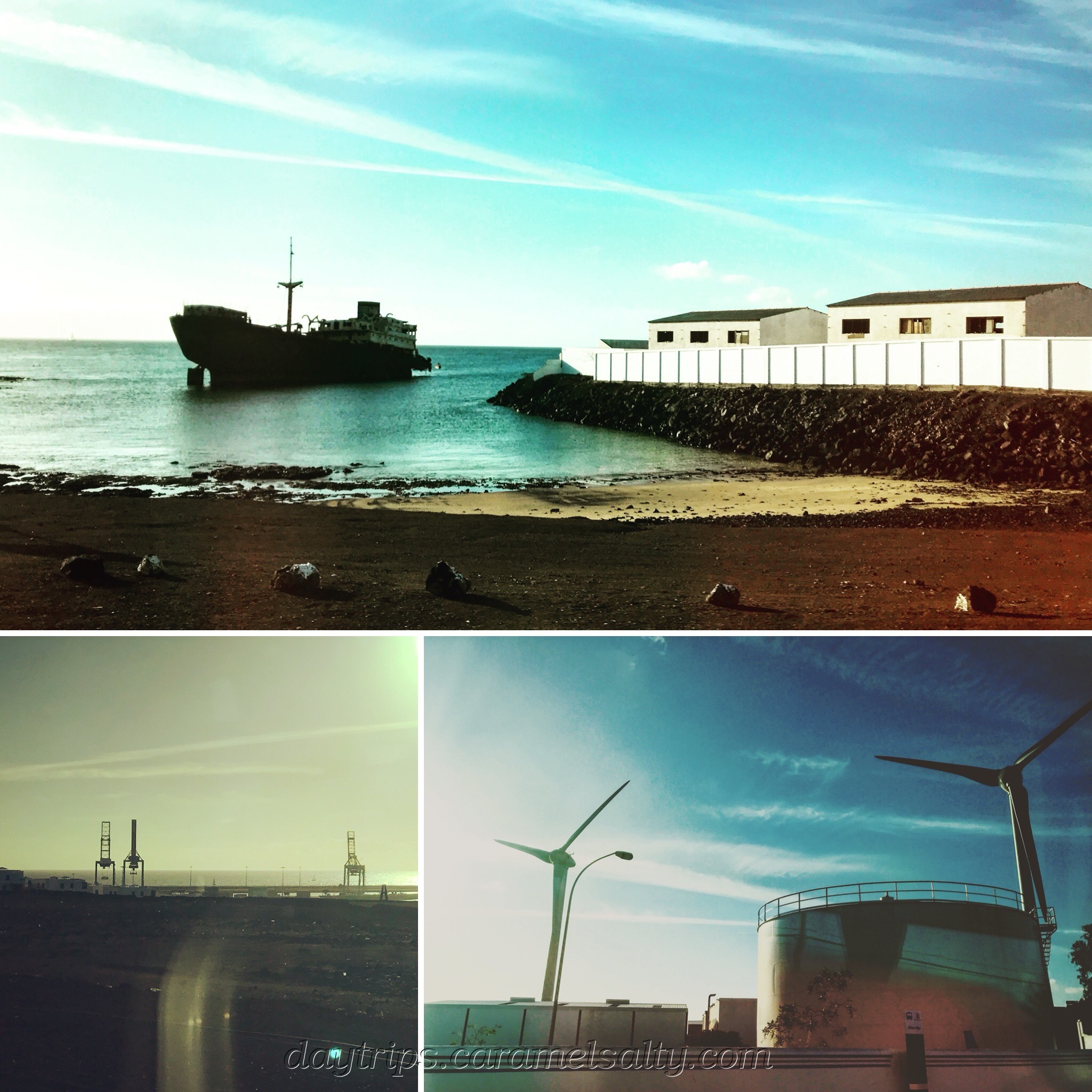 I get off at the Playa Bastian stop to walk along the promenade bordering the beaches and holiday resorts of Costa Teguise. The beaches are pleasant, breakers calming the Atlantic waves. It's only when I get to the beaches to the north that I start to see mountains, and feel the force of an unshackled Atlantic sea.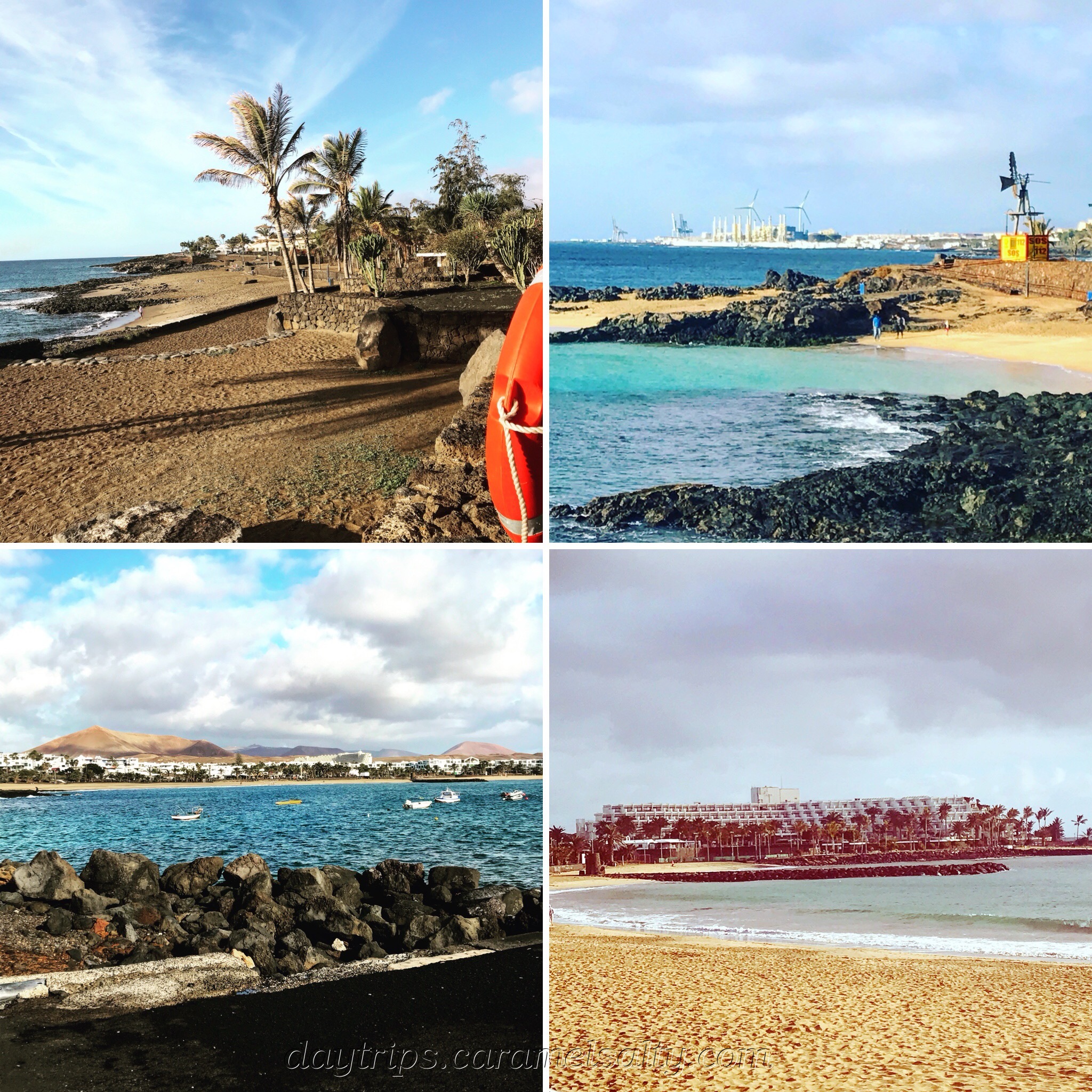 I make my way through Pueblo Marinero. With it's narrow streets and houses with their unique shaped chimneys, it's probably the only part of Costa Teguise that bears any inkling to a Canarian village. For the most part, Teguise is a neat, modern, upmarket tourist resort.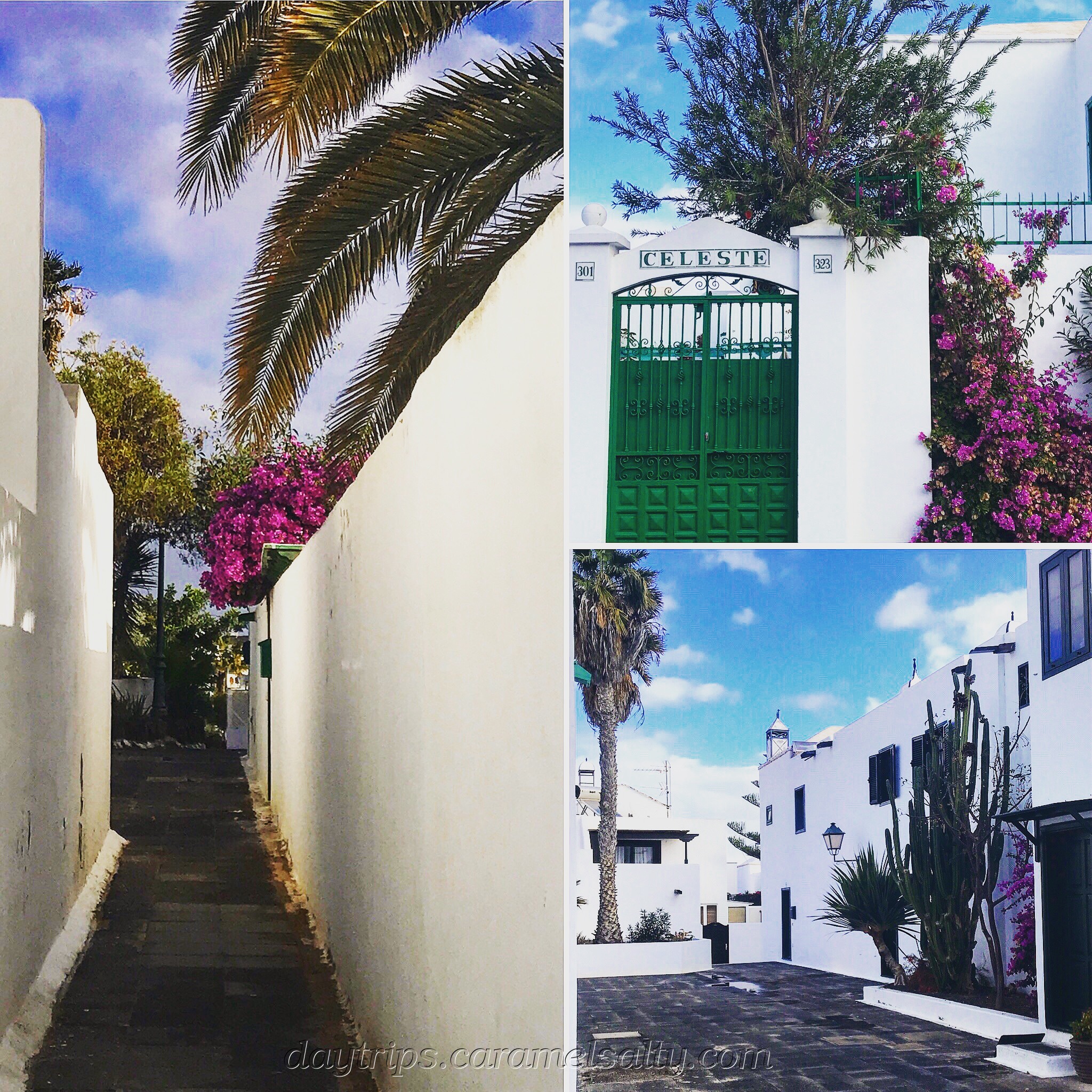 How do I sum up Costa Teguise? It has none of the brashness of Puerto Carmen, but it's also devoid of character. It's ideal if you're after genteel, easy and convenient. As I'm none of those, I move on to explore Arrecife.
Town No 2 – Arrecife
Arrecife's main attraction, Castillo de San Gabriel, is a short coastal walk from the Intercambiador.  It's an old defensive castle, canons still intact, and is accessed by two picturesque bridges. From the castle there are good views of  the magnificent range of mountains towards Playa Blanca.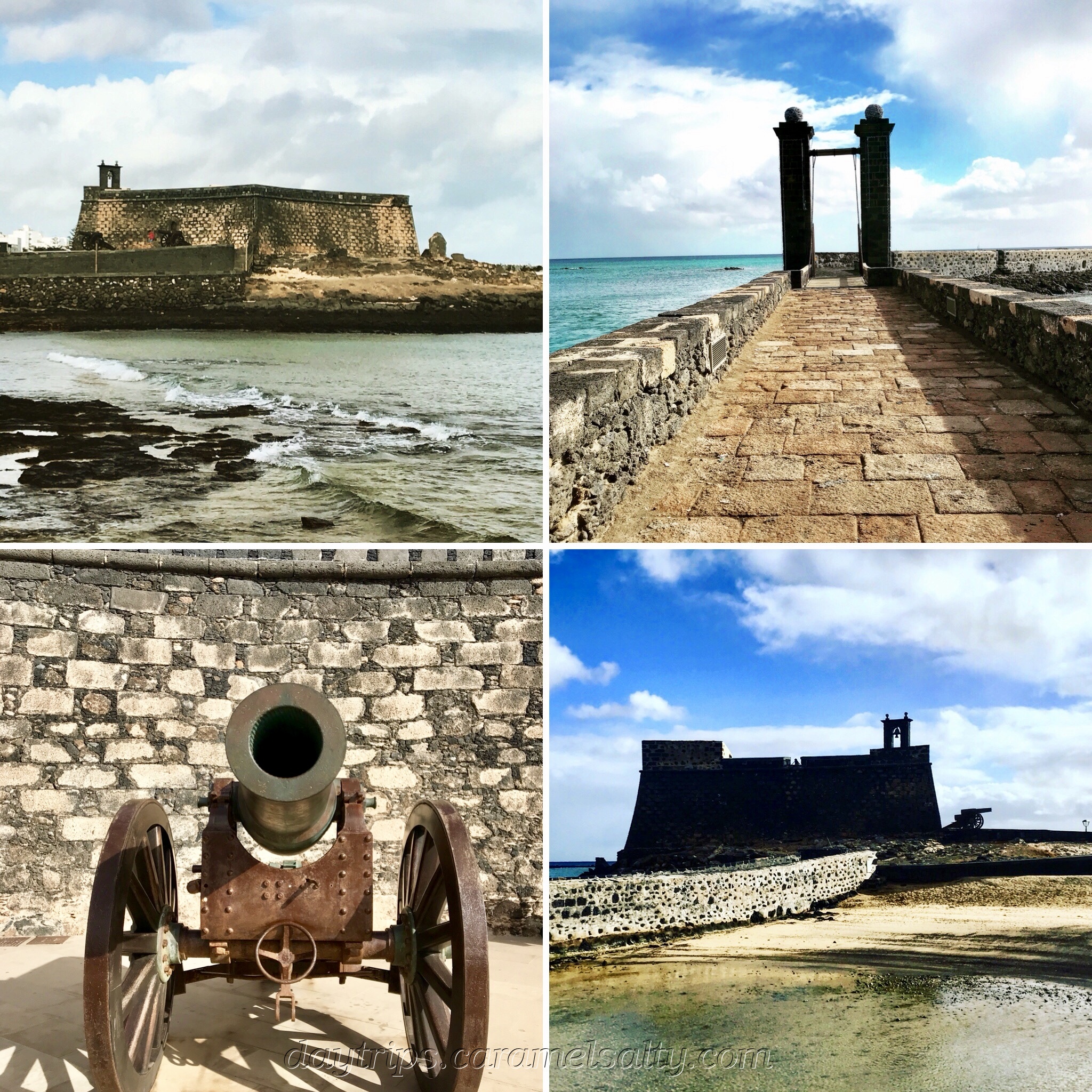 As I walk back towards the shore, I get the chance to admire the pretty Puentas de las Bolas (Ball Bridge), watch a ferry (presumably from Cadiz ? ) coming into Arrecife port, and spot the very attractive Avenue Coll ahead of me.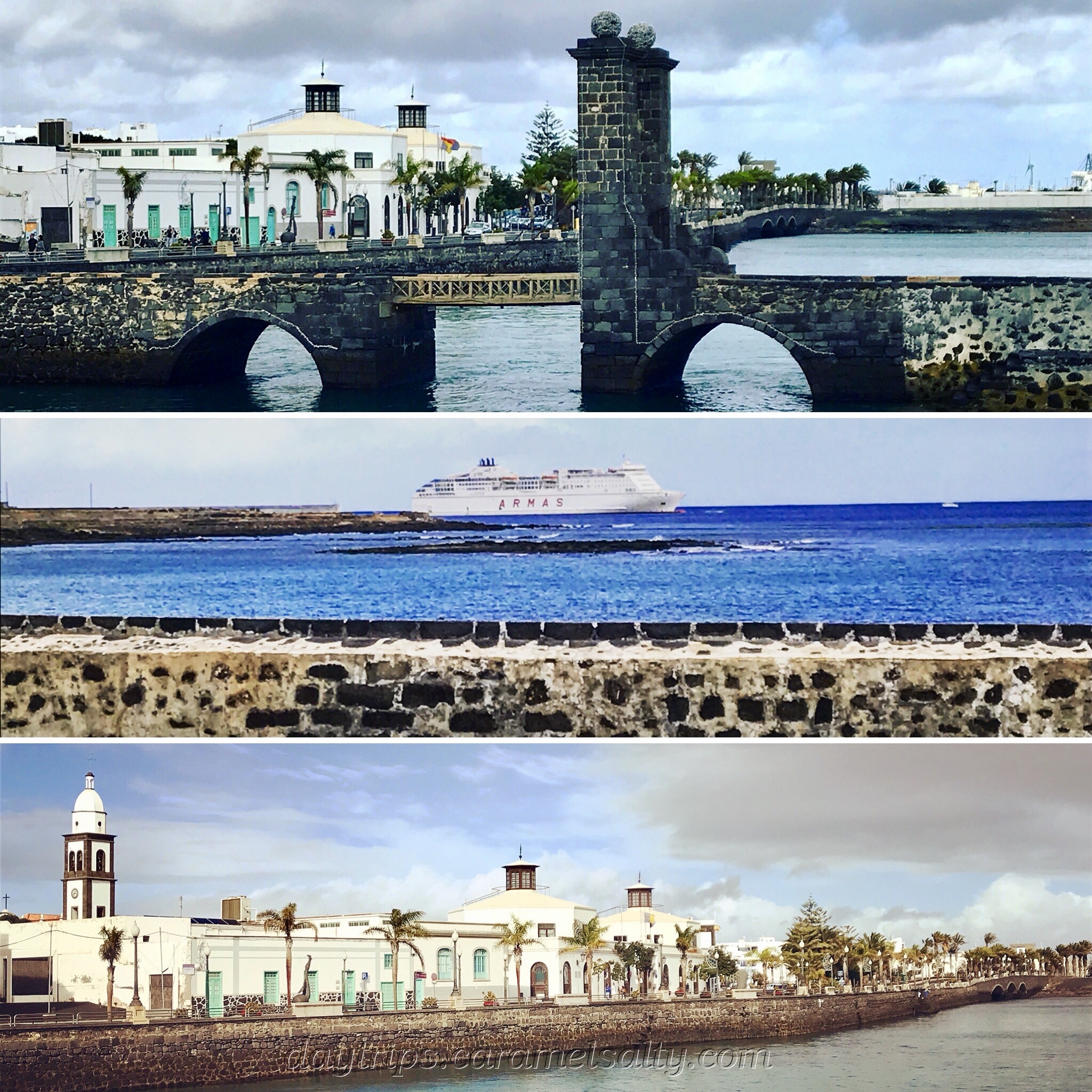 I also spy a church tower behind Av. Coll. So I head over there to find Iglesia de San Gines on Plaza de Las Palmas. And indeed, it's a beautiful white church frilled by palms.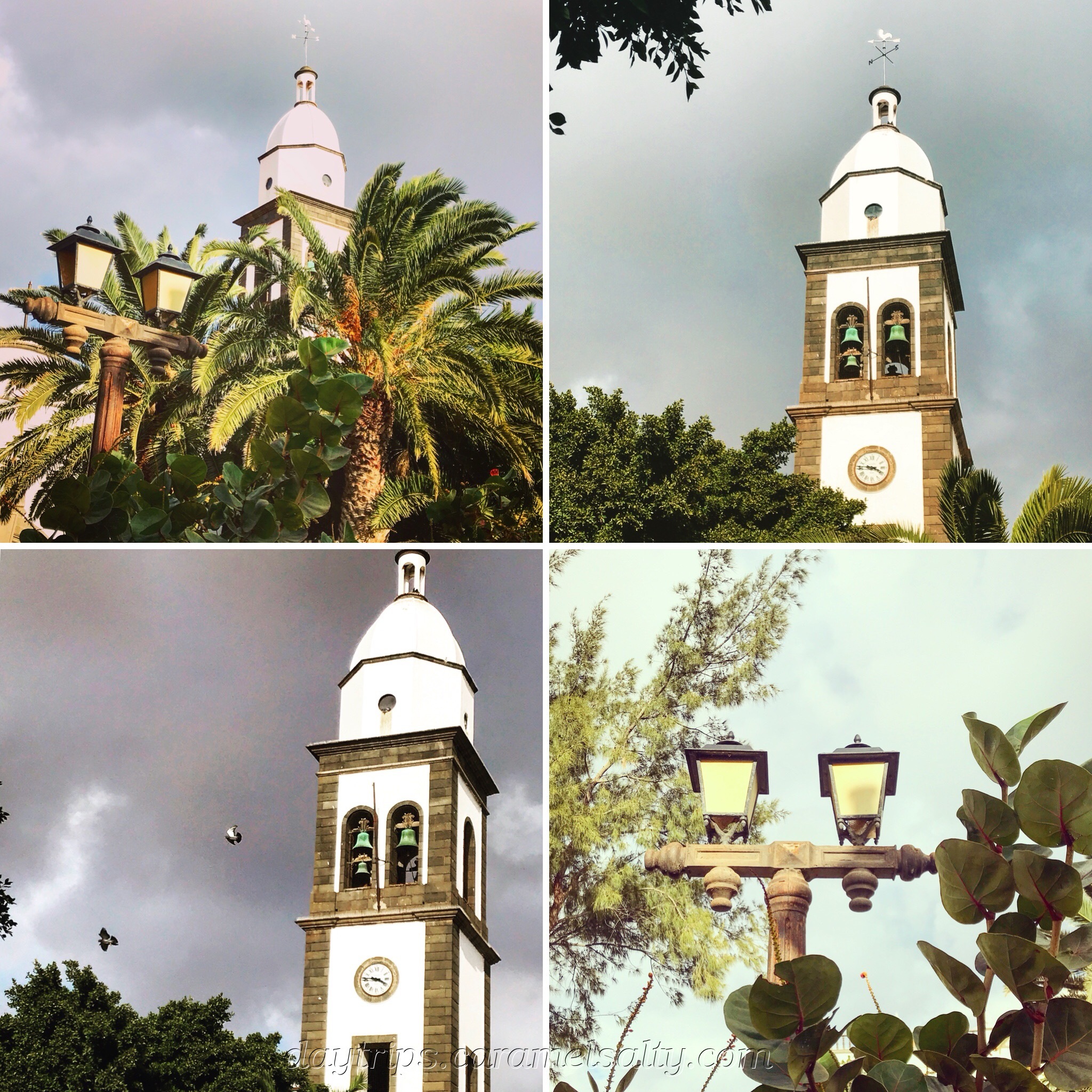 In the hope of more unexpected discoveries, I wander down Calle Brasil, towards Av. Olof Palme. These green Canarian doors are so captivating even though some of them are clearly in need of repair. I quite like this idea of standardising the colours of doors across the island.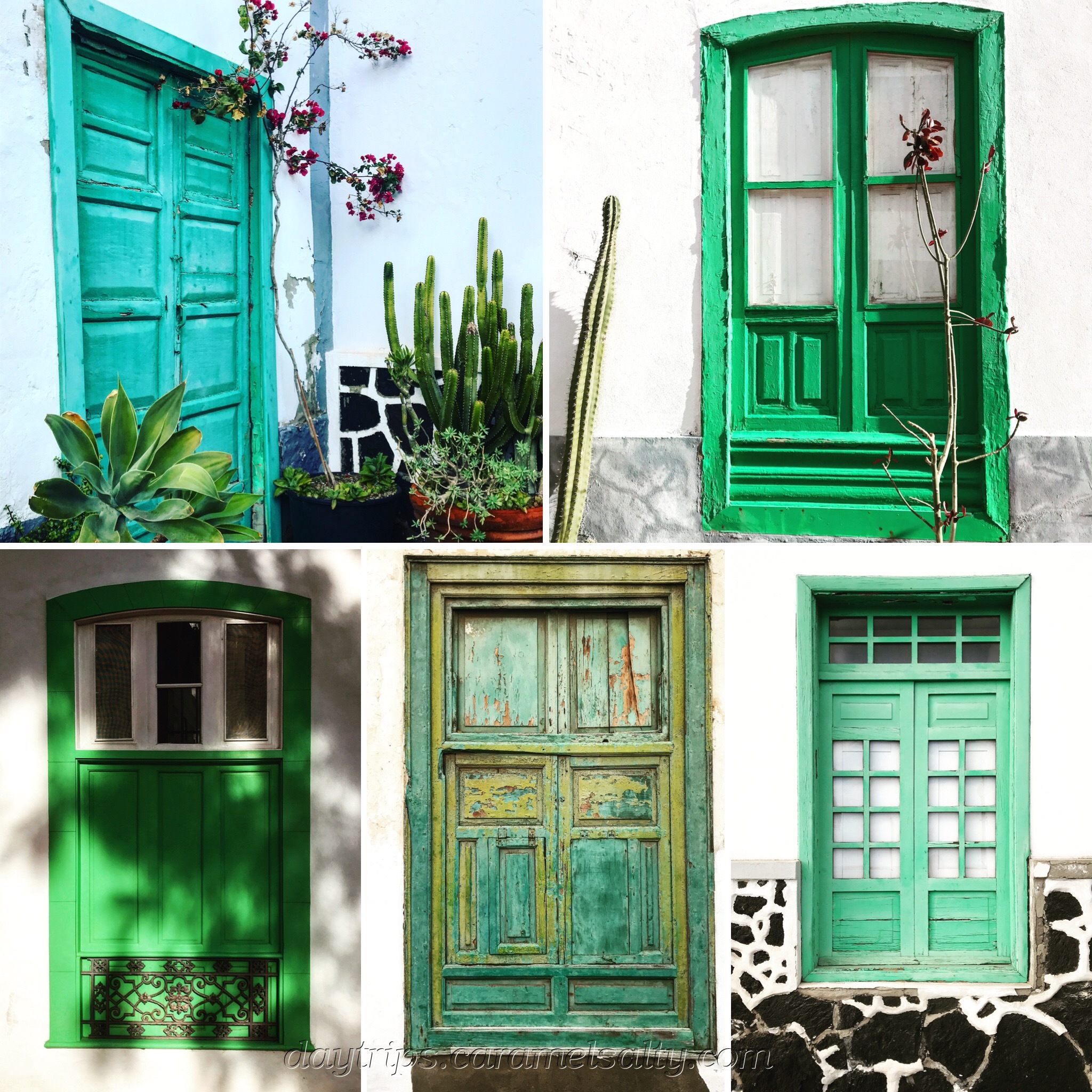 There is yet one more surprise awaiting me. The Charco de San Gines is an attractive little marina, with restaurants on one side and the local cinema at the other end. It's possible to encircle the marina.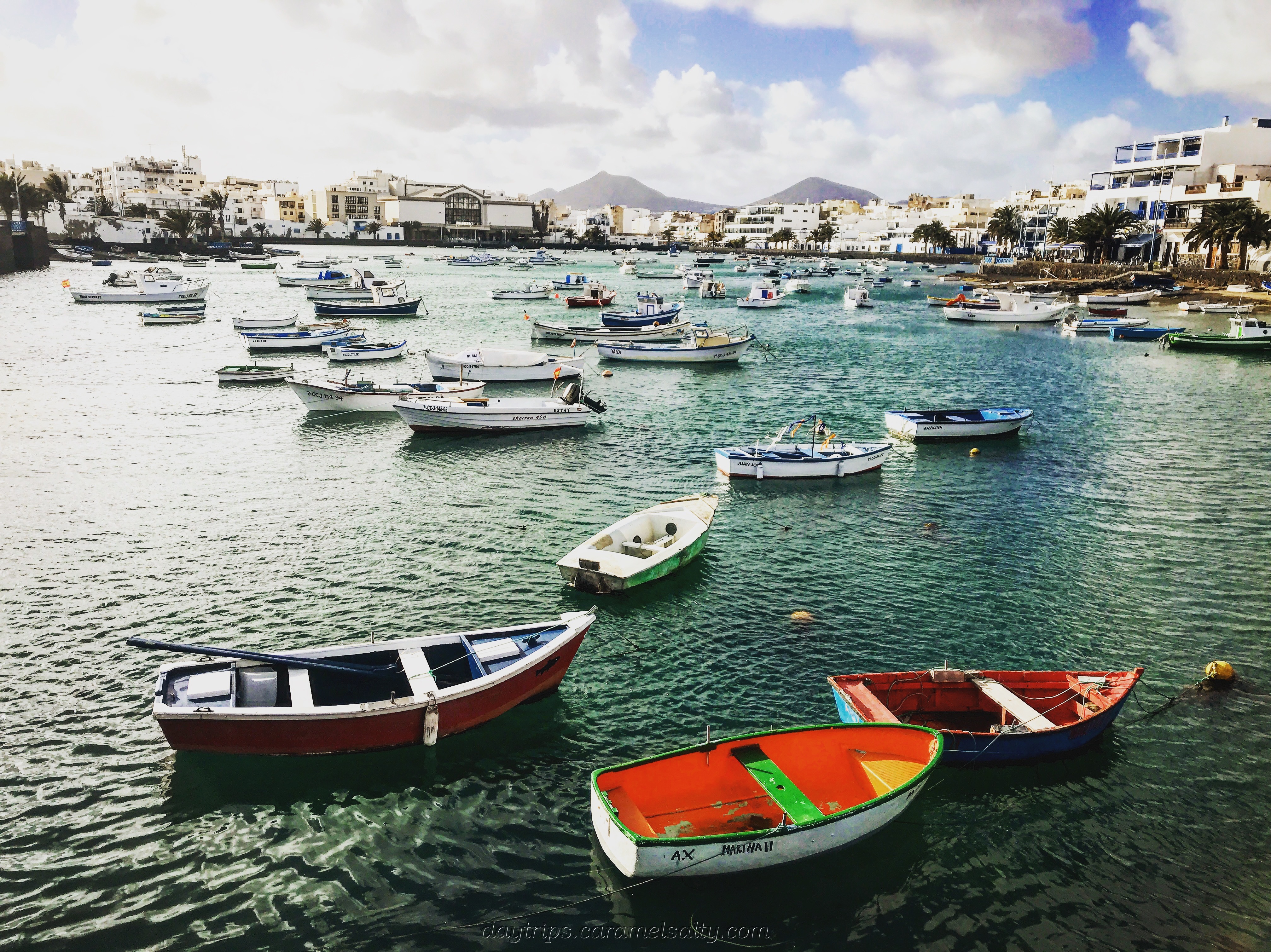 How do I sum up Arrecife? It has a degree of charm, but concentrated in a small part. It really is a functional town, a good transport base.  So I'm hoping Teguise has plenty of rustic charm to win me over.
Town No 3 – Teguise
I return to the Estación De Guaguas, Arrecife for the bus to Teguise. Once I get to the outskirts of Arrecife, mountains start lining up on both sides of the road. This is more like it.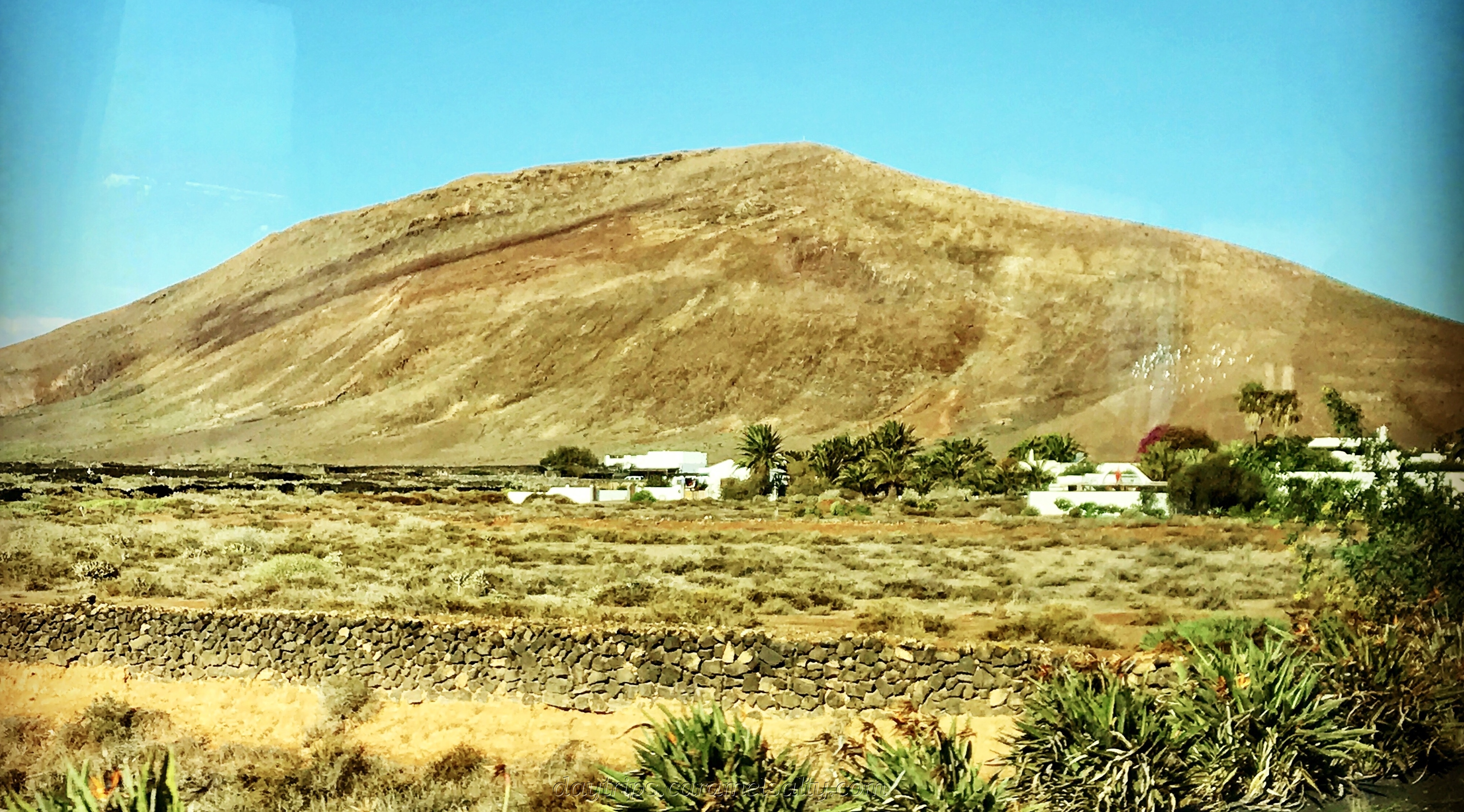 As the bus approaches Tahiche, the volcanoes take on a different look. They are much  darker and more intimidating.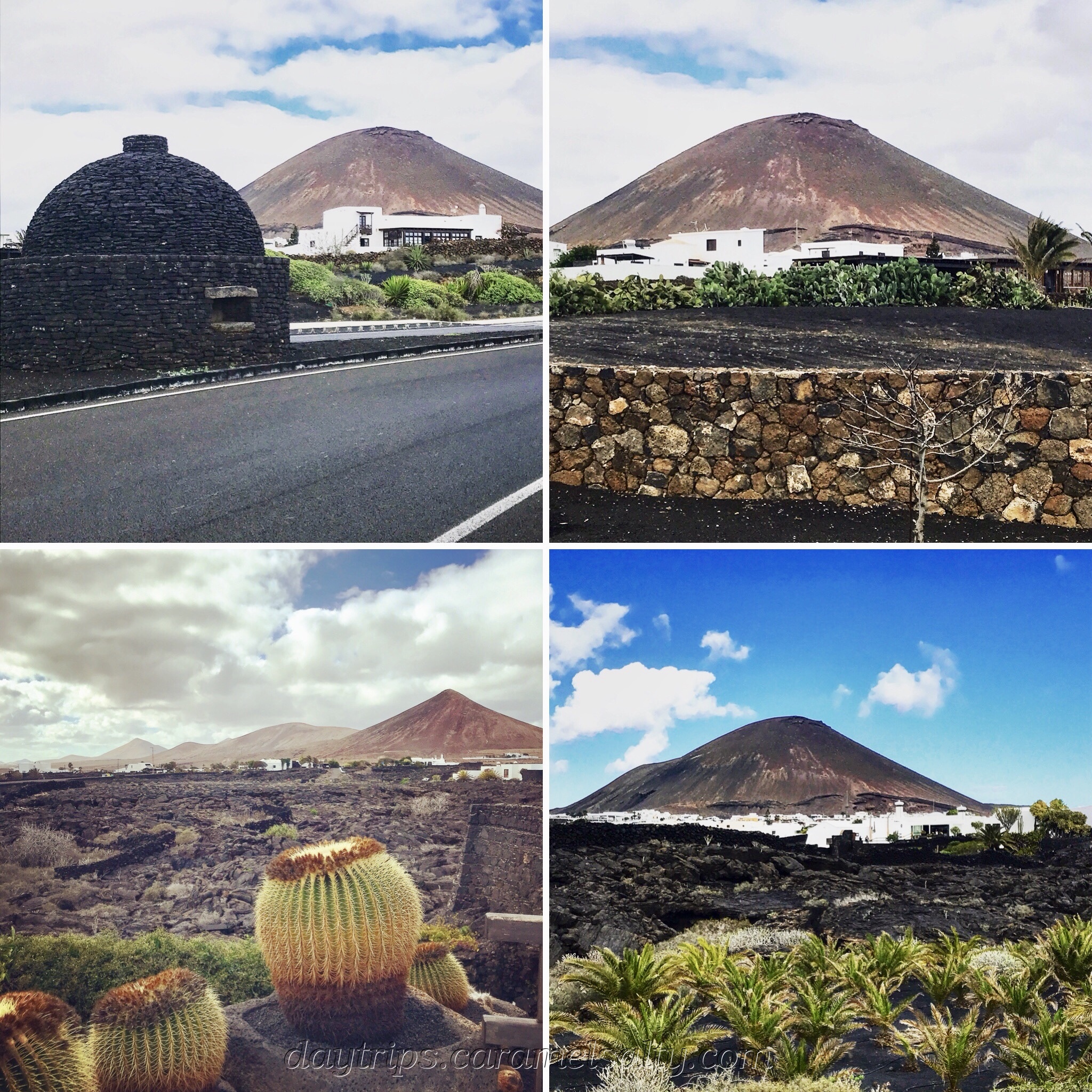 On catching sight of Castillo de Santa Barbara on Mount Guanapay, I know that I'm almost in Teguise. It's no longer the Emigrants museum. It's now a pirates museum. Which is a shame, as I was looking forward to learning about the forced and voluntary emigration from Lanzarote.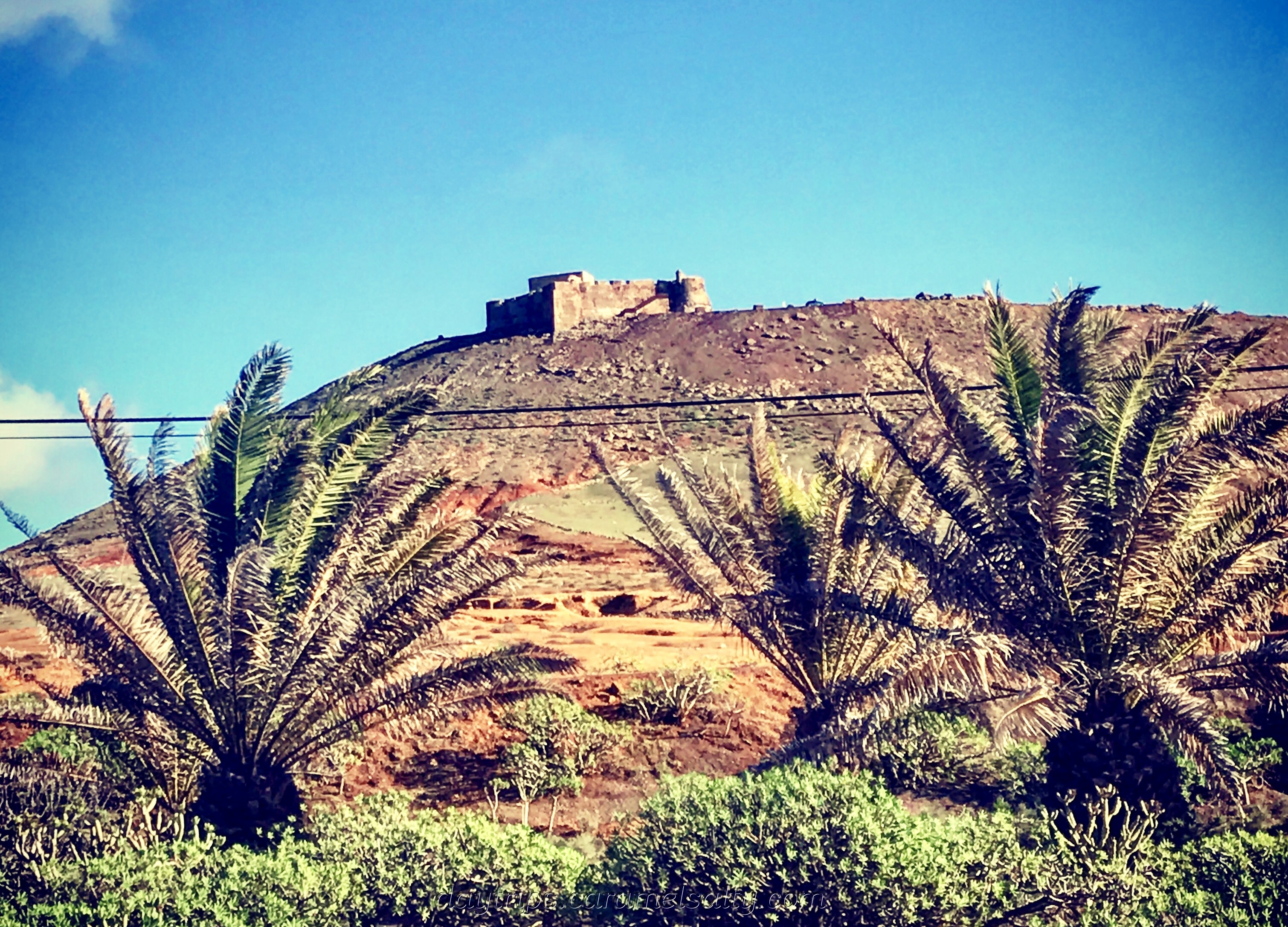 Teguise (1402), is named after the last Princess of the pre-Spanish native Gaunche people. I get off at the Ayuntamiento. I kind of ignore the pink tourist information boards dotted around, and do my usual alternative walking tour of Teguise. In no particular order, my highlights are …..

1.Teguise's Squares
The wide, open squares, which run into each other, create an impression of a spacious town. I enjoy wandering around
Plaza la Constitución (a.k.a Plaza de Leon, due to the lion statues on guard),
Plaza San Francisco
Plaza del 18 Julio
and popping into the artisan shops, cafes and churches around them.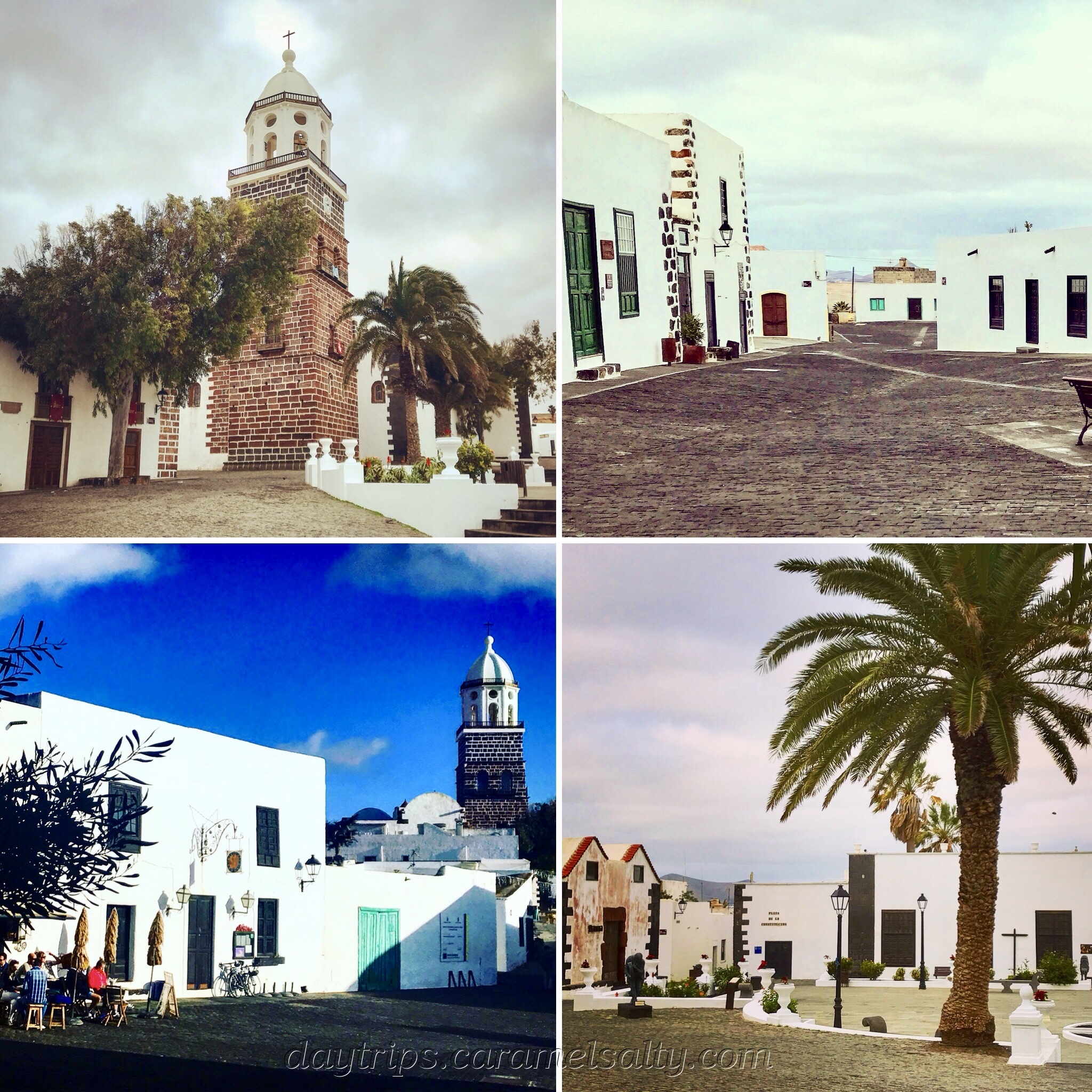 2.Teguise's Churches
The most photogenic of Teguises' church is the Nuestra de Senora Guadalupe (1428). I can see its church tower from nearly everywhere I explore in Teguise.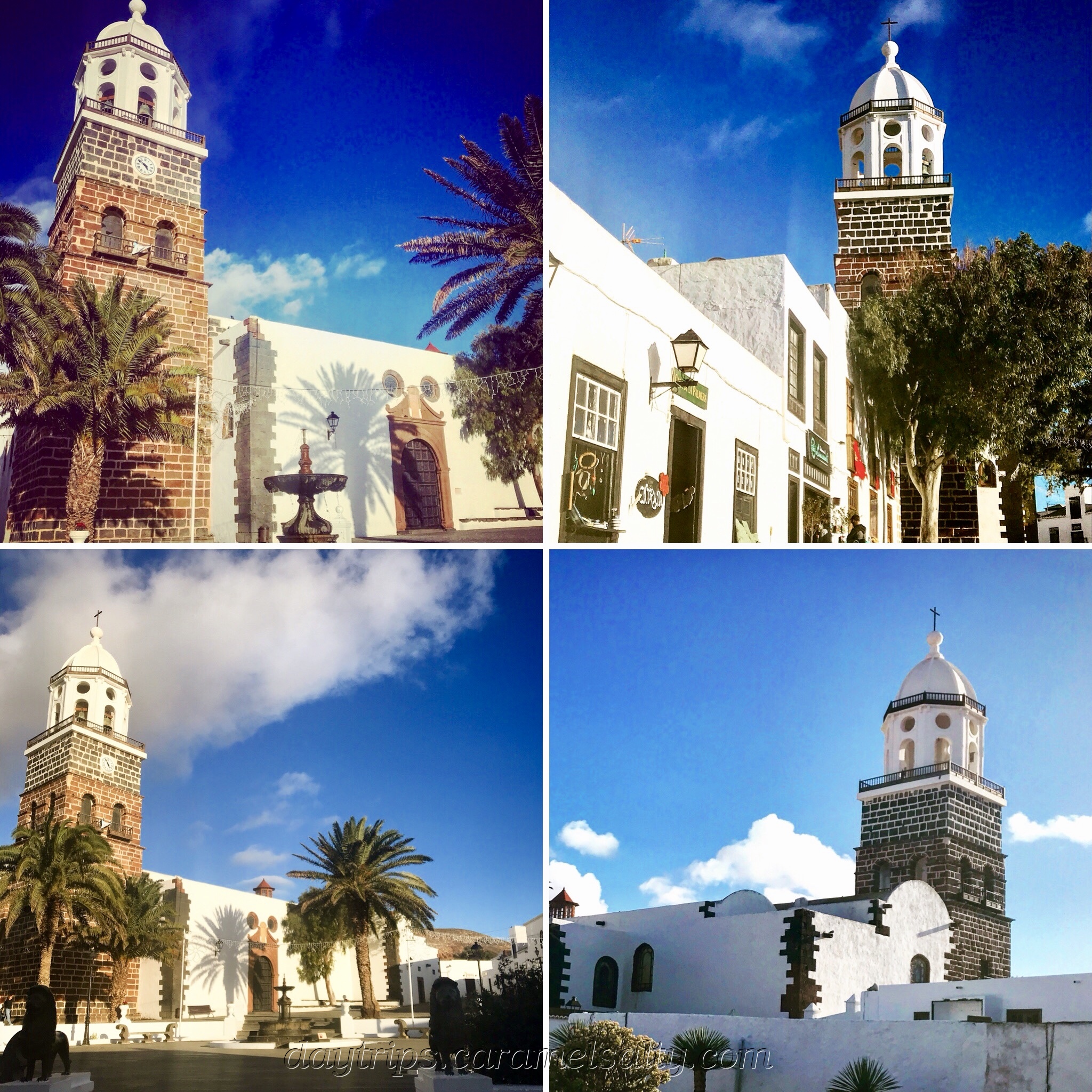 3.Teguise's Doors
The benefit of meandering through side streets, is the discovery of countless charming doors, many of them painted in the now familiar Lanzarote Green.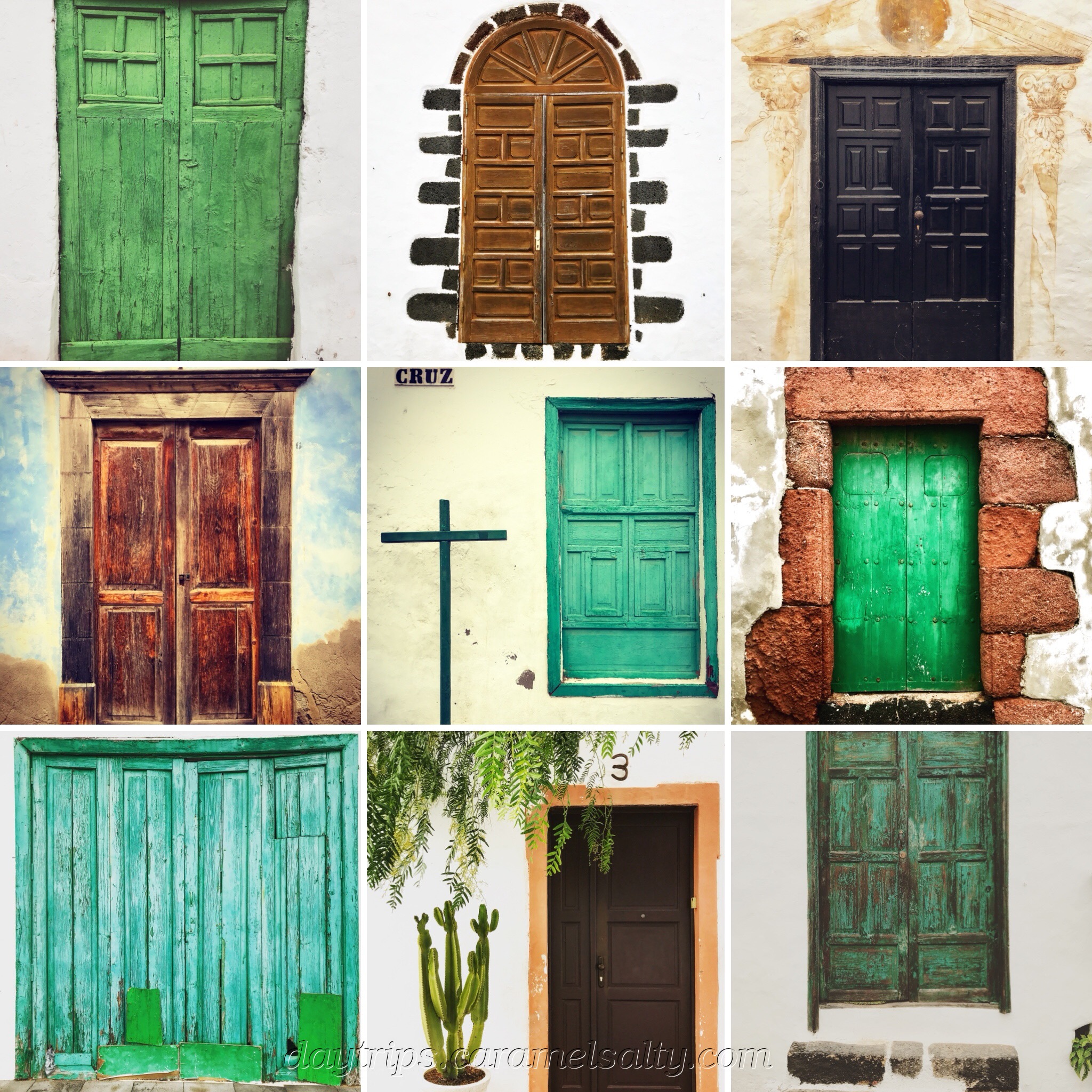 4.Teguise's Library
This small public library is so warm and inviting. If it wasn't all in Spanish, I would have tried reading up about the Canary Islands and the slave trade , a fate that befell many West Africans on the nearby continent and some of the local Guanches. Instead I google it using the free wifi.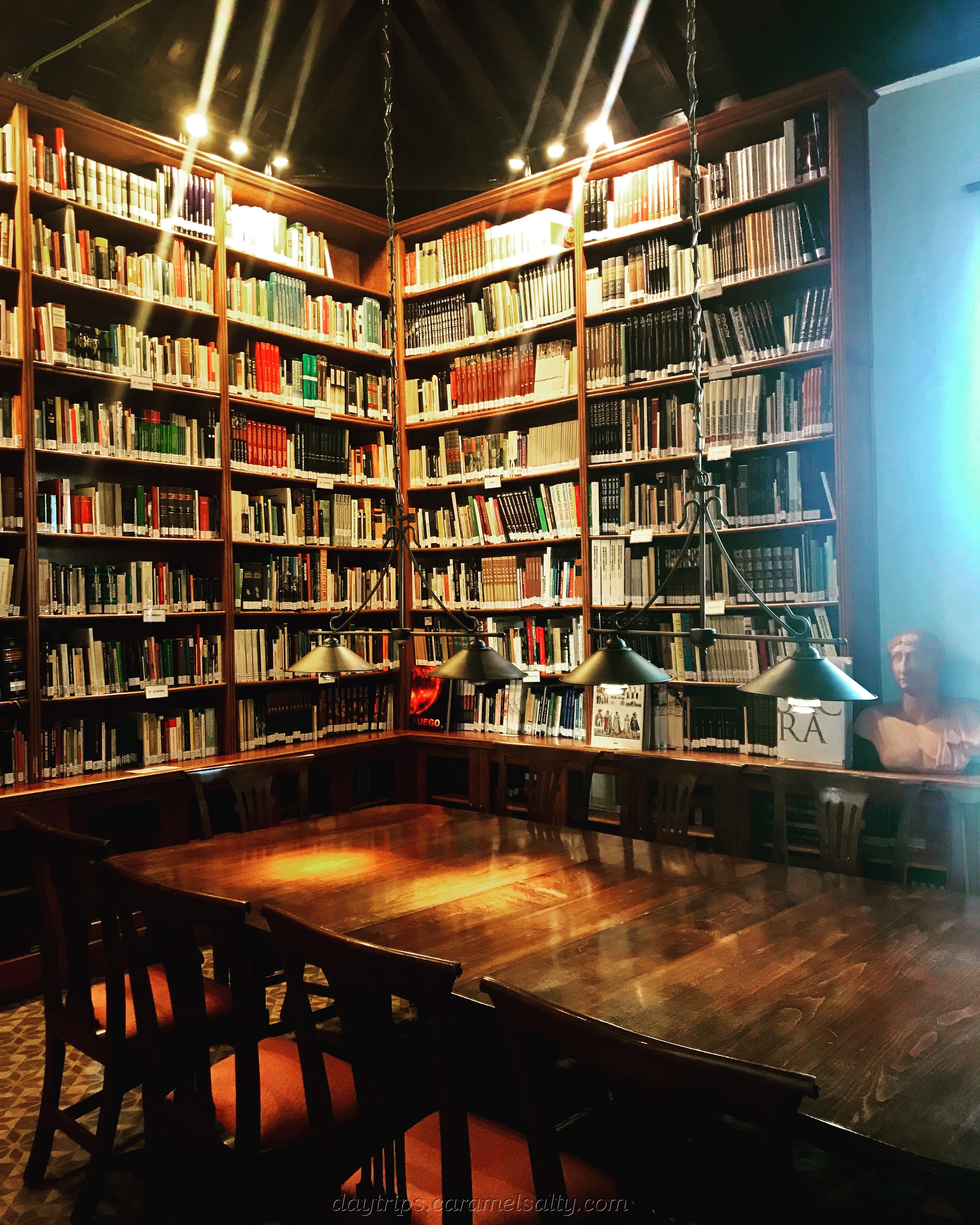 5.Teguise's Streets
My favourite street in Teguise has to be Los Arboles (Spanish for trees). It does exactly what it says on the street sign. It has to be the leafiest street in Lanzarote.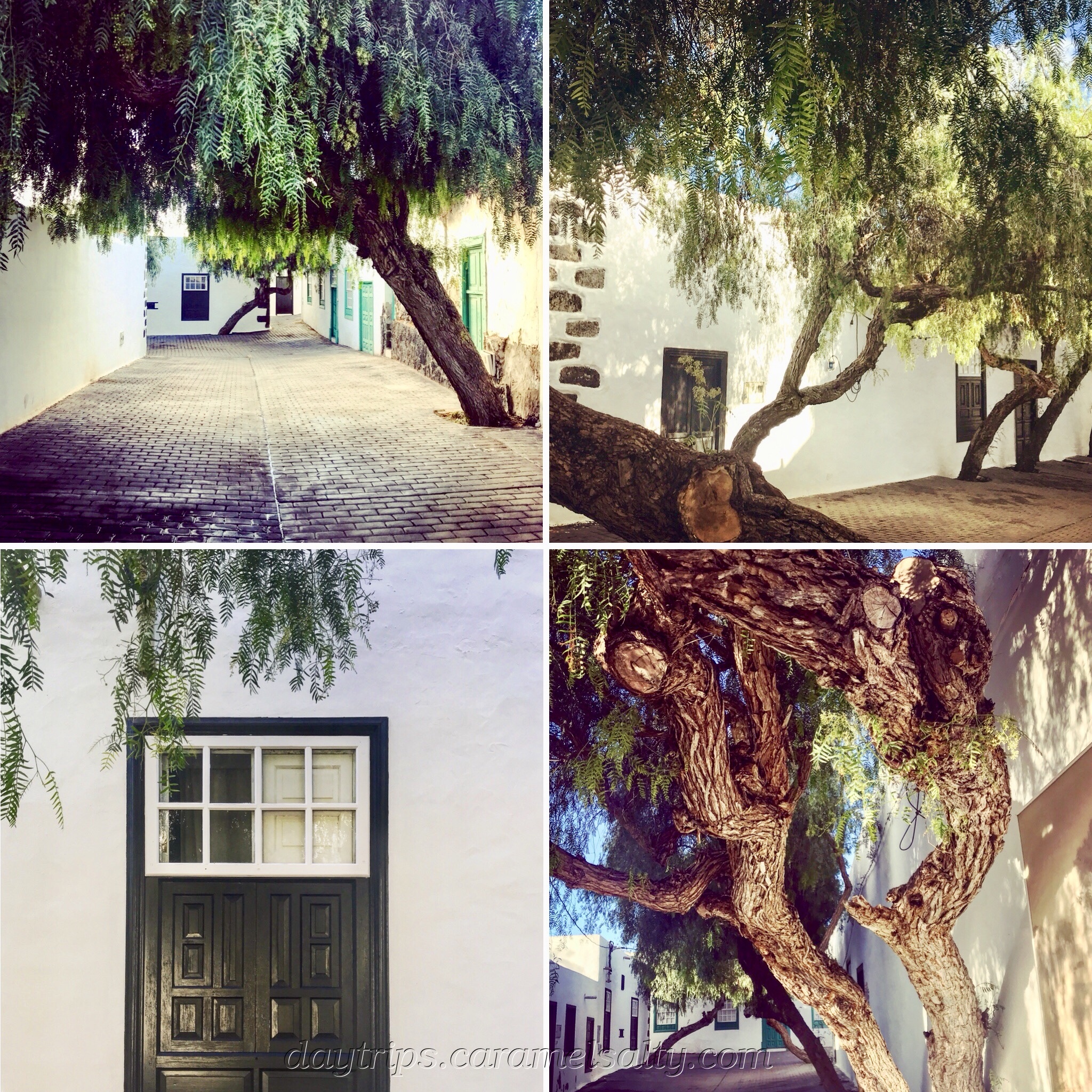 Meanwhile many of the streets leading out of town have fabulous views of mountains or valleys. A constant reminder of Teguise's remarkable setting.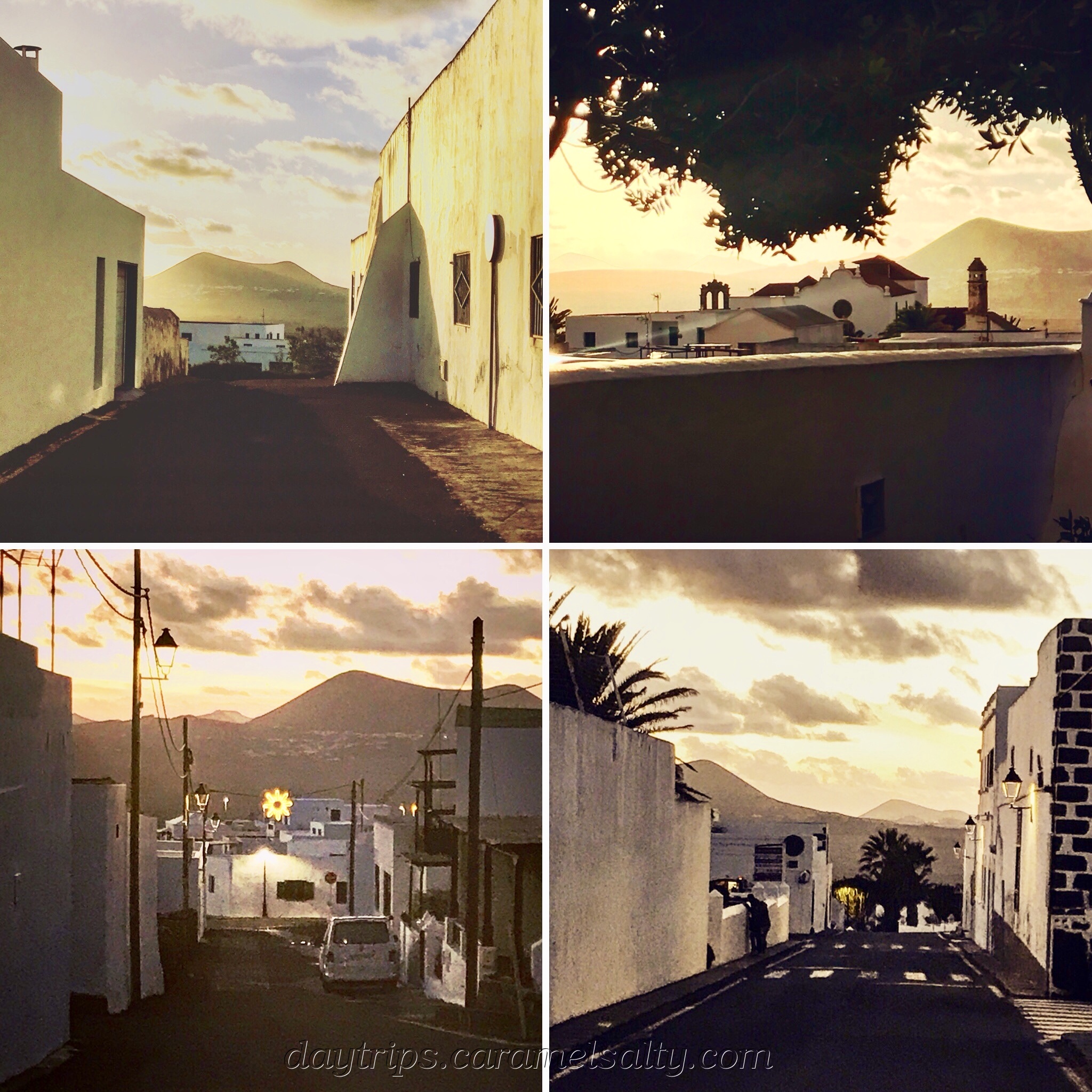 My street excursion also yields an eclectic collection of street views, ranging from religious to modern,  quirky to conventional, manmade and nature.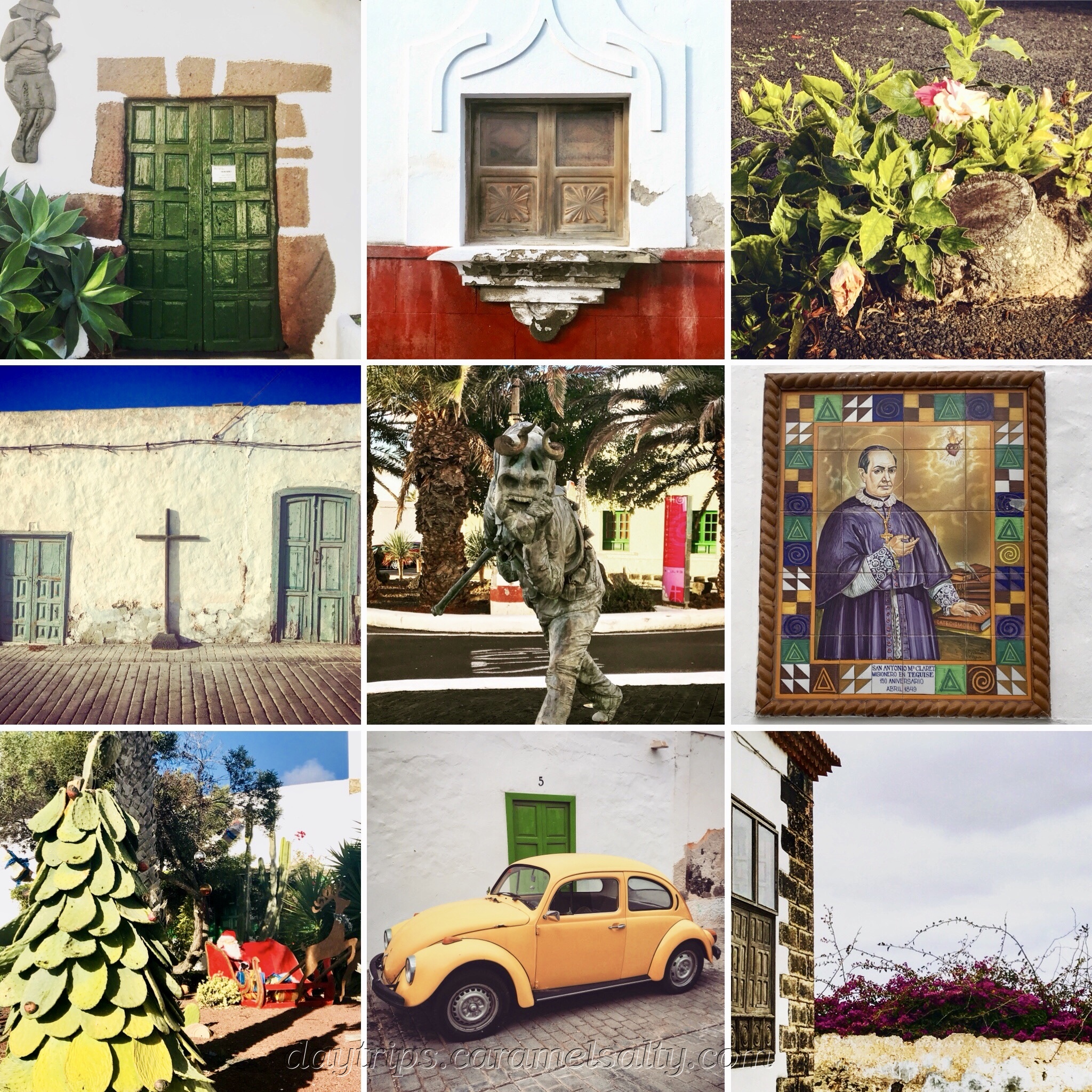 6. An Eccentric Artist
I stumble upon an eccentric collection in an artist's enclave on Calle Guaydeque. His works, exhibited in an open space, comprise a bizarre collection of anything and everything. Microwaves, toys, bones, plaster cast offs, an old broken sofa, and so the list goes on.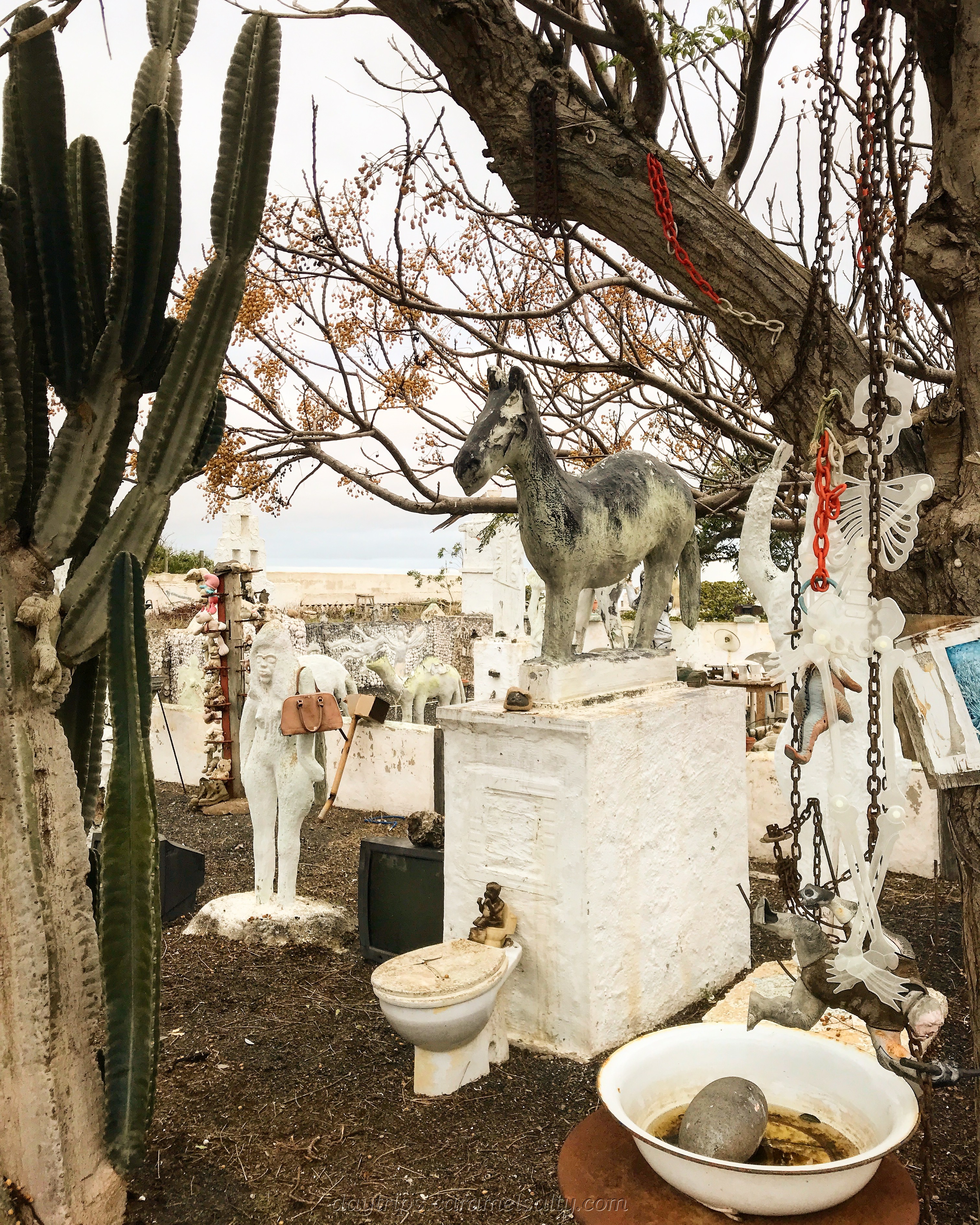 7.Teguise Sunset
The bus timetable had a hand in this. As I wait for the late bus back, I get treated to a glorious sunset and nightfall in Teguise.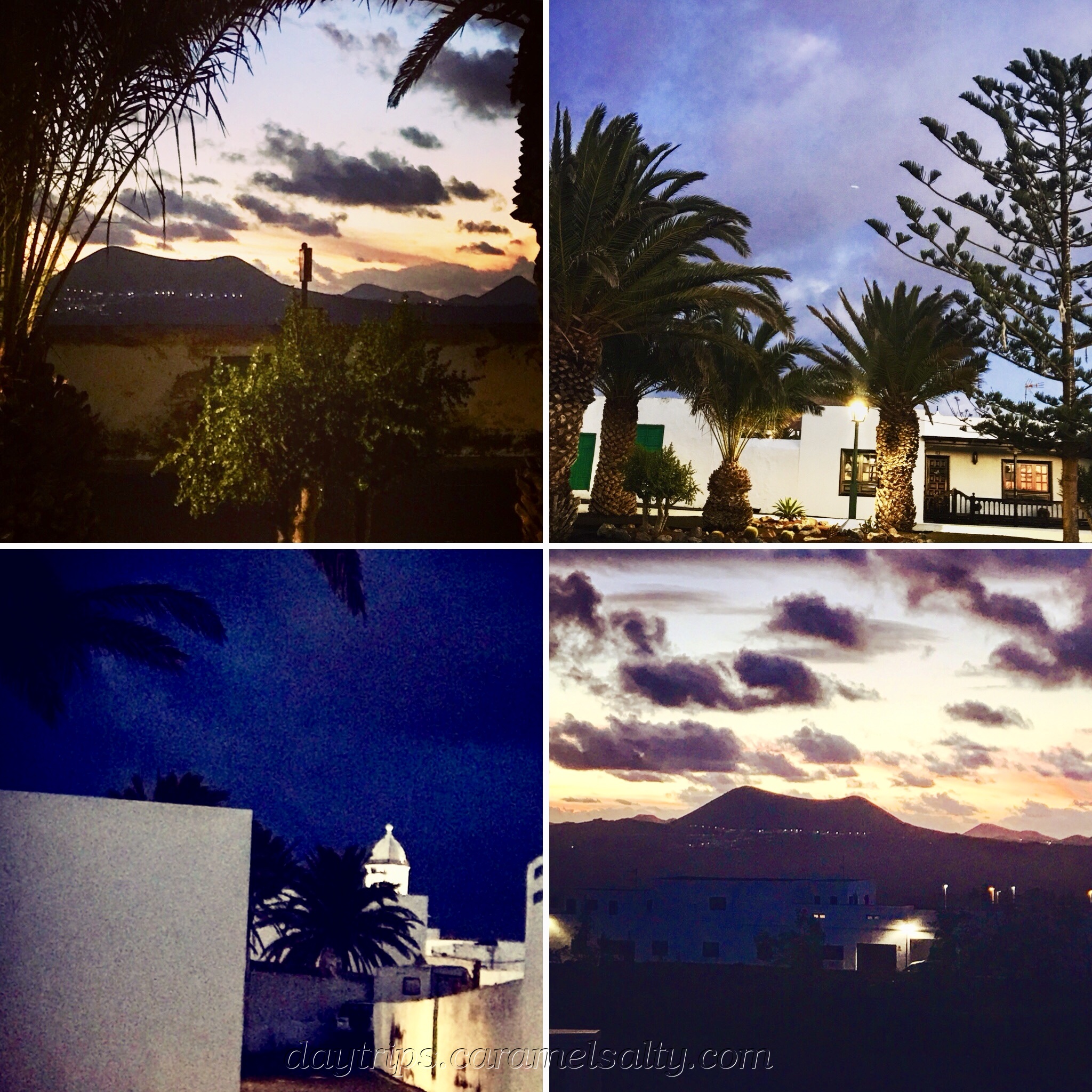 And so back in Arrecife, as I enjoy an evening meal back at Charco de San Gines, I reflect on the three towns. I think all merit a visit. But the longest visit has to be saved for Teguise. It has charm, great views, personality and many restaurants. It may not have a sea, but there are plenty of walks and buses from Teguise that will get you to a beach.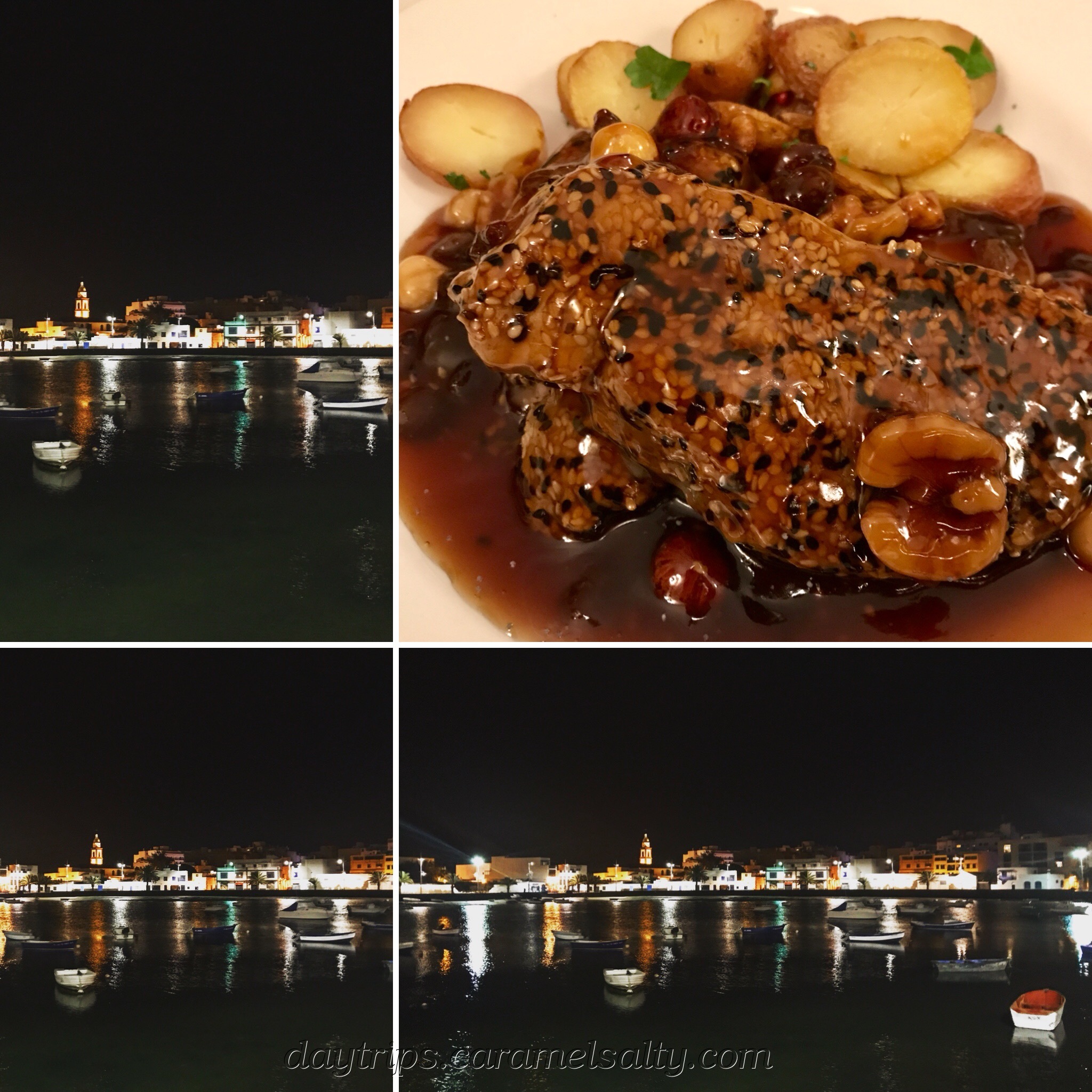 Some Useful Stuff
Bus timetable from Intercambiador or Estación de Guaguas, Arrecife to Costa Teguise
Bus timetable from Estación de Guaguas, Arrecife to Teguise
Castillo de San Gabriel, Arrecife – background and opening times Shut Sun & Mon.
Castillo de Santa Barbara, Teguise – Info and opening times
Bibiloteca Municipal de Teguise – Weekdays only, 09:00 – 13:00, 16:00 – 20:00