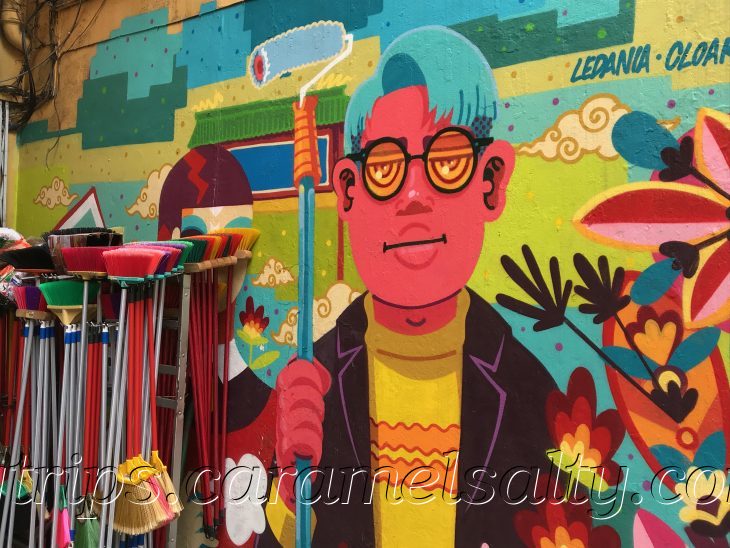 Kuala Lumpur Chinatown (Part Two) – Life In A Chinese Pioneer Town
Living in a pioneer town in the wild, wild east isn't easy. Chinese migrants, mainly men, arrive here after long treacherous journeys across the South China Sea. Disembarking, they see a strange-looking land of pinang (screwpine) trees, swampy banks and thick malarial jungle. Land is slowly cleared by hand. Wooden houses, temples and market gardens start to flourish. And a Chinatown is born ………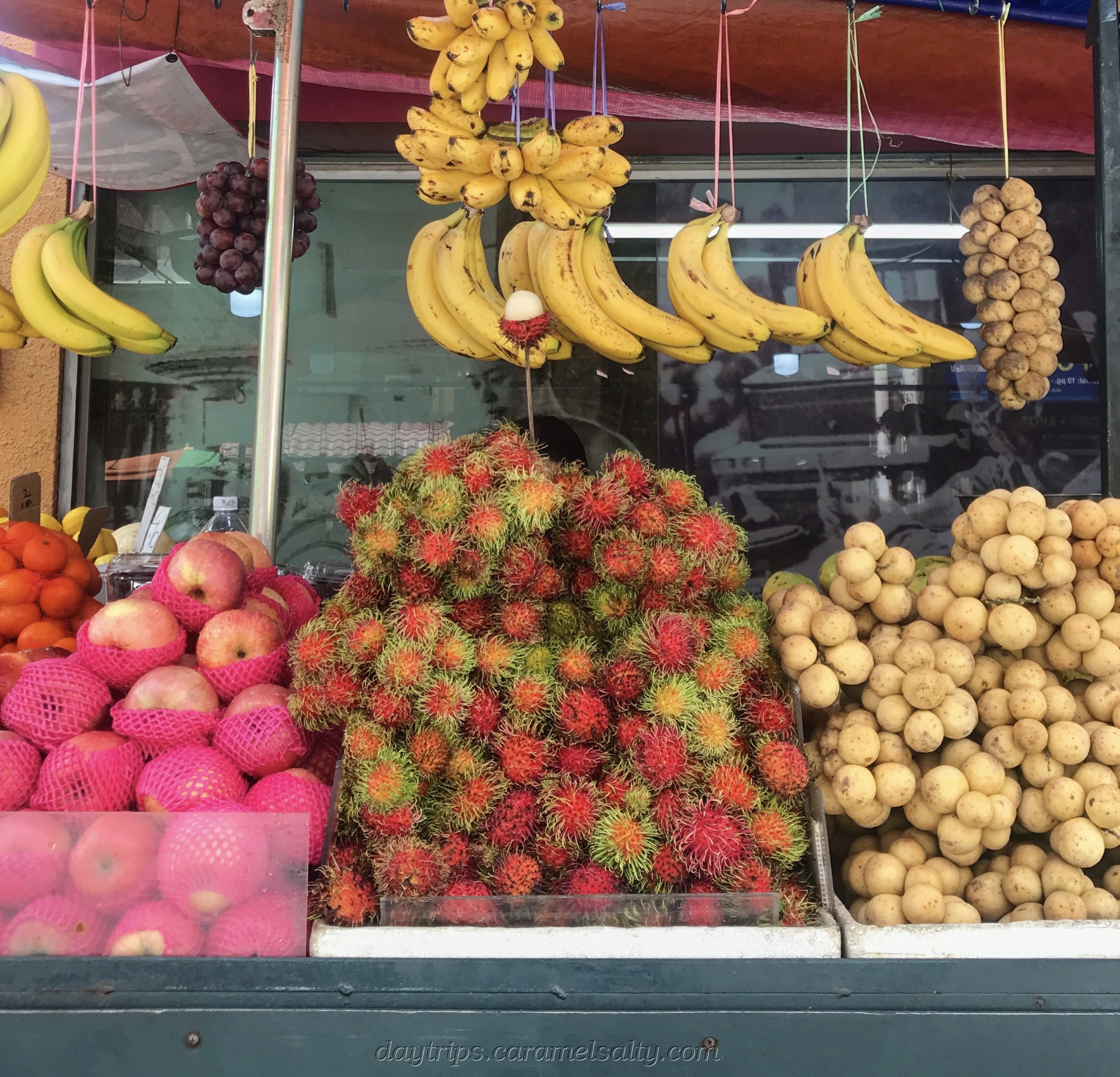 Start of the Day: Sentral Station, Kuala Lumpur (this is a continuation of my walk from Part One)
Cost of Day Out: Cheap
History Content: Moderate
The best way to scratch the surface of Kuala Lumpur's Chinatown is to explore its alleys, nooks and crannies. And its temples, shops and food. So I start at the hawker stalls found at both ends of the [1] wet market on Madras Lane. A good a place as any to start. For under the cover of corrugated zinc roofs, all types of meals are being prepared over very robust gas fires. When ready, they will be served on the colourful plates and chopsticks stacked to one side.
The market leads out to [2] Jalan Tun H S Lee, the original High Street of old Chinatown. It's an extremely long street, with 7 roads intersecting it from start to finish. Just like the good olde days, it is lined with shophouses selling all kinds of wares. Some of these century old shophouses have been renovated. Sadly, others are being left to rot. Which, in my view, adds to the character of Kuala Lumpur's Chinatown.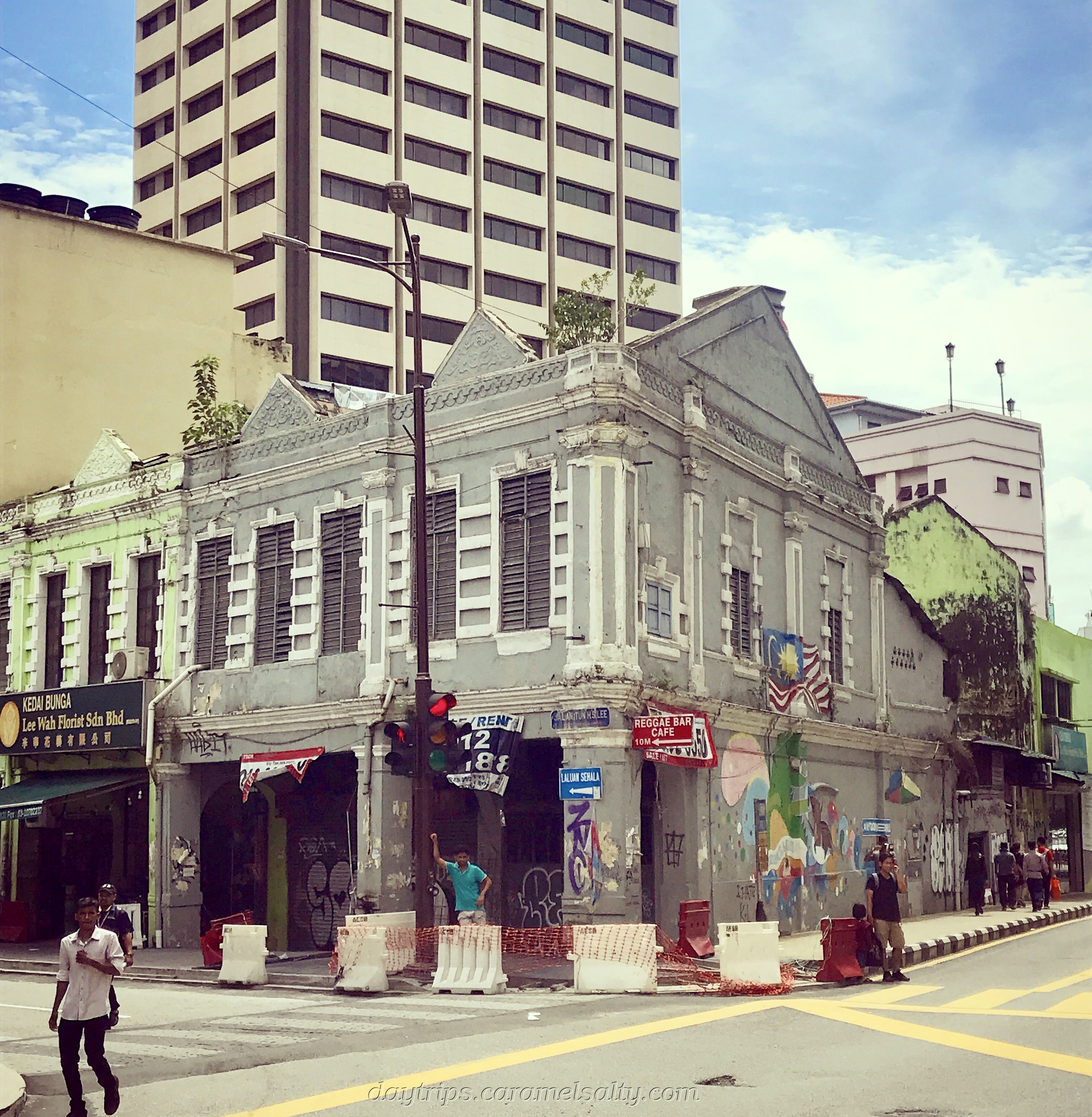 The shophouses here are narrow and deep. Many still have wooden shutter windows. Motifs can still be seen in the ionic arches. Business is conducted in the front, whilst the family live upstairs. This architecture is unique to South China and South East Asia. It's popularity in the Straits Settlements (what are the Straits Settlements?) stems from when Sir Stamford Raffles introduces the design in his 1822 Town Plan for Singapore. His inspiration comes from having seen them during his tenure as proxy Governor for the Dutch controlled Batavia (Old Jakarta).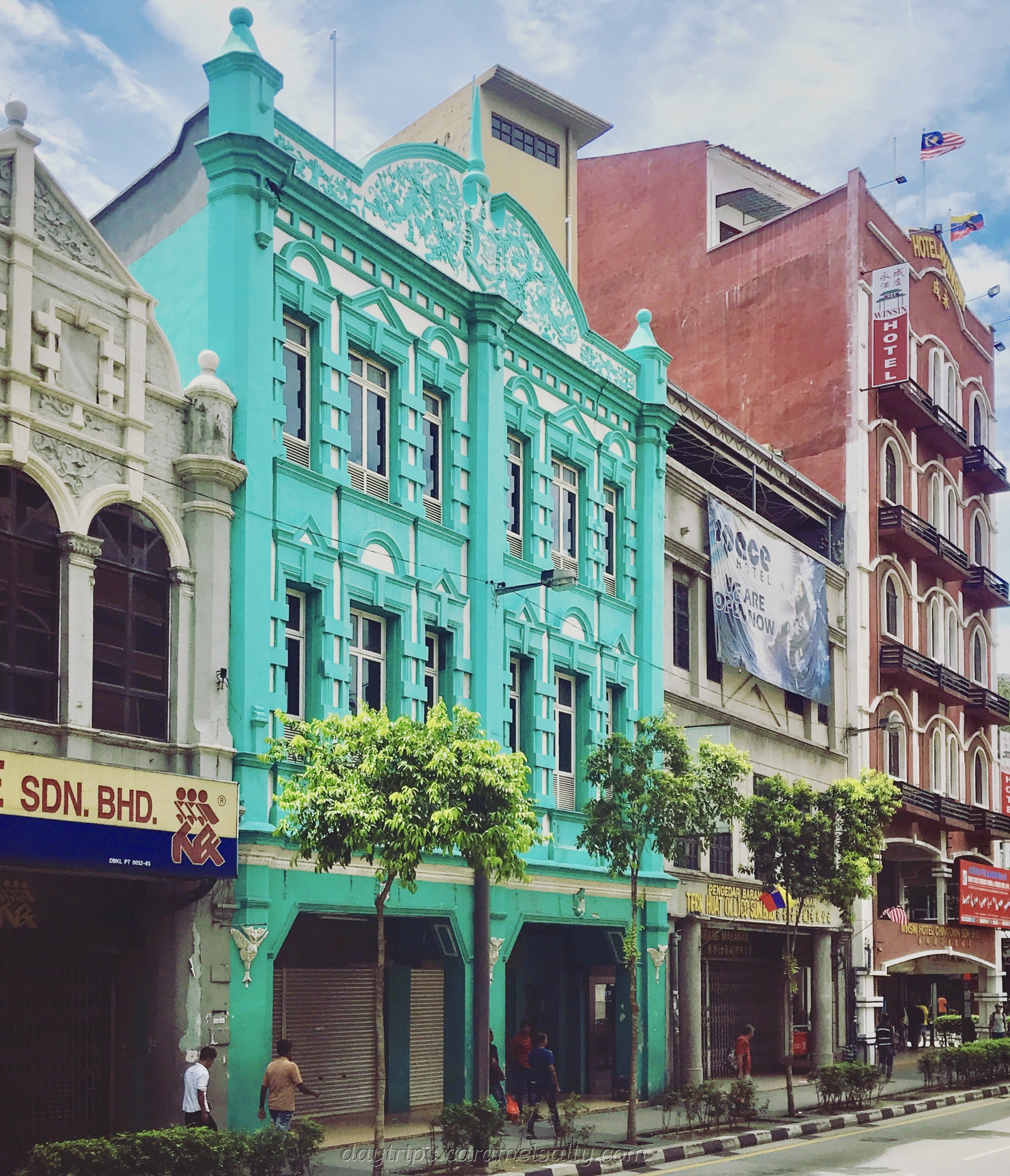 Another characteristic associated with these shophouses is the five foot way (kaki lime) fronting them. It's a life saver for pedestrians in a tropical climate. I'm able to walk from one block to another whilst sheltered from rain and sun. In some places, steps lead down to the five foot way. That's because the original streets have now been built up to accommodate utilities and sewers running underneath.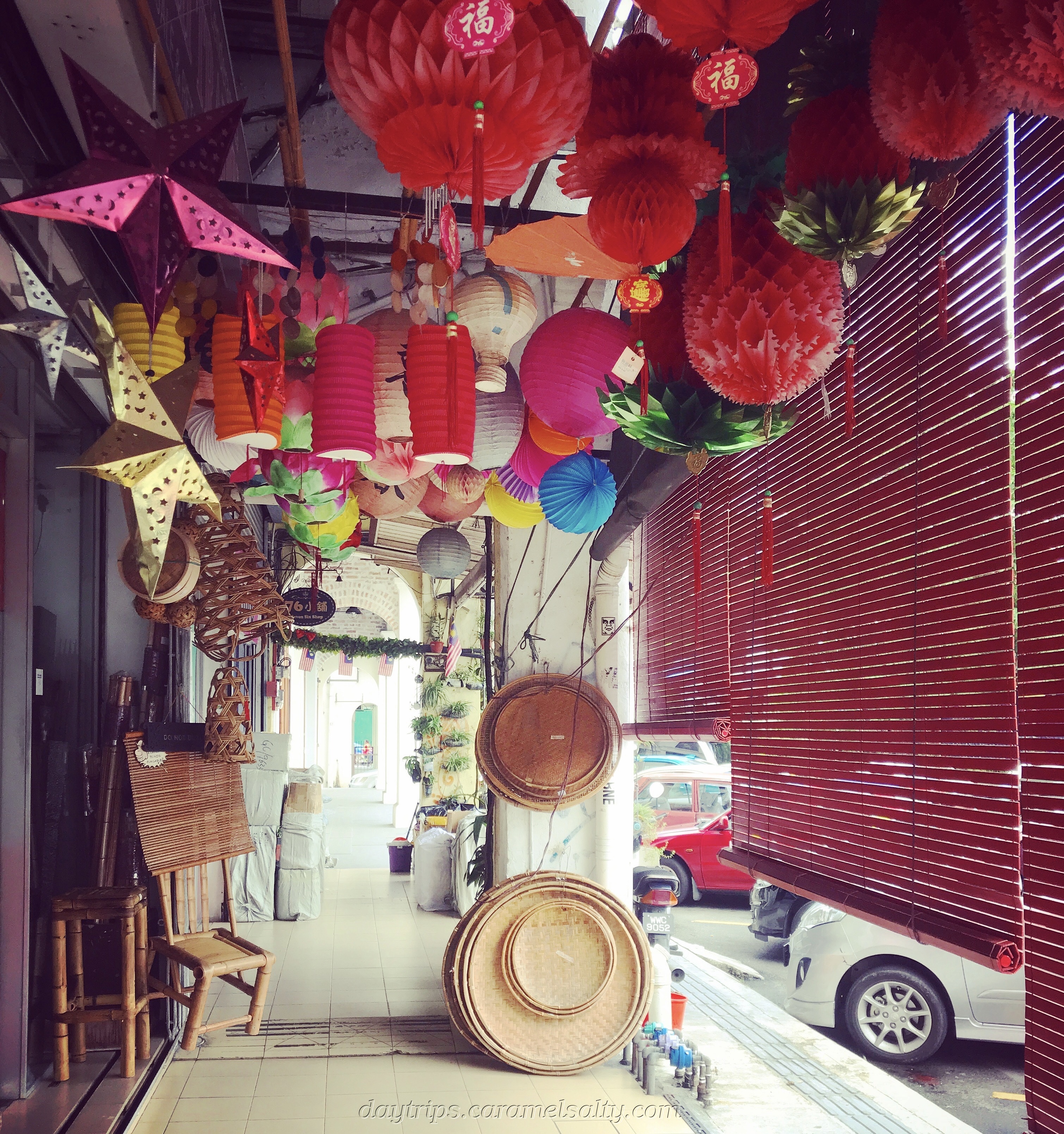 Jalan Tun H S Lee is often overlooked because of its more alluring neighbour, [3] Petaling Street. This covered street, crowded with stalls of tourist tack and imitation goods, is a popular tourist and shopping destination. For street entertainment I eavesdrop on the loud, exaggerated bartering between stall owner and tourist of the over inflated prices. That bargaining adrenaline is the reason why people shop here.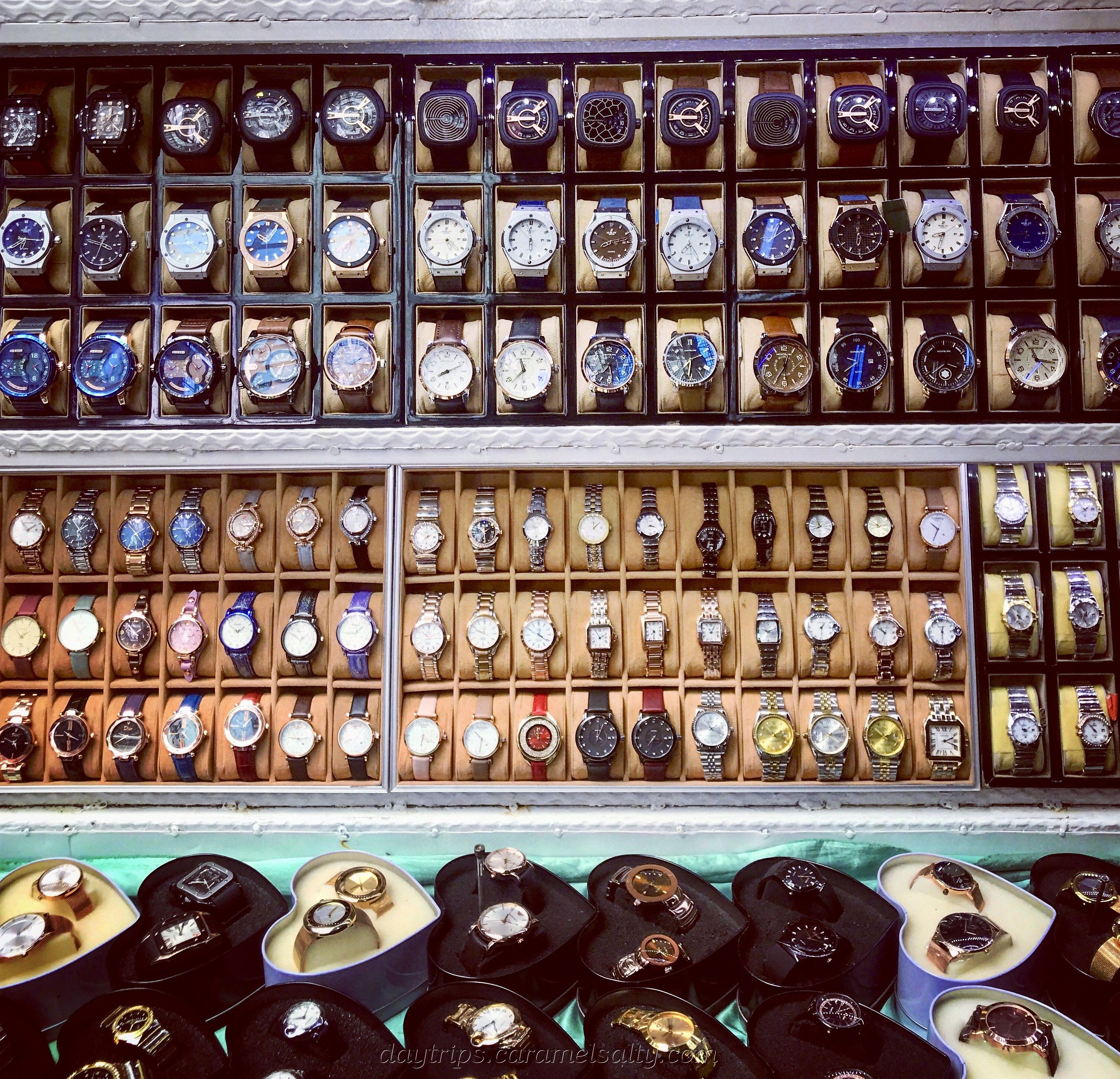 However I'm a lady who prefers true gems. And I dig two up on Jalan Tun H S Lee. The first is the attractive red 1888 Taoist temple [4] Guan Di, which venerates China's greatest warrior, General Kwan. He lived in the 3rd century. And if ever I was to recognise him again, I should look out for a red-faced chap with red plum lips. His beard is described as being two chi long, on a man nine chi in height, according to the 14th century novel Romance of the Three Kingdoms.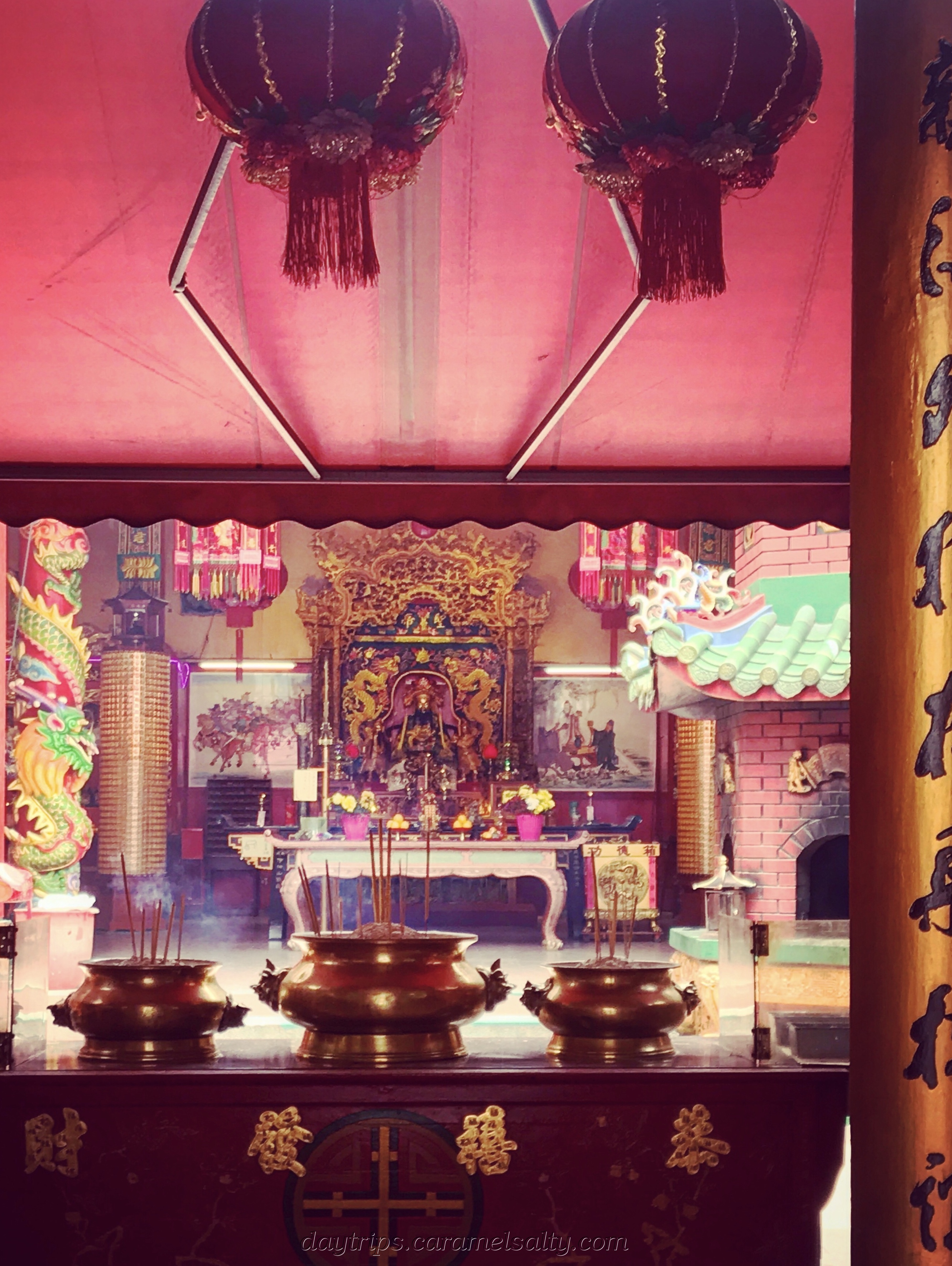 The entrance to the temple is well guarded. Ferocious dragons wrap themselves around pillars. Grey stone guardian lions and a pair of door guards (Shen Men) protect the entrance. More golden dragons languish on the pretty roof of the temple. Which is also adorned by fish. Inside, the smell of incense brings a sense of tranquility. I spend a while studying the many Gods, and reading about the traditions and beliefs of this temple narrated here.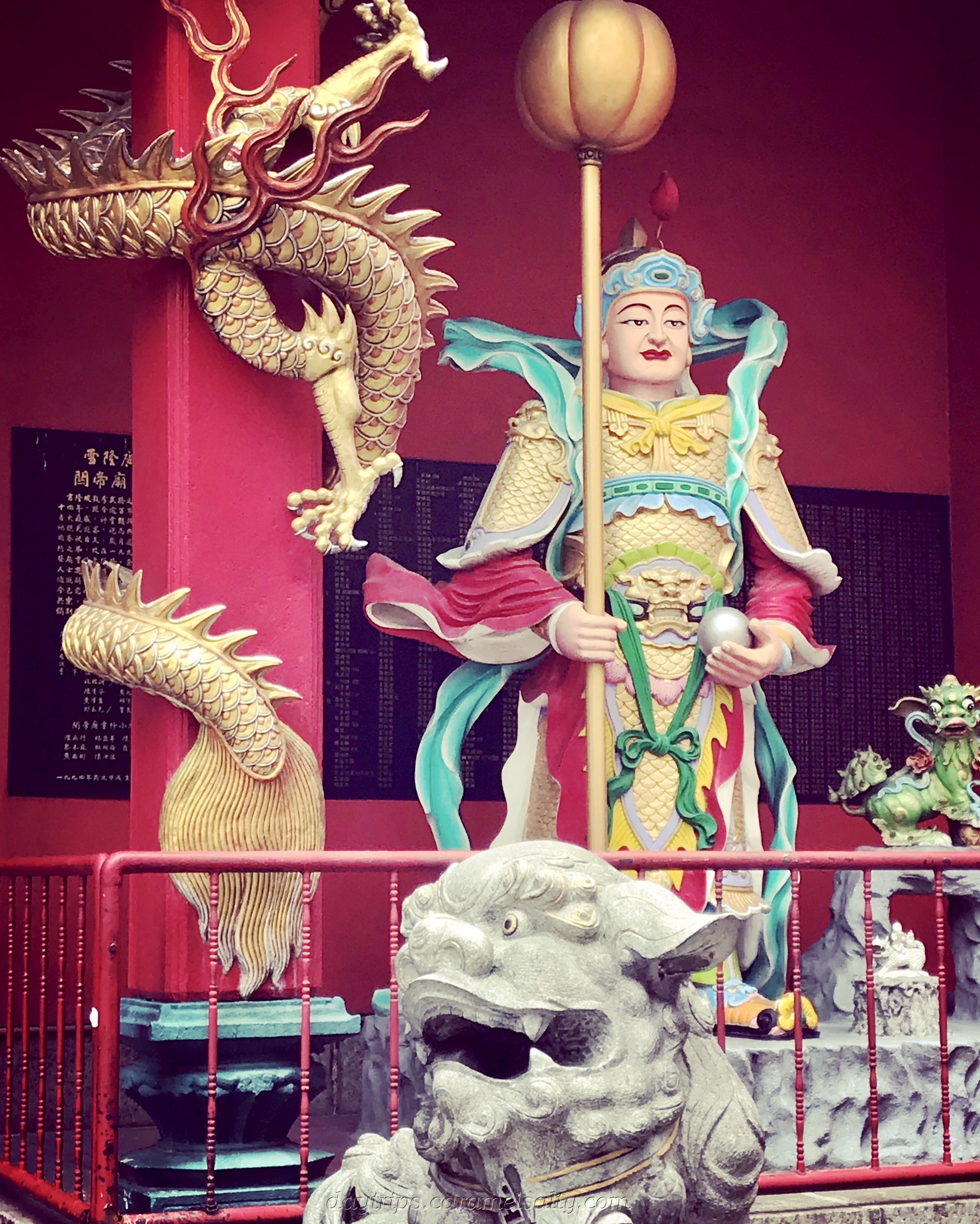 The second gem on Jalan Tun H S Lee is slightly less Chinese. Only just. Across the road from the Guan Di is the [5] Sri Maha Mariamman Temple (1873). This extravagantly decorated Hindu temple which incorporates Spanish and Italian tiles, precious stones and gold in its design, is Kuala Lumpur's oldest and main Hindu temple. It started as a private temple for the Pillai family, before becoming a public temple in the 1920s.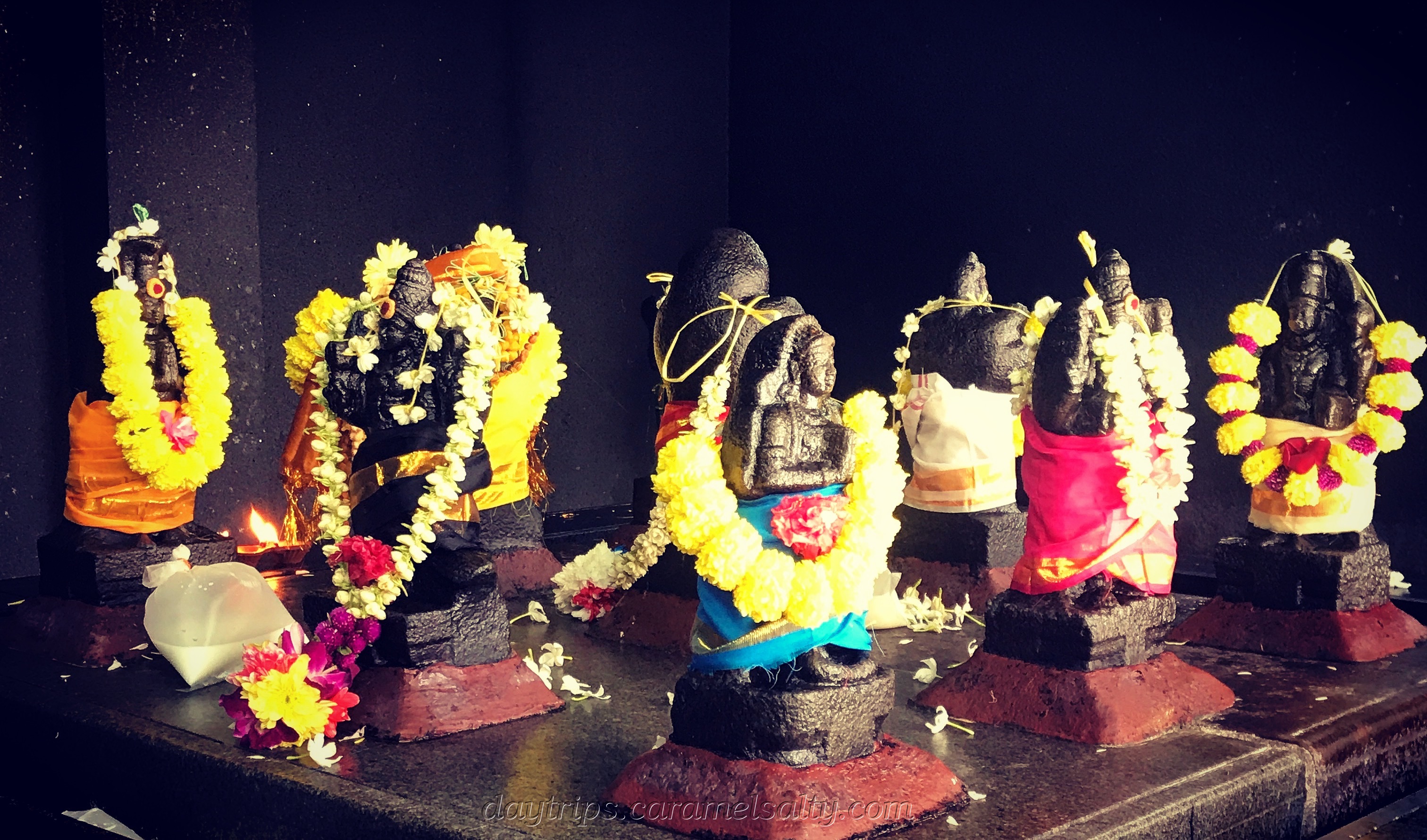 For a small fee, shoes can be left with attendants outside. And for the same fee, I am loaned a sarong. Entering via its 5 tiered gopuram, I'm now within the sanctum of the temple. Prayer rituals are being conducted for Navarathri, a Hindu autumnal festival which involves 9 days and nights of rituals and fasting. Music from the thavil and nadaswaram accompany the ritual, as it builds to a crescendo under the supervision of the shirtless priest in a white dhoti.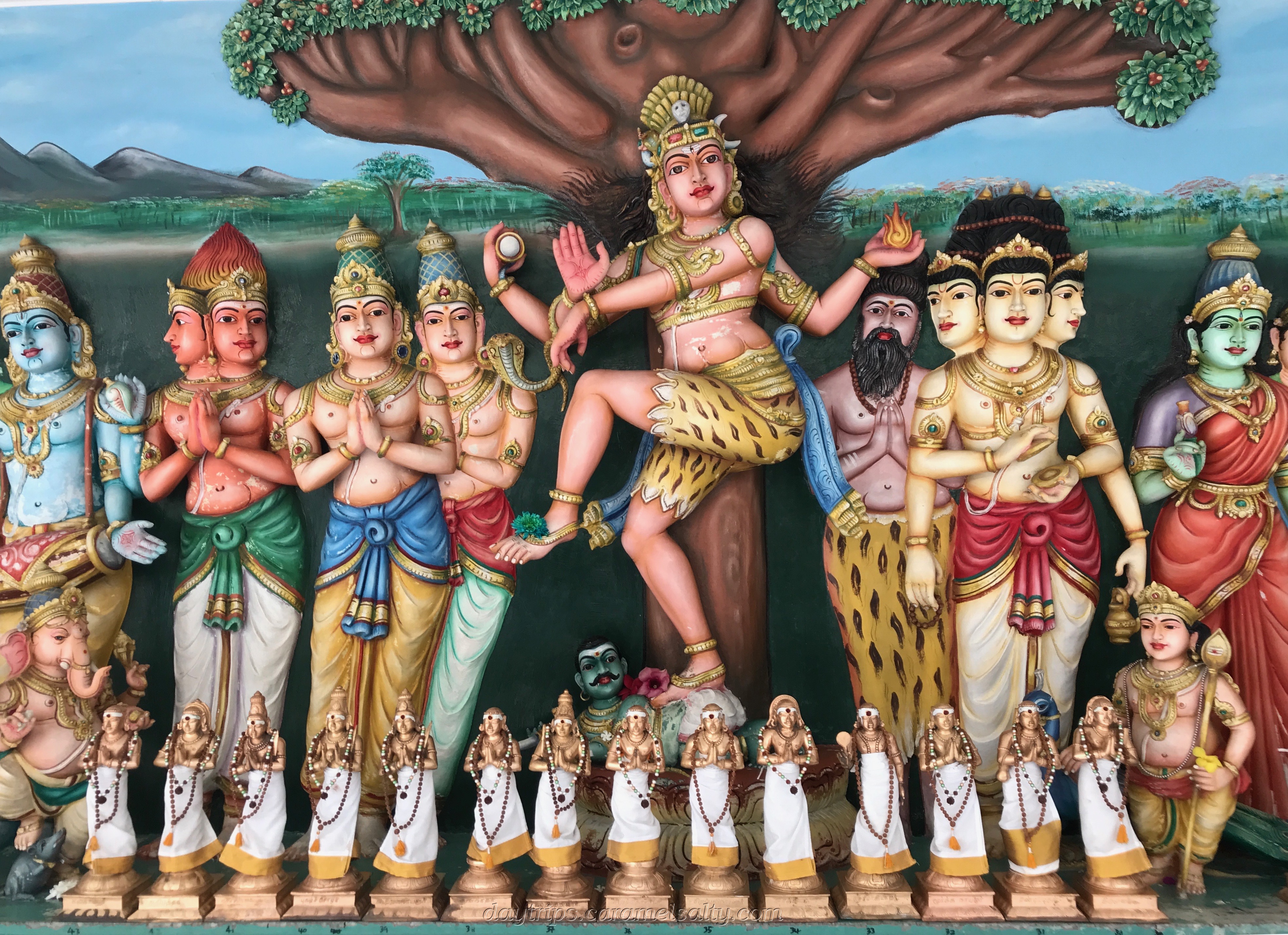 When the Sri Maha Mariamman temple was built, Chinatown was already well established. Which means that an Indian workforce lived within the perimeters of a Chinese village. However the predominant feel of this area is quite clearly a Chinese commercial hub.
Back at the shophouses of Jalan Tun H S Lee, at the other end of this long road, I find [6] Tuck Heng Ginseng Hall, a Chinese herbal shop. The tradition of Chinese herbal medicine goes back to the 3rd century, the same time that General Kwan was alive. There are over 300 different herbs used in the various remedies. Customers are served a concoction of exotic dried plants whilst sat along a long glass cabinet. I, on the other hand, spend time perusing the dried herbs contained in the many clear jars.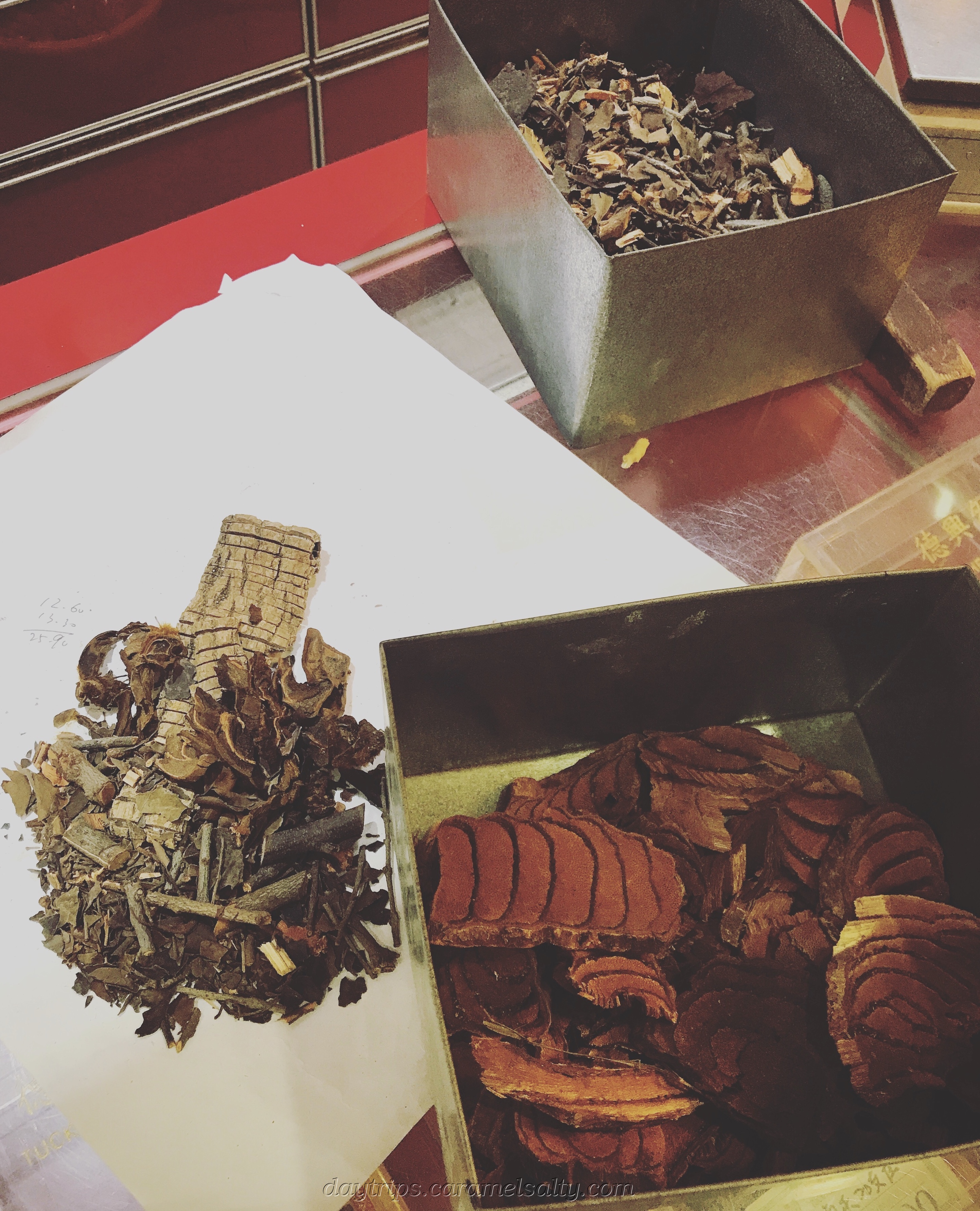 Lunch is a bowl of silky slurpy noodles, back at [7] Yu Noodle House at Jalan Balai Polis. I'm told to self flavour the noodles with the rice wine on the table. As I lunch and google away, I find there is more to the story of Chinatown. It's a story of why Kuala Lumpur still stands today. All to discover after lunch…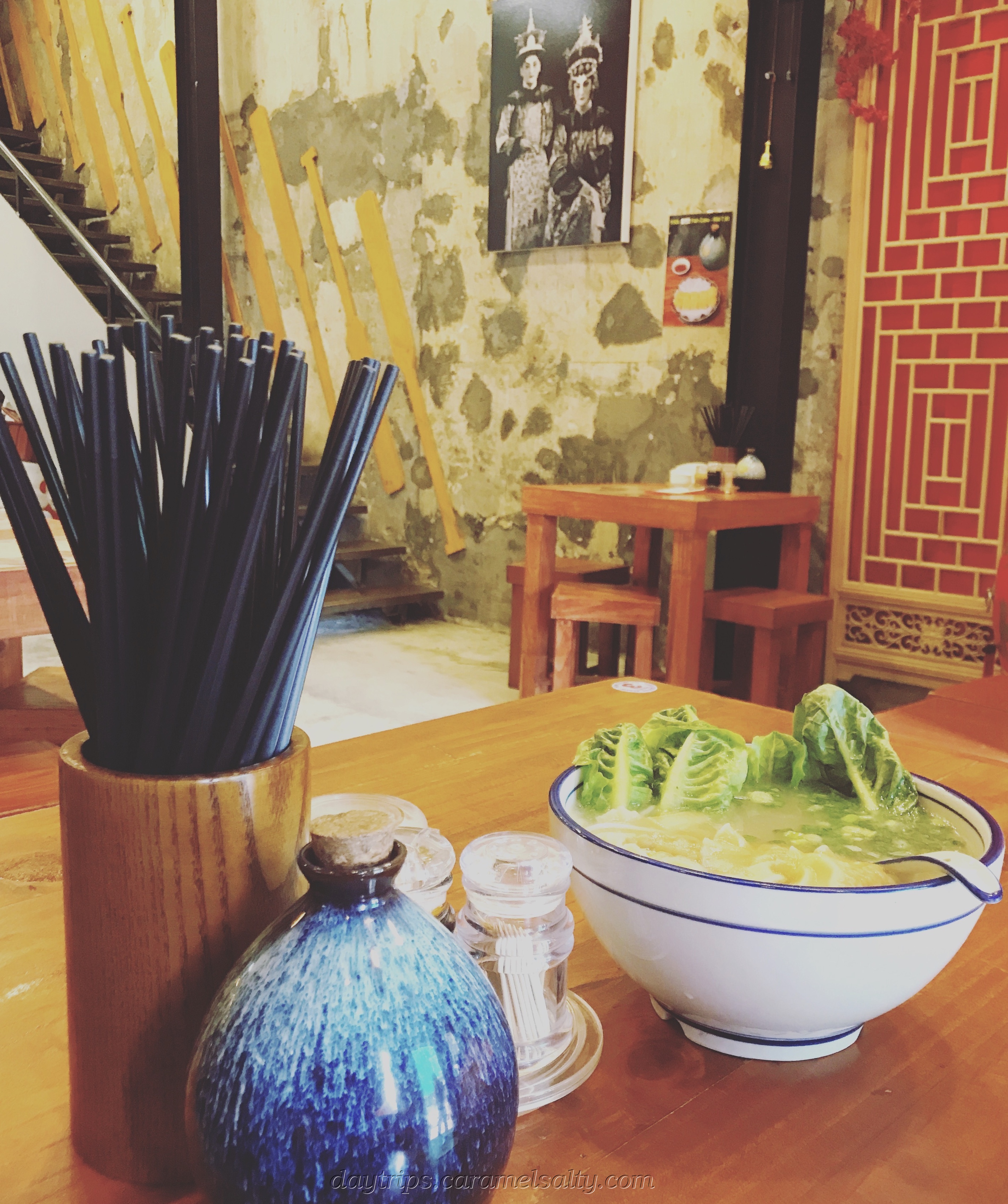 Other Related Blogs
Kuala Lumpur's Chinatown (Part One) – The Chans Arrive in Town
Tips and Stuff Like That
From KL Sentral Station catch the monorail to Jalan Maharajalela Station. Alternatively catch the LRT to the more pleasant Pasar Seni station.
Kuala Lumpur Train Routes – map here.
Touch and Go Cards are accepted on all trains (cashless) and buses in Kuala Lumpur. These can be purchased at LRT Customer Services Kiosks. Credit can be topped up at LRT Customer Services Kiosk and supermarket outlets (e.g. Seven-Eleven, Mynews.com) for a small charge
Guan Di Temple (tourism website) – open daily. Free.
Sri Mahamariamman Temple (website) – open daily. Free. Small fee for storing shoes securely. Or you could leave it to chance at the door.
Tuk Heng Ginseng Hall (Facebook page) – Open daily.
Yu Noodle House  (Facebook page) – Open daily. Great write up by Malaysian Flavours