Highgate and Archway – Ghosts and Graves (Part Two)
When William the Conqueror does exactly what his title says and conquers England in 1066, he seizes property and land from the existing Saxon manors and landlords. He then gifts them to family and friends, as a thank you, and to establish his stronghold over the country. One piece of land handed out is a large tract of ancient woodland. It's to the north of London, on a hill with the most excellent views of London.
Start of Walk: Pond Square, Highgate (a continuation of my walk from Archway Station)
Cost of Day Out: Moderate (if visiting cemetery too)
History Content: Moderate
Standing at [1] Pond Square, it's easy to see the attraction of Highgate village. During Norman times, this square was the village green, dotted with lakes, surrounded by elm trees and a scattering of houses. The Green would have bordered the vast private hunting park of the Bishop of London, a gift from William the Conqueror.
The incredibly steep [2] Highgate Hill Road runs by the square. It's the main northern route out of London, but only from the 14th century. Prior to that, the road to York took a circuitous path around the hill. Around 1350, the Bishop of London very kindly agrees to cut a road through his land, connecting London's Smithfield Market directly to Highgate.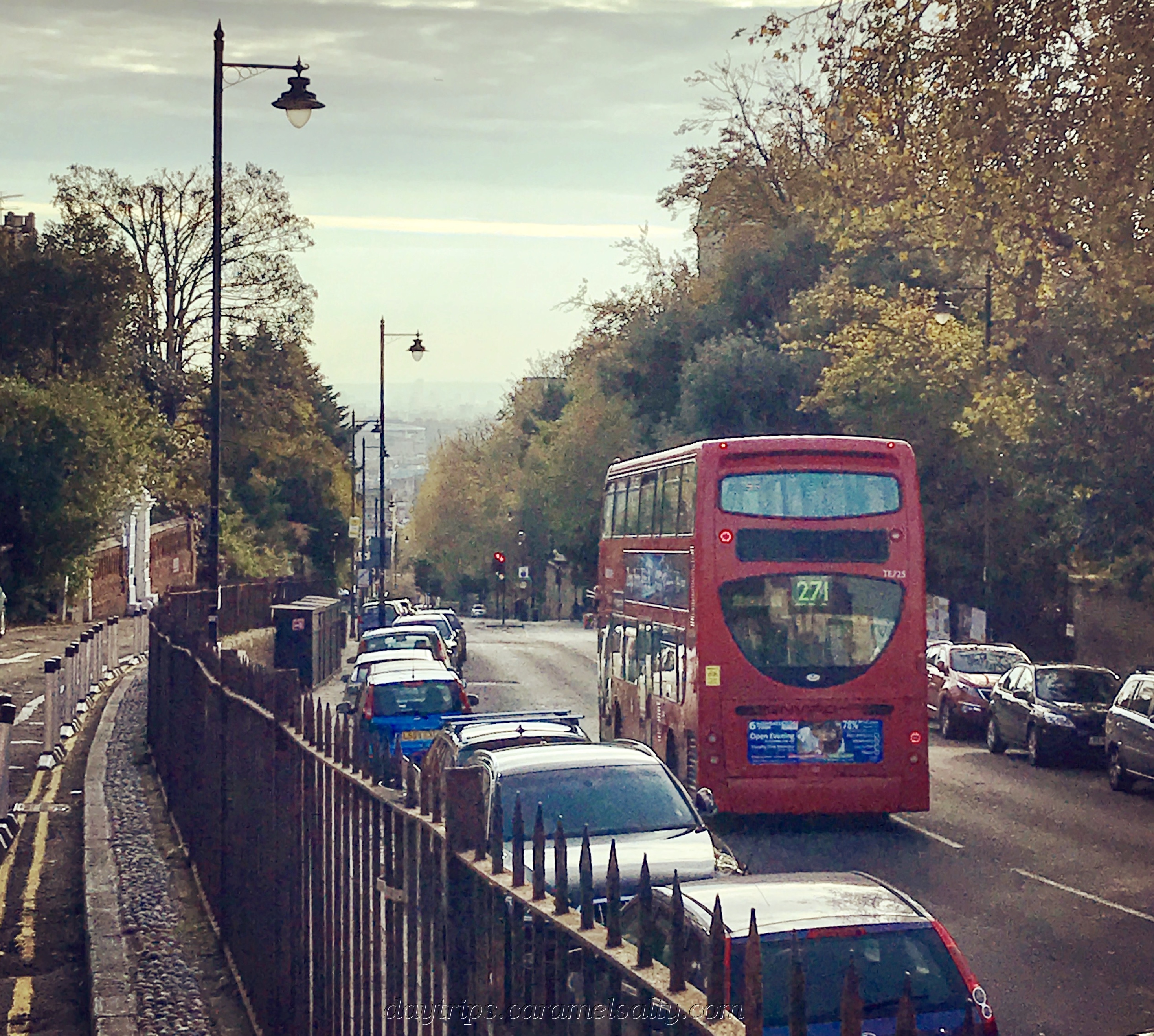 Naturally, the Bishop constructs a gate at the edge of his property, and charges a toll. The Great Northern Road, as it is known, becomes a well trodden path. It leads to St. Albans, a city of pilgrimage for Christians, after the martyrdom of Alban at the hands of the Romans. The village grows to accommodate travellers.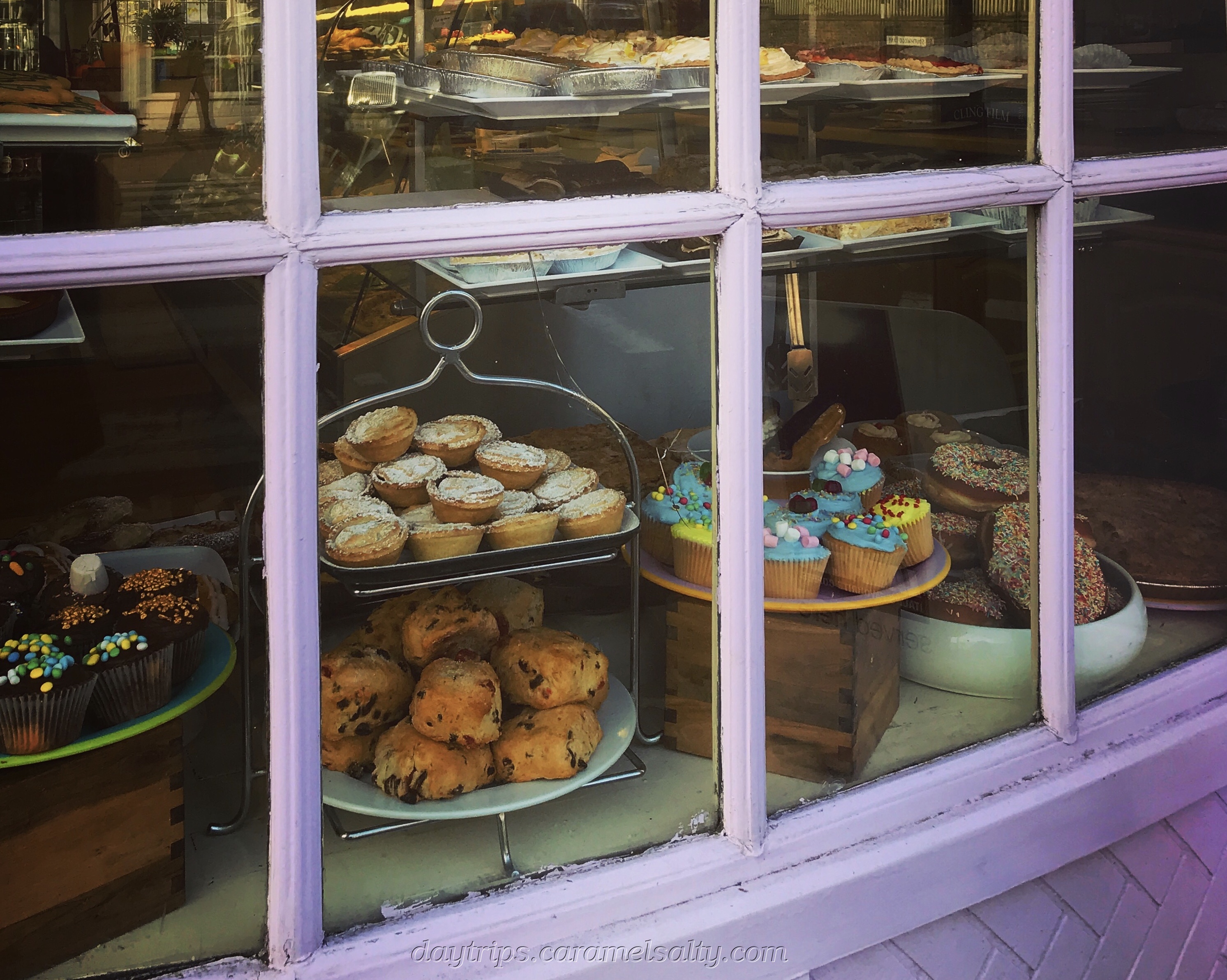 From the 16th century, a ribbon of houses forms along Highgate Hill Road. Many inns sprout up too. A now defunct tradition, found only in the pubs of Highgate, is the Swearing of the Horns. It's a solemn oath taken by visitors, promising to partake in merriment and debauchery. The "ceremony" ends with the kissing or saluting of a pair of antlers. It is thought that its main purpose was to lure tourists to Highgate and to provide the locals with some amusement.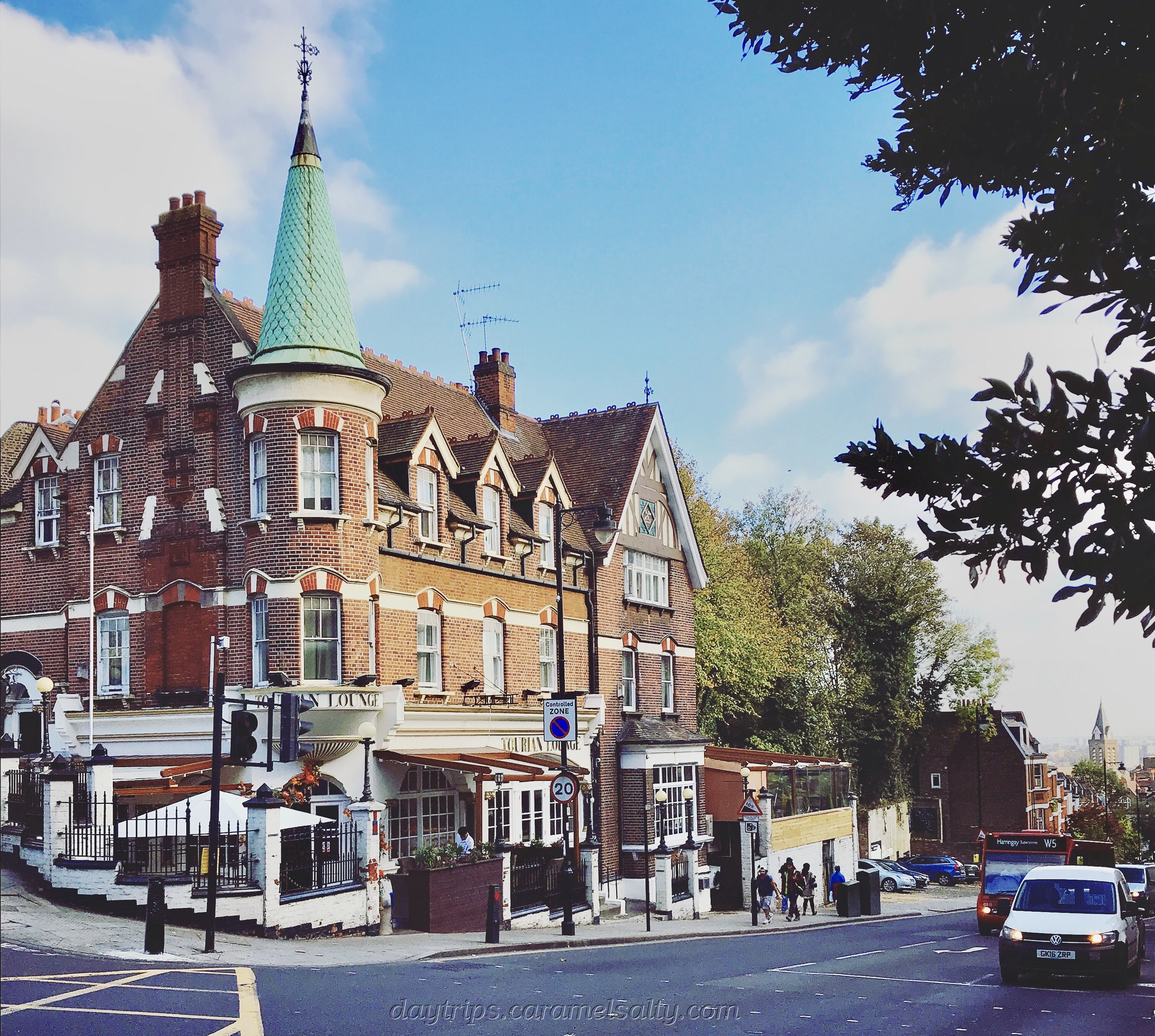 In the 17th and 18th century, smarter houses pop up as folks from the City escape to this "convenient, beautiful and genteel village", as one estate agent describes it at that time. Highgate may look like an extension of London today, but until Victorian times, it was a proper suburb of London. Many come here for its bracing air and greenery, away from the smog and pollution of an increasingly crowded and industrialised London.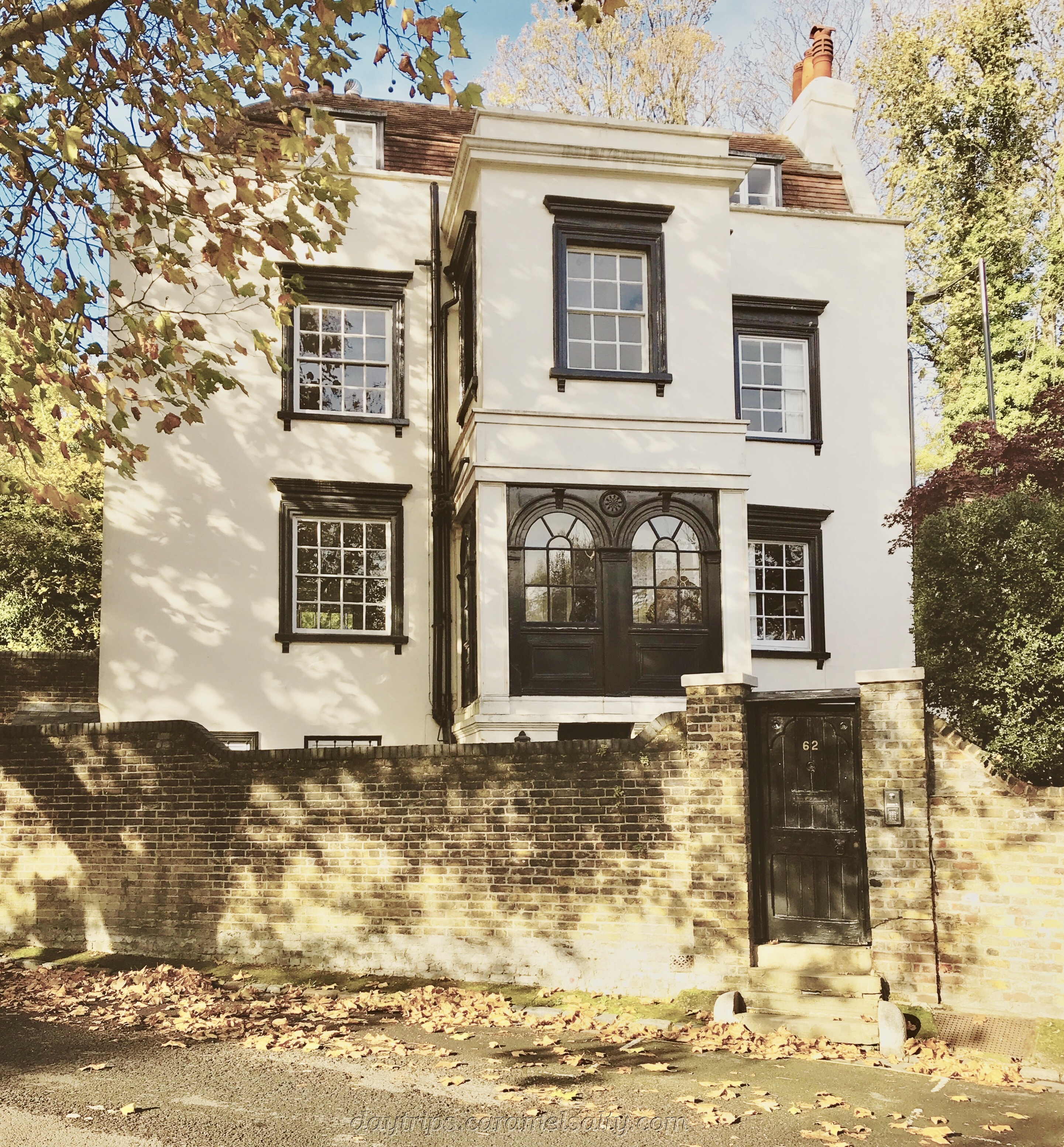 The shops, pubs, restaurants and houses of [3] Highgate Village still maintain their Georgian and Tudor architecture. Naturally, it would be remiss for the oldest pub in Highgate, [4] The Gatehouse (1670), to not be haunted. For some unknown reason, most of the hauntings are upstairs where the theatre is. They include a murdered Jacobean widow, a white-haired man and a smocked smuggler, all detailed here. So staying downstairs to sample their tapas menu is a good idea.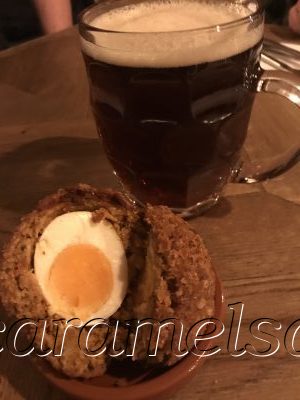 The Gatehouse is named after the Bishop's toll gate that no longer stands. It once had the boundary of London and Middlesex running right through it. As explained on its theatre website, when the hall was used as a court room, ropes had to be carefully placed during court cases to ensure those on trial could not step across to another county to escape the charges.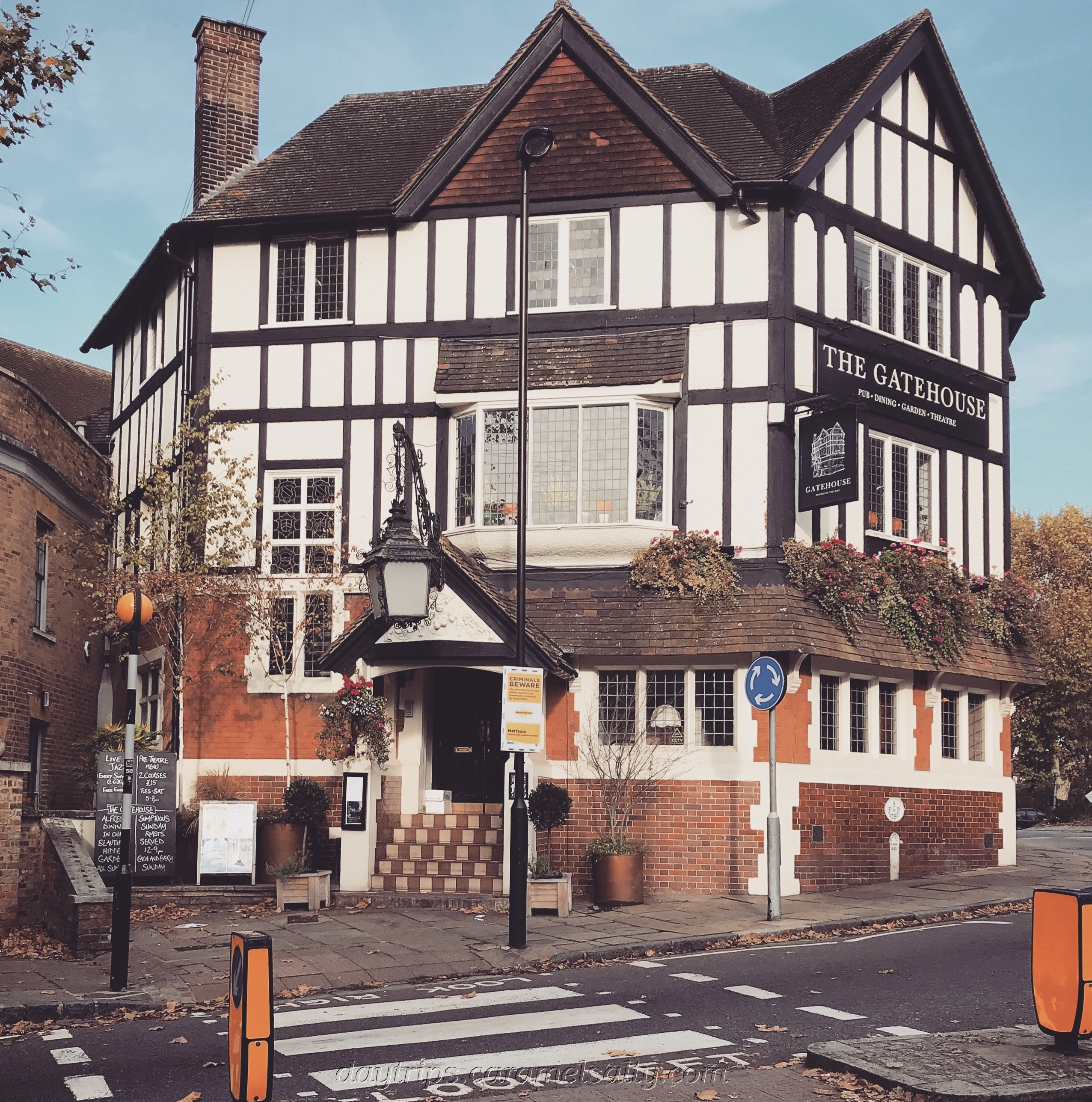 The neo-Gothic [5] St. Michael's (1832) of Highgate is the tallest church in London. In fact, a wall inscription in the entrance hall tells me that I'm level with the cross of St. Paul's. St. Michael's spire is visible on the skyline, even as far from the hills to the south of London. From the pews in the balcony, I get a wonderful view of the ground floor and Evie Hone's stained glass window depicting the Last Supper, illuminated by the wintry afternoon sun.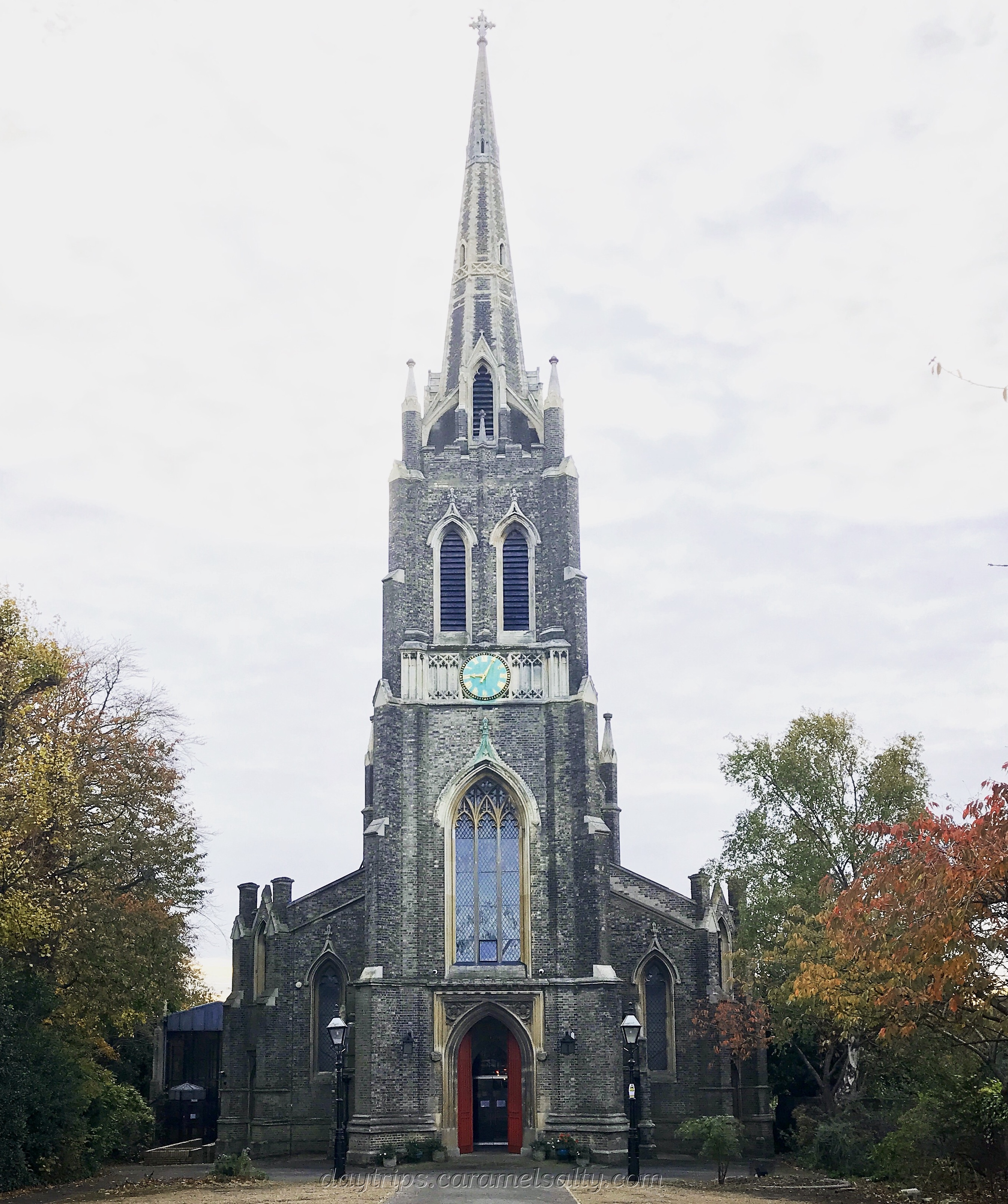 The church, built at a record low cost of £8k, is on the site of Ashhurst House, a previous home of Sir William of Ashhurst, Lord Mayor of London. However a longer term resident here is Samuel Coleridge, who comes to Highgate to rehabilitate from his opium addiction, after having been treated with laudanum for his rheumatic fever. His remains can be found along the church aisle.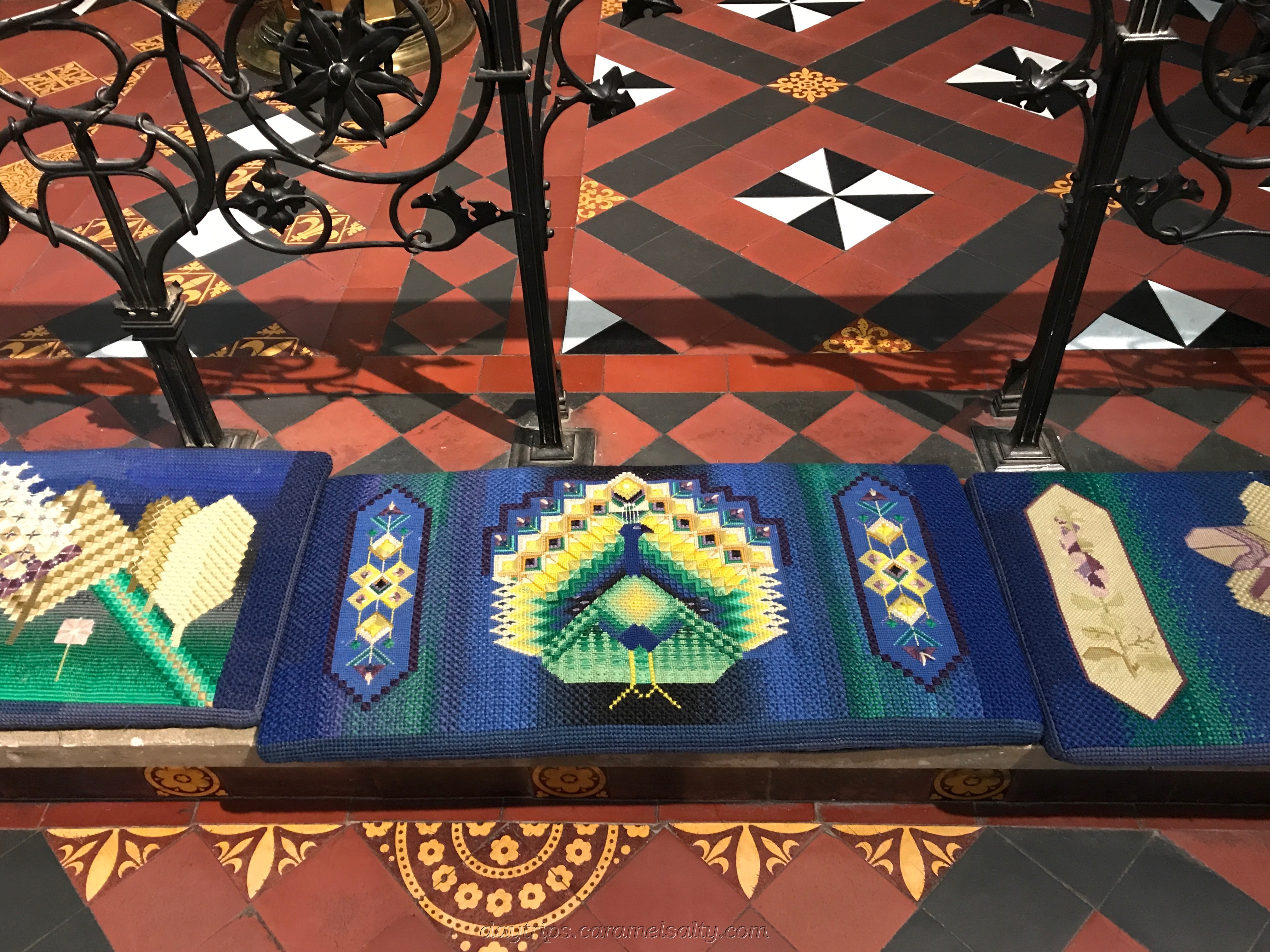 The main roads into Highgate have not changed much. Swain's Lane which leads to Highgate Cemetery is one of them. From various accounts, it is described as an ancient drovers lane, sloughy, dark and unpleasant. A hard slog in rain and snow, such dank conditions must have contributed towards the various reports of sightings and encounters with strangers along the lane.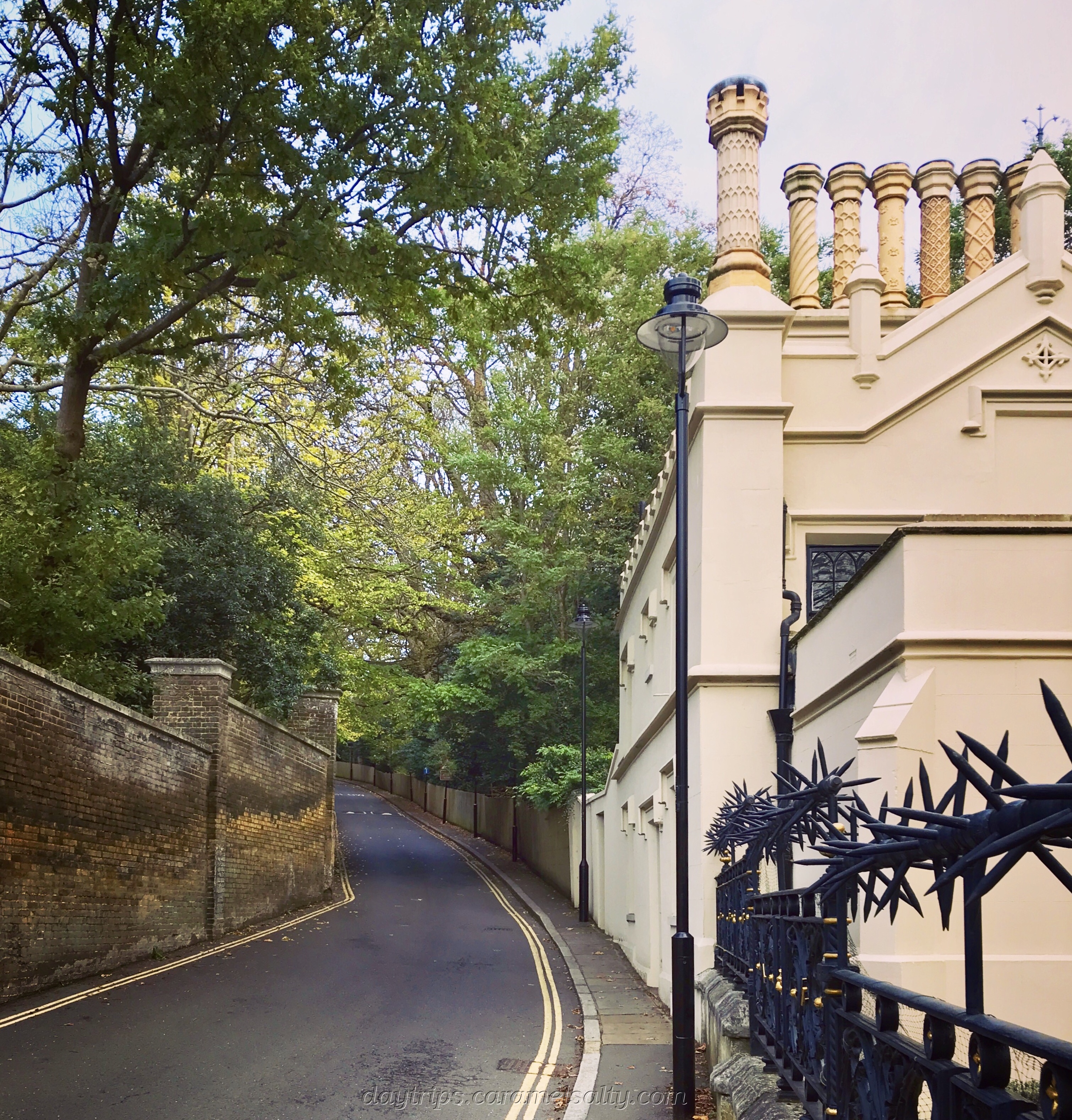 My last stop in Highgate Village is Highgate School, originally founded by Sir Roger Chomeley, who was asked in 1565 by Queen Elizabeth to build a good grammar school. The school is built on land donated by the Bishop of London from his private deer park. This old school is steeped in history. And the board outside the school lists a few distinguished Cholmeleians, as the former school boys are known as.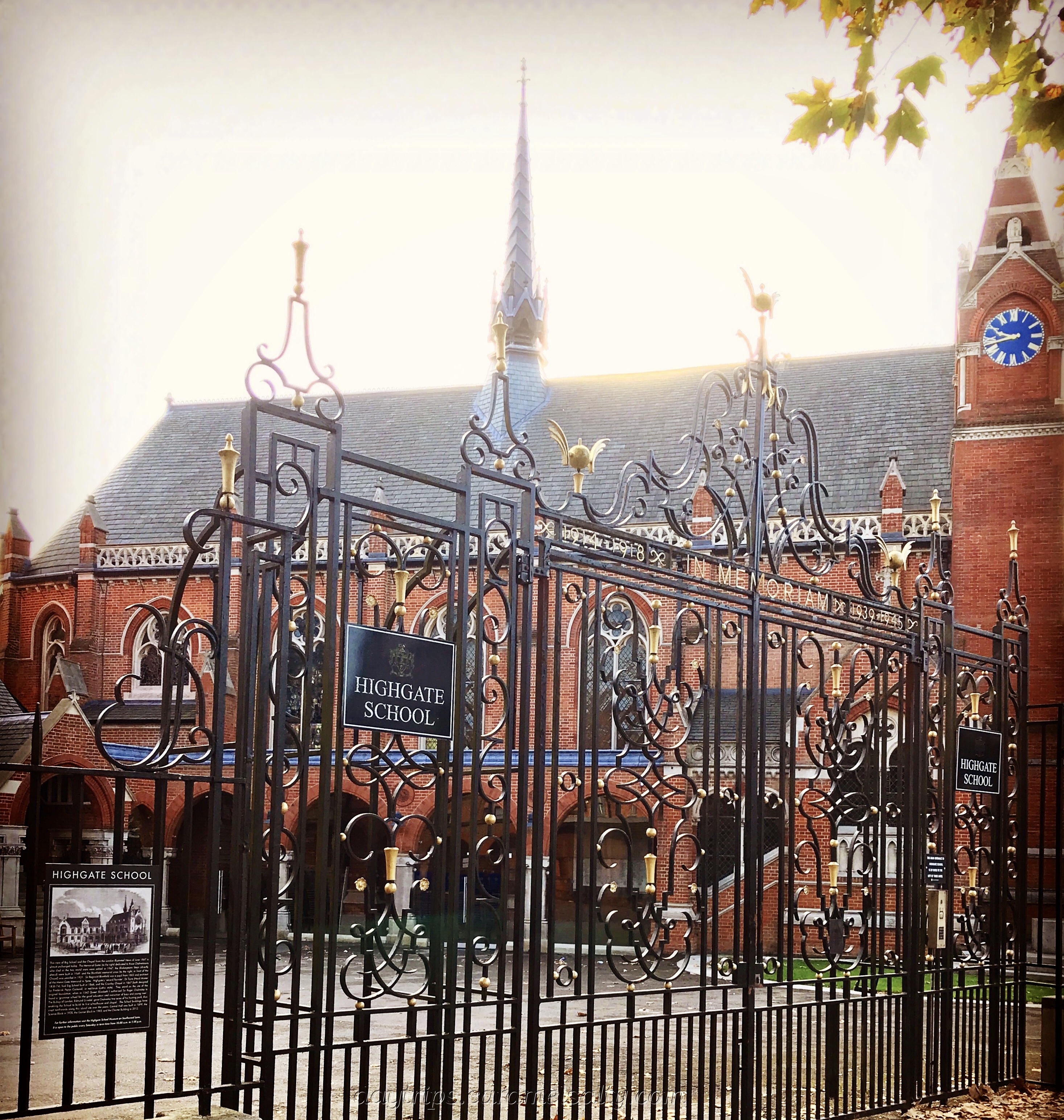 And so I depart Highgate Village to seek more of the occult and less of the charm. So far, my close encounters have been churches, schools, steep hills, quaint village shops and telephone boxes. I only have Coleridge's grave (not haunted), 1 pub (supposedly haunted upstairs) and 1 spooky lane (allegedly) to shout about.  And some toothless grinning pumpkins in someone's garden.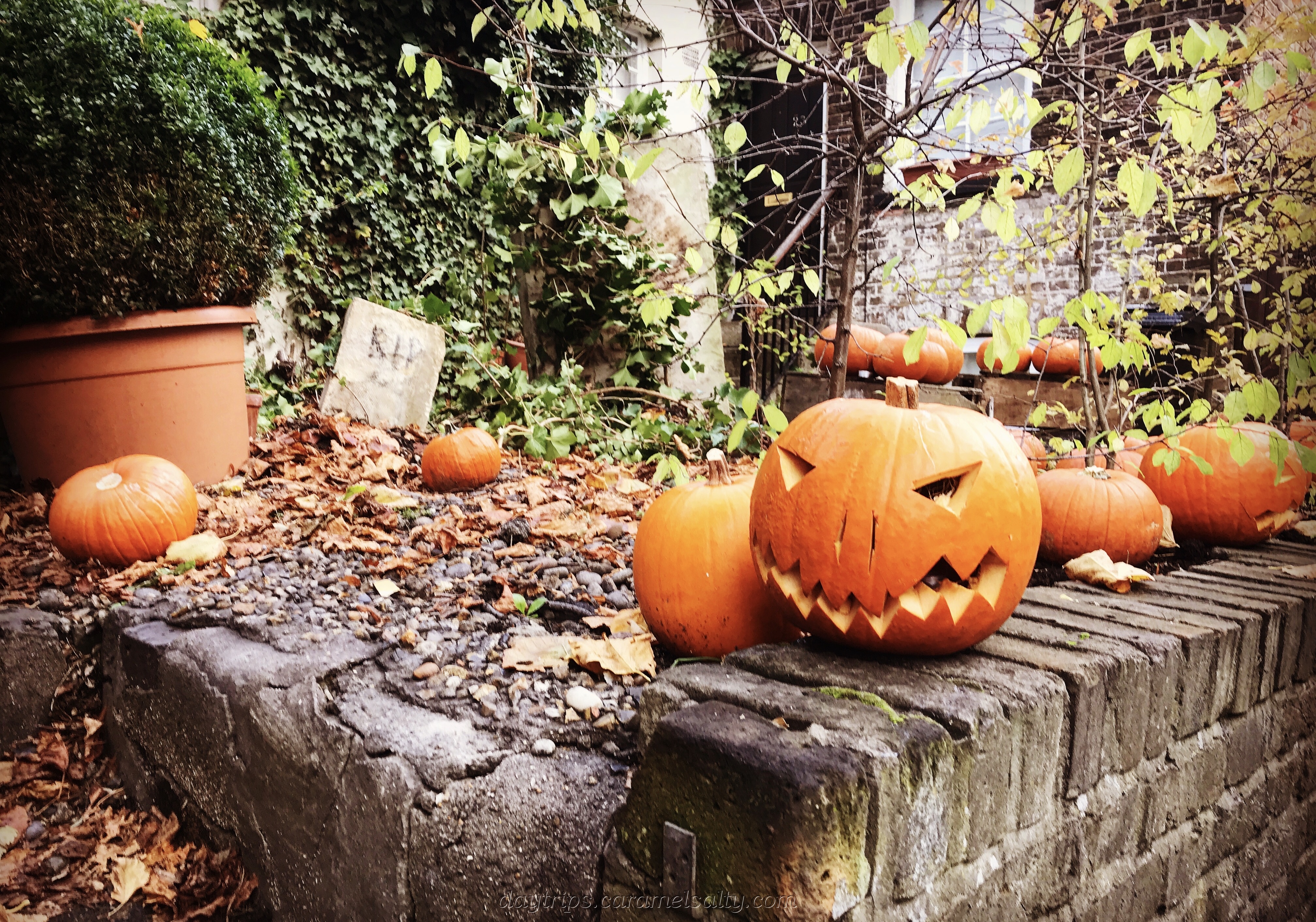 Related Blogs
Ghost Hunting Tips

Tube Map and City Mapper are free apps that provide London maps, route planner and train/ bus times from your nearest stop.
Transport for London is cashless. Only Oyster Cards, purchased at stations, or contactless cards, are acceptable.
Gatehouse Pub (website) – lovely rambling pub. Tapas and larger meals available
St. Michael's Church (heritage page) – check opening times by ringing +44 20 8340 7279 or emailing office@stmichaelshighgate.org. Free
Highgate School Museum (website) – open Saturday mornings during term time. Free.