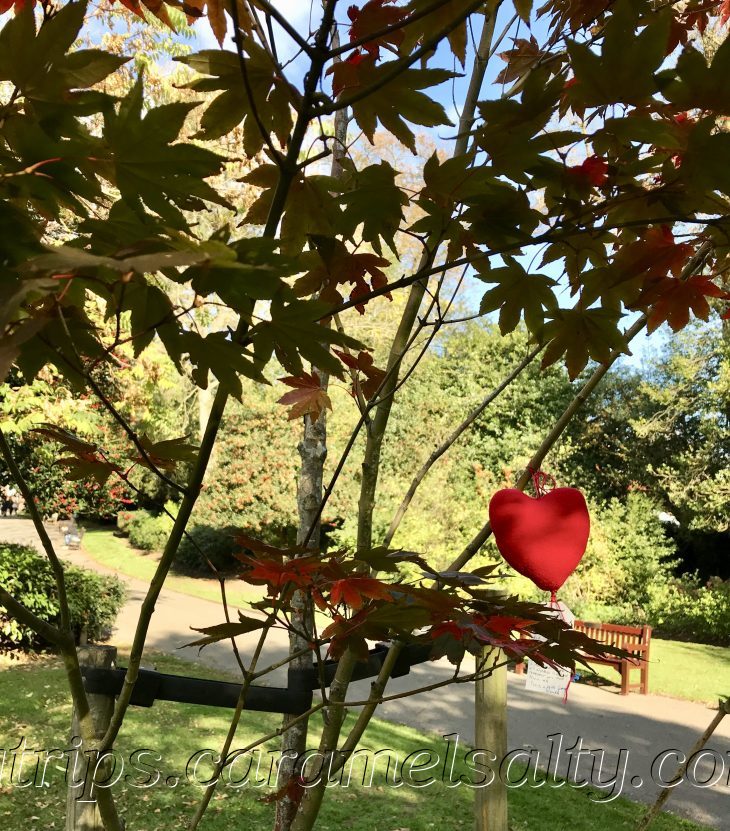 Highgate and Archway – Ghosts and Graves (Part Three)
Ley lines. Are they simply straight lines that connect ancient monuments or are they highways of super energy? When the archaeologist Watkins coins the term in 1921, he means it as a simple geographical phenomena. But the ley lines that run through Highgate are thought to be the reason for the density of hauntings here. Spooky stuff !!
Start of Walk: Highgate Village (continuation of my walk from Archway Station)
Cost of Day Out: Moderate (if visiting cemetery too)
History Content: Moderate
Leaving Highgate village I wander down the fairly straight [1] Highgate Hill Road. I wonder if this road follows the path of one of the ley lines of Highgate. Am I therefore walking down a tarmac path, or am I floating along an energy wave? Whichever it is, it whisks me down the hill to a naturally super display of autumnal colours at the local greengrocer.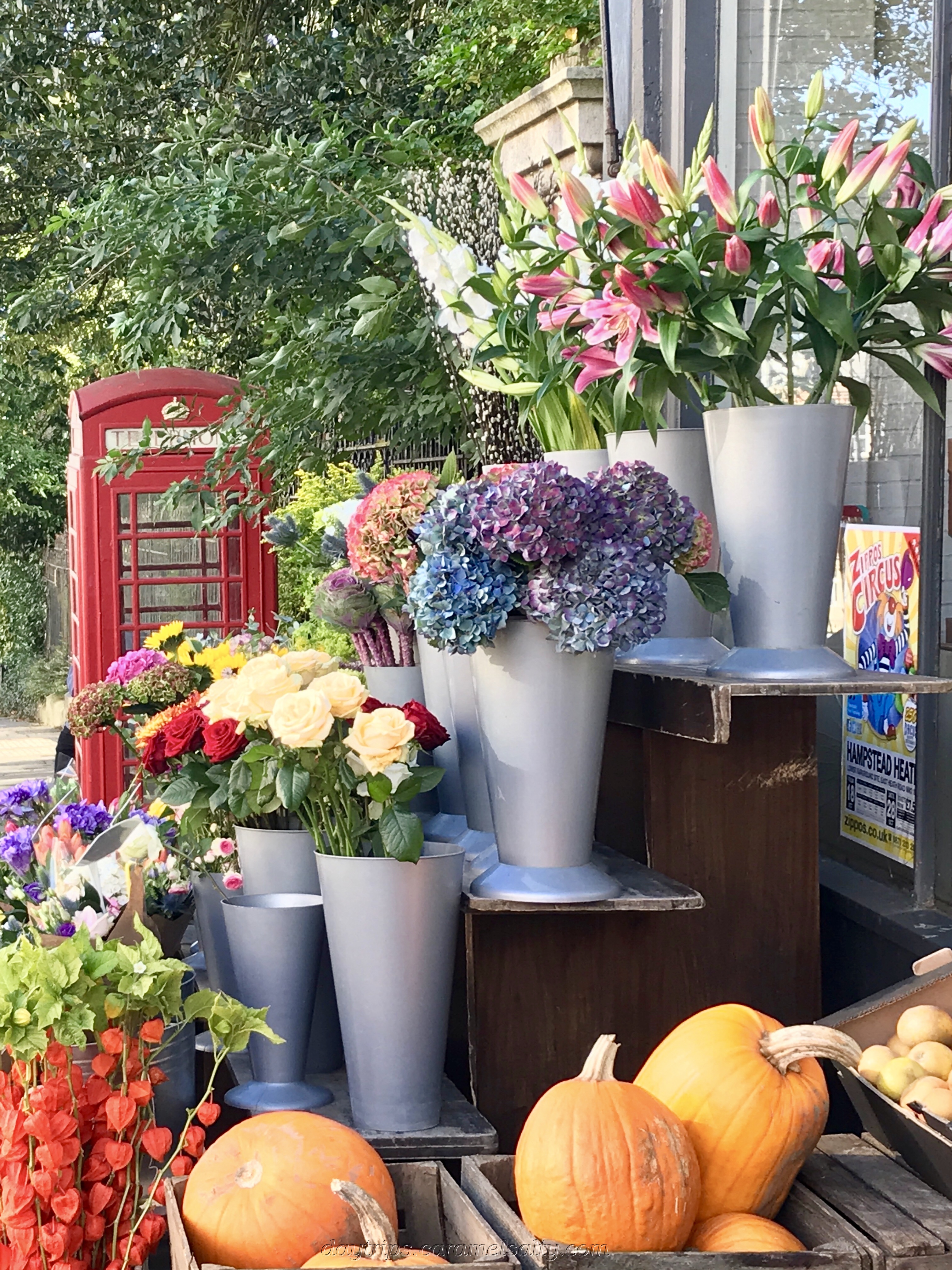 When I enter [2] Waterlow Park, I'm at a loss to explain how this has stayed a secret from me until now. The land for the park was gifted to the London County Council by the Mayor of London, Sir Sydney Waterlow.  He describes the land he bequeaths as "undulating, well timbered with oaks and many other trees, and with natural springs supplying a half-acre of ornamental waters." The park today is more or less exactly as he described it then.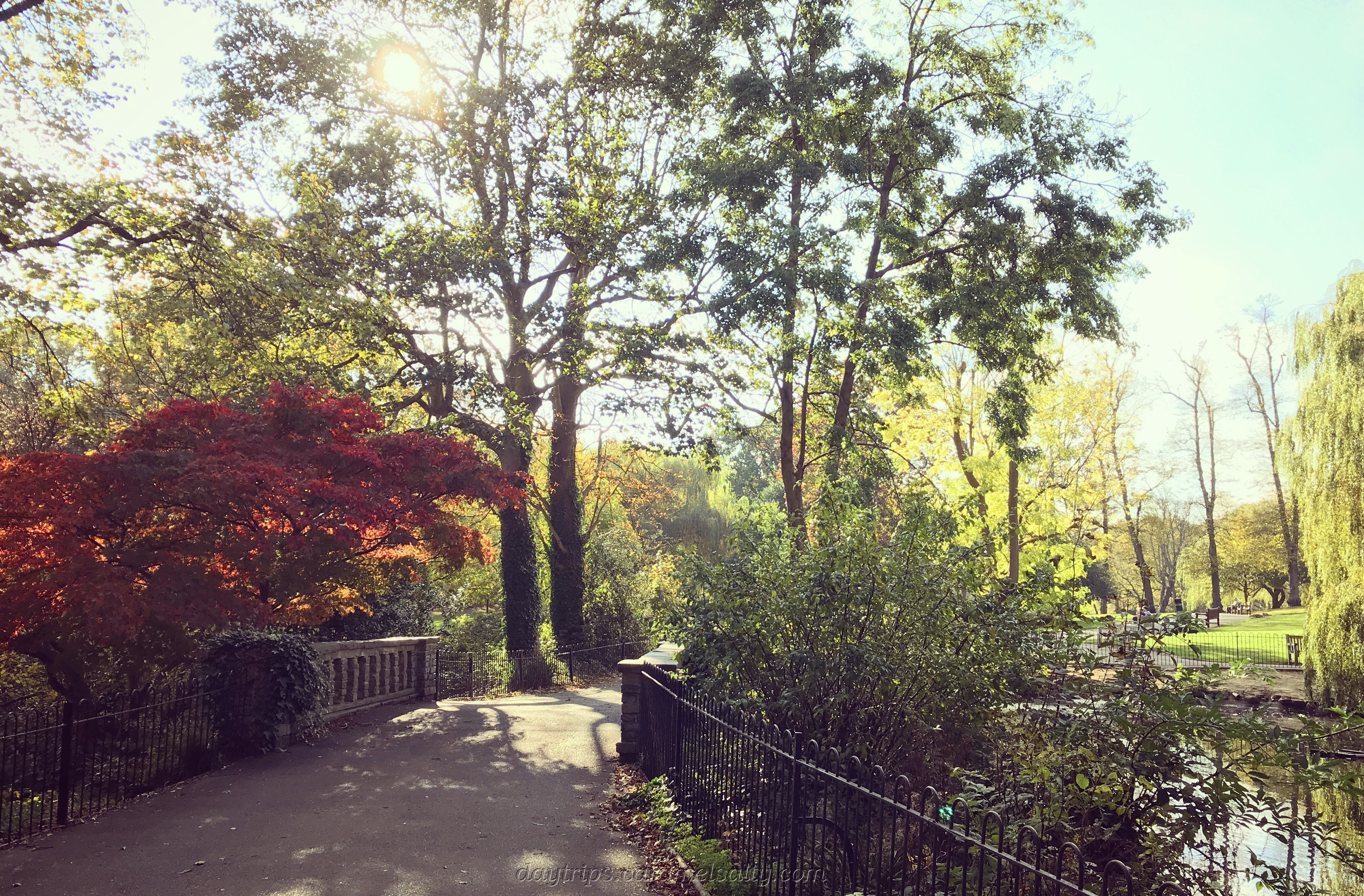 The park's amenities is housed in the white Grade II listed, [3] Lauderdale House, whose architectural features can be enjoyed during their open day season. Lauderdale House was built for, yes of course, why wouldn't it be, another Lord Mayor of London, Sir Richard Martin. But its juicier history is that it was also the home of Nell Gwynne, mistress of Charles II.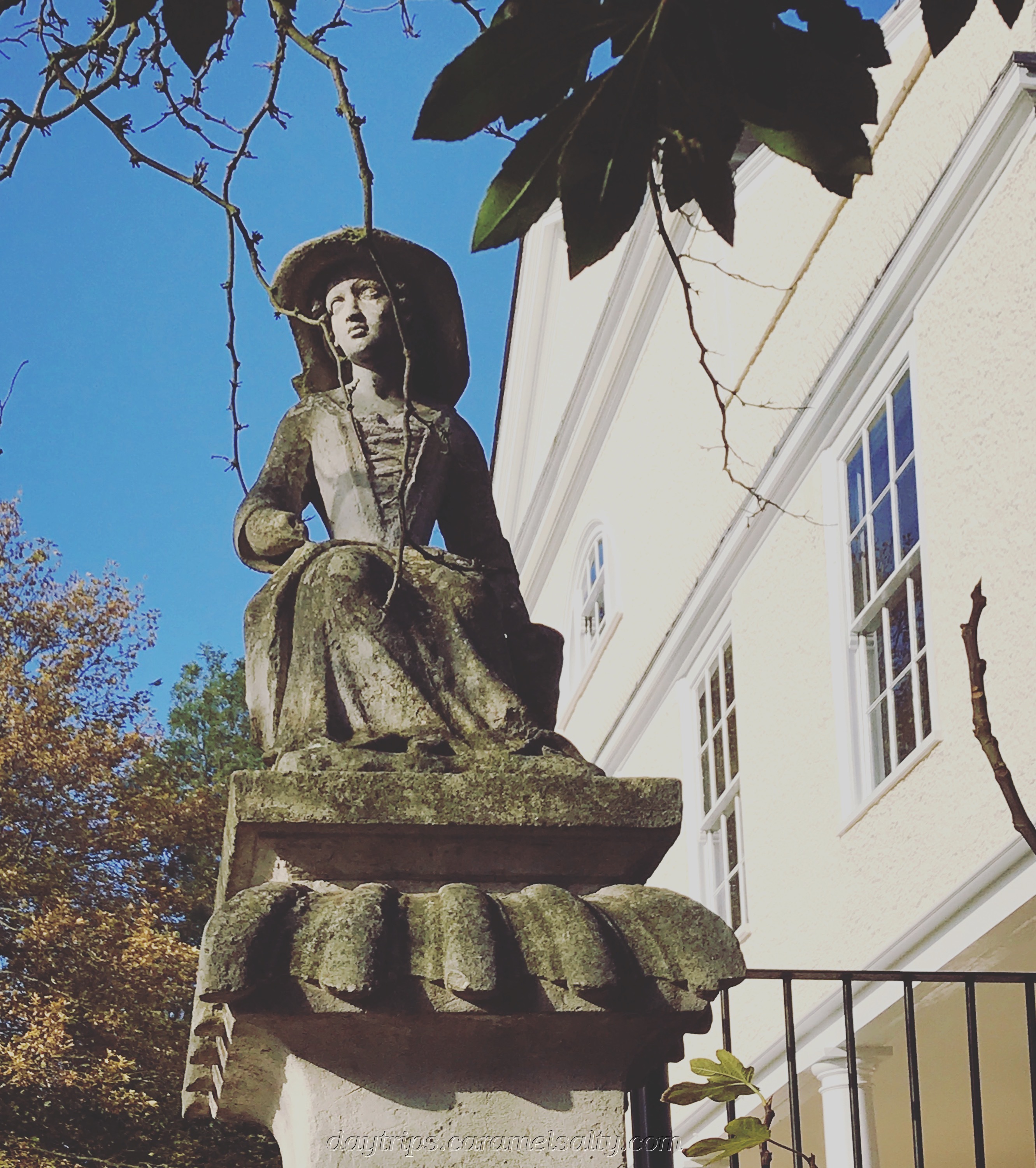 The park has ponds, tennis courts, incredible trees, gracious lawns, paths and gardens to explore. But the jaw dropping moment has to be the view of City. It's almost as if the City is just beyond the trees. Although I'm not far from Dartmouth Park Hill (see Archway and Highgate Part One), compared to the view from there, this one gives the illusion of the city being so much closer.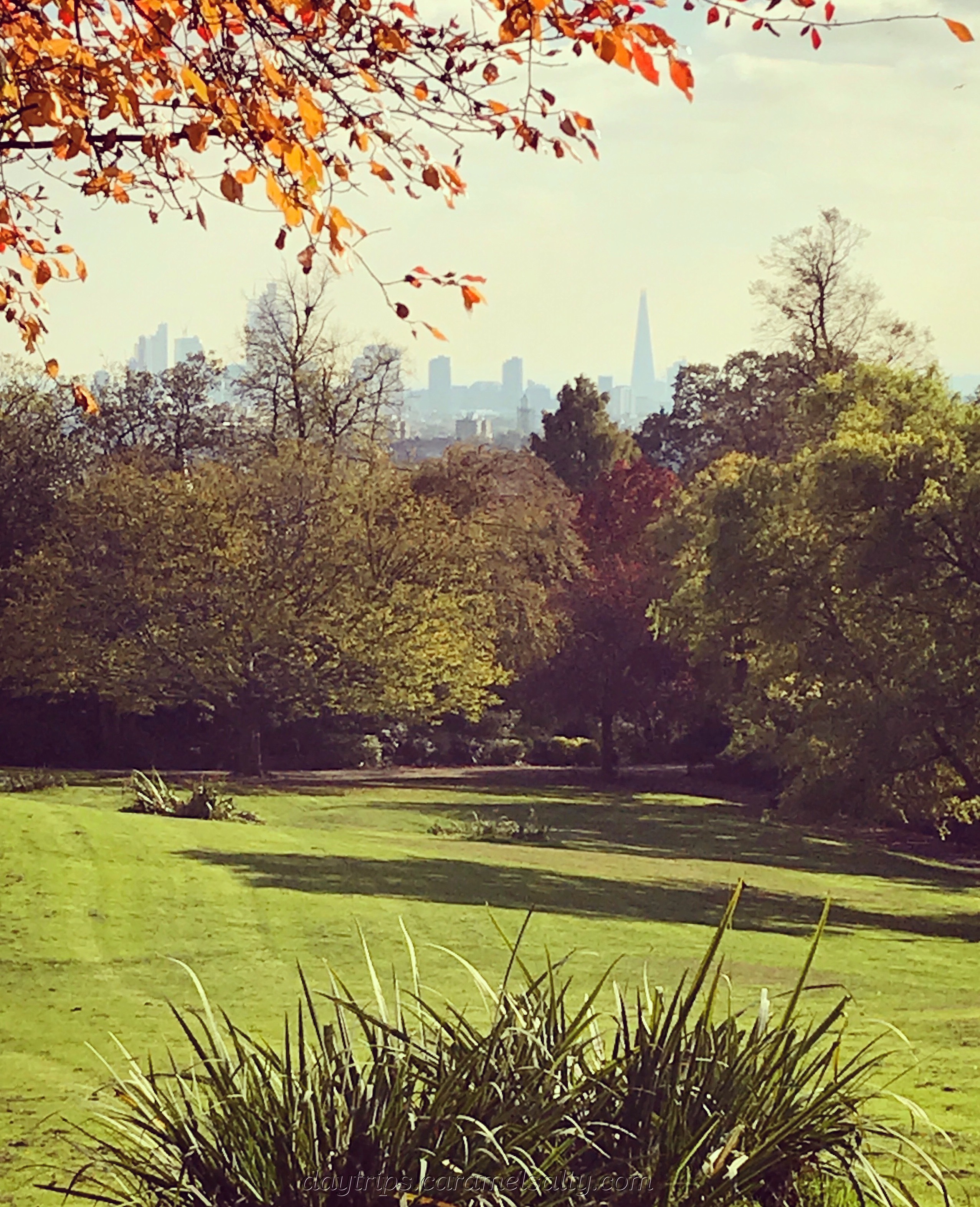 Through Waterlow Park, I venture out to the spooky [4] Swain's Lane which I had walked along in Part Two of this series of blogs. I'm stood in front of the entrance of [5] Highgate Cemetery. I'm now very close to the nerve centre of occult happenings, for the ley lines intersect somewhere in Highgate Cemetery West.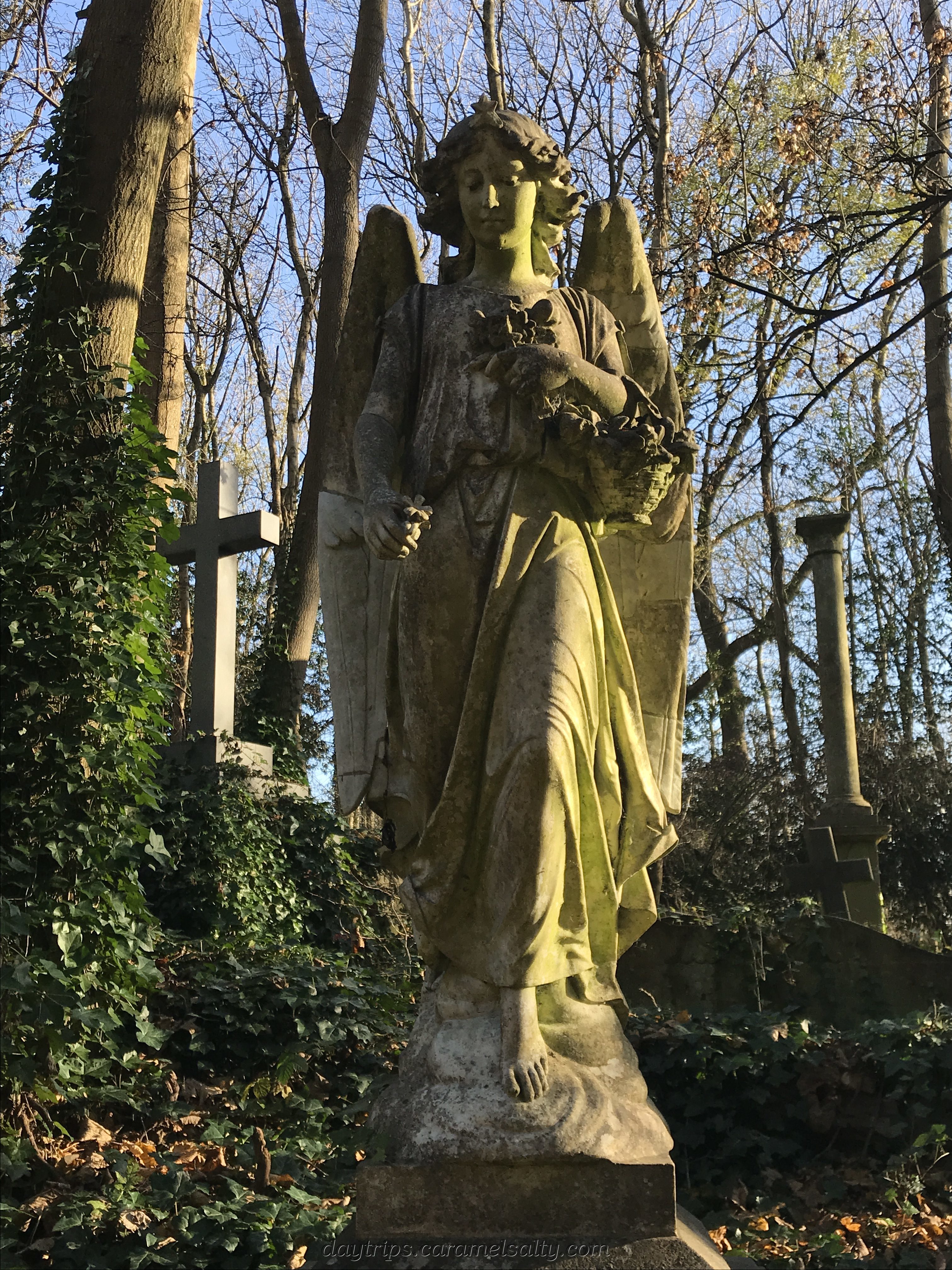 Highgate Cemetery is known as one of the Magnificent Seven. It is one of seven large, spacious cemeteries that were built on the outskirts of London in the early 19th century to deal with the high mortality crisis in London.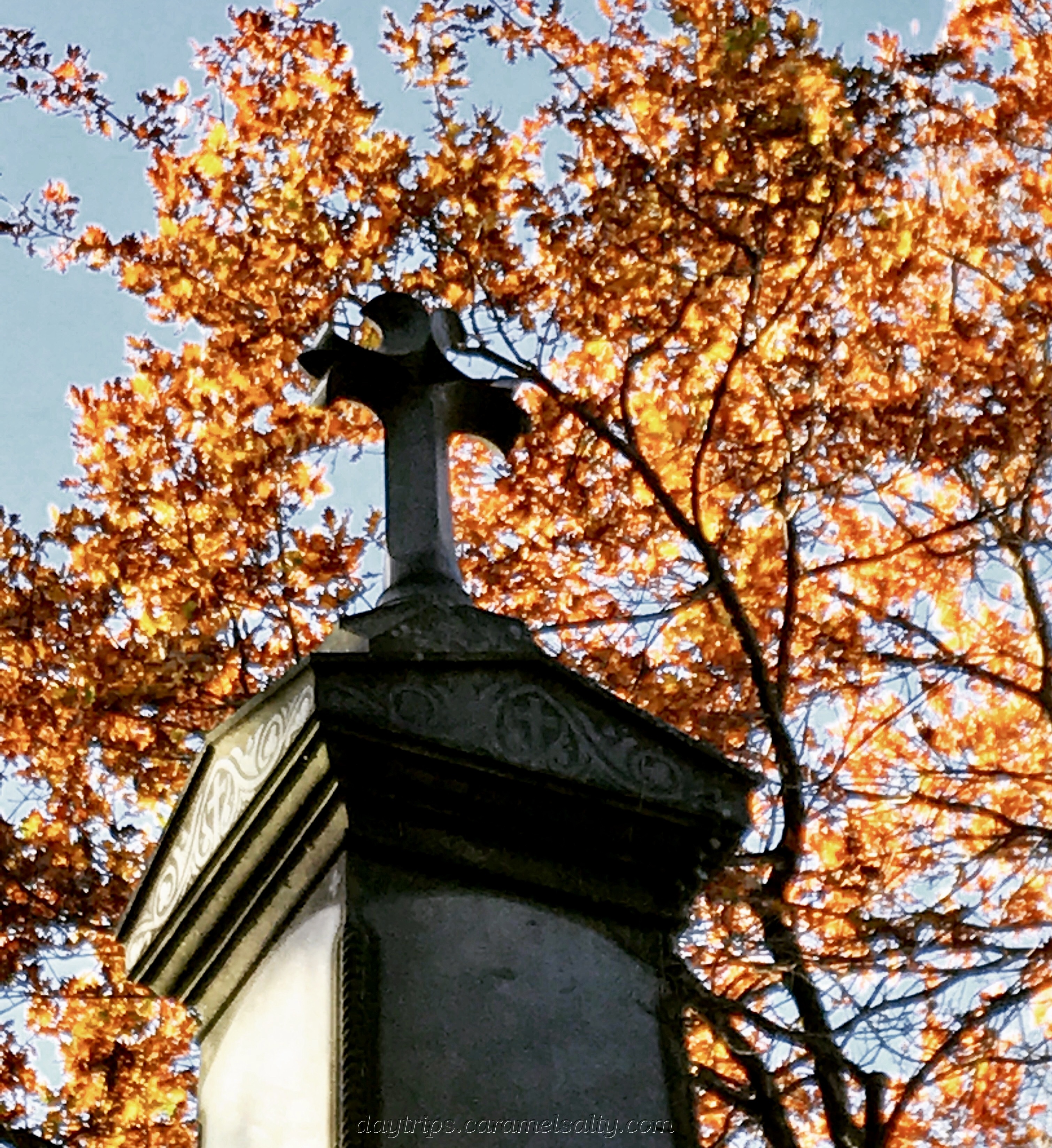 With a shortage of space in London, shallow graves were being dug in the tiniest of spaces between shops and houses. Quicklime was thrown over the bodies to speed up decomposition, so that the grave could be used again. All shudderingly unpleasant and terribly unhygienic. No wonder Highgate was built!!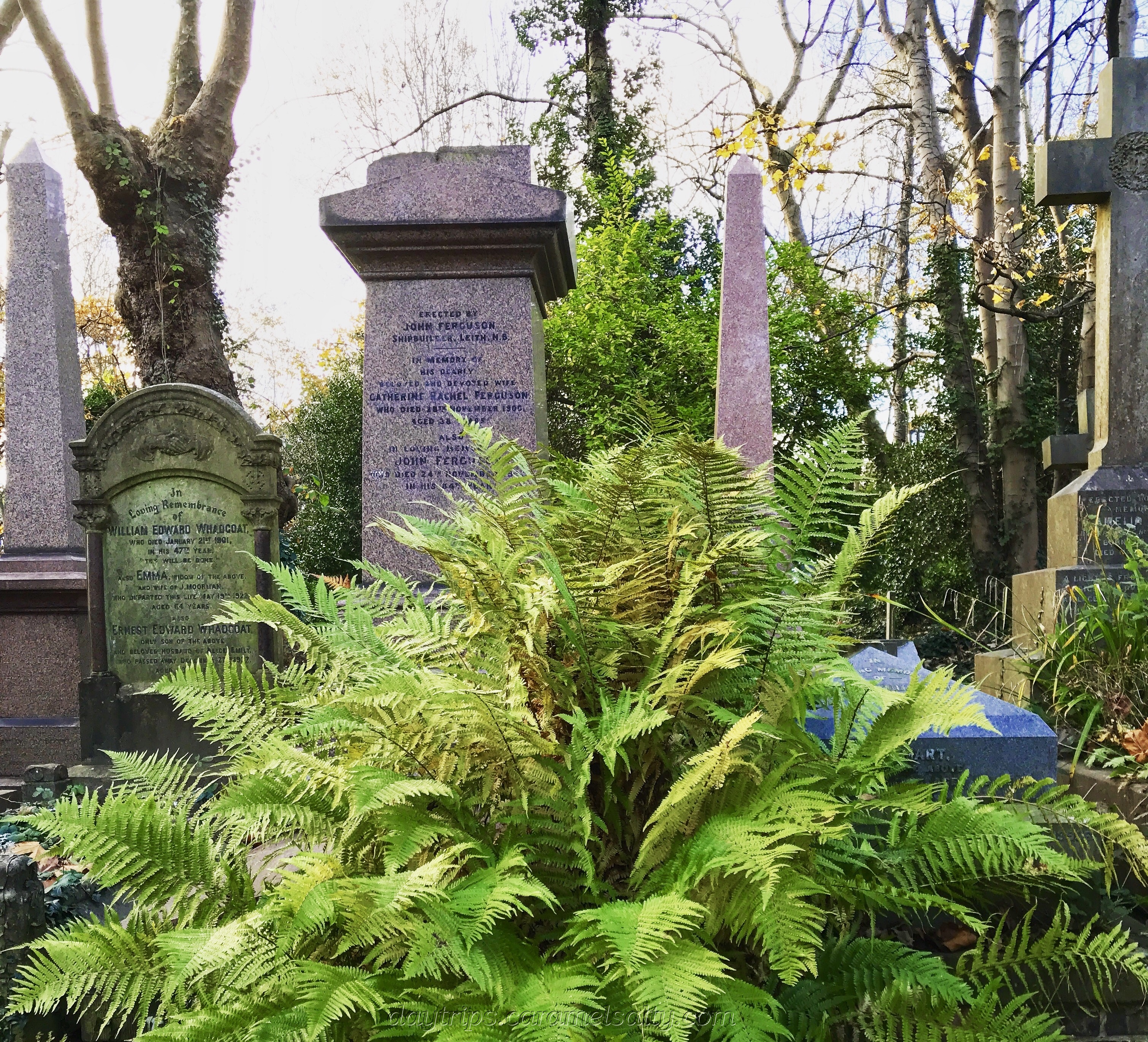 The idea of  landscaping cemeteries had already taken hold in Paris, with the Pere Lachaise cemetery. Highgate though, is quite unique. It is set on the hillside below Highgate village. Overgrown ivy and protruding tree roots have taken hold of these old graves. Which is a good thing, as some of them look as if they could tumble down the hill at any time.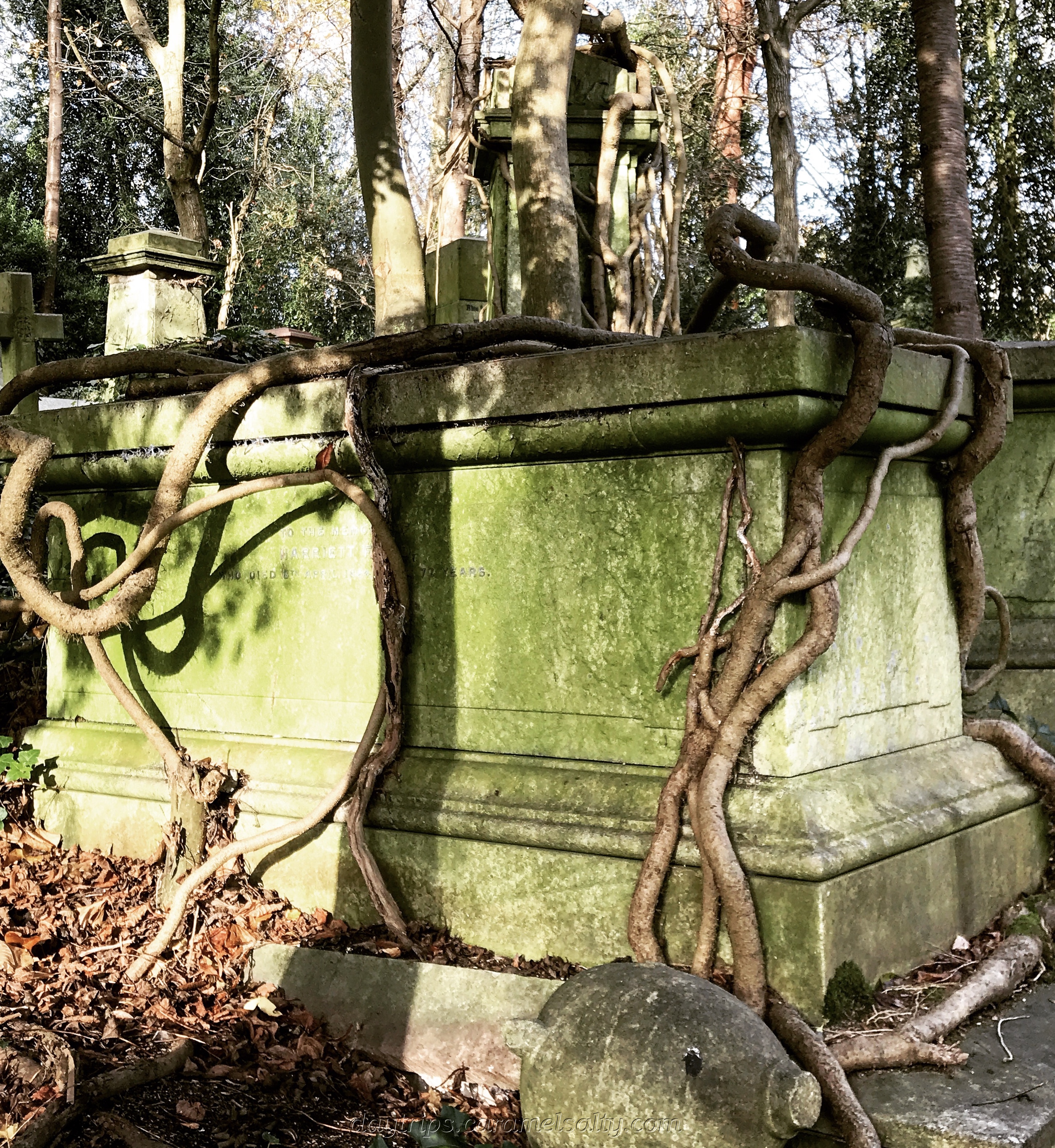 There are some incredible vaults here too, as I walk through the grand archway into Egyptian Avenue, which leads to the Circle of Lebanon (named after the Lebanon cedar there). Walking around the silent vaults is like walking around an ancient open air stone temple, through corridors and stairs. And beneath my feet are the catacombs, which I also visit.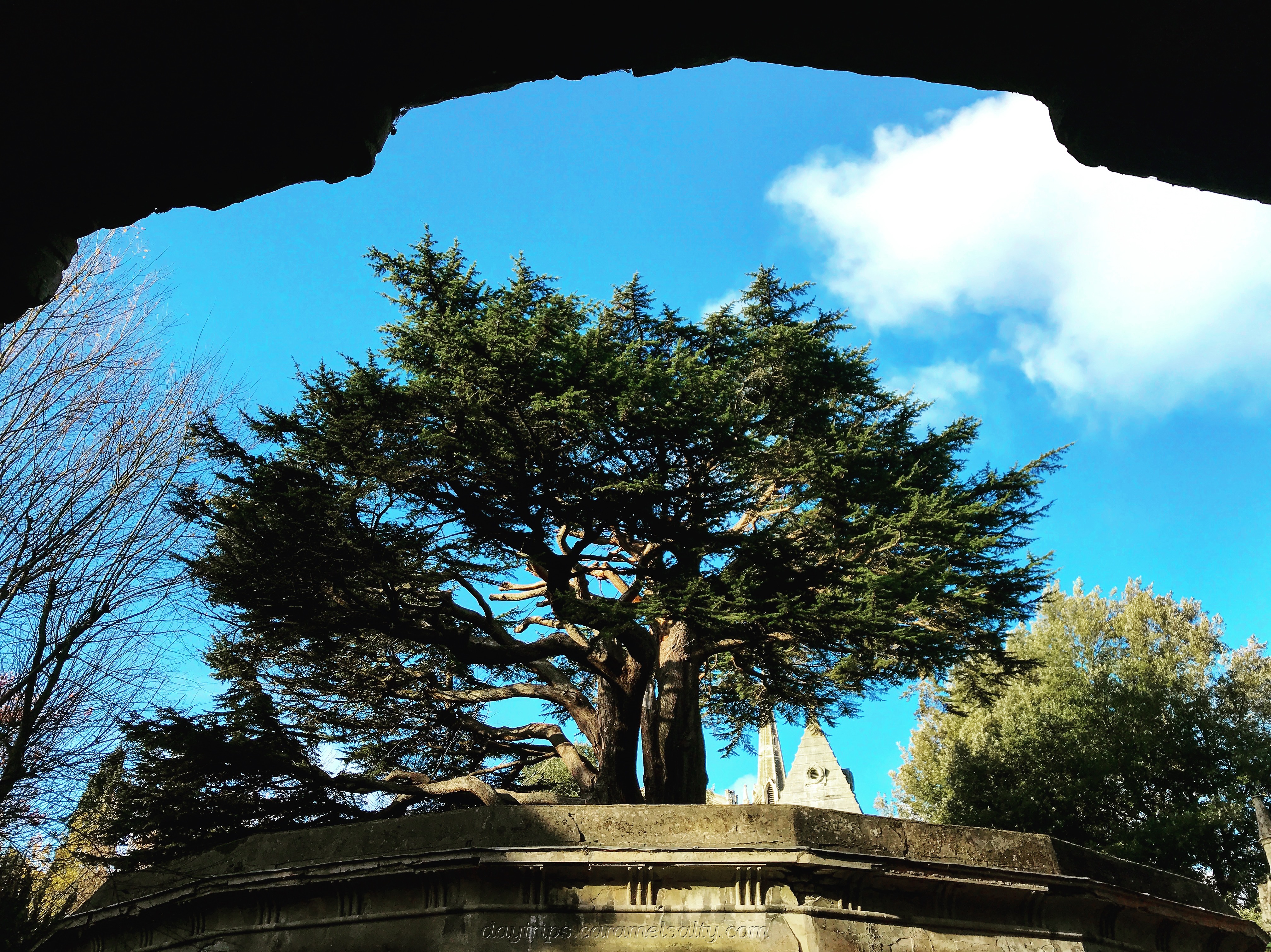 The East Cemetery, built on flatter grounds, is an extension of the West Cemetery when it got too popular. The East has a good smattering of well-known personalities. However the only details I can get hold of is an online list of the grave stones of its celebrities. So with no map, I embark on my first ever treasure hunt of grave plots.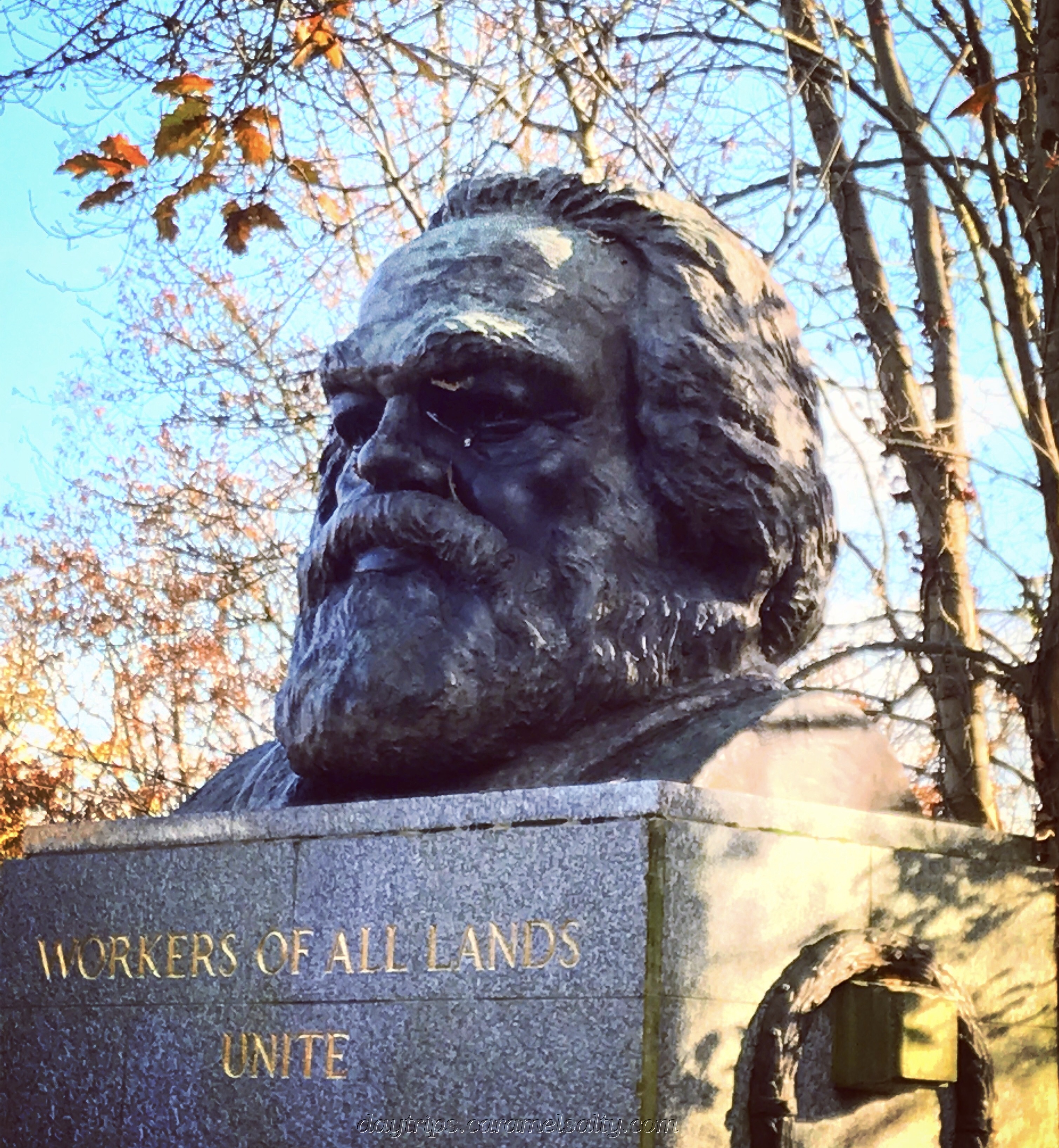 It's actually more enjoyable than I thought. There is certainly no shortage of creative gravestones. Douglas Adam's grave has a shrine of pens and pencils, left behind by fans. One man clearly wants to make sure everybody knows he is dead. So he spells it out. There are also grand pianos in marble, angels, sculptures, fresh bouquets of autumnal flowers and ornamental plants.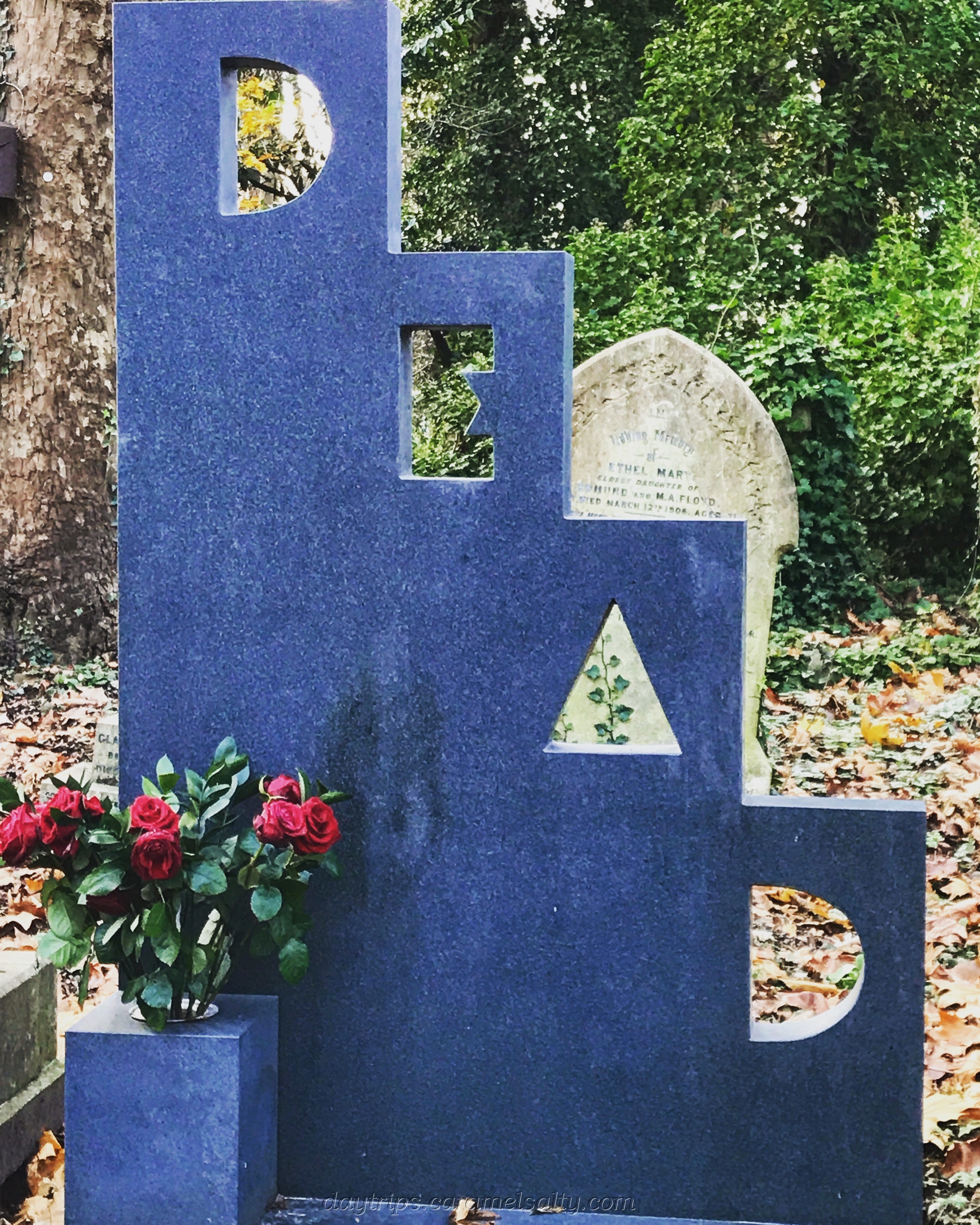 Stories of eerie encounters in the vicinity make it on to the local newspapers, including the Highgate Vampire and of a tall, dark spectre with red eyes. Many of these sightings seem to have reached a peak in the 60s and 70s. Which, coincidently, coincides with the age of sex, drugs and rock and roll. I may be stating the obvious, but did anyone look into whether playing loud rock and roll music stirred the spirits up?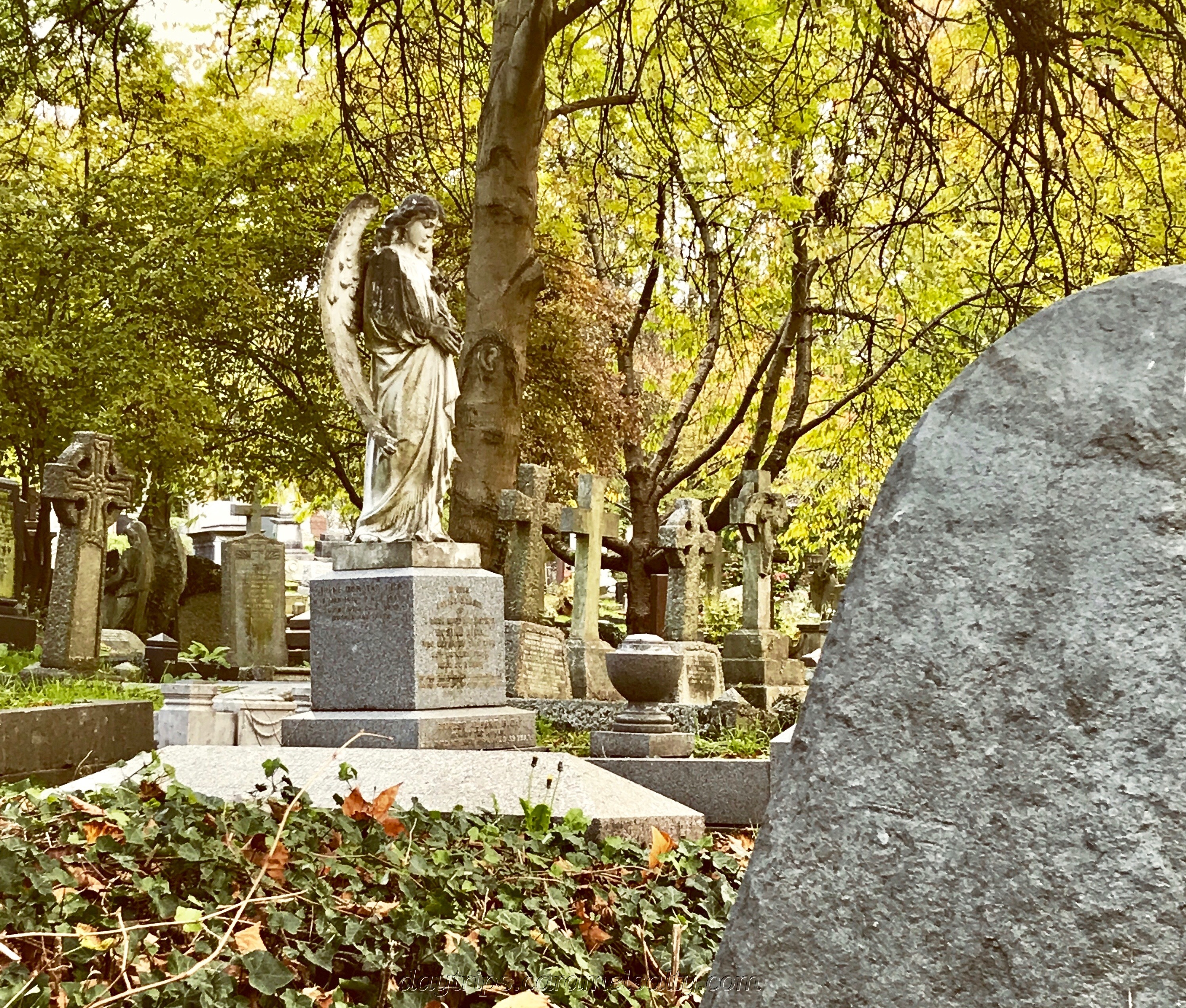 It's time for the final highlight of the day. Returning back through Waterlow, I pass the green copper dome of the very imposing St. Joseph's Catholic Church. Walking along the B540, I am soon on [6] Archway Bridge (image of original stone bridge here) standing astride [7] Archway Road. This road is known as the A1, the first ever designated road in Britain. It's the longest numbered road in Britain. And it has one hell of a view.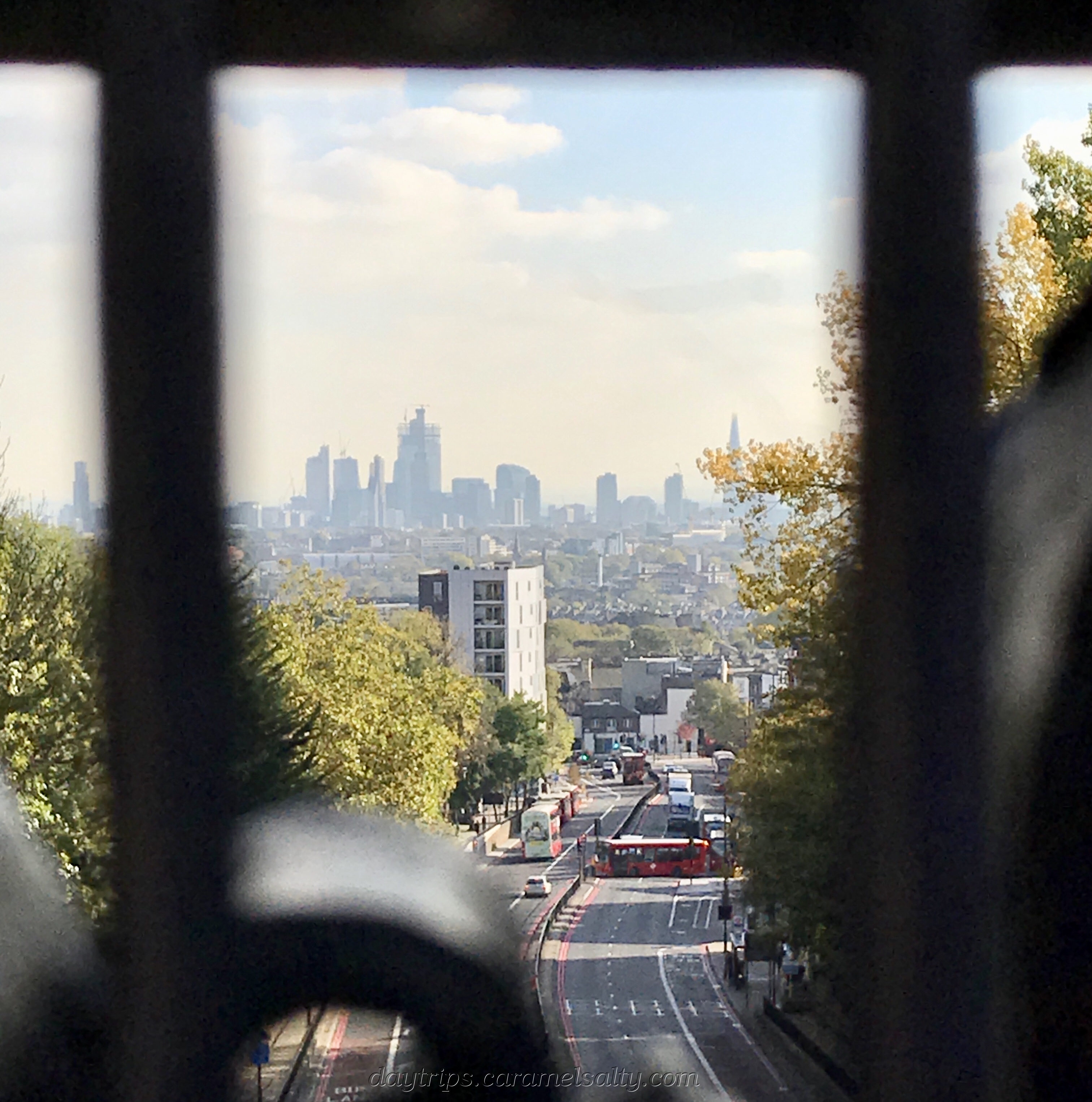 I return to Archway Road via the steps at the end of [8] Kiln Lane. Archway was built in 1813 because traffic was finding it increasingly harder to climb Highgate Hill. So a new road was literally cut through the hills. A cable car used to run up this hill. Buses now ply this route. So I jump on one towards Archway, for a ride with a view of the city of London in the distance.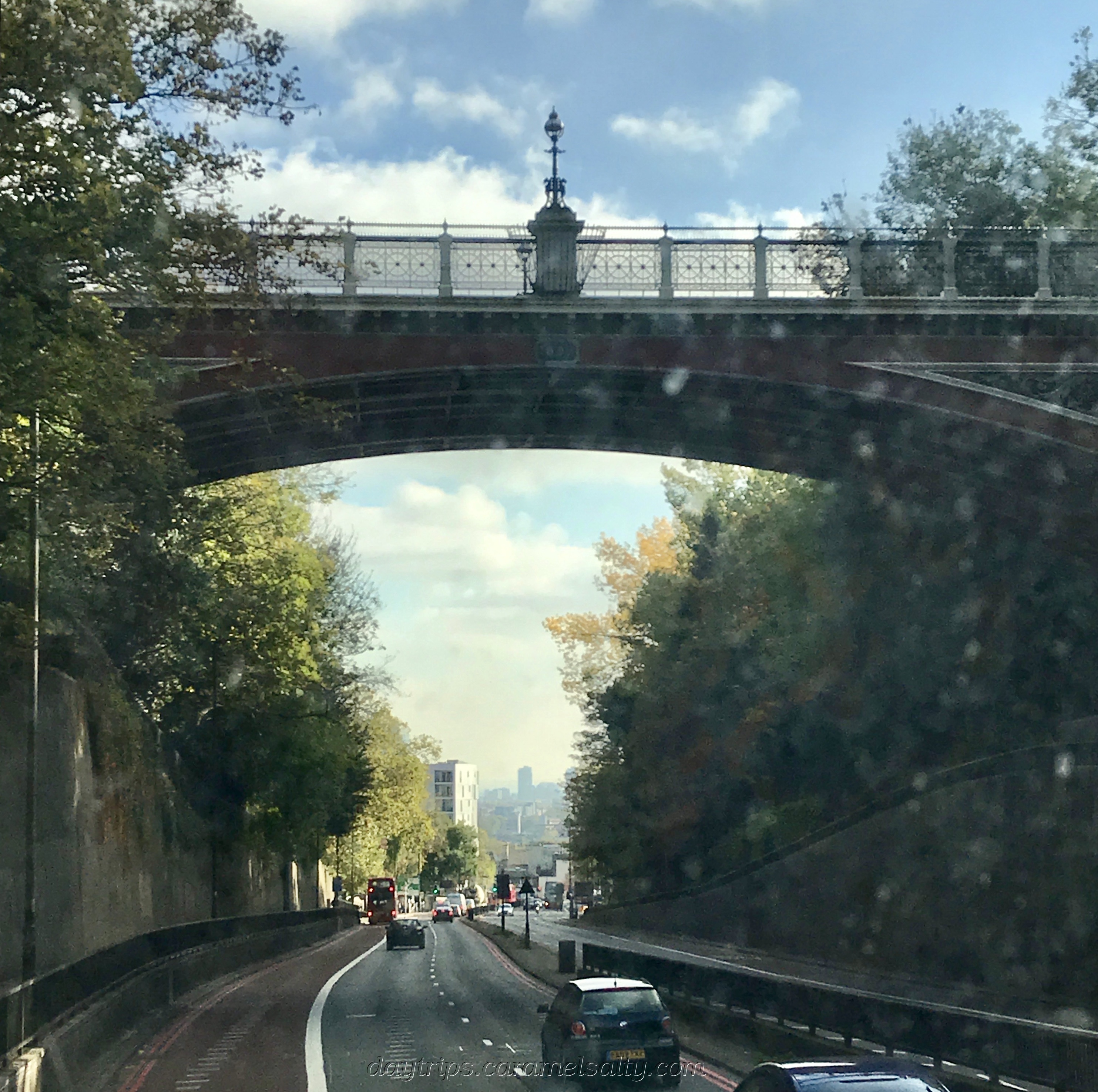 The rhythmic squeaking of the bumpy bus helps me form a verse to sum up my day of successful grave spotting but zero ghost hunting. It goes something like ……
"Pubs with log fires and red telephone boxes,
Overgrown graveyards and half-timbered houses,
Vistas of London and things that go boo,
My visit to Highgate was long overdue."
Other Related Blogs
Archway and Highgate – Part One and Part Two
Ghost Hunting Tips
Tube Map and City Mapper are free apps that provide London maps, route planner and train/ bus times from your nearest stop.
Transport for London is cashless. Only Oyster Cards, purchased at stations, or contactless cards, are acceptable.
Greens of Highgate (website) – Open daily. A sight for sore eyes and a greengrocer.
Lauderdale House (website) – Open daily. Has cafe, exhibitions and activities.
Highgate Cemetery (website) – Open daily. The West Cemetery can only be visited by organised tour run daily. For weekdays, advance booking is essential. For weekends, just turn up. The ticket for the West Cemetery also allows you to roam the East Cemetery. Guided tours for the East Cemetery are available.