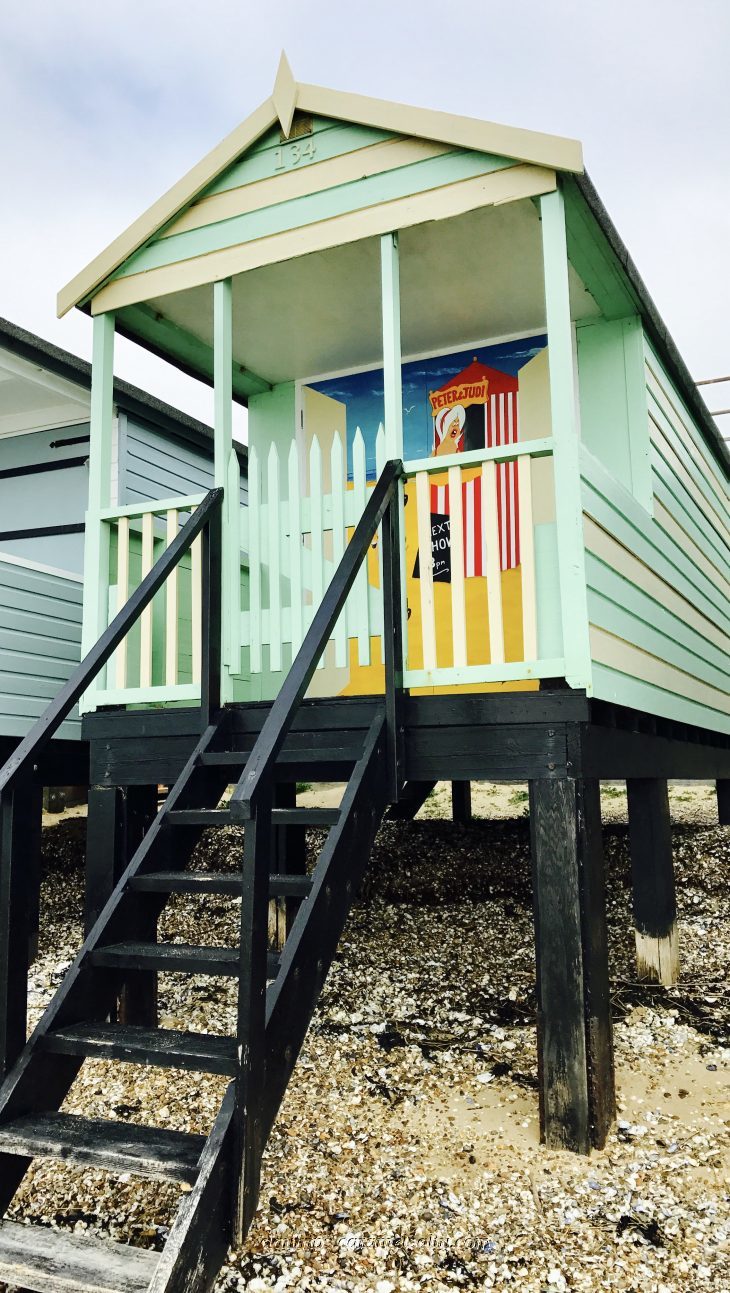 The Thames Estuary – Thorpe Bay To Southchurch and Prittlewell
Not many have heard of Prittlewell. Unless one is a Southend United fan (the grounds are in Prittlewell), or if one lived in the medieval priory here when it owned the land up to the coast and outwards to Shoeburyness and Canvey Island. Back then, a few monks prayed and brewed, a few farmers tended to the land, whilst in a little settlement 2 miles away called Sowthende, a small group of men fished.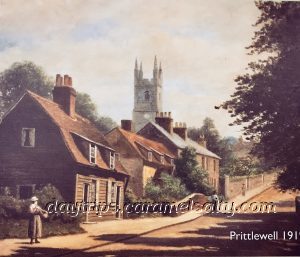 Start of Day: Fenchurch Street Station, Zone One, London or a continuation of my walk from Shoeburyness
Cost of Day Out: Cheap
History Content: Moderate
I stand at the end of [1] Gunners Park with its WWII relics, where I left off from my earlier walk from [3] Shoeburyness. This is where the earlier bleakness of the Thames Estuary gives way to sandy coloured beaches and boats that make up the start of the Southend riviera.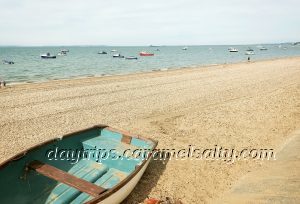 Thorpe Bay used to be very rural and cut off. Then a garrison appeares at Shoeburyness in the mid 19th century, followed by a train station in 1910. In fact, most of the houses here date from the 1920s. But the residences I'm really after are the tidy row of colourful beach huts lying between [4] Shoebury Common Road and [5] Shoebury Common Beach.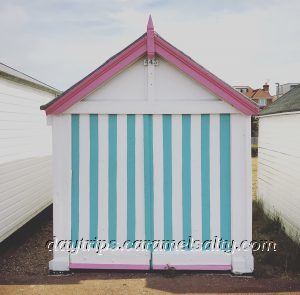 On one side of the beach houses is a short wall. Sandy beaches lie just beyond that. Towards the direction of land lies [5] Shoebury Common North. And beyond the common are large detached houses whose owners have had the good sense to install glass from floor to ceiling in as many rooms as possible.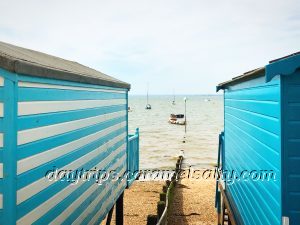 Judging by the grand houses lining Shoebury Common, Thorpe Bay is clearly affluent. Even the beach huts at [6] Thorpe Esplanade are now much larger, equipped with verandahs and sit right on the beach. At high tide, the sea comes all the way in to lap at their stilted legs.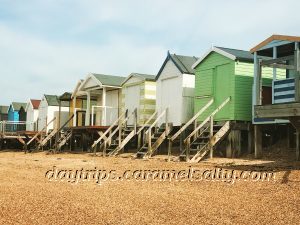 After a mile or so, just past the slapping halyards of [7] Thorpe Bay Yacht Club, the beach huts eventually run out. This now means that there's plenty of room for other beach activities, such as sand castling, sunbathing and general toe dipping. This is where the public start to pitch up with children, colourful beach towels, tents and windbreakers.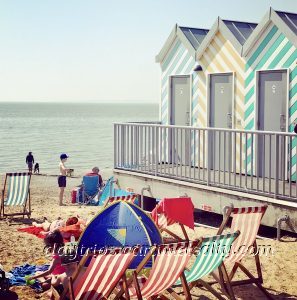 To get to Prittlewell, I head inland. At [8] Southchurch Park I find a slice of local life away from the tourist trail. This quintessentially English park has a little flower garden of roses, lavenders, valerians, false sunflowers (but still beautiful), phloxes and foxgloves in glorious bloom. A boating lake and a Tudor clubhouse complete the picture.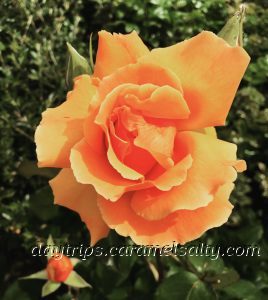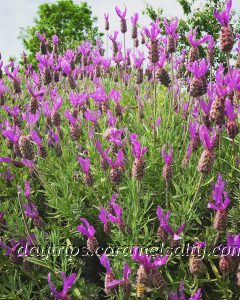 The little café in the park serves a reasonably priced all day breakfast. As I tuck into a freshly made bubble and squeak, a cricket game kicks off. It's only a local game, as gone are the days when Essex used to play first class cricket matches in this park.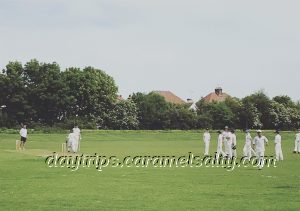 For a slice of something old, my next pit stop is [9] Southchurch Hall, the old Anglo Saxon manor in this area. The family who acquire it in the 1200s from the monks of Canterbury, lease out their land to the local farmers. So it's no surprise that Southchurch Hall is attacked during the 1381 Peasant Revolt, as depicted in this painting by Alan Sorrell.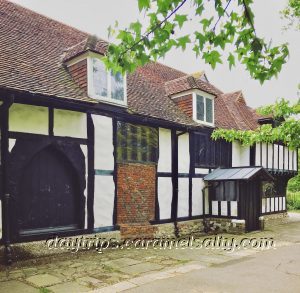 [9] Southchurch Hall is a museum today that preserves this Tudor manor. The manor stands on top of a hill and is still surrounded by a water filled moat. At some point in its history, Southchurch Hall is acquired by [10] Prittlewell Priory, my next destination.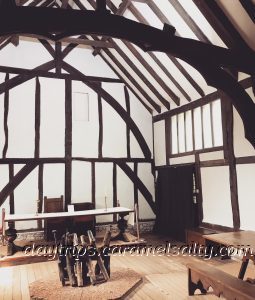 Just like Southchurch Hall, [10] Prittlewell Priory is also owned by monks, but this time it's the black robed ones from the Cluniac order. As can be expected of a monastery, all is pretty, all is pious, and all is peaceful, especially as the monks only communicate via hand signs, after having taken a vow of silence.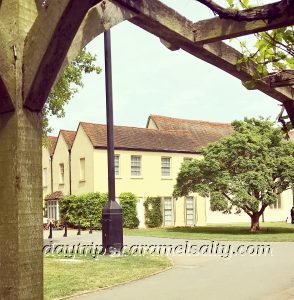 But troubles brew when William le Avergnat is appointed prior. When he is summoned before the King in 1318 accused of corruption, he resigns. But despite that, he returns to the monastery and forcibly occupies it with his supporters. So in 1321, armed Cluniac monks from Lewes invade Prittlewell Priory during mass to bring matters to a head, literally.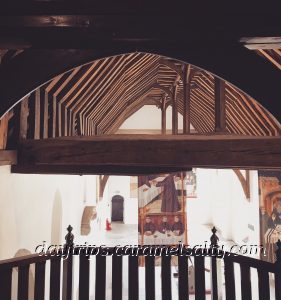 Under the reign of Henry VIII, the priory, just like all the others in England, is sold off to private landlords. The priory's last owner, R A Jones, donates it to the town in 1917. Today the priory is a museum. An ancient brook still runs through the garden. A Victorian bandstand still stands. And it's 50 acres of pretty parkland has plenty of picnic spots for the public to enjoy.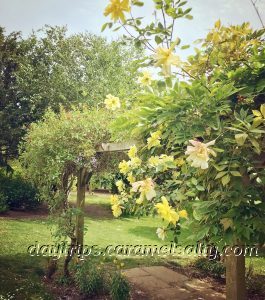 If I had been an 18th century lord of one of the manors just visited, from my vantage point I would have surveyed miles of farmland as far as the eye could see, and a few thatched homesteads along muddy paths. But as I stand by the bright blue [11] Priory Pump just outside Prittlewell Manor, I realise all that has changed irrevocably.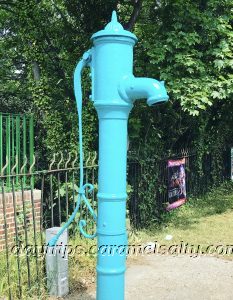 As I make my way south towards the now not so remote, and no longer a fishing village Sowthende, I go past [12] St Mary's Parish Church which sits across from [13] Southend United Football Club. At the traffic lights of the busy dual carriageway, is the [14] Blue Boar pub, said to be where the football club was born in 1906.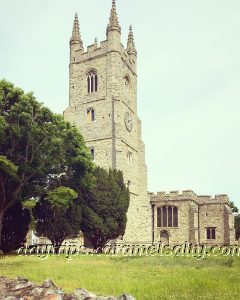 Wandering along [15] Churchill Gardens, I go past Southend-on-Sea's very 60s looking [16] Borough Council building, before arriving at [17] Beecroft Art Gallery. The [18] Southend Museum next door is one of many original free libraries built by Andrew Carnegie, a rich American, in 1905.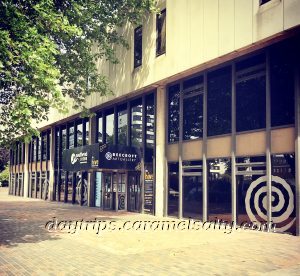 Andrew Carnegie is actually a Scotsman who makes his fortunes in steel in the New World. But as I find out during my travels, he embarks on many philanthropic projects, including building libraries across the English speaking world. Many still exist in English cities.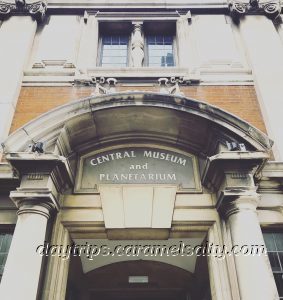 And with that, I'm now in Southend-on-Sea's town centre. I suddenly realise that there has been little respite from suburbia since I started my walk from Thorpe, so much so there's very little demarcation between Southend, Southchurch, Prittlewell and Thorpe. So I'm hoping that the old fishing village of Sowthende will provide a change of scenery.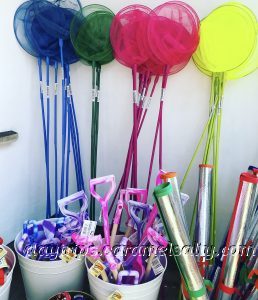 Other Related Blogs
Some Useful Links
Tube Map and City Mapper are free apps that provide London maps, route planner and train/ bus times from your nearest stop.
Transport for London is cashless. Only Oyster Cards, purchased at stations, or contactless cards are acceptable.
Catch a train to Shoeburyness or Thorpe Bay after comparing fares on C2C and Trainline. Discounted off-peak fare with Network Rail Card.
Southchurch Hall, Prittlewell Priory, Beecroft Gallery and Southend Museum and Planeterium (Southend Museums website) – Free Entry. Southchurch Hall closed Monday & Tuesday, Prittlewell Priory closed Monday, Beecroft Gallery and Southend Museum closed Sunday and Monday.
Blue Boar Pub (website) – can get busy on match days