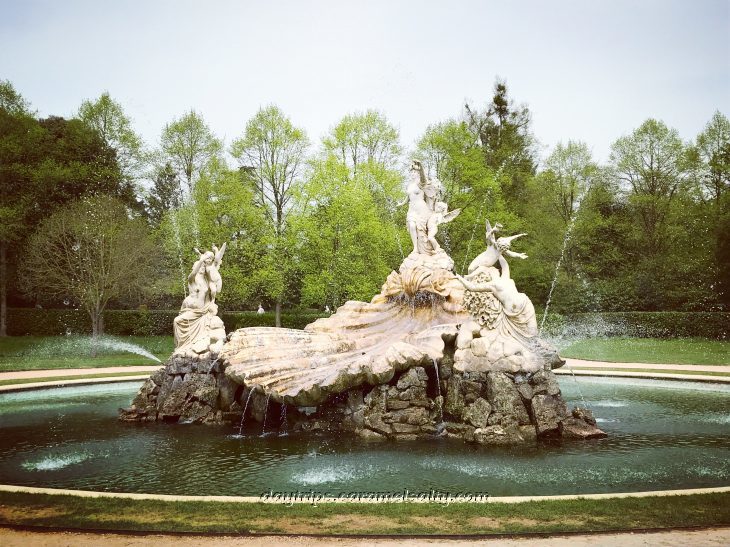 Cliveden – Bluebells and Astors
When his father dies in 1890, William Waldorf Astor becomes the richest man in America. His father's passing also kicks off a family feud as to who should be the official Lady Astor. When William's aunt wins the argument, William moves his family to England, where he scouts for a family home. He settles for Cliveden, which he purchases for a mere $1.25m.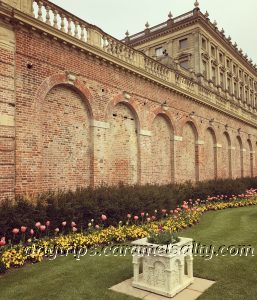 Start of Day: Paddington Station, Zone One, London
Cost of Day Out: Moderate
History Content: High
Cliveden may be associated with the hilltop village of Taplow, but it is far easier, and safer, to traipse to it from [1] Bourne End. Another bonus of heading to Bourne End is the short enjoyable trundle by the slow train from Maidenhead. It runs on a single gauge track, along a narrow cut and over the river Thames.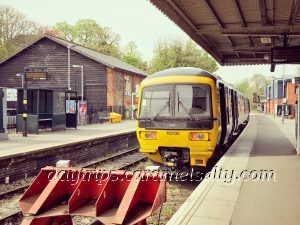 An open field along my walk gives me my first superb view of the chalk cliffs on which the 2nd Duke of Buckingham builds the first ever house (image here) here in 1666. The Duke, one of the richest man in England, throws hunting parties in Cliveden. And installs his mistress, the Countess of Shrewsbury, here.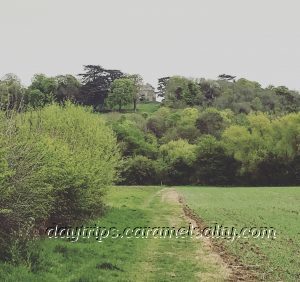 The Duke's mistress is, by all accounts, very beautiful. And also very married. Her very unimpressed husband challenges the Duke to a sword duel at Barns Elm, a.k.a Barnes Common. The Duke survives. But the cuckolded husband dies from his chest wounds.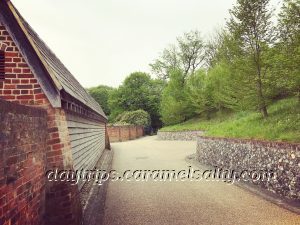 Given the circumstances, I presume the Duke's wife, who herself falls in love with this charismatic rogue whilst her wedding banns are being read out, is never invited to Cliveden. When the Duke dies with no legitimate heirs, Cliveden is sold, passing on to Countesses, Baronets and even a Prince of Wales.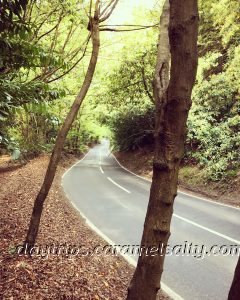 In 1849, the 2nd Duke of Sutherland acquires Cliveden. Soon after, Cliveden burns down for the second time in its history. Fortunately, the heavily propertied Duke has an architect on call. The Italianate mansion of today is the work of Sir Charles Barry, probably better known for building the Palace of Westminster.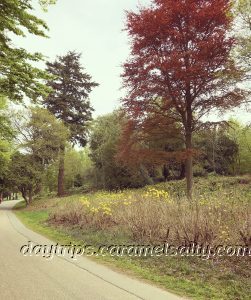 The only marital scandal, if I can even call it one, in relation to the Duke of Sutherland is him marrying his mistress within months of his wife dying. When he does so, he falls out of favor with Queen Victoria. Which goes to show that in Victorian Britain, it's OK to have a mistress, but it's not OK to elevate her to married status!!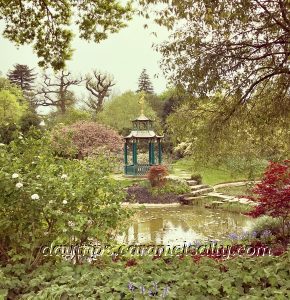 William Astor also faces tragedy soon after buying Cliveden. His wife dies aged only 36. William becomes a recluse, focussing his time and energy into Cliveden. He commissions the wonderful Fountain of Love in 1897. From the fountain, I get my first glimpse of Cliveden sitting in perfect symmetry at the end of a long, wide, white, gravel drive.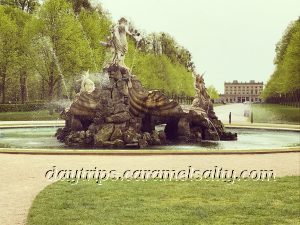 As I walk along the drive, I pass another of Sutherland's legacy, the striking 100 foot clock tower. The tower actually holds water tanks. A gilded clock which chimes, graces each side of the column. It is finished with a replica statue of the Spirit of Liberty, the original being at the Place de la Bastille in Paris.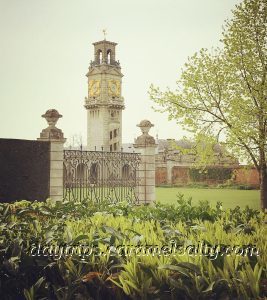 William Astor on the other hand knocks three rooms together to form the Grand Hall, the main entrance to the property. William brings a touch of Europe to Cliveden by buying original tapestries, fire places and rococo paneling from European palaces, villas and chateaus.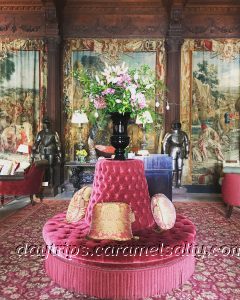 Today Cliveden is a secluded, romantic 5 star hotel (more hotel photos here). With its American connection and proximity to Windsor, it's no wonder Meghan Markle chooses to stay here the night before her wedding. And with a spring wedding, flowers would have been in abundance.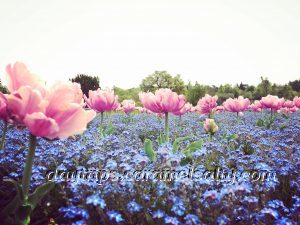 The only way to explore the hotel is on a tour. At the end of the tour, the group tumbles out onto the balcony for a bird's eye view of the Parterre, built in 1830 during the ownership of Sir George Warrenden.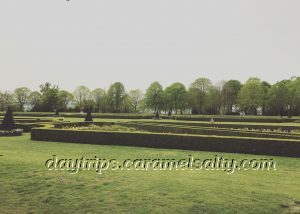 The Parterre is stunning. And a great way to start exploring the formal gardens. When I wander up to the very tip of the Parterre, the Duke of Sutherland's statue stares back at me across from the wooded hillside of fine specimens of mature trees.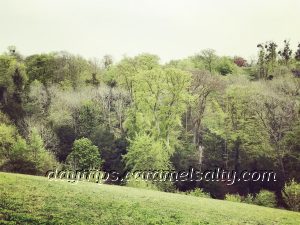 There is no such thing as a short walk in Cliveden. There are 376 acres of formal gardens, trails and woods. It is William Astor who introduces many of the formal gardens, the maze, scupltures and fountains into Cliveden's estates.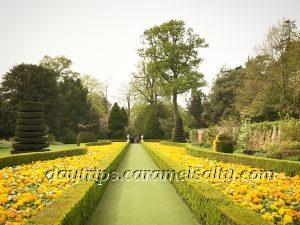 The reason I am at Cliveden in late April, is to catch its famed carpets of bluebells. They are everywhere, as the woods in Cliveden are perfect blue bell habitat.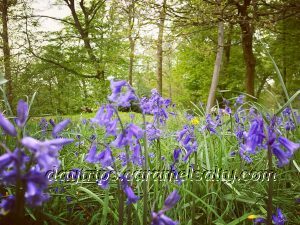 High on a cliff, Cliveden commands a fine view of the Thames Valley. One view within easy reach is by the restored chapel where William Astor and his wife are buried.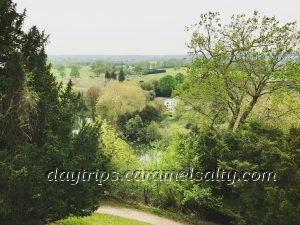 Just beyond the chapel, broad steps lead down to the Thames which snakes along the valley below. Windsor Castle lies to the south of the Thames. It's so close that Queen Victoria is said to have rowed over to visit.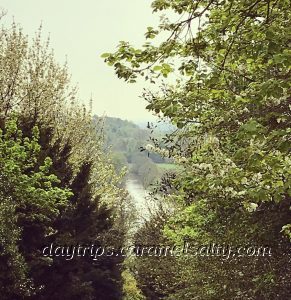 William generously gifts Cliveden to his newly married son in 1906. The couple, Nancy and William, usher in an era of glamorous entertainment. Royalty, Presidents, Prime Ministers, Hollywood and politicians are invited to Cliveden to partake in boating or fishing along the Thames, a spot of tennis, croquet on the lawn and parties by the outdoor pool.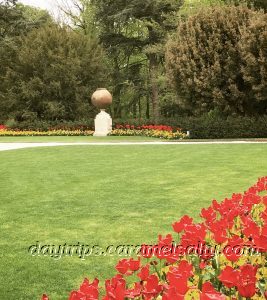 Nancy Astor's status as a socialite stands her well in her career in politics. She becomes the first sitting female MP in 1919 for Plymouth, her husband's previous constituency. She eventually retires in 1945, after some disastrous remarks, including one where she suggests that the English cricket team lost the ashes because of too much drinking.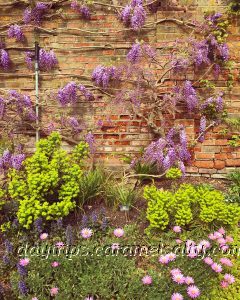 Nancy's hard stand on drinking throughout her political career may have stemmed from her supposedly alcoholic first husband. Neither is this the first time cricket has had a negative impact on Cliveden's residents. The Prince of Wales, son of George II, is said to have eventually succumbed prematurely to an injury after being hit by a cricket ball during a game at Cliveden.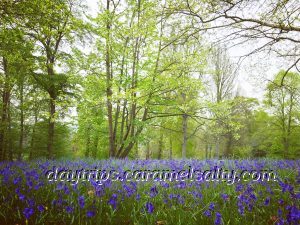 A trip to Cliveden cannot pass without bringing up the Profumo affair. It's by the swimming pool that Secretary of State for War, John Profumo, comes across the 19 year old Christine Keeler skinny dipping. A short affair follows in 1961. This explodes into a political scandal as everyone tries to discover if State secrets were passed to a Soviet spy whom Christine was also sleeping with.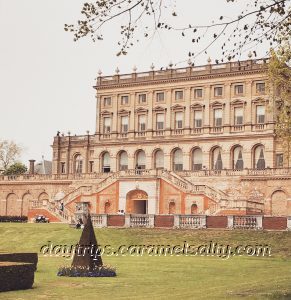 I return to Bourne End Station the same way I arrived. As I return to London, I scribble down the names of the 3 incredibly rich and wealthy men of Cliveden. William Astor, George Villiers, 2nd Duke of Buckingham and George Sutherland- Leveson -Gower, 2nd Duke of Sutherland. I have a feeling that I'll bump into them again in London someday.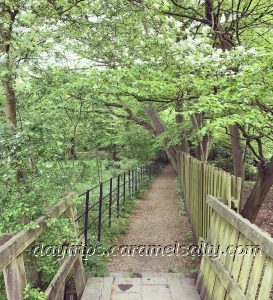 Related Blogs
Some Useful Stuff
Tube Map and City Mapper are free apps that provide London maps, route planner and train/ bus times from your nearest stop.
Only Oyster Cards, purchased at stations, or

contactless

cards are acceptable on Transport for London.
Catch a train to Bourne End using Trainline's website for train times, fares and advance ticket purchase. Discounted off-peak fare with Network Rail Card.
Walking Instructions From Bourne End to

Cliveden

– Instructions and Map Here
Cliveden is a National Trust Property – opening times and prices listed here. Free for National Trust members.
The house tours only run at selected times. Places can be reserved at the ticket office by the Water Garden.
Some suggested walking routes within

Cliveden

.