A Xmas Saunter in Central London (£)
Start of Walk: Marble Arch Station.
End of Walk: Oxford Street Station
Length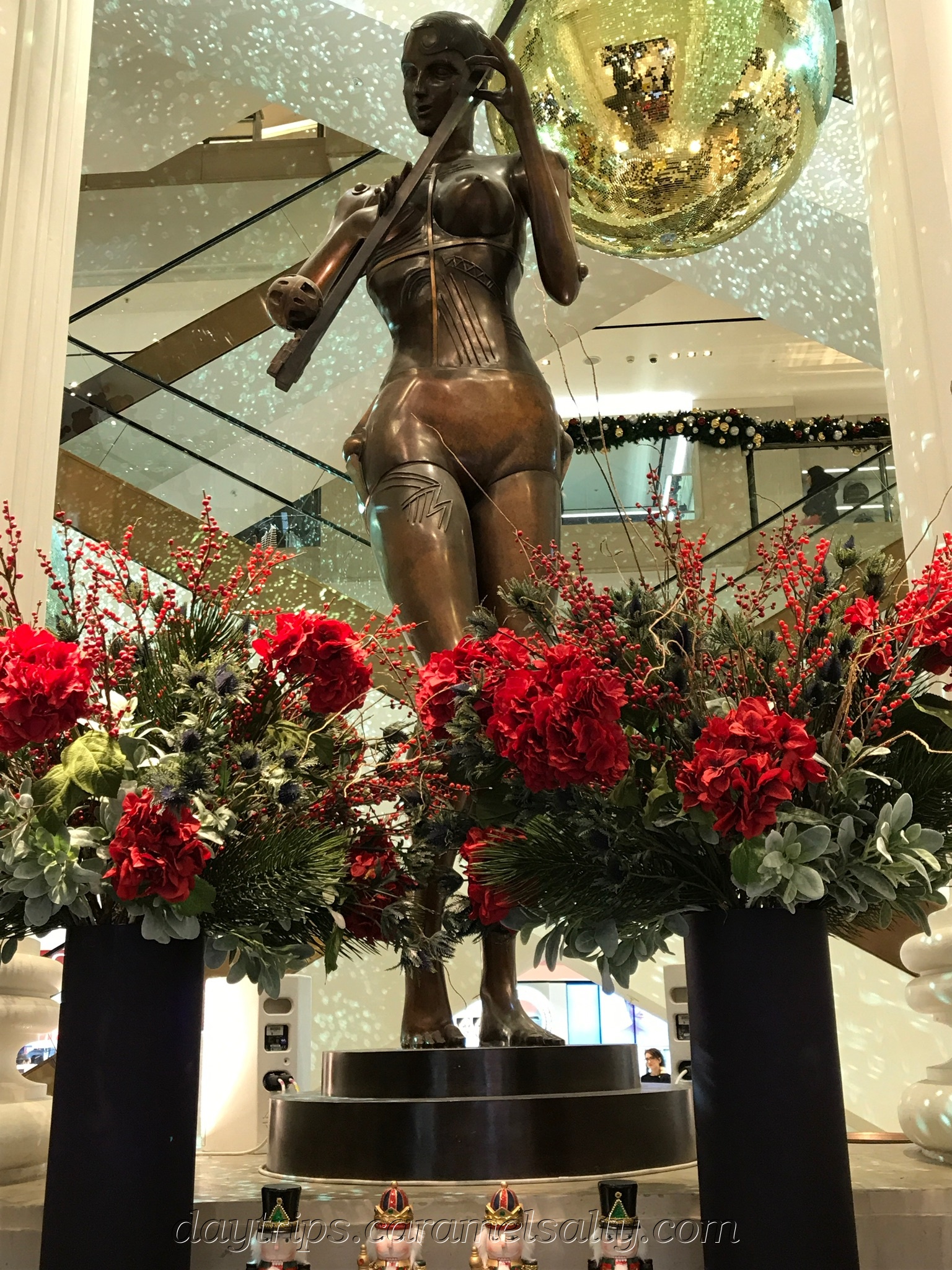 of Walk: 4 miles
It's that time of the year to look for inspiration for X'mas presents. This year, I'm going to brave the crowds in the very heart of London. My first stop, just a short walk away from Marble Arch Station,  is the world famous  Selfridges . Given its place in history as the first store to introduce shop windows, I wander past all 27 of its festive windows gracing Oxford Street, before finally entering the store through the elaborate Art Deco main entrance for a great first impression of the decorated st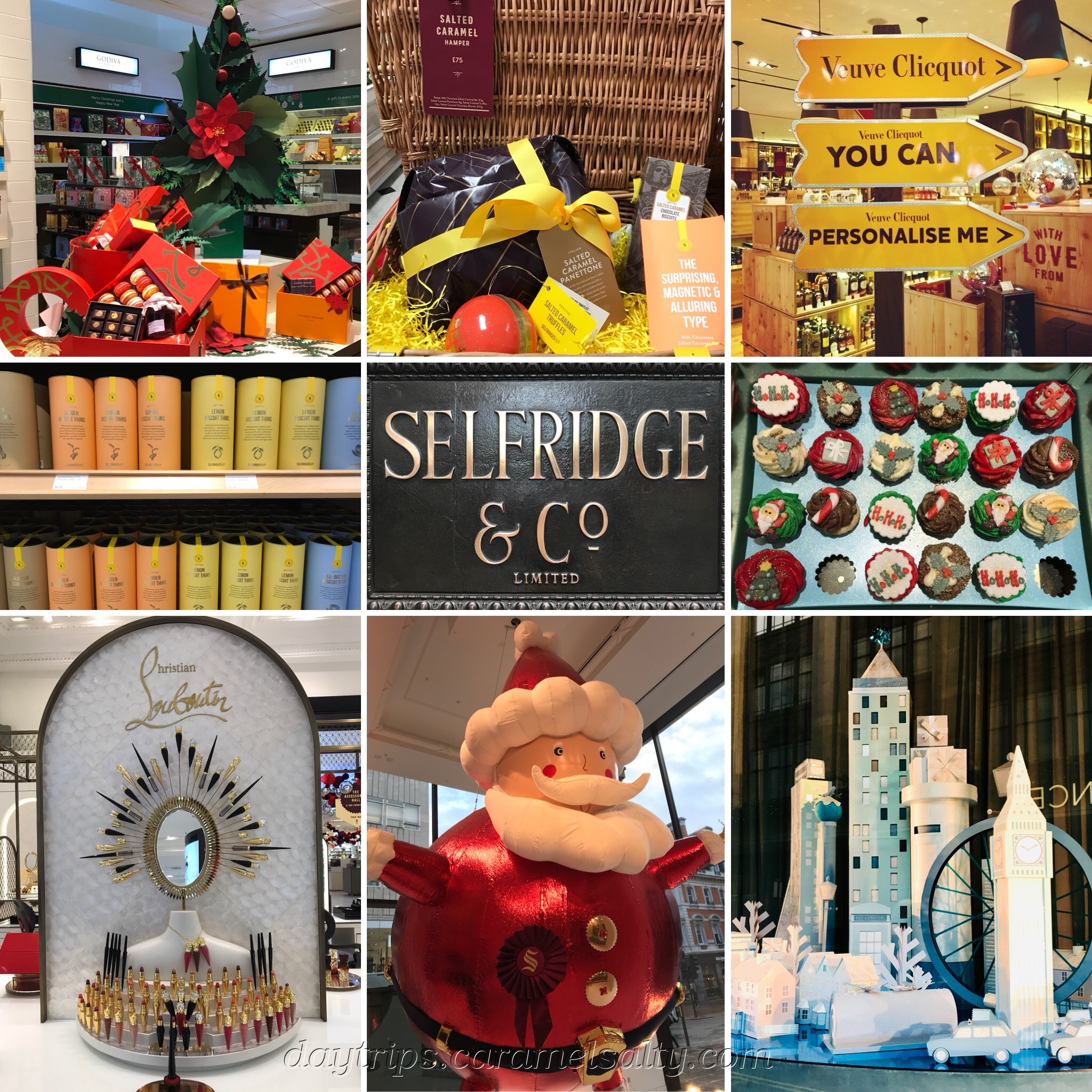 airwell.
With its swirling glitter ball and lively music putting me in a party mood, I make for their food store. I find a fresh market, food treats, an eclectic choice of eateries, a ginormous confectionary section and the ice cool Fount Bar. In the basement I locate the liquor store and a specialist tea shop. All ideal for little gift ideas.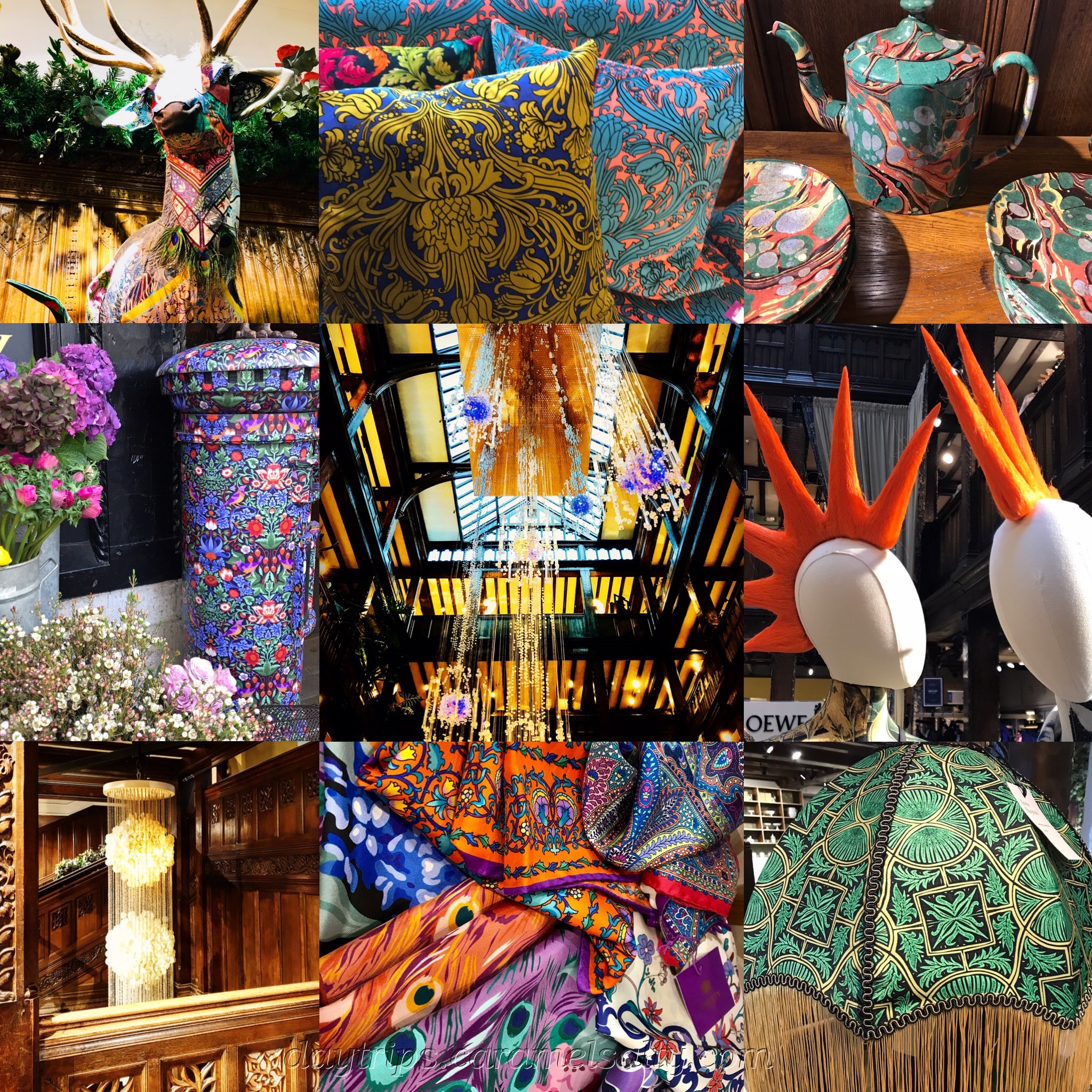 Next on my shopping list is Liberty. My approach from the top of Argyll Street, going past the London Palladium, affords me a magnificent view of the ship length mock Tudor building.  I enter via the delightful florist and find myself in what seems like a beautifully timbered country house . The X'mas decorations are minimal. Instead its iconic designs for over a 140 years which I find in its stationery, ceramics, house furnishings, clothes and accessories, do all the talking. Even the creaking timber staircases want to join in.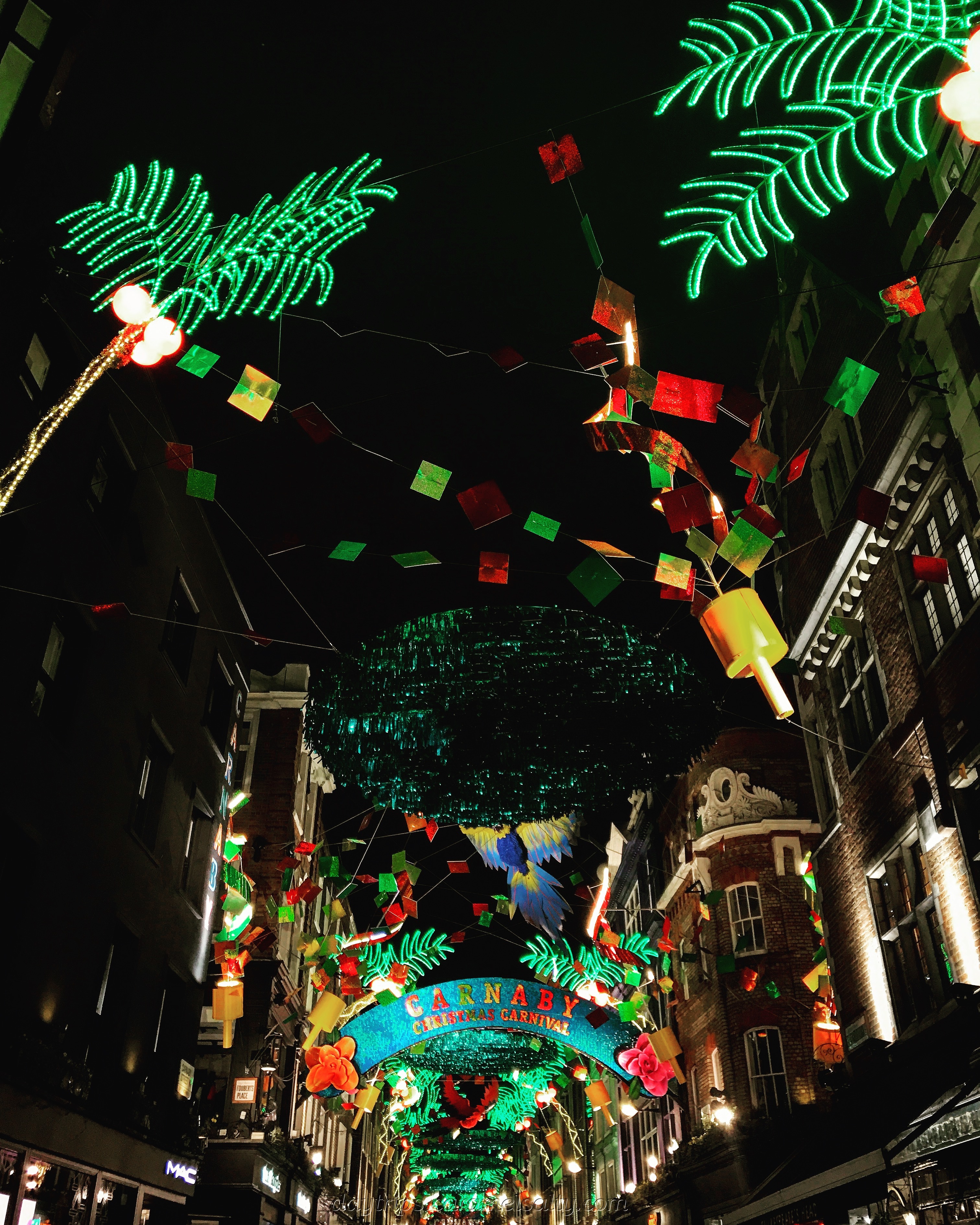 My next shopping destination, stopping first at Choccywoccydoodah, a flamboyant, out of this world, lip-smacking chocolate shop on Foubert Street, is the historic Carnaby Street. It's X'mas decorations remind me of a tropical paradise, and seem to reflect its reputation in the 60s as a place of vibrant culture. I also pop into Kingly Court, which is a quiet open court of shops and restaurants.
Now I go across to see how the other half shop in Mayfair. I cross over Regent Street and its street of suspended angels, to Saville Row. It still retains its bespoke gent's tailor shops, all proudly displaying their credentials to the world. The most impressive of them all is Ede & Ravenscourt, at the bottom of Saville Row. It's right across from the flagship Abercrombie  & Fitch with its subtly lit interior.
toNext I go arcade hunting. So I turn left down Burlington Arcade. Not the fairest of them all I find. But it has a fascinating history and still continues to employ the Burlington Beadles, the smallest police force in the world. Across Piccadilly Road, is the Piccadilly Arcade, where I stop at Maille Boutique, a mustard shop. After some tantalising tastings, and a couple of jars in my bag, I wander down this bow-filled arcade. If you are a cheese fiend like me, then next along Jermyn Street, I divert to the cheesemonger Paxton &Whitfield Ltd, before heading into Princess Arcade.  I have no willpower to resist the very pink and enticing Prestat Chocolates.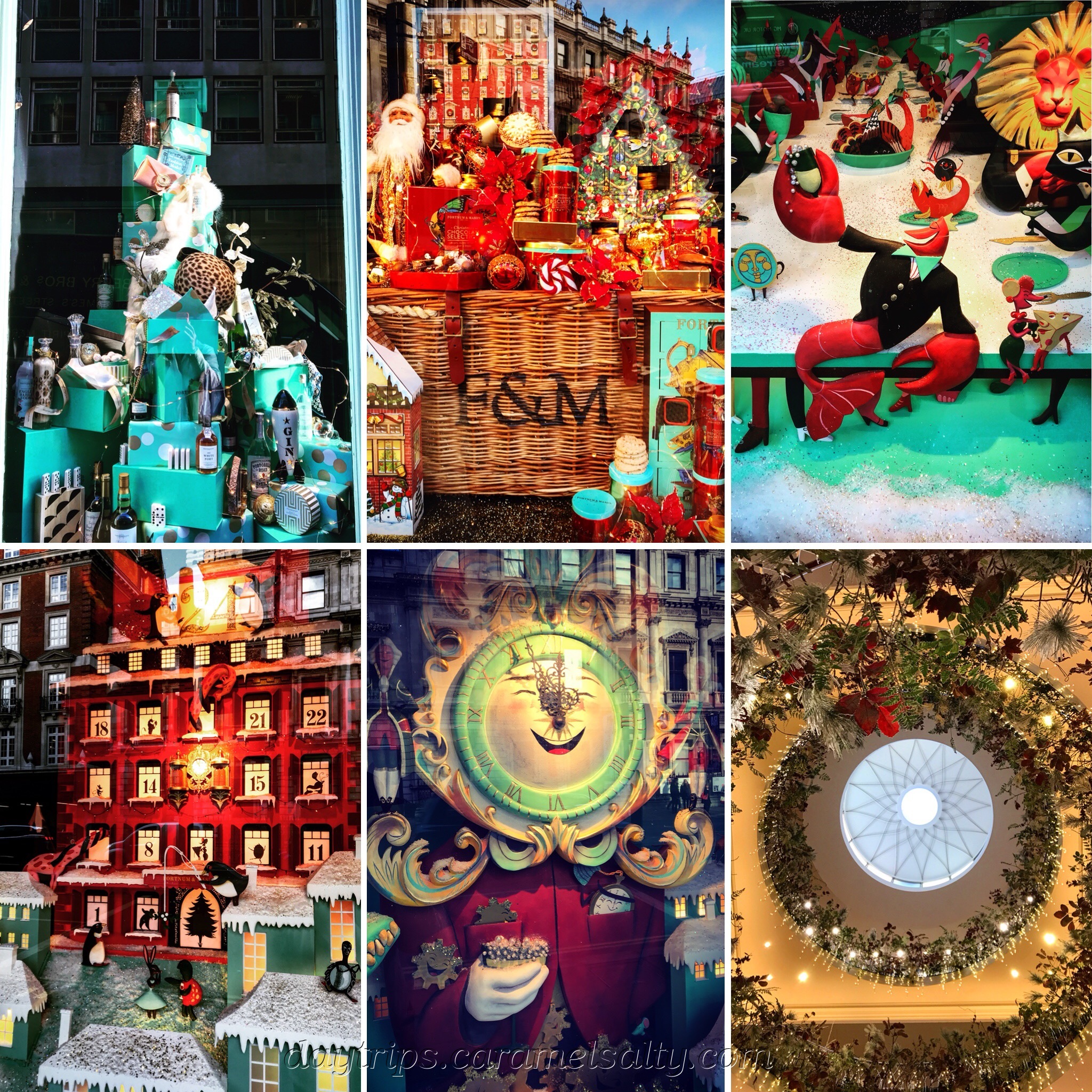 Back on Piccadilly, I head to the wonderful Fortnum & Mason, which has just as fascinating a history  as the much younger Liberty. If there is one place you must arrive just before the hour, it's here. I position myself on the dividing curb on Piccadilly to watch the clock strike the hour, closely followed by crossing over the road to gaze in wonder at its imaginatively dressed trademark green windows.
When I walk into Selfridges, it's like walking into a X'mas food hamper. The beautifully packaged products leave me in no doubt to the quality of their brand. And the mouth watering selection of cakes, pies, pastas, cheese and fresh food in the basement draws my wallet from my bag for some breakfast treats for tomorrow. Whilst I can't afford its ready-made baskets of treats, I do have a lot of  options for presents amongst their smaller goodies.
It's now getting to late afternoon. I wander down Old Bond Street, picking up the beautiful tangerine and cream Royal Arcade along the way. And on New Bond Street, there are more designer stores. As its now dark, I side track to the Stella McCartney store on Bruton Street, to gape at its ceiling to floor decorations. Bravo Stella.
My final stop, is ba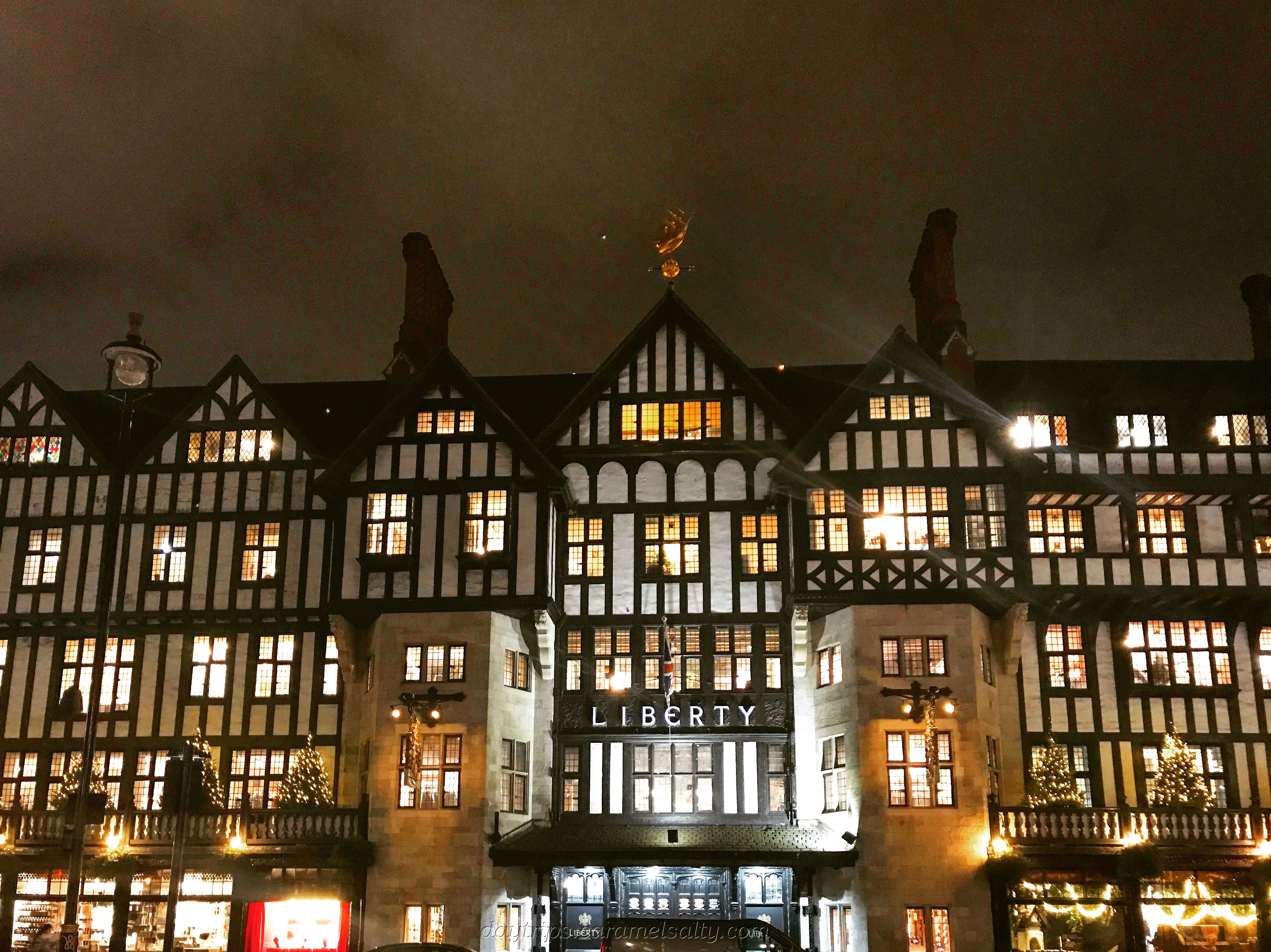 ck at Selfridges. It's collection of reasonably priced and varied food stalls and restaurants, including a roof top Italian and a basement tapas, has persuaded me back. My tired feet do not complain. After an early dinner, I decide to catch a bus back along Oxford Street to Liberty. Sitting on the top deck, I get a bird's eye view of the X'mas baubles on Oxford Street. And on a clear and bright evening, as I retrace my steps, I enjoy the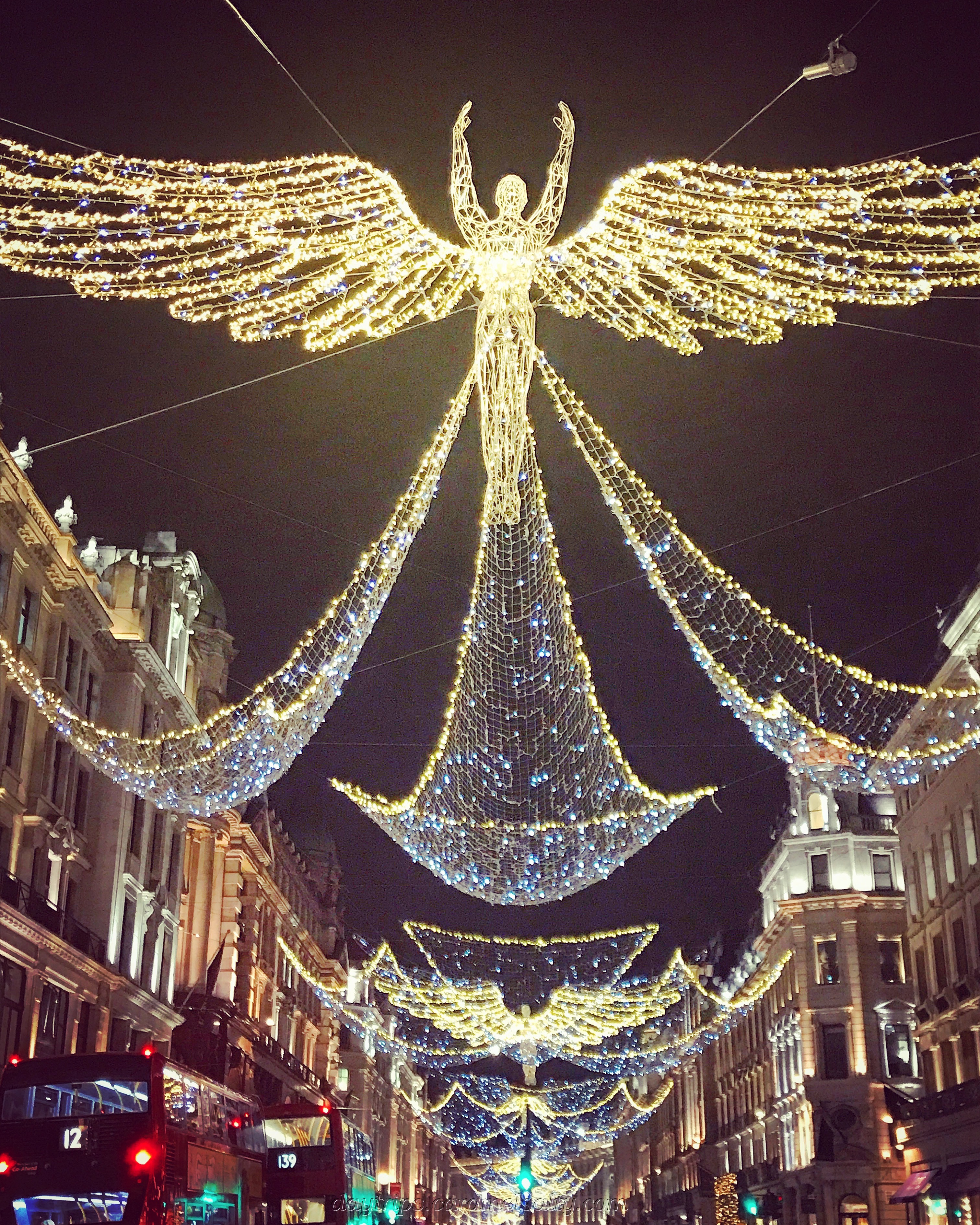 elegant beauty of the Liberty store and the beach carnival atmosphere at Carnaby Street.
What has been a fun day of X'mas shopping now ends as I say goodbye to the floating angels of Regent Street, and enter Oxford Circus tube station.
Restricted Opening Times: All shops are open everyday, subject to Sunday trading hours
Eating and Shopping Options: Abound Everywhere