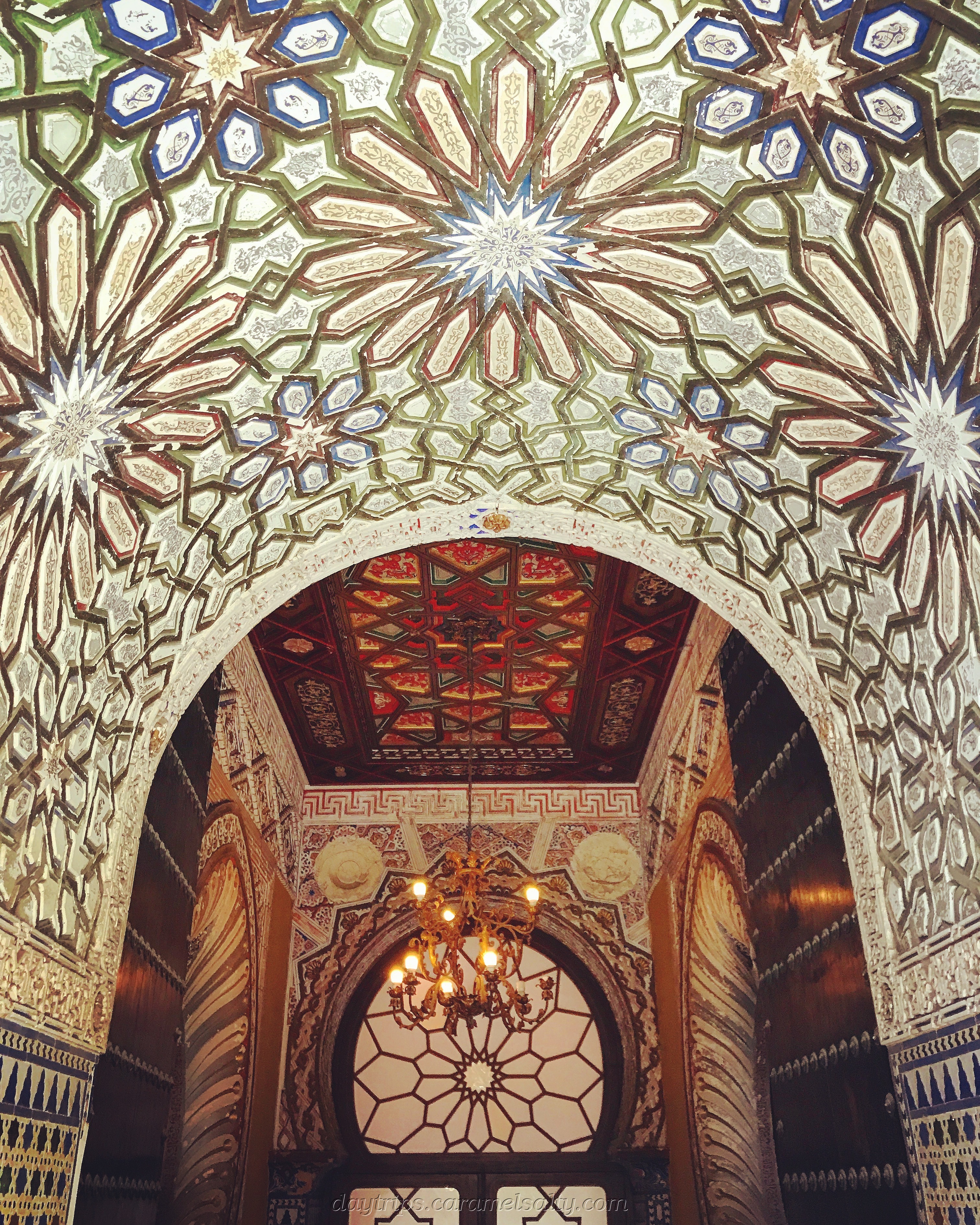 Sanlucar De Barrameda and Chipiona (£)
Little did I know when I caught the bus to Sanlúcar de Barrameda, that I would learn about one of the greatest sea expeditions ever, discover a (sea) foodie haven, find a gem of a town hall and have opera sung to me in a sherry bar.
Start of Day Trip: Plaza de Torros bus stop, El Puerto de Santa Maria
It's December in southern Spain, but it's chilly enough for hat and gloves. Which I am glad I brought along with me as I wait for the late bus #960 (a common occurrence, I am to discover) to Sanlúcar. For just 2 Euros, I am transported out of El Puerto's urban sprawl, through now barren harvested fields and mist covered valleys on my short 1/2 hour journey.
There are 3 reasons to start my day in Sanlúcar with a brisk early morning walk along the promenade. Firstly, Sanlúcar is located at the mouth of the Guadalquiver river. Secondly, due to its location, it has a place in maritime history. Christopher Columbus set sail from this very port in 1498, on the 3rd of his 4 great voyages in which he discovers the Americas. And thirdly, I love wandering by water on a crisp winter's day.
When I get to La Fabrica de Hielo, I am pleasantly surprised by the lovely Art Deco building. It is also the tourist office for the Parque Nacional de Donana. But as I'm not visiting the nature reserve today, I make my way back to the historic centre, along Av. Banjo de Guia and its beautiful villas.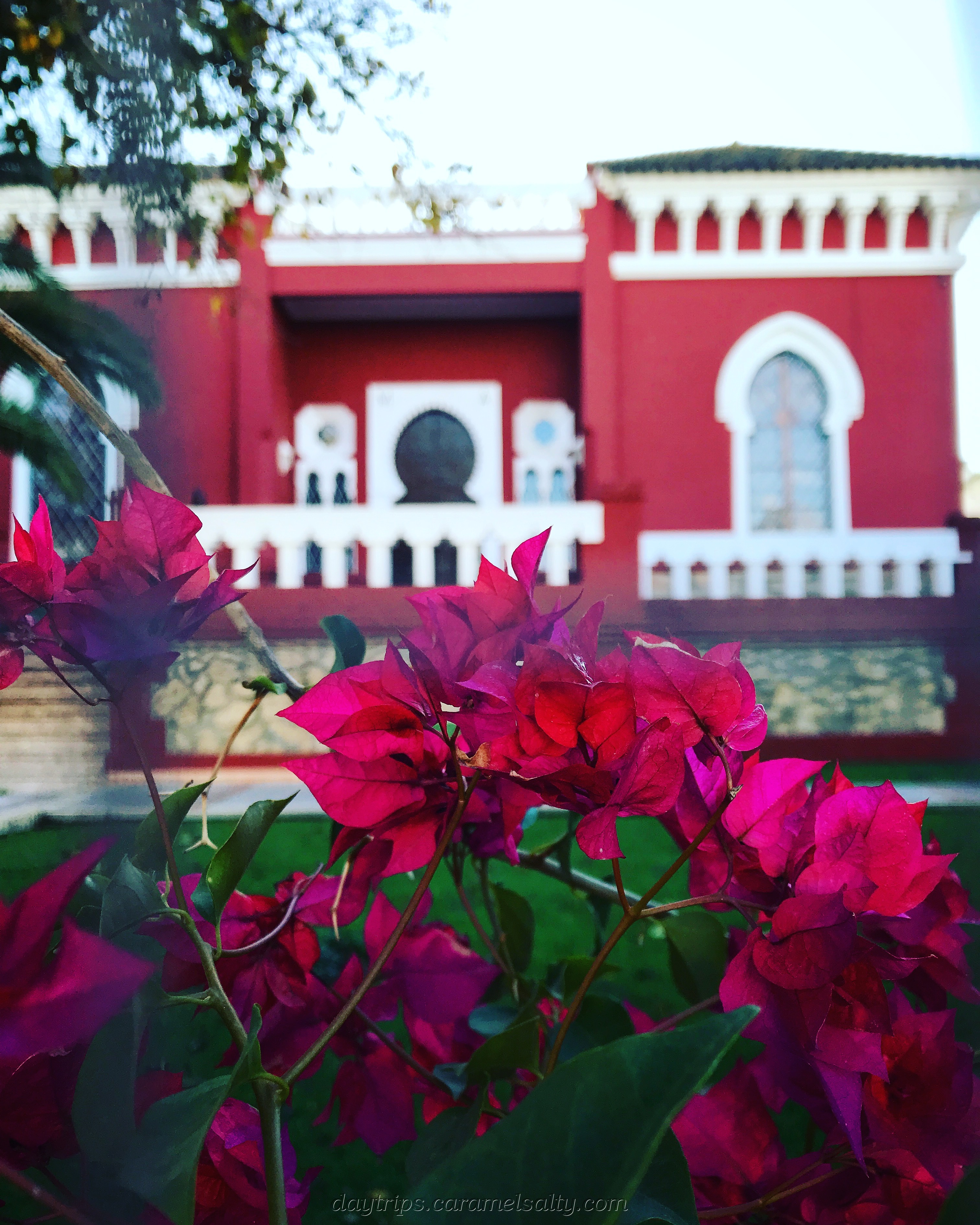 Next, en route to the Museum Shop and Visitors Centre Bodegas Barbadillo, I embark on my favourite Spanish sport of collecting plazas. Today's collection is:
Av. Calzada Duquesa Isabel
Plaza del Cabildo (my favourite square in Sanlucar)
Plaza de San Roque
At the bodega, I visit the free museum, which is all in Spanish.  As I'm pressed for time, I skip the wine tour and head to Castillo de Santiago next door. With printed guide in hand, I wander around. I am fascinated by the section of wall with graffiti left behind by the stonemasons who built this castle. And the wonderful view from the tower. I almost wish I was back in 1498, watching Columbus' fleet sail away. I also learn that this is where Queen Isabella, a.k.a as the Catholic Queen, sees the sea for the first time.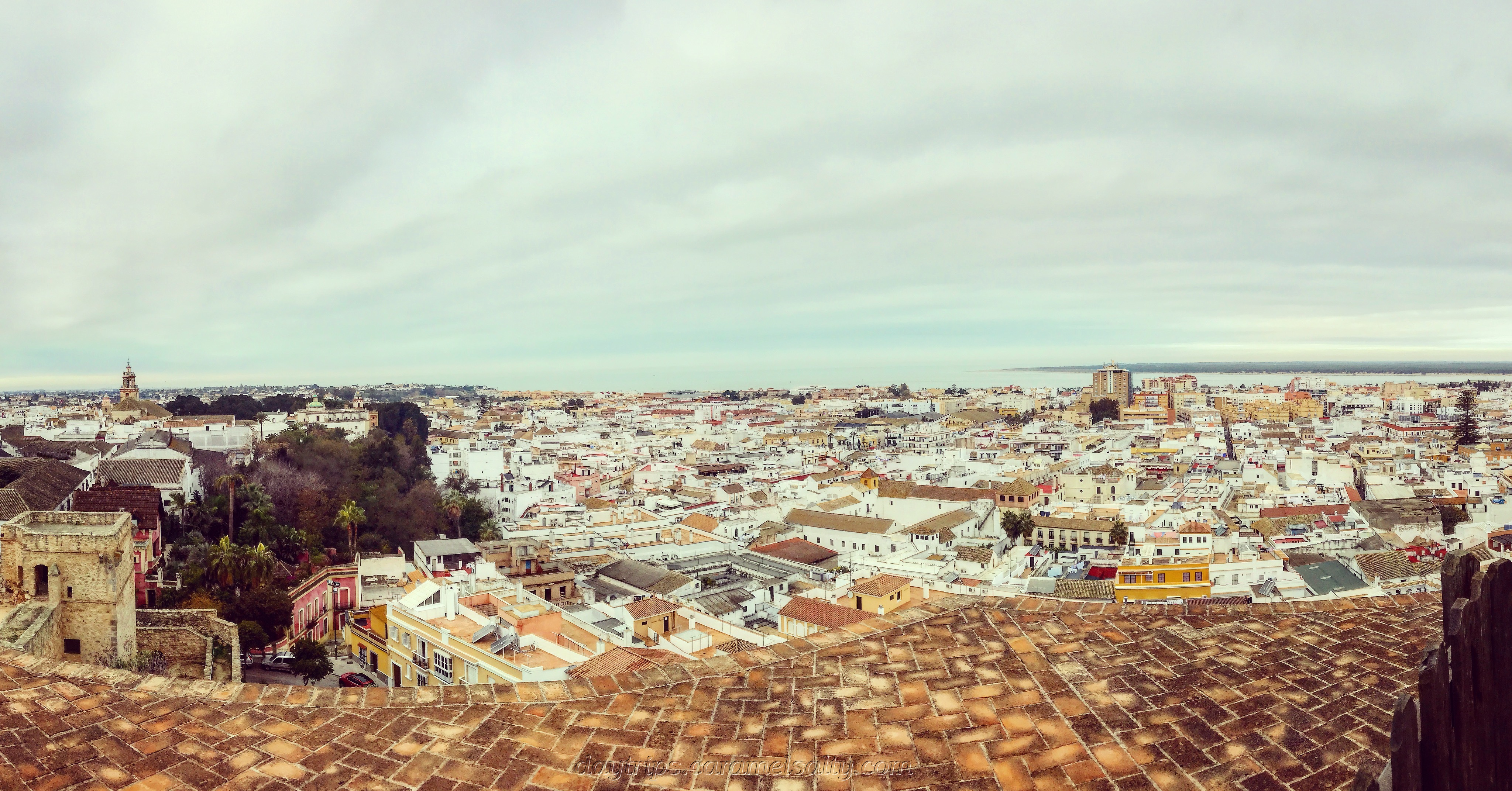 After this, I hurry across to the Palacio de los Duques de la Medina Sidonia. I discover I have arrived far too early for their guided tours, given it's now a hotel. So I wander around the tranquil gardens and take in the views from the terrace. Afterwards, as I enjoy a leisurely coffee in its medieval café, I watch a member of staff rope off access to where I've just been wandering around. Ooops!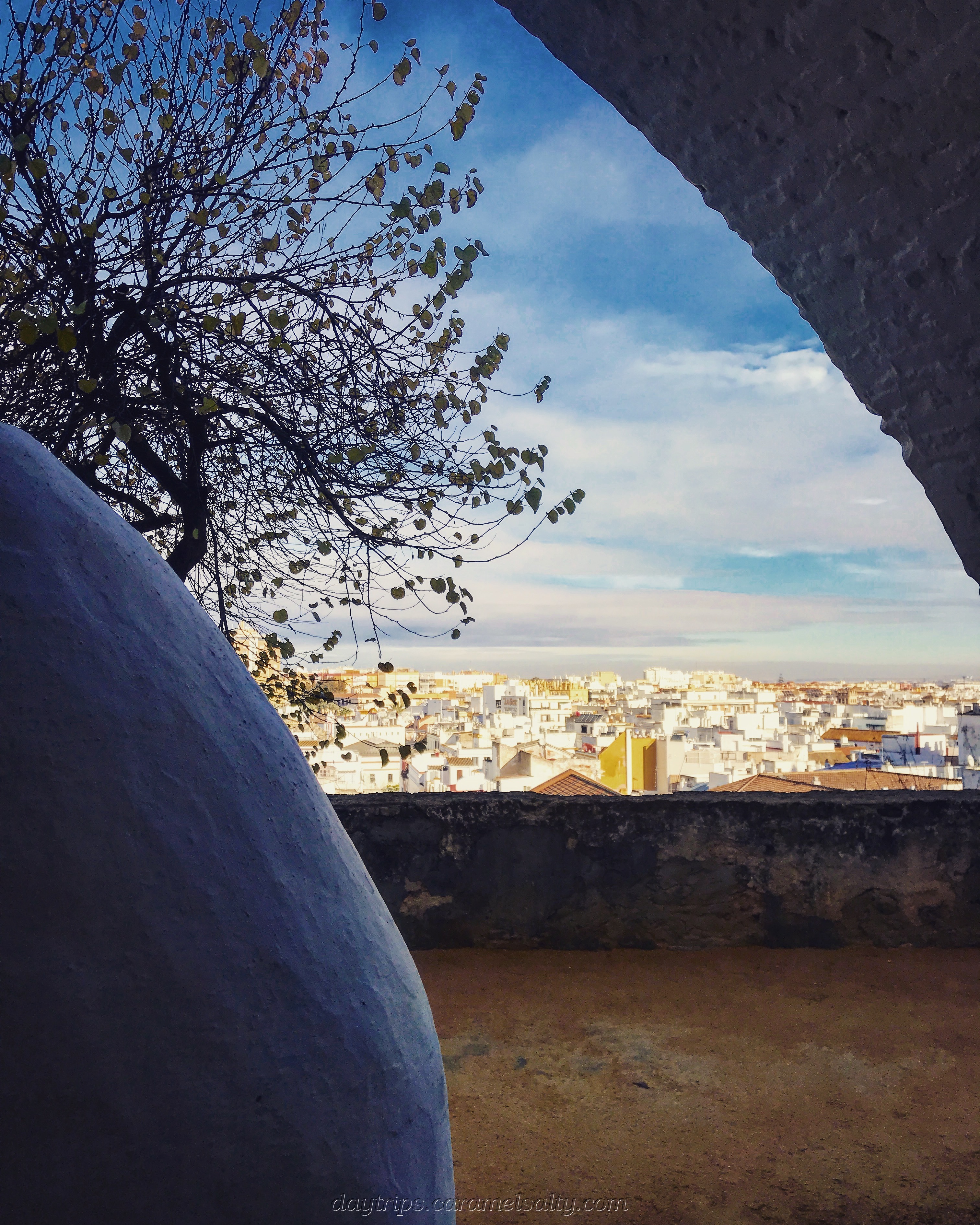 View from the terrace of the Palacio de los Duques de Medina Sidonia
Right next door  to the Palacios de los Duques is the Parroquia de Nuestra Señora de L O and Iglesia de Santa Maria de la O. As both were closed, I wonder if they only open during mass (19:30).
My final stop before lunch is the Palacio de Orleans y Borbon.  Originally the summer home for the aristocratic Montpensier family, today it is the most splendid town hall (with gardens) to work in. I wander freely around the public areas. I even manage to spot an Australian Bottle Tree. And no, my skills do not extend to horticulture. It was labelled.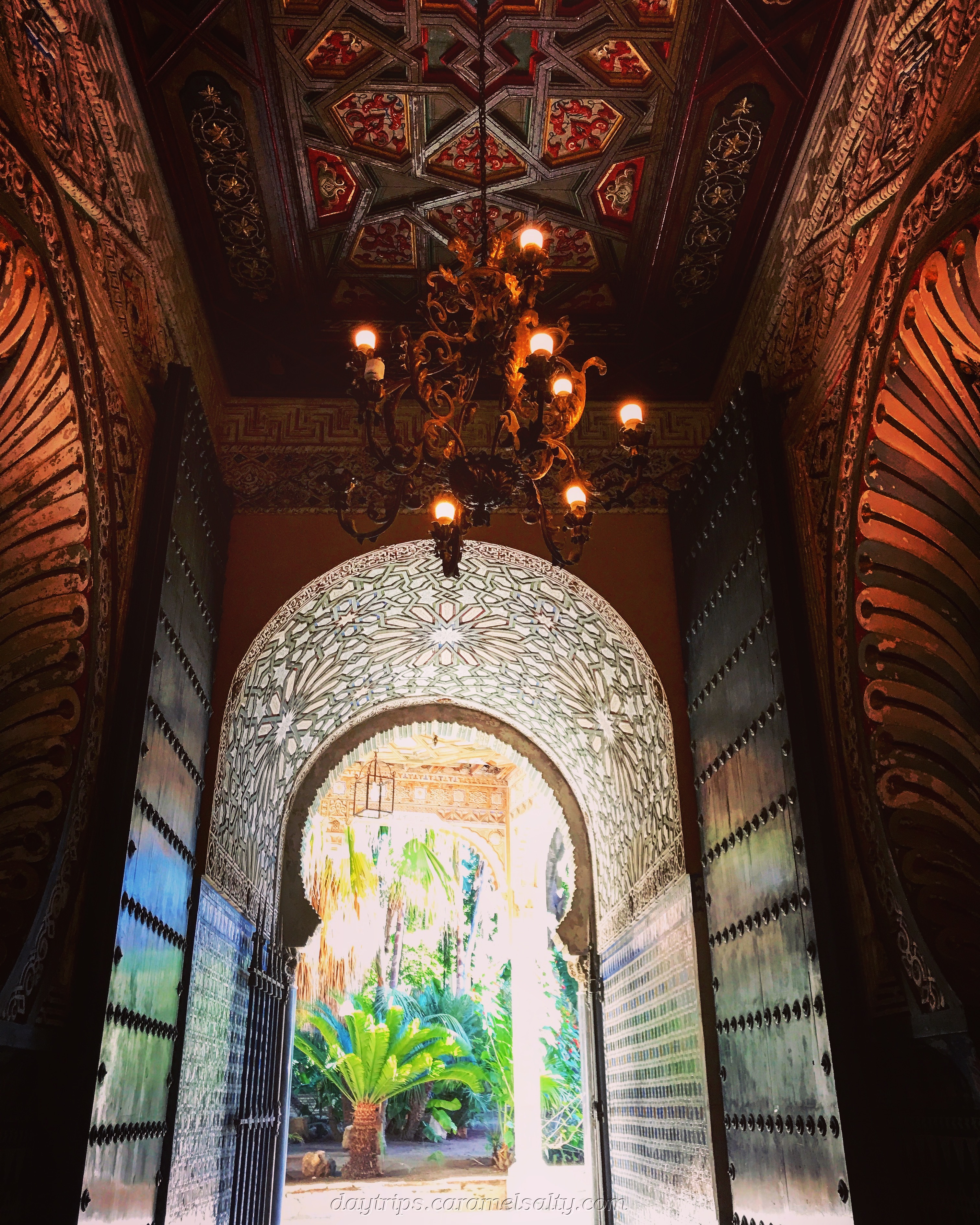 Palacio de Orleans y Borbón
It's now tapas & sherry time. According to Kate's eating blog , this town serves up good seafood. Which is a most happy coincidence. The manzanilla wine produced here has a dry, slightly salty taste because of the seaside environment. And so it partners perfectly with seafood. I have the excellent papas alinas con Melva, at the Barbiana. Simple, yet delicious, and cheap.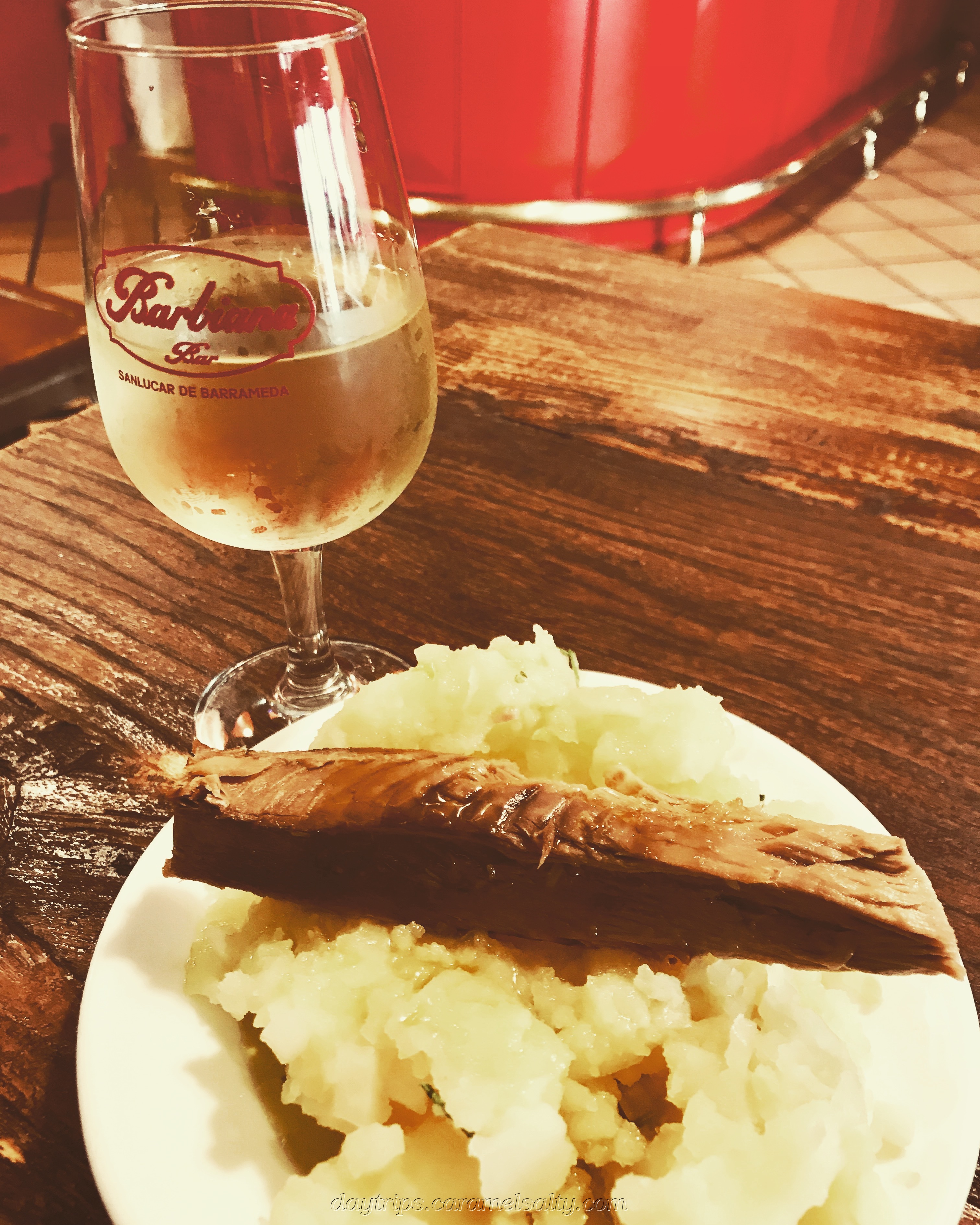 I still have most of the afternoon left. I have enjoyed wandering around the little town of Sanlucar, and diving down little alleyways to bodegas and squares. But now its time to catch the bus to Chipiona, just 15 minutes away. The bus, however, is a fashionable 1/2 hour late to the published timetable. Disappointingly, the bus runs on a modern dual carriageway, following the coast line. I can sense the sea, but not see it.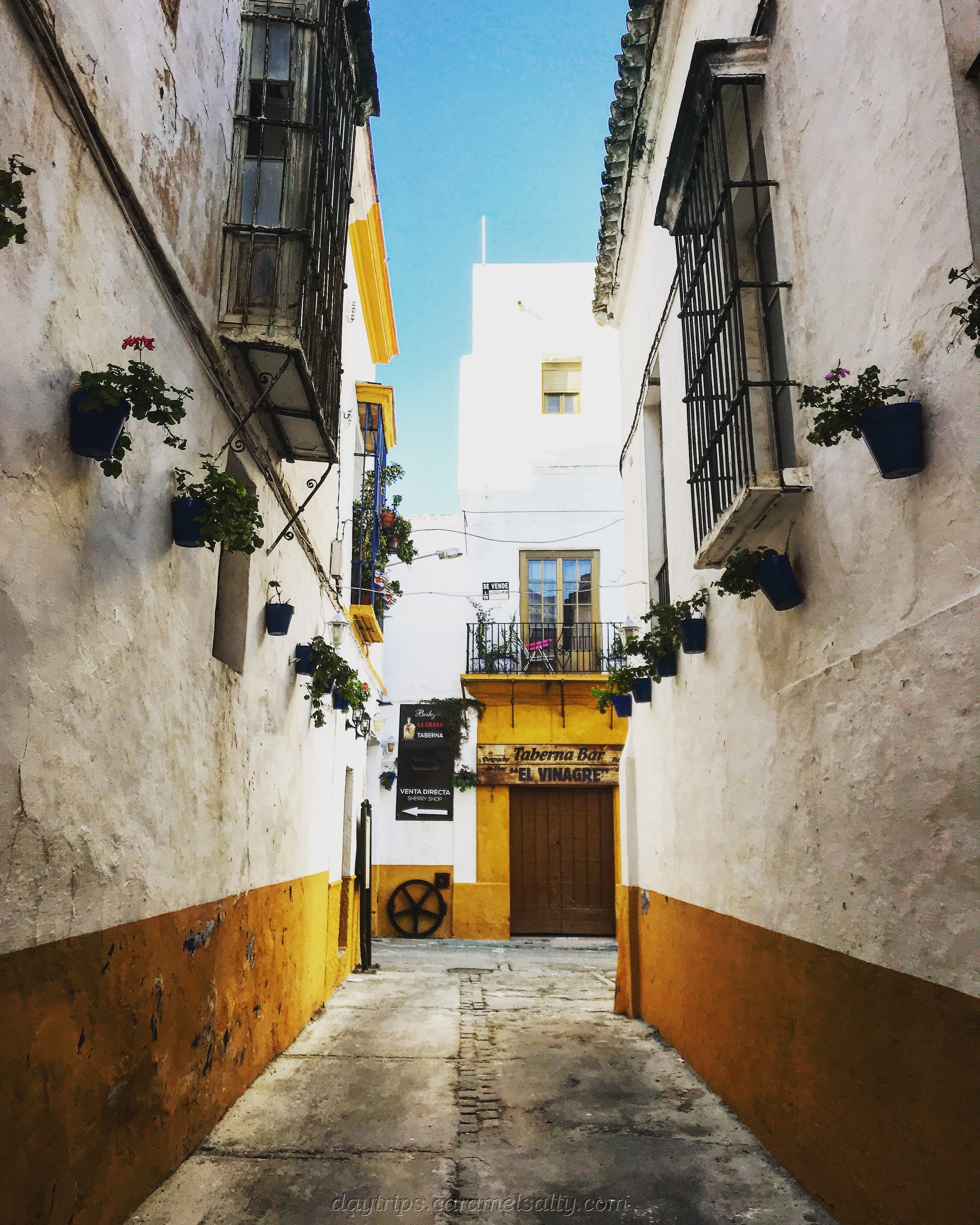 Chipiona has been around for a long time, its lighthouse known since Roman Times. But in modern times, I find a small beach retreat, more or less shut down for the winter. The castle and the tallest lighthouse in Spain is by appointment only, I find out too late.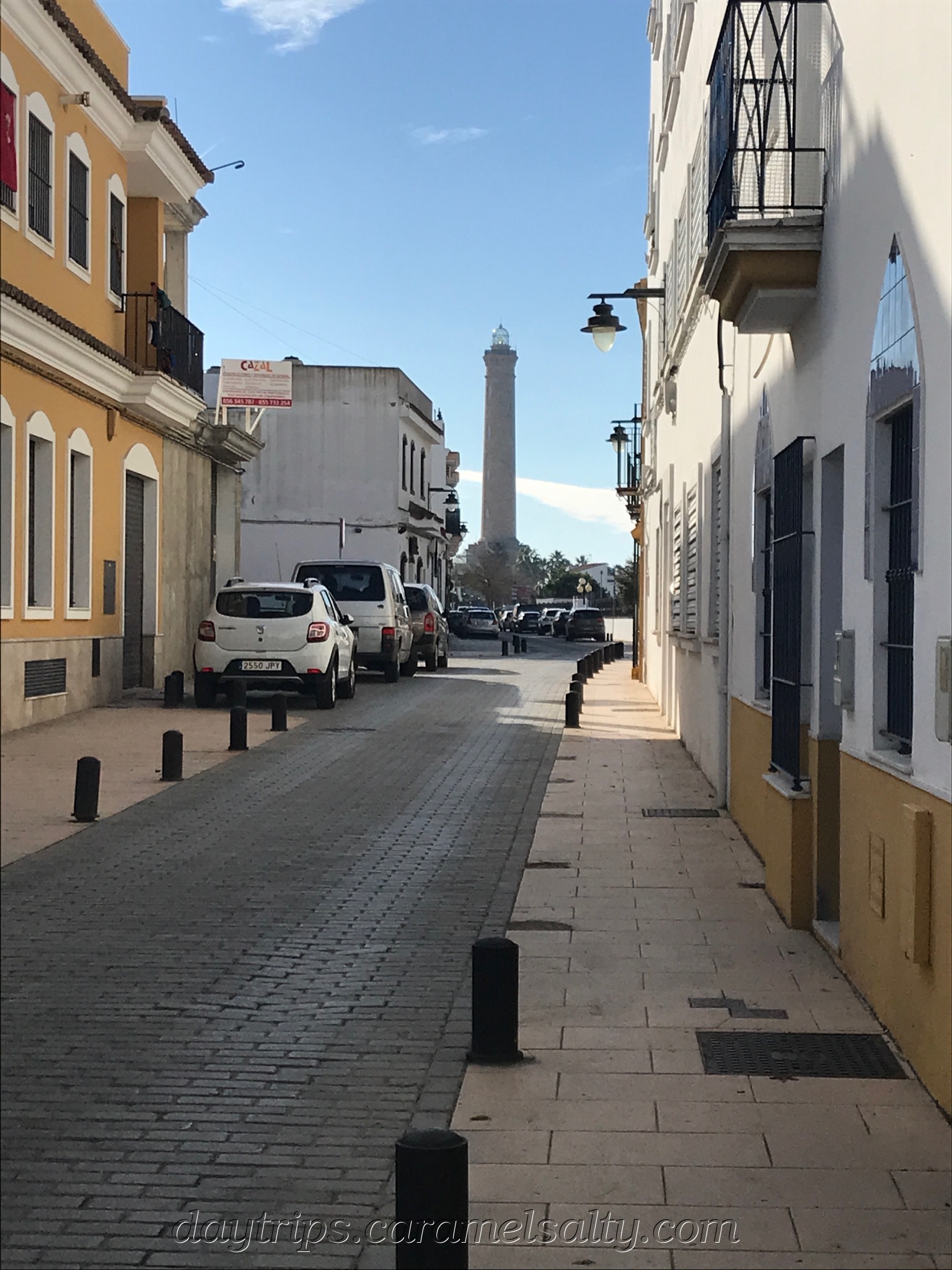 Undeterred, I continue with my  planned walking route covering
the Castillo de Chipiona
along Playa de las Canteras
the Chipiona Lighthouse
the Monastery of Nuestra Señora de Regla  
Playa de Regla.
Just before the castle, I stumble across Despacho de Vinos Cesar Florido. When I peer into the dark, bare bar, I see 3 locals and a bar tender in animated conversation. I decide to join them for a sherry. And I have the pleasure of meeting the now retired opera singer Señore Flores, who does not pass up a chance to sing me an excerpt from the Barber of Seville. Sherry and opera in a bar. Who would have thought !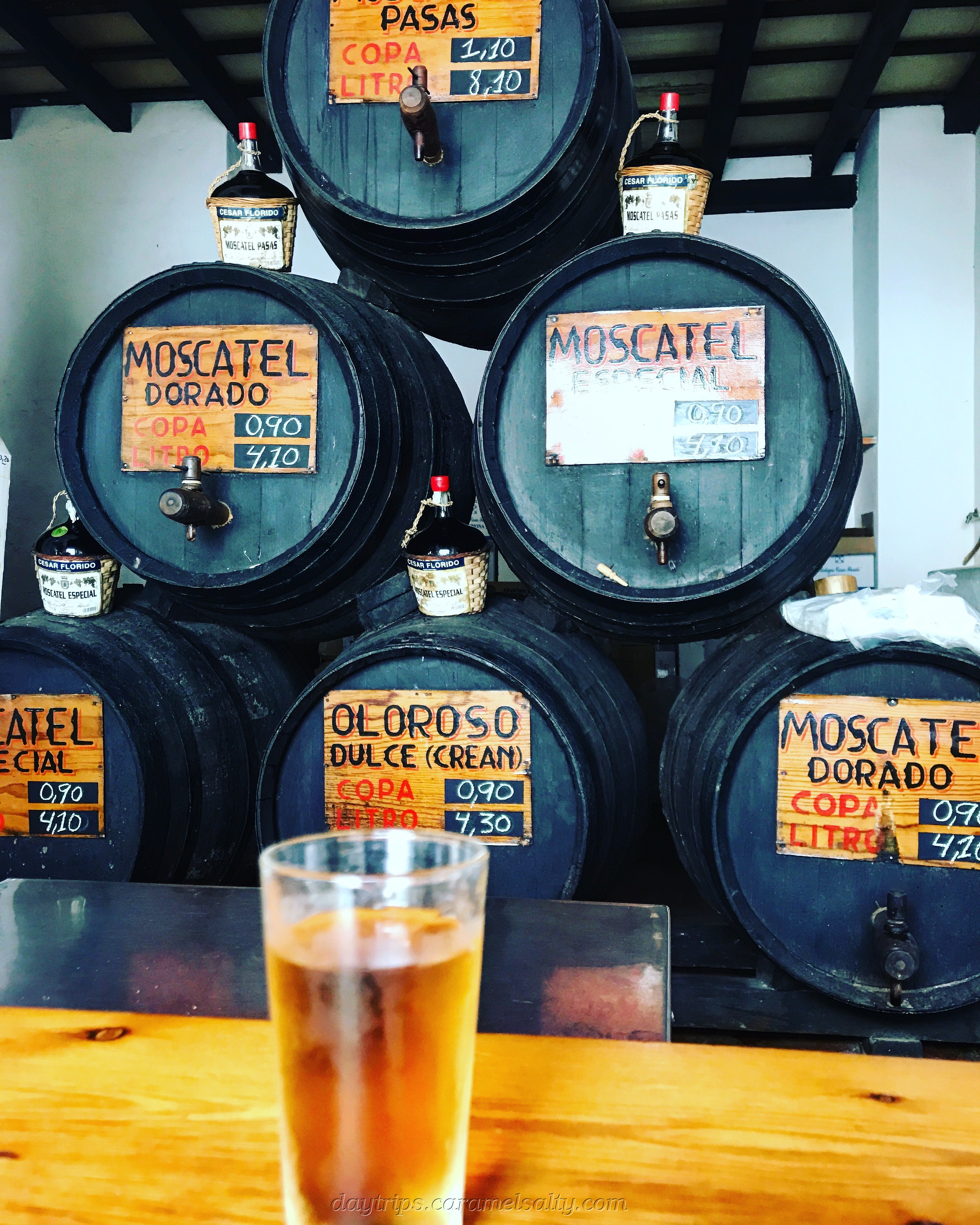 After that unexpected treat, I head out back into the bright sunshine. Using the height advantage of the lighthouse, I navigate my way along Playa de la  Canteras towards it. And then onwards, along Playa de Regla to the monastery.
There is always a silver cloud. It may be off season, but I have the beach all to myself. Just me, the sound of waves, the briny smell of sea, the call of the seagulls, and a lone ship on the horizon in solidarity with my solitariness.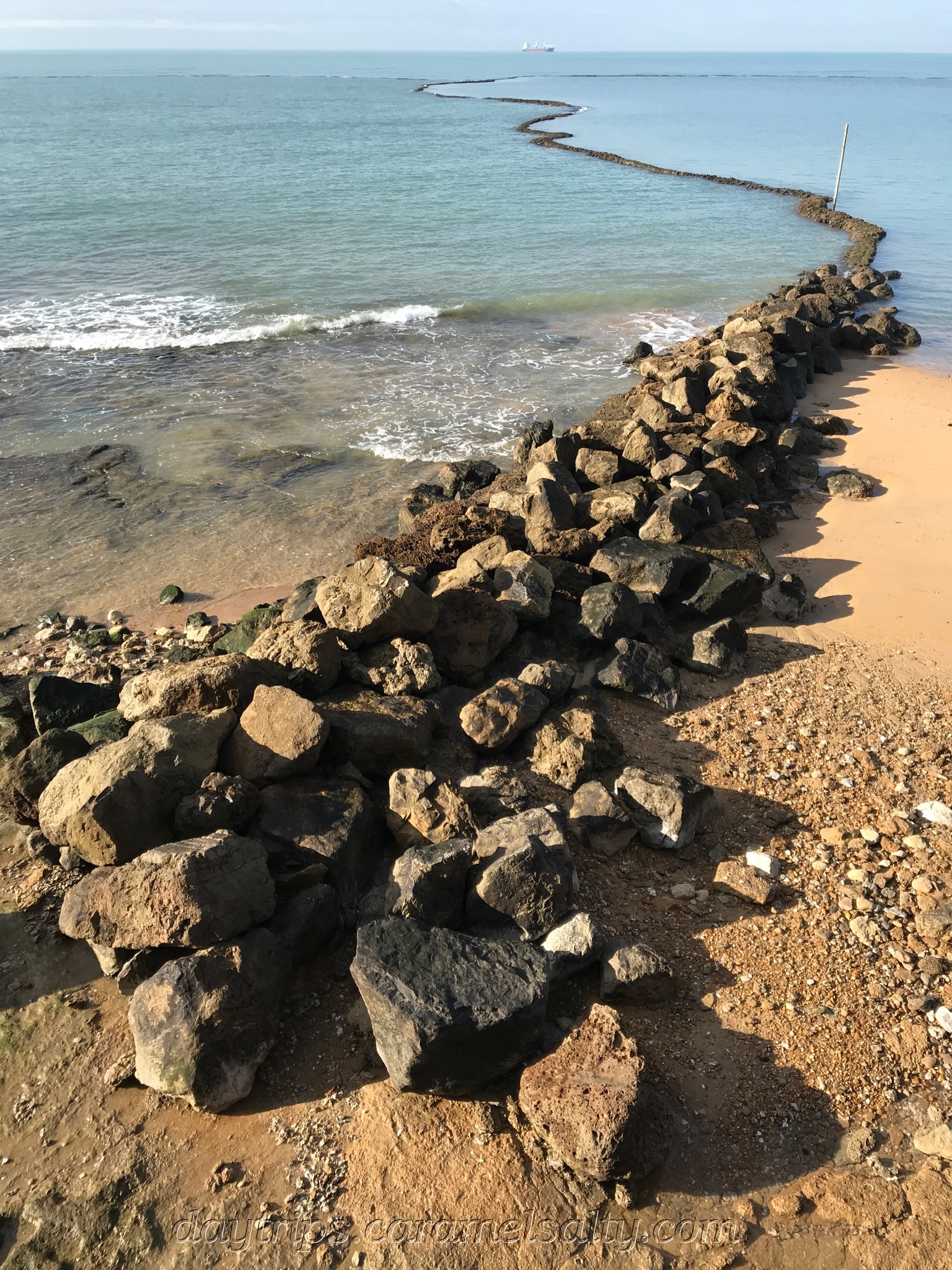 I discover more treats as I trek back to the bus station. A beautiful mosaic. A Madonna hidden behind a leafy hedge. Beautiful tiles. Pretty well kept patios. I also fancy that the orange trees here are more orange than those in El Puerto. Must be that same seaside environment that keeps the sherry tasty.
Boring but Useful Information