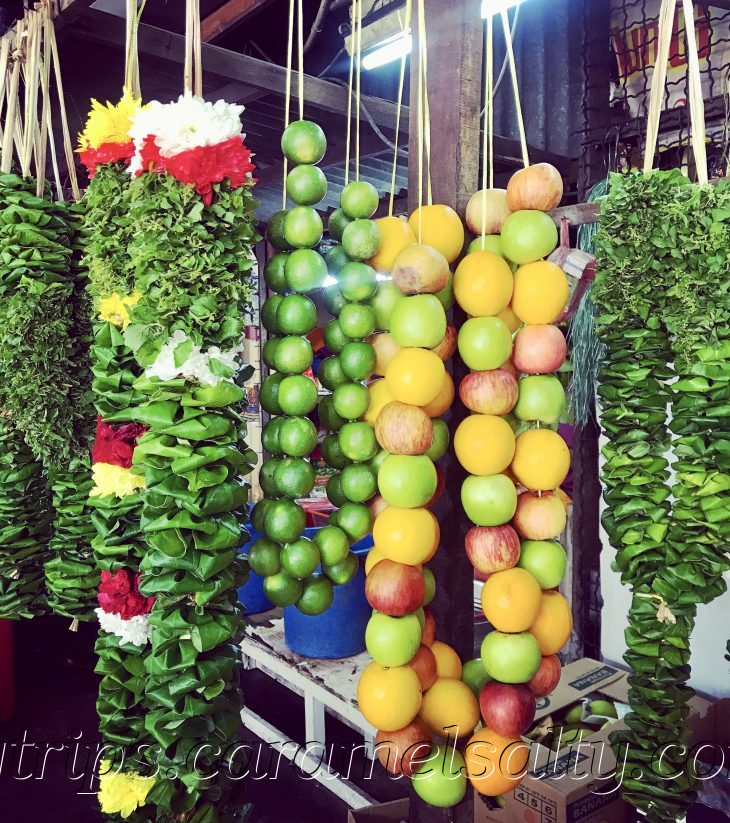 Kuala Lumpur – A Browse Around Brickfields
Once upon a time, Brickfields was a quiet little Indian residential settlement. And then in 2009, the original Little India along Jalan Tunku Abdul Rahman was moved out. "More space here" they said. And so Brickfields is transformed to what it is today – a haven for budget hotels, a magnet for tourists and a mecca for all things Indian.
Start of Day: KL Sentral, Kuala Lumpur
Cost of Day Out: Cheap
History Content: Low
Brickfields is just around the back of Nu Central, KL Sentral's shopping complex. It's not hard to find. Colourful sarees, banana leaf curry houses, sweet shops, gold and jewellery, garlands, the smell of incense and the spires of Hindu temples gives its location away. As well as the colourful arches adorning [1] Jalan Tun Sambanthan.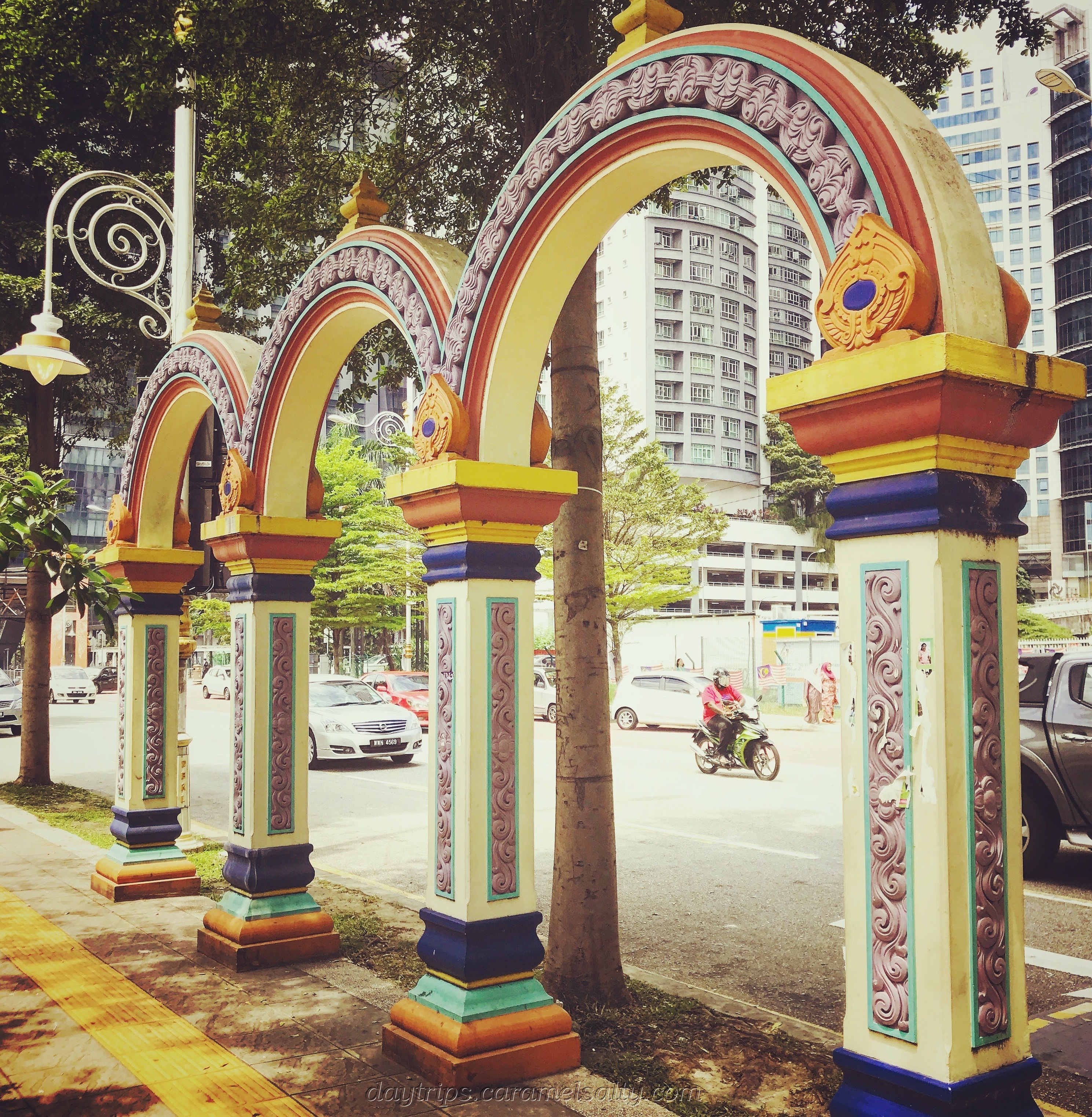 Exiting Nu Sentral by Coffee Bean, I walk along Jalan Tun Sambanthan's shop houses, peering in to see what's on offer. Lunch plans start to take shape as I go past North and South Indian restaurants. Round the corner, the Shangri-La restaurant is doing a brisk breakfast business. Road side stalls also feed the hungry workers.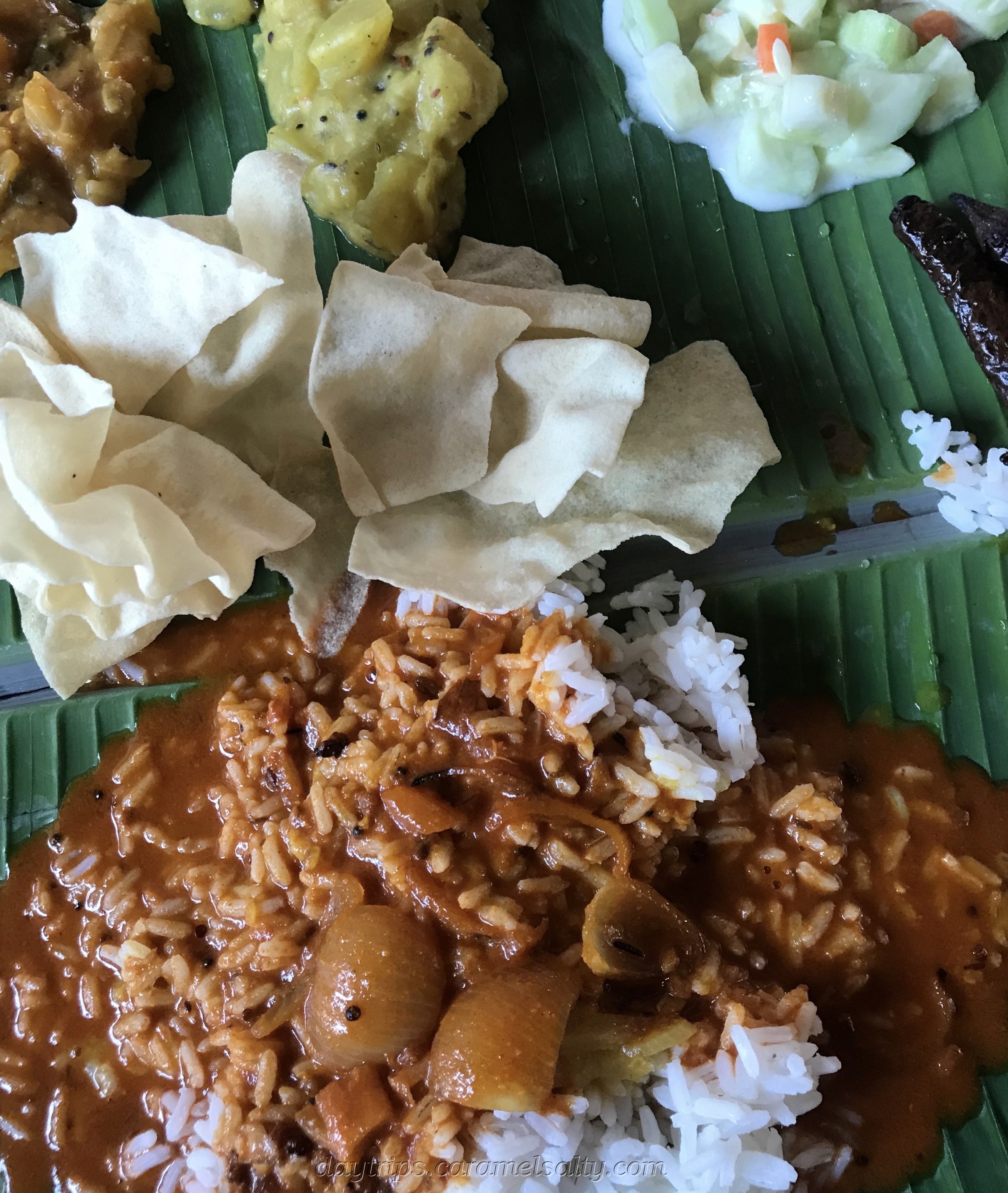 [2] Jalan Padang Belia is interesting. Malay restaurants in open fronted wooden shacks line one side. Across the road, I see the first of many massage centres in Brickfields which employ blind people. But the highlight has to be the [3] Papa A/P Ramaya Mutton Shop. With two huge tree trunks forming his chopping board, it's as traditional, and as Indian, a butcher as one can get.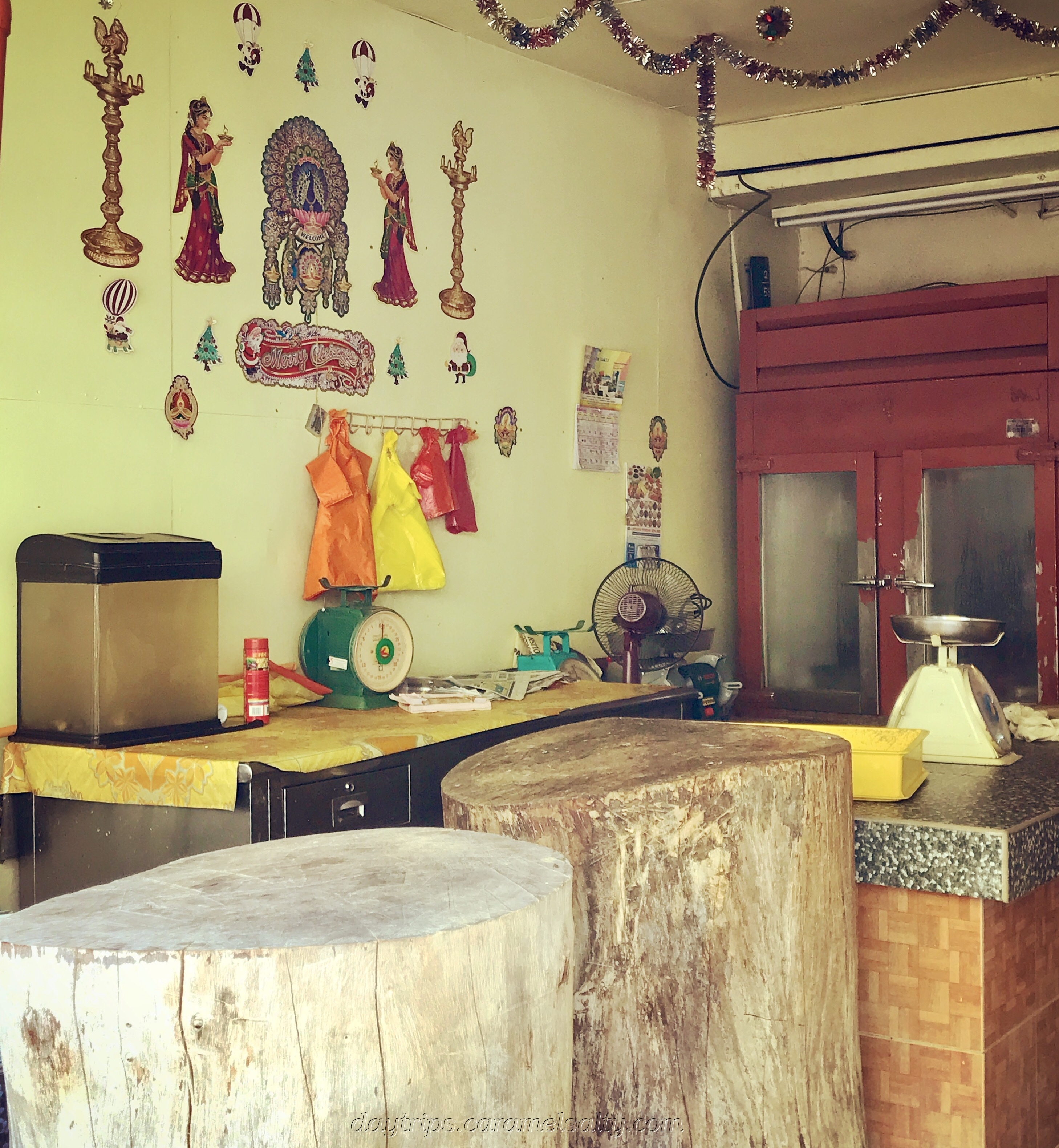 I go past [4] Kwong Fook Cheong, a pre-Tesco era convenience store of dried pulses, dried fish, sacks of onions and garlic. Followed by the [5] Patella Blind Massage centre and the seemingly popular [6] Deen's Nasi Kandar restaurant, advertising fish head curry. The wooden shacks at this end of the road are now serving Indian fare, including vegetarian food at the busy [7] Sathiyanery Vegetarian.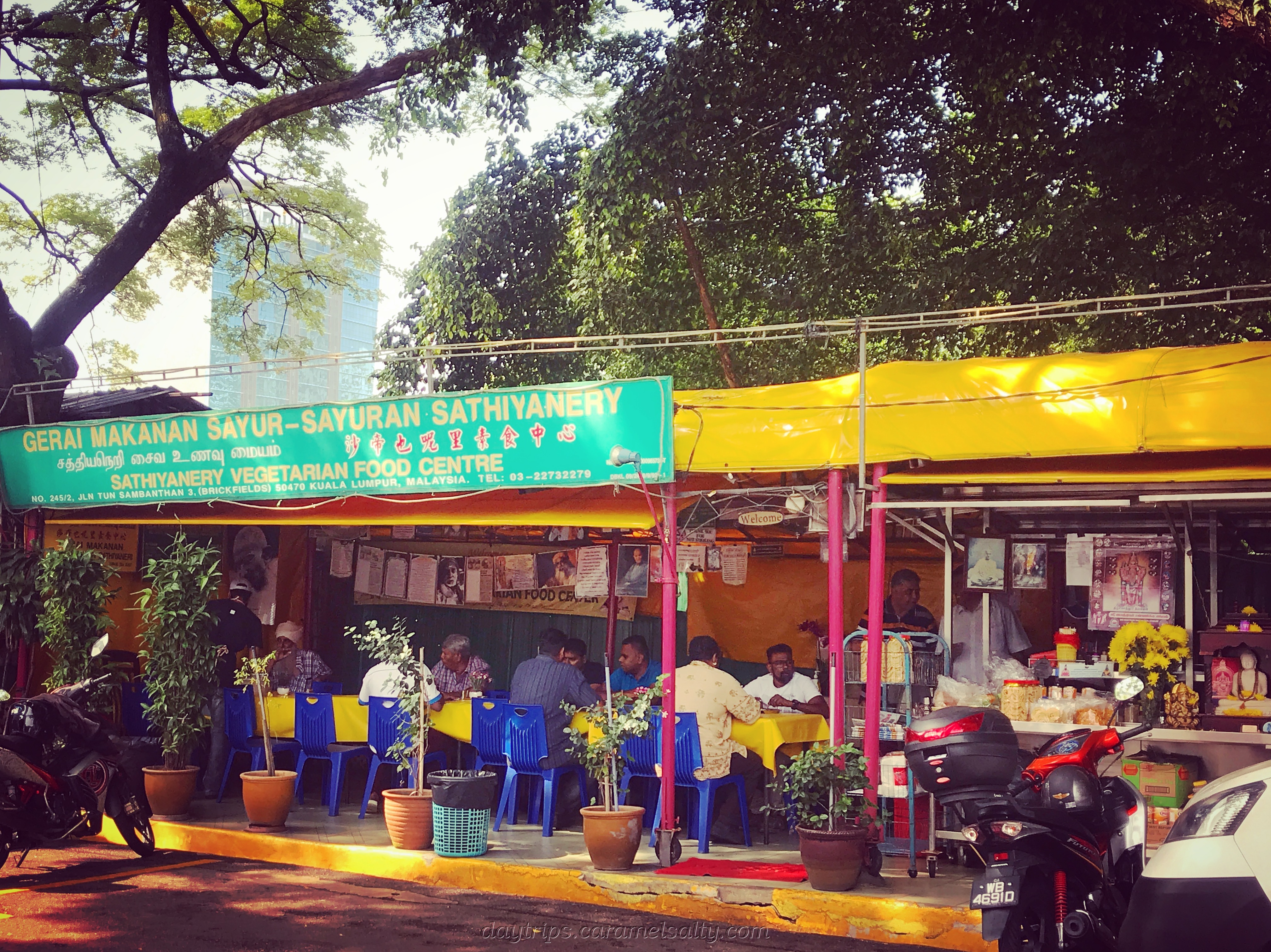 I wander along [8] Jalan Tun Sambanthan 3. A large poster along a row of two storey shophouses accuses a certain multinational bank of violating human rights. I'm outside [9] NUBE House, the union for bank employees. Next door to them is Greenpeace. So Brickfields is also where activists hang out…….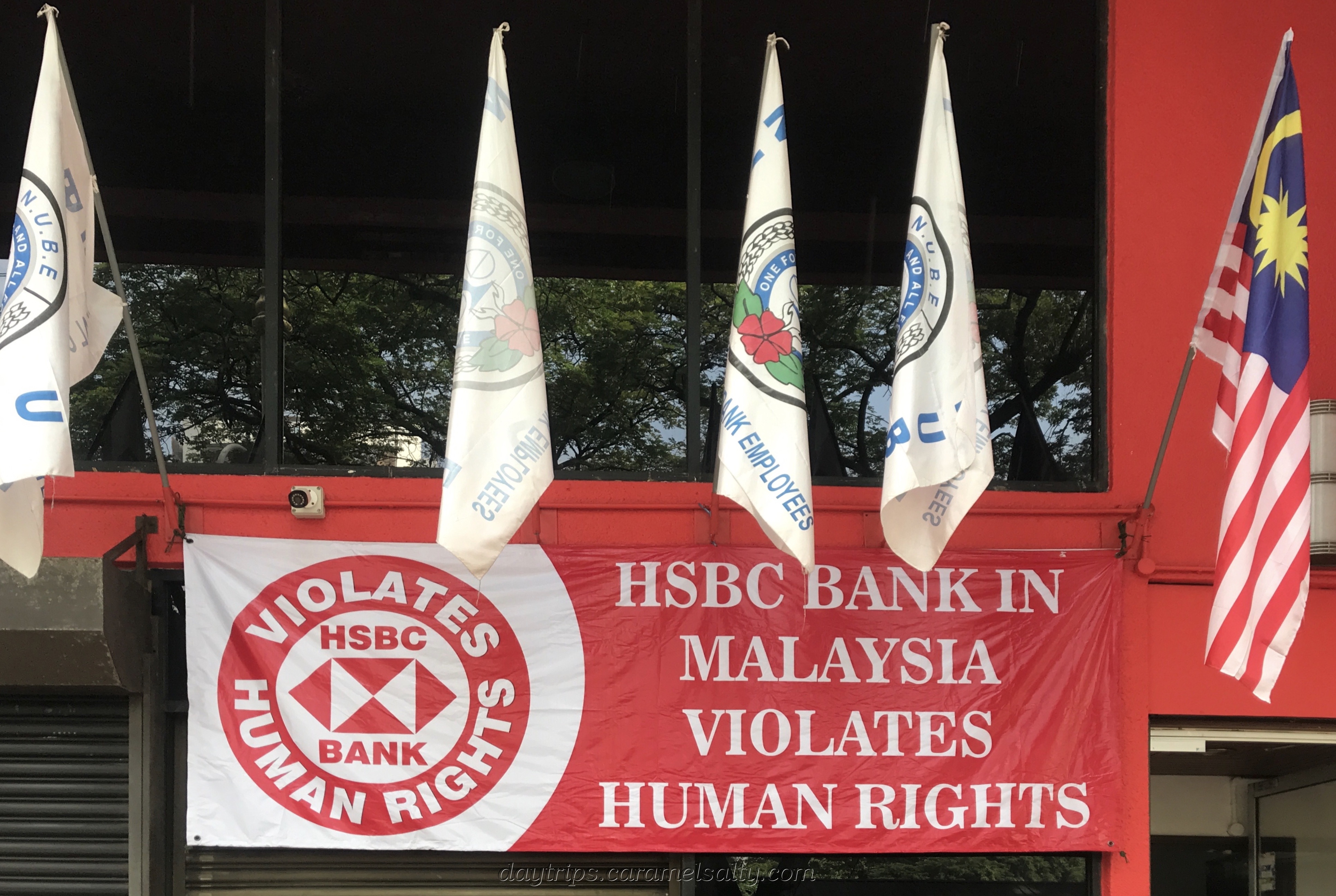 Heading towards [10] Prescott Hotel, I am ringed in by multi level flyovers and motorways. Beyond them are the sky scrapers on the other side of KL Sentral, along Damansara Road. That's the new Kuala Lumpur. Today, I'm only interested in the old Brickfields.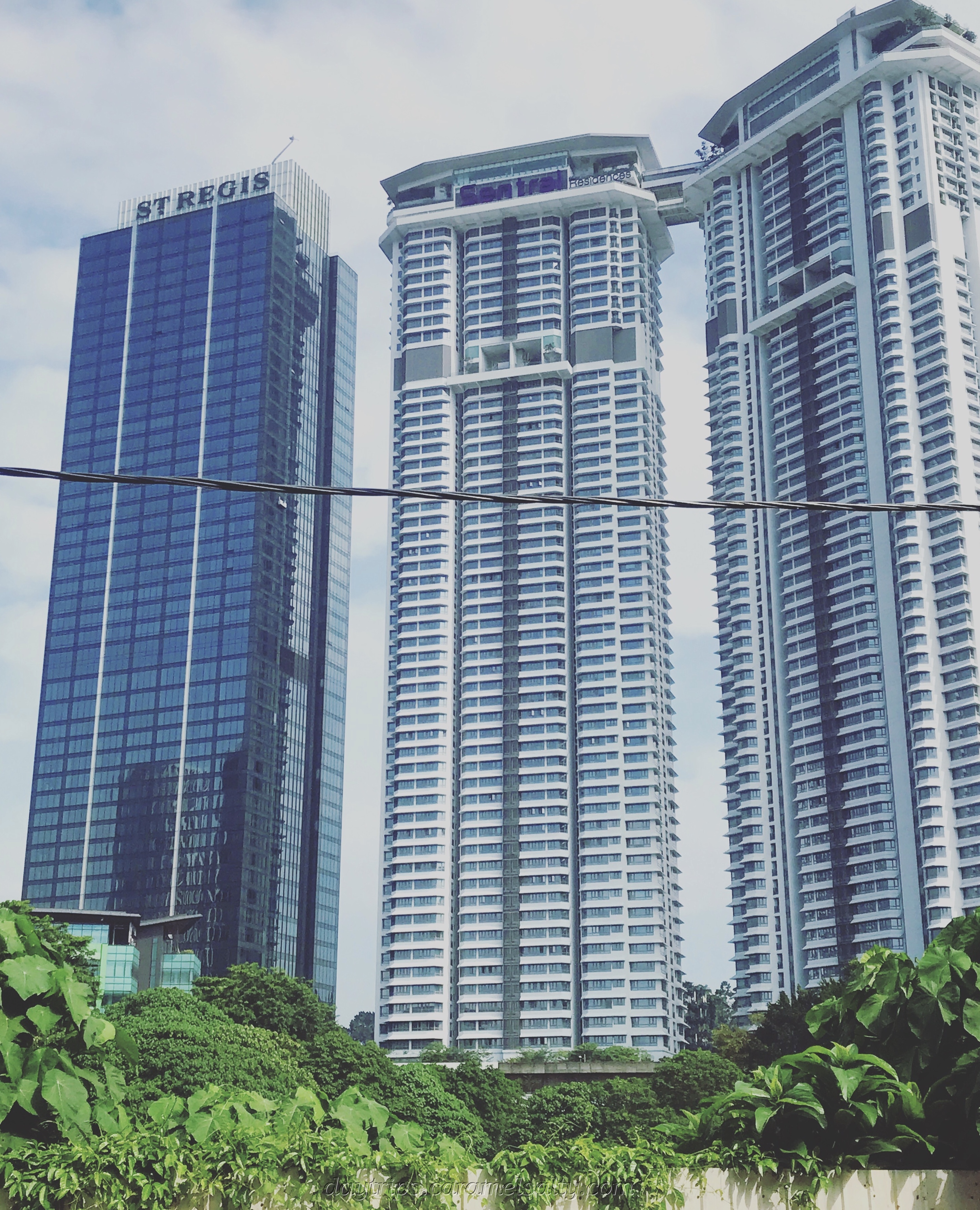 I'm on [11] Scott Road (Jalan Scott) which is a familiar street for the South Indian community because of its many temples. I reach the first of these after passing a couple of Chetinad restaurants. The Sri Maha Temple is currently undergoing renovation. This explains the stark white unpainted building and deities grouped around the centre.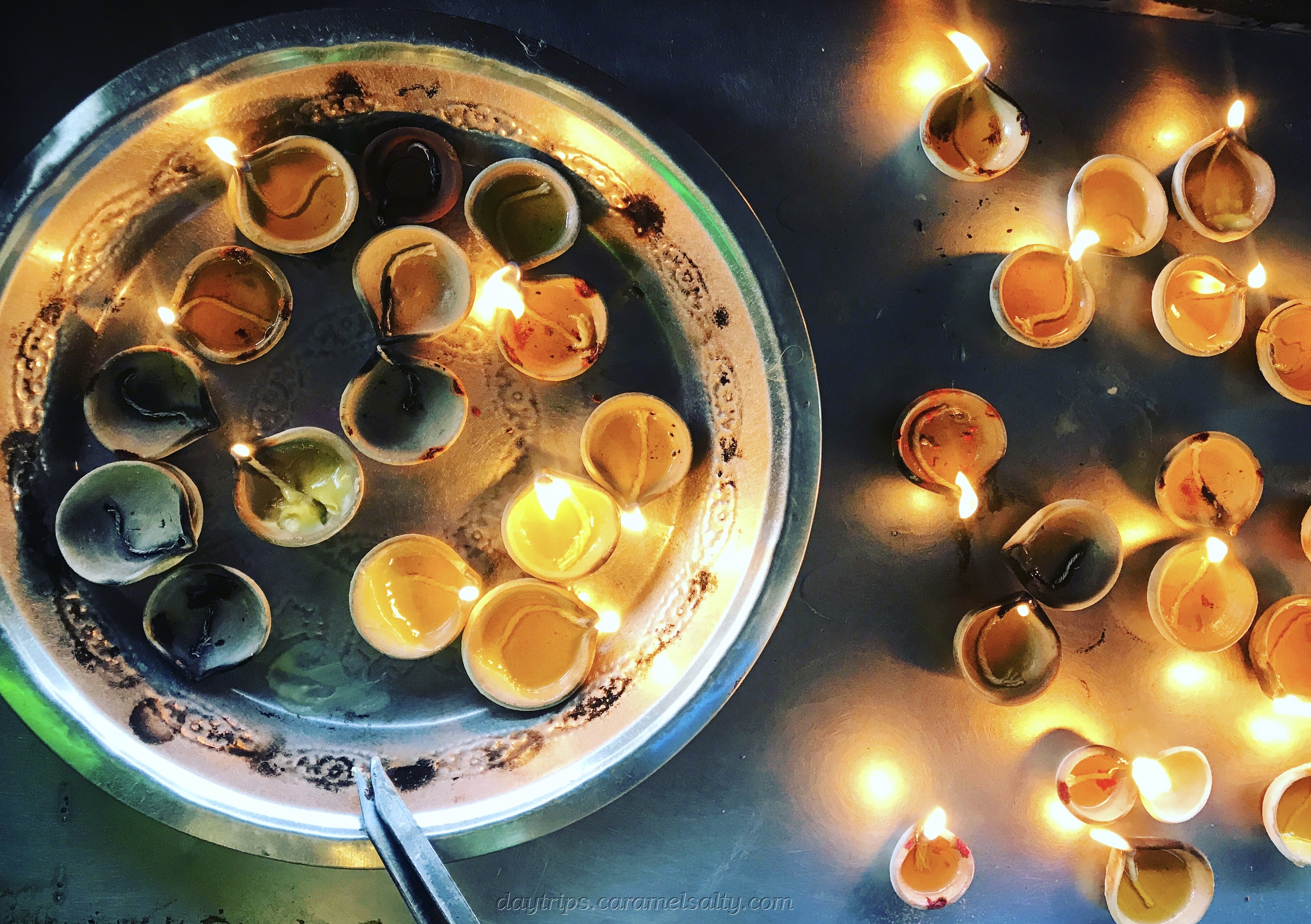 However around the side of the temple I find men preparing garlands of betel leaves and flowers. And of apples and oranges. And of green aromatic limes. As they sit cross-legged, these men are also stringing up necklaces of cooked chickpeas.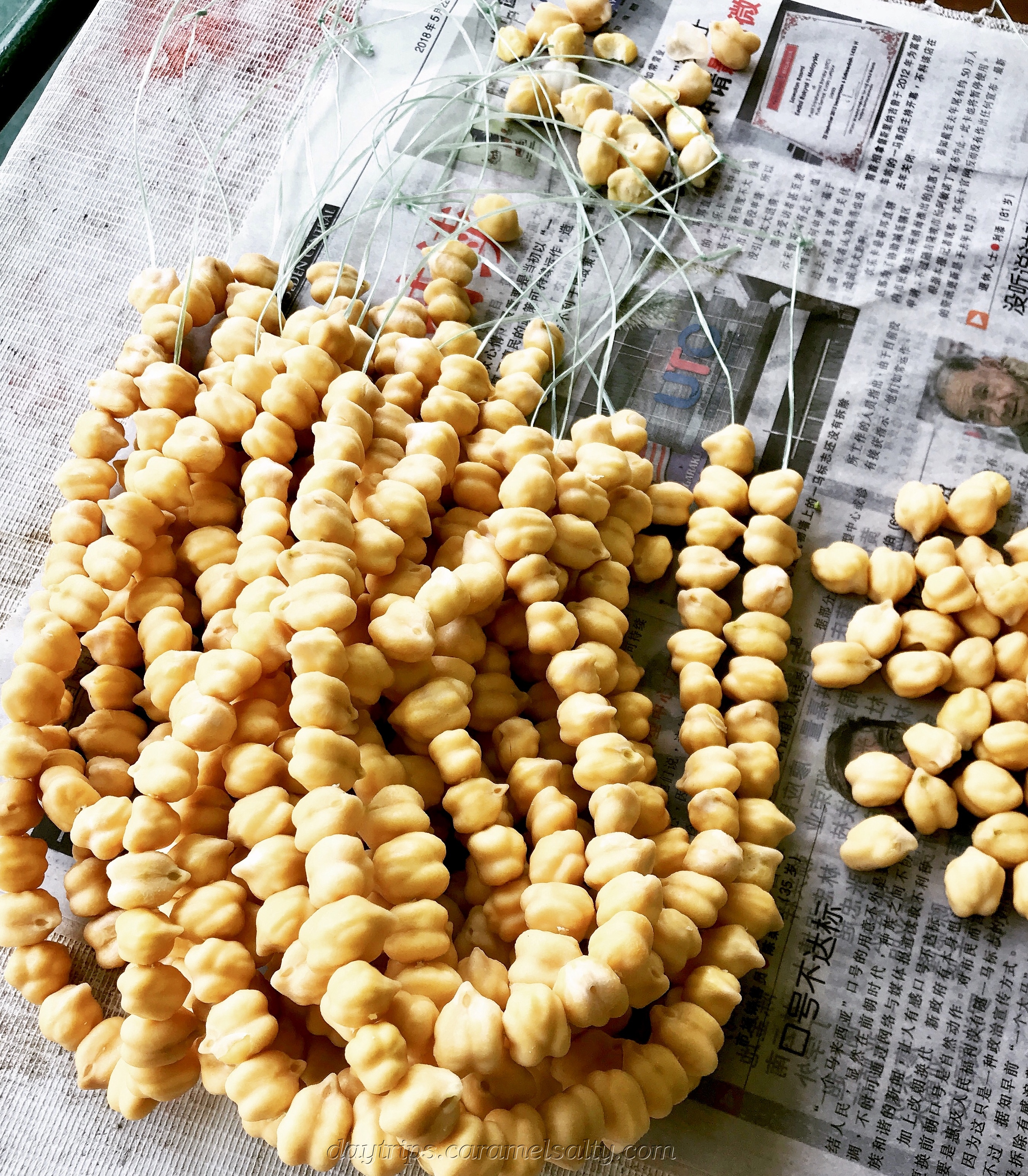 Next door is the [12] Sri Krishna temple. And true to its name, the blue statue of Lord Krishna, accompanied by garlanded cow, graces the outside. Behind tightly shut doors I can hear the boisterous music of the Nadaswaram and the Thavil (listen to it here) which always accompany South Indian ceremonies and weddings, reaching a loud frenzy to mark the climax.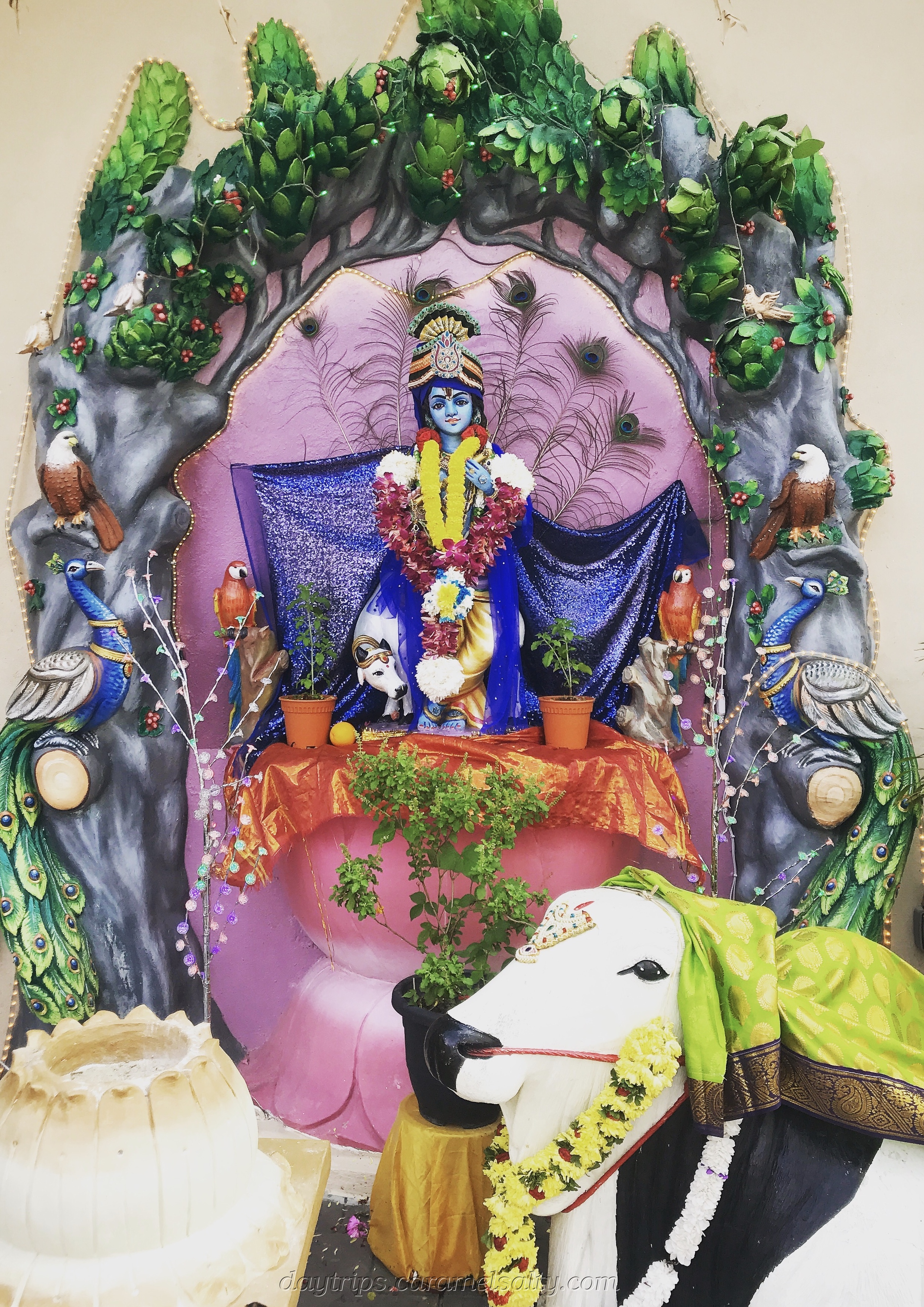 However, one temple has dominated my view all the time I've been on Scott Road. At the bottom of Scott Road is the long, peach, statue-studded gopuram of the century old [13] Sri Kandaswamy Hindu temple, said to resemble the Nallir Kandaswamy temple in Jaffna. And next door is the Kalamandapam, a popular wedding venue for Ceylonese Tamils.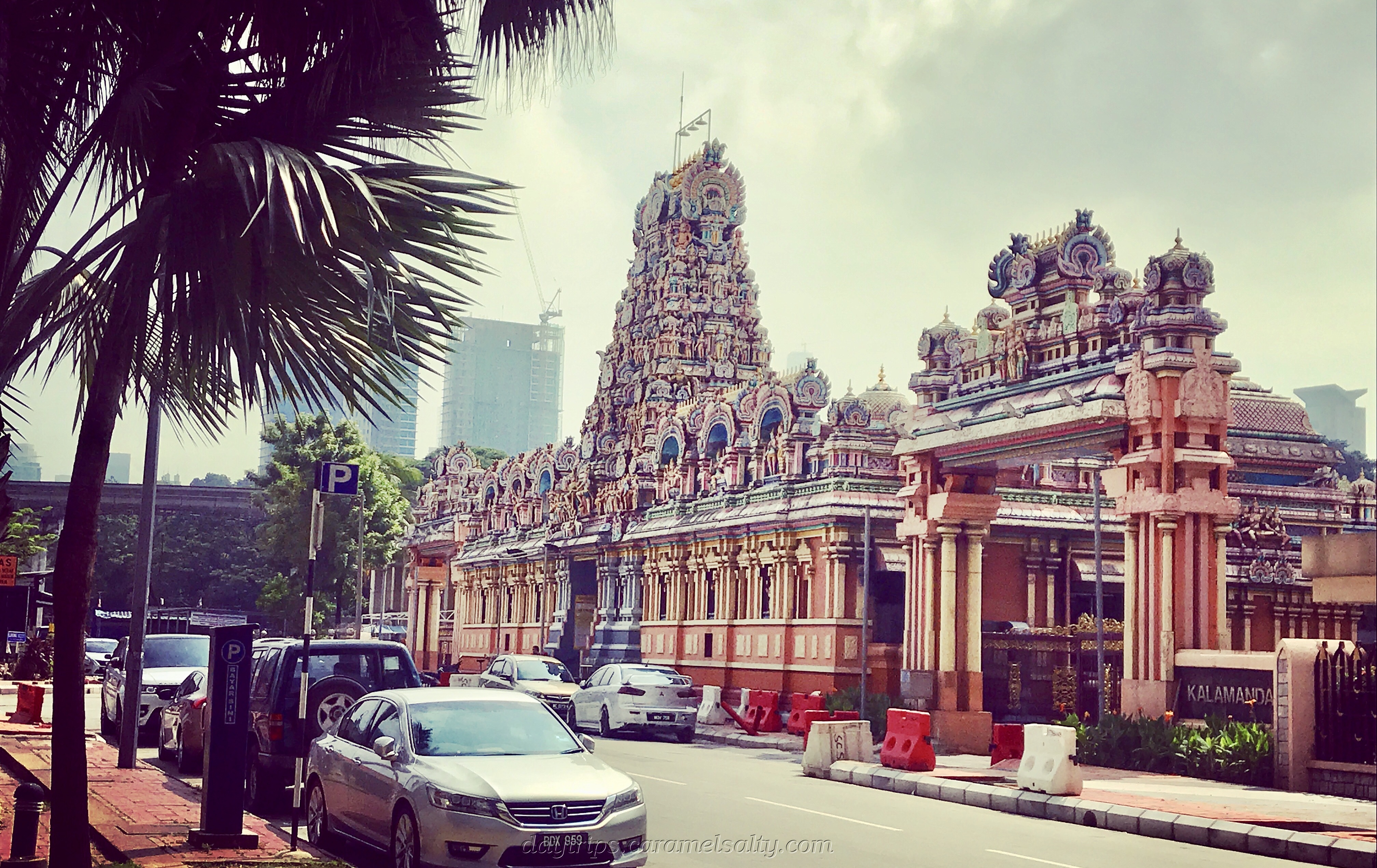 The concentration of Tamil temples in this vicinity stems back to when Sri Lankan workers were brought in by the British to work at the original railway station and rail administrative offices in Brickfields. Many of these Sri Lankans were Saivites who firmly believed that no one should live in a place bereft of temples.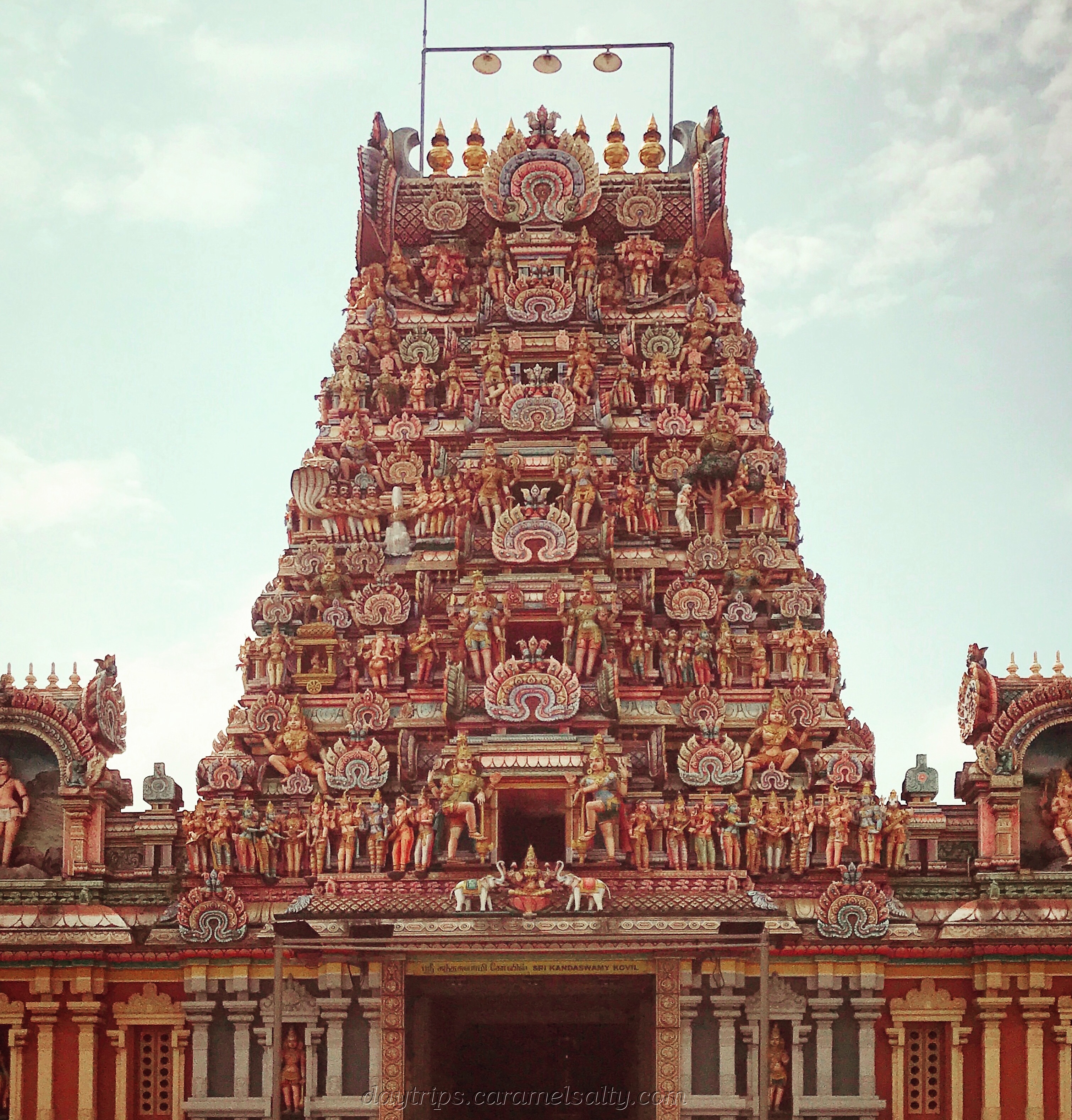 I'm now on [14] Jalan Tebing, which translates to the road along the edge (of the Klang River). However someone thinks that an open air car park should have prime location overlooking the river, rather than a hot and sweaty pedestrian on a walkway.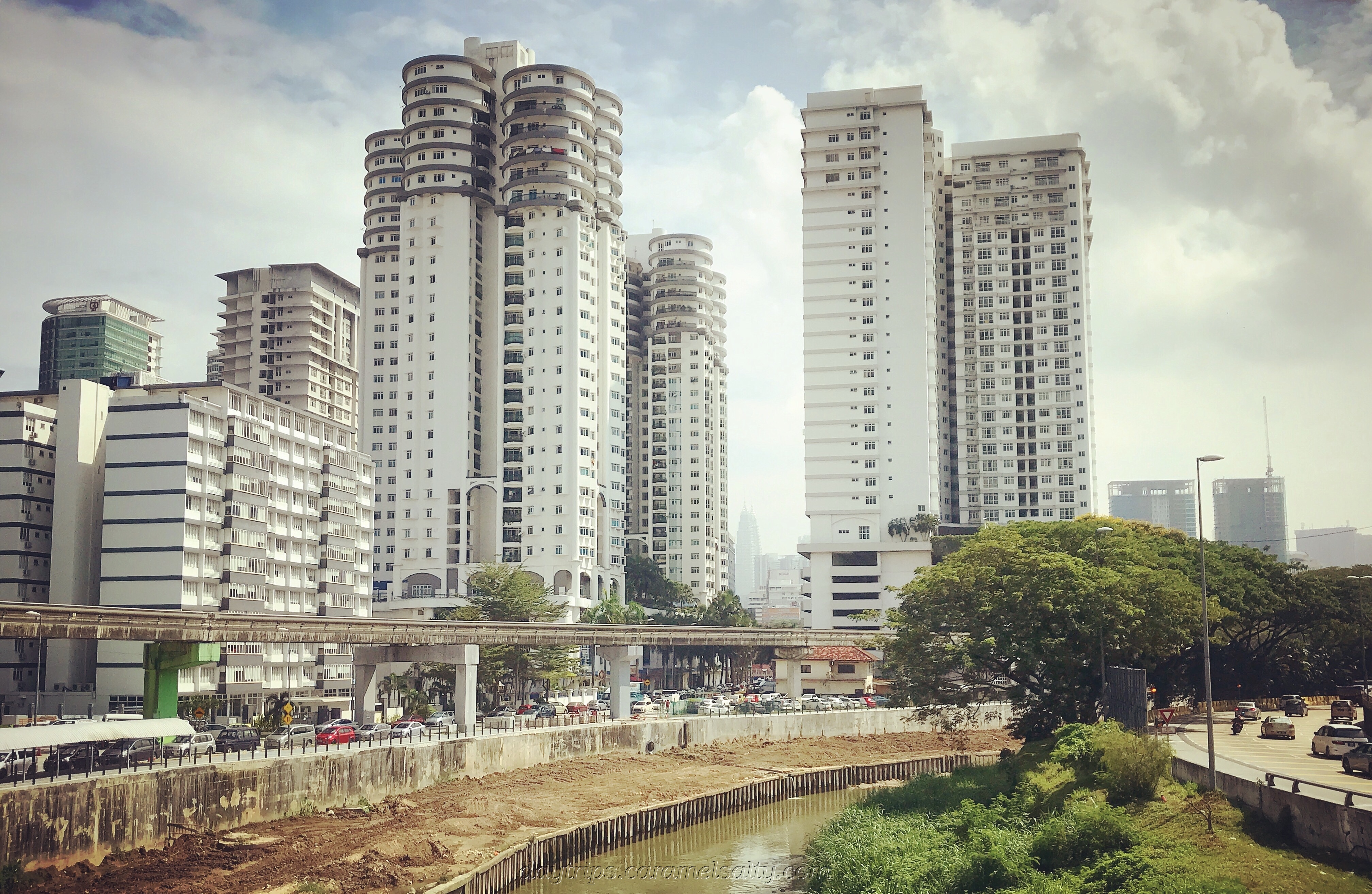 Half way along Jalan Tebing, I do stumble across a roofed walkway hugging the river. Hurrah !! However, my delight in escaping the scorching sun is short-lived as I come across brick paving work in progress. But I have a plan. Given the relaxed attitude to health and safety in Asia, I simply pick my way across the bricks and workers.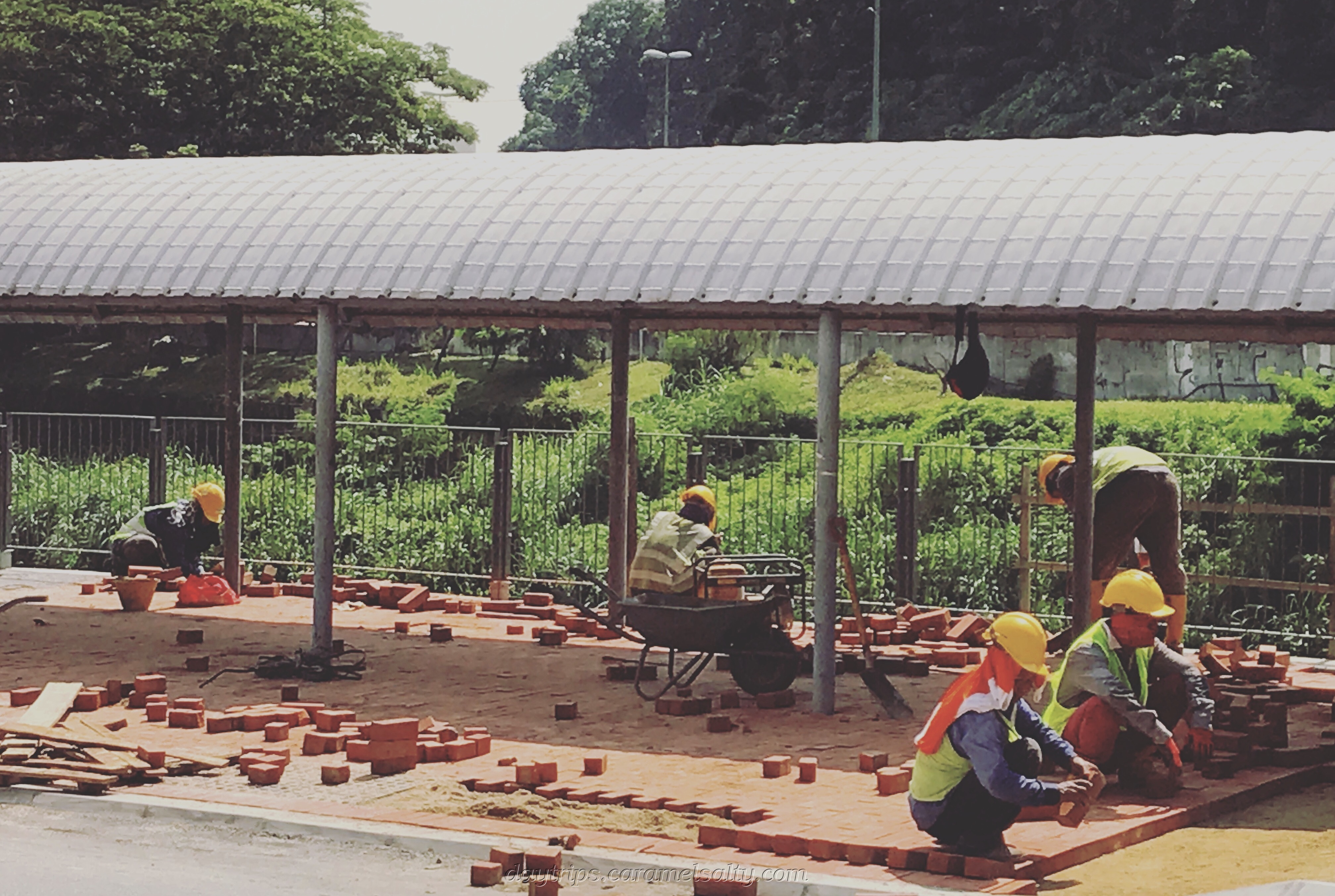 Talking of bricks ……… In 1881 Kuala Lumpur is hit by a massive flash flood which washes away many of the wooden, attap roofed buildings. The British administration in charge at the time, mandates that all new buildings must be built of stone. And so a certain Yap Ah Loy, a prominent Chinese leader, sets up a brick factory in this area. And hence Brickfields gets its name.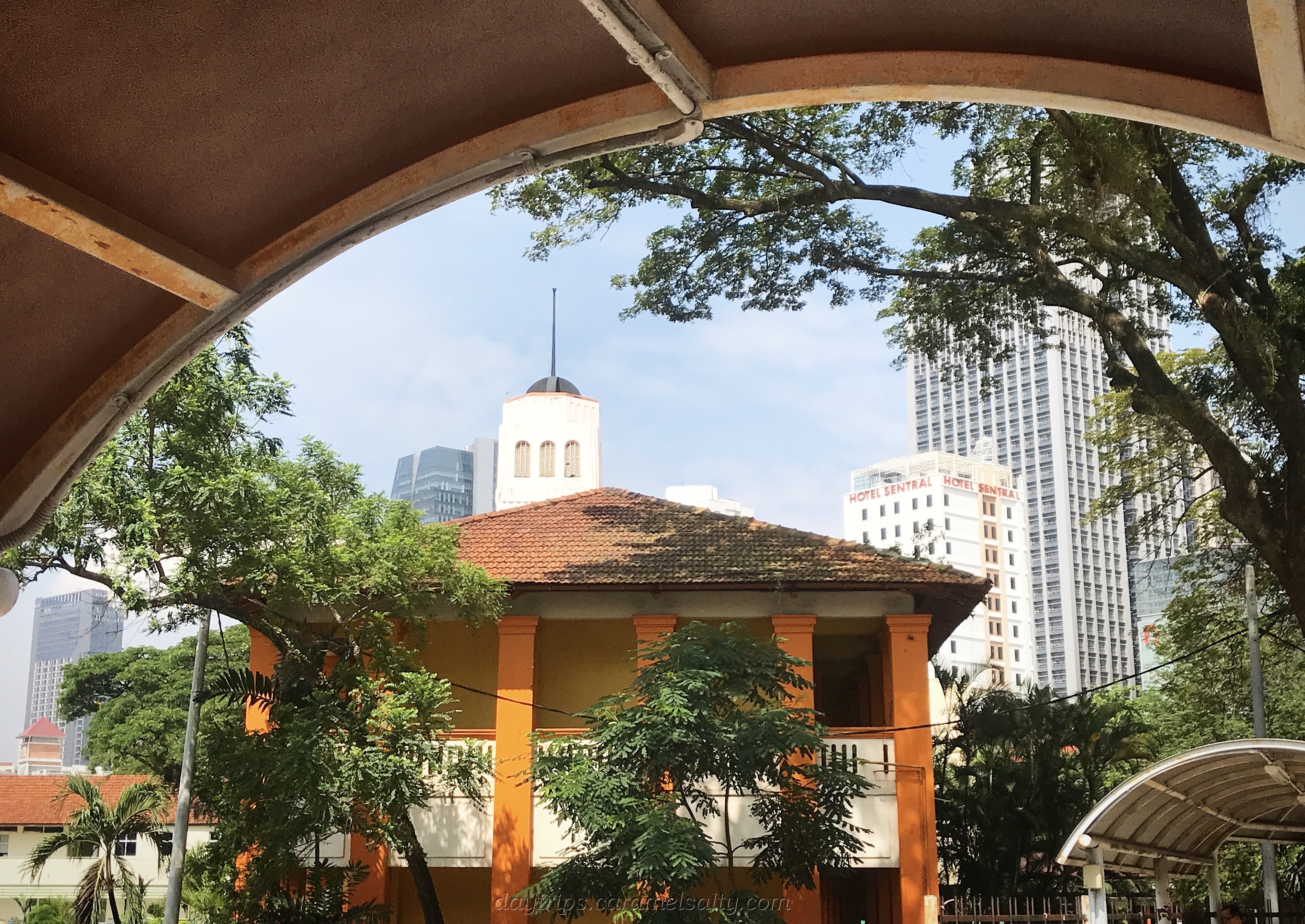 Jalan Tebing is also home to the [15] Malaysian Association for the Blind. Which explains the scores of blind people I have seen walking around, rather confidently, on their home turf. And the proliferation of massage centres run by the blind. Turning onto Jalan Sultan Abdul Samad, I come across the ornate [16] Temple of the Three Teachings, looking somewhat incongruous amongst the tall concrete blocks.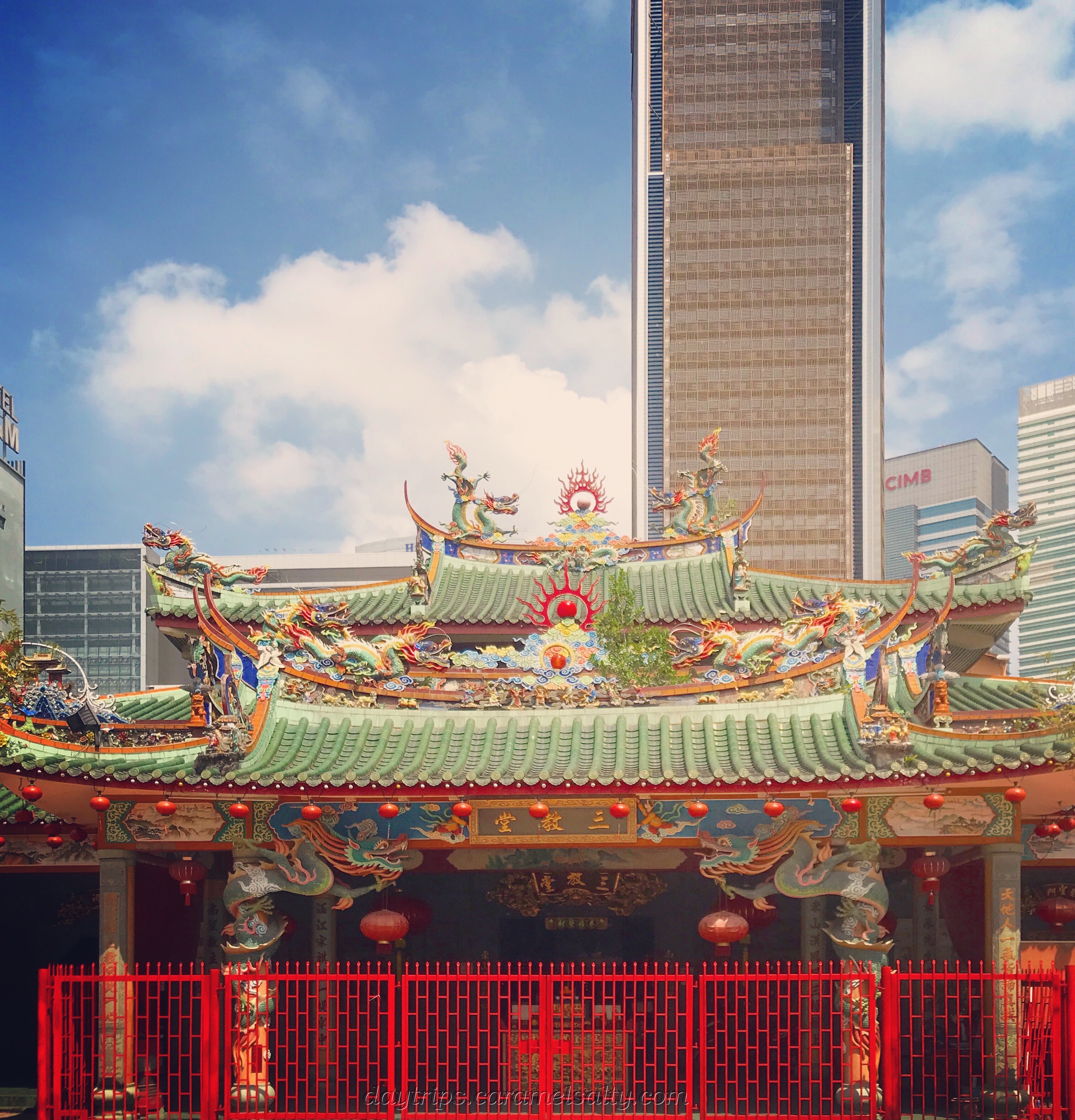 Just across the primary school on Jalan Sultan Abdul Samad, is a more humble Hindu temple. The tiny [17] Brickfields Shivan temple is built under the shadow of a large tree. In fact, a tree stump outside is converted into a shrine for devotees. Inside the dark temple, deities are illuminated by neon lights. A popular trend it would seem.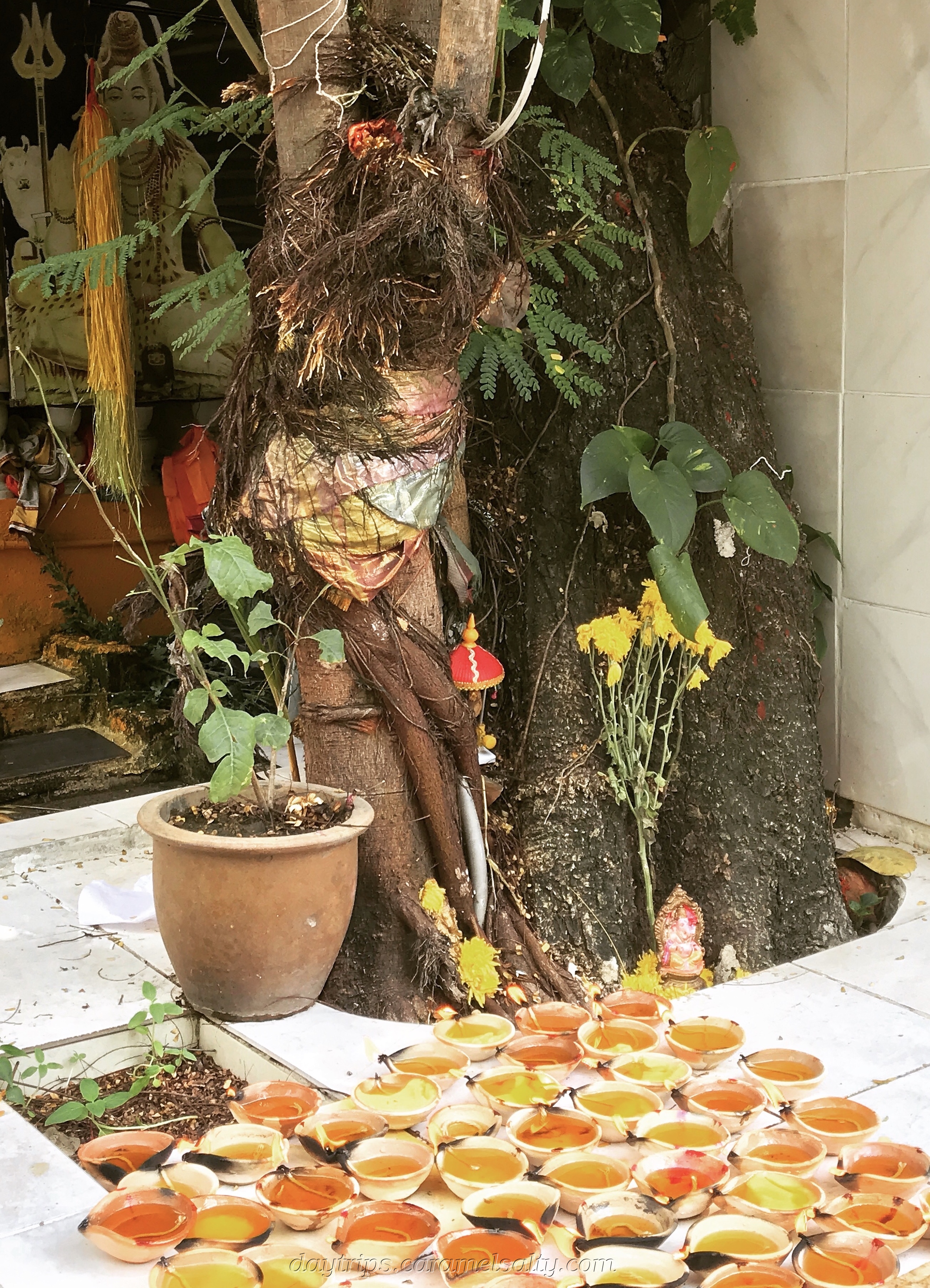 Just by the block of flats named  Palm Court, a pop up food stall has just set up. I smell freshly fried curry puffs, vadai ( an Indian savoury doughnut), chickpea patties and banana fritters. Cars are pulling up. Locals are making a beeline to it. Well, as they say, if in Rome ……..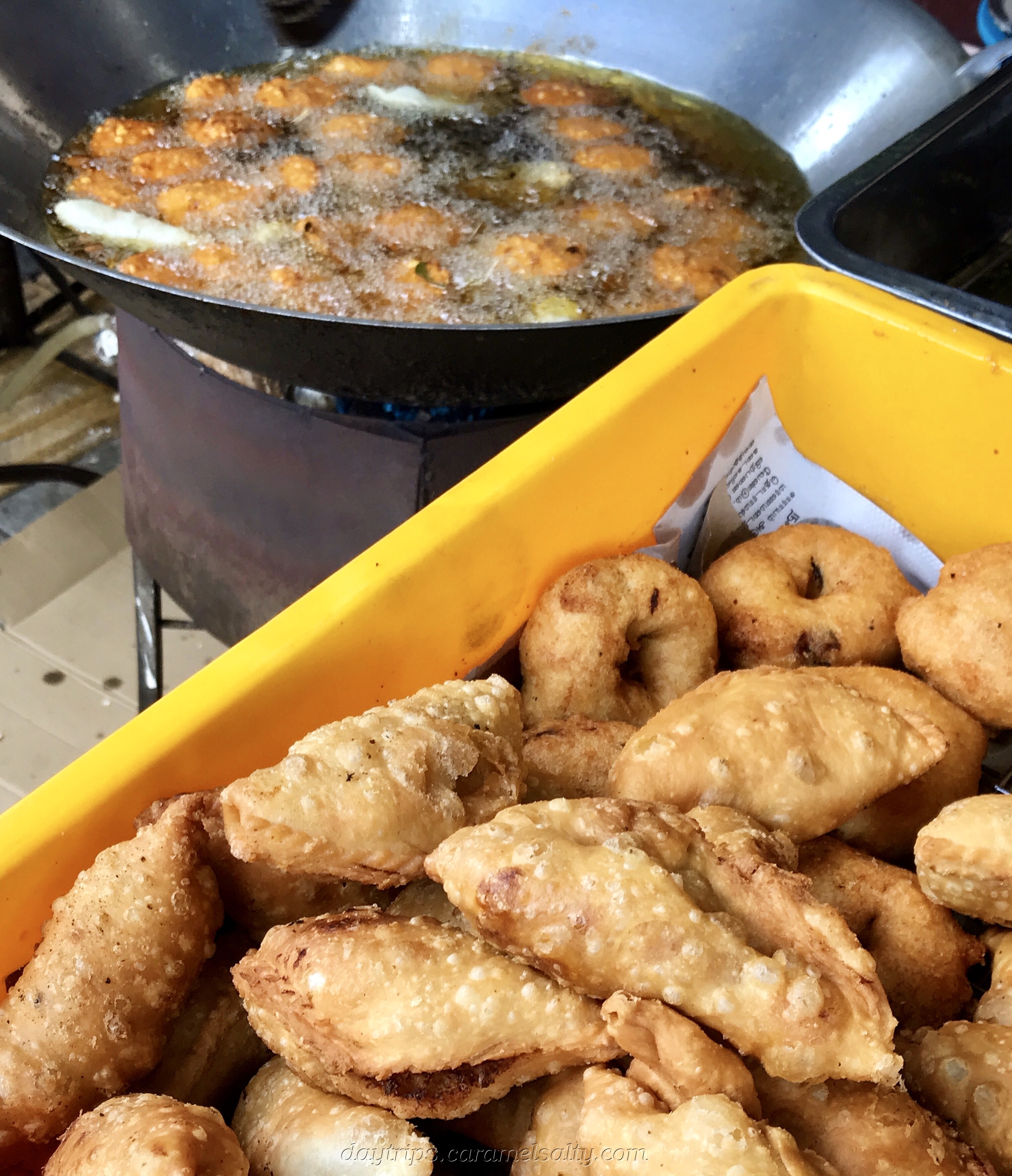 My walk along [18] Jalan Sultan Abdul Samad takes me past the Girl Guides Centre for Kuala Lumpur, the triangular 60s looking [19] Tamil Methodist Church and the European looking [20] Zion Cathedral Lutheran Church. I turn left into a quiet street to find the Buddhist [21] Maha Vihara. When I arrive , prayers are being led by a saffron robed monk.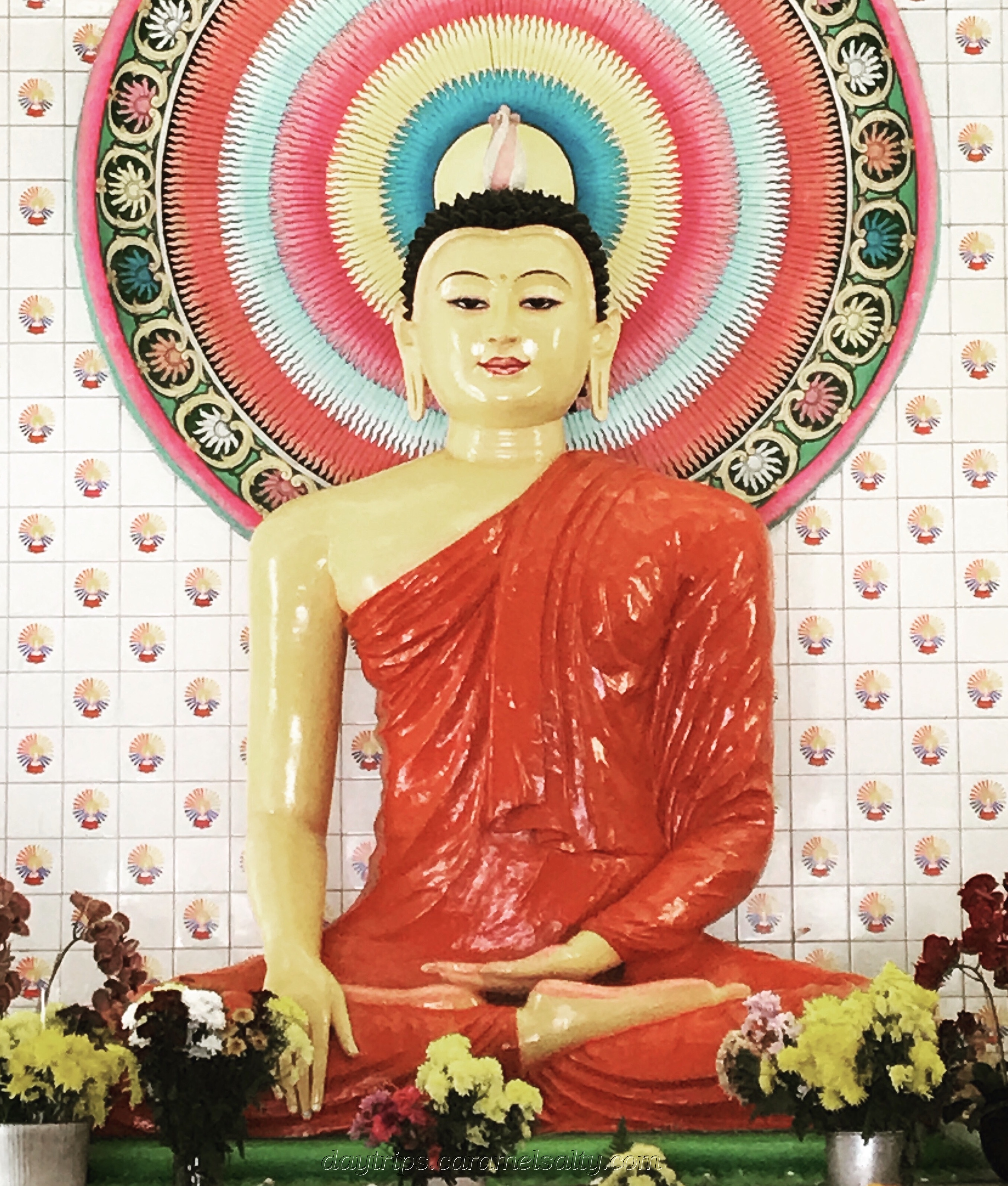 Round the corner is the [22] Temple of Fine Arts Centre. And then it's back towards Jalan Tun Sambanthan (previously Brickfields Road) for a late lunch. And to finish off, I can't resist a wander across to the [23] Brickfields Pisang Goreng stall for more freshly made fritters, popular with the dozens of school kids queuing up. A tasty finish to a cultural day out.
Other Related Blogs
Kuala Lumpur's Lake Gardens -can be explored from KL Sentral too.
How to Enjoy Brickfields
Alight at KL Sentral Station (a hub for trains and buses) and exit the complex towards Jalan Tun Sambanthan.
Kuala Lumpur Train Routes – map here.
Touch and Go Cards are accepted on all trains (cashless) and buses in Kuala Lumpur. These can be purchased at LRT Customer Services Kiosks. Credit can be topped up at LRT Customer Services Kiosk and supermarket outlets (e.g. Seven-Eleven, Mynews.com) for a small charge.
Bus Journeys – don't forget to tap out of the bus when disembarking.
Visiting temples – most are open from early morning till late. Entry is free (donation appreciated). Modest dressing (long attire) required. Shoes must be left outside. The Kandaswamy Hindu Temple is only open during service. Info here.
Tip  – There are a lot of eateries to choose from. Anywhere that seems popular with the locals is probably hygienic, reasonably priced and tasty.