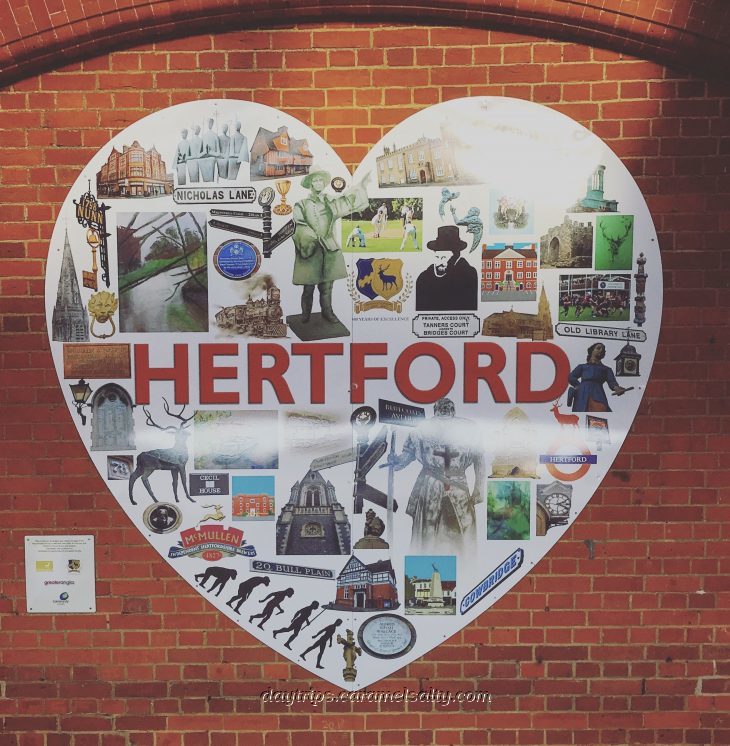 Hertford – The Story of the She Wolf
Edward the III banishes his mother, Queen Isabella, to Hertford Castle. Her treasonous crimes are to have taken on a lover, Roger Mortimer. And then to have plotted with Roger, to successfully overthrow her husband, King Edward II of England. When her son Edward III becomes King, he executes Roger. As for his mother, he sentences her to solitary confinement for the rest of her 27 years.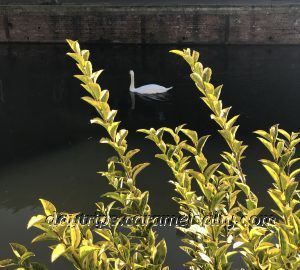 Start of Day: Liverpool Street Station, Zone One, London
Cost of Day Out: Moderate
History Content: High
My tour of [1] Hertford starts at the 17th century townhouse that houses [2] Hertford Museum and its Jacobean knotted garden. This little museum provides a taster of local history through the centuries, including a collection of post war household items. I find it rather sobering to see objects from my childhood rapidly joining the ranks of the pyramids in this fast changing world. I wonder what the Jacobeans knotting in the garden, would have made of it all?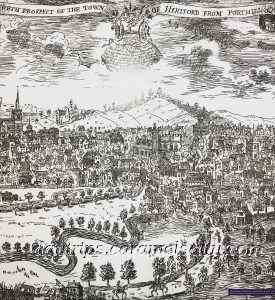 During the 20th century, towns like Hertford employ many townsfolk in local factories. One of them is Addis, the toothbrush maker. Its founder, William Addis, designs the first ever toothbrush from bone and boar hair after becoming quite fed up of cleaning his teeth with a rag whilst in prison. The Hertford factory may be shut today, but Addis still exists as the Wisdom brand, based out of Suffolk.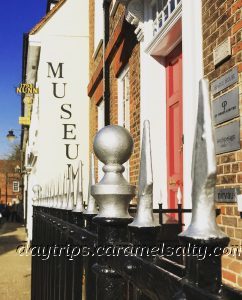 Cutting across [3] Hartham Common, I climb the hill featured in that old sketch at the museum. From my vantage point, I have pleasant views of the River Lea and Beane‌. In Anglo-Saxon times, the village of Hertford‌ was known as "Herutford", a place where deers, or "harts", grazed around fords. And there are no shortages of fords in Hertford, as the town lies at the confluence of 4 rivers – the Beane, the Rib, the Mimram and the Lea.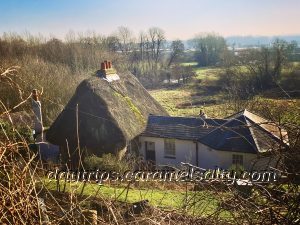 At the top of the hill is [4] St Leonard Church, in the parish of Bengeo. There is no doubt that this is the oldest building in Hertford. It is a Grade I listed Norman church, built around 1120 in honour of the French saint, St. Leonard, who dies around 559 AD. He is known as the saint of captives and pregnant women because of his association with various incidents during his lifetime.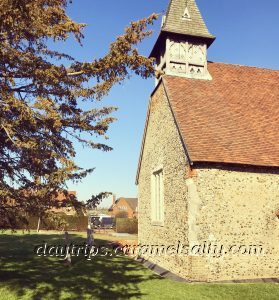 Back down in the town I wander around Hertford's mediaeval layout and its many timber-framed buildings with modern frontages. It is refreshing that its high street is not quite covered with the usual big chains. I fervently hope that Hertford is able to sustain this battle for the survival of independent shops. It is part of the charm of this little town.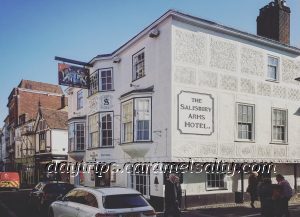 The Hertford Heritage Trail has around 40 points of interest within an easy walk around. One place of interest is the [5] Corn Exchange built in 1857, to develop the corn trade between Hertford and London that had begun as far back as the 16th century. Another old industry still in evidence, albeit on a much smaller scale today, are local breweries such as [6] McMullen and Sons.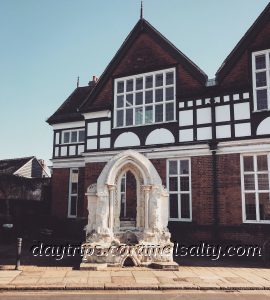 I think that the most mediaeval part of town is around [7] St Andrew's Street and [8] Cross Street, with its stock of older shop houses. In the little lanes behind the old timber frame library, I discover more old homes. Streets with names such as [9] Old Cross Wharf are clues that the [10] River Lea, which flows all the way into London, played an important role in its early history.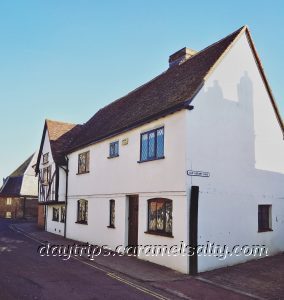 On nearby [11] Mill Bridge, I come across Reverend Samuel Stone. This Puritan, who, like the others suppressed by the Crown, sails across to America in 1633 to promote his beliefs of a purer, simpler, less ceremonious religion. He befriends a local Red Indian community and sets up a Puritan colony. He names this settlement Hartford, after his birth town.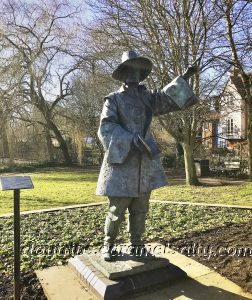 The Domesday Book of 1086 mentions Hertford's 2 markets, 3 mills and 2 churches, but not of its castle. Did the Normans, England's master castle builders, not consider Hertford's existing motte and bailey (what's one of those?) worthy enough, despite William the Conqueror gifting it to one of his many faithful followers, Peter de Valoignes, 20 years earlier?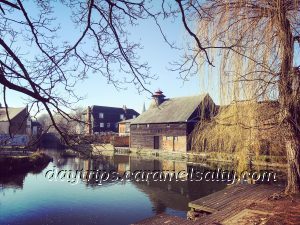 The castle would have contained some Hertfordshire puddingstone‌. This "pudding" is an extremely hard stone of smooth, black-rimmed, red-stained pebbles cemented together 55 million years ago. I skim read its geological origins, favouring its fascinating folklore instead. A lump at one's door warded away evil. One over a coffin trapped the witch in it. And if a pebble was thrown to the ground, it produced more puddingstones‌ !!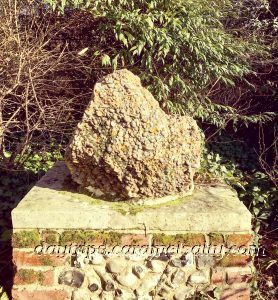 The building called [12] Hertford Castle is actually its old gatehouse. The castle is demolished in the early 1600s due its poor state of repairs. But its rich history of owners, conquerors and prisoners suggest an area entwined with many of England's civil wars and royal comings and goings. One person who is first its owner, and then its prisoner, is Queen Isabella.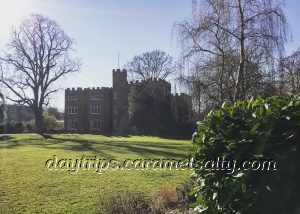 So back to Isabella, Edward and Piers. When the 14 year old Princess arrives in England, she is greeted by her betrothed, the 23 year old Edward II, and his courtier, Piers Gaveston. But she is perturbed, for Piers wears on him, jewellery from the dowry her father had sent. When she eventually discovers that Piers is her husband's lover, she must have felt like a Queen betrayed.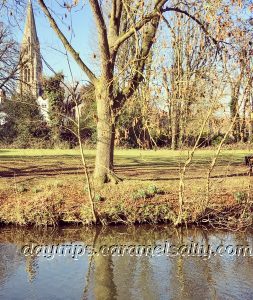 During an uprising of noblemen, Piers head is paraded on a ladder. With the King's lover now dead, things thaw between Edward and Isabella. She bears him the heir to the throne. But the marital peace doesn't last. Edward takes on a new lover in Hugh Despenser. The livid Isabella returns to France on the pretext of smoothing tensions with her brother, the King of France. It is in France that she takes on a lover and plots.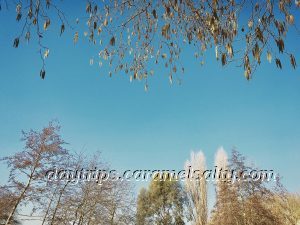 With the support of the English nobles, Isabella successfully invades and overthrows Edward II in 1327. She rules England with Roger. The ex-King dies under suspicious circumstances. However, the story of a red hot poker up his you-know-what, may actually be an urban myth. This is why Edward executes Roger, despite Isabella's pleas. And then banishes her from court. Hertford Castle becomes her prison for a while during this time.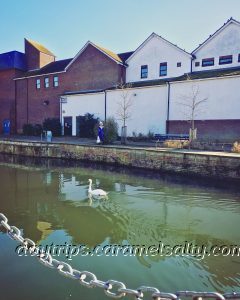 Hertford Castle has been prison to many, and as I return to [13] Hertford Station I reflect on some of them. Take King John of France, for example. He is a captive of the 100 Years War. When he turns up, he has with him an entourage of servants, pets, carriages of clothes and valuables. He obviously wasn't taking his prisoner status very seriously!! Nor very humbly.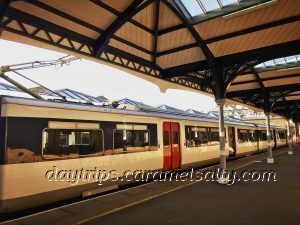 On the train back, I mull over Isabella's caricature as a cruel, vengeful She Wolf, first portrayed by a 16th century writer. In her defence, this rejected princess had plenty of reasons to be upset. As for her portrayal in Braveheart, it is totally off piste. William Wallace is only born 20 years after her death. So she could never have met him, let alone have liaisons with him!!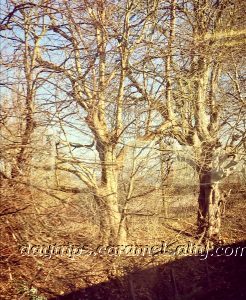 So what next for Hertford? I think the River Lea has stories to tell. So a walk along the river has to be on the agenda.
Other Related Blogs
Some Handy Information For a Trip To Hertford
Tube Map and City Mapper are free apps that provide London maps, route planner and train/ bus times from your nearest stop.
Only Oyster Cards, purchased at stations, or

contactless

cards are acceptable on Transport for London (TFL).

Contactless

/Oyster card travel is possible to Hertford East with TFL (fare finder website). Remember to compare fares with Trainline who also travel there.
Hertford Heritage Trail – PDF available here.
Hertford Museum (website) – closed Sunday and Monday. Free Entry.
St Leonard's Church (website) – is only open a few hours in the weekend during the summer. For times, see here.
Hertford Castle is not open to the public except during

organised

events. This website lists all events in Hertford.