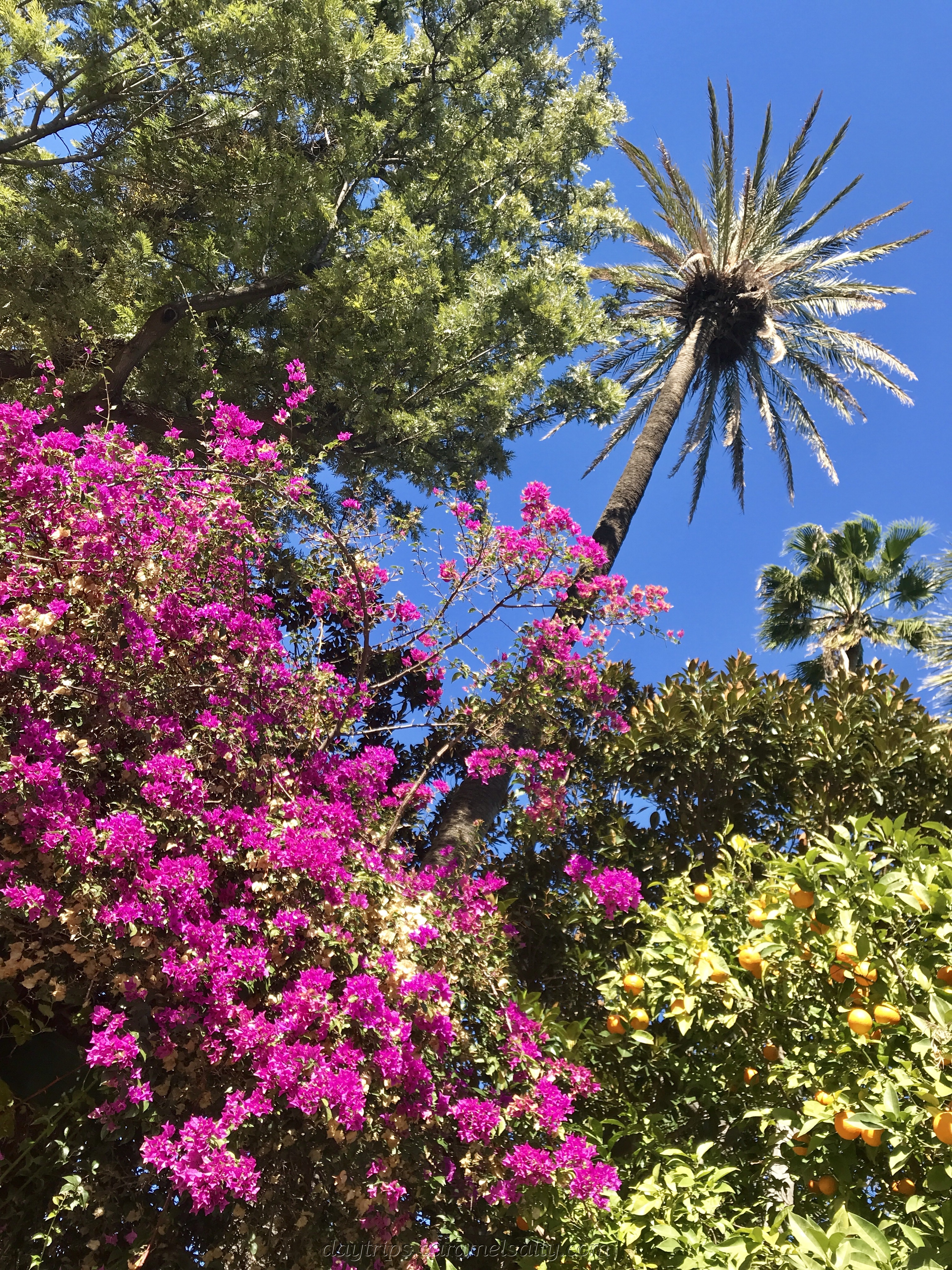 Cádiz – A Unique Story Of Colonies, Merchants and Towers (£)
I'm back in Cádiz for the 3rd day to find out more about the merchants of Cádiz. In Greek mythology, Cádiz is said to be the island of Erytheia. Today, it's connected to the rest of Spain by a very narrow isthmus. I'm in luck. A train track traverses this isthmus.
Start of Day Trip: Estación tren Puerto Santa Maria.
As I depart, it's still too dark to make anything out. But when my view is no longer hindered by man-made edifices, I know that I'm on the isthmus. It's so narrow, that there's only room for a train track and a road.  The marshy land on either side, and the sea beyond, become the palette that reflects the hues of the rising sun. Just magical.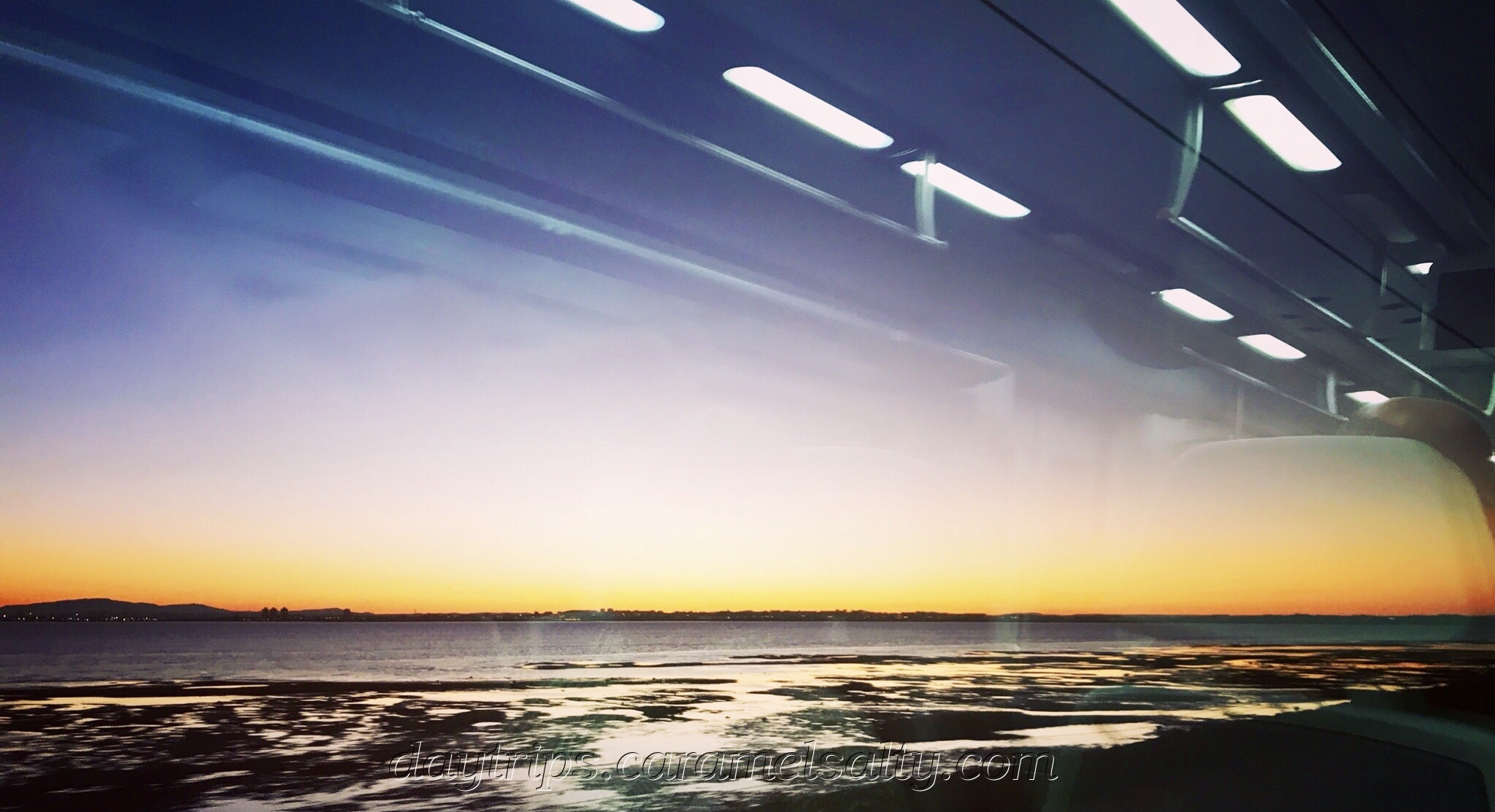 From the Cádiz ADIF-RENFE train station, I head to Plaza San Juan de Dios with its Ayuntamiento bathed in a lovely sunrise pale pink. But its Calle Nueva I'm after, a (very) commercial street, just off the square. Unsurprisingly, it leads me to a church. The plain exterior of St. Augustine Parish belies a beautiful interior.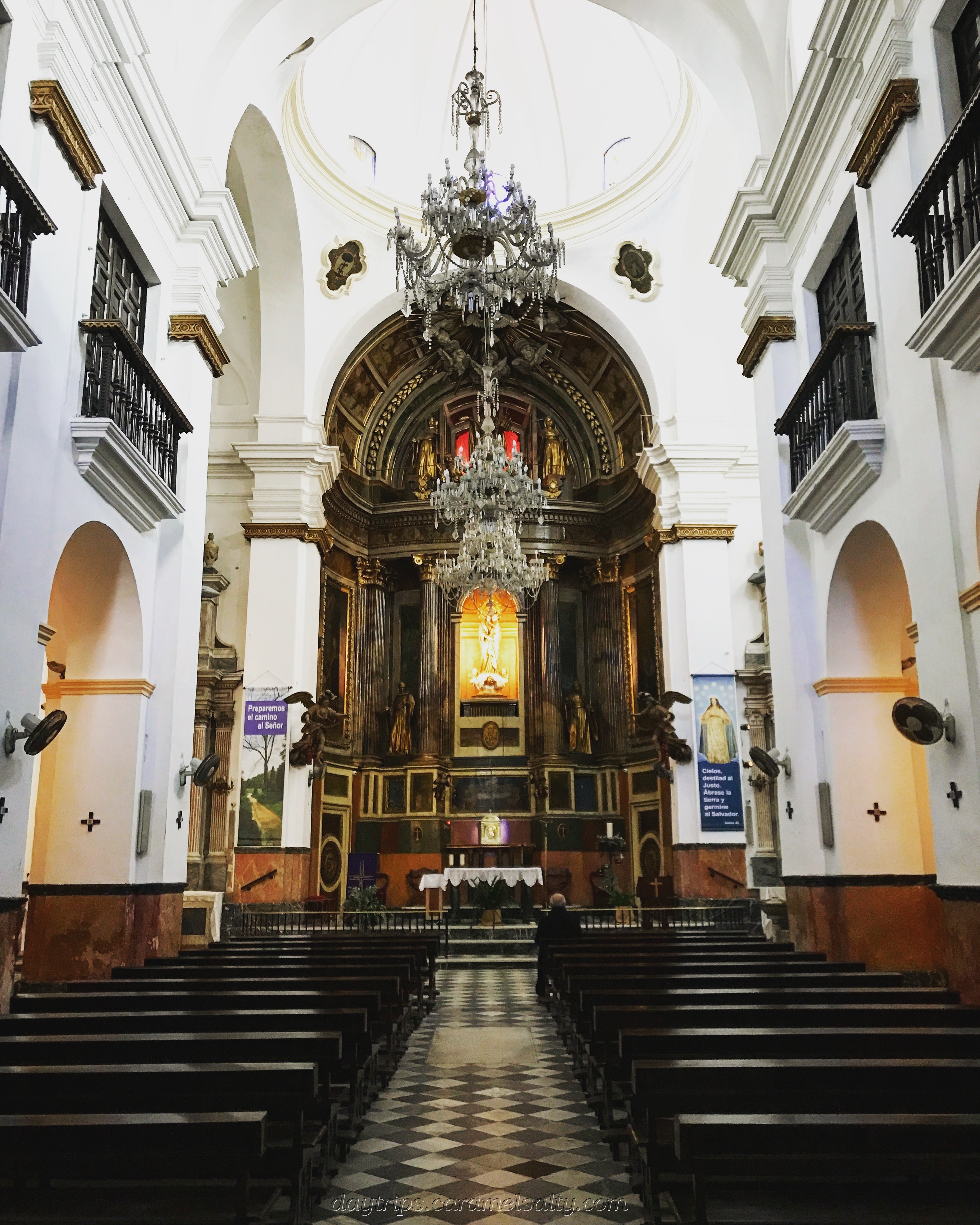 I kick the day off with some history at the Plaza Espana and its grand Monument to the Constitution of 1812. In March of the same year, Napoleon's troops are besieging Cadiz. Fearful of not being able to hold out, this constitution was drawn up to try and protect the fundamental rights of the Spanish people.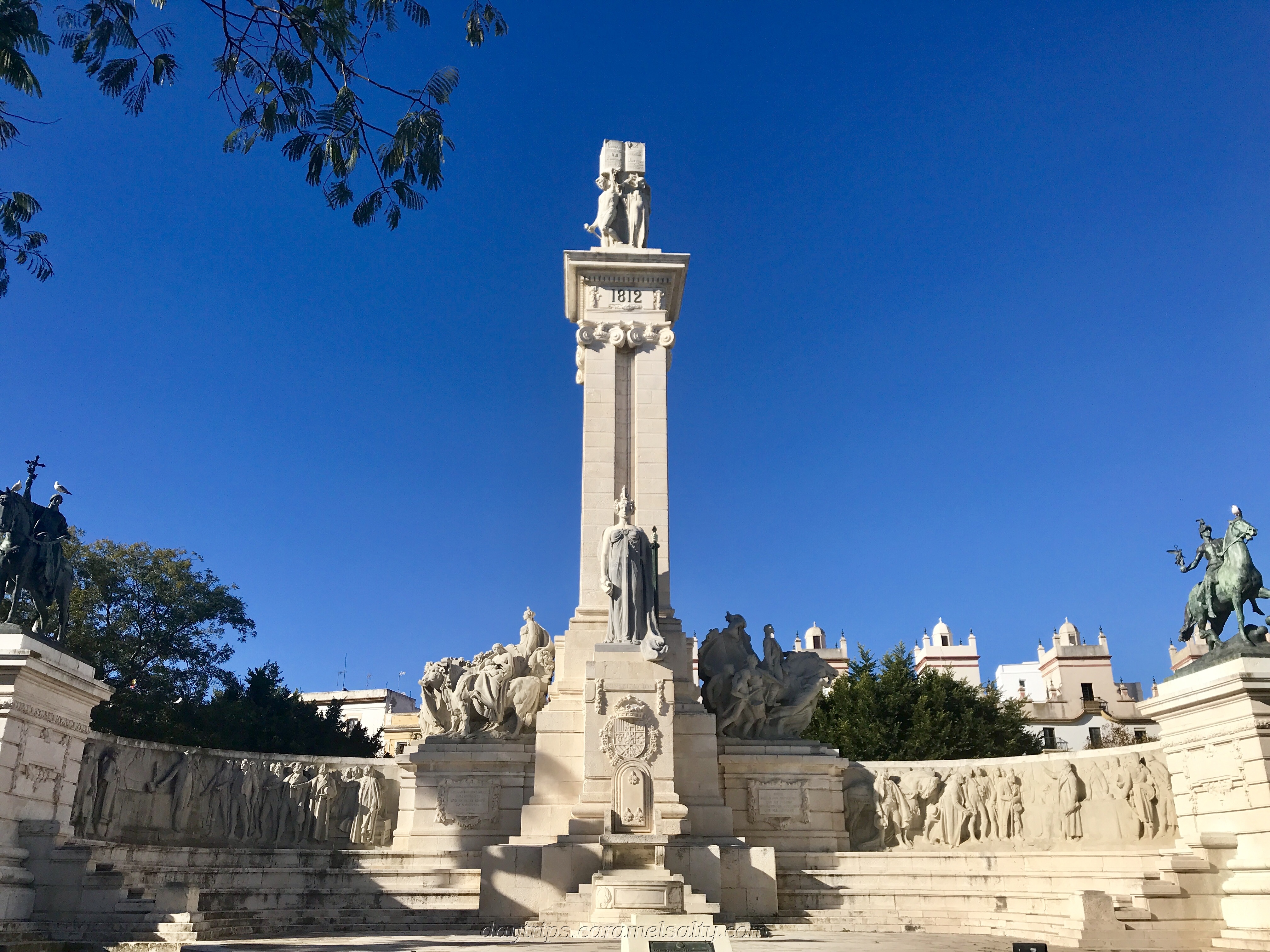 Just behind the plaza, I locate two grand 18th century houses, Casa de Los Cinco Torres and Casa de Los Cuatro Torres, once owned by prosperous merchants whose ships plied the profitable West Indies trade route. Of the two, Casa de Los Cuatro Torres (built by the Syrian merchant, Juan de Fragela) with its red almagra finish is more charming. Which proves that it's not always quantity that counts.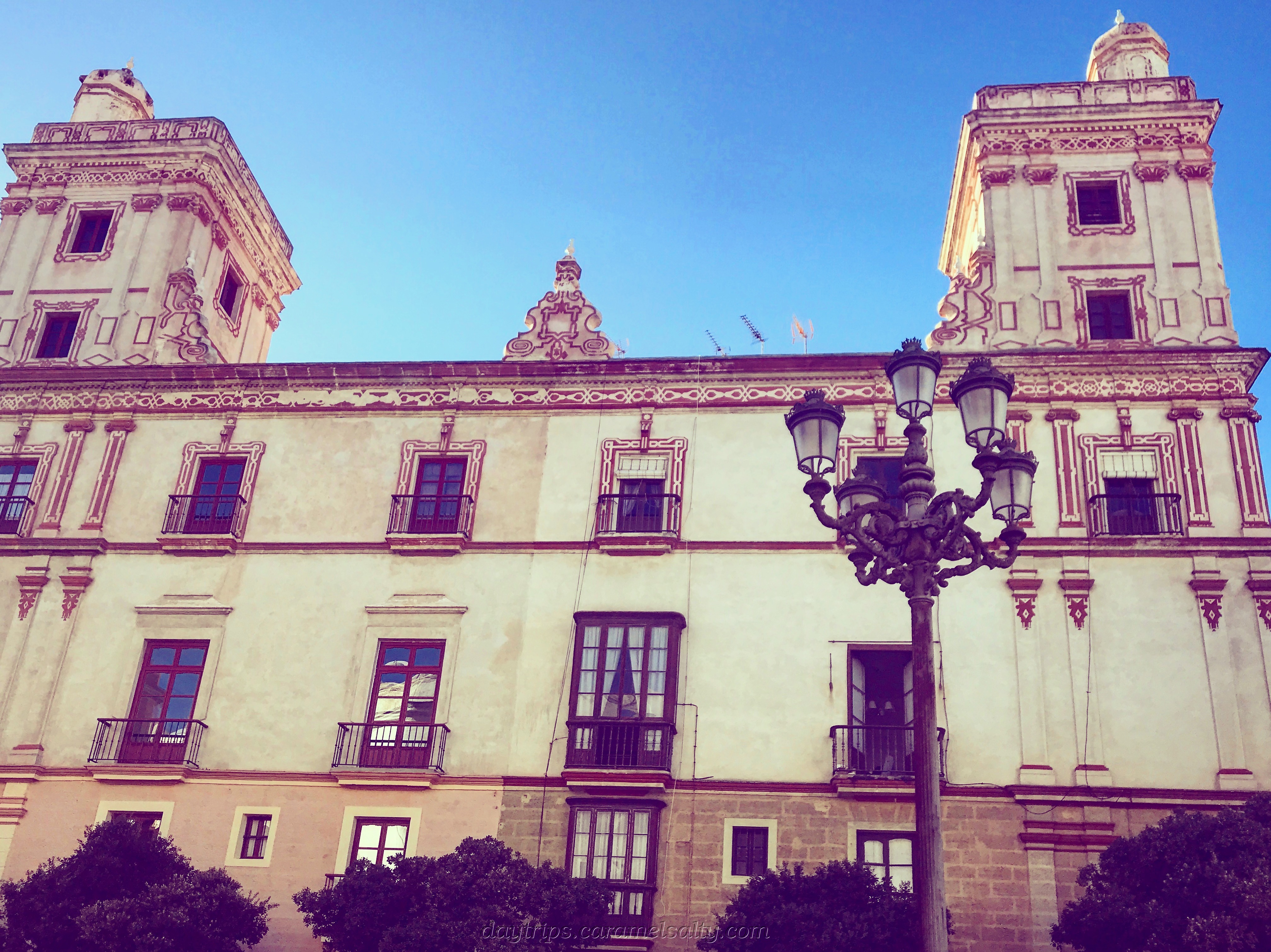 The Monumento a Francisco de Miranda, just by Casa de Los Cuatro Torres is a reminder of Spain's colonisation of South America. Miranda, a Venezuelan revolutionary, paved the way for the independence of the Americas (read more here.) However, I'm intrigued that a man in such circles, ends up marrying an English wife from the little town of Market Weighton, Yorkshire.
From here,  I make my way to Murallas de San Carlos, a defensive wall, complete with canons pointing out to sea. But this one has the added advantage of the elevated perspective I get of the elegant buildings (presumably 18th century merchant houses) alongside it.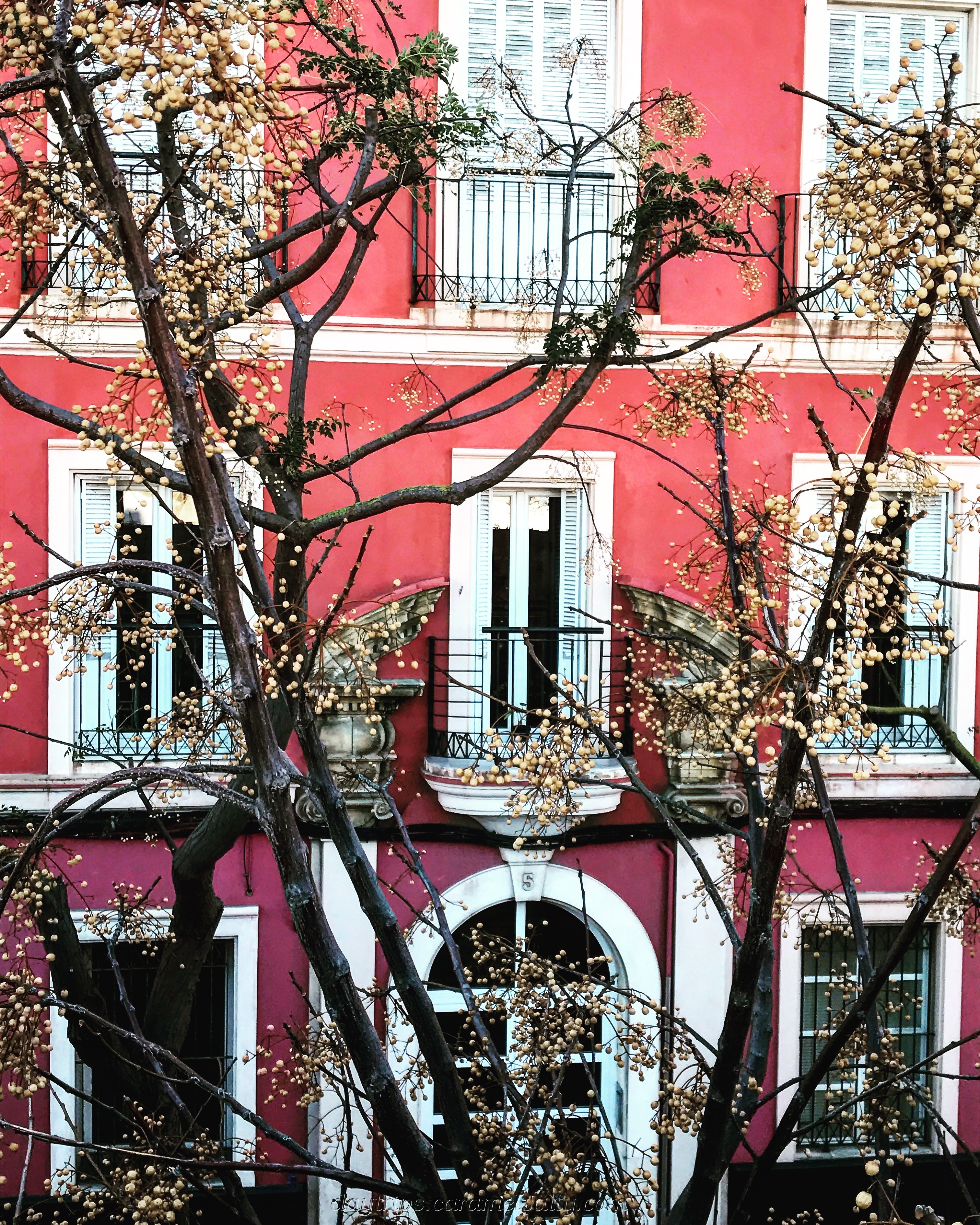 Next I take a short stroll along Calle Honduras, along the Bay of Cádiz, before diving back into the city to the leafy, tree-lined Plaza Mina and the excellent Museo de Cádiz. Somebody had a brainwave of combining modern art with archaeology in the same exhibition space. It certainly kept my attention through what can be a dry subject matter for me. And in the fine art section, I savour their pride, a set of canvasses by Zurbaran.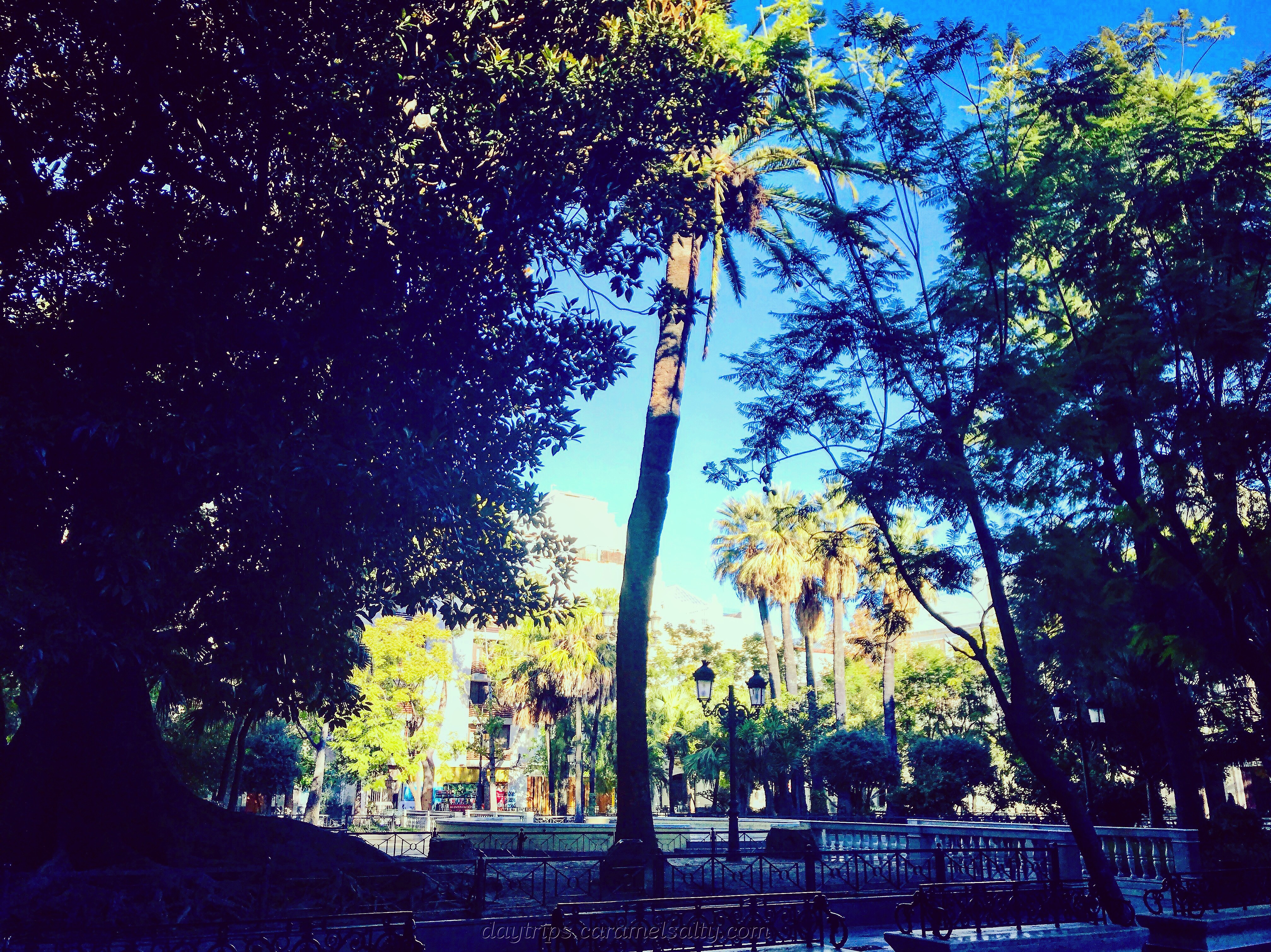 After this, I wander across to the elegant Plaza San Francisco, with a hotel of the same name and a striking white church. Just round the corner is Casa Antonio. I snack on their very excellent tortillita de camarones. It's the best I've tasted in Cádiz thus far.
Back again at Calle Honduras, I walk along Parque Alameda de Apodaca, an appealing formal garden with a grand sea view. I have a choice of walking amongst the shade of the foliage or along the elegant sun beaten balustrade walkway. I make sure I don't miss the two largest ficus trees I've ever seen.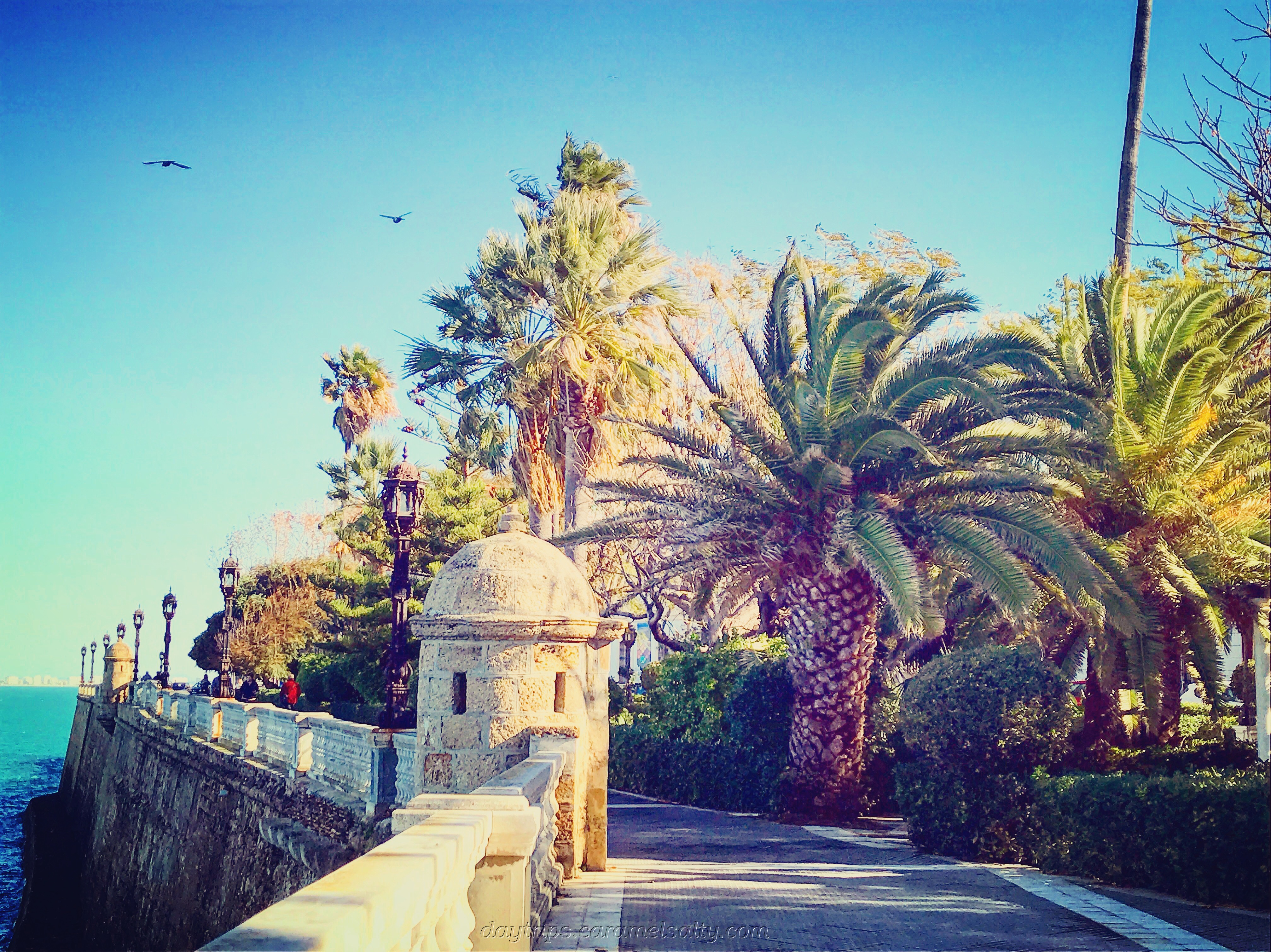 On exiting the Alameda, I chance upon the candy pink Cádiz del Carmen.  As it's open, I nip in to admire the contrasting gilded dark wood altar and the austere black and white ceiling.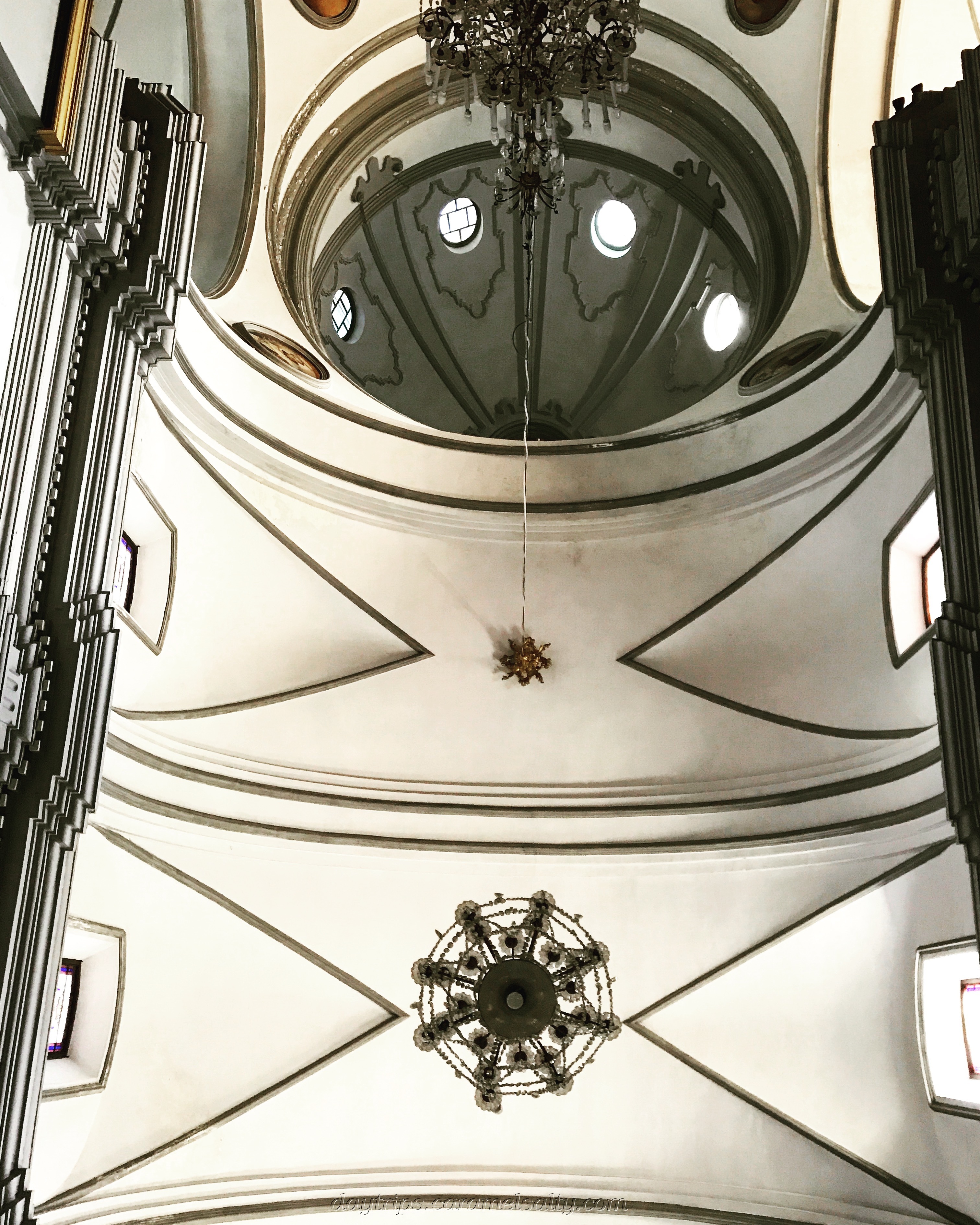 Directly across the street is the Baluarte de la Candelaria, another 17th century bastion. At first, it seems an uninspiring tourist attraction. Then I find its rather unique exhibition space. The area along the bulwark is now a covered curved corridor with a lookout to sea in every room.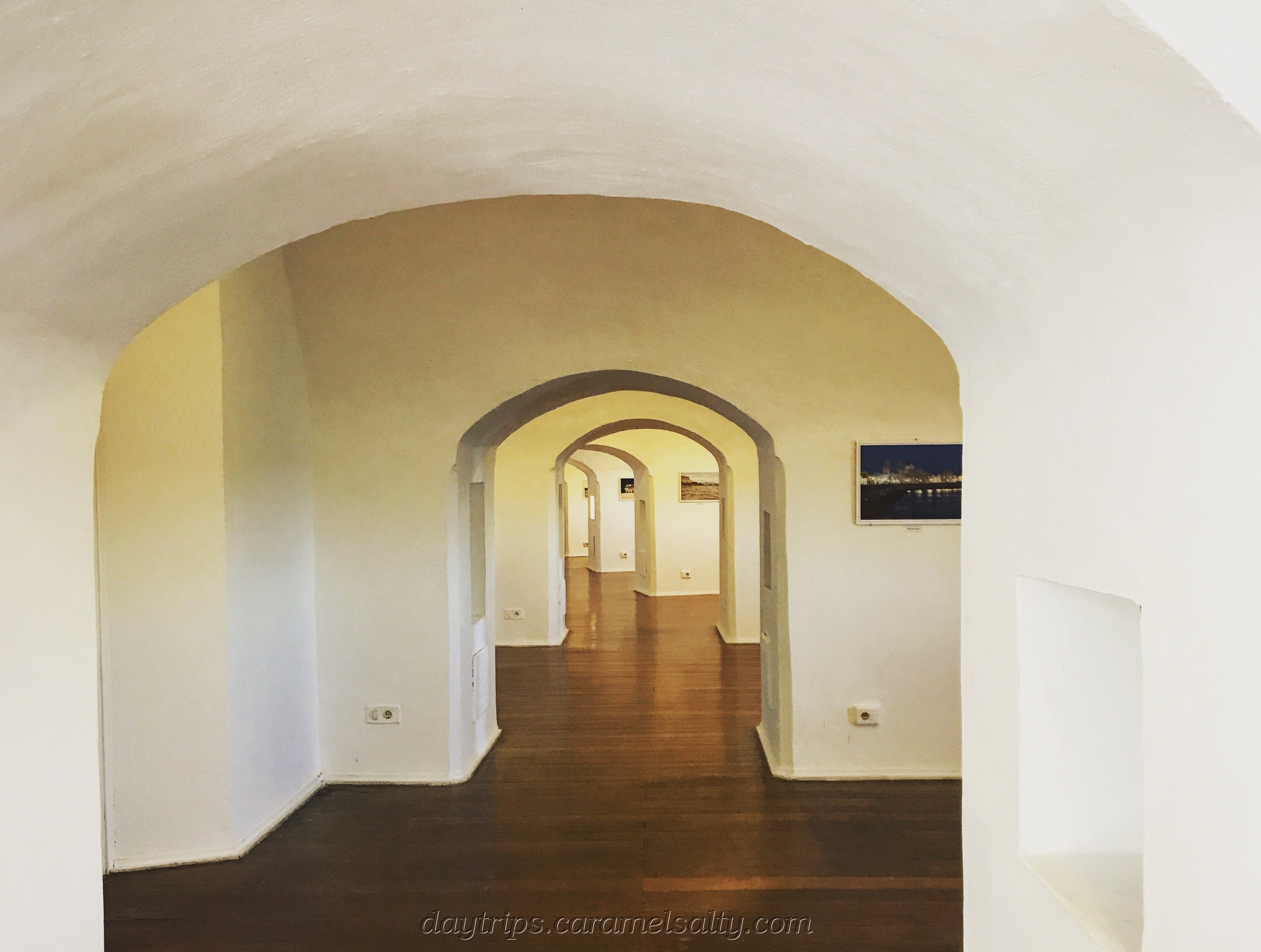 As I follow the bay around, I discover another exhibition spot. The transformed ex-barracks of Carlos III  now houses the Espacio de Cultura Contemporánea de Cádiz (ECCO). I'm introduced to Costus, through his El Valle de los Cáidos exhibition. It depicts the crucifixion, but more pop art than medieval.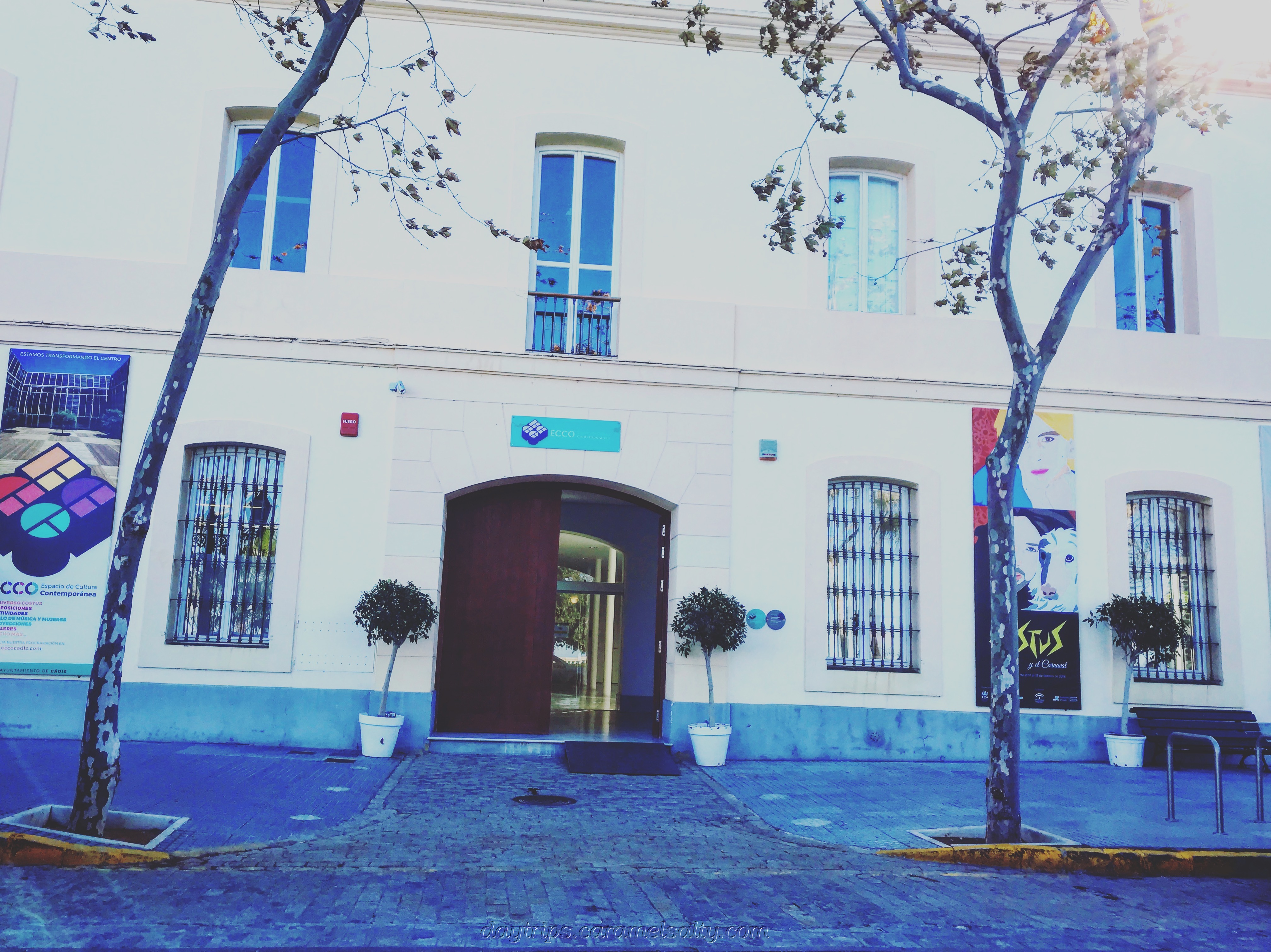 I soon stumble onto yet another park, the Genoves Park. An eye-catching tiled patio of manicured trees and fountain forms the entrance to these botanical gardens. All very pleasant, until I come across the Paseo de Santa Barbara. This modern see-through walkway through the gardens, has, quite frankly, seen better days and just doesn't fit in. So I ignore it as best I can, as the garden itself is quite good.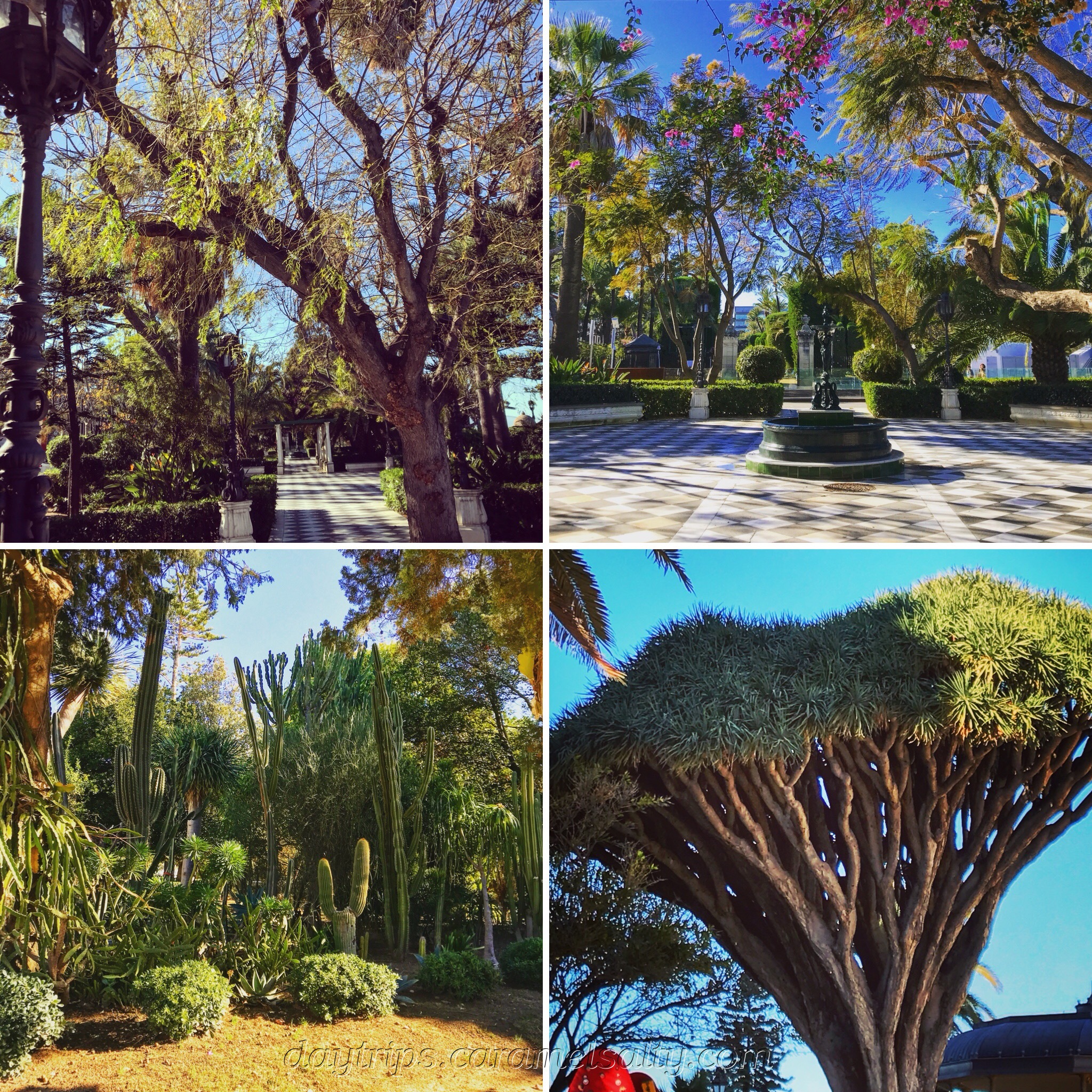 According to the display board that I only spot as I exit the other end of Genoves Park, I've missed item #3, the coastal evergreen myrtle New Zealand Christmas tree. As it's way back at the entrance, my consolation prize is #10, the Canary Island dragon tree, which I spot by the playground at the exit.
More seaside ambling awaits me as I go past Monumento Simon Bolivar, another Venezuelan who liberated South America from Spanish rule, to Castillo de Santa Catalina. It's a small but perfectly formed defensive castle. There's a charming chapel (great views from the inside balcony). And from its walls, I can see across the bay towards Castillo de San Sebastian, which I visited yesterday.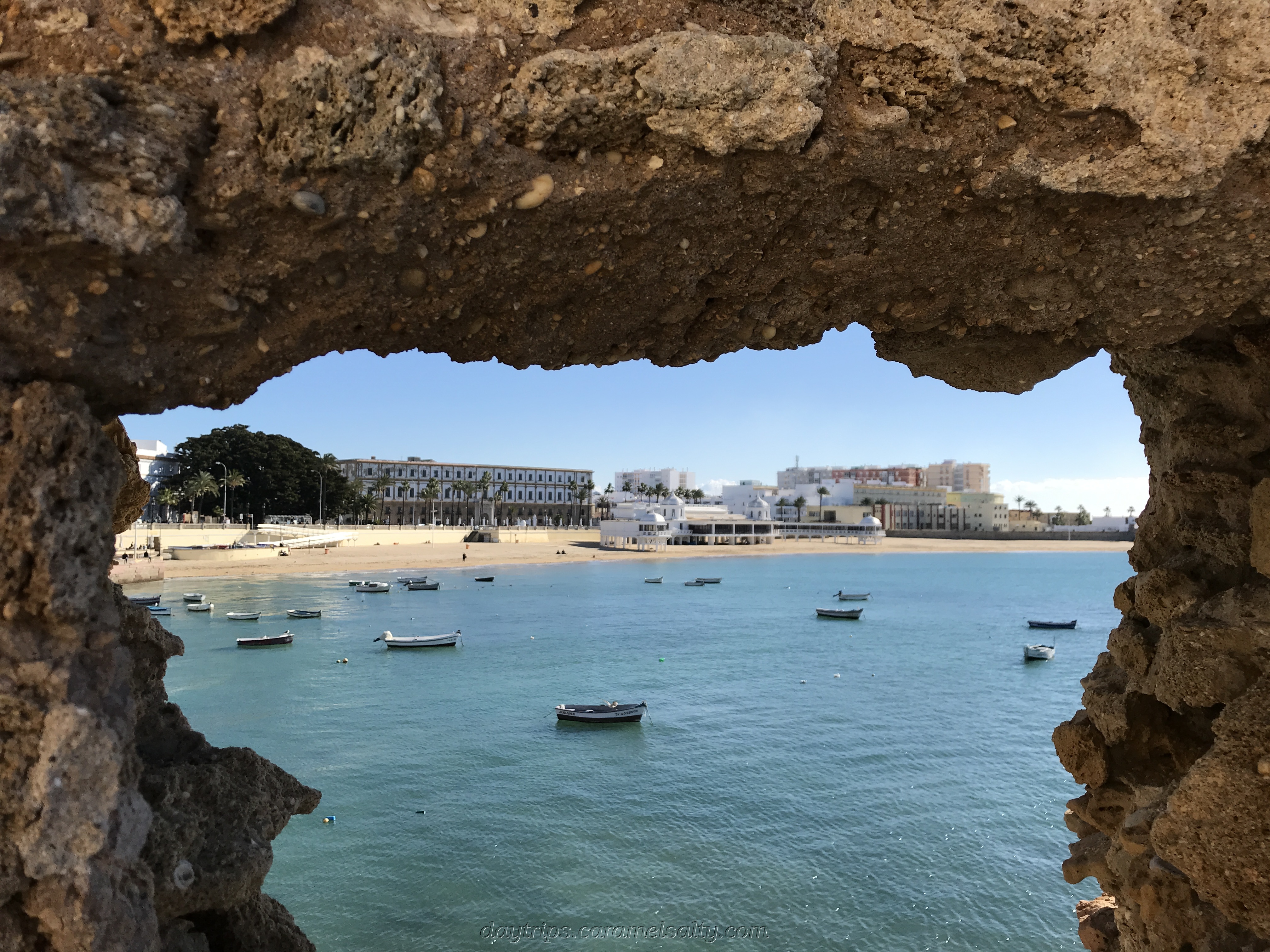 From here I trace another large tree, a mulberry in the incongruously tiny State Park. When hunger beckons, I head to the cafe filled Calle Virgen de la Palma. My lunch at the sunny tables of Taberna El Albero  is the recommended chipirones a la riojana. It's tasty.
After lunch, I cut through the now familiar floral streets of Calle Pastora from yesterday, to Torre Tavira. Cádiz is covered in towers like this. They are a fascinating and unique insight into Cádiz's merchants. I learn that they used them to look out for their ships (identified by their insignia flag) coming into port. Isn't that more exhilarating than tracking them on a mobile phone app ?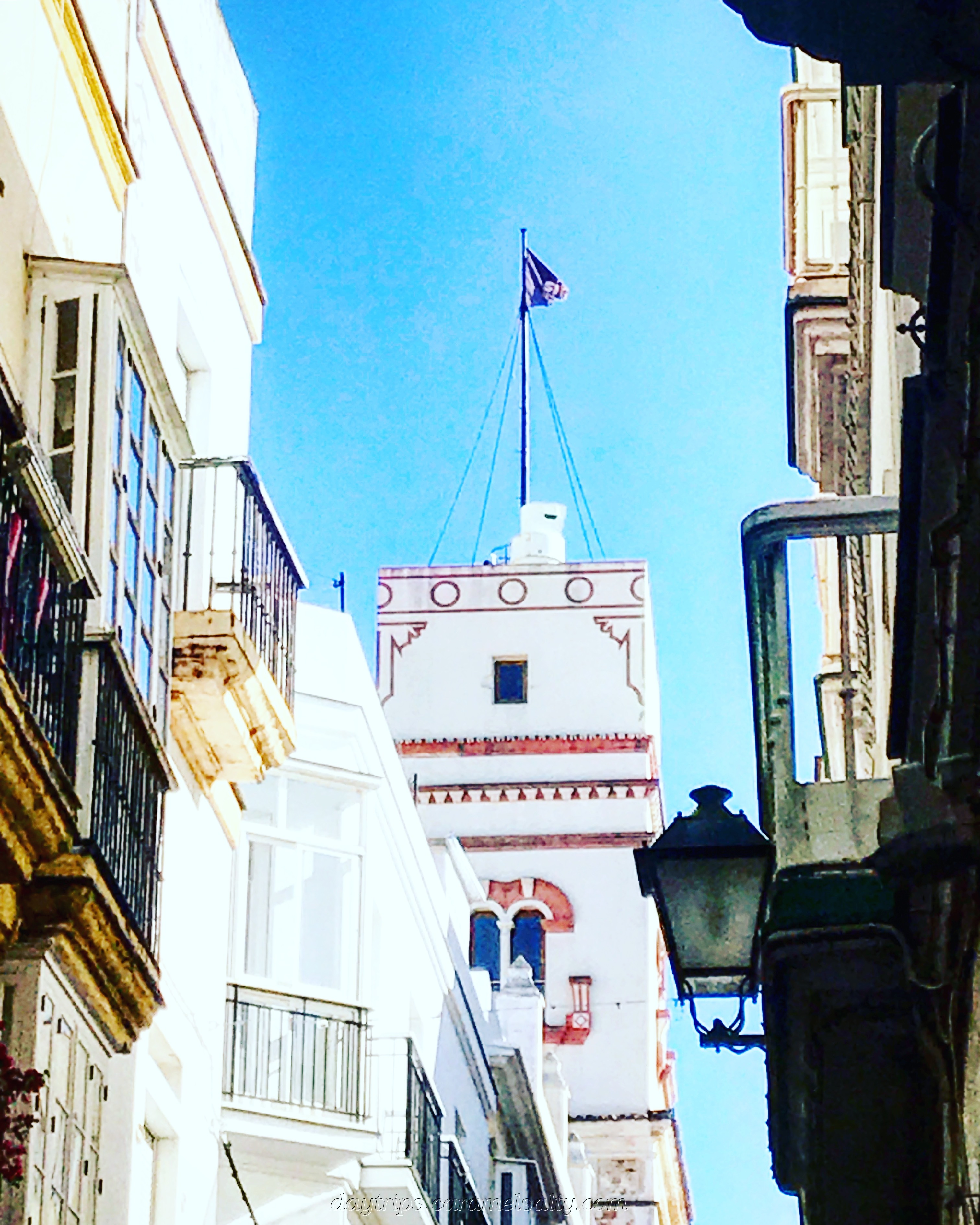 Just like the merchants of past, I enjoy the splendid vistas from the centrally positioned Torre Tavira. Followed by the mother of all views, a 360 degree close up of Cádiz during the very entertaining camara obscura show.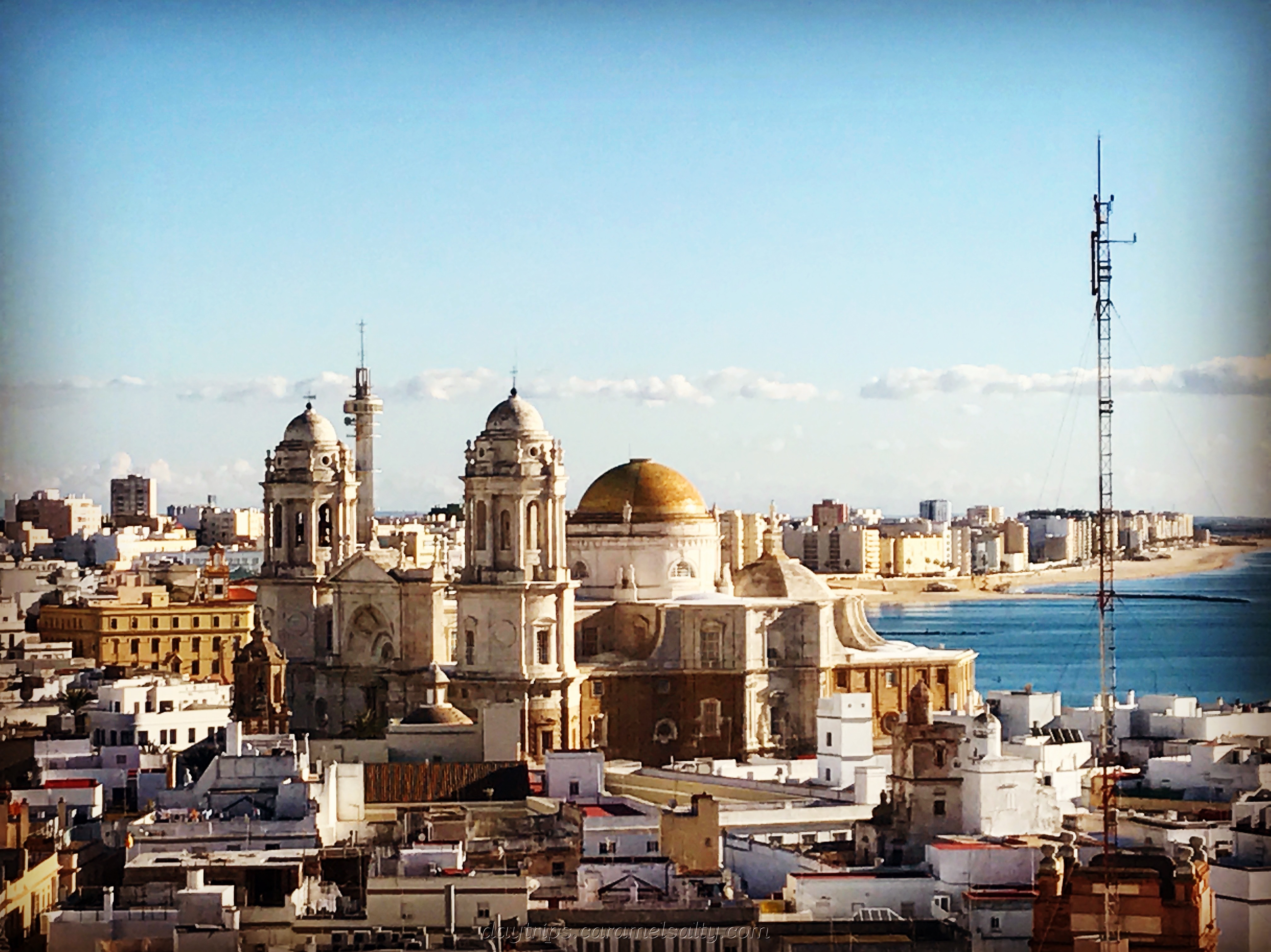 On my return leg to the train station, I cut through Plaza Candelaria. It's another pretty leafy square, where I indulge in a milkshake in the delightful rococo style Restaurant Café Royalty. And rest my tired feet.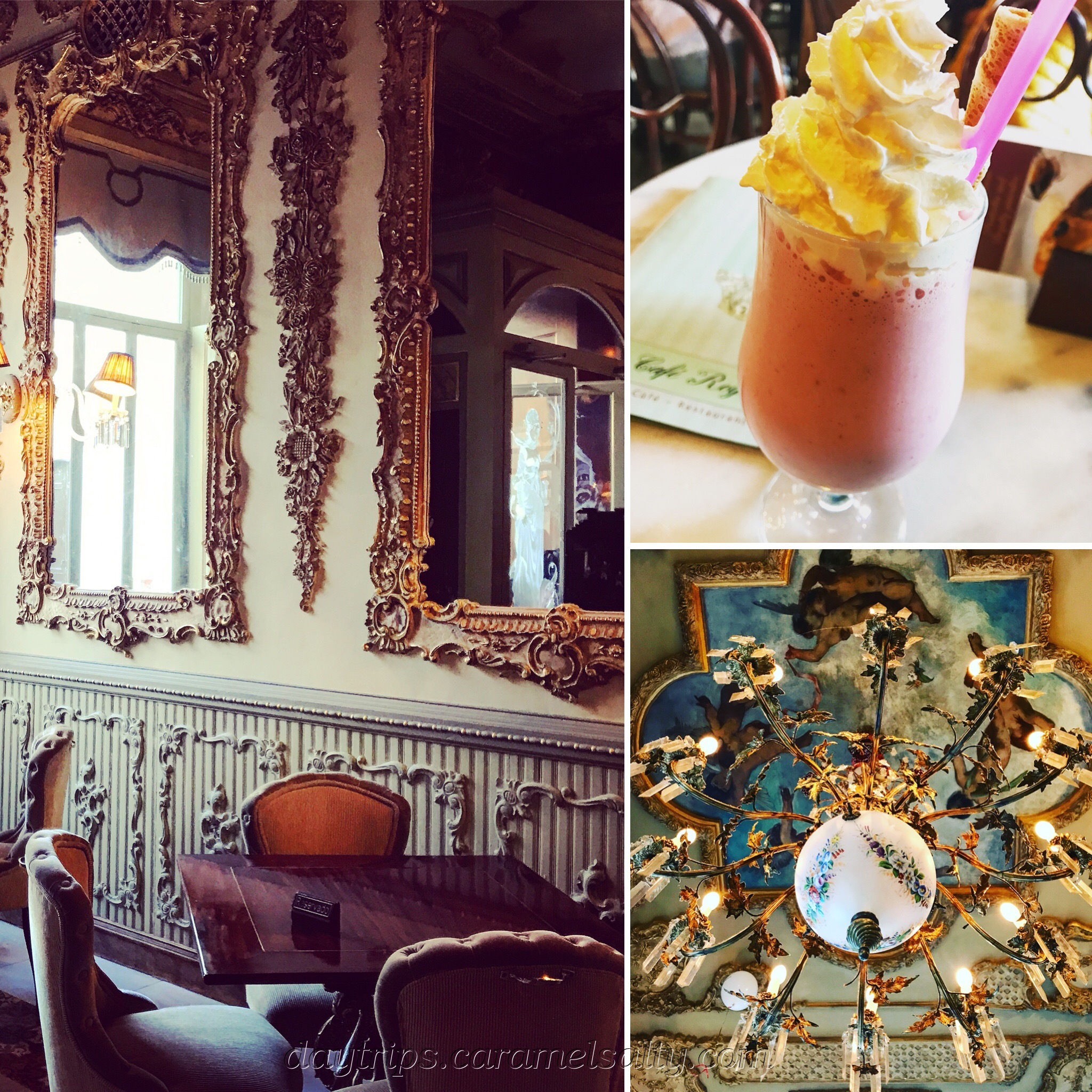 And then back over the isthmus I go. Except its now bright daylight. And I see the vestiges of abandoned buildings, including a Spanish archway into a dwelling that is no more. Another reminder of the ebb and flow of the fortunes of Cádiz.
Some help in planning your trip